Latkes. My favorite food. I don't need to wait until Hanukkah to eat them, and so this year I didn't. I had a spaghetti squash I need to use, so I made some non-traditional latkes for Hanukkah. Yep, for a change I planned in advance. Of course, I ate them right away, but I saved the recipe for Hanukkah, or Chanukah as I typically call it, making this a qualifying part of my holiday prep.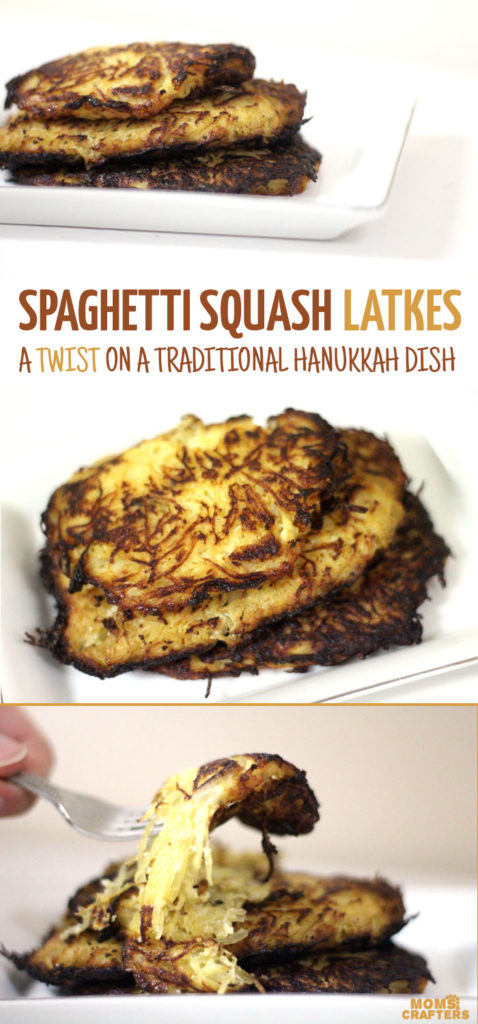 It's been two years, I think? since I shared my golden potato latkes recipe here, and it was a huge hit. To be fair, it's a favorite dish in our house too. I wouldn't trade it for anything.
But it can be a royal pain to make, primarily because of the pile of dishes it makes with grating the potatoes.
Disclosure: this post contains affiliate links.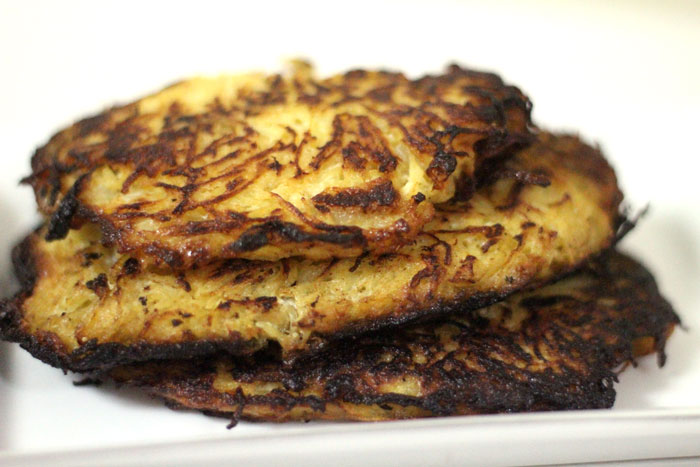 Why latkes for Hanukkah are even a thing:
The tradition is really to eat fried foods (ooohh…) to commemorate the miracle of the last jug of oil lasting 8 days instead of the one it should have. Since Jews in Europe were poor and pretty much ate potatoes, potatoes, and more potatoes, many Jews of European descent eat potato latkes. Fried donuts (sufganiyot) are actually also a delicious Chanukah treat and maybe more common among Middle Eastern Jews.
So really, the tradition is fried foods.
These spaghetti squash latkes for Hanukkah are super easy to make and fried as well, so they are a great fit for the tradition.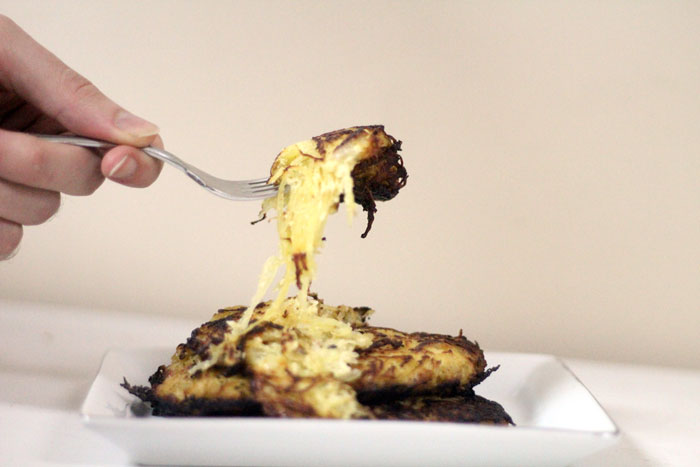 If you don't want to eat so much fried food you can simply add a quarter cup of oil to the spaghetti squash mixture, put it in a 9 inch round pan (or the best fit for your size squash), and bake it on 350 till it's golden and crispy.
But if you're going all out and traditional, you'll want to make patties and fry!
How to make Spaghetti Squash Latkes for Hanukkah: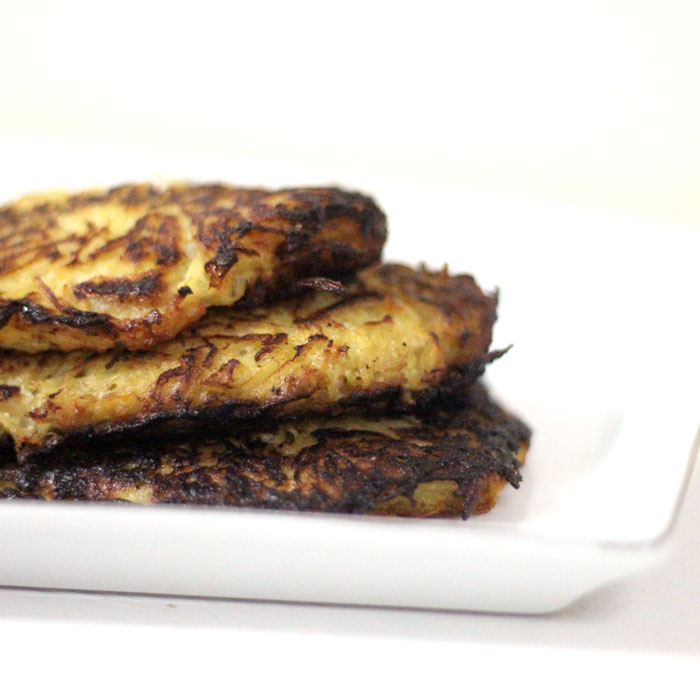 Ingredients:
1 large spaghetti squash
3 extra large eggs
1 medium onion, cut into thin rings or chopped small
1 t. salt
1/4 t. pepper
Oil for frying
Instructions:
Cut your squash in half. If you need to, you can poke holes in it and microwave it on high for ten minutes to make it easier to cut. Cool before you cut it if microwaving first.
Place on a baking sheet and bake on 400 for 30 minutes, or until you can remove the flesh easily with a fork.
Comb the flesh using a fork into a large mixing bowl.
Add eggs, onions, and seasoning and mix well.
Heat oil in a frying pan. When it's hot enough, form your spaghetti squash mixture into patties and place in the pan.
Fry until golden, flip, and fry until the other side is golden.
Serve smokin' hot!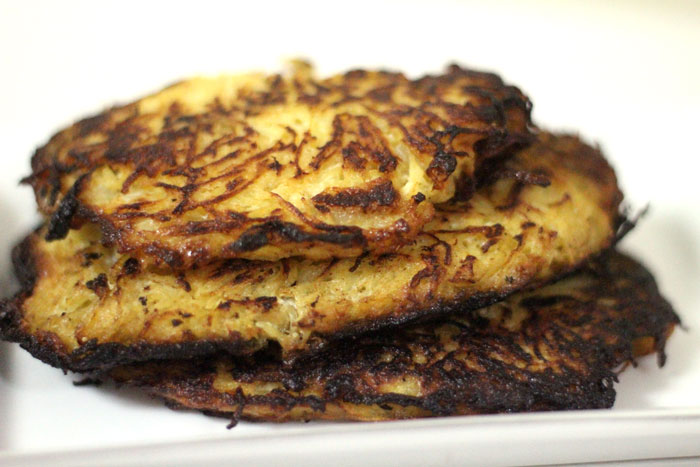 These spaghetti squash latkes for Hanukkah make a great, slightly more flavorful option. They are delicious for any time of year, but totally appropriate for Hanukkah!
Welcome to our second annual Hanukkah for Kids blog hop! Be sure to visit all the participating blogs for create ways to share this special time of year with kids. Plus you can find all these and more on our Hanukkah Pinterest board! (And don't miss last year's series!)
Participating Blogs
Kelly's Classroom on Multicultural Kid Blogs
Moms & Crafters
The Squishable Baby
Kid World Citizen
Discovering the World Through My Son's Eyes
The Book of Life
New! Get the Hanukkah coloring page packet! You can find it in my Etsy shop, or on Gumroad, or purchase it here: