Latkes. My favorite food. I don't need to wait until Hanukkah to eat them, and so this year I didn't. I had a spaghetti squash I need to use, so I made some non-traditional latkes for Hanukkah. Yep, for a change I planned in advance. Of course, I ate them right away, but I saved the recipe for Hanukkah, or Chanukah as I typically call it, making this a qualifying part of my holiday prep.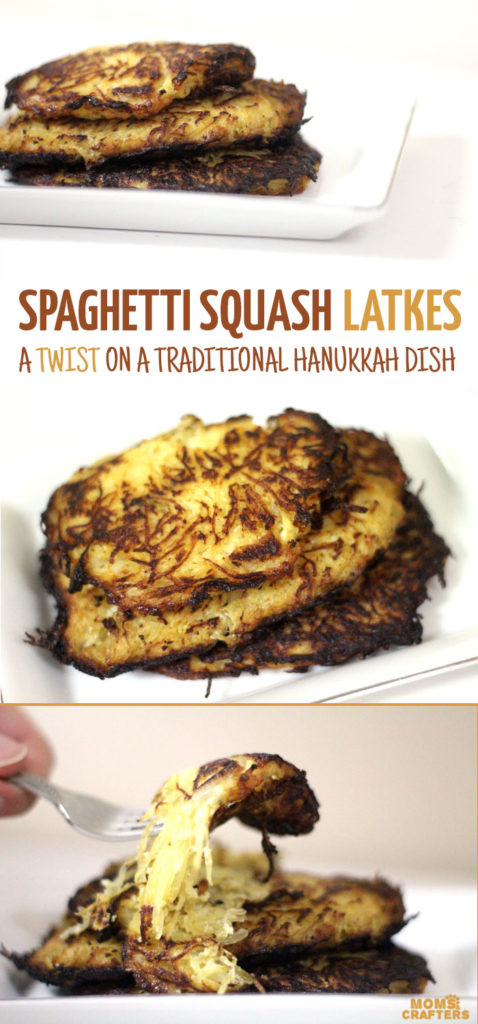 It's been two years, I think? since I shared my golden potato latkes recipe here, and it was a huge hit. To be fair, it's a favorite dish in our house too. I wouldn't trade it for anything.
But it can be a royal pain to make, primarily because of the pile of dishes it makes with grating the potatoes.
Welcome to our second annual Hanukkah for Kids blog hop! Be sure to visit all the participating blogs for create ways to share this special time of year with kids. Plus you can find all these and more on our Hanukkah Pinterest board! (And don't miss last year's series!)
Participating Blogs
Kelly's Classroom on Multicultural Kid Blogs
Moms & Crafters
The Squishable Baby
Kid World Citizen
Discovering the World Through My Son's Eyes
The Book of Life
New! Get the Hanukkah coloring page packet! You can find it in my Etsy shop, or on Gumroad, or purchase it here: