If you've got some extra rope in your stash, these cool things to make with rope will make your day! From simple crafts to more complicated DIYs these all have one thing in common: they're COOL! This post contains affiliate links.
---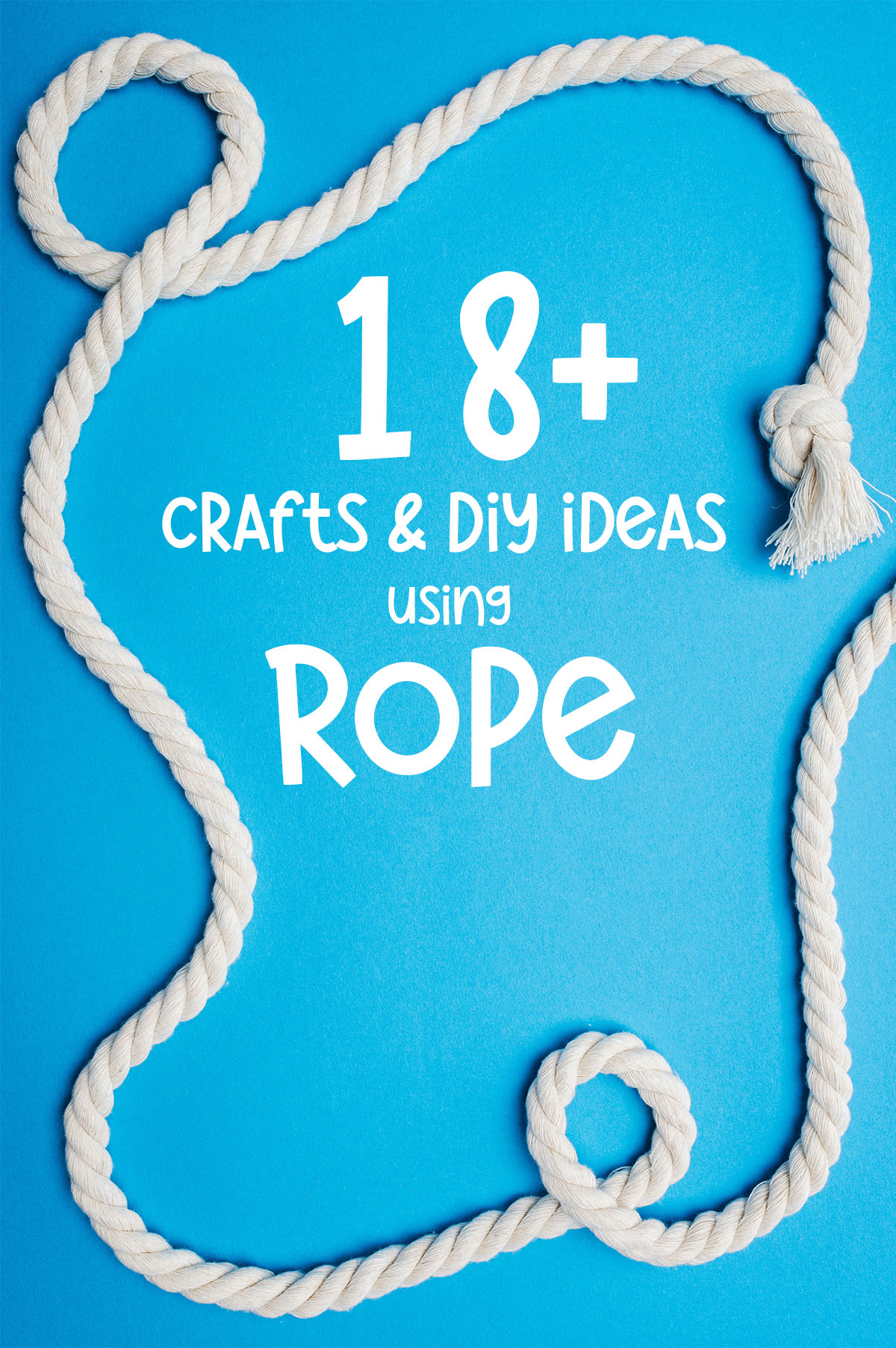 Who knew that something as simple as a little rope could have so many uses in your everyday crafting projects? Ropes are versatile and can be used to bring a nautical or outdoorsy, rustic touch to your DIY projects. There are so many cool things to make with rope that I'd love to share today!
You can find them in hardware stores such as Lowe's, or on Amazon, but my personal favorite is the one that Dollar Tree has in their floral department. Rope comes in different textures, colors, and weights that can add great variety and personality to your crafts!
If you're looking to use up the leftover rope from a previous project or looking for inspiration for something new, here are cool things you can make with rope using your own two hands. All of these projects are simple and easy, making them a great idea for crafters of any skill level.
Rope Containers and Baskets
Of all of the cool things to make with rope that I bumped into, baskets were a big one. They look so gorgeous in the home and are useful at the same time. By making them yourself, you not only save money but you also get to customize the exact size and design to suit your taste or match your home decor.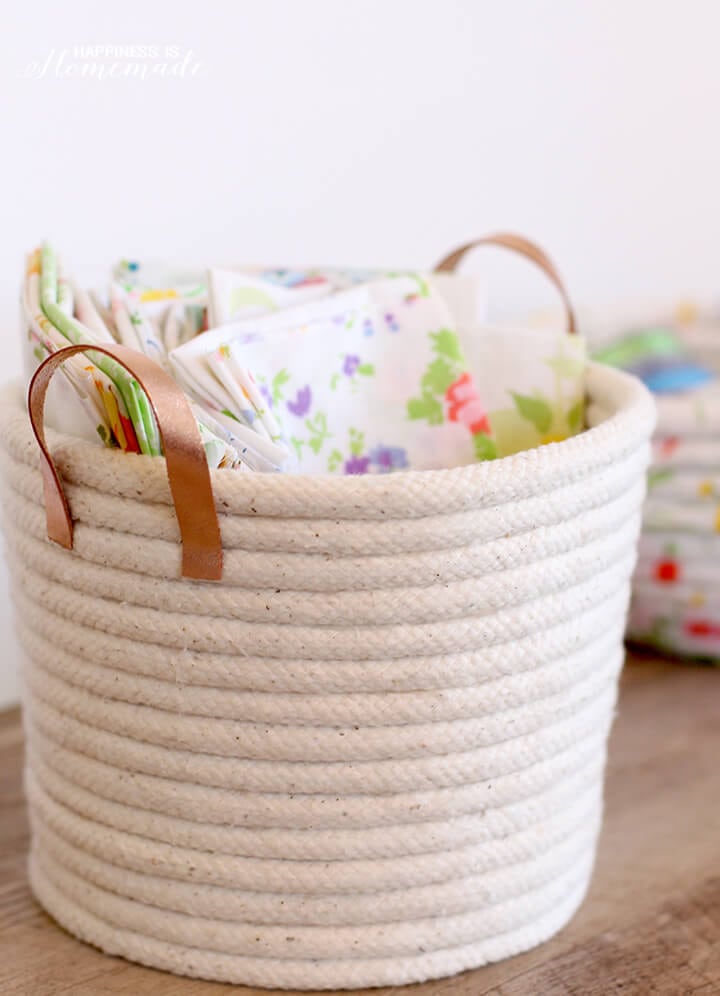 You may love the rope baskets that you see in the home decor stores but not the price tags. Did you know that you can make your own, in any size or shape without sewing? Happiness is Homemade shares how!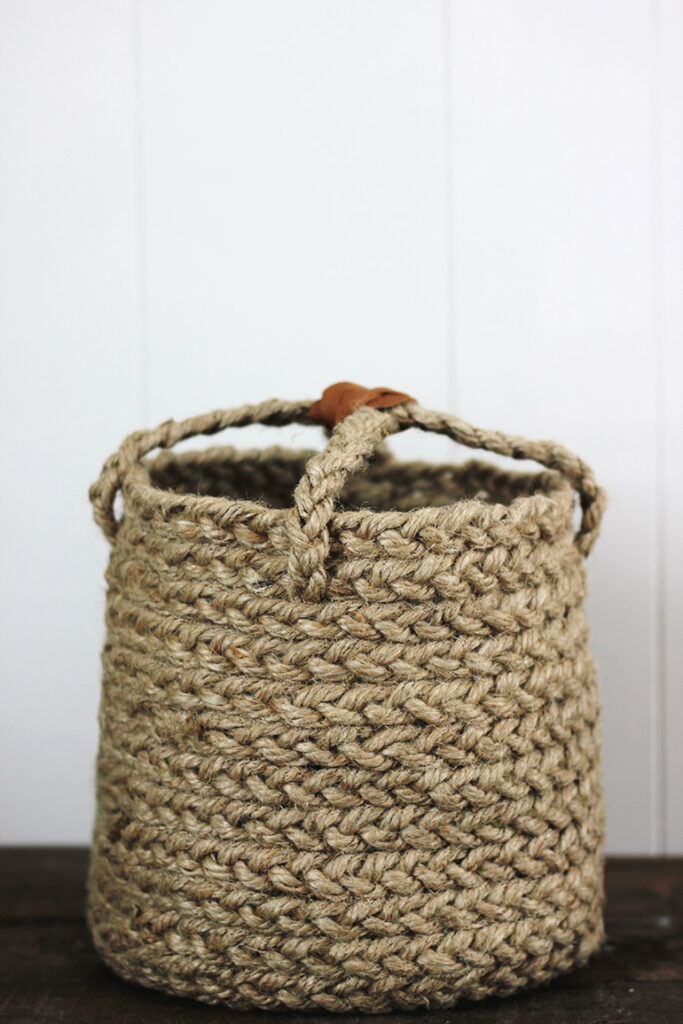 This basket has a more complex, rustic look and can also be used as a tote. This tutorial from The Merry Thought is good for crafters who know how to sew a little. The braiding adds so much texture!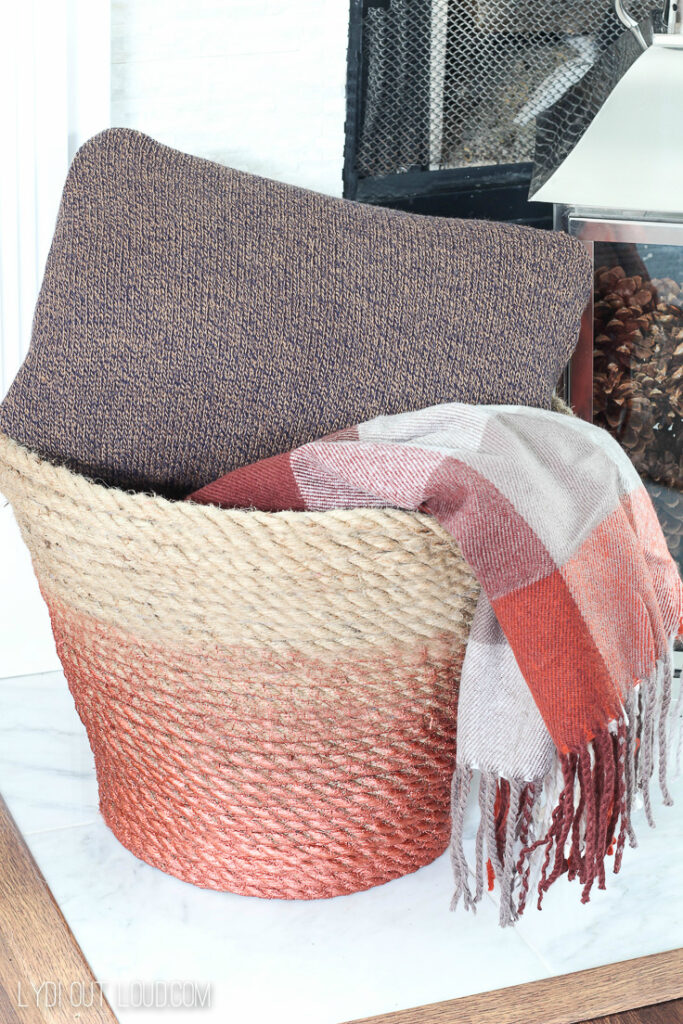 Here's another no-sew basket with some more complex elements this time. Lydi Out Loud adds a lining and some metallic touches to bring a simple rope basket to a luxe level. It just shows you that rope can look fabulous in home decor even if you're NOT going for a nautical vibe.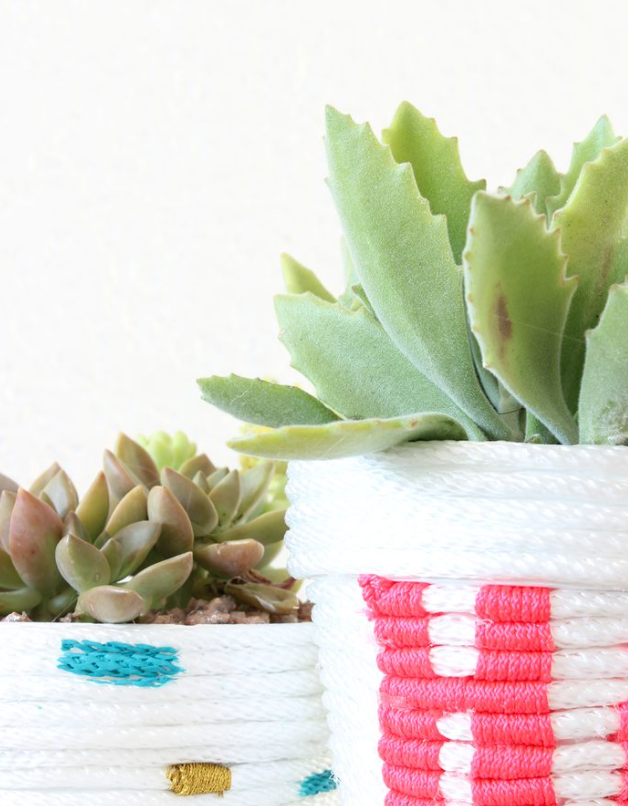 Looking for cool things to make with rope on a smaller scale? These planters are adorable and can be done quickly and simply, or can be dressed up with more designs as shown on A Beautiful Mess blog. I just love that dynamic color and texture that she added!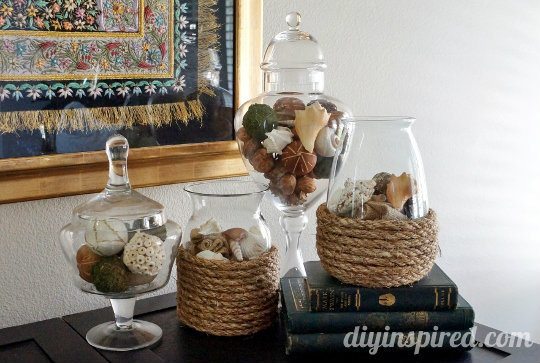 DIY Inspired creates an elegant new look by combining rope with glass, a concept that you can also extend by wrapping the rope around other types of vases or containers. It's super easy and can be done with materials from thrift shops or dollar stores, but it will look like it came from an upscale boutique.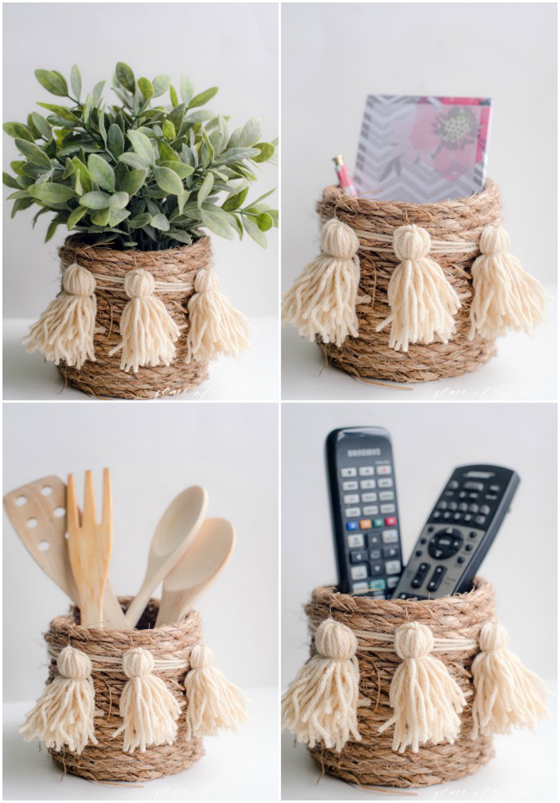 Finally, we round out this section with instructions to make small baskets out of 100% rope. You need almost no materials for this one so you should be able to get started right away. I Heart Organizing added tassels to decorate these simple baskets; learn how to make yarn tassels here.
Rope Art and Decor
The distinctive texture and appearance of rope adds a unique element to any kind of artwork, whether it's to hang on a wall or use elsewhere around the house. These cool things to make with rope are all going to add some pizzazz to your home.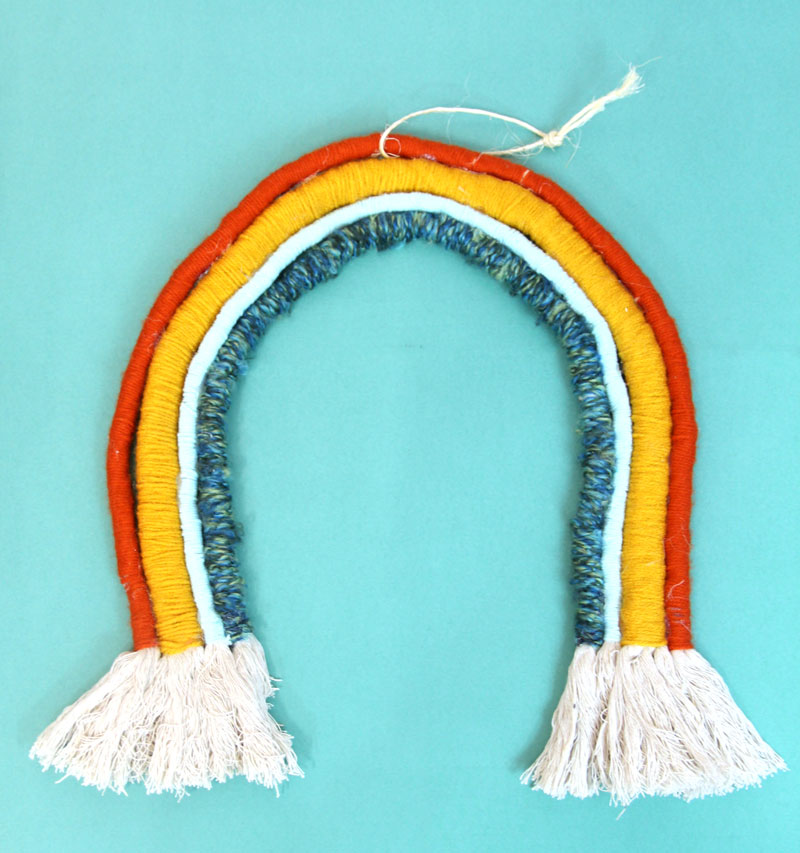 An assortment of yarns makes for a fabulous wall hanging. Would you believe that the rope is sourced from the dollar store? Connect it with my favorite glue gun – this one from Cricut – and hang it in your kids' room to add some charm.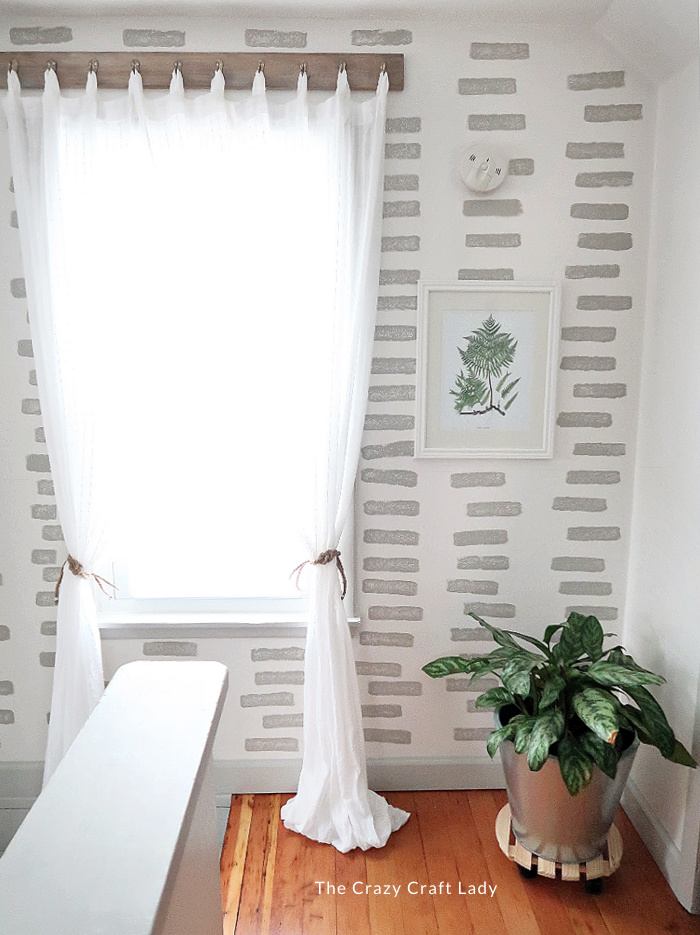 Jute rope gives these curtain ties a simple, natural look that complements different room designs. The Crazy Craft Lady shows you how to make them easily with a low budget. Our windows are eagerly awaiting curtains, but when they get them, I'll definitely be trying these!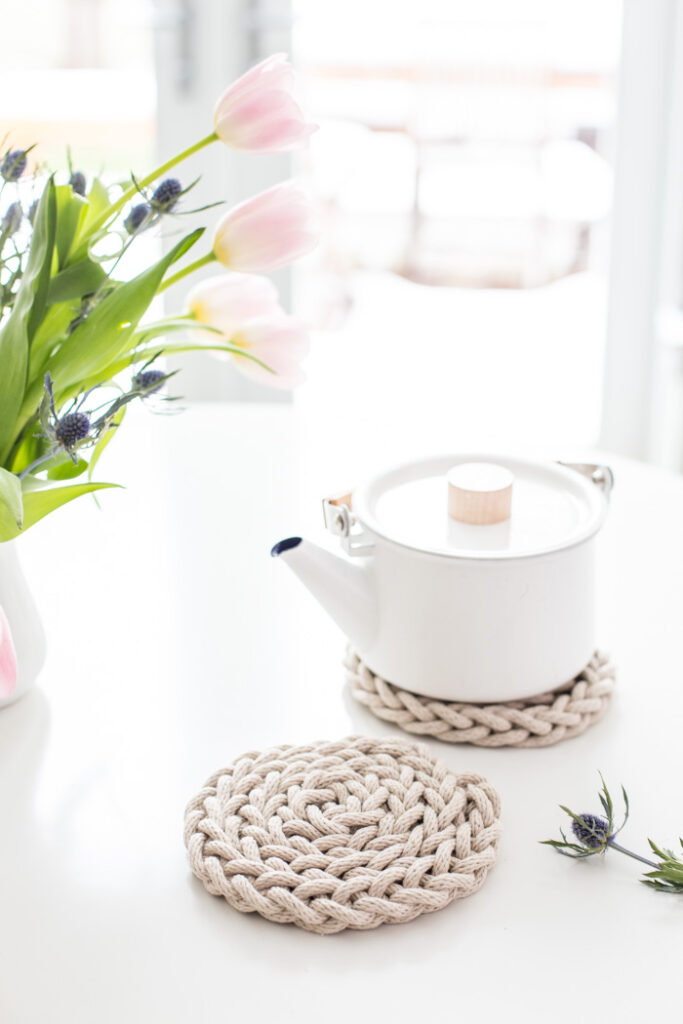 Finger knitting gives these trivets a sophisticated design while keeping the simplicity we love about rope. Try them in different colors and sizes, too. Flax & Twine's detailed pictures will show you how.
This rug idea from Tidbits & Company involves a more complex process than the smaller crafts above, but it pays off in a beautiful and functional rectangular floor mat that will truly enhance your home. What better way to invite people into your creative home than with a touch of DIY?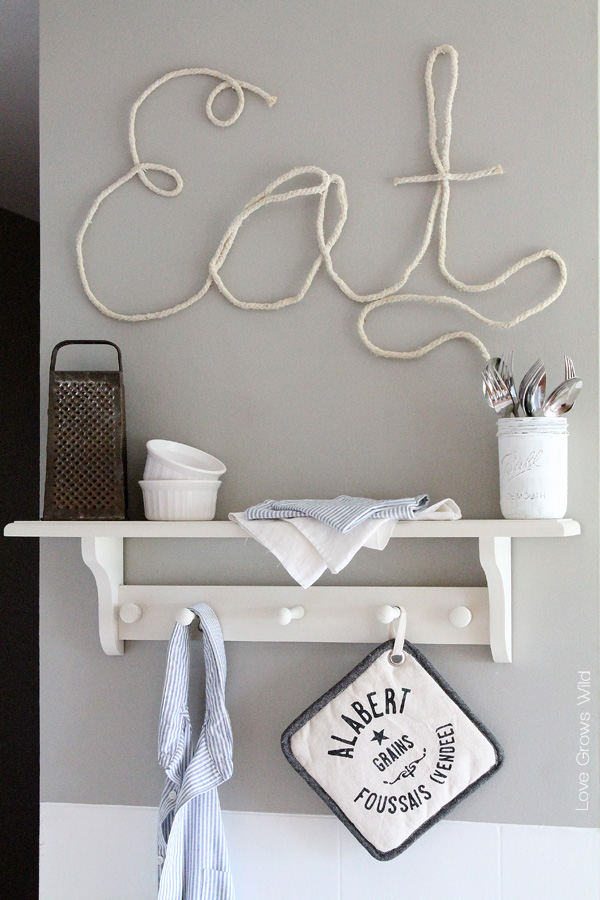 Here is a truly creative wall art idea, using simple supplies you may already own. You can use this technique by Love Grows Wild to display a word that inspires you, or a more functional or descriptive word that works for your space.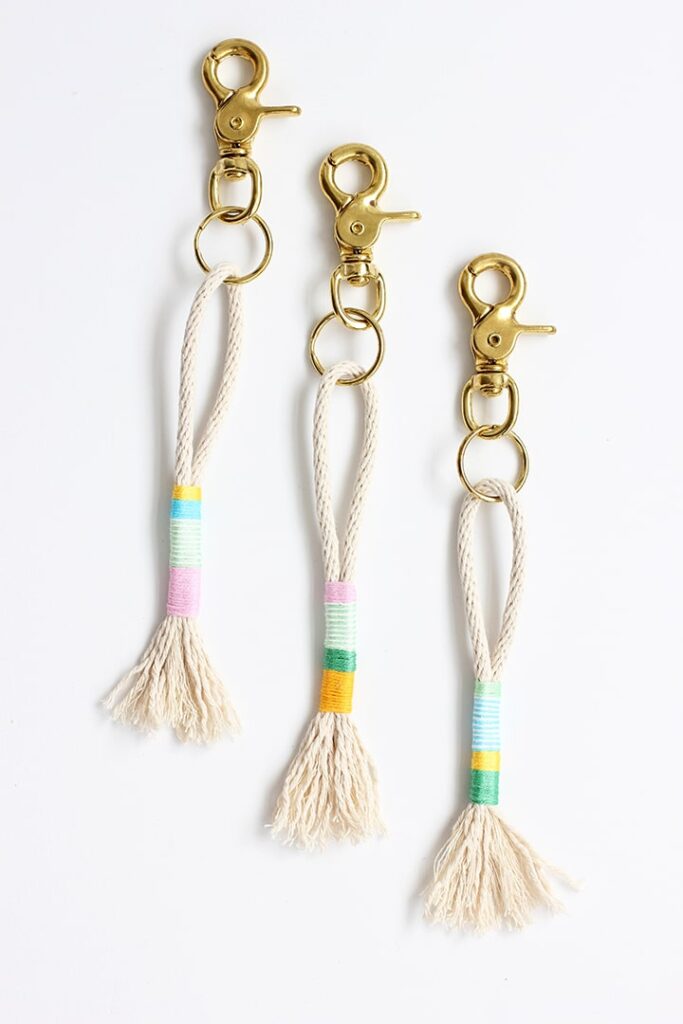 These keychains are so simple to make while looking really classy. Alice & Lois adds complementing colors to the natural look of rope for these cute accessories. I love the multi-dimension layered look of these cool things to make with rope!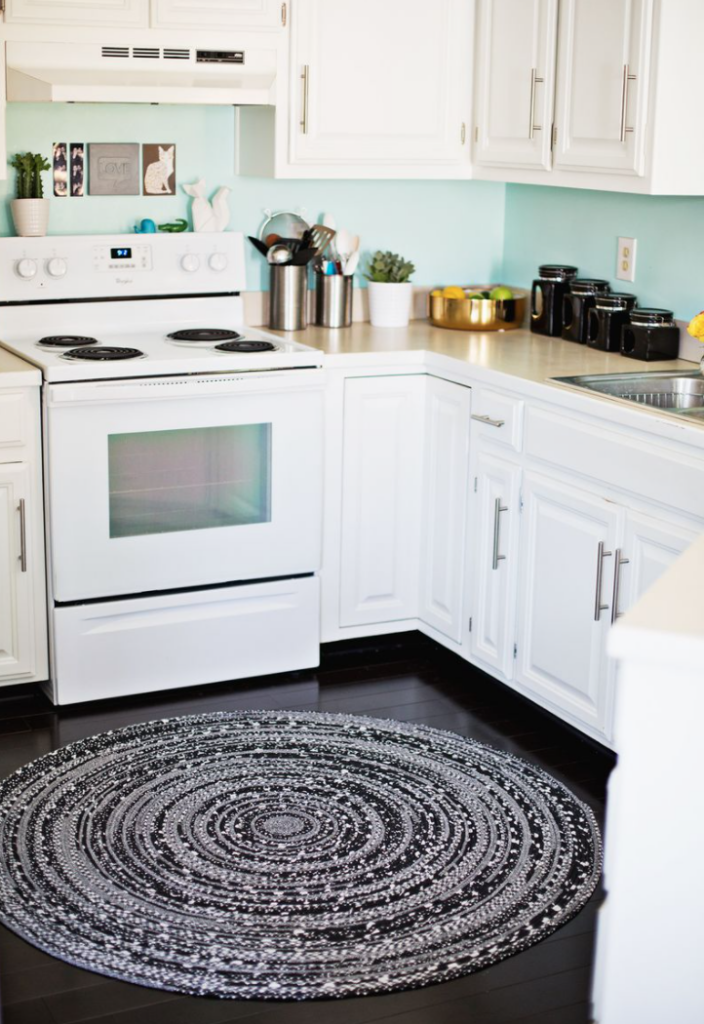 This rug from A Beautiful Mess uses rope to provide the structure, while you'll be other materials of your choice for the color and design. You'll need some sewing skills and patience, but the results will be worth it! This is unlike anything you can find in a shop (or at least for a decent price!)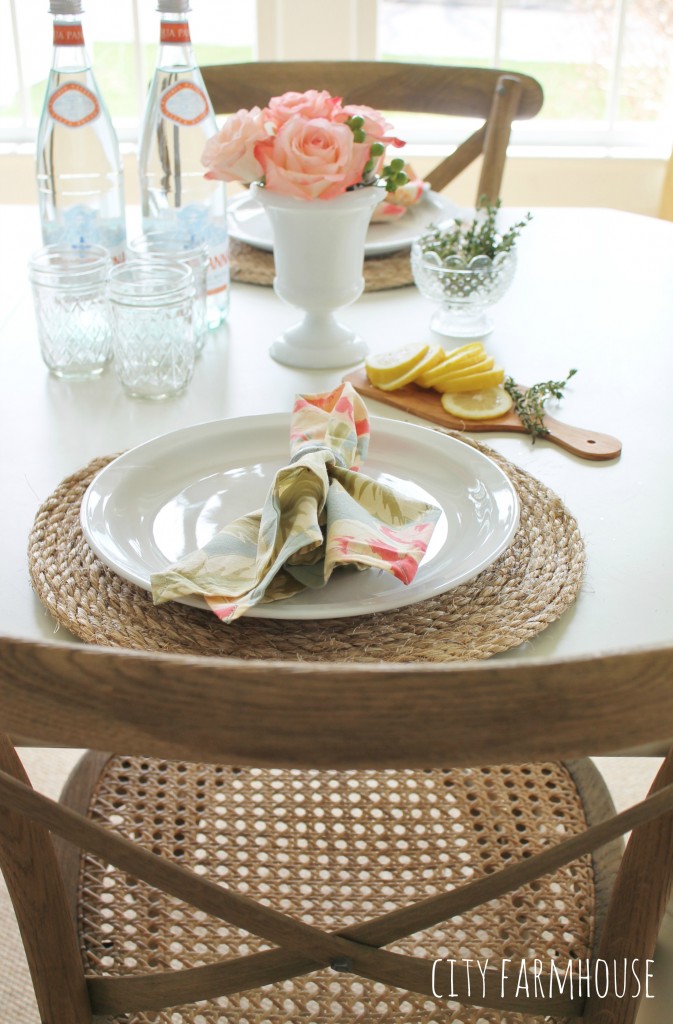 You can actually use these cool things to make with rope as chargers or trivets as well as placemats. They're incredibly easy to make while, true to their name, looking like they came out of a designer catalog. City Farmhouse shows you how.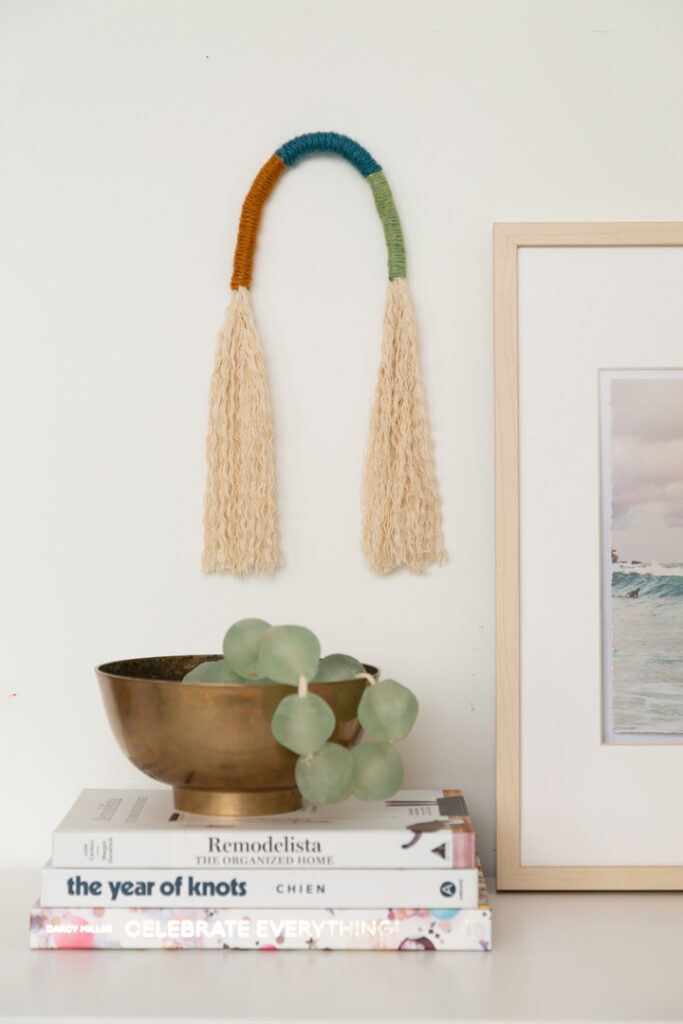 If you liked the rainbow hanging linked above, you'll also want to check out this variation. Alice & Lois show you how to use yarn wrapping and rope to make a simple wall hanging with lots of texture. It's a more minimalist approach.
This is a similar concept to the rope letters above, but it gets a new twist by adding a background board and other design elements. You can try it in kids' bedrooms with their names as well. Check it out at Hymns & Verses.
Rope Upgrades and Furnishings
Instead of using rope to make something totally new, you can also use it to upgrade or add a new look to objects you already own. You might even have something that you thought didn't look good at all – maybe you received it as an unwanted gift or were about to throw it away – but with some rope magic it can be transformed into an artistic, decorative piece you'll love to use!
Rope adds a boho Scandinavian style to this entryway bench by super DIY-er The Merry Thought. While this requires a trip to the hardware store for wood, and some power tools, the actually joint skills are very basic and totally beginner friendly.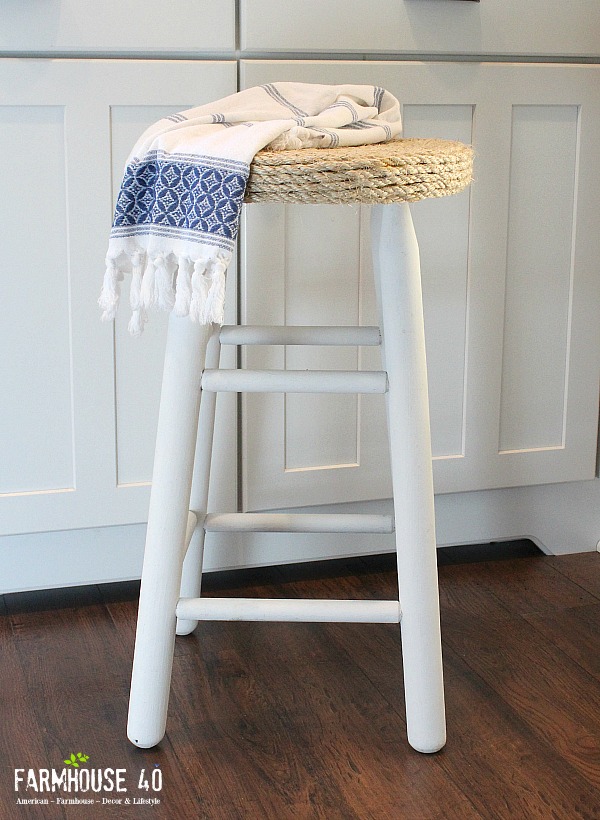 A plain, hard barstool gets a bright, homey makeover in this tutorial by Farmhouse 40. Even if you don't have a sad stool sitting around, you might find one at a thrift sale or use the idea to decorate a different object.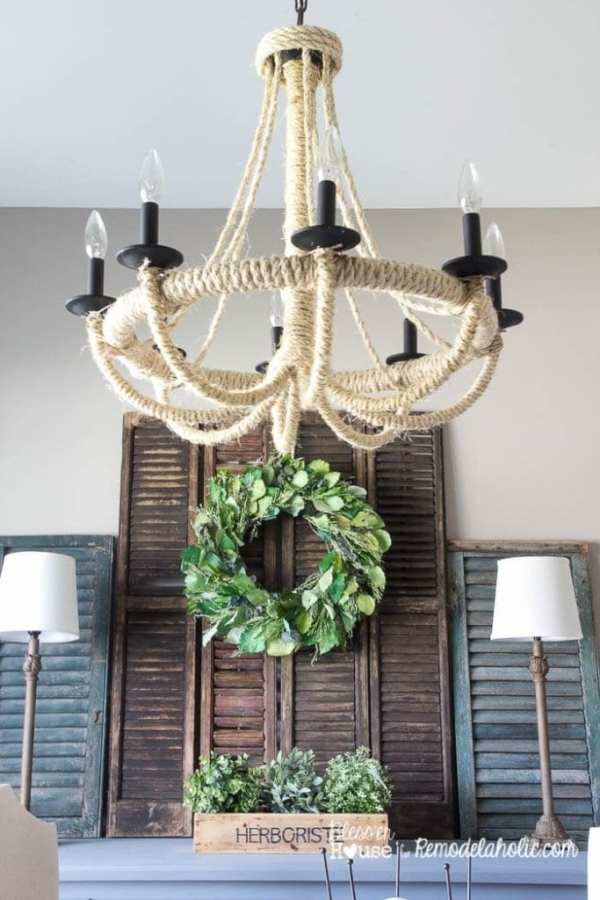 Lauren at Remodelaholic takes you step by step through the process of using rope to upgrade a boring chandelier, and you'll want to pay attention because she really takes it to a new level! As you can see, some of the really cool things to make with rope include giving new love to old items, all on a dollar store budget!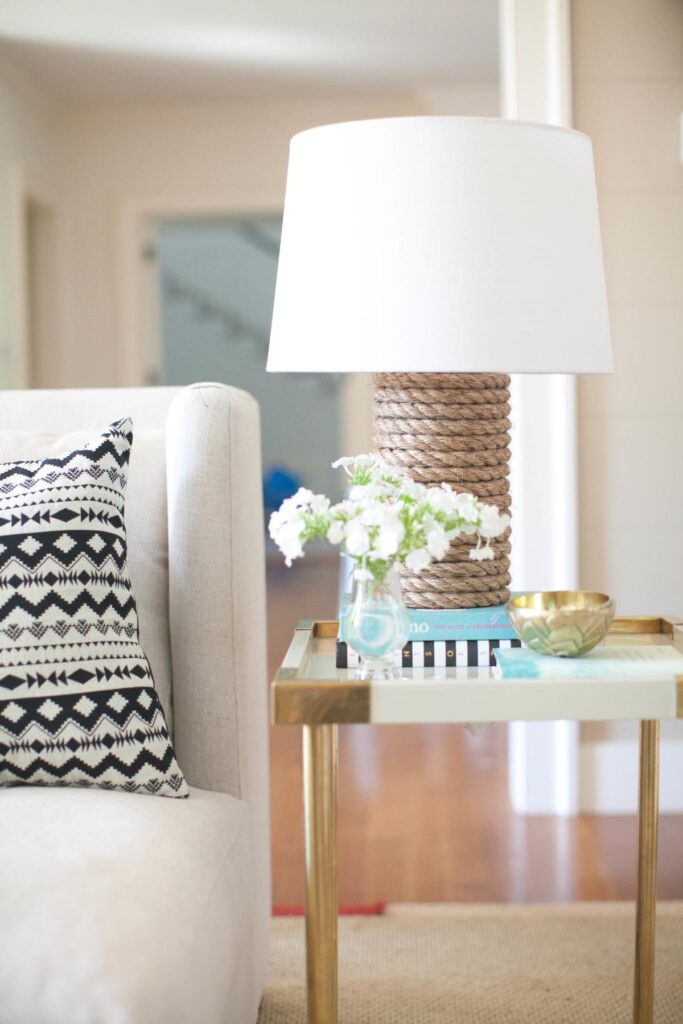 A simple but beautiful project, Style Me Pretty shows you how to turn any plain lamp into a rustic, designer-looking decor piece.
Got any cool things to make with rope to add to this list? Comment below!