Printable puppets make a fantastic "whip together and play with it" kind of toy with many developmental benefits. You can find more paper toy templates here or scroll down for these cool ones! This post contains affiliate links.
---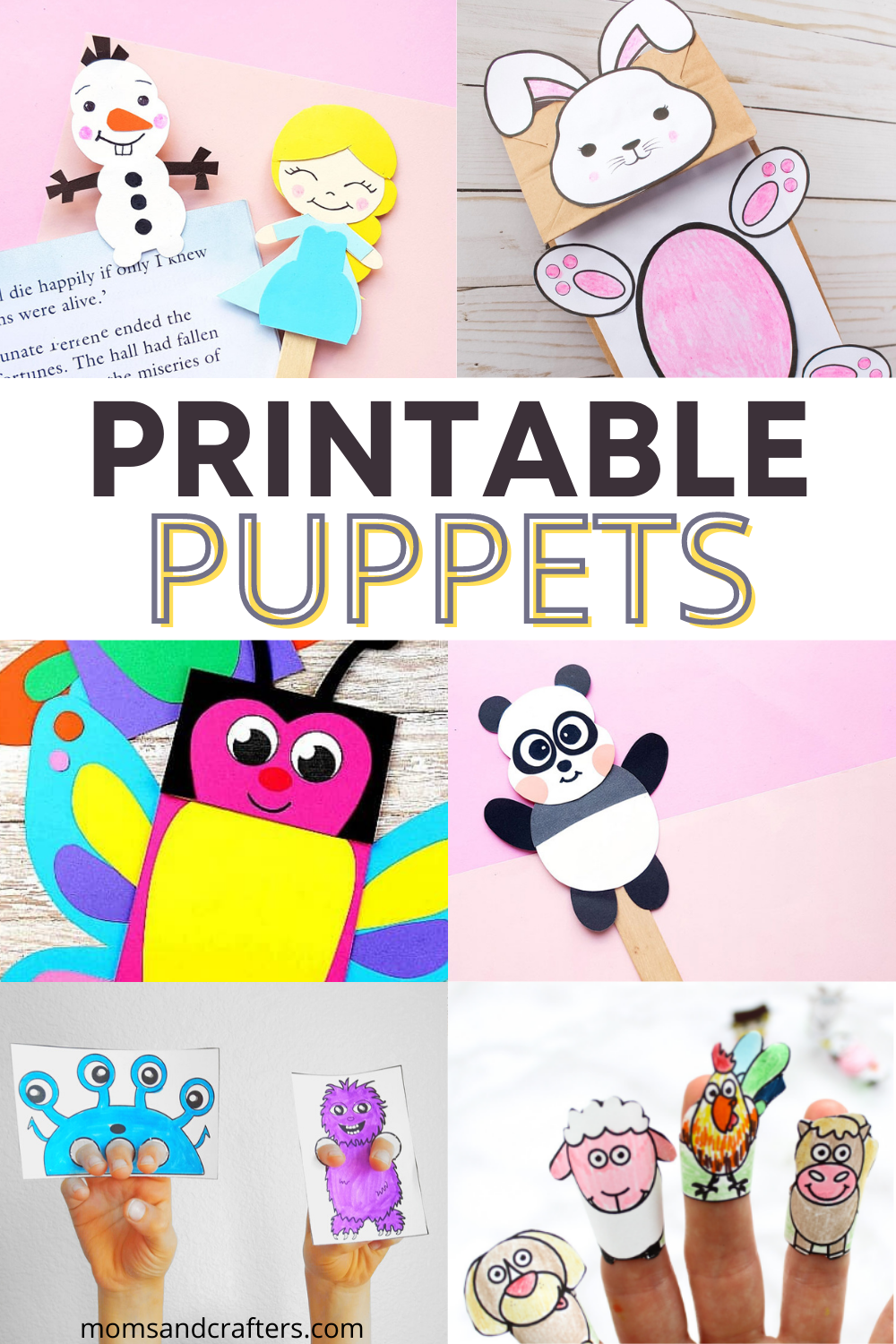 Puppet play has so many educational benefits and these cool ideas make it easy! Benefits can include stimulating the imagination, social emotional skill building, cooperative play, fine motor skills (for some puppets), language skills, and more.
Some of these printable puppets are as simple as that: print, color (or not), and play.
Some require more assembly and are actually more involved craft templates. Whatever type of printable puppets you are looking for, these are all really cute and fun.
Table of Contents:
Printable Finger Puppets
Toddlers and young preschoolers love to stick their fingers into things. Printable finger puppets are a lot safer than your outlets and are fun for kids to play with!
One benefit of finger puppets is the ability for kids to play a few parts at once. They are also easier to store and so, so cute!
I made these for M years ago using felt scraps, some embroidery floss, and glue. You can actually use the template as a printable without assembling it from felt – just color, craft, and make paper puppets! Or make them from felt for a long-lasting, giftable toy.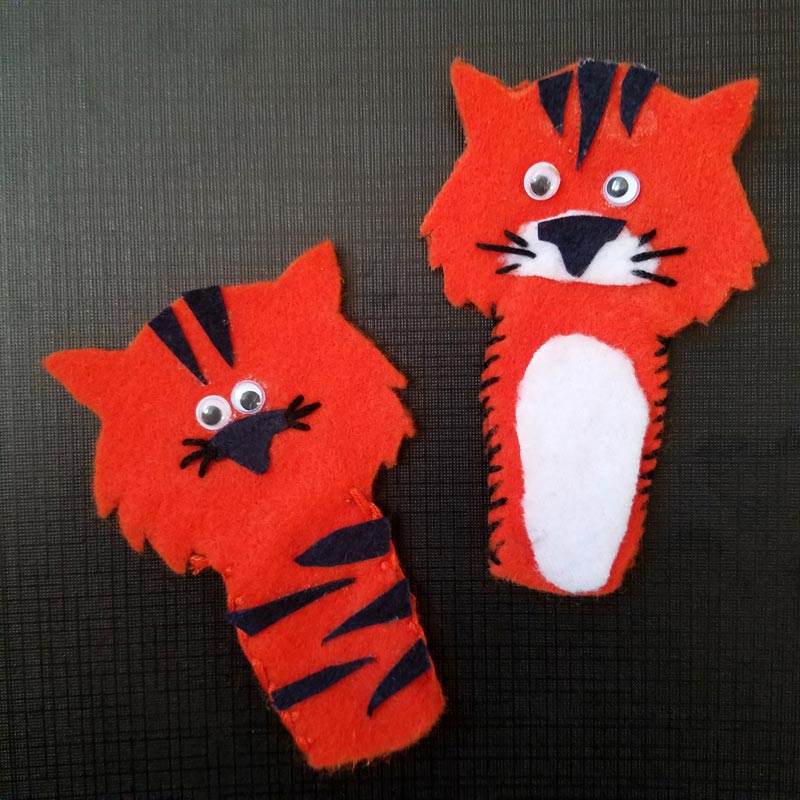 Kids can make these adorable printable puppets their own by coloring them in. Use the farm animals as a music activity with the song "Old MacDonald Had a Farm" or just for everyday play! Arty Crafty Kids shares the benefits of finger puppet play as well. I love how easy this is to assemble, while still allowing kids some creativity!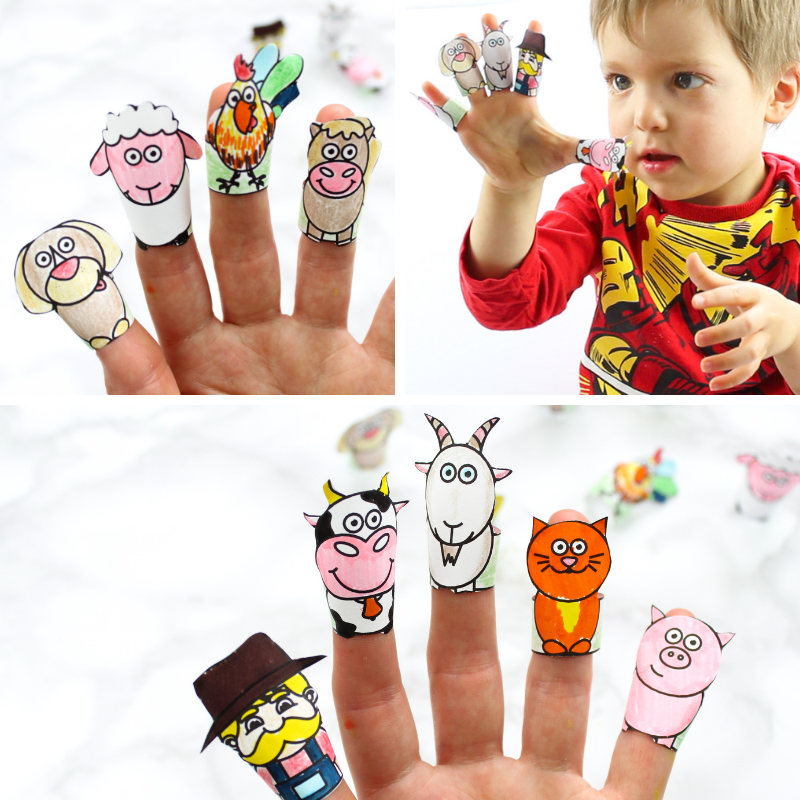 A bit of a more 3D craft, these bug finger puppets are perfect for Spring! Grab the printable, get creative coloring, and stick them all over your fingers. You can embellish it with googly eyes and craft gems too if you want – especially the butterfly! Or keep it simple with markers and crayons.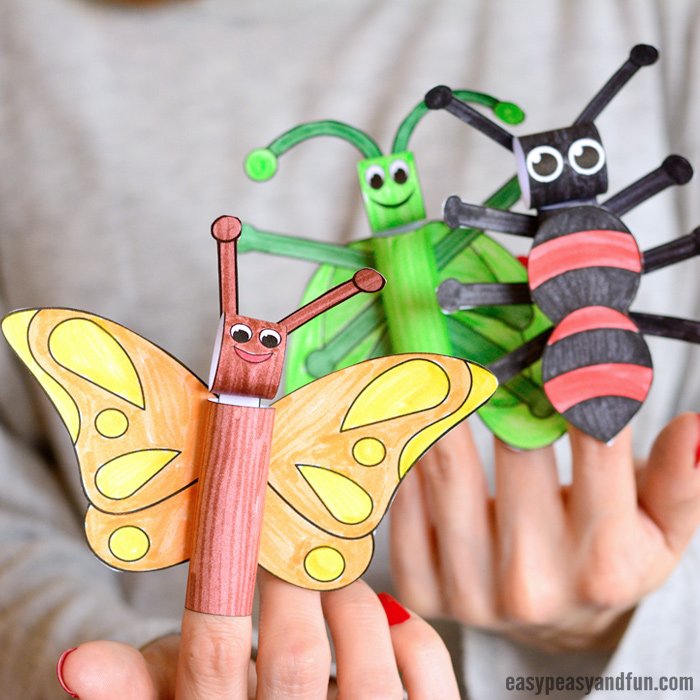 This is such a unique take on finger puppets, where kids' fingers will serve as the dinosaur's legs! Your kids till totally get a kick out of it. Ha! See what I did there?
I love that you can choose to color your own, or use the full color version for an instant toy.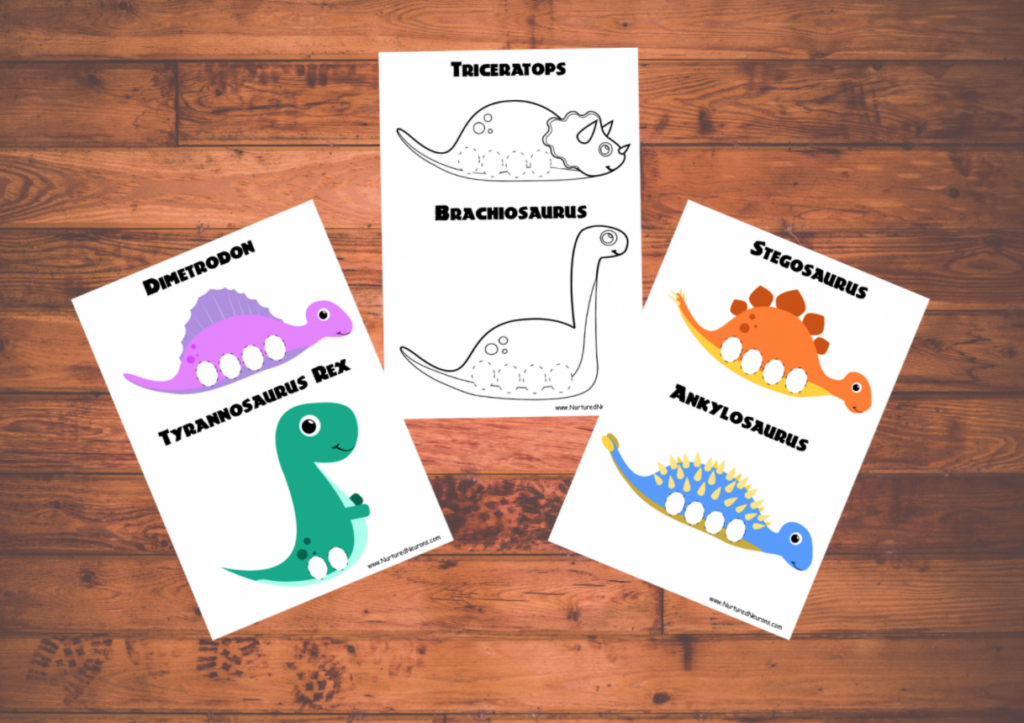 Once again, you can use your fingers as the legs of the monster. These printable puppets are unique in that you don't cut them out to shape. They are cards which make them easier to cut but still totally usable as puppets!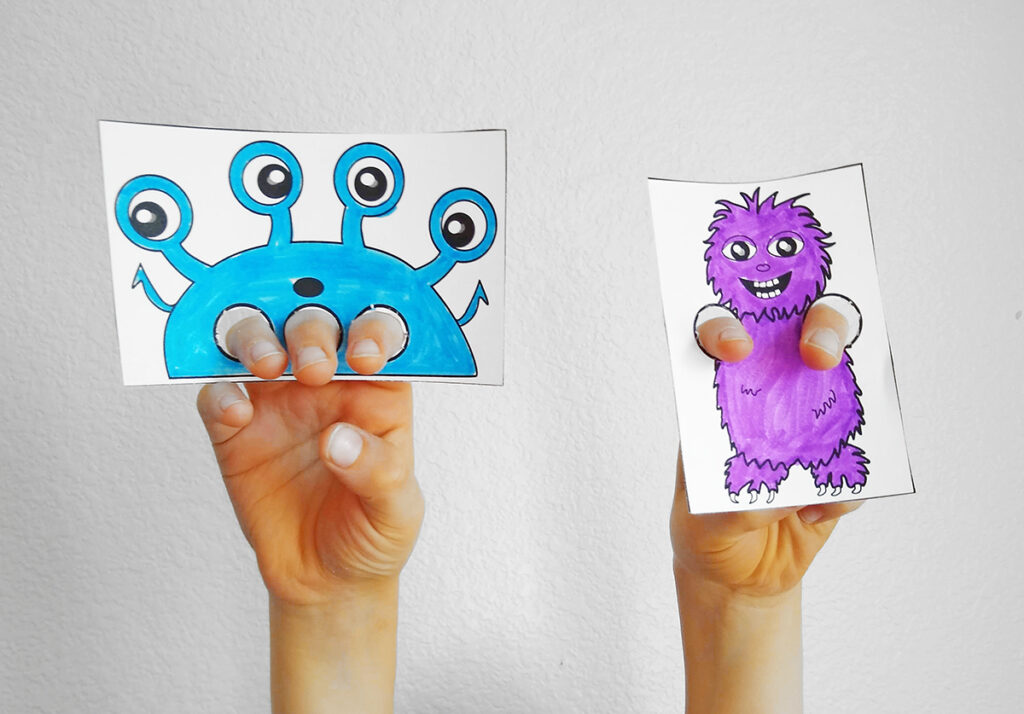 Printable Paper Bag Puppets
Did you also use paper bags to make puppets as a kid? I know I did! You can use paper favor bags if you prefer a colored base, or you can grab brown paper lunch bags for a blank palette.
There's nothing like two devilish little characters to get your kids smiling! Use the printable template to make these adorable character puppets out of craft foam and colored paper bags. Your littles will love reading the book while dramatizing the Things' antics!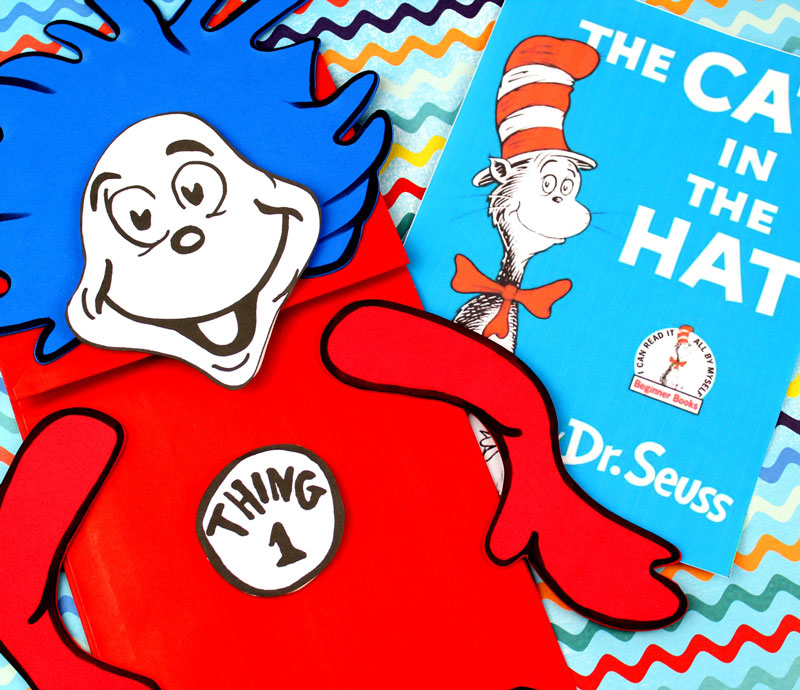 Kids can get really creative and craft cutting out butterfly parts and assembling these puppets. The templates help them along, but definitely pull out more craft supplies if you want to give kids an opportunity to embellish. These printable paper bag puppets are totally open-ended and ready for fun!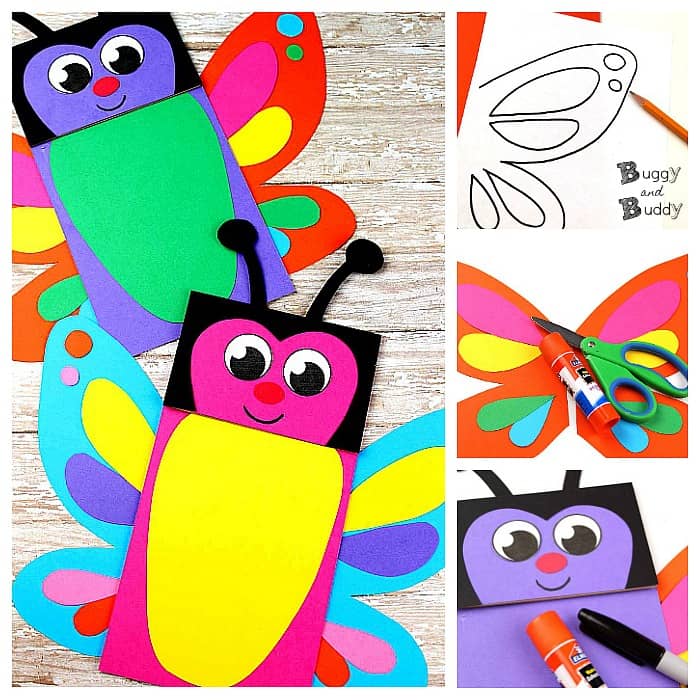 If you're looking for something REALLY easy, this bunny puppet template is designed to print, color, cut out, and glue onto a plain brown paper bag. No tracing and cutting out of smaller parts, no keeping track of little bits, and it's so much more preschool-ready because of the simpler cutting skills required!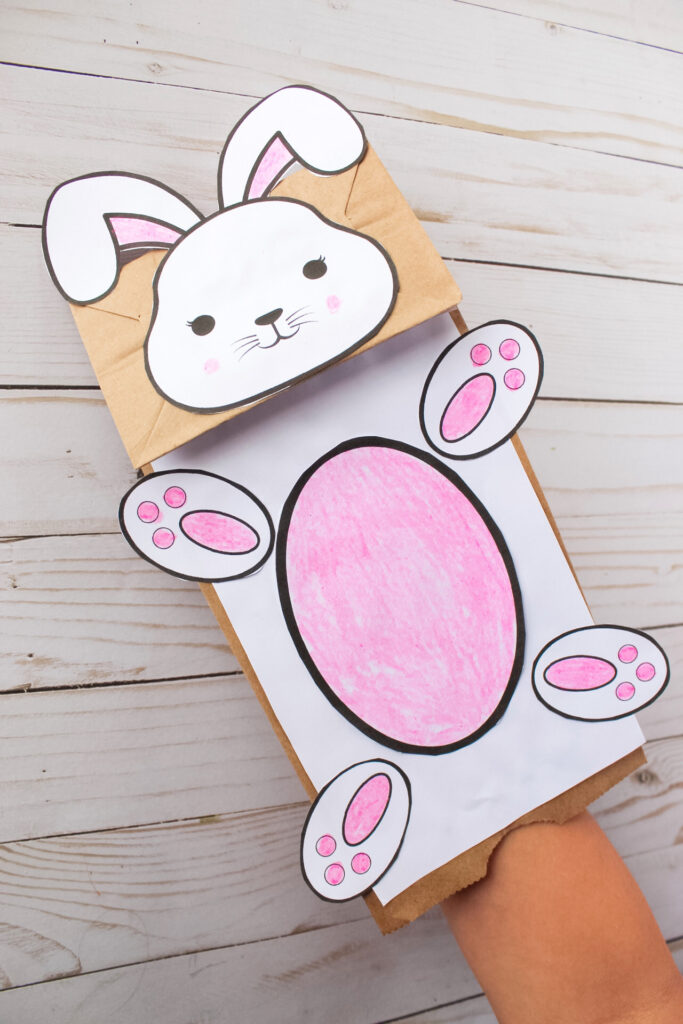 Possibly my favorite from this collection, this croc paper bag puppet is just so adorable. Use it as a letter C craft, or just for fun. Paint parts, cut th
em out from paper, use the template to guide you, and just have fun.
Printable Clothespin Puppets
Clothespin puppets are actually some of the most popular puppets for the very simple reason that they are just so brilliant! But as a bonus, they offer really fantastic pincer grip practice and help build those finger muscles and fine motor skills.
Celebrate winter with these quirky snowman faces. Designed to work for forward facing puppets or side/profile ones, the template gives you plenty of opportunity to get creative and do your own thing.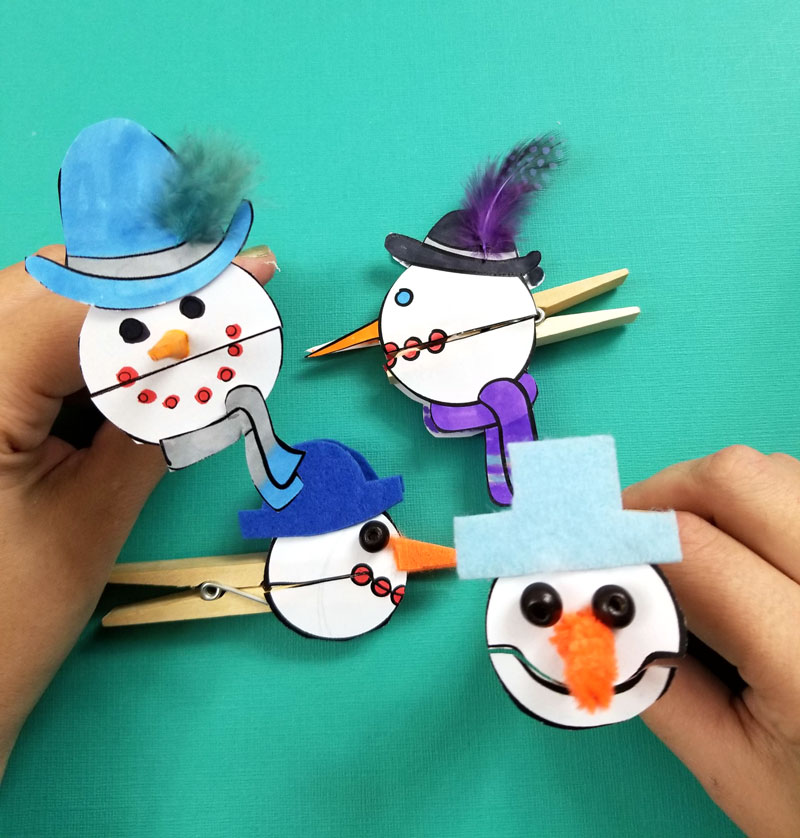 This might not be what you expected when looking for printable clothespin puppets, but they are one of my favorites. Essentially, what you're printing is simply mix 'n match facial features. The tutorial teaches you how to use clothespins, toilet paper or paper towel tubes, and other craft supplies to make your own puppets. The printable helps.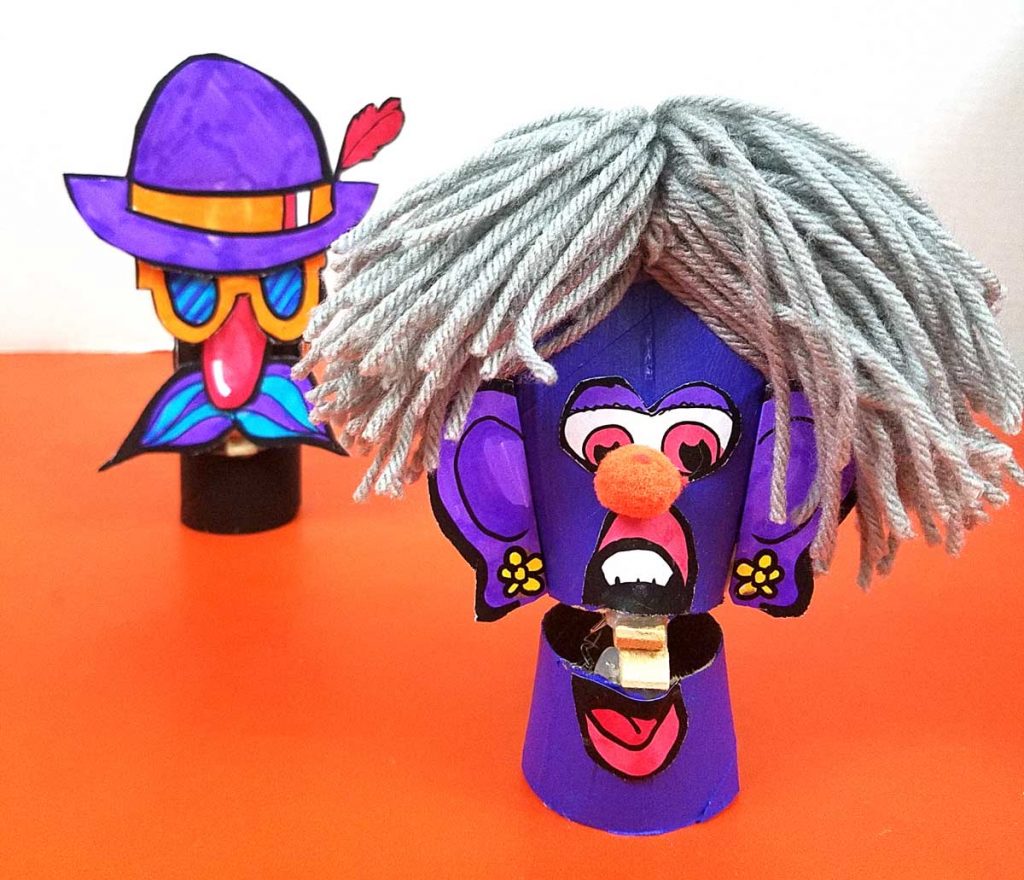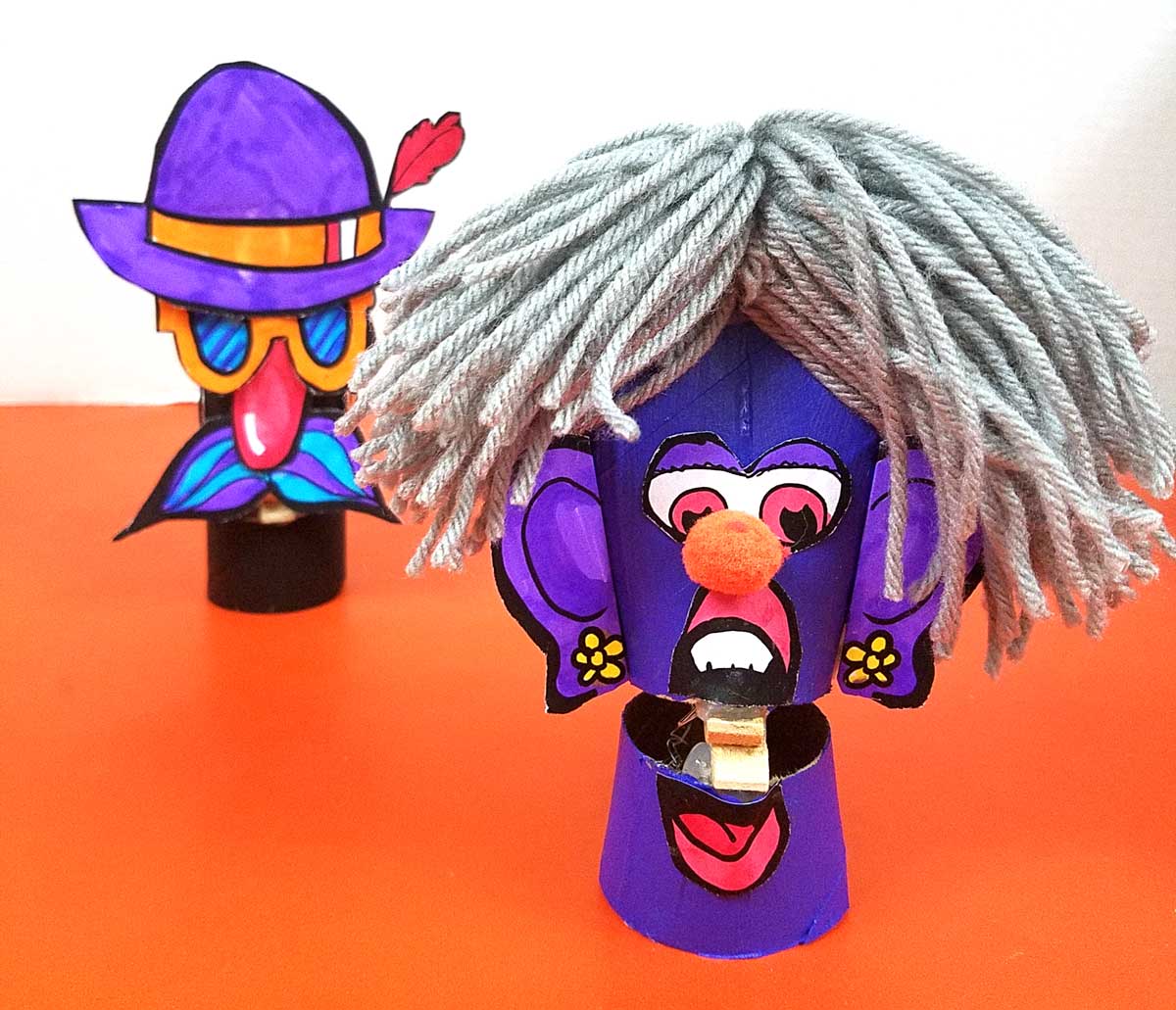 The first printable clothespin puppets that I designed, this set went viral on Facebook and has been made by so many children worldwide! OT's, music teachers, language teachers and speech therapists, preschool teachers, parents, aunts, grandparents, and more have reached out to me to tell me how much fun their kids have had with these clothespin paper puppets!
Some yarn hair adds a quirky touch and kids will love coloring the quirky characters.
After the success of the above puppets, I made a Halloween version (though it's great for monster fans for any time of year, and a fantastic themed party craftivity). This comes with a fine motor game, where monsters try to "eat" the pom poms as fast as they can – and whoever eats the most is the winner!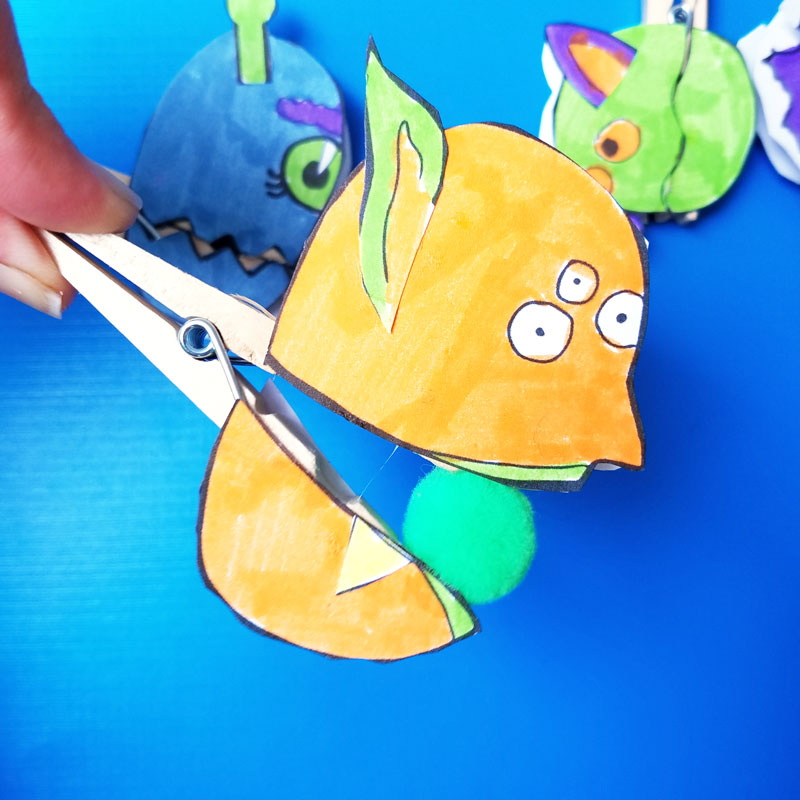 Printable Stick Puppets
Good old stick puppets mostly require such basic supplies and are easy to use! There are two types of printable stick puppets. One is a printable coloring page or full color puppet that you use directly. These are really design-intensive on the designer's end, but so quick and easy for you to assemble. These often come in both a full color version, for a quick throw-together toy, and a color-in version, for an easy craft that still offers room for creativity.
The second is a template that gives you the shapes to cut out of colored paper, and then you assemble it. This is better for slightly bigger kids, or to prep for kids in advance.
Sing the alphabet song, learn letter recognition, and learn about some new animals with these beautifully illustrated printable puppets that are available in full color and in a color-in version! You can cut these by hand, or upload the PNG to Design Space and Print then Cut with your Cricut.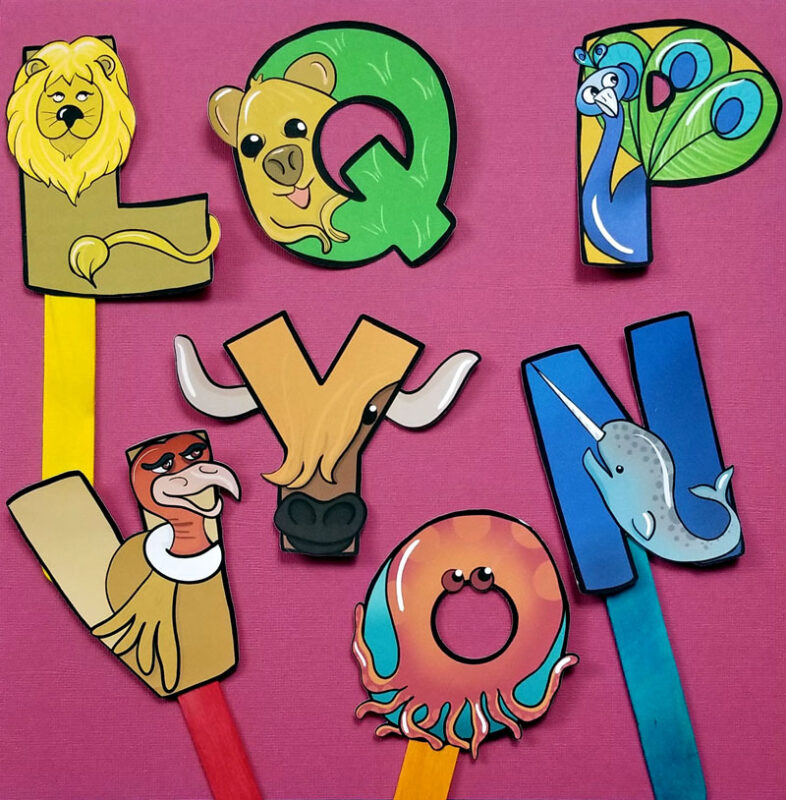 Learn about the weather with these adorable stick puppets! You can use these with a pocket calendar type of setup in a classroom as well. If you prefer, you can cut out the parts from the template and color it, using the printed template directly.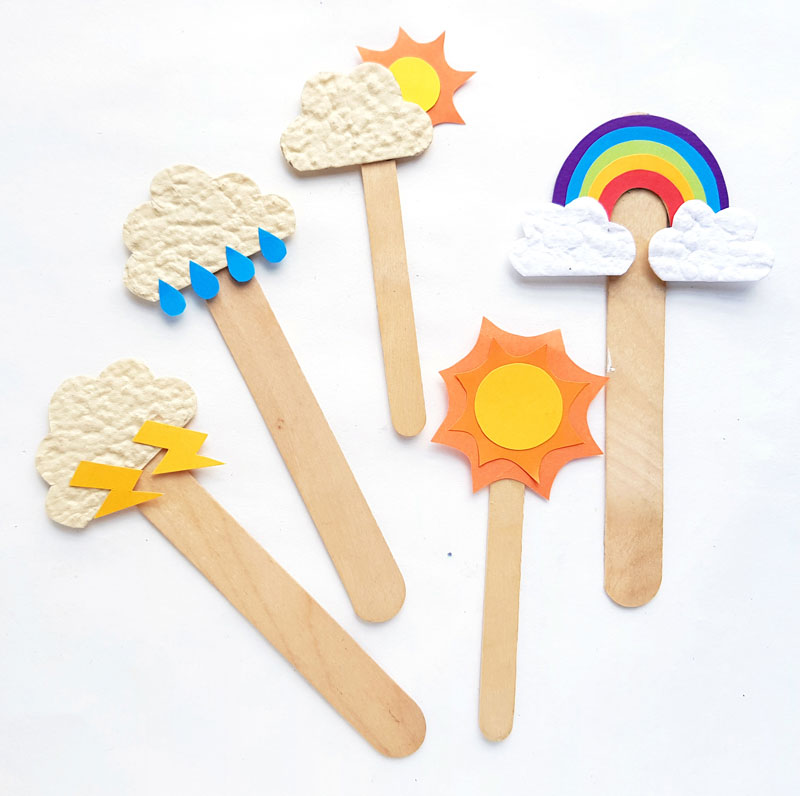 This panda puppet is so so cute! You can use the template to cut paper, or color the parts and assemble the panda puppet directly!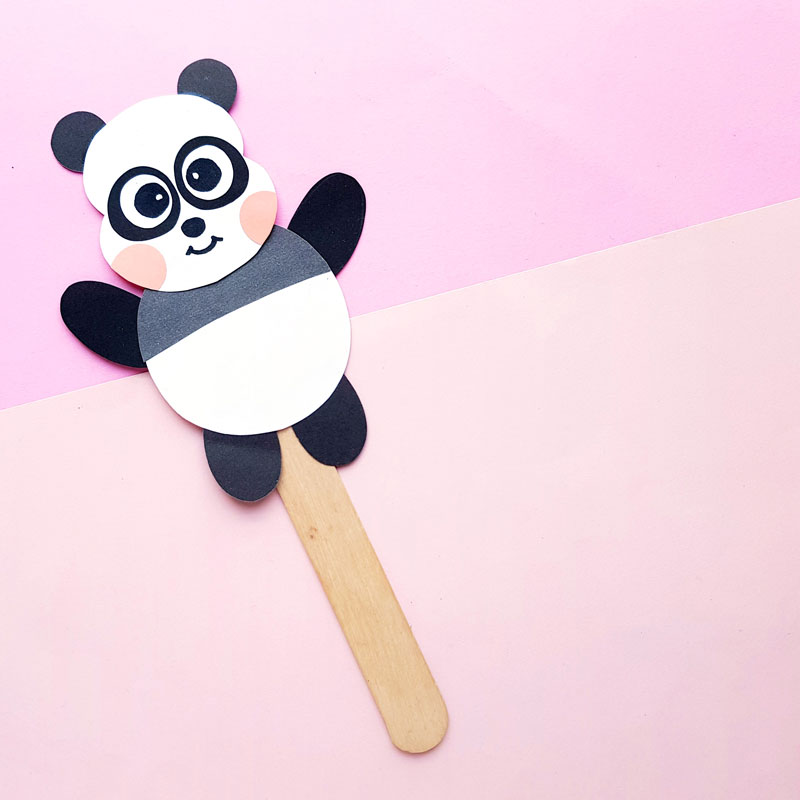 Create these Frozen inspired characters as puppets, or use them as bookmarks. Elsa and Olaf are two favorite characters and the simple template will help you recreate adorable puppets inspired by them.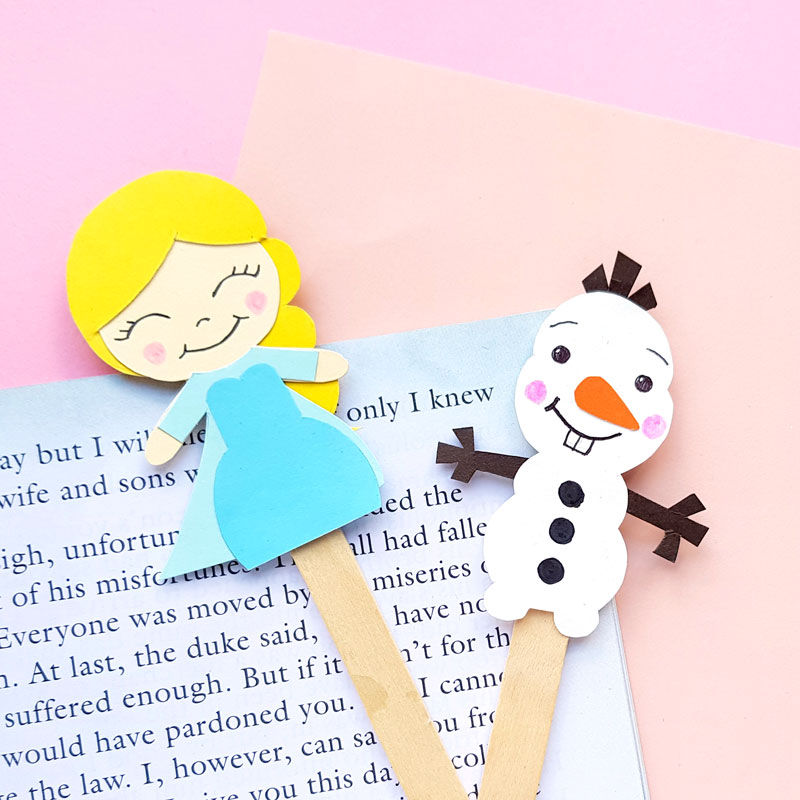 I designed these puppets to go in my kids' travel activity kits when we traveled two years ago, and they loved coloring them and playing with them! They are so easy to transport and travel-friendly. You have everything from pilot to co-pilot, every type of traveler, including a traveling family, and even ground crew!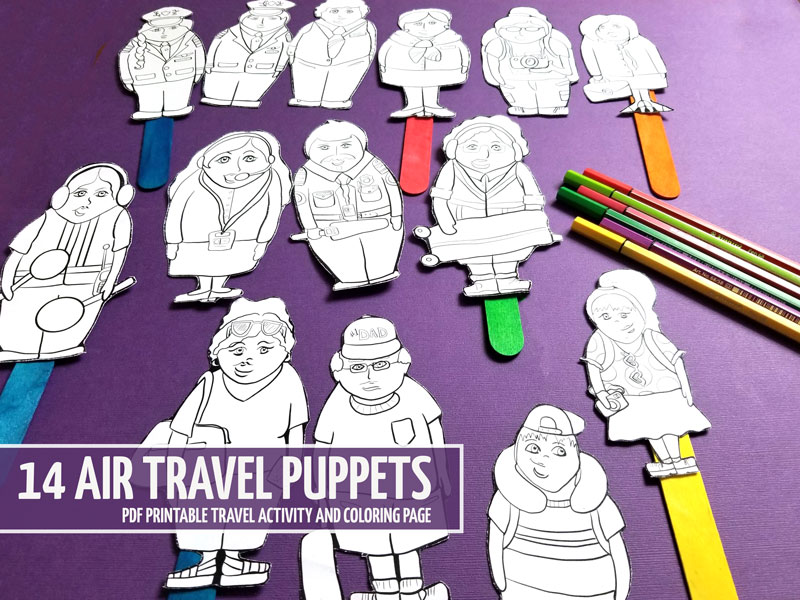 The story of Little Red Riding Hood and the wolf comes to life with this fun puppet set! Grab a sample of the color-in version for kids to enjoy for free, or you can purchase the beautifully illustrated full-color version for an instant toy.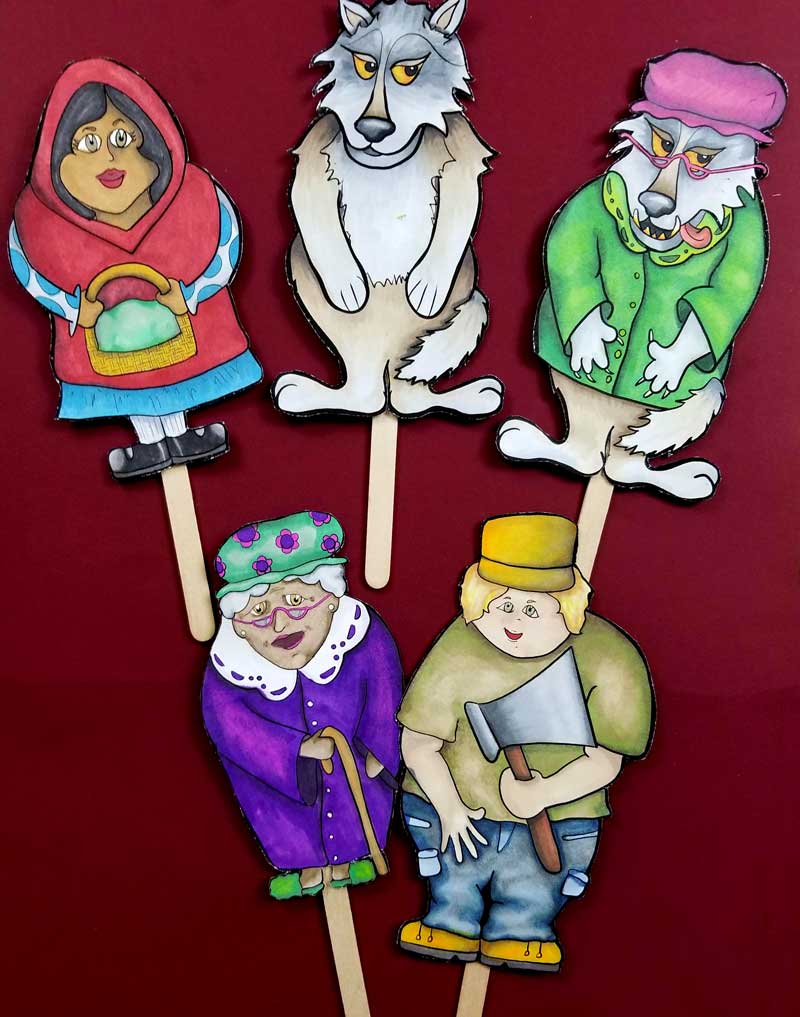 Got any favorite printable puppets to share? Comment below!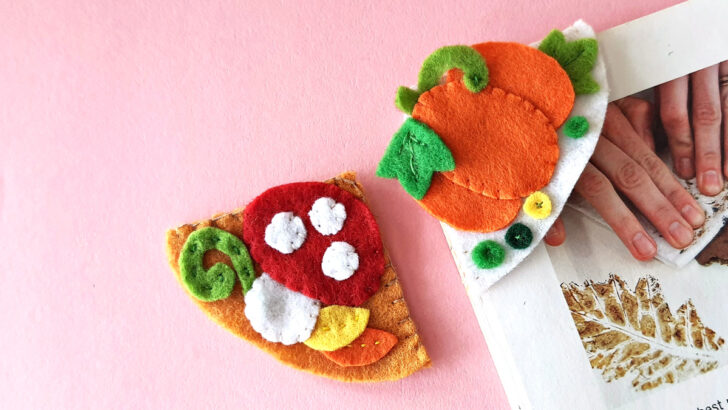 These felt fall bookmarks are the perfect accessory as you curl up with a book this upcoming fall season. When you're done, check out this …