Enjoy this fun list of ideas for crafting with buttons to help you bust that stash! This post contains affiliate links.
---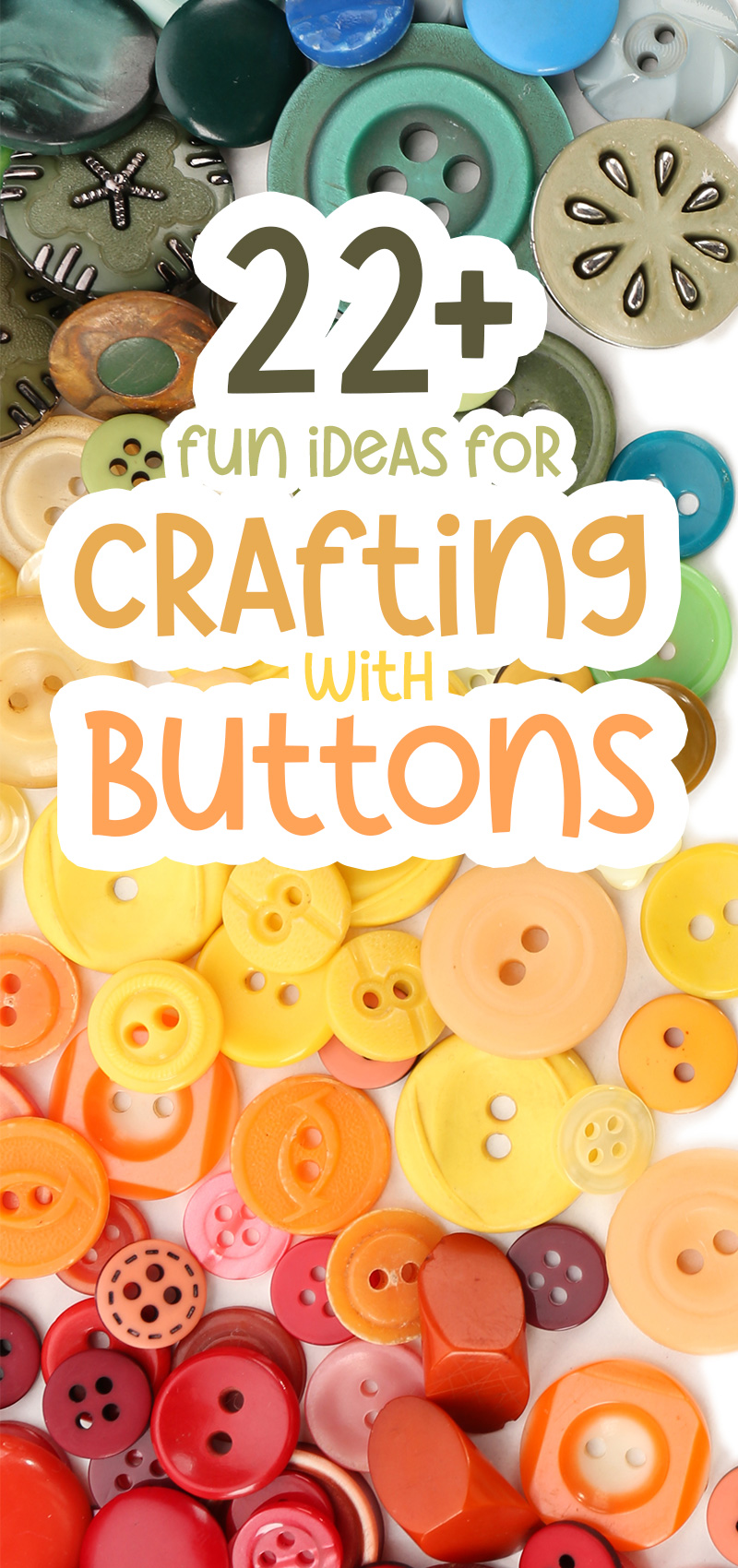 Am I the only one with a huge pile of buttons that I have collected over the years? While assembling this list of ideas for crafting with buttons, I realized that I really haven't done that much with them, and need to get started STAT!
Buttons are such a versatile crafting tool and can be made to create designs on a canvas or add a little fun to jewelry. If you want to start crafting with buttons, there are many great craft ideas out there to help you get started!
There are many ways to start crafting with buttons: you can make use of that pile of spare buttons from outfits you haven't seen in years. You can stock up on colorful ones. You can find them in cute shapes or with printed designs.
Here are the best crafts to make with buttons!
Crafting With Buttons with Toddlers & Preschoolers
Buttons do present a choking hazard for kids who still mouthe things, so make sure to supervise closely!
They do present a fabulous opportunity for fine motor practice, making crafting with buttons fabulous for the little ones! Including them in DIY toys and activities for those age groups allows them to learn real life dressing skills. And simply using it as a glue-on for various art projects encourages pincer grasp skills! Of course, it adds tons of texture to projects.
To start, you'll want a stash of solid colored buttons both in traditional circles and simple shapes.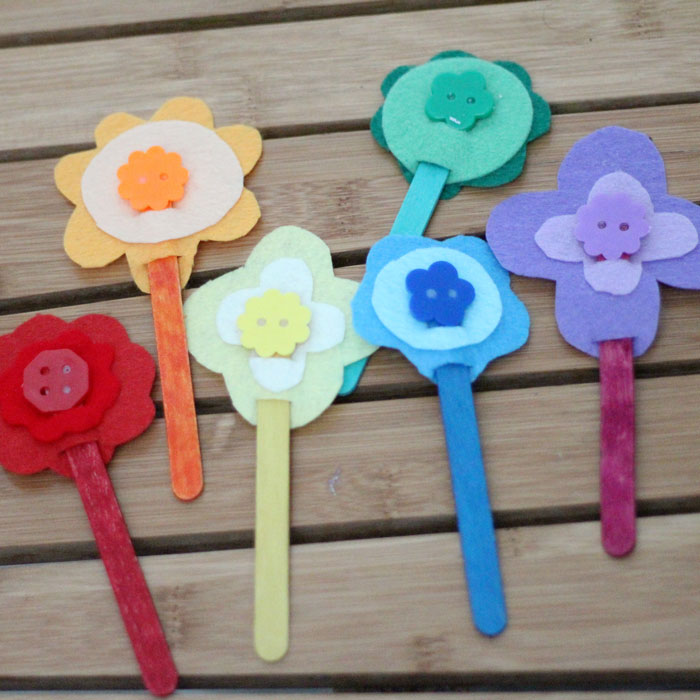 Toddlers and preschoolers benefit from loads of fine motor practice. And what better way to do that than with real life skills? This is actually a toy that parents make for their kids, but the kids do the "final touch" by matching colors and buttoning them together. Use colorful buttons and felt scraps along with craft sticks for this simple project.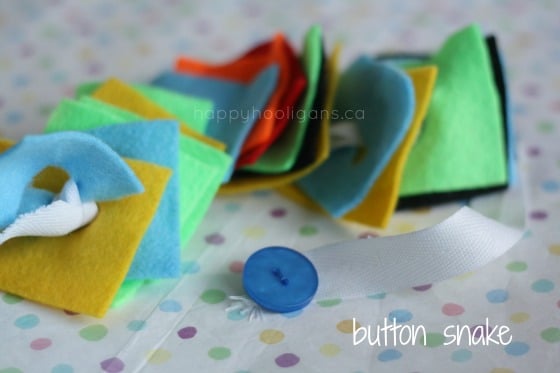 Here's another buttoning-up skill-building activity that can be accomplished by crafting with buttons! Make a button snake for toddlers to assemble on their own! Oh how fun!
Simply filling in a space with buttons can make for a fabulous toddler-friendly art project! This heart is fun for a toddler or preschooler-made gift for a parent. If making it with toddlers, you may want to make the button area more distinct by coloring it or by making it from a construction-paper cutout and only afterward gluing it to a background. You can also simply apply the glue only to the correct area for your tot.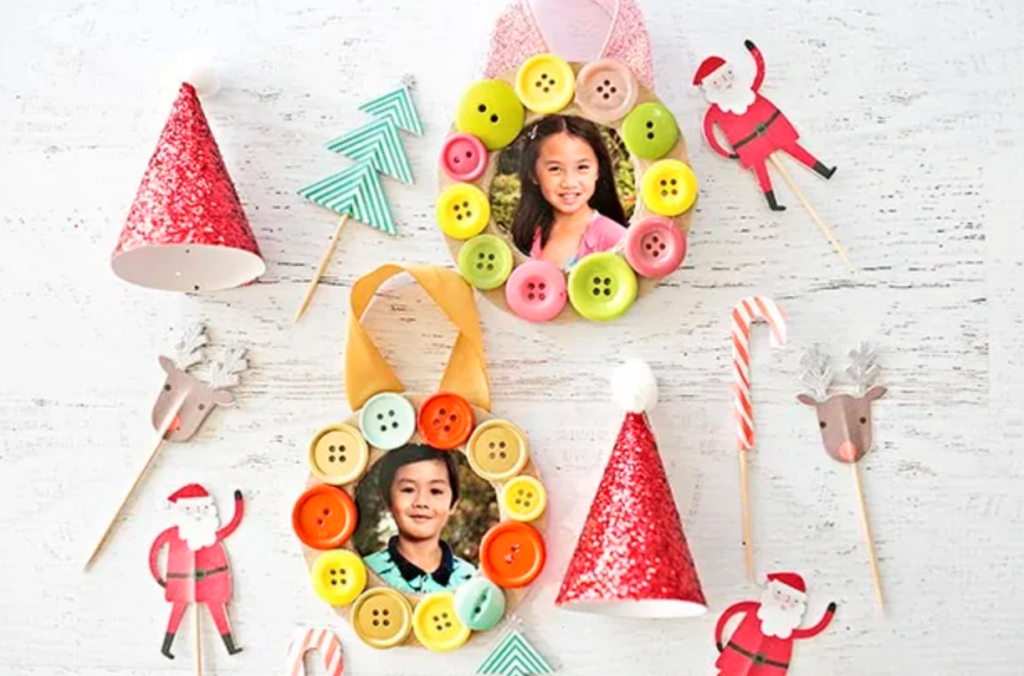 This craft just shows how by gluing buttons, kids as young as toddlers can make an aesthetically-pleasing, functional craft! You can make this for any time of year.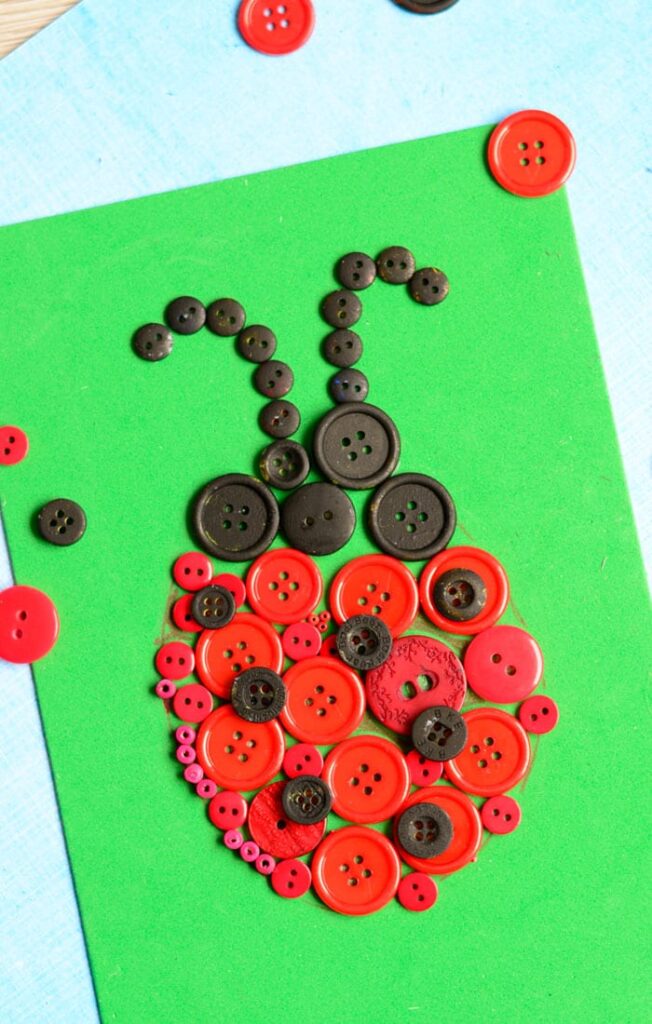 Here's another fun idea for crafting with buttons with younger kids! They can use it as a mosaic for art projects such as this ladybug. What a fabulous craft to ring in Spring!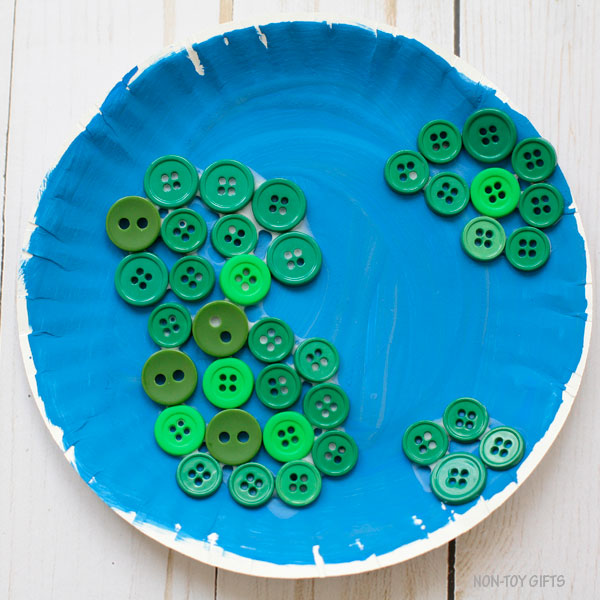 Or, go for Earth Day vibes by making a button earth craft! You get a color-matching element here, and the toddlers and preschoolers can do whichever parts of the project they are capable of.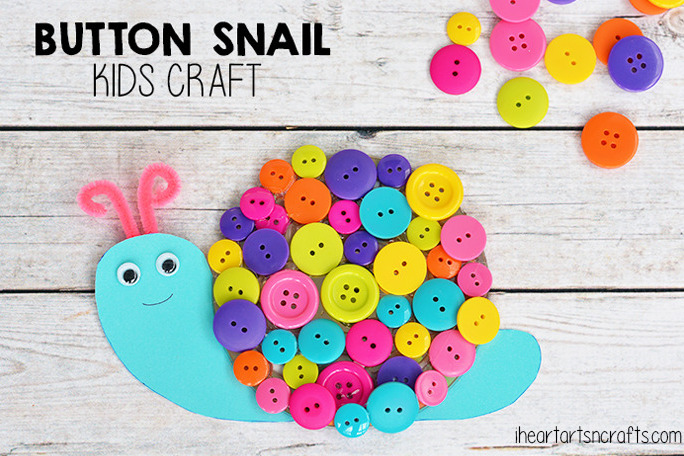 This snail craft shows just how crafting with buttons can be combined with other recyclable crafts! And the stiff base is super sturdy for buttons too. Craft the snail for spring, for learning the letter S, or whatever else makes you feel snail-y!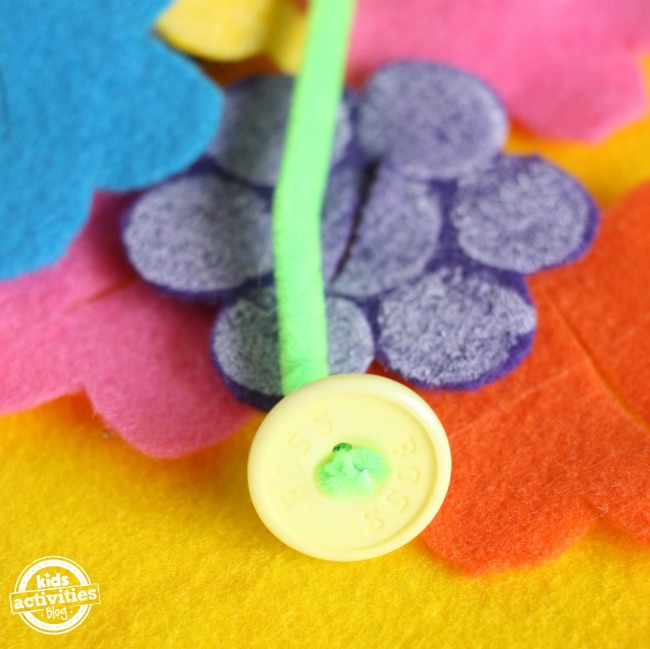 Want a combination of my felt flower craft and Happy Hooligans's button snake? This felt flower button snake makes that adorable combo! Now try it with other shapes too.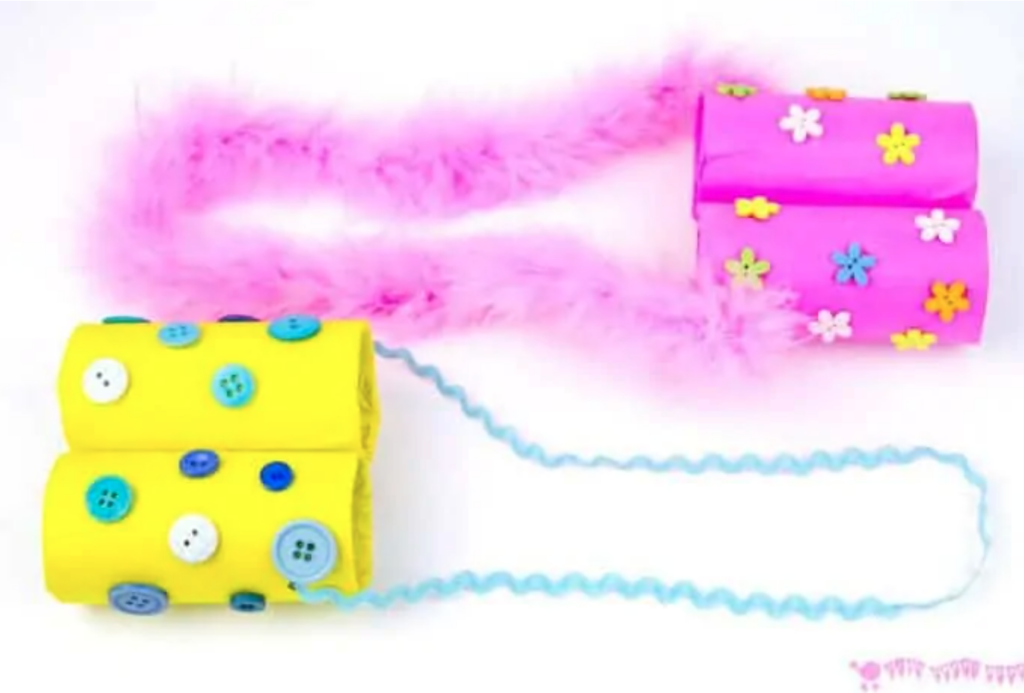 While not an integral or functional part of the final project, I wanted to include these button binoculars to show how crafting with buttons can add dimension to any project! These binoculars are a fun pretend play toy for preschoolers, and buttons make fun embellishments.
Ideas for Kids for Crafting with Buttons
As kids grow a little older, they can start crafting with buttons in a more functional manner. Their art projects become a little more advanced. But still, the colorful, quirky appeal of buttons only gets stronger. This is where you can start going beyond the colorful craft mixes of buttons and start mixing in more eclectic mixes of assorted sewing buttons.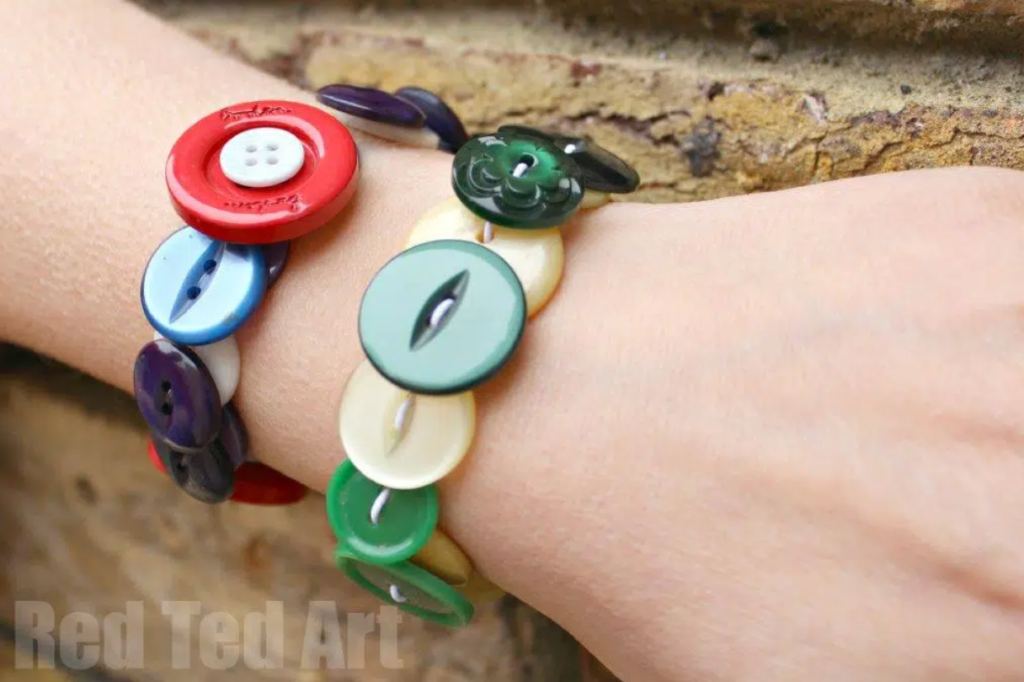 Get kids started with some super simple sewing skills using buttons! These button bracelets are fun for kids to make and a mess-free project too! They can take it on the go, work on it in school or on the bus, and store their in-progress projects in a bag in their backpack. These button bracelets make fabulous friendship bracelets too!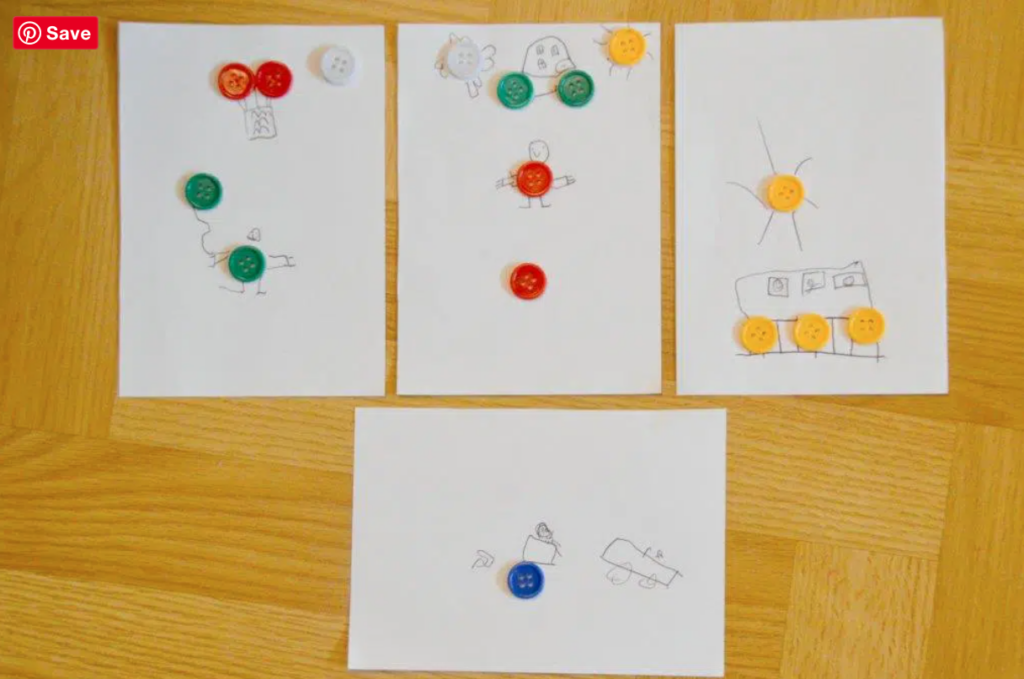 Crafting with buttons takes on a whole new dimension when kids start adding in their art skills. Greeting cards are a fabulous way to turn artwork into a craft. Using the buttons as a starting point not only helps kids be creative, but it also adds color and texture to the final project.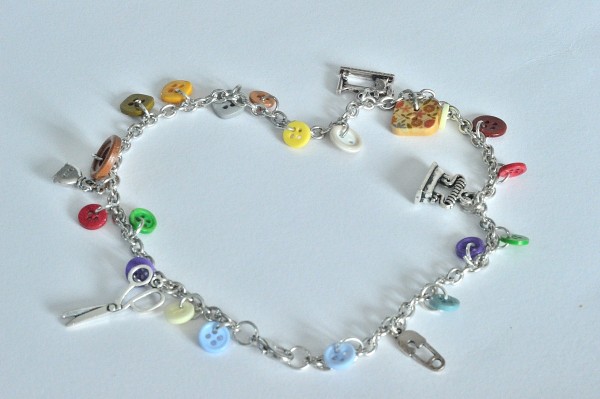 Another totally different take on button bracelets: use them as charms! While the above bracelet was more make-on-the-go compatible, this idea for crafting with buttons is fabulous for your aspiring jewelry designer.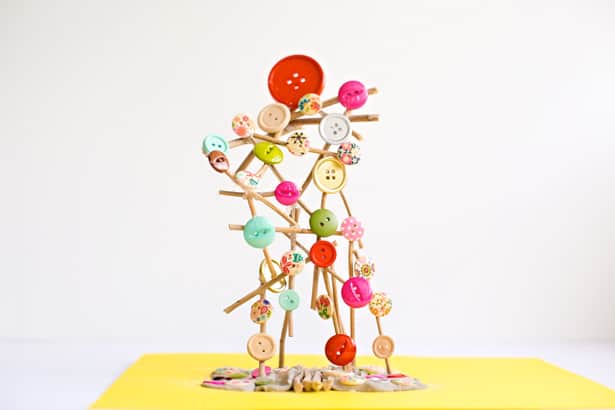 For kids who feel less artsy, a freeform sculpture can be a fabulous form of self-expression. This button and stick craft is fun for even the less crafty and is a cool classroom craft idea!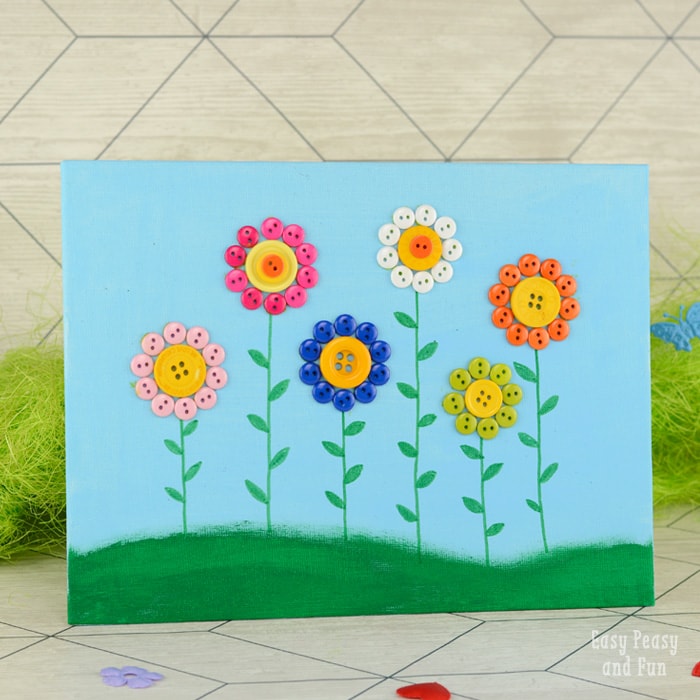 Kids can also use buttons on their canvas art projects! And what better way to do that than… flowers?! As you can see, we've been crafting with buttons to make lots of flower projects, and that's because they make the perfect flower centers.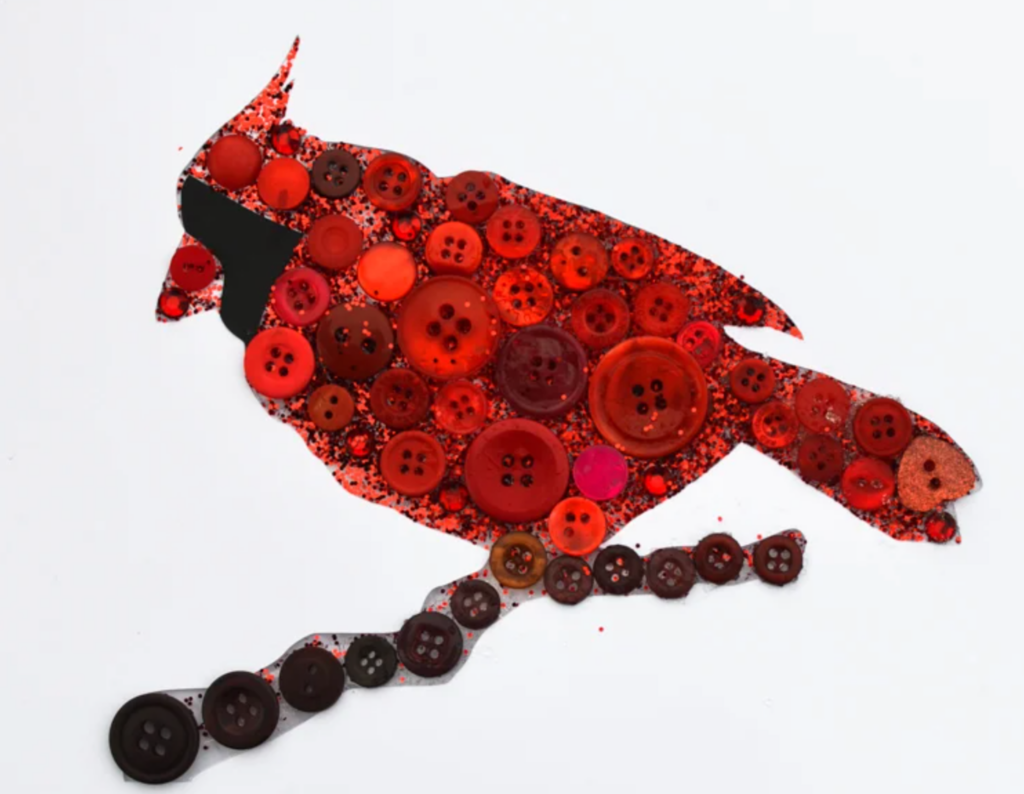 Here's a bit of a more advanced button art project for your big kids! The bright red cardinal does not need to be saved for Christmas – it's a fun art project for any time of year.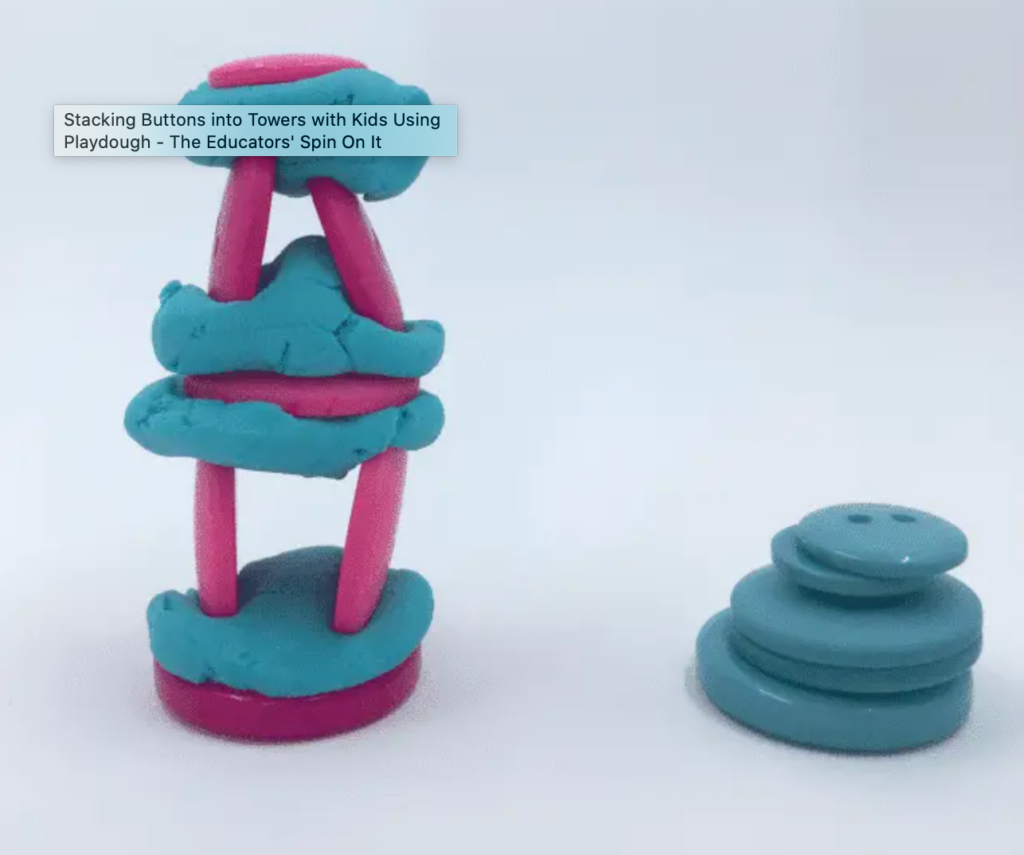 This fun STEM activity can be customized for any age group! Simply adapt the type of clay you use for the kids you're making it with. Young kids can use play dough and older kids can use air dry clay or Model Magic. You can take it apart or allow it to dry and keep it as sculptures.
Teens & Adults Ideas for Crafting with Buttons
There is no age cap on crafting with buttons! Some of the above art projects are fabulous for teens and adults too, but here are some that are so sophisticated looking, we know even your teen will dig it!
When looking for buttons to craft with for older kids and adults, you'll want to go a bit more sophisticated. Wood buttons are an inexpensive, lightweight winner and come in all sorts of finishes and prints. Sewing button mixes give you an eclectic and shabby chic assortment. And if using plastic colorful buttons, opt for smaller and more muted colors, mother-of-pearl finishes, translucent buttons, and other more polished looks.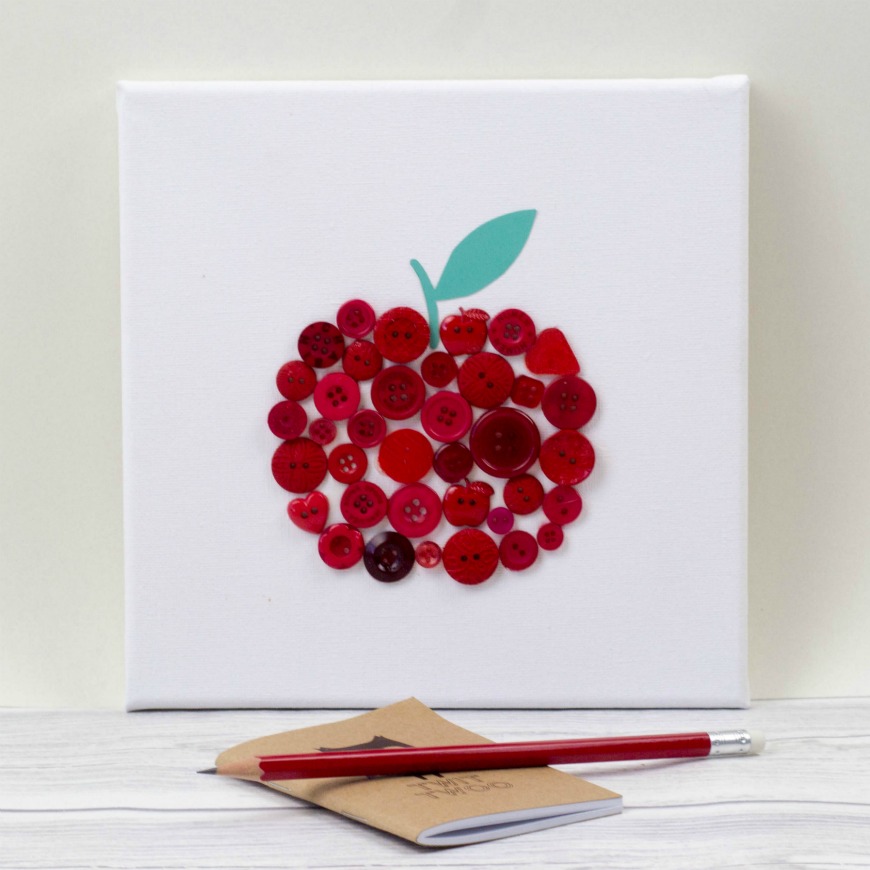 A simple apple on a minimalist background makes for some fabulous art! Try it with other shapes too! And if you have loads of buttons of the same color in different shades, try adding some shading too!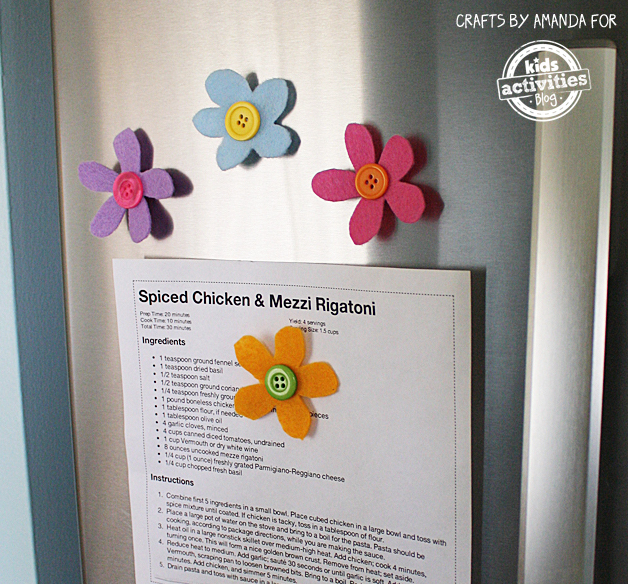 These flower button magnets make super cool locker or fridge magnets! You can use any non-fray fabric for the button and get creative with which buttons you use for a totally customized look.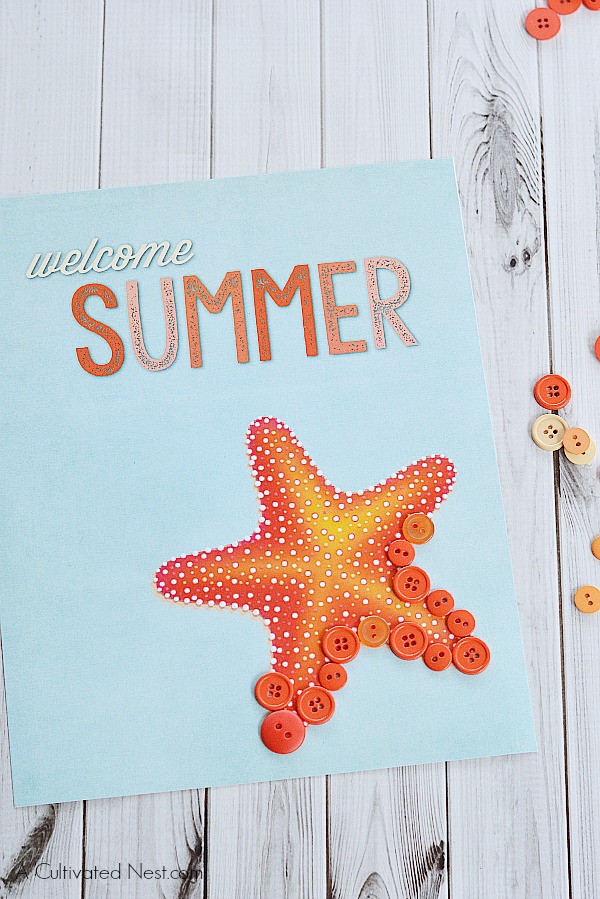 I love the layered and shaded look of this beachy summer decor! This piece just shows how choosing the right buttons, even when using colorful ones, can give you a totally upgraded touch.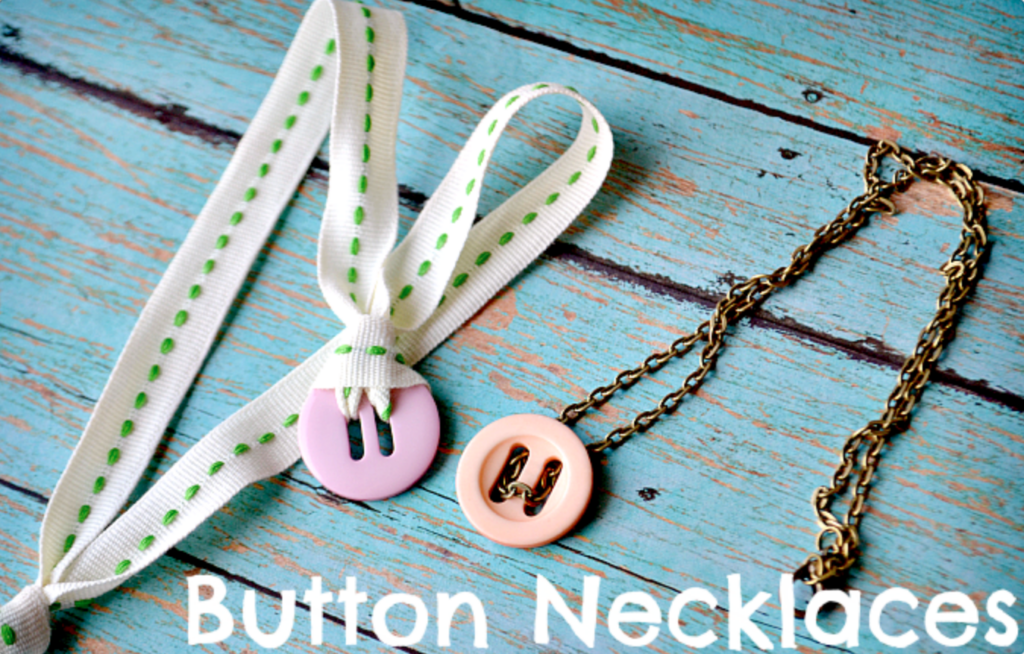 When crafting with buttons that are more unique, letting them have the spotlight is the way to go! This mini-roundup shows five unique crafts (tutorials are in the post itself) that use buttons and really showcase their style!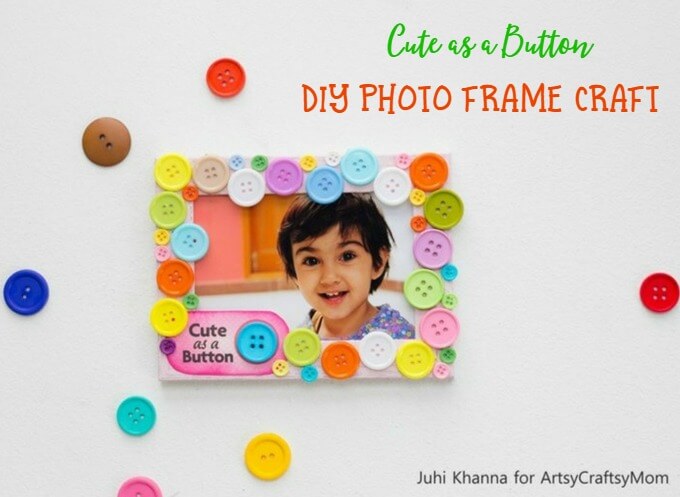 Use buttons to make an adorable little photo frame! The sampled project has more of a kids' vibe, but you can totally make it more mature, and I really do love it as a grown-up craft too.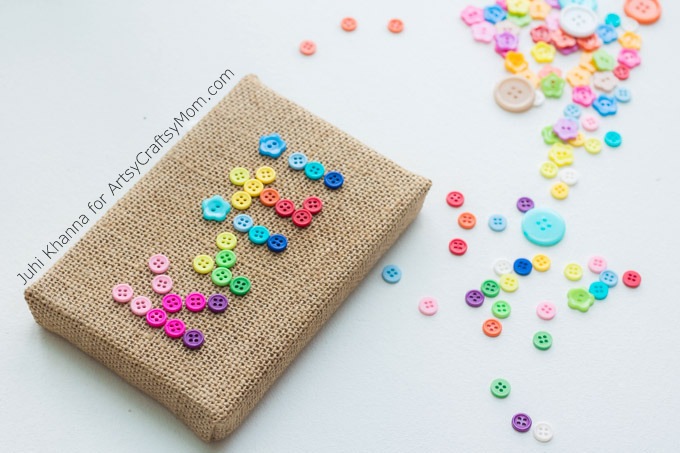 Buttons are so playful, making them a fab choice for nursery wall art! You can go as small or as grand as you want with this one!
Button Globe by Happiness is Homemade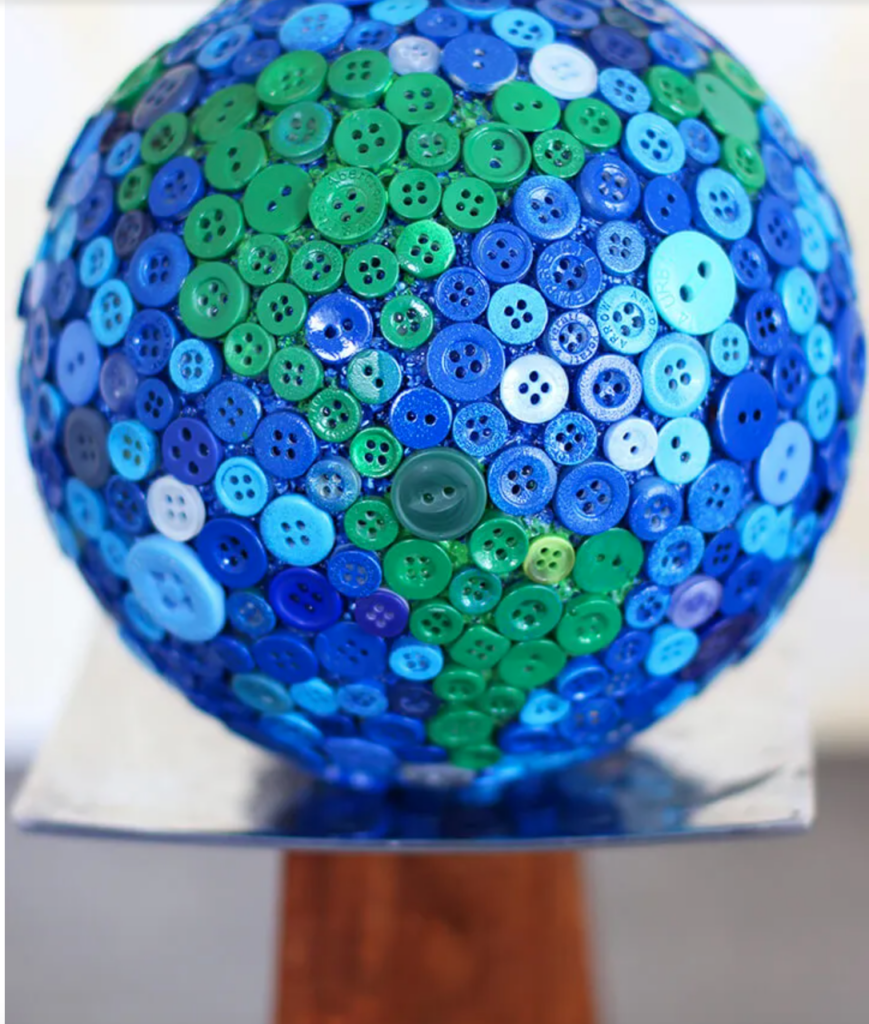 To finish this off with a craft that will take your breath away, this button globe is wow! It just shows how buttons can be used to "color" or paint with much more texture and interest than just paint would accomplish! So cool!
Do you absolutely love crafting with buttons – and other fun materials? Hit the P button to pin this blog post and save it for later! Or, email it to a friend to share.