Once again, I'd love to welcome one of my favorite guests here, Evelyne of Nemcsok farms, with an eyeball ribbon wreath that's perfect for Halloween!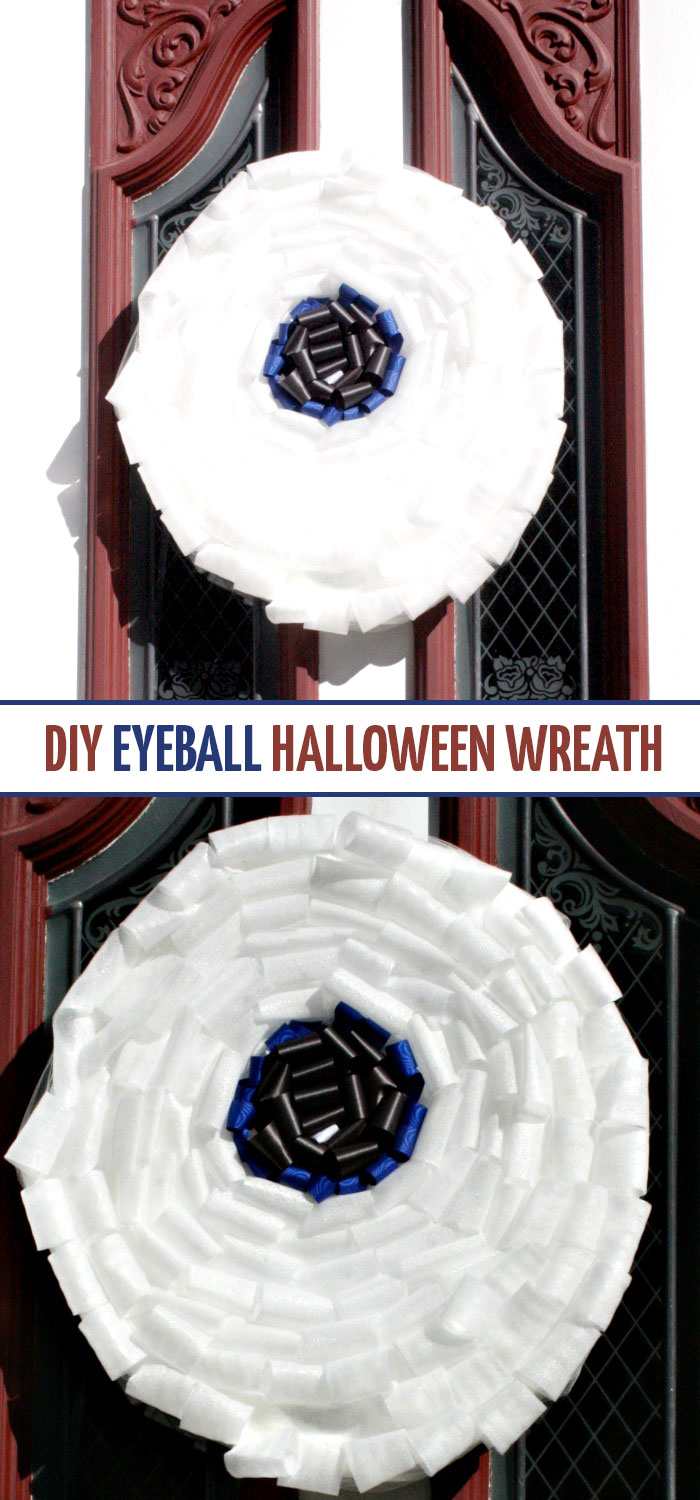 We like to keep our Halloween a little more silly, and little less creepy. If fun is more your thing, this Monster Eyeball Ribbon Wreath totally errs on the side of fantastic, and is decidedly not gory.
Disclosure: this post contains affiliate links.
Try to find some re-usable Styrofoam sheets for this, and not only will you be saving money on materials, you'll keep a couple things from ending up in the landfill.
Be sure to check out our Halloween Ribbon Wreath to see the technique I use for attaching the ribbons to the wreath form, and also it is another fun decoration, and again, not creepy.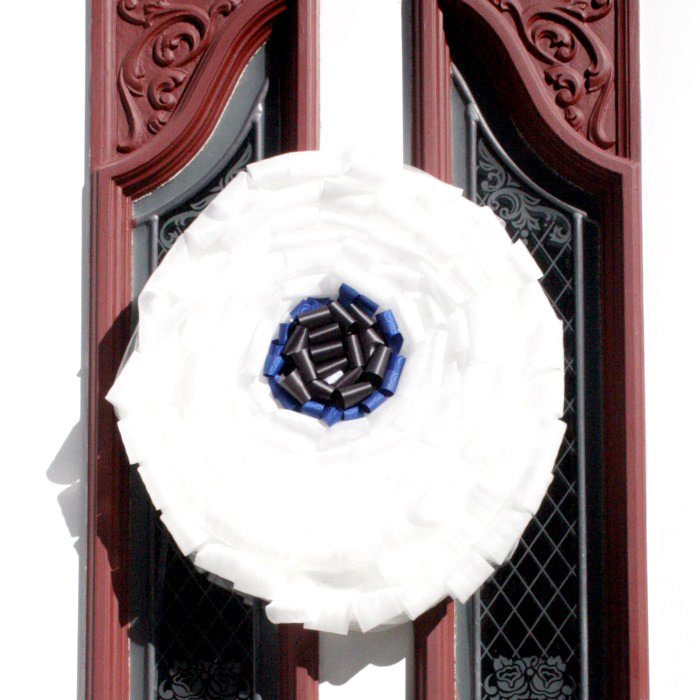 What you need to make the Monster Eyeball Ribbon Wreath
1 sheet of Styrofoam – as big as you like.
Sharp knife
Ribbon ( in black, blue or green, and white ) The amount of ribbon you need is proportional to the size of your Styrofoam.
Straight or sequin pins
Scissors

How to make the Monster Eyeball Ribbon Wreath
1. Using your sharp knife, cut the styrofoam sheet into a circle. And break out the vaccuum, because broken styrofoam takes on a life of it's own. If you've ever worked with it, you already know what I'm talking about.
2. Use the tulle to wrap the edge of your styrofoam – this is how you will contain it from disintegrating allover your home and work space. You can secure it with pins, but hot glue would do the trick also. I pretty much always work with pins when making ribbon wreaths, as it is much quicker.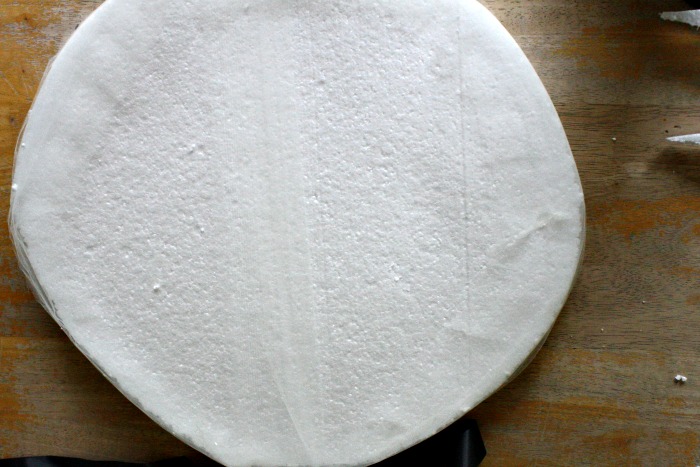 3. Take the black ribbon, and cut it into several pieces, about 3″ long. Form each piece into a loop, and secure it to the part of the styrofoam circle where you want the pupil to be.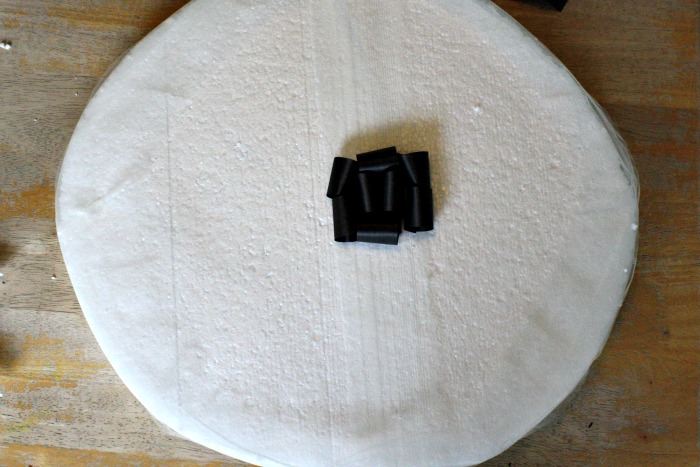 4. Repeat the same with the blue or green ribbon, forming a ring of color around the black.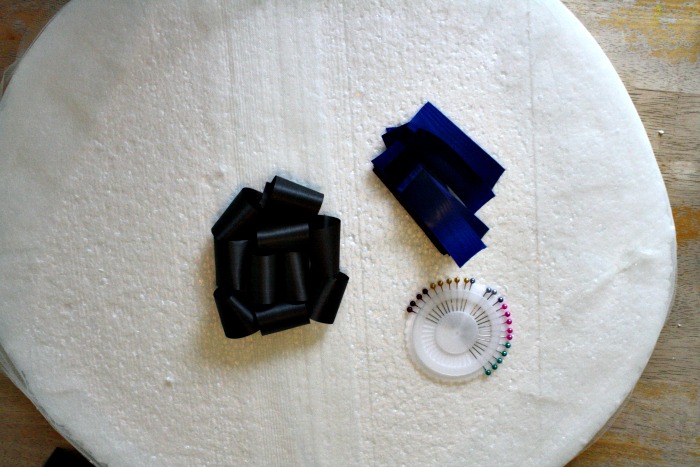 5. Repeat with the white ribbon, completely filling in the rest of the circle. To make it more eyeball like, you may take a very thin piece of the white ribbon, and make a loop and squeeze it somewhere in with the black – giving the Monster Eyeball a bit of a twinkle.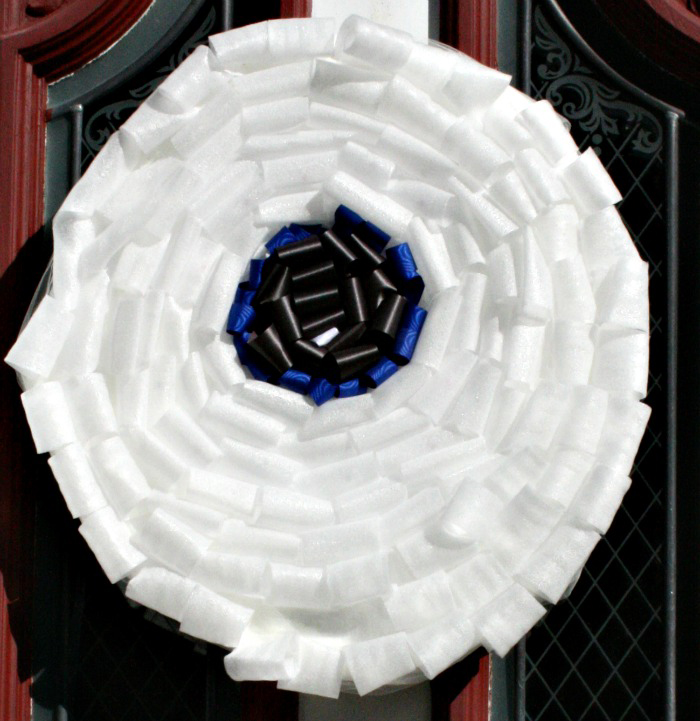 6. Hang the wreath simply by putting a small indentation into the back of the styrofoam, and placing it on a magnet, or a small hook – depending on where you want to display this fun decoration.
About the Author: Evelyne is the fearless, axe wielding, quirky, hardworking and incredibly funny creative genius behind the blog Nemcsok Farms. Who also has a weird fascination with soil, and wreaths, and also tea. You can follow her on Pinterest, and Instagram, and stop by her Facebook page to see she has been creating lately. You can also buy her knitting patterns on Etsy. She has recently released her first ebook of patterns for you to try.