With the holiday of Purim on the way, I decided to make this felt Purim play set for M to use. You can adapt the basics I did for any felt play set, or follow along if you'll be celebrating this Purim! Disclosure: this post contains affiliate links.
M likes to "open" things.
By "open" I mean take them apart. This set was made securely enough that he can't – although he tried.
The set includes the following:
He did manage to slip out the handle of the noisemaker, so I glued that into place afterward.
I only made one food for the food package simply because I wanted the hamantaschen to go in it as well. They don't all fit, but one or two can be placed inside to complete the package (which officially has at least two foods in it). You child can also pack his/her own with other play food (try some cherries.)
Making this Purim play set can be time consuming, but each part can be played with on its own too! So you can take your pick and make just one. The scroll is especially fun, as kids can "pretend" to say the story of Purim fro it, and the hamantaschen are fun to add to a kitchen play set, special for the season.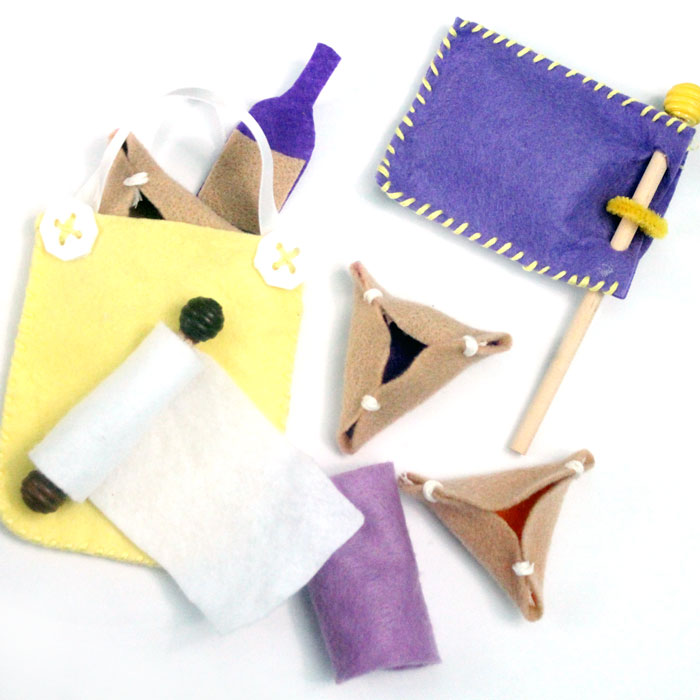 What you need to make a felt Purim play set:
Since some of the items in this set require different materials, I put into brackets which pieces you need it for – in case you just want to make one or two of them.
Felt (all). You'll need some larger pieces (for the megillah/scroll and the food bag), but many of these will fit onto scraps. Even those can be combined onto scraps if you really want to try for cheap…
Coordinating embroidery floss and an embroidery needle (all)
Wooden dowel (megillah/scroll and gragger/noisemaker)
Large wooden beads (megillah/scroll and gragger/noisemaker)
Pipe cleaner/chenille stem (gragger/noisemaker)
Scrap cardboard (gragger/noisemaker)
Duct tape or another strong option (gragger/noisemaker)
Assorted glass beads (gragger/noisemaker)
OR a few jingle bells instead of the above three options. (gragger/noisemaker)
Fun buttons (mishloach manot/food package)
Fabric ribbon such as satin or grosgrain (mishloach manot/food package)
Good glue that works for felt AND wood-on-wood. I used E6000 but a glue gun would probably work as well (all)
Good scissors (all)
Pen/permanent marker
How to make the Purim play set:
Making hamantaschen/triangle pastries for the Purim play set: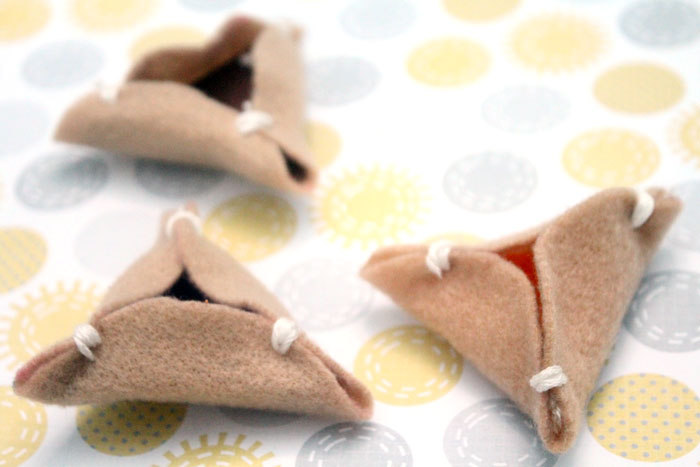 I tried this set a few different ways, but I'm sharing with you the one that works best! This is my favorite part, and my original plan for this set (I added the others onto the "to do" list afterward).
The flavors are, of course, grape jam, apricot jam, and chocolate-hazelnut.
The tutorial photos go from left to right, line by line, starting from the top left.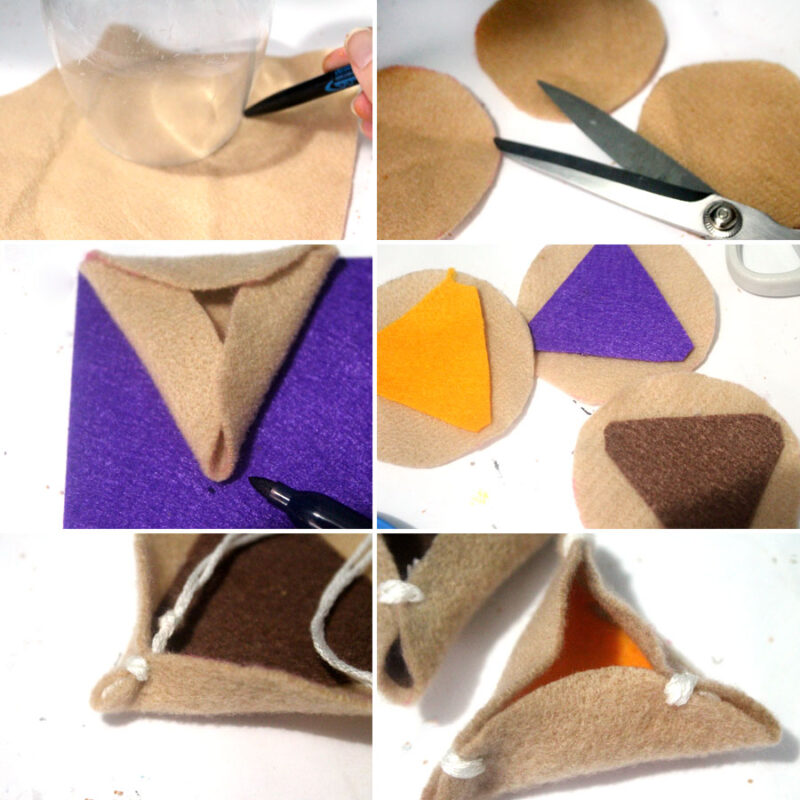 Outline three circle shapes onto felt.
Cut them out.
Fold the edges in (just to measure) and mark a triangle on a "filling" color.
Cut them out (doesn't need to be accurate), rounding the edges of the triangle.
Pinch two corners together and sew together at the point that you want it to open to show the filling.
Repeat with the other two corners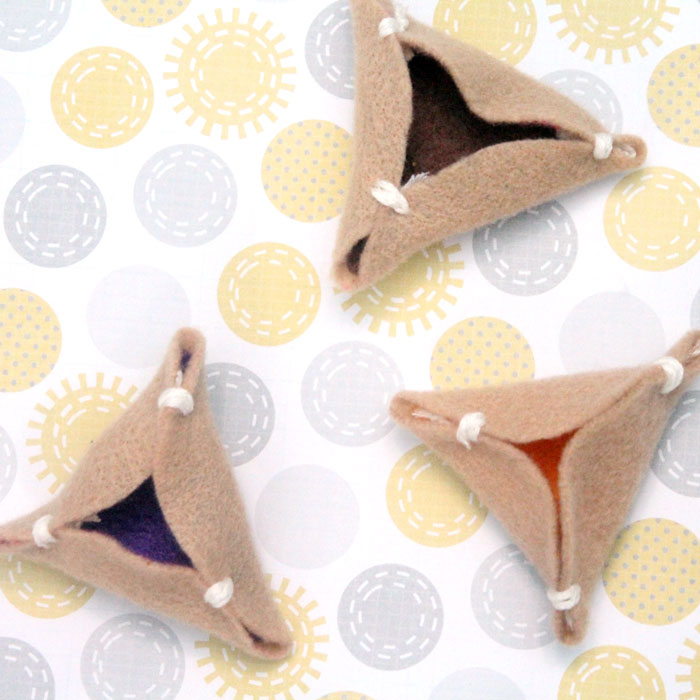 Making a megillah/scroll for the Purim play set: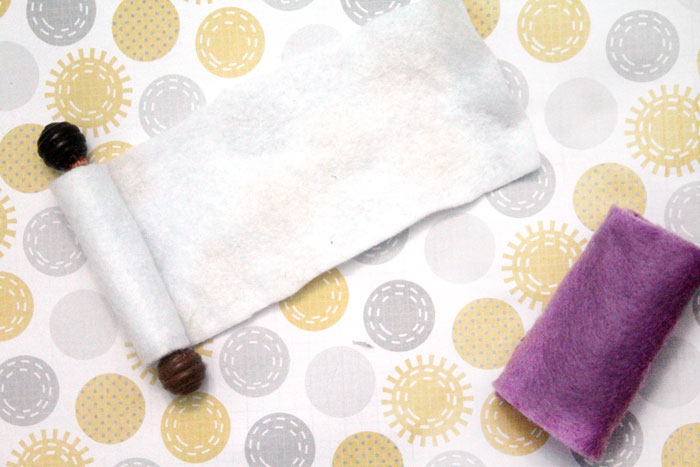 This one comes in two parts: the scroll and the cover for the scroll (which is usually a richly embroidered velvet cover with fringe).
I broke the dowel to size using my hands and then cut off the extras to even out the edge using good ol' scissors. Since the rough edges are covered with beads, I did not bother sanding it down.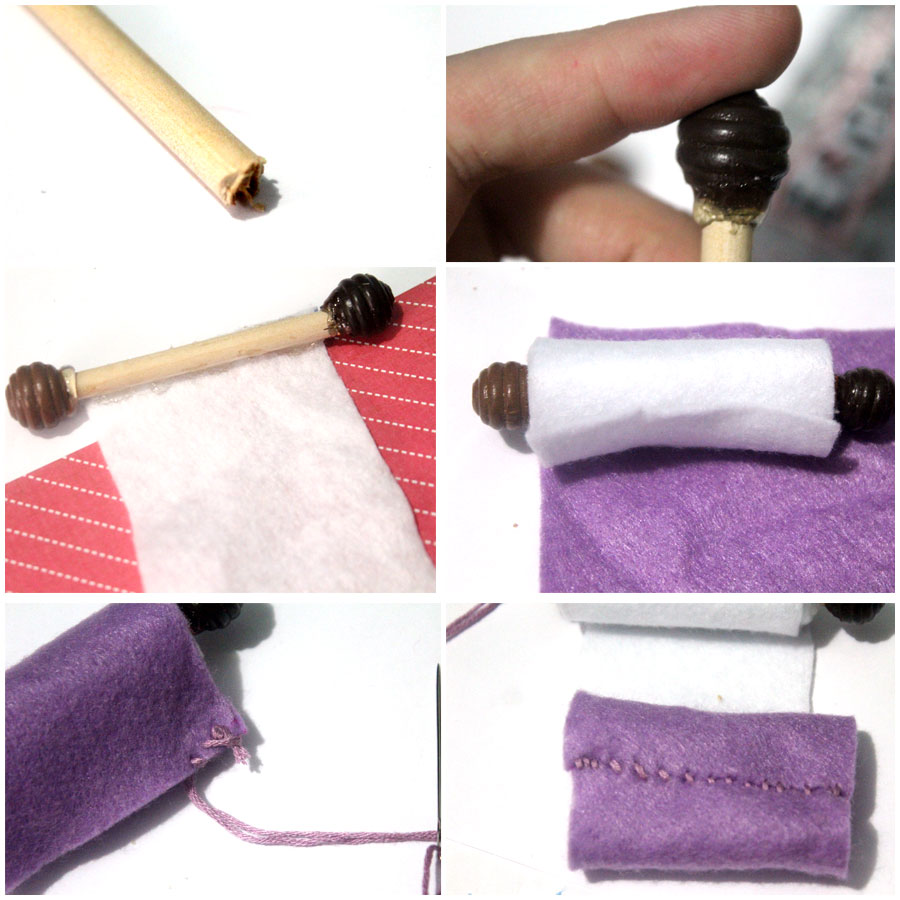 Break your dowel to size, and trim off uneven edges and splinters.
Glue a bead on each end and allow it to dry completely (you may need to prop and leave it overnight if you are using E6000).
Measure a strip of white felt the width of your dowel, so that it sits comfortably between the beads. Glue it in place on the dowel.
For the cover: measure a strip of felt long enough to go around the scroll GENEROUSLY with seam allowance, and wide enough to cover the rolled-up white portion.
Sew along the edge, making sure to maintain a comfortable fit over the scroll.
Flip inside out.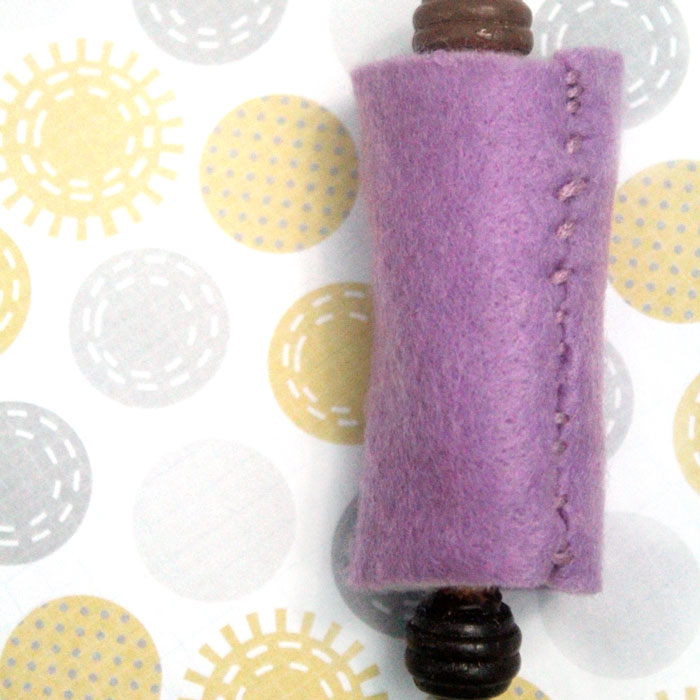 Making a gragger/noisemaker for the Purim play set: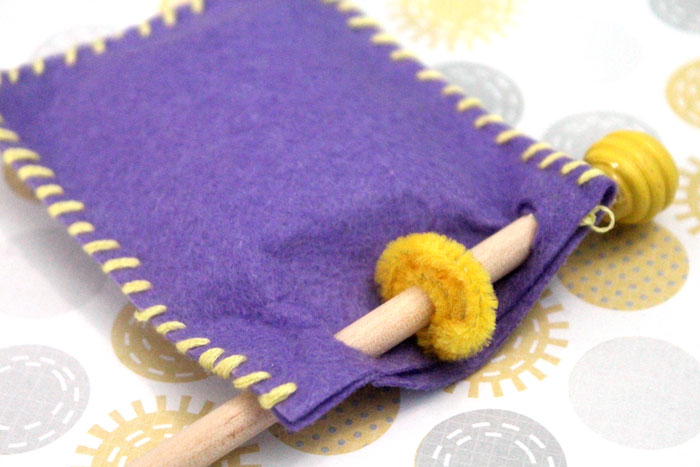 I wanted to make a noisemaker that actually makes noise, but not too much. I wanted it to make a quiet sound that M can enjoy, without being disturbing.
I think that jingle bells would have been perfect, but since I didn't have any, I made my own alternative – a mall cardboard container with a few glass beads to shake around.
I also wanted it to take on the traditional form of a ratchet, even though it wouldn't work as one.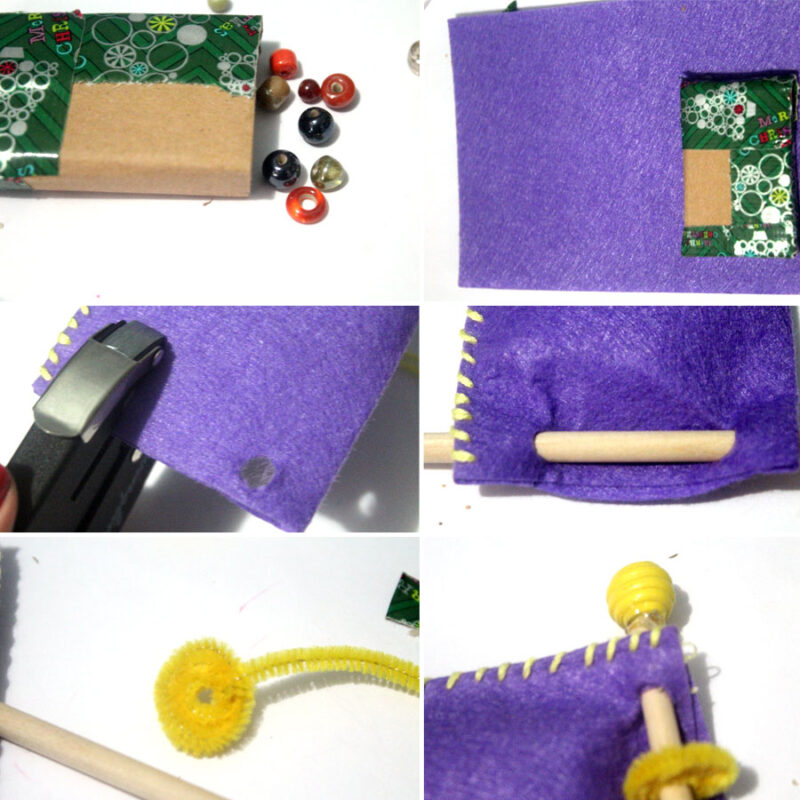 If you don't have jingle bells, form a small wooden box of beads out of scrap cardboard, and seal it with duct tape. Make sure to keep the sticky away from the beads (cover with a scrap of duct tape if need be). Make sure the beads can float loosely inside.
Glue your box of beads if using it in the bottom center, but a little to the side of a rectangle of felt (large enough to make sense when folded in half).
Fold your piece of felt in half. Punch or cut holes on the one of the short sides – the one with extra space if you used a bead box. (Using a hole puncher can be risky as it gets jammed. I have this one and was able to make it work, but I needed to unjam it…)
Sew around three edges using a pretty coordinating color. If you're using jingle bells, put them in now. Your dowel will be inserted ino the holes to seal the last side.
Trim your dowel to an appropriate size as you did for the megillah/scroll. Mae sure to keep a flat end intact. Coil a chenille stem with a hole in the center large enough for the dowel. Wrap a bit of the chenille stem around the coil (allowing it to remain flat) when you are satisfied with the size, and trim. You may want to glue the coil a bit to keep it in place.
Thread through one hole on your felt, through the coil, and through the other hole. Seal the rough end with a bead Glue the dowel in place near the holes.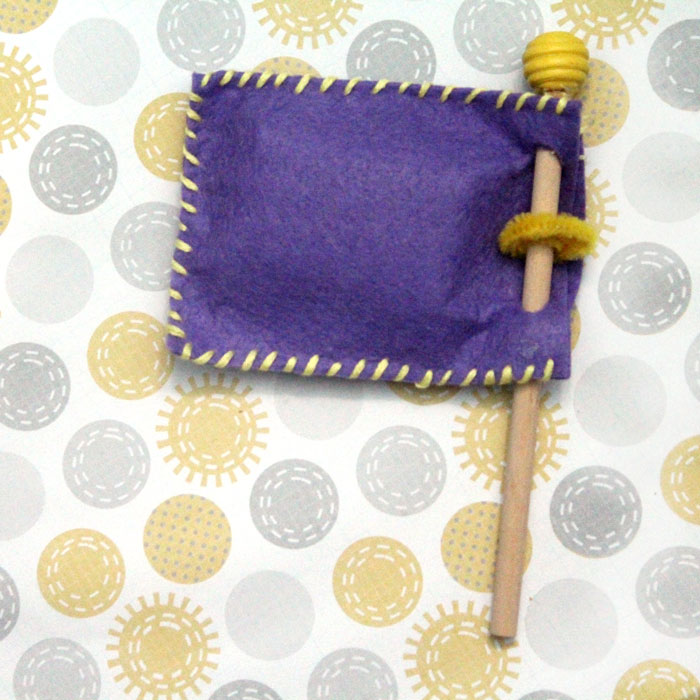 Making a mishloach manot/food package for the Purim play set: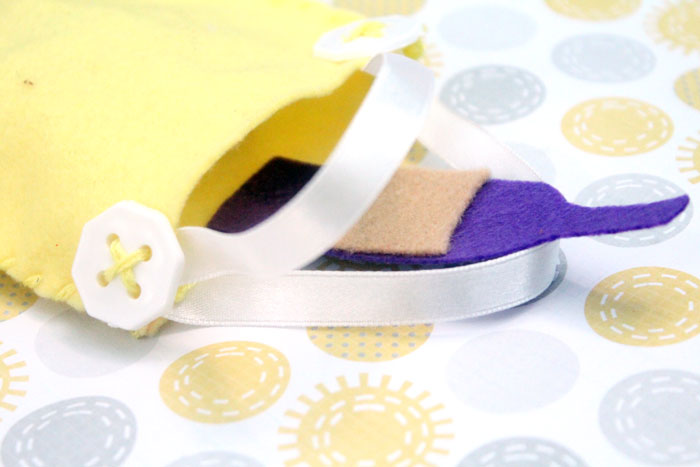 On Purim we give out food packages to friends and acquaintances. While most people today come up with creative and unique ideas to match their costumes, I decided to stick to a bag that is kid-friendly and versatile.
You can make it bigger to serve as storage for the entire set if you'd like. If you do that, just make it last.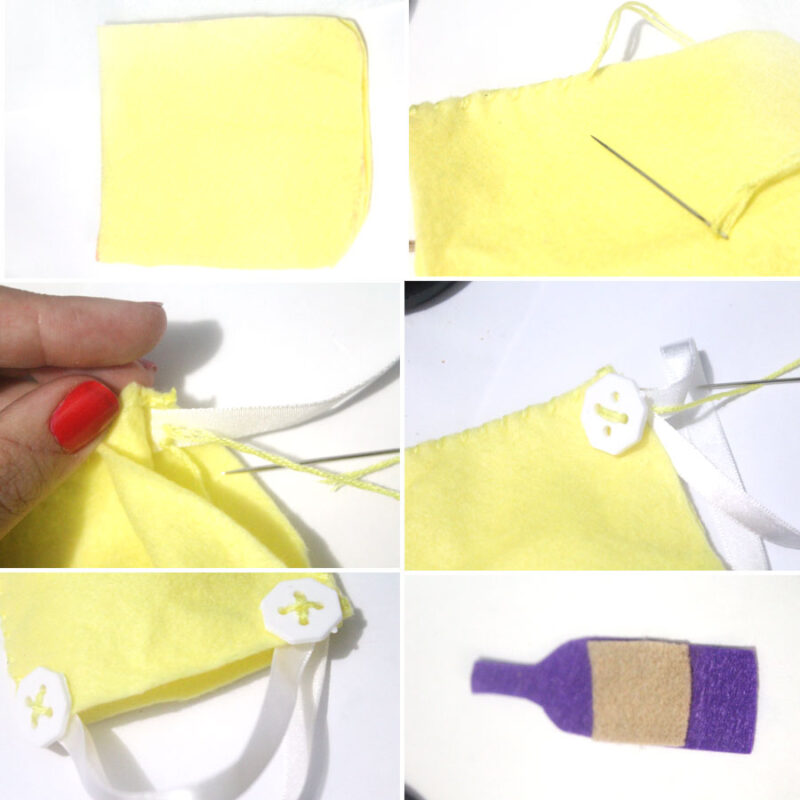 Trace and cut out an appropriate shape on two pieces of felt.
Sew around three edges, leaving the top open.
On one side, sew your ribbon in place on each end.
On the other side, sew it in place while attaching a fun button to the outside as well.
Repeat on the second end… that's all for the bag.
For the wine/grape juice, cut out a wine bottle shape, and another contrasting color shape for the label. Glue together.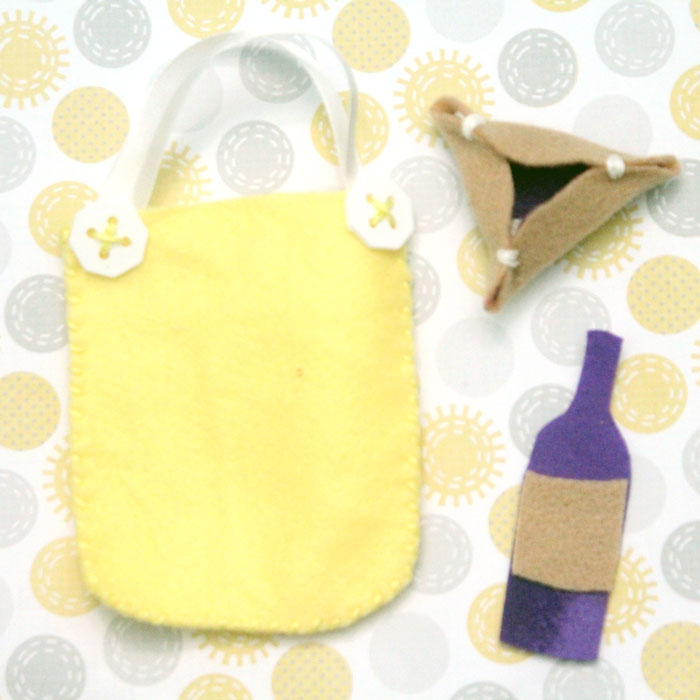 Your toddler, preschooler, or little kid is sure to love this fun pretend Purim play set! M adores his, and while we haven't yet discussed Purim, I am excited to do so using these as aids.
I hope you enjoyed! Make sure to share this tutorial with anyone you might now who will love it too!