It's such fun to make Christmas decorations with kids and these ideas will get you going! This post contains affiliate links.
---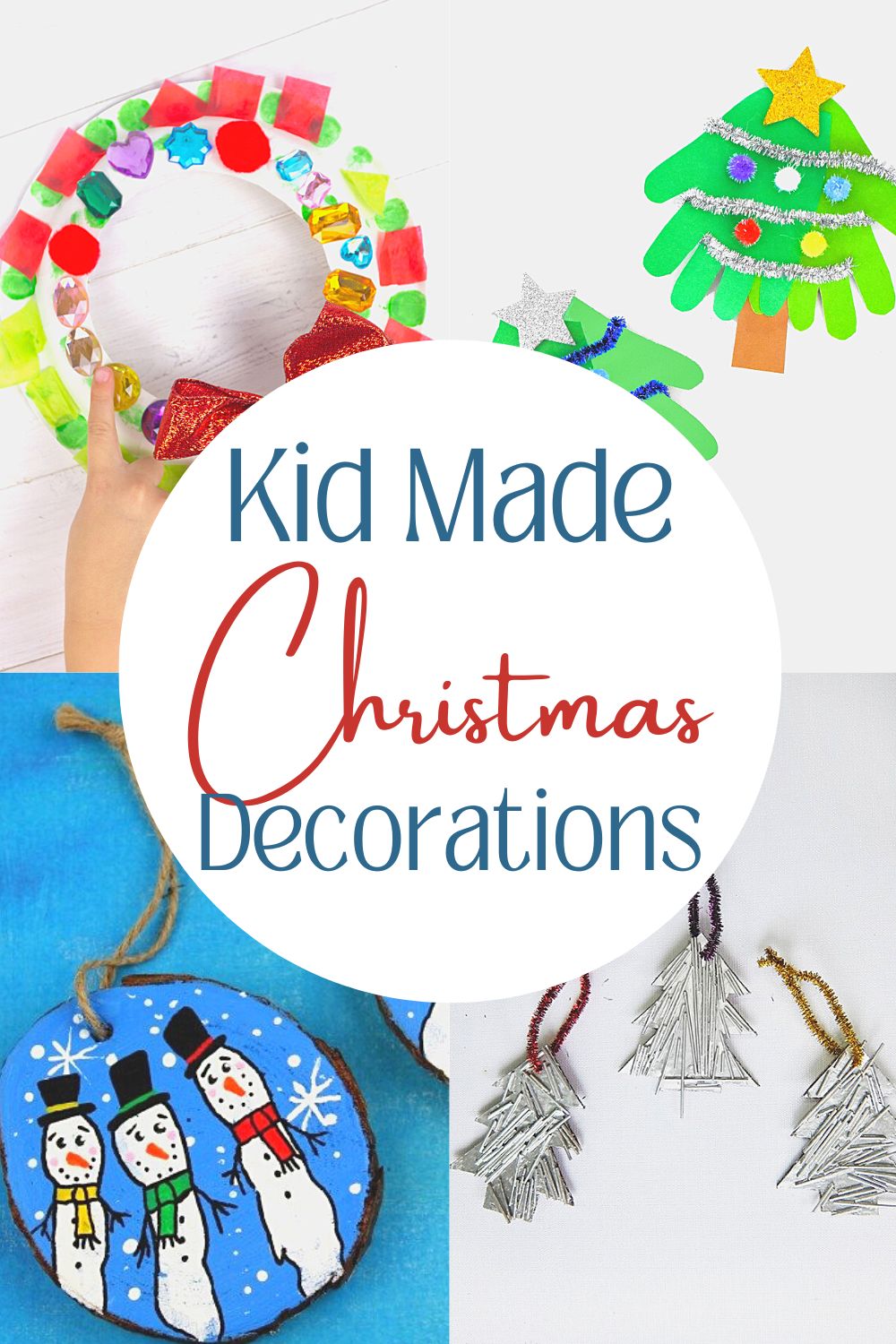 Sitting down to make Christmas decorations with the kids is one of the best ways to really involve them and get them into the spirit of things! Today, I'm excited to share with you a list of decorations you can make with the kids.
From wreaths to ornaments, garlands to trees, there's something for every family!
Some of these ideas to make Christmas decorations with kids are side-by-side "together" activities that they can help with. Some are more independent.
Either way, the best gift you can give them is quality time! So with that in mind, here are some fun ideas!
Ornaments to make with kids
While you may not think of ornaments as a serious part of your home decor, the fact that they hang openly on the tree makes them something that the kids will see throughout the holiday season.
A beautiful, minimalist ornament that's easy to make, these house ornaments use air dry clay to make finishing it off easier. Paint it with regular craft acrylics to finish it off.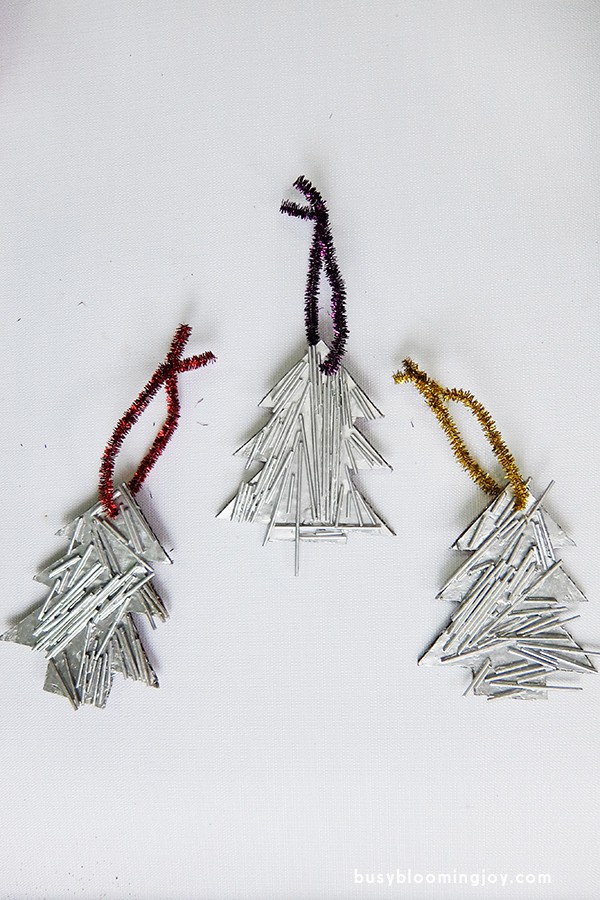 Pull out some dry pasta to make these visually stunning kid made ornaments. Kids crafts can look really pretty when finished off properly!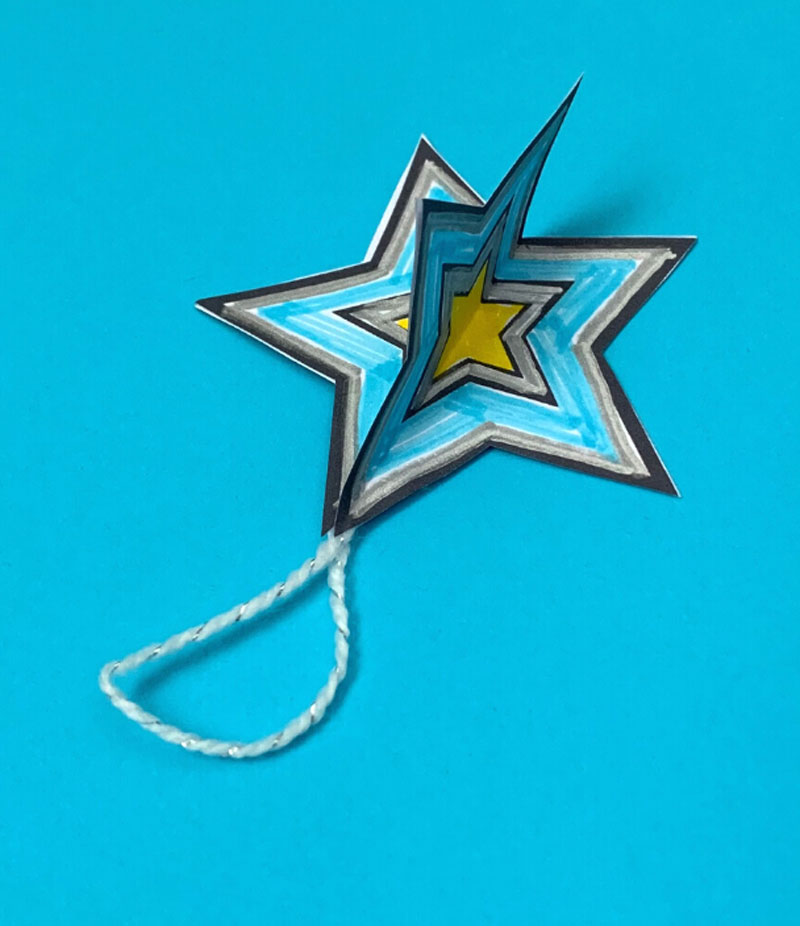 Kids as young as toddlers play a meaningful part in creating these paper ornaments. Color them and then assemble them to hang on your tree.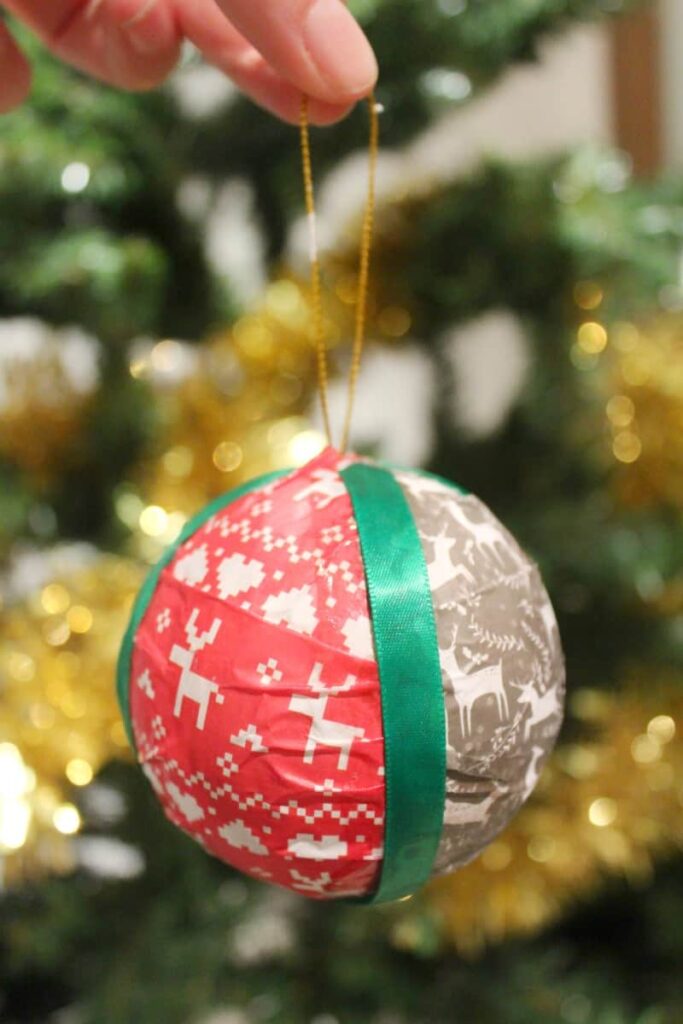 Decoupage is just the thing to try with the kids for a fun and easy kid made Christmas decoration to display. This one is one you'll probably want to do together with younger kids, but older kids can be more independent with crafting it.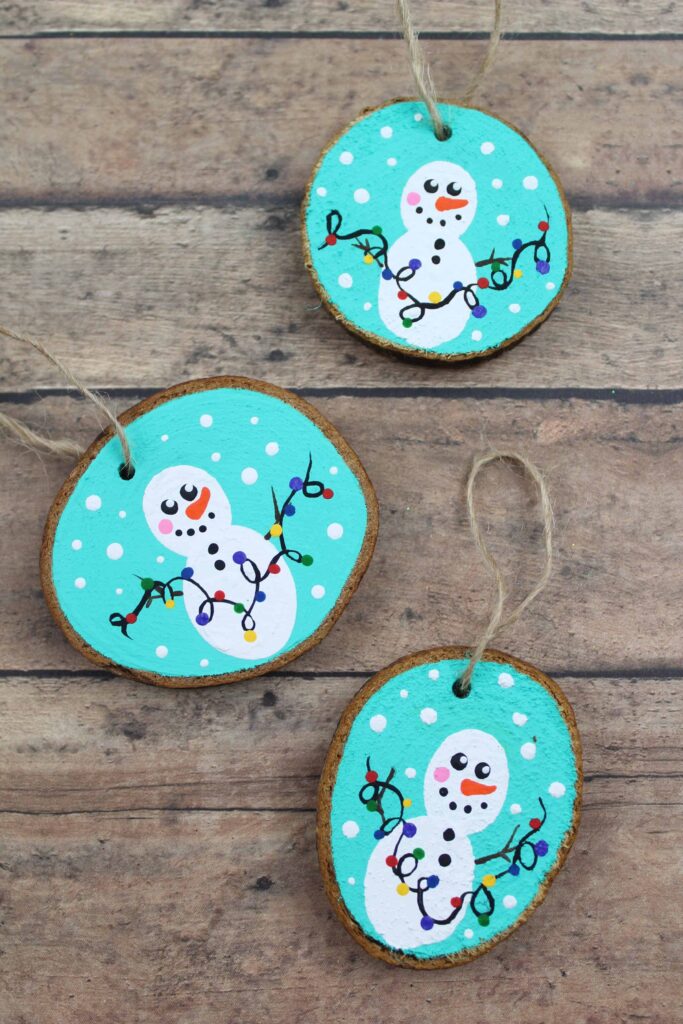 These ornaments start with a wood slice and end up as a really sweet snowman. If your kid loves rock painting, this is a fun extension of that and the perfect idea for them!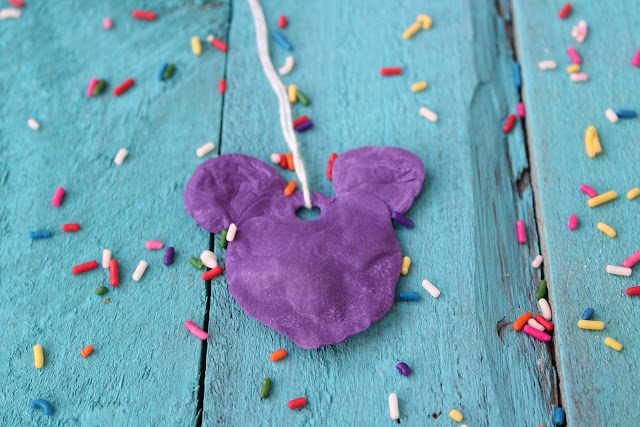 Play dough is a material that kids are familiar with from toddlerhood! Grab the play doh and start shaping it to look like Mickey Mouse. Bake it for a few moments and you have a homemade ornament. You can also try this with air dry clay.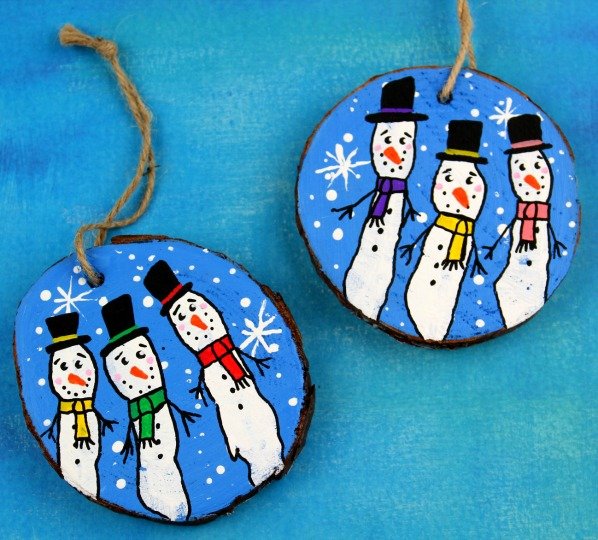 If you love fingerprint crafts, then this ornament will be a must make to add to your tree. Kids add their personal touch to this craft and a grown-up can help them finish it off.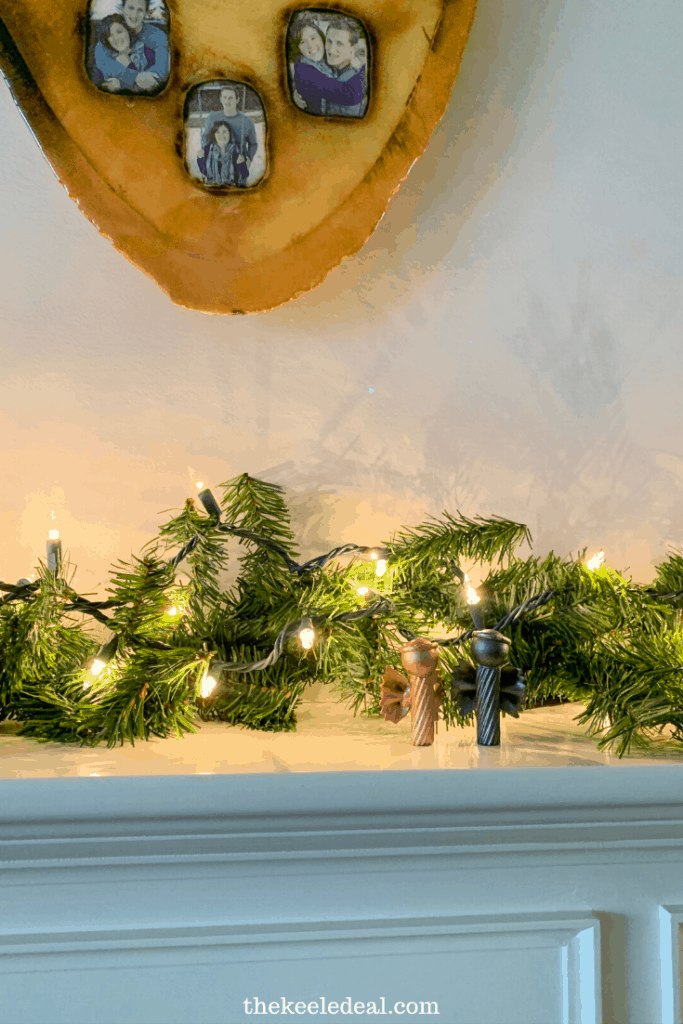 Here's another fabulous DIY ornament made from your pantry! All you need are a few pieces of pasta, some glue and paint. Then you have a sweet little pasta angel to display.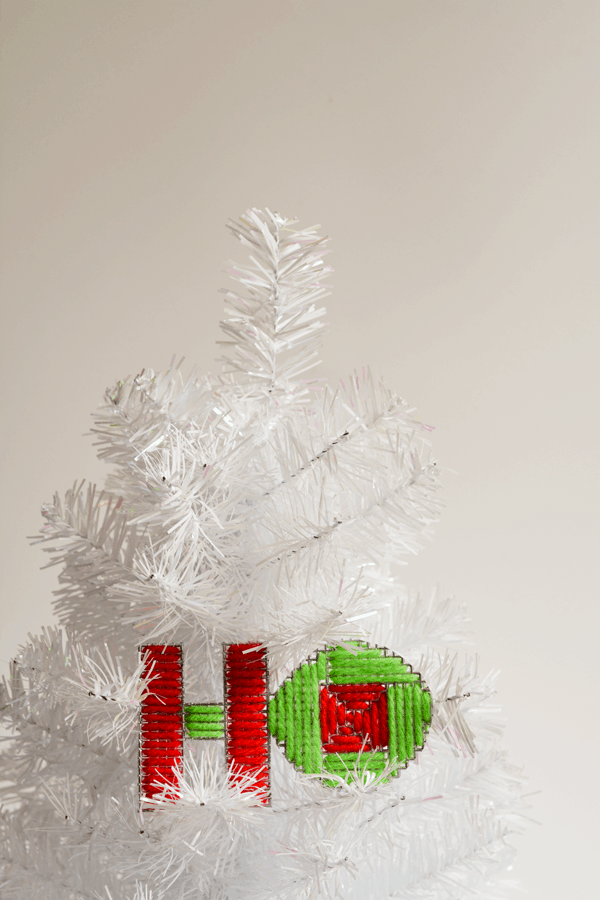 Make the most of holiday decorating to build some fine motor skills in kids! Give kids a little weaving practice while they make a fun ornament to display. You can spin this off and make any design using this tutorial!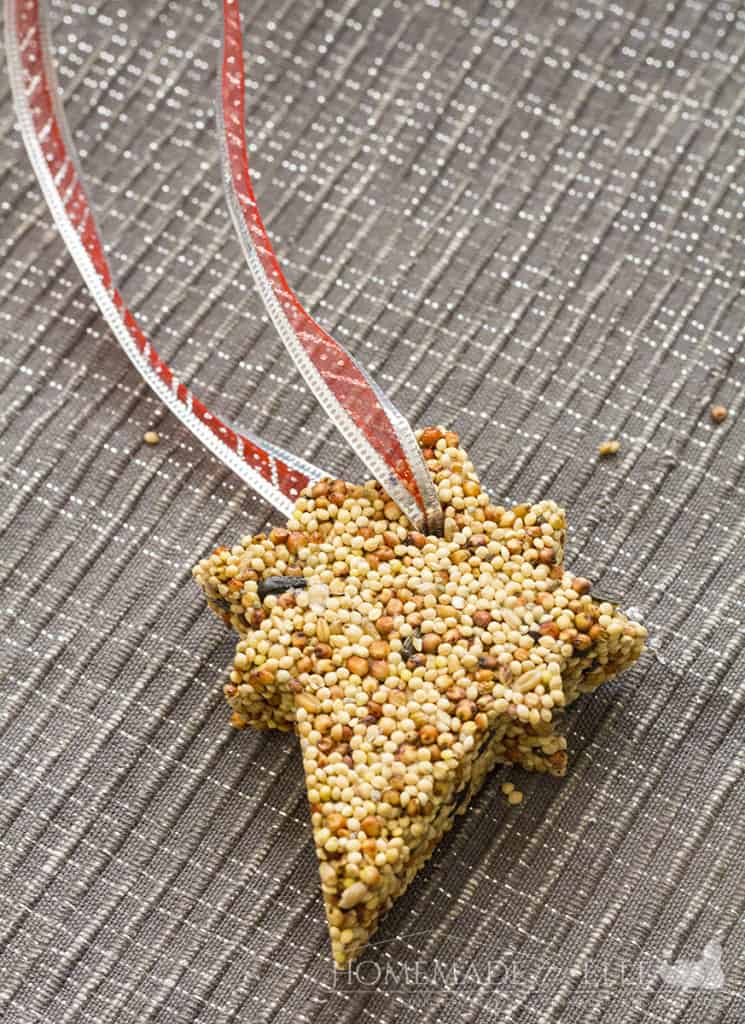 Make some ornaments with the kids to hang outside for our feathered friends – from an outdoor tree. This feel good craft is sure to help you make some new backyard friends. It's a great way to spread the holiday cheer to some feathered friends.
Find more Christmas Ornament DIY ideas here.
Wreaths that kids can help make
Wreaths are the kind of craft you might normally attribute to the adults, but there are definitely some ideas the kids can help with! When you sit down to make Christmas decorations with kids, don't forget these!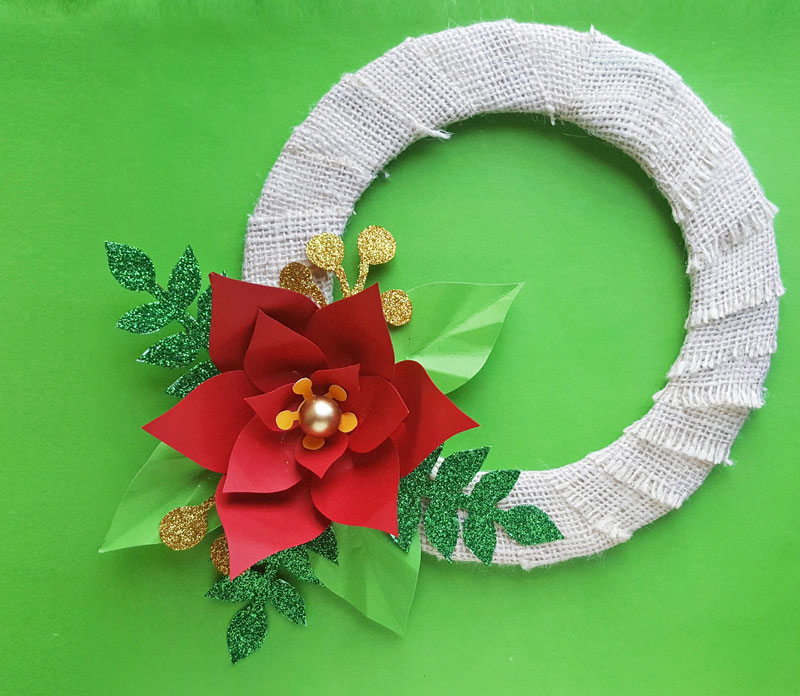 Paper flowers can look absolutely beautiful – but it's also a material your kids can easily use! Make one large paper poinsettia and turn it into a beautiful wreath for Christmas.
This little wreath idea is fun for kids and it gives them a chance to personalize their own ornaments. They can also hang it on their bedroom doors, near their desks, on their lockers to decorate their own spaces for Christmas.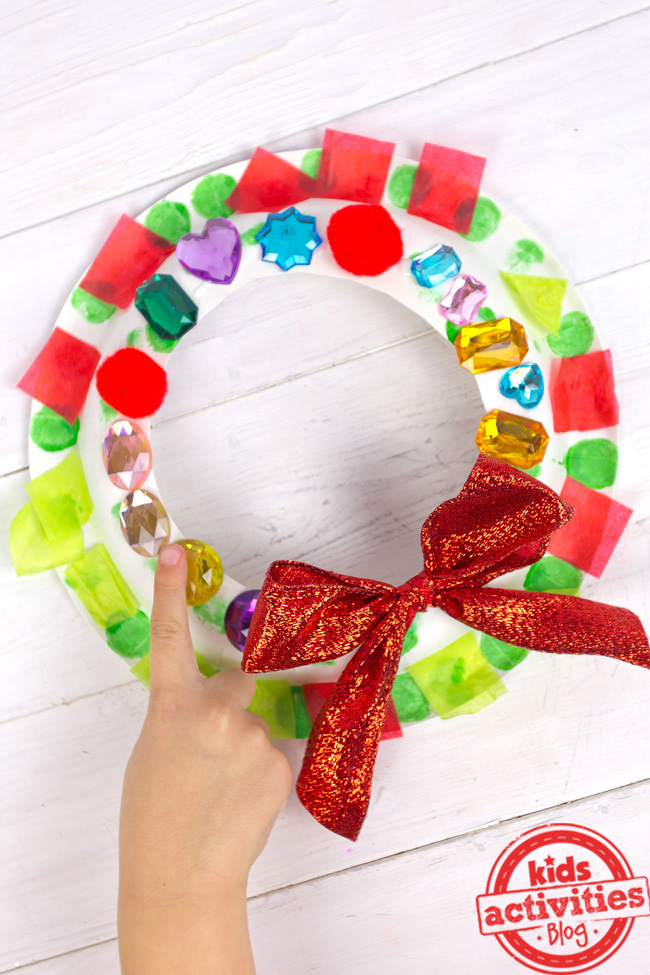 Kids will love to make a paper plate wreath to hang on their bedroom door this holiday season. This open-ended craft allows kids to express themselves creatively and not just follow a tutorial to a T.
Trees & Other Christmas Decorations to Make with Kids
Sit down and make Christmas decorations with kids including these adorable miscellaneous ideas! There is no end to the opportunities for crafting when it comes to Christmas decorating.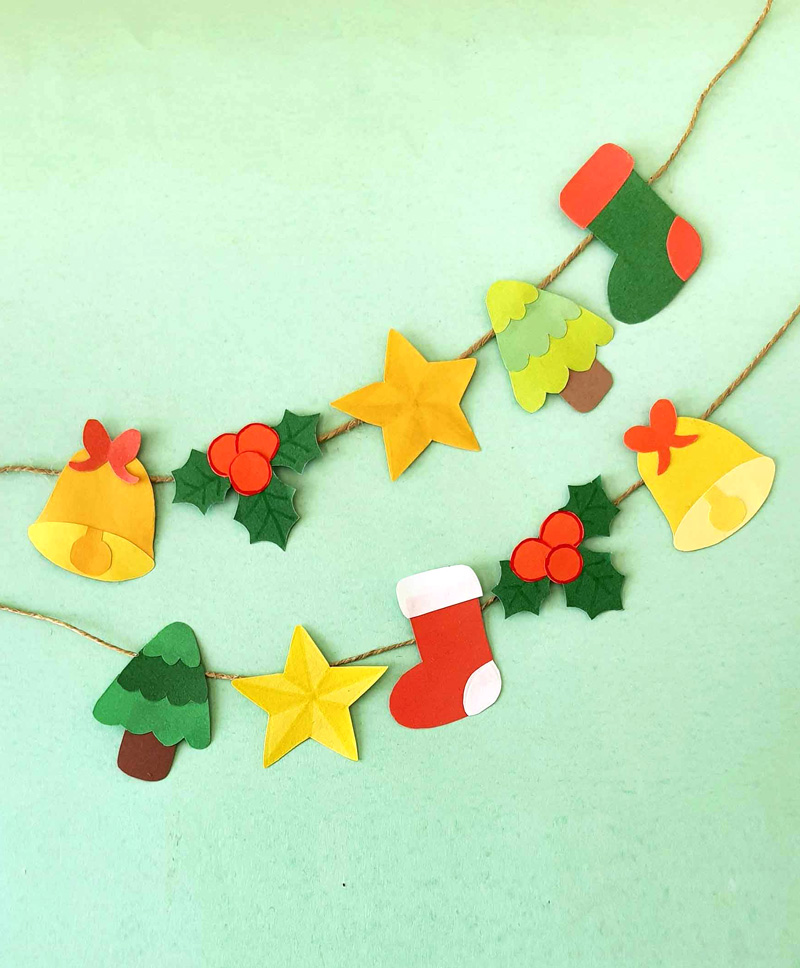 Different Christmas themed images come together to form a fun paper garland to hang around a tree, on a mantel, or anywhere! This is a fabulous craft for the whole family to collaborate on since there are so many little details to address!
Upcycle a coffee creamer bottle to make an adorable Olaf! This is so much fun and keeps items out of the trash and transforms them into art. You can display it as part of a Christmas village, or have your child display it in his or her room.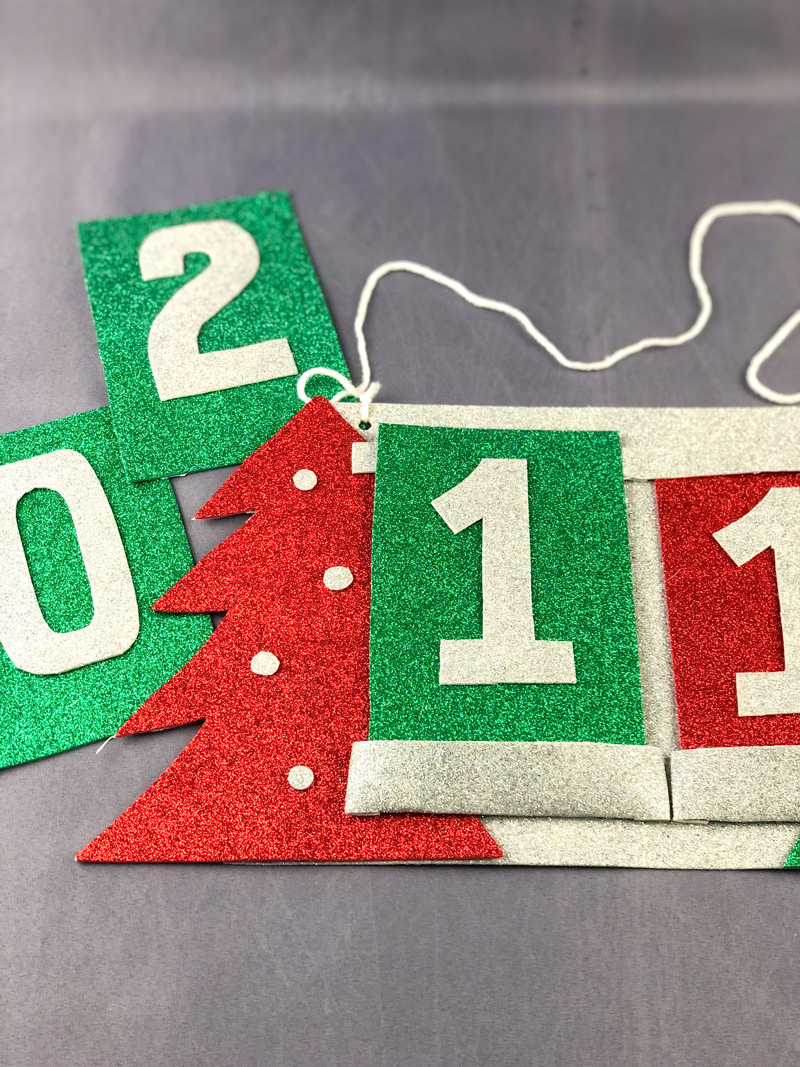 This glittery countdown doubles as fun Christmas decor that the kids can help craft. It's made from glitter craft foam, a material that's relatively easy to cut. And then kids can have fun counting down the days!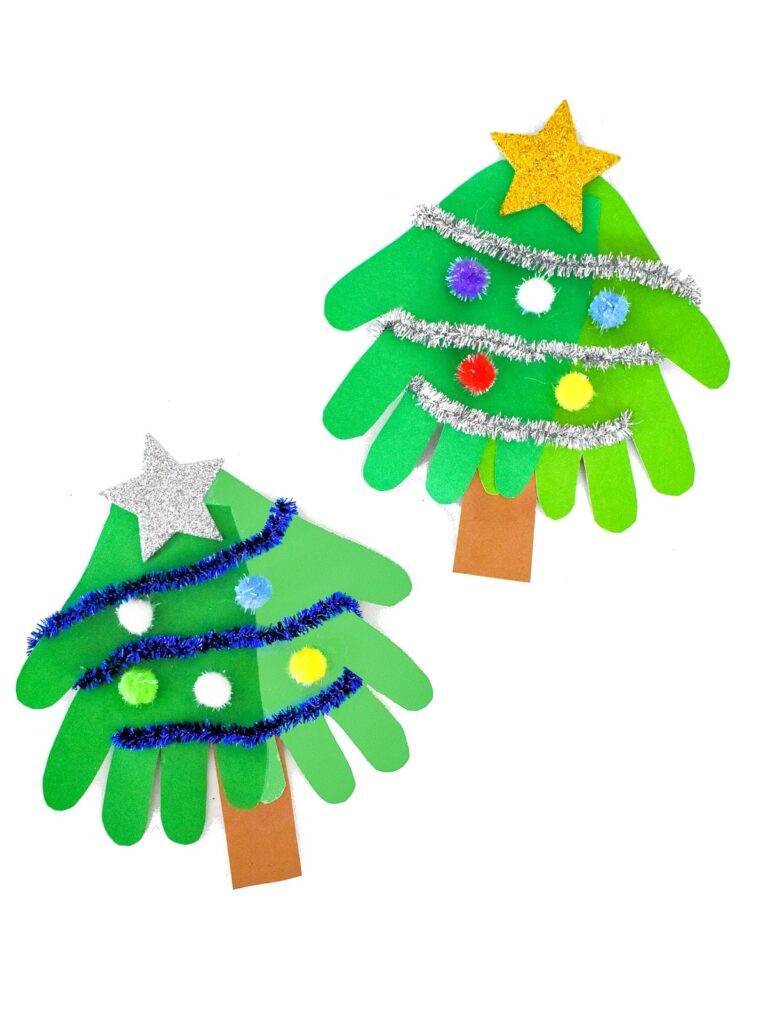 This handprint idea makes for some really cute Christmas trees that the kids will be so proud to display. Kids can literally leave their handprint on this one! You can leave it up to them to decide where to hang it, or turn it into an ornament or part of a garland.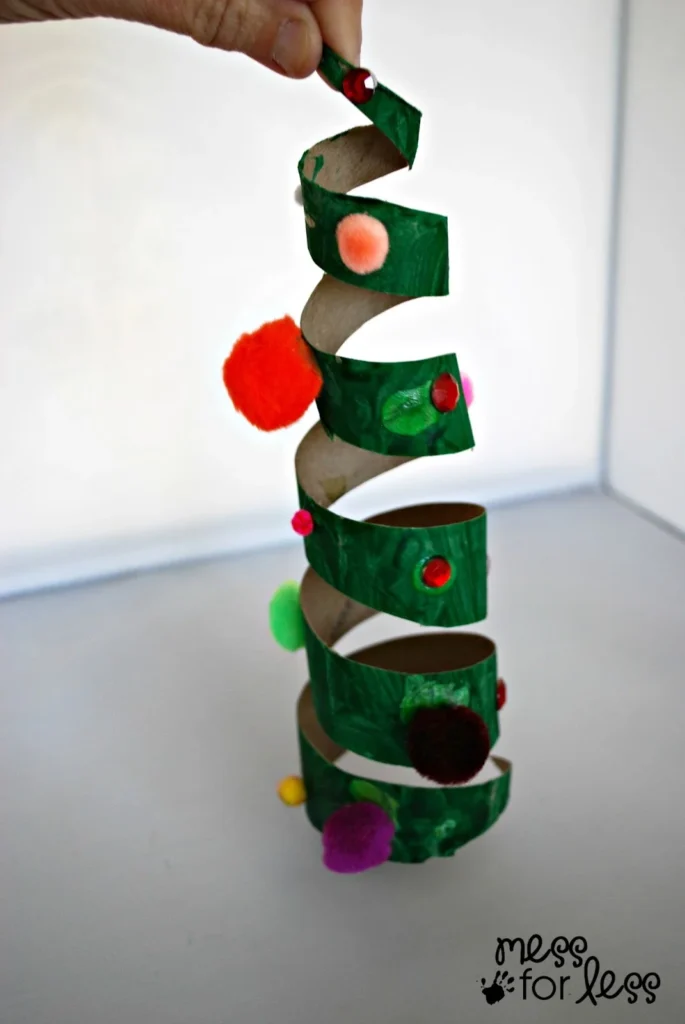 Save your paper rolls and transform them into some adorable, kid made Christmas trees to display. This is a unique twist on toilet paper roll crafting, and a perfect part of your Christmas village display.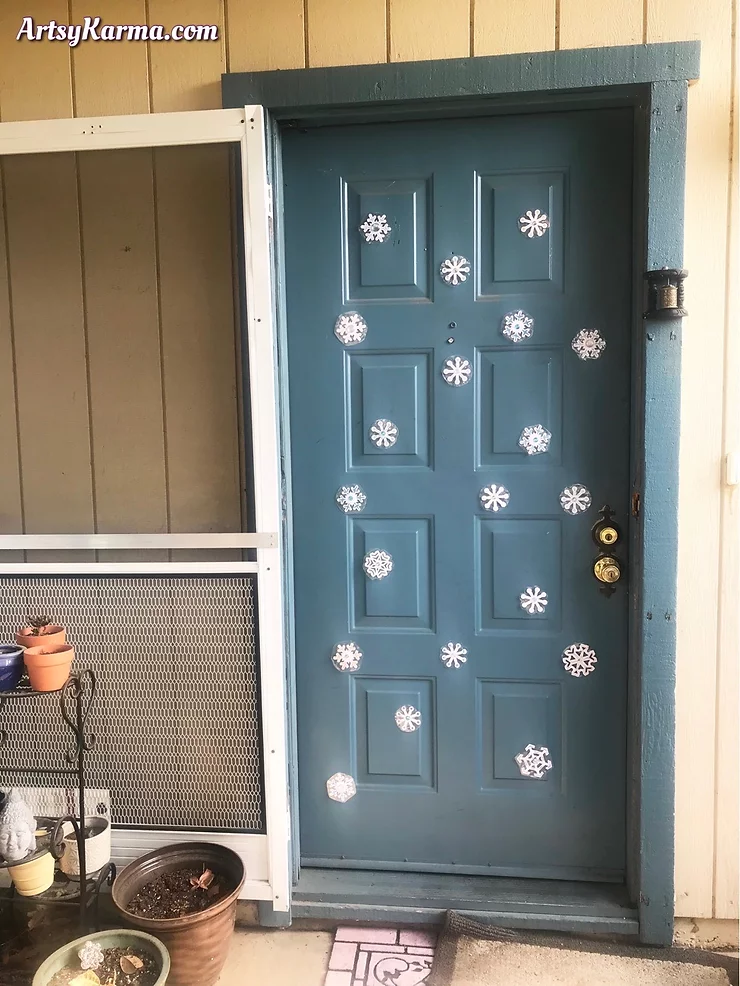 Did you know that most front doors are magnetic? Go and give it a try! Decorate your door with these homemade magnets! Kids will love this idea and it is so easy!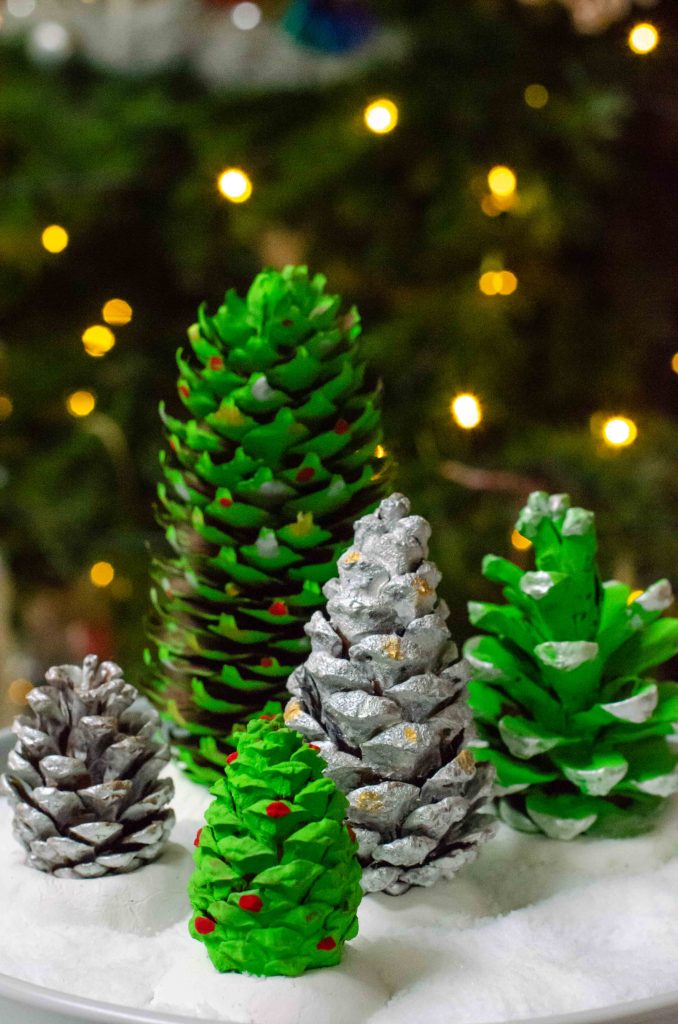 Get out into nature and then come home to craft with what you found! These pinecone Christmas trees are so cute and not at all complicated to make. Cover your entire table in butcher paper and spread these out, allowing kids to go crazy and explore with paint and pinecones!
Do you also like to sit down and make Christmas decorations with kids? What are your favorite Christmas crafting traditions? Comment below!