Since I know you all love free coloring pages, I joined up with some other amazing artists to bring you a set of free flower coloring pages for adults! Each of us has created and will be hosting a different page for a total of five fun options for you to print. You'll find the other sets linked at the end of this post, but meanwhile, here's my fun sunflower page to print and color. You can also download my modern floral coloring pages for free if you want. Disclosure: this post contains affiliate links.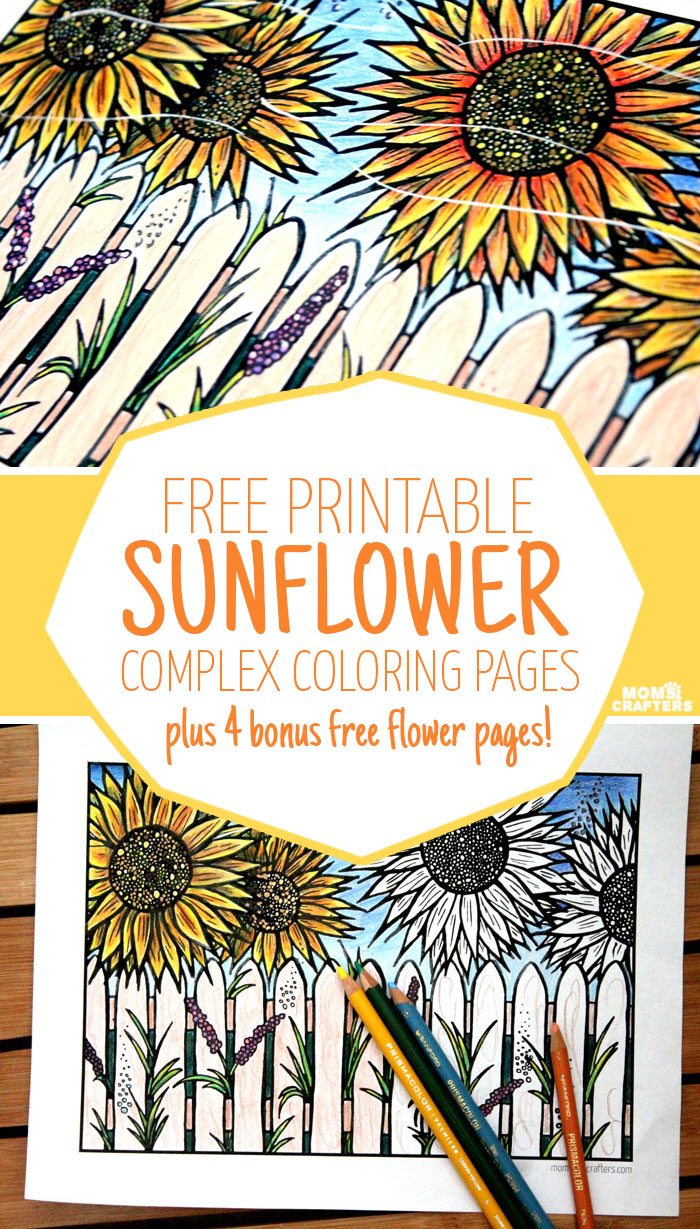 While we are experiencing the coldest Valentine's Day in over a century, and the coldest day in two decades, I have a glimmer of hope that Spring is right around the corner.
These sunflowers are all ready for you to fill in with some vivid color.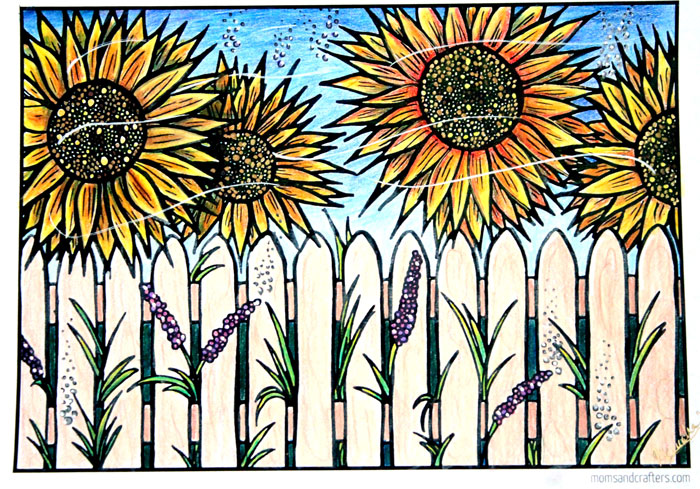 This page is a sample from my new coloring book for grown-ups "Postcards". You can get the print version on Amazon, or the digital version below.

This page is a little different than most of my others, in that instead of bringing you doodles and small areas to fill in with thin markers, it's more of a scene that you need to think of as a big picture. I'll be sharing some of what I learned while coloring this below, as well as what I used. I also shared some tips for choosing the right coloring materials here.
This is the original – what your download looks like: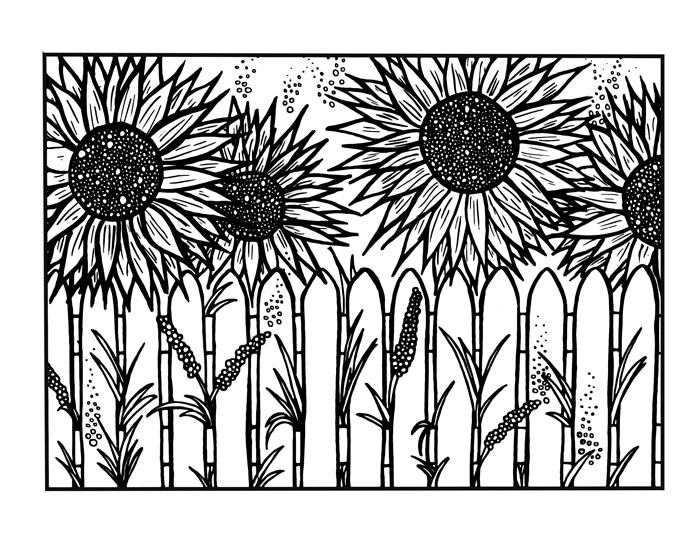 How to color these flower coloring pages:
I used mainly Prismacolor pencils, which have a soft core and are great for getting rich color, and for blending. I also discovered the colorless blender – it helps blend the shades without adding extra color.
Sometimes you want to add color (such as on the sunflowers, where blending with yellow and cream added a glow and kept it vivid). But in places like behind the fence, I didn't want to dilute the dark color, but wanted to blend, so it was perfect.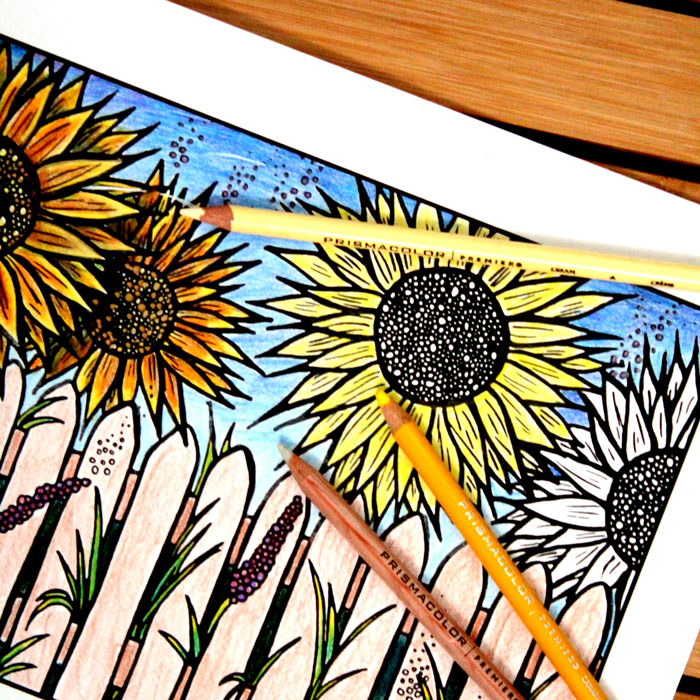 I did the first few sunflowers using shades of yellow, orange, and brown. But then on the last one (second from right) I decided to try crimson, and love how much it pops! The browns of the sunflower are anyway brought out in the center, and that brightens the image so much.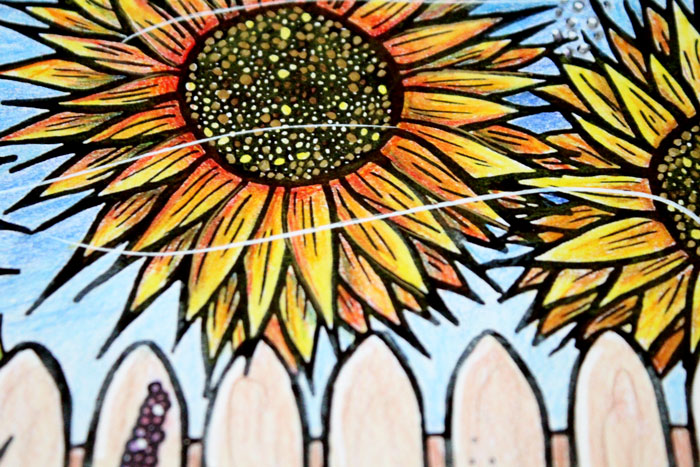 I brought out some of my metallic paint markers for this one. I a mix of gold, copper, and a metallic brown shade for the sunflower centers. I used silver on the "bubbles"/pixie dust, and I added accents all over with a white chalk marker. I also added gold metallic accents on the petals of the sunflowers.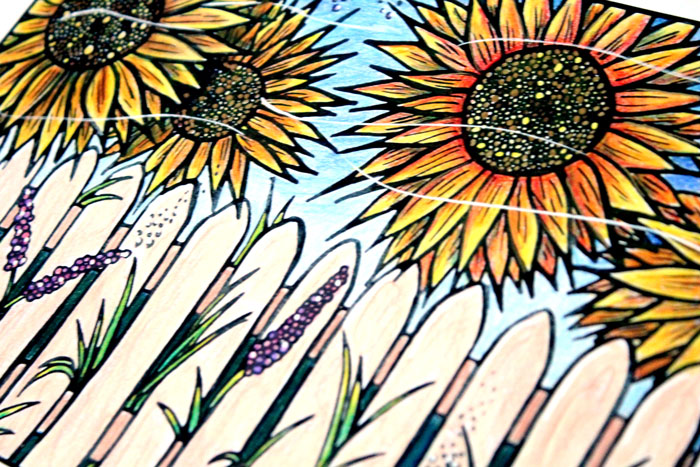 I challenge you to think out of the box and turn the sunflowers into a different flower!
On the fence, I first added a bit of texture with a light brown and colored the back slats lightly with it. I went over both with peach and blended with the colorless blender.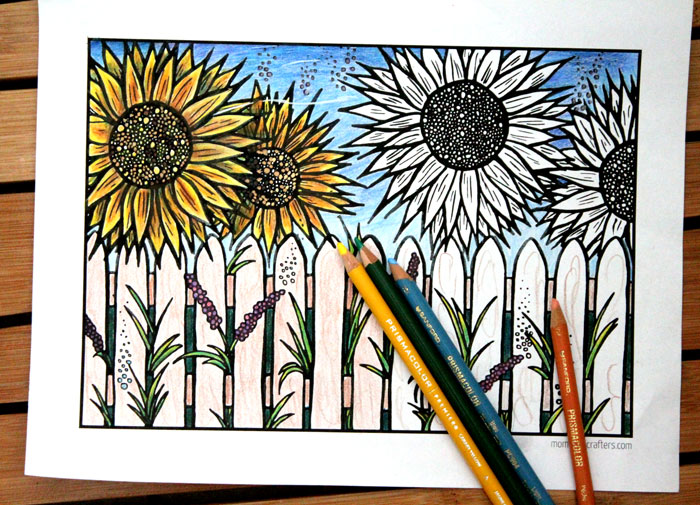 Want more free flower coloring pages for adults?
Head over to each of these blogs to see what they've made for you!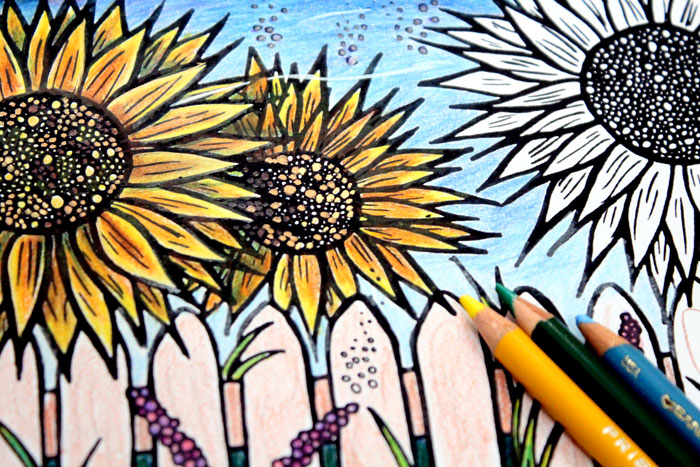 Get the book! By purchasing Moms & Crafters publications, you are supporting my blog and enabling me to keep on providing you with free printables like this one. Coloring for Coffee Lovers is my most popular coloring book, but you can find all of my printed and digital coloring books here.