This free printable hot air balloon mobile template was so much fun to design and create for you! I've included one beautiful " adult coloring page" style template for free as part of the monthly Coloring Tribe challenge. You'll also find a few more complex styles, one simpler one, a blank template to use with pretty paper, and a full-color version. Disclosure: this post contains affiliate links.

For those of you who did not know this, I originally studied to be a graphic designer.
Besides for color use (I'm a little obsessed with clever use of color), one of my favorite things to design was packaging design – except that I always felt restricted. When designing 3D product packaging, companies are very concerned with shipping costs and how compact the packages are.
So while I loved creating unique shapes, it wasn't practical on the client end…
That's just one of the reasons I'm absolutely obsessed with designing 3D paper crafts like this hot air balloon mobile template. It uses those design concepts but I can do whatever I want with it…
I can break some rules and really think outside of the box (see what I did there? Outside the box…)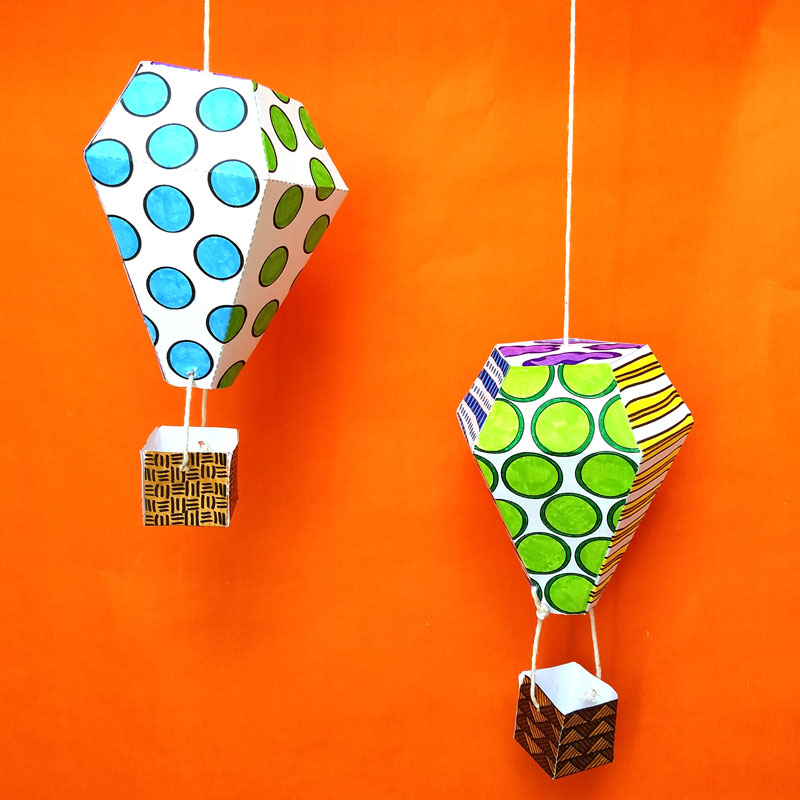 I decided to offer you the template below for free. Print it once or print it ten times – however many you need to make your hot air balloon mobile! Or just hang one on its own.
You don't need to fill in every detail if you don't want to – you can just do solid colors and let the designs speak for themselves. Or, go all out, spend a day on it, and color each detail on its own.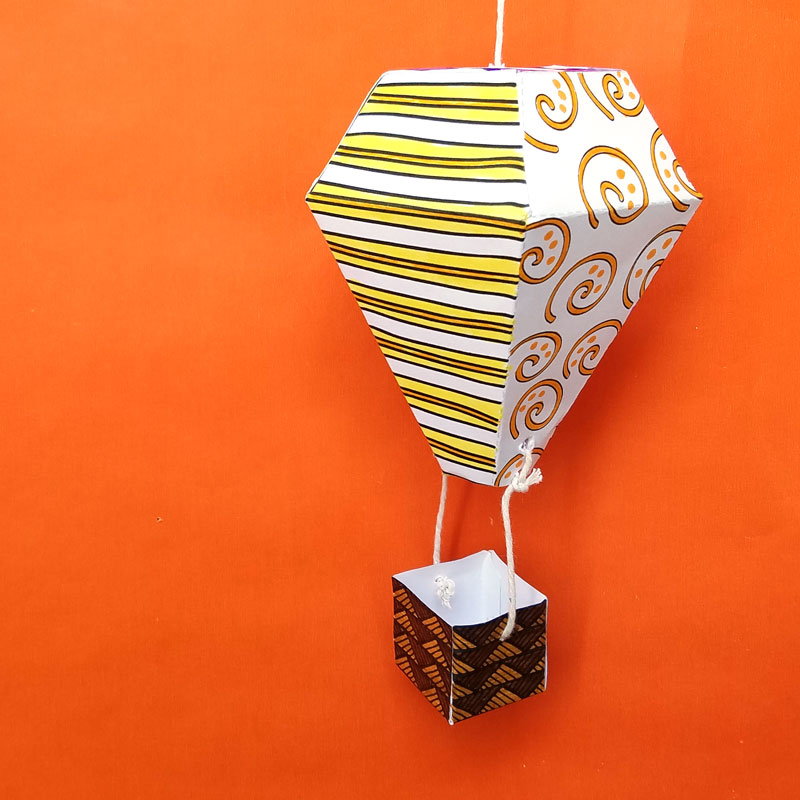 If you plan to hang different designs together, you can coordinate the colors so that it looks cohesive.
Whatever you choose to do, I hope you have fun with this hot air balloon mobile!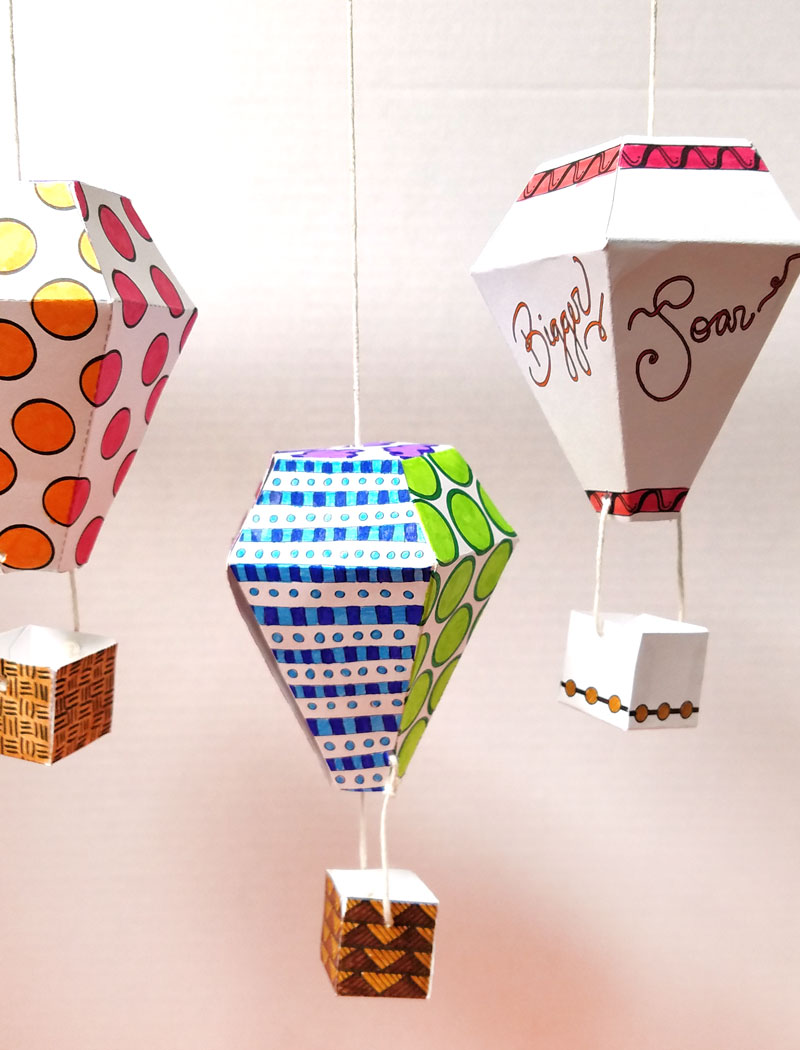 What you need to assemble the hot air balloon mobile:
The templates printed on card stock
Get the full bundle here.
How to assemble your hot air balloon mobile:
Watch the video below, or scroll down for more details:
1. Color it! Go all out and do it rainbow-style like I did, or stick so a single color scheme to match the kids' room…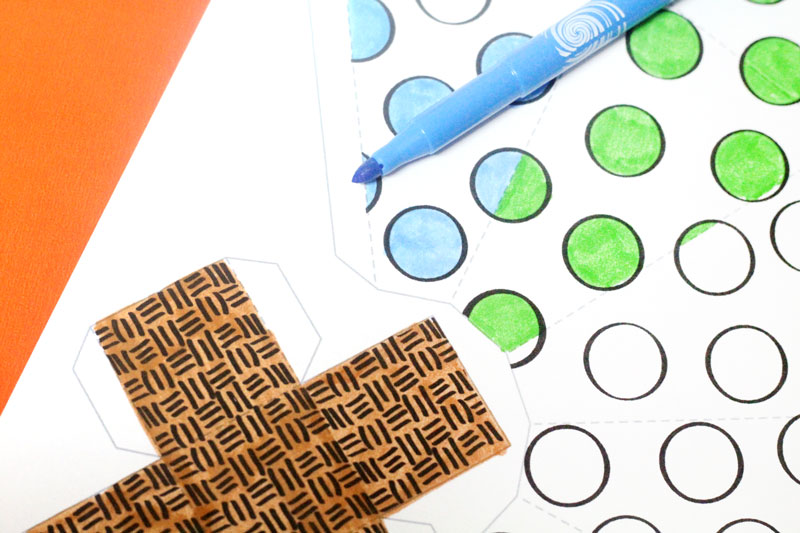 2. Cut out your hot air balloon on the straight lines. If you want super-straight edges, use a craft knife and a ruler to guide you.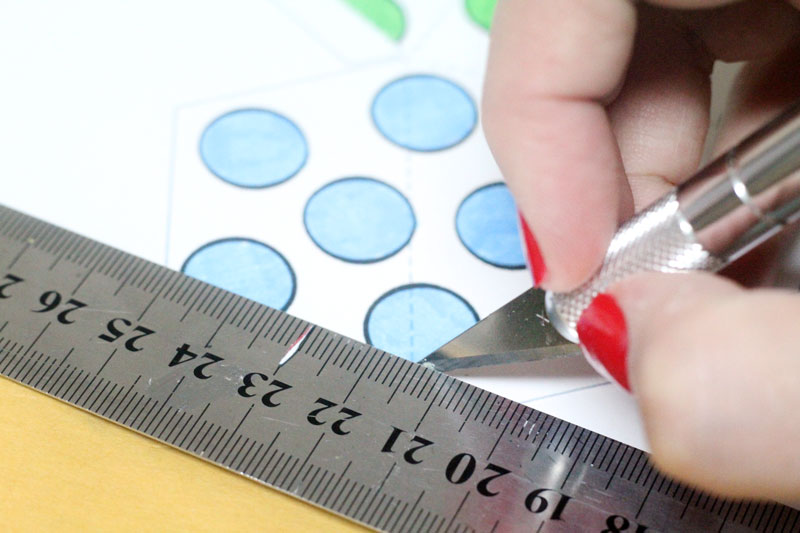 3. Score your hot air balloon template on the dashed lines. You can either use a scoring tool up against a ruler to get the lines straight, or you can bend it upward against the ruler.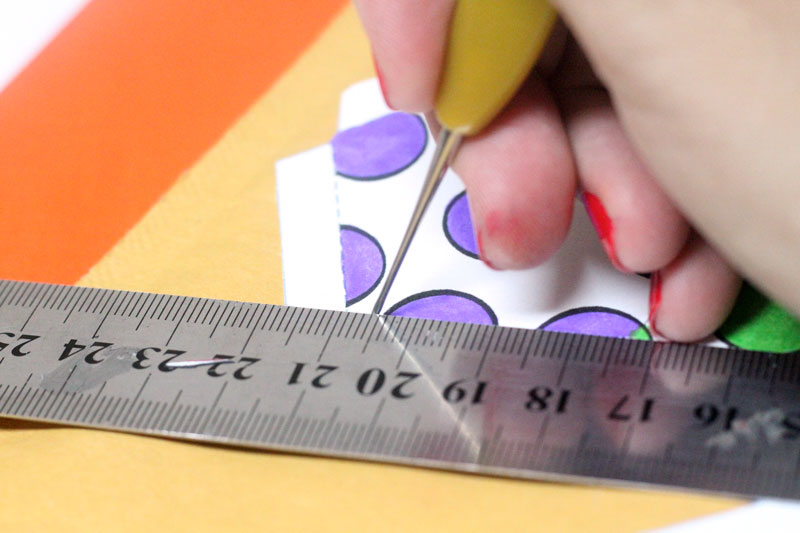 4. Fold your hot air balloon mobile on all the lines you just scored.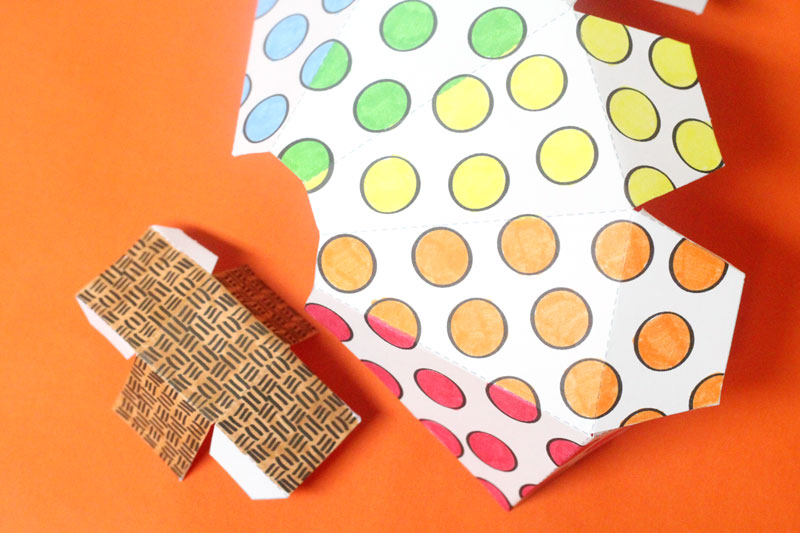 5. Start from the top and glue your tabs into place. Hold it for a couple of seconds so that it sticks.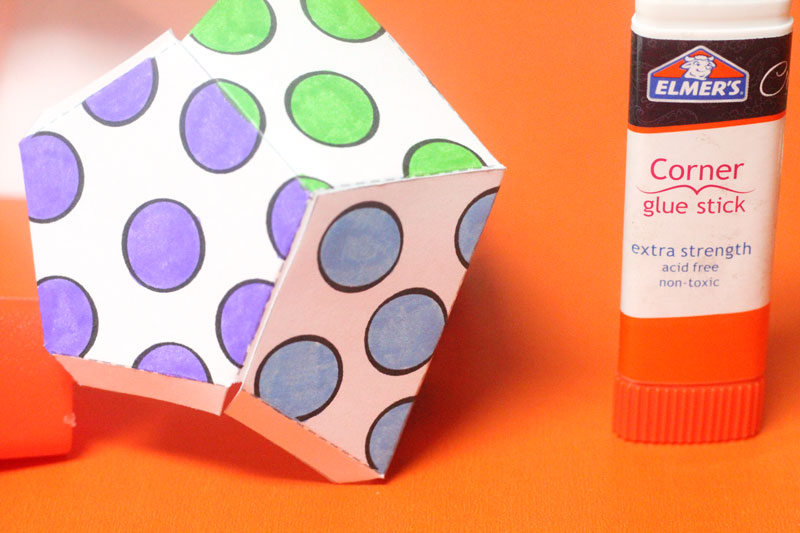 Close the long edge last – you'll want to be able to reach in and press your tabs in place.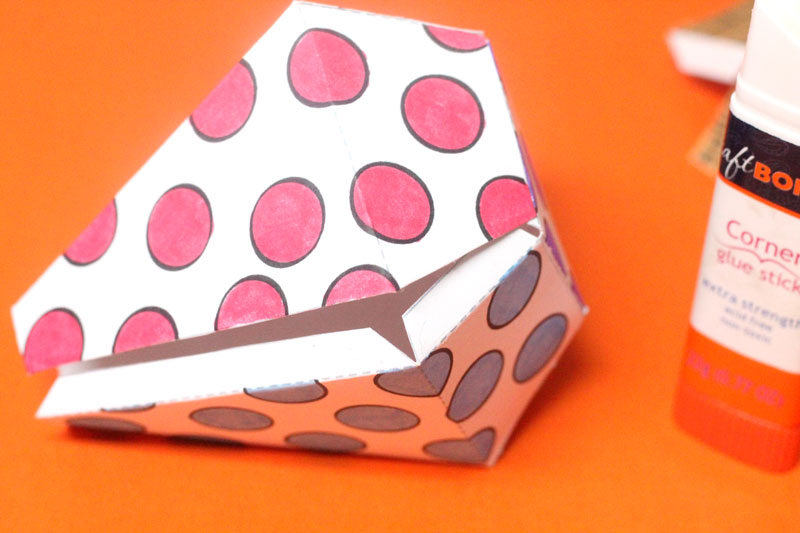 Assemble your basket too.
6. Poke holes as pictured using the tip of your craft knife (you can punch these if you have a very small hole punch, but a typical one will be too big). String a length of twine across through both holes.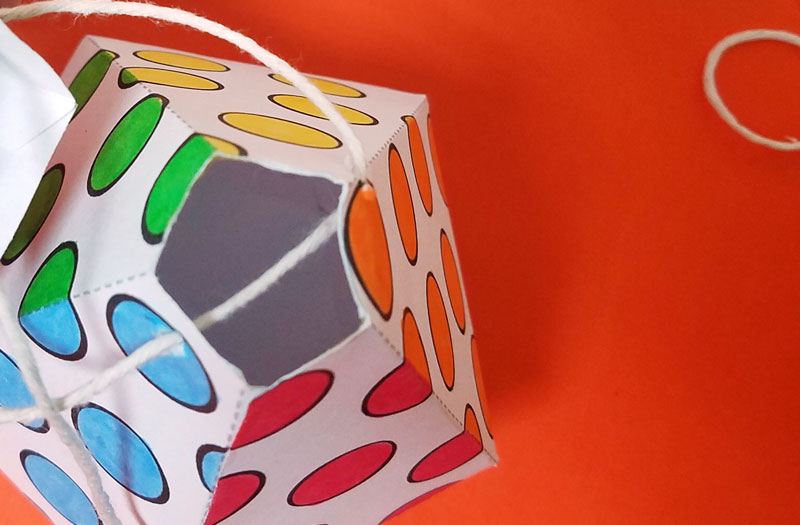 7. Poke holes at opposite ends of your basket, about 8mm from the top. String each end of the twine, and knot at your desired length, and trim.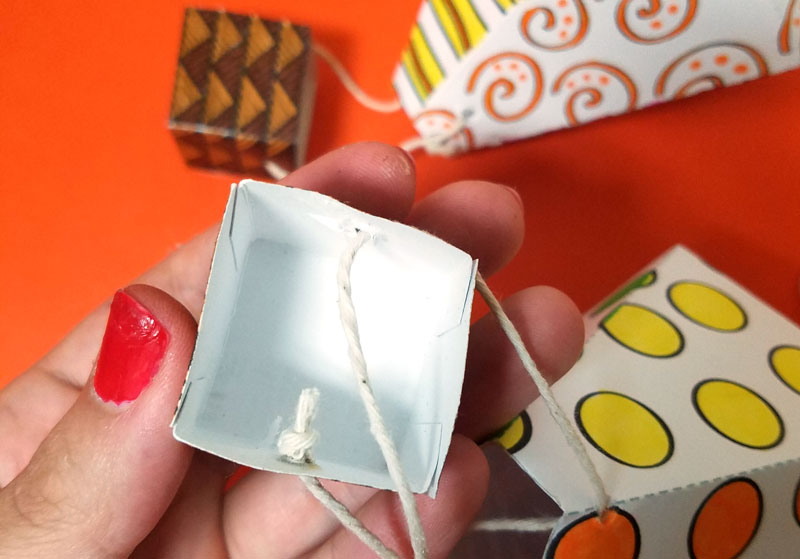 8. To hang it, poke a hole at the top center of the balloon. Drop a piece of twine in, until it comes out of the bottom. Knot it large enough so that it doesn't fit through the hole (tie a bead there if you need to) and pull it back up.
Use that to hang your hot air balloon mobile templates from whatever you're using to hang them!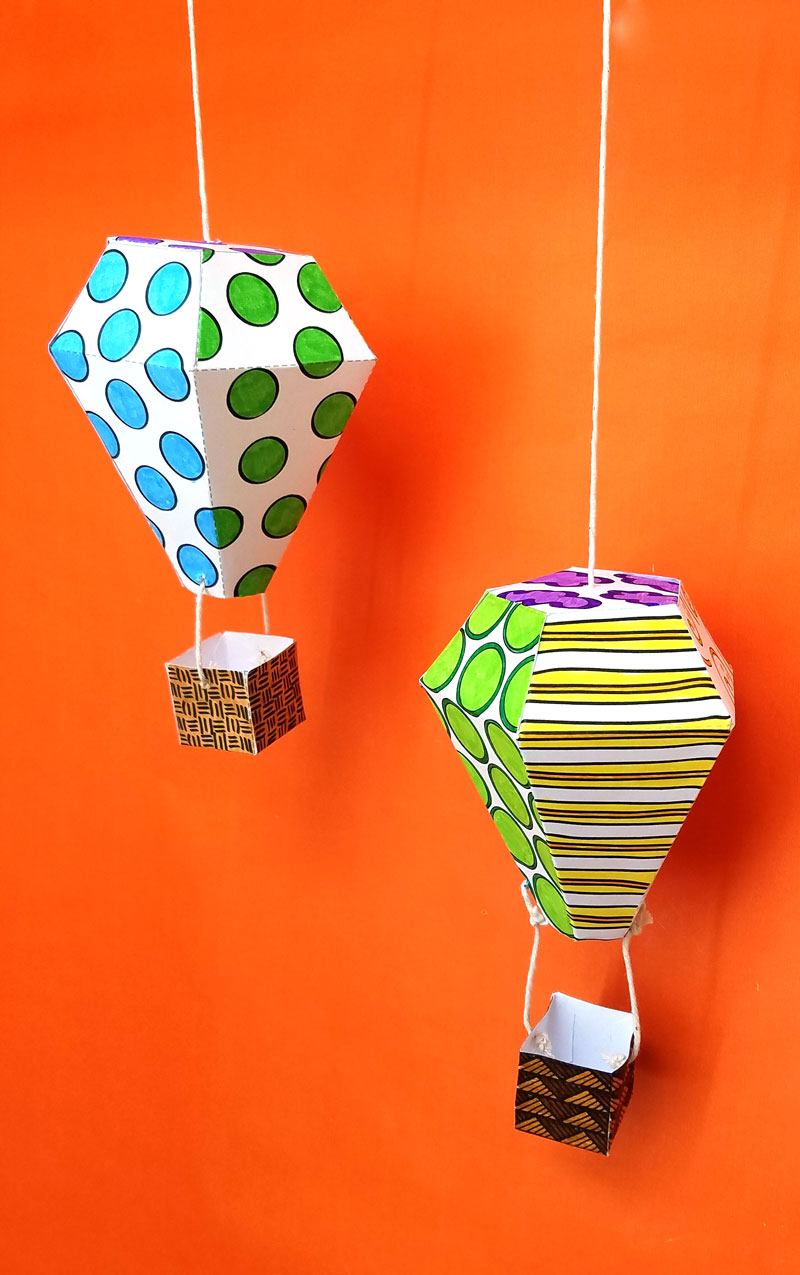 Hang and enjoy! And then share in the comments below: where will you be hanging your hot air balloon mobile?
If you haven't yet, you can purchase the full package here, or download your free template below:
Get more hot air balloon templates and coloring pages for adults from the coloring tribe: