These DIY paper sunflower templates will help you learn how to make a paper sunflower with a beautiful natural touch. If you love this, you might want to check out my crochet sunflowers too! This post contains affiliate links.
---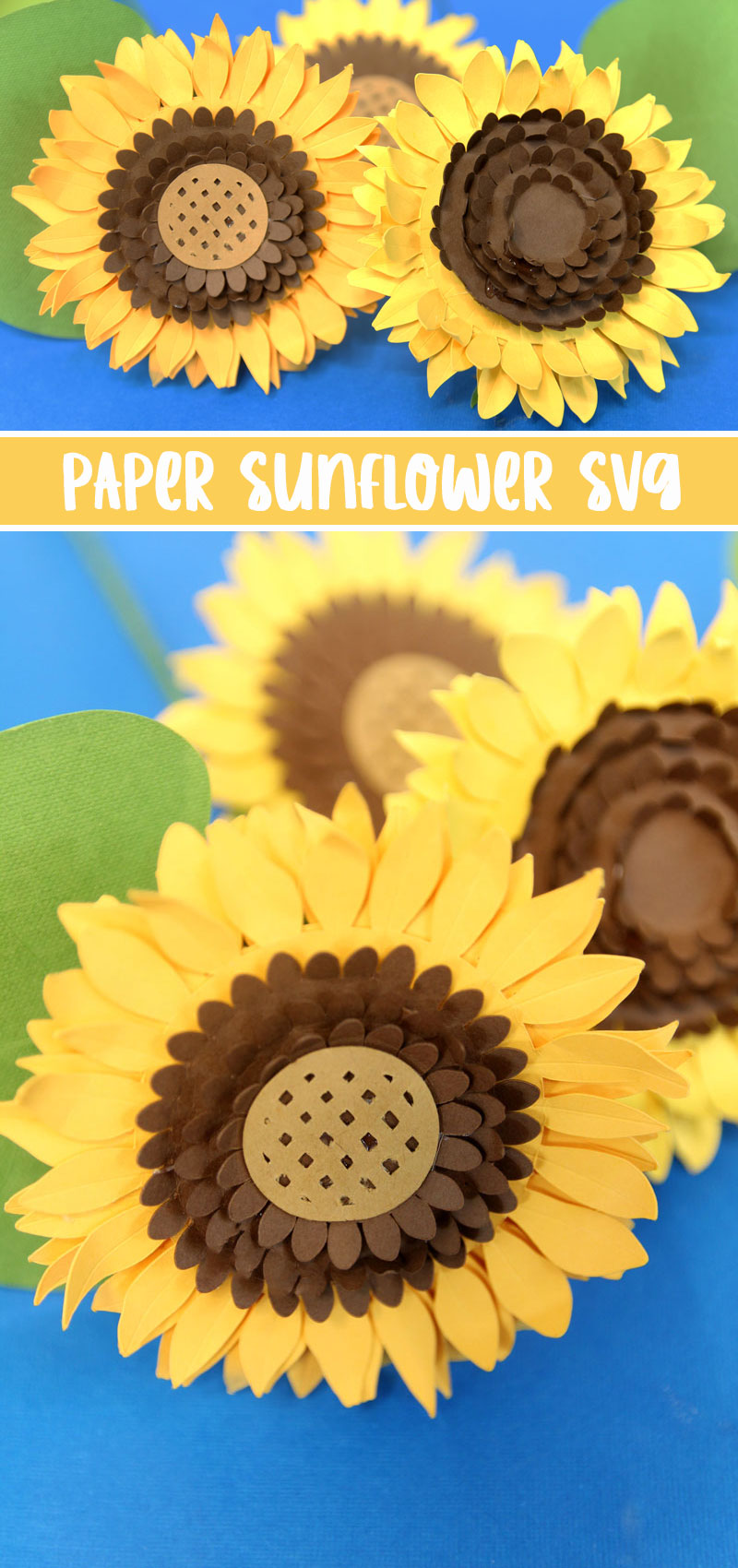 Sunflowers are so bright, cheerful, and prominent… But did you know that they are also super easy to grow? We planted them from seed this year – let's see how that goes!
In this post: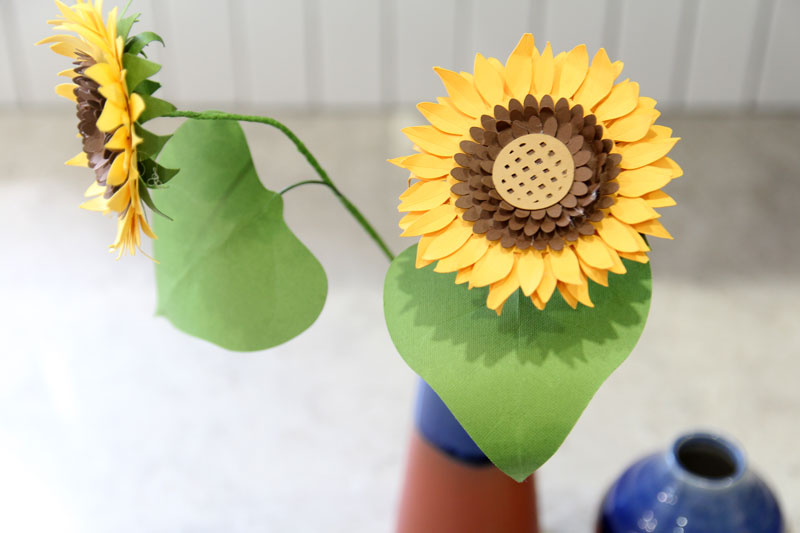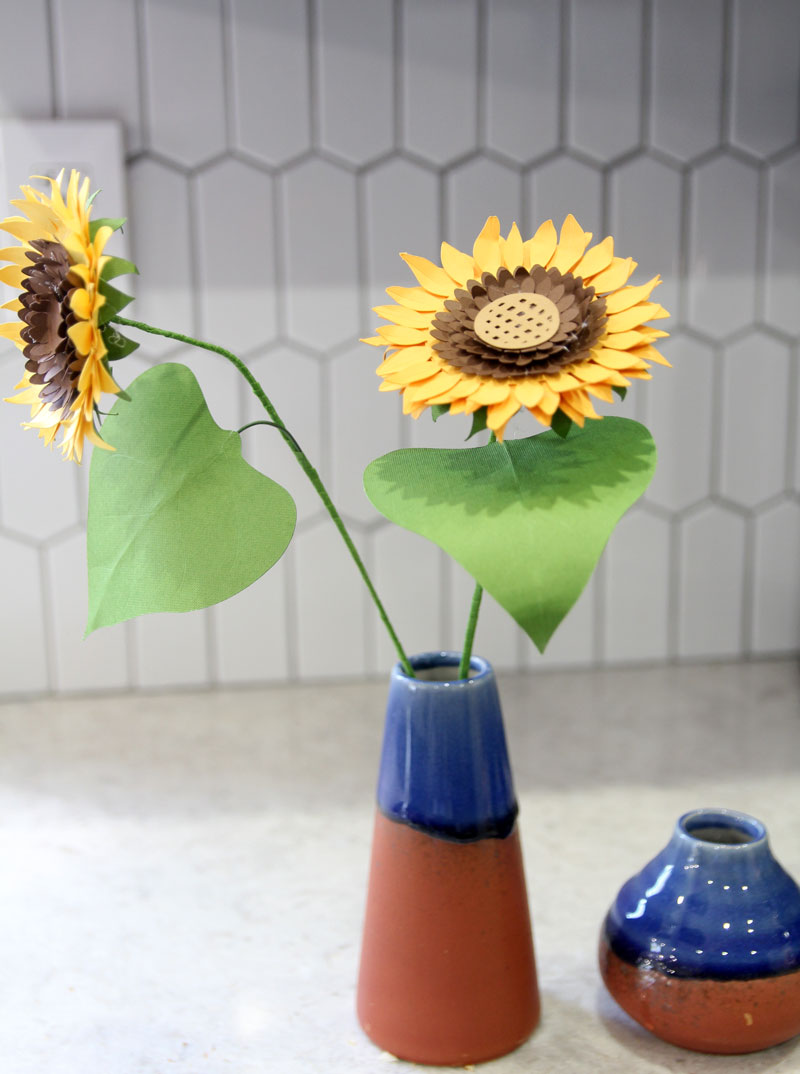 When searching for paper sunflower templates online, I felt like there weren't any that really gave me that "beautiful mess" that paper sunflowers feature. So I did what creatives do and designed my own…
I hope that I really got that messy vibe – I'm not positive it's all there – but it's definitely not the same sterile, even petals that were bothering me. There are a few styles of petal, with imperfect shape. I hope that you love it too! I figure I might try a crepe paper version later down the line (this sunflower template is probably too fine a cut for crepe paper).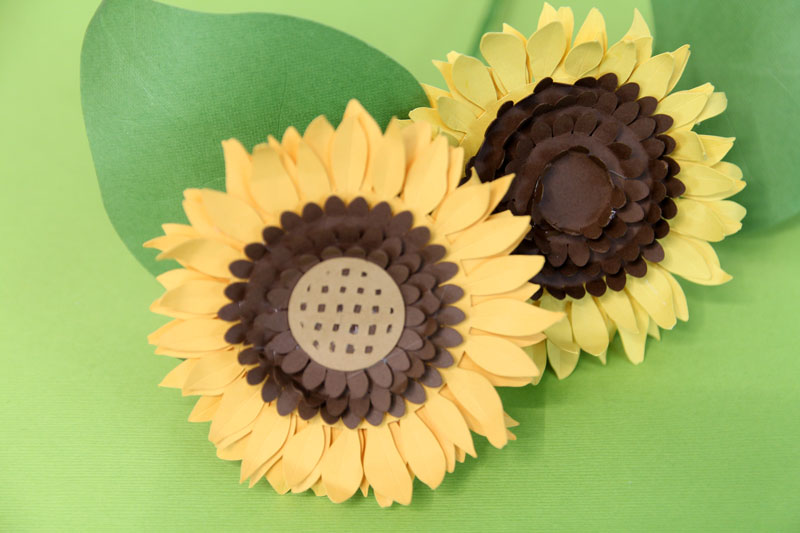 To make the center, I experimented with a few styles. I started off testing out a rolled fringe, but didn't love the look. I moved onto a circle with round ruffles to fold up. I really liked that one and made it in four sizes.
On one, I stacked the four sizes and folded up the flaps.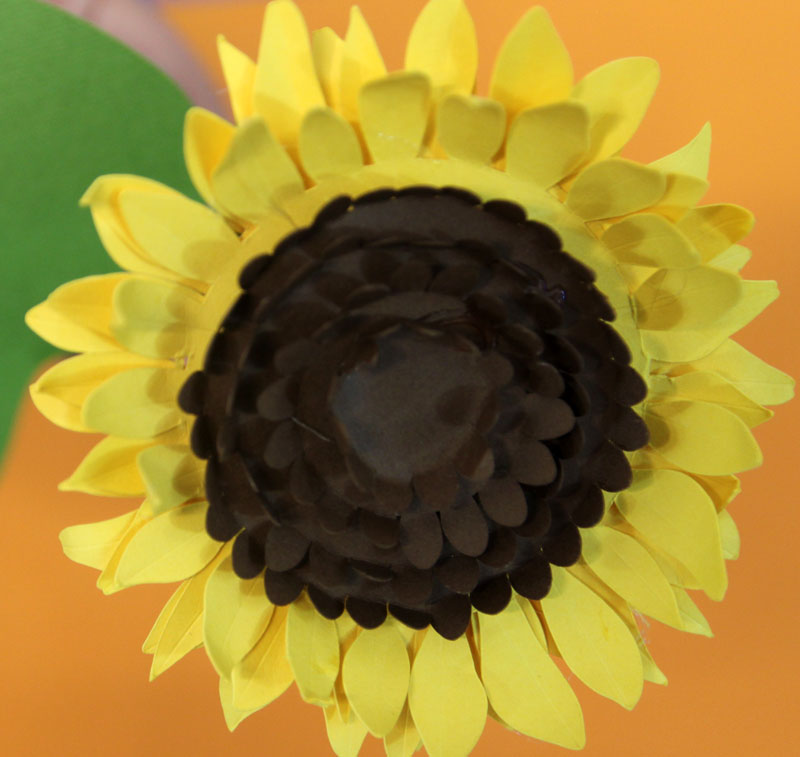 Then, I designed another center. This replaces the smallest circle and can be cut in a slightly different shade to add dimension. This is my favorite flower.
I folded and distressed the petals on most of the flowers. However, I also played with leaving a flower flat.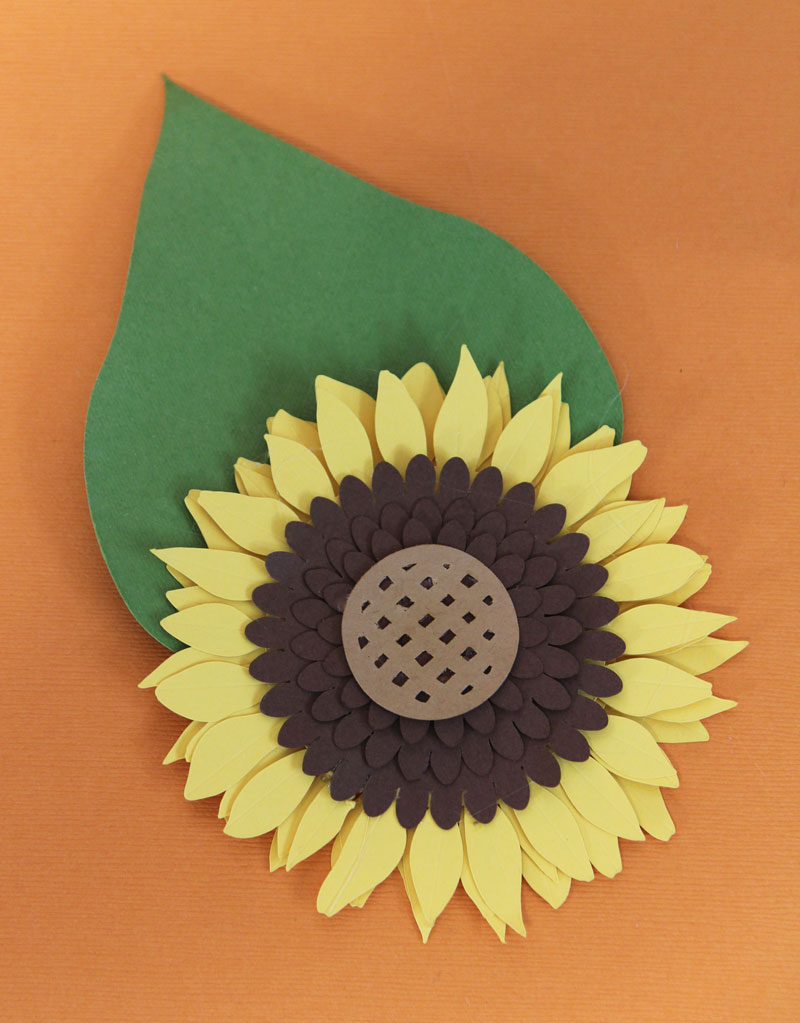 It simply looks so much better with the petals distressed! You can still leave it flat for use on flat crafts, such as cards.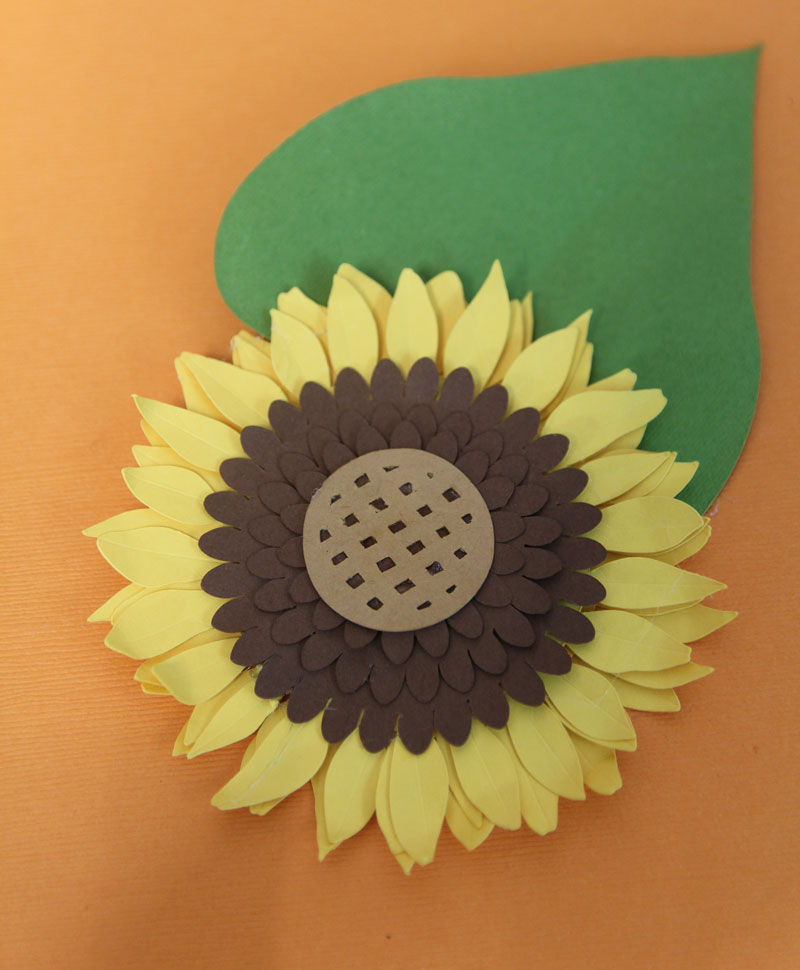 Eventually, I added a stem to this one also, but as you can see, the center is still flat: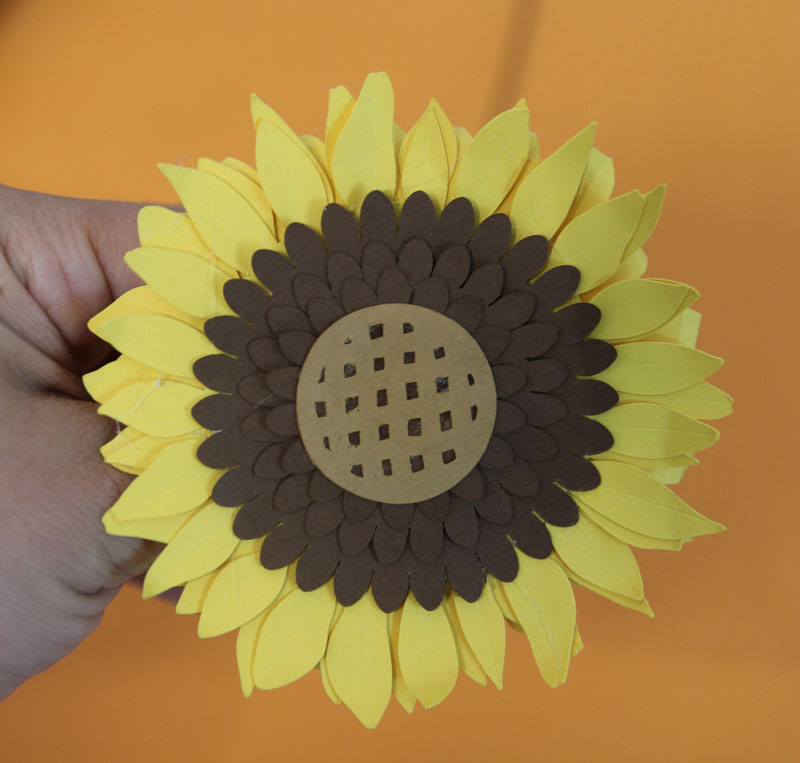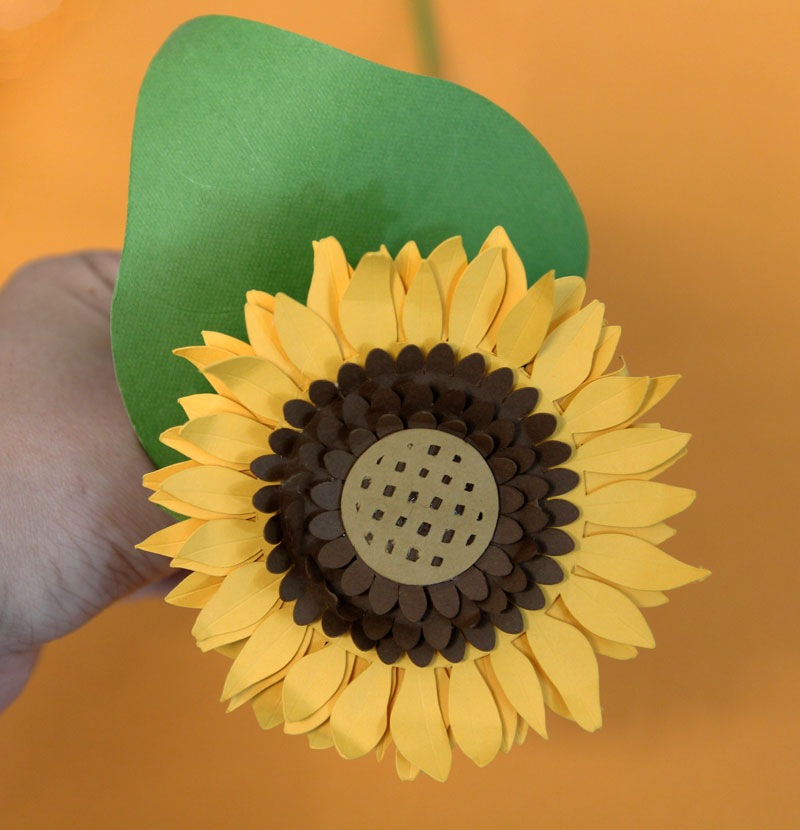 And while my flowers are somewhat small, you can definitely play with making these in large! Your largest size will be about 11 inches. To make huge flowers, you'll need a pattern with separate petals.
I also designed a leaf for this paper sunflower template. The leaf is close in size to the sunflower itself, and is designed to be wired up separately.
The leaf template can be scored, debossed, or drawn on. It doesn't fold up much so you may want to use something like crepe paper to give it more texture. Since this shape is simple enough, it should work with crepe paper. If you do, just skip the veins and stick with the basic shape.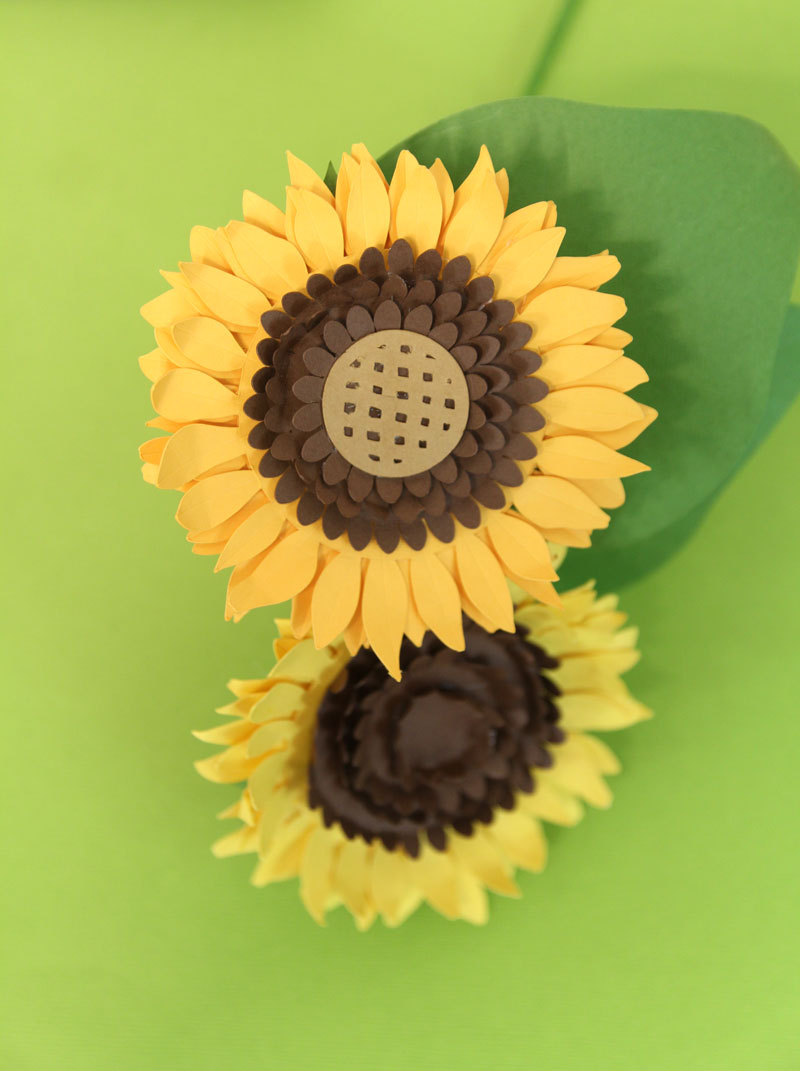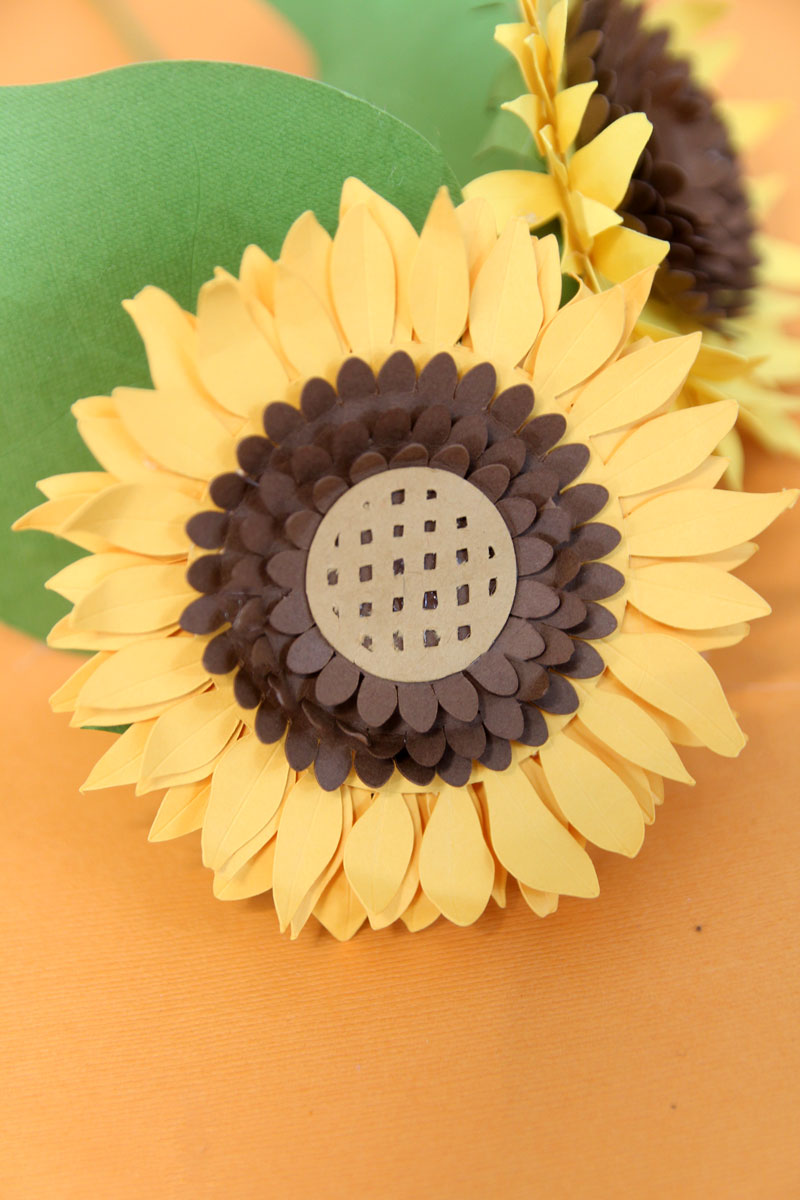 Which paper should you use for paper sunflowers?
The paper that I used is this medium weight card stock from Michaels and that's what I'd definitely recommend for a good balance of durability and flexibility.
You can use lightweight paper (such as copy paper), however your project will be more fragile. Lightweight paper is easier to distress and add texture to.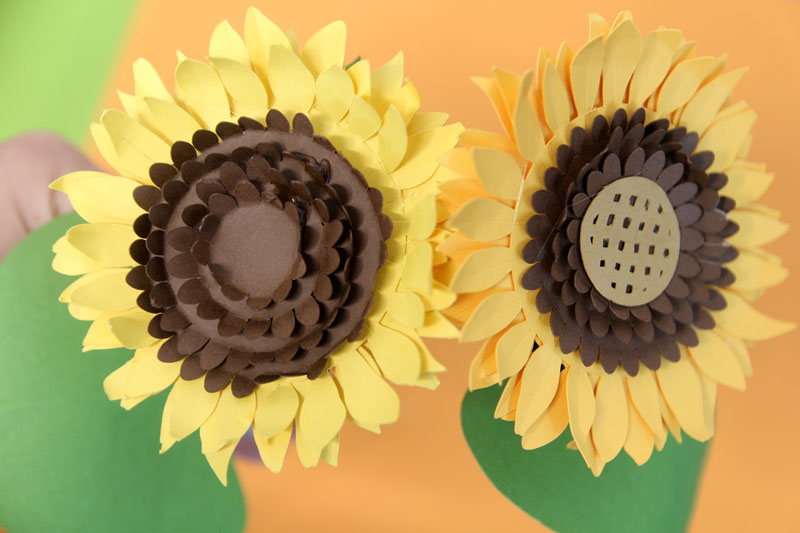 Finally, heavy cardstock will give a stiffer appearance and won't get that wonky all-over-the-place look that sunflowers have (and that this template is designed to mimic).
As I mentioned above, besides for the leaves, I wouldn't do this with crepe paper as it's too fine a cut.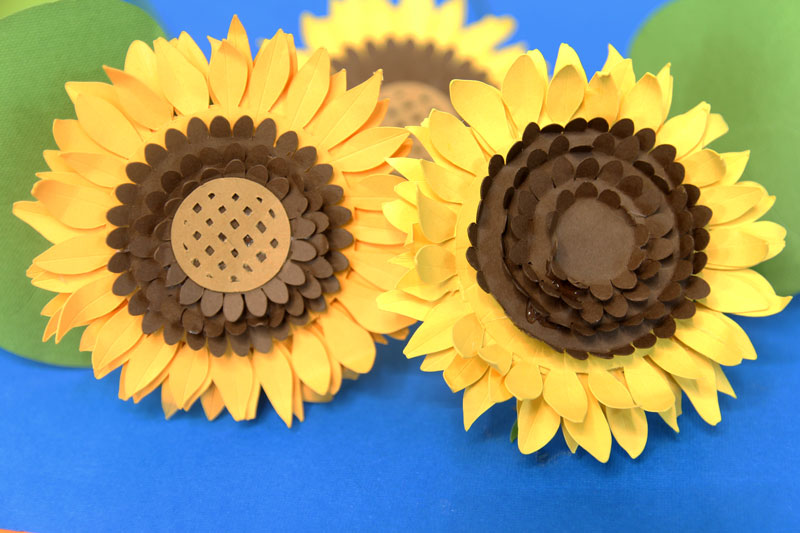 Which glue is best your paper sunflower?
I used a hot glue gun to assemble these. However, I can't begin to tell you how many hours I spent sloppily photoshopping out hot glue strands… so unless you're patient enough to pick them all out when you're done, I recommend you use something else where possible.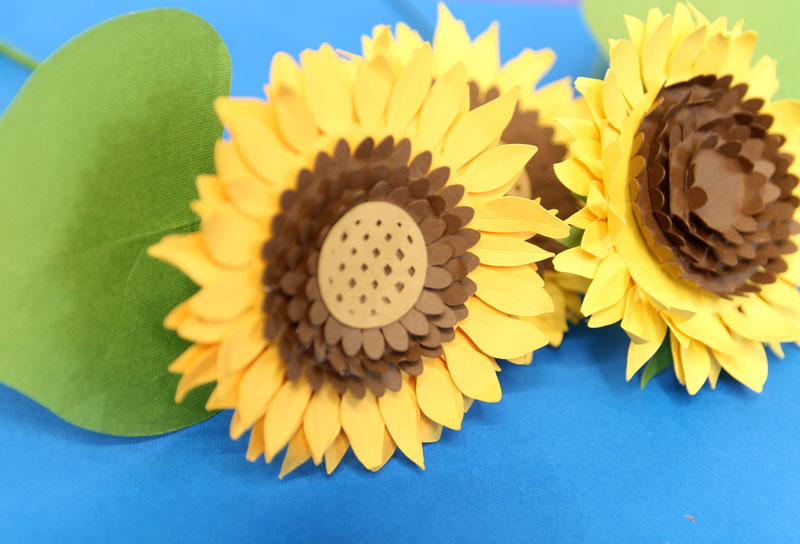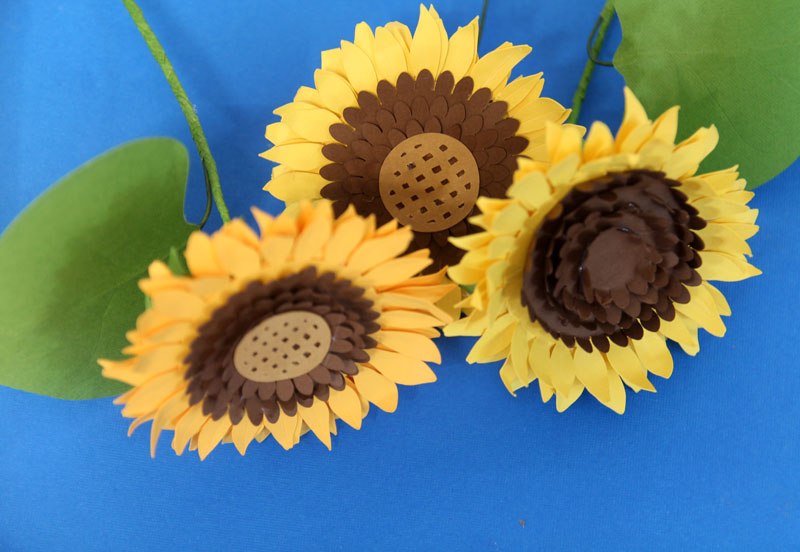 Hot glue is the most consistent with strongly gluing down all the elements. It also sets in seconds and dries very quickly. However, for many parts, you can use tacky glue or a similar good quality craft glue. Just make sure to hold it in place until it sets.
For the flat elements (such as stacking your sunflower) you can use strong double sided tape.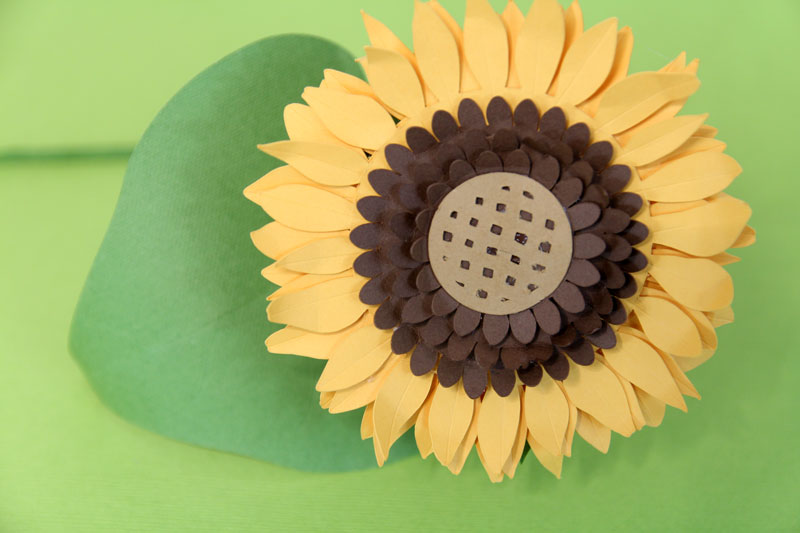 Download your paper sunflower template
This template took about five runs and test crafts to get right. So unfortunately, I wasn't able to keep it free as I'd hoped.
However, as a "Thank you" to my blog subscribers, I decided to offer the PDF version free. Please note: it's a bit of a complex cut – you'll need a bit of patience, but it'll come out so beautiful!
Download the free PDF paper sunflower template
To download, fill out the form below. You'll be signed up for our free newsletter – unsubscribe at any time in the footer of the emails. I respect your privacy and the law and won't share your information with anyone.
You'll get the PDF with your purchase too, as well as printable instructions.
What you need to make a DIY paper sunflower
Cricut Crafting
Assembly Materials
How to Make a Paper Sunflower
Cricut cutting instructions
1. Open a new project in Design Space. Upload your SVG. Click "ungroup" so that you can edit the elements.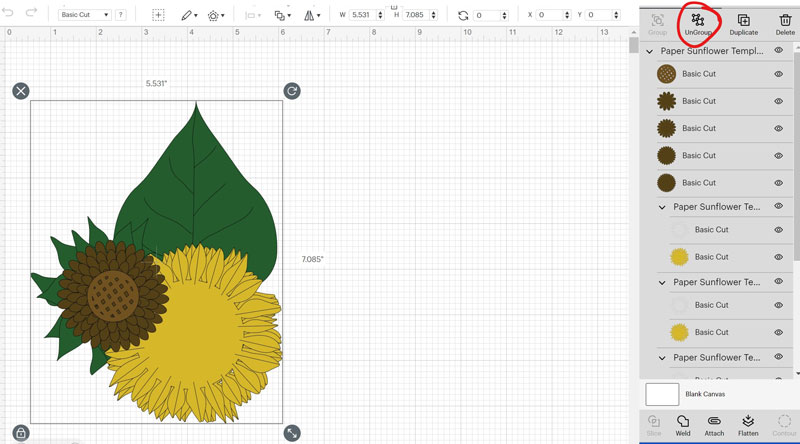 2. Choose the veining on the leaves and the three sunflower layers and change the line type to score.
3. Attach each score layer individually to the base cut that it's scoring. At this point, if you'd like, you can duplicate the sunflower layers if you want to add extra layers of petals, and make copies of the leaves too. Disable any of the center layers that you're not using.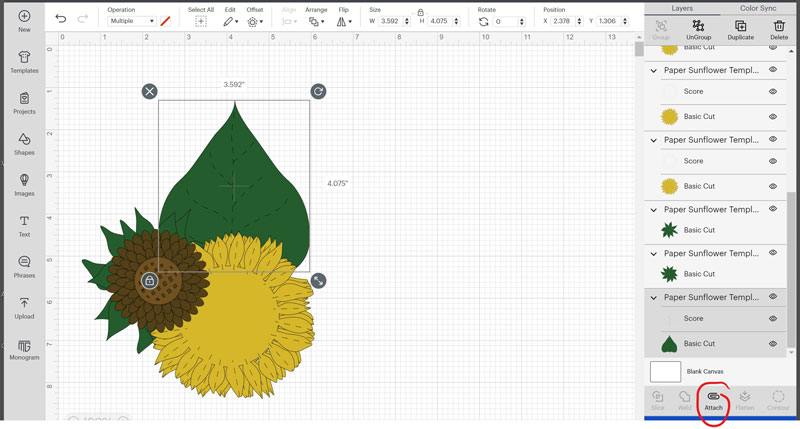 4. Send it to your Cricut to cut! I used the medium cardstock setting with more pressure, but the exact setting you'll need will depend on your machine.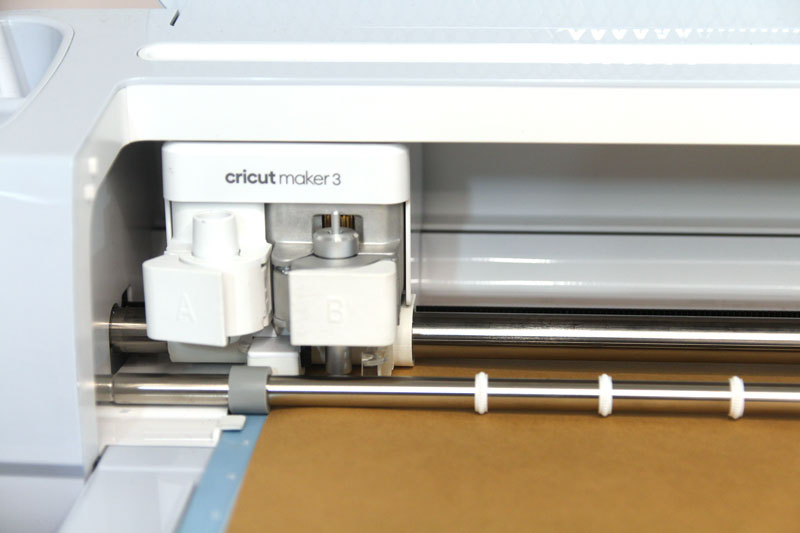 5. Make sure to swap out the fine point blade for the scoring wheel when prompted.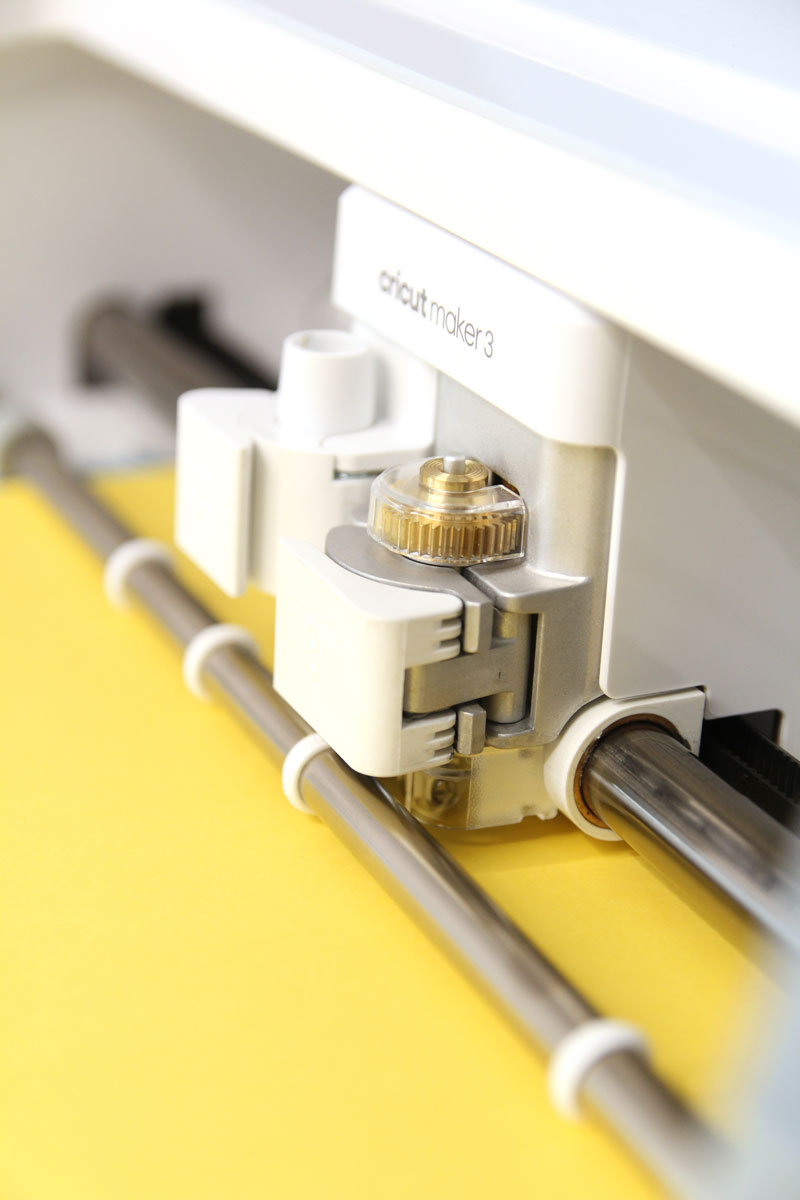 6. When your cut is complete, make sure to carefully remove all your parts from the mat, using caution so you don't tear off the petals. I recommend using the spatula to help you.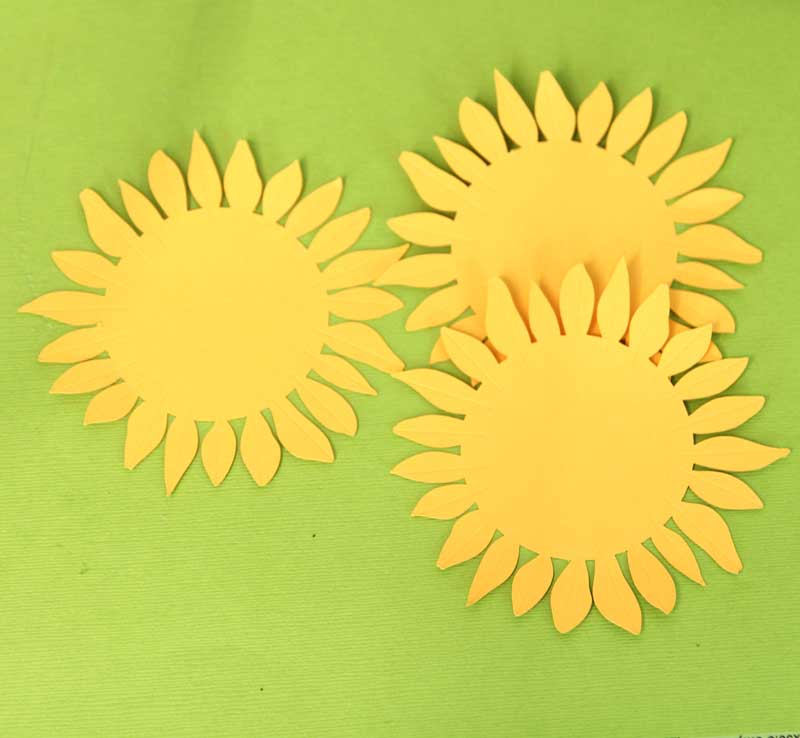 You only need one of the smallest centers – either the flower shaped one or the criss-cross one.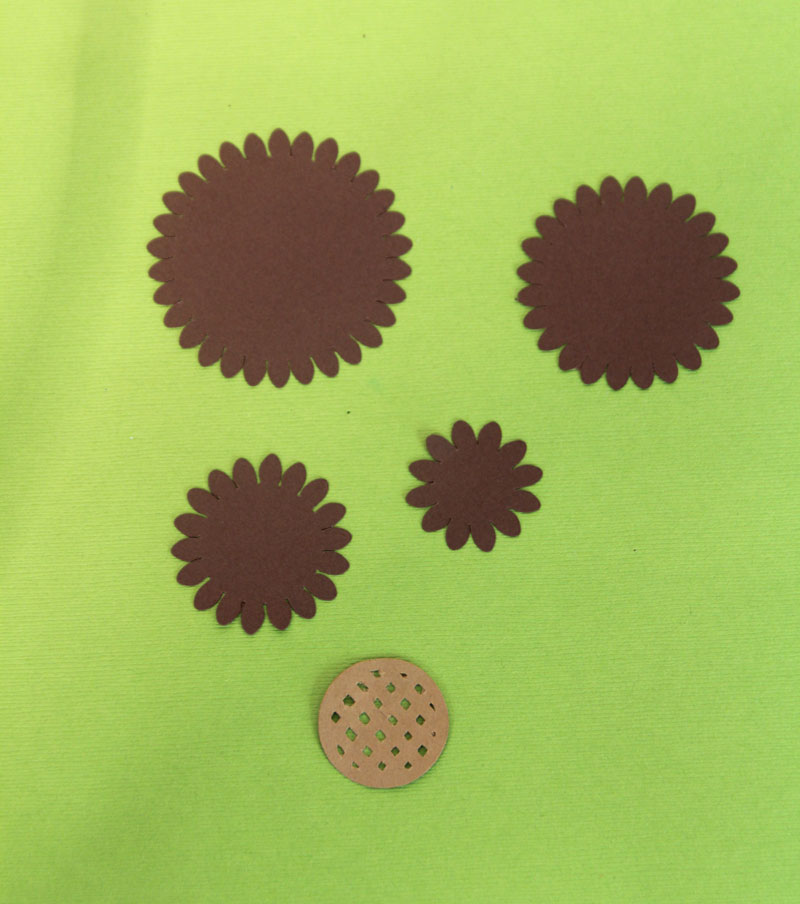 7. If using the criss-cross one, you may want some help from a weeding tool to poke out the holes.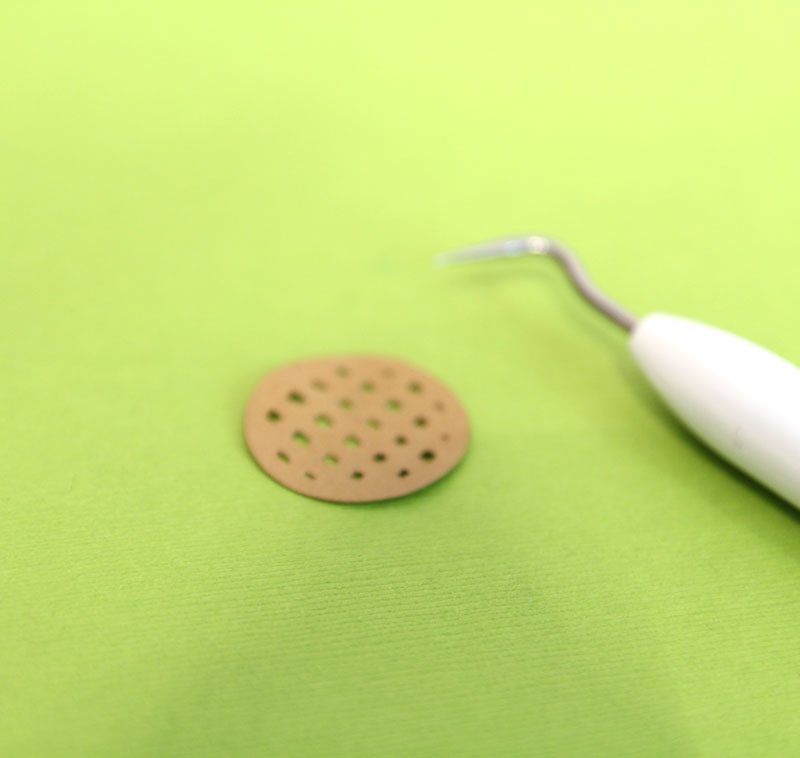 Hand cutting instructions
Print out the PDF file. Carefully cut out each part. Trace it onto the correct colored cardstock and cut out your parts. To create the fold lines for the sunflower, take a ruler and a scoring tool, place your cutout onto a self-healing mat, and score down the center from the tip of the petal to the base. You can create similar score marks on the leaf too by tracing the template.
Assembly instructions
1. If using the criss-cross center, glue it to the center of the smallest ruffle-edged center (the second smallest on the SVG file – you're not using the smallest).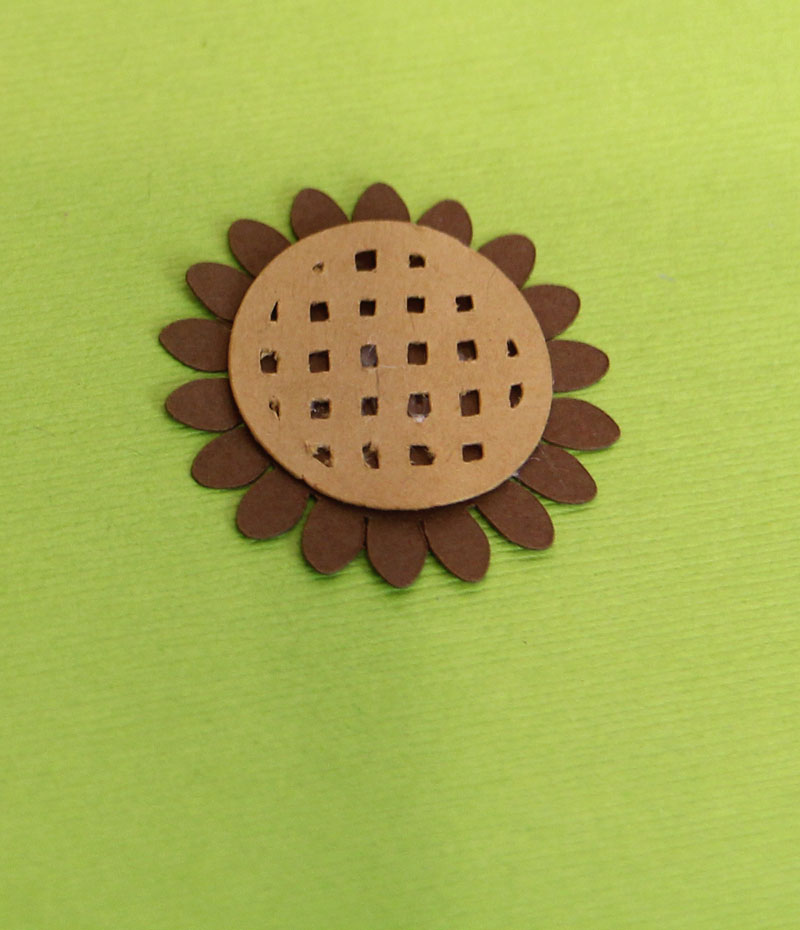 2. Fold up the ruffles on each of your centers.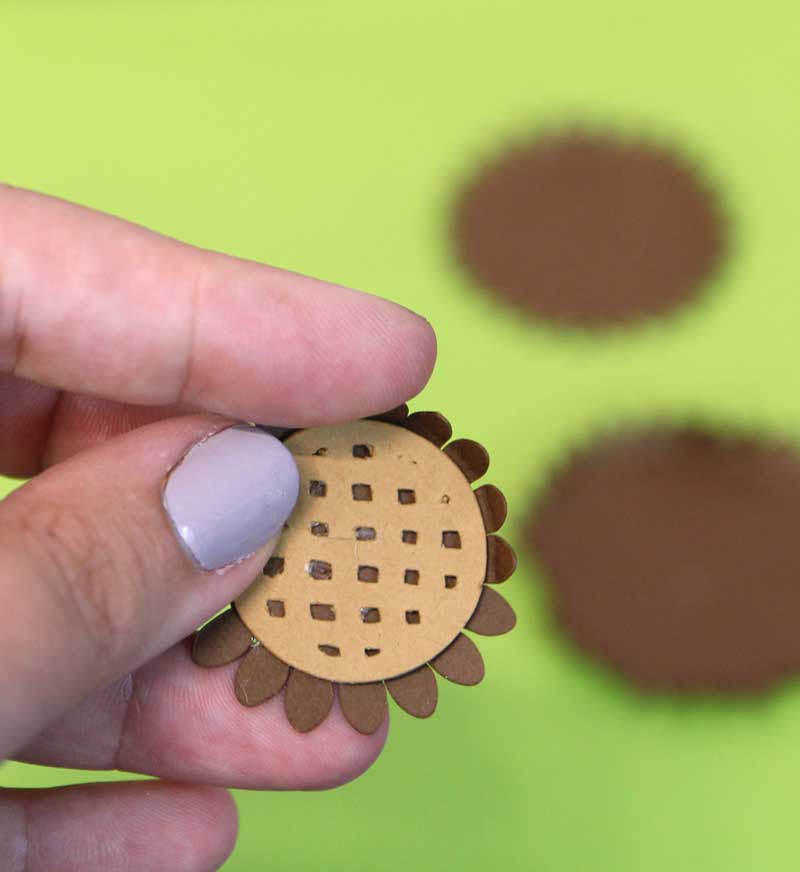 3. Using your fingernail to help you, fold each petal roughly in half. It won't create a perfect fold, but it'll give it that texture. If your fingernail is cut short, you can use a card or any flat edge.
4. Distress your edges. Curl them up using anything the correct size – such as the back of a paintbrush, the edge of a quilling tool, etc. Curl the petals of the top flower upward, the middle one should be a bit disturbed but mostly flat, and the bottom layer should be curled down.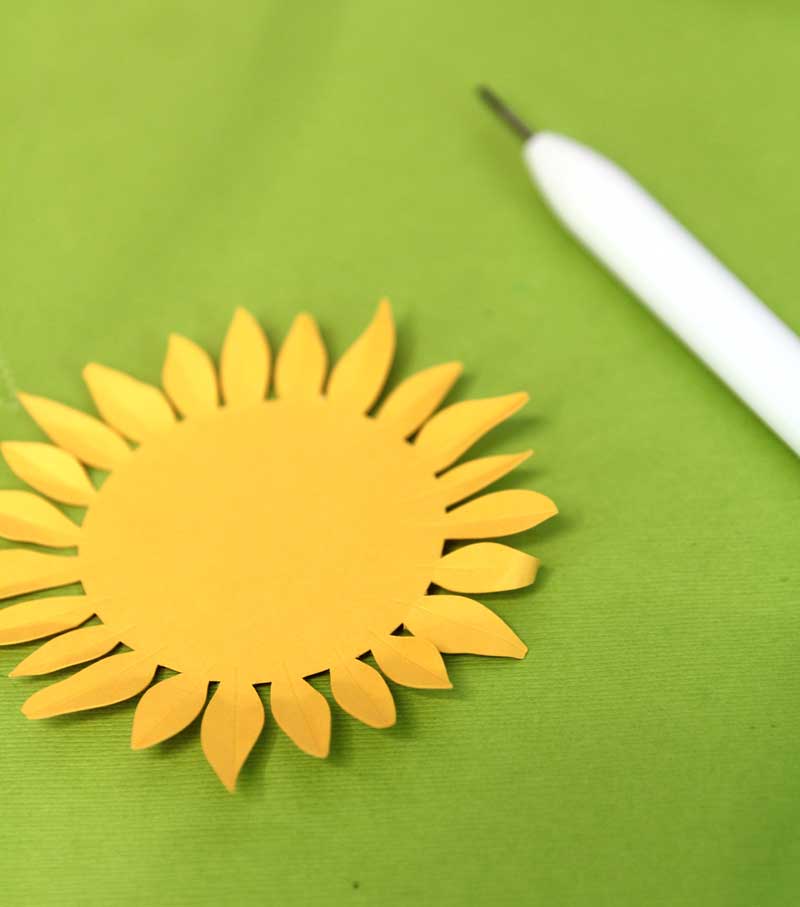 5. Stack your sunflower! Simply glue the flat centers together. First, glue three layers of petals, then the rest of the center of your flower, and finally, glue the two together. Make sure to stagger each layer so that the petals show through the spaces.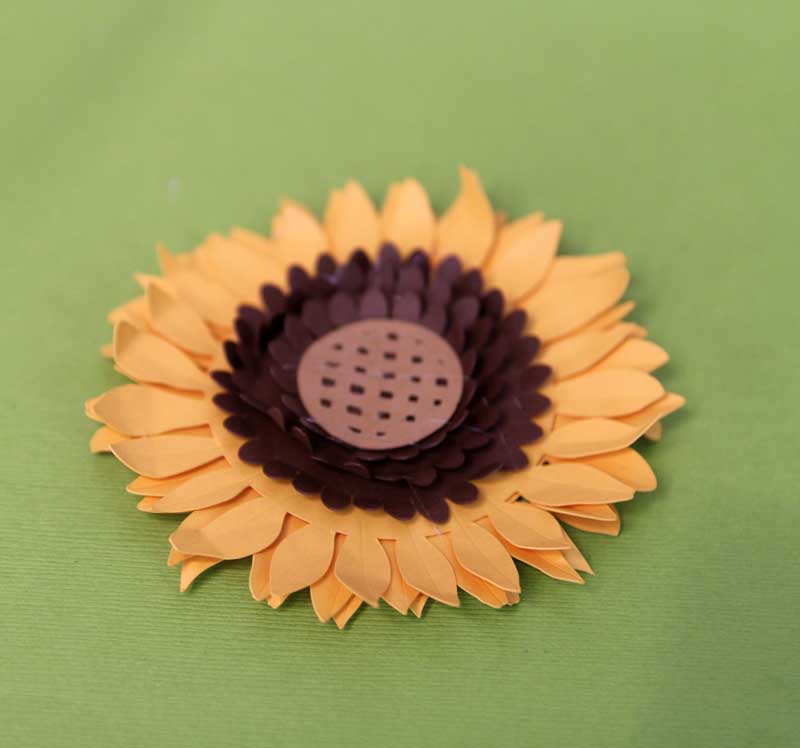 6. It's time to add a stem! Bend back a little bit (mine is about 1/4 inch) of your wire using pliers. It should be at a 90 degree angle.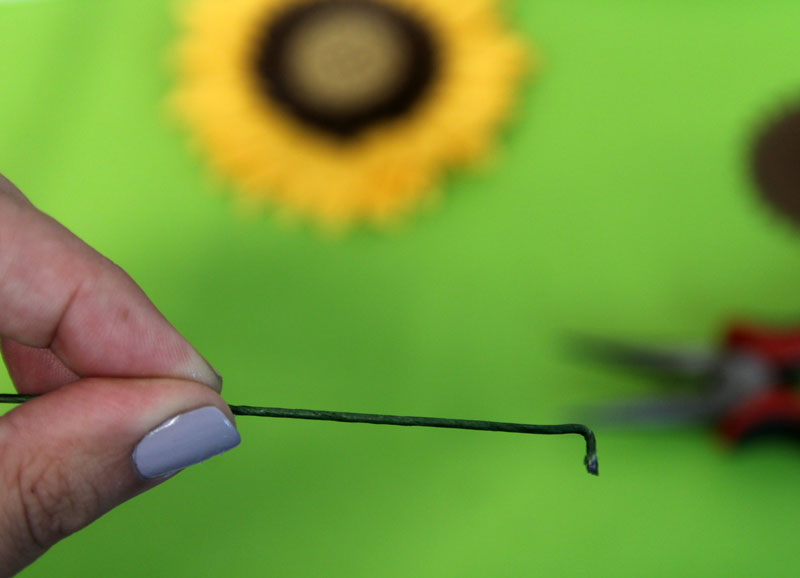 7. Thread the stem through the center hole of the two base star-shaped leaves that you cut. Glue the small bent part down. You'll need to glue the two layers together as well.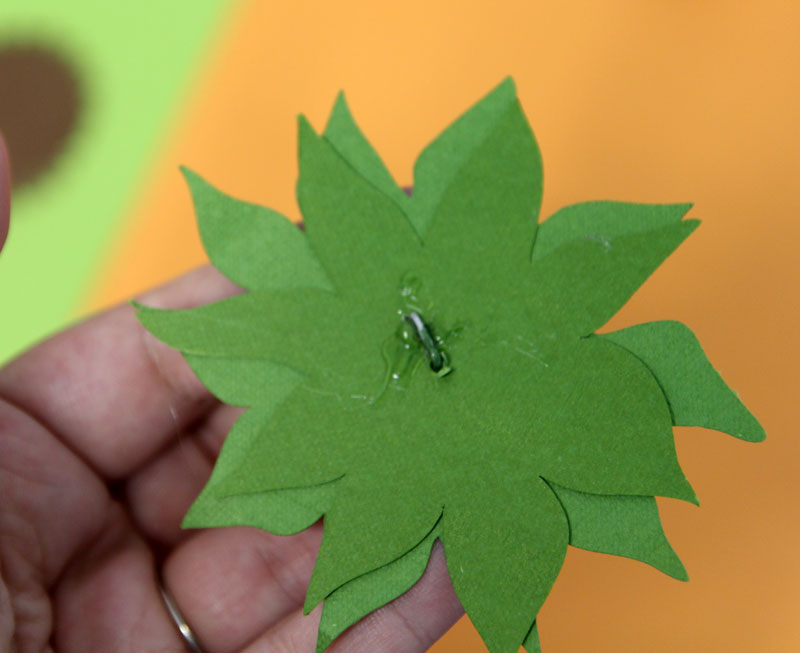 8. Place your flower bottom-side up on a flat surface. Glue the stem down on it so that the bent stem faces the flower. Hold it in place (or prop it) until the glue is dry.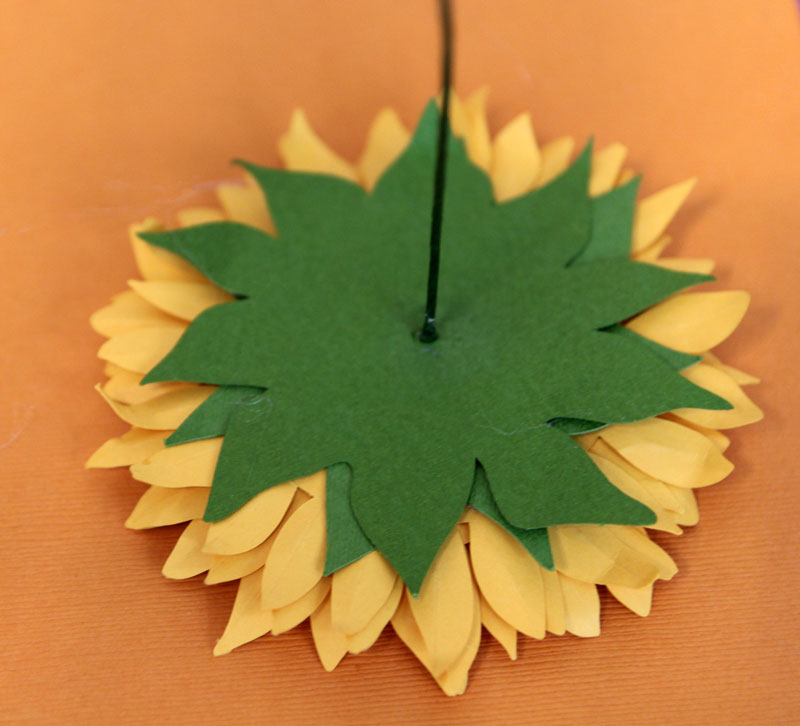 9. Curl down the green flower base and distress it.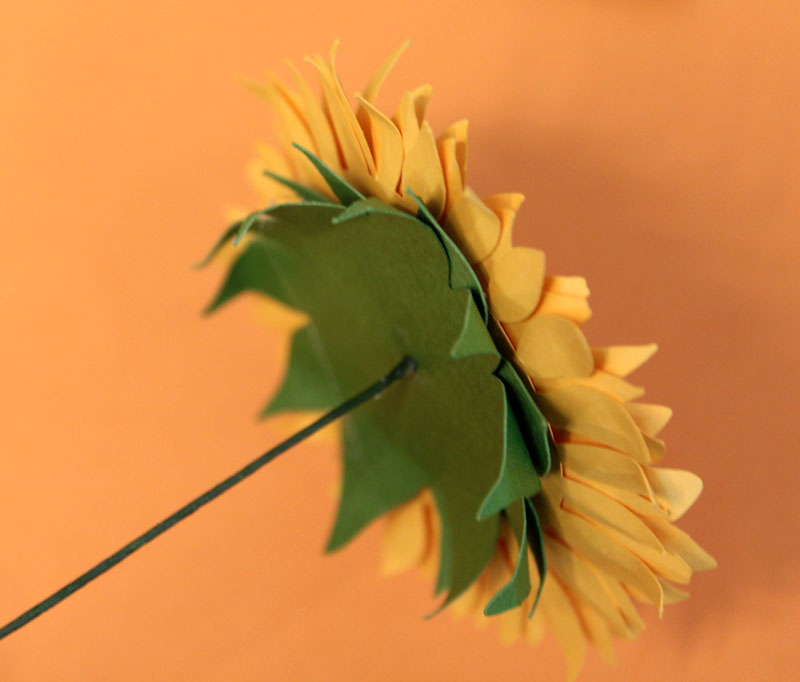 10. Fold your leaves on the score lines. You may want to outline the veining on the leaves as it won't fold very distinctly.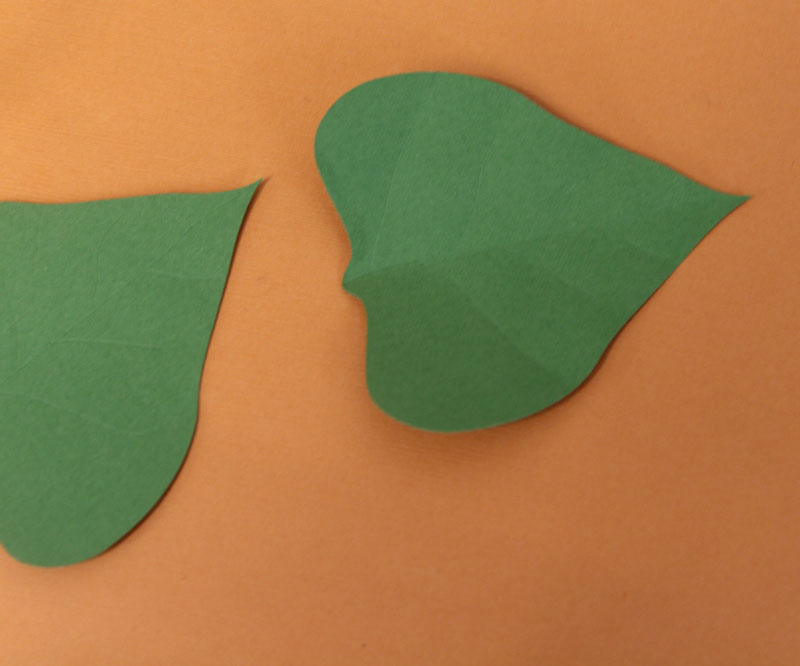 11. Glue a floral wire to the back. Wait until this is completely dry before continuing.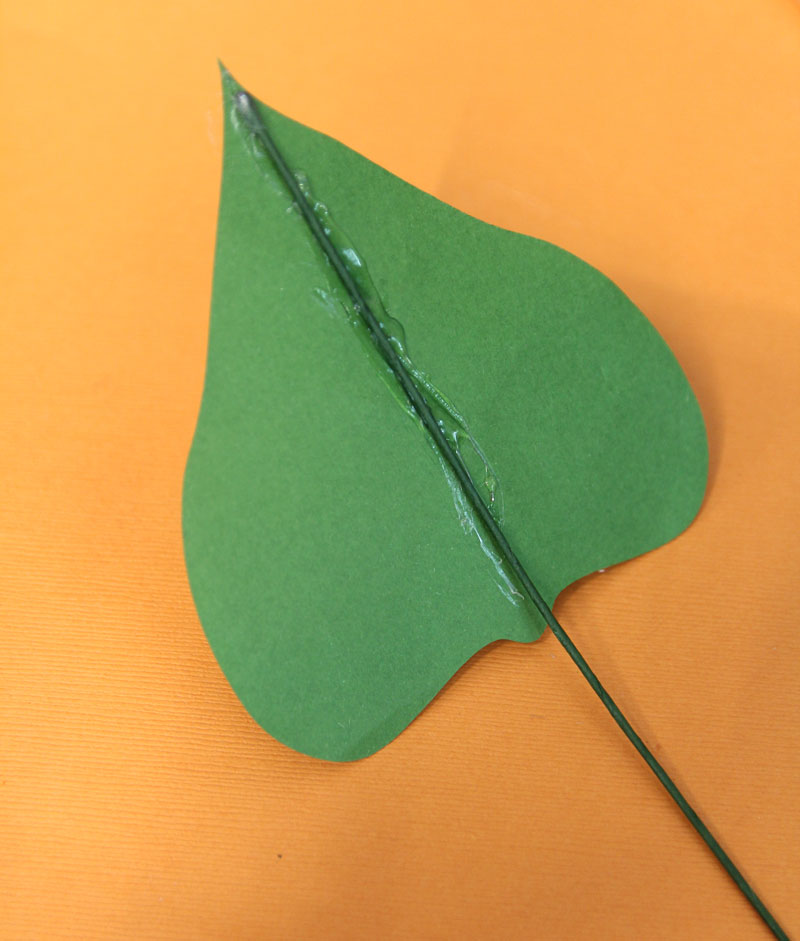 12. Bend your leaf back at a large-curved 90-degree angle, so that its wire can be flush against the flower wire, but the leaf will stick out. Start winding your floral tape around the wire. Wind it a few times around the base of the flower to create volume. Keep going down the stem. When you're ready to attach the leaf, simply hold that wire up against the flower wire and continue taping around both.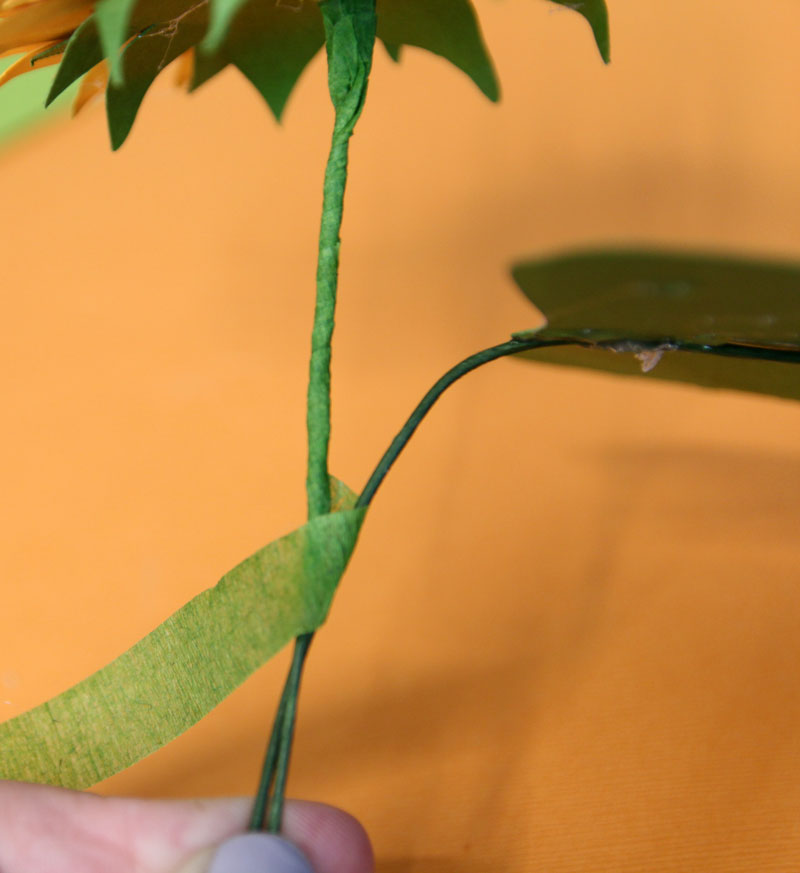 Trim the bottom if needed. Your paper sunflower is complete!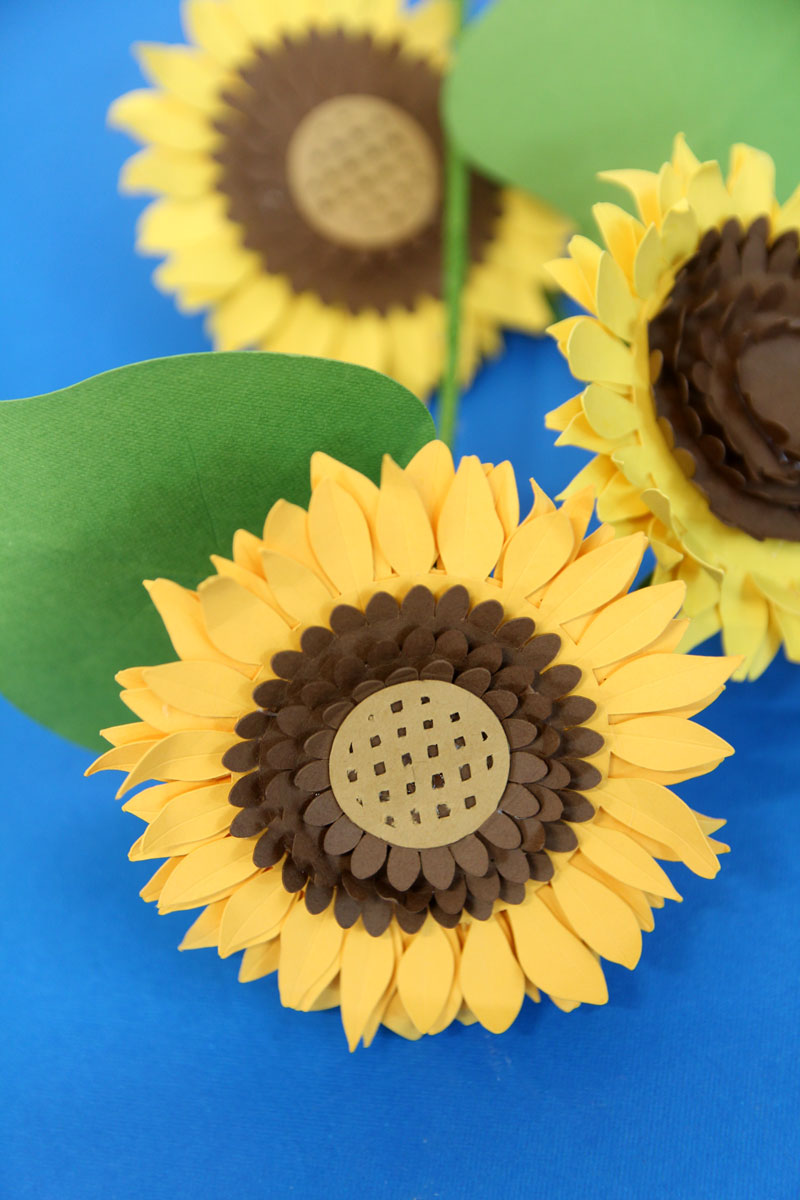 What is your favorite flower to craft? Do you also prefer uneven petals on your paper flowers? Comment below!