Wire wrap hoop earrings are such a simple concept with such a versatile result! In this post, I"ll be teaching you a super simple method for how to wire wrap hoop earrings. You can find my tutorial on how to wire wrap an undrilled stone here. Disclosure: this post contains affiliate links.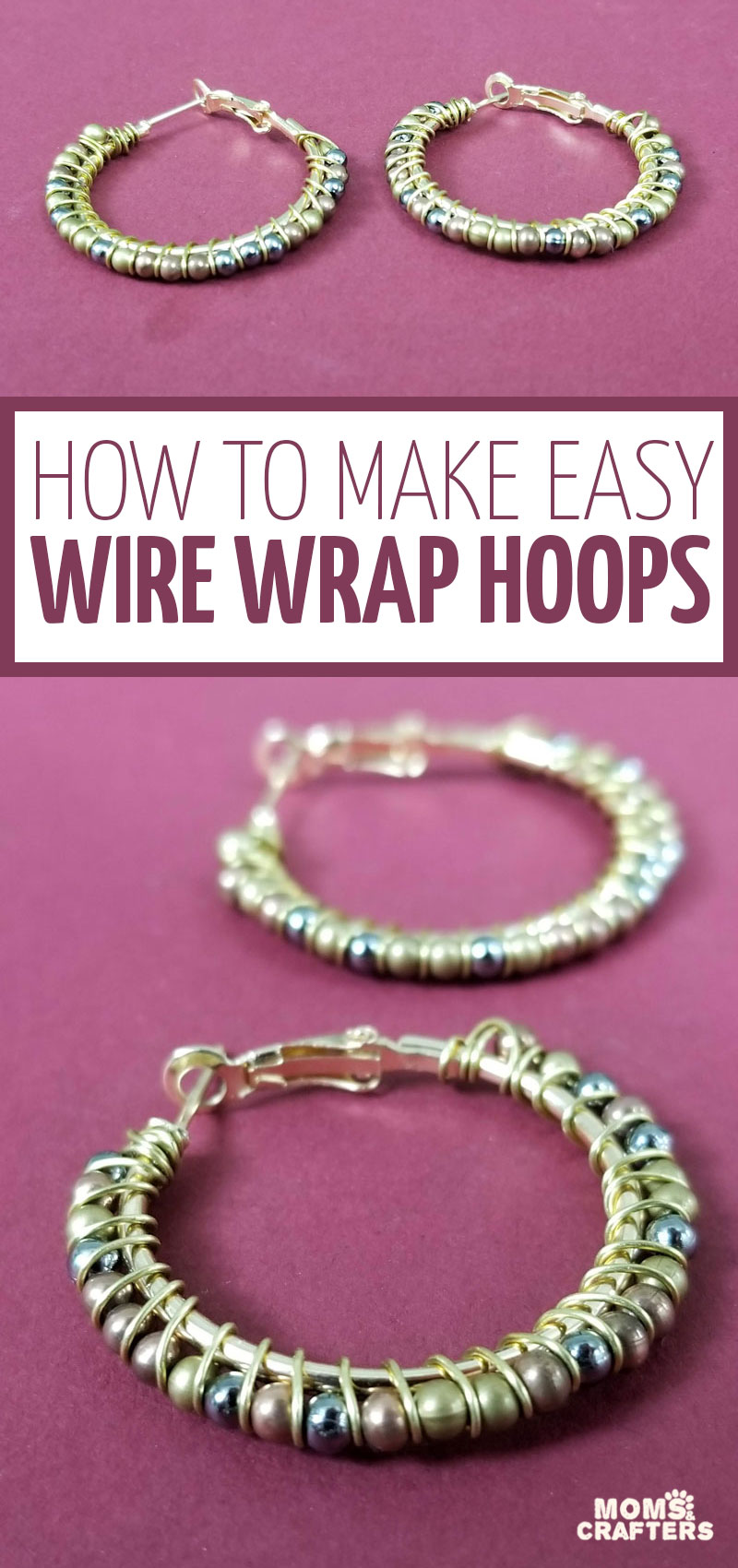 A while ago, I picked up a pack of mixed metal spacer beads, and I right away saw them as simple wire wrapped hoop earrings!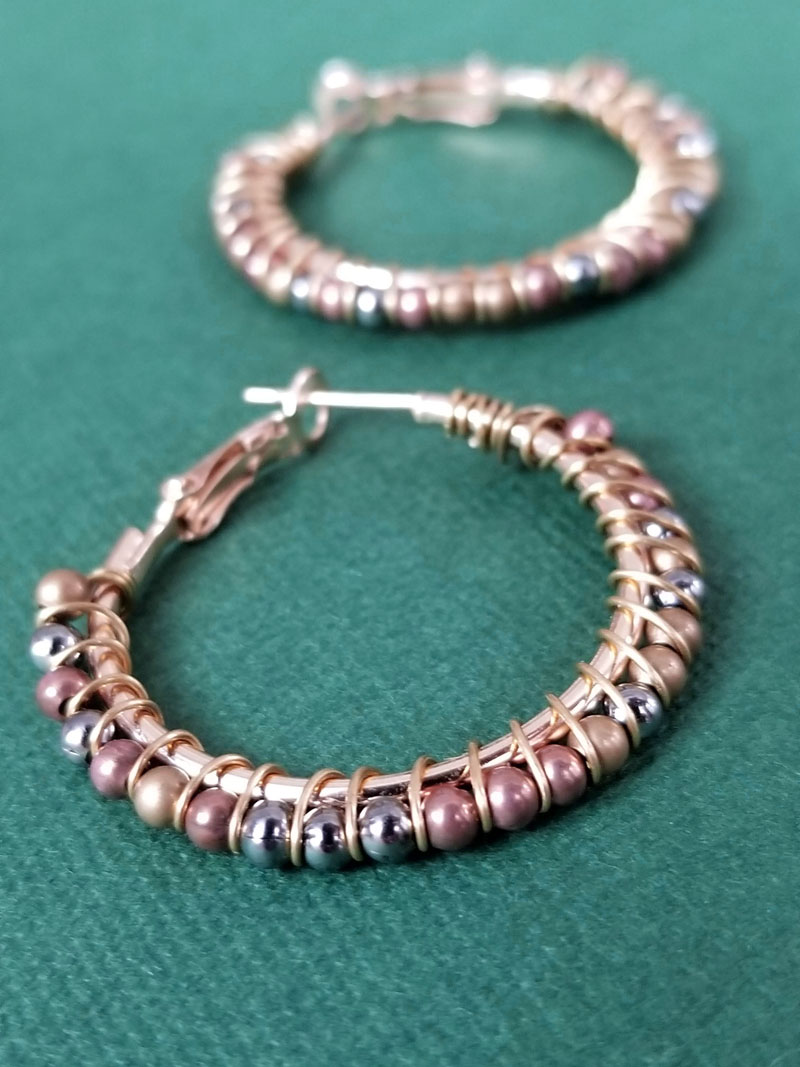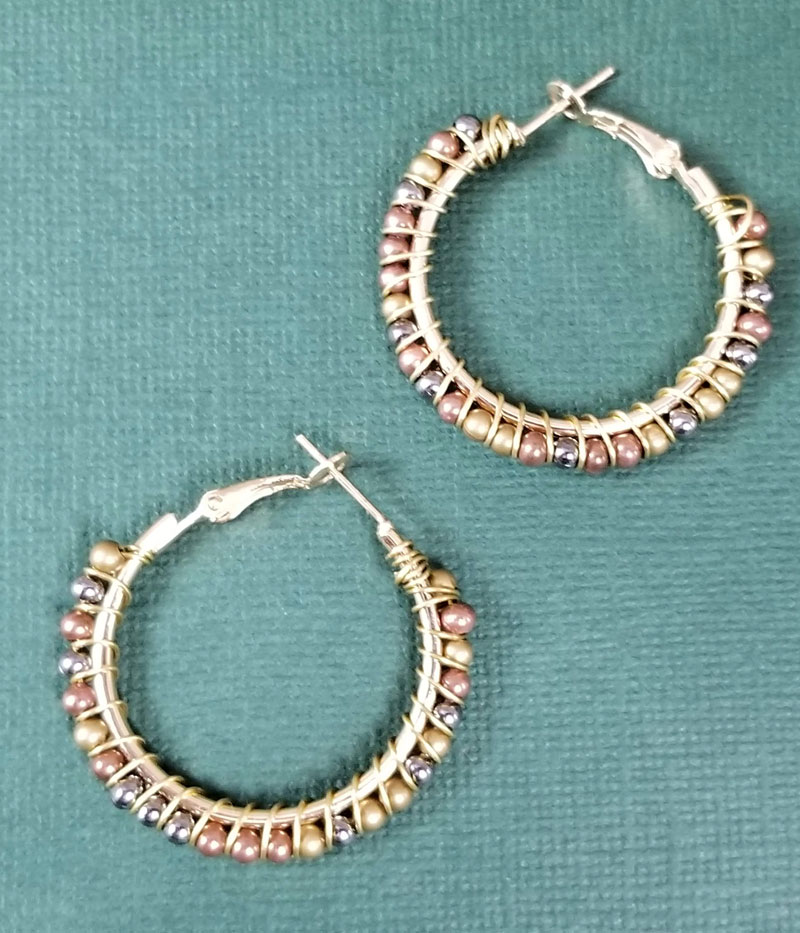 I made these as a treat for myself for Passover and figured it's about time to share this wire wrapped hoop earrings tutorial.
Yep, that's how long it takes for me to get to share a craft with you from when I create it! On average it'll make it to the blog 4-12 months later! Sometimes, such as in this case, I share it in advance on Instagram (on my regular account or my jewelry making one.)
I know some Instagram followers have been asking for this one, so it's about time I share with you.
If you love this post, you can also learn how to work with wire to build structured pieces with this wire heart pendant tutorial.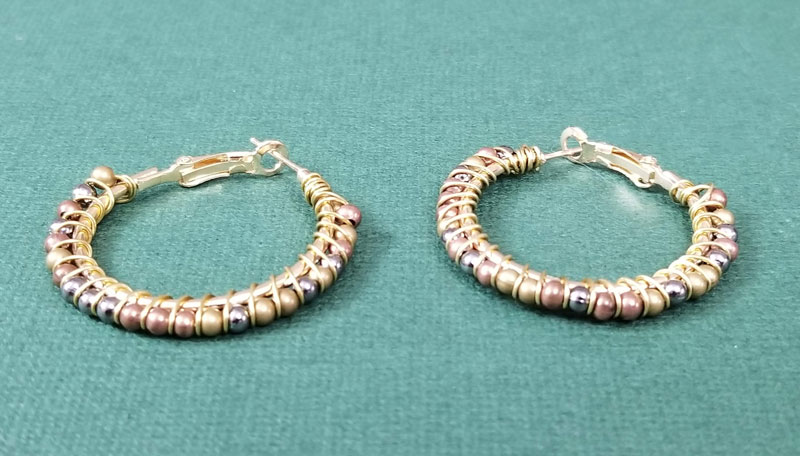 Learning how to make wire wrapped beaded hoop earrings opens up a world of possibilities. Hoops automatically have a bit of a casual feel, but you can upgrade them by using crystals or pearls. You can add more color by using semiprecious gemstones.
If you're using fancier materials, I'd recommend upgrading your base hoops (and wire of course) to sterling silver or gold filled to keep the quality consistent. If this is your first time trying this and you are a novice jewelry artist, I recommend using cheap materials to allow room for error.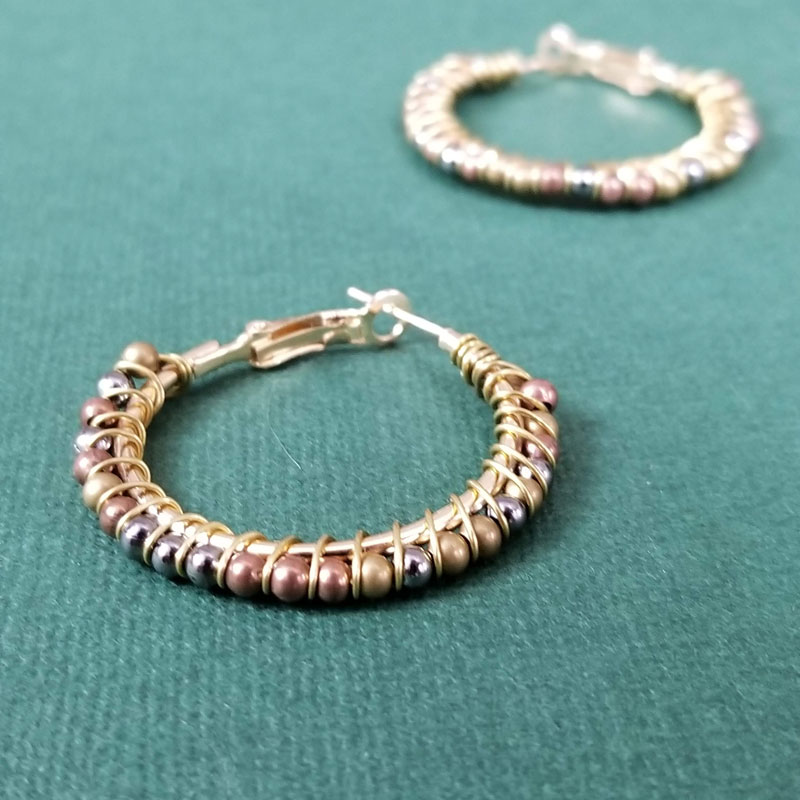 I personally love this mixed metal look because it's a great, easy, everyday pair that matches almost anything.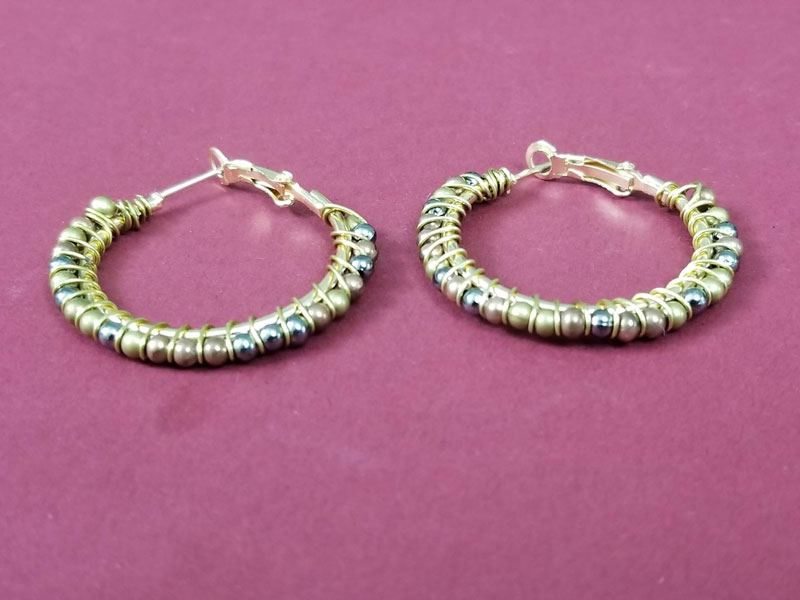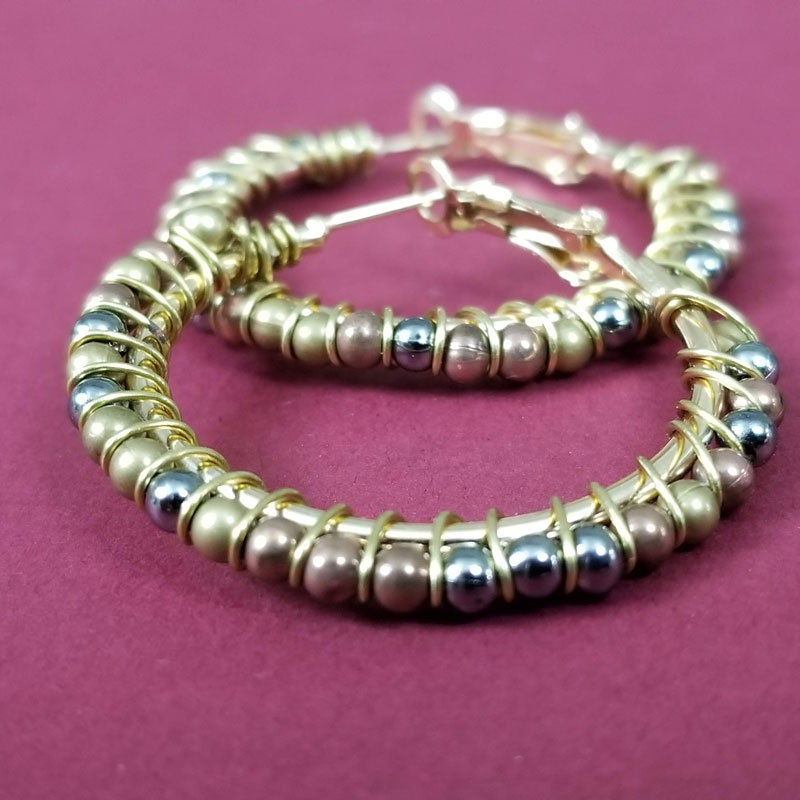 At first, I bought the hoops with the intent to wire wrap a cluster similar to what I did in this wire wrapped bangle bracelet tutorial. I may still try it so stay tuned! But meanwhile, when I got the beads used in this project, I knew it had to be done around the wire in a straight line.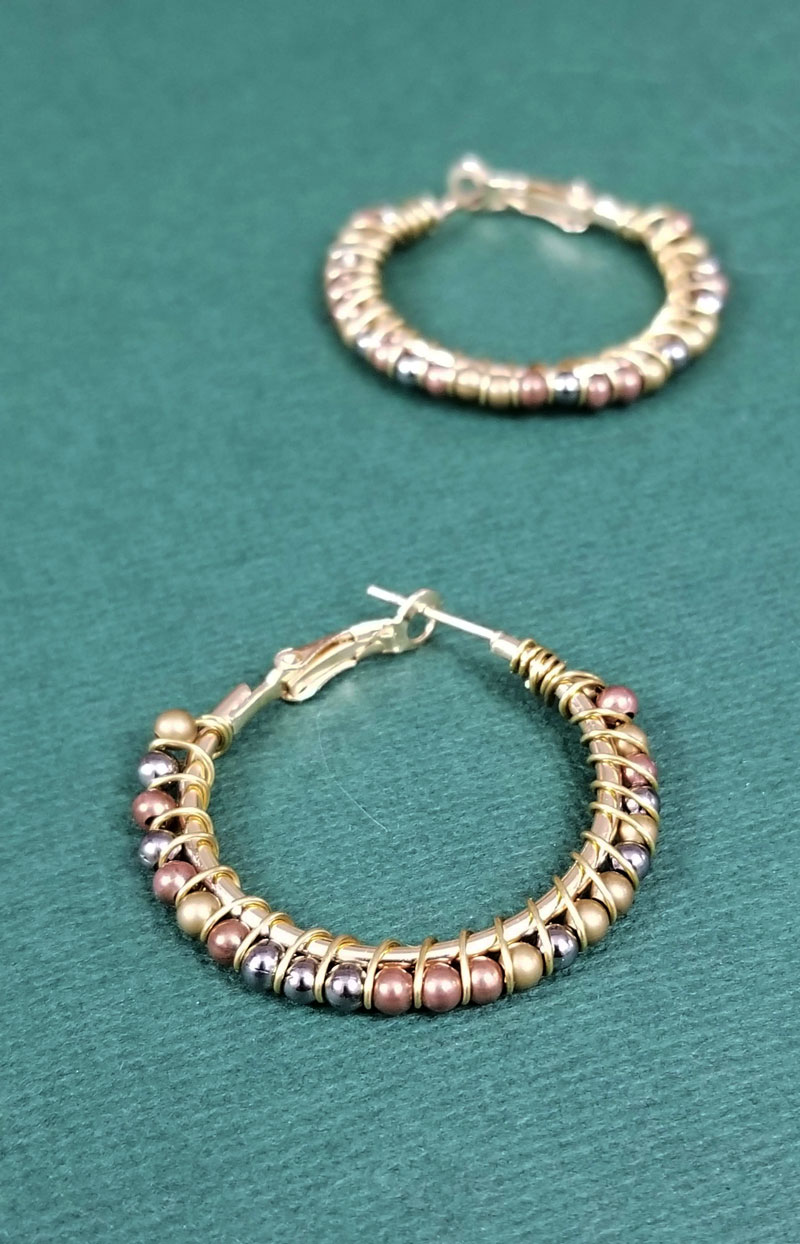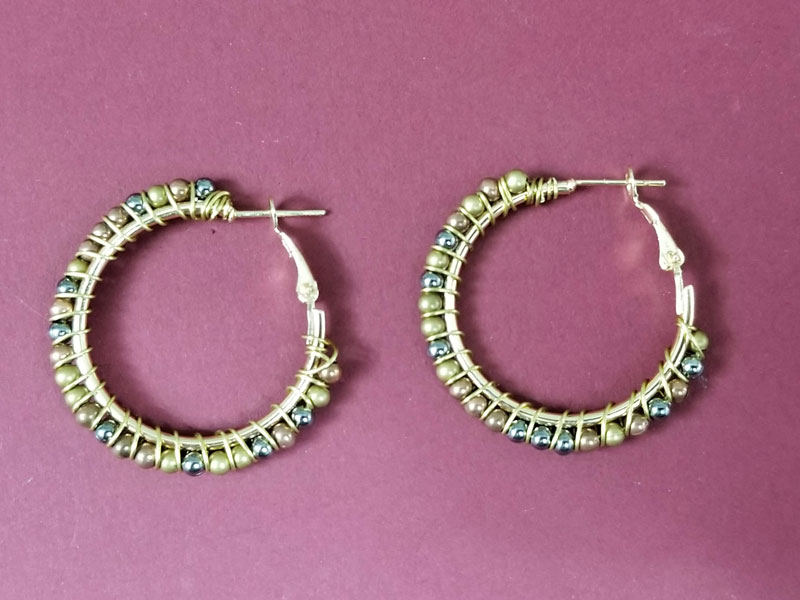 I am wearing these earrings as I type and love how easy they are to grab and go, especially when I don't have the time to stop and match up a pair!
They're effortless!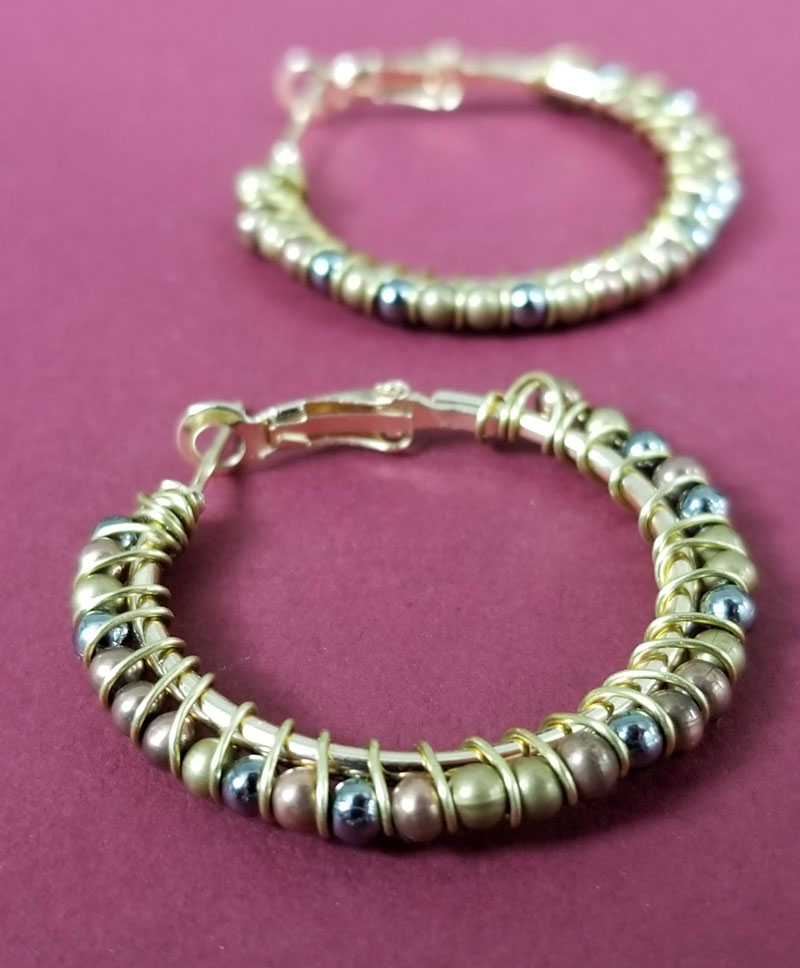 What you need for this wire wrap hoop earrings tutorial:
How to wire wrap hoop earrings:
1. Cut a length of wire about two feet long. Wrap the end of your wire a few times as close as possible to the part of the hoop that goes into your ear. Don't worry if it slides down a bit, at the end, it'll stay in place.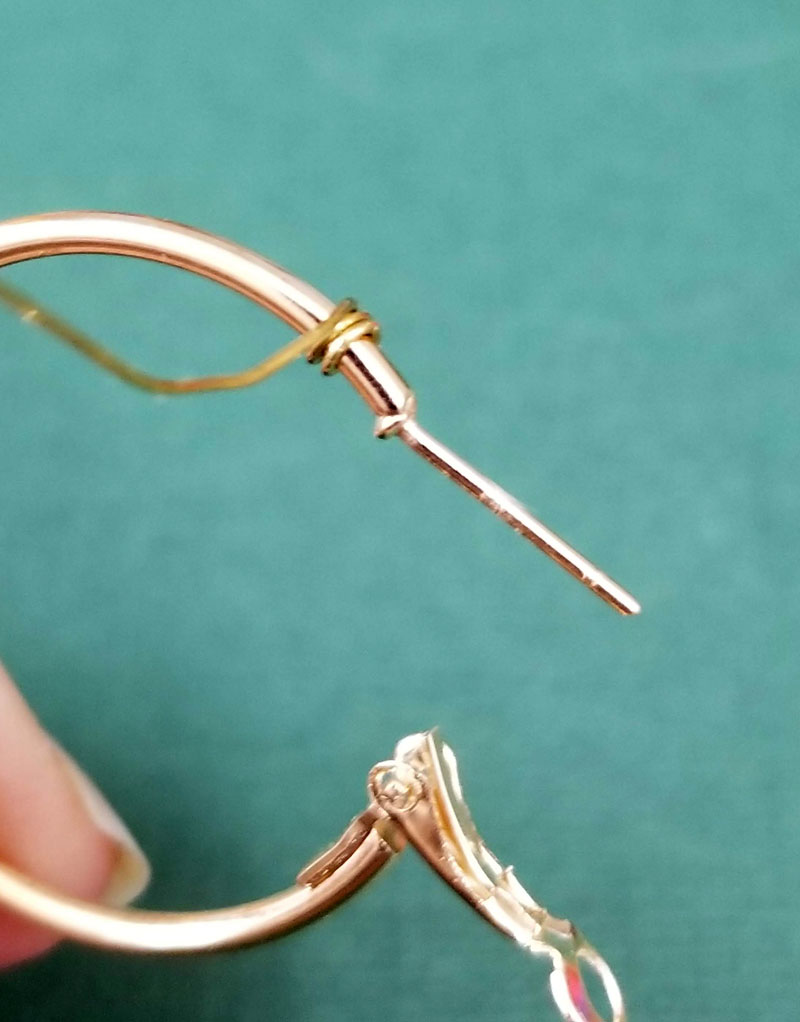 2. String on beads long enough to cover the outside of your hoop.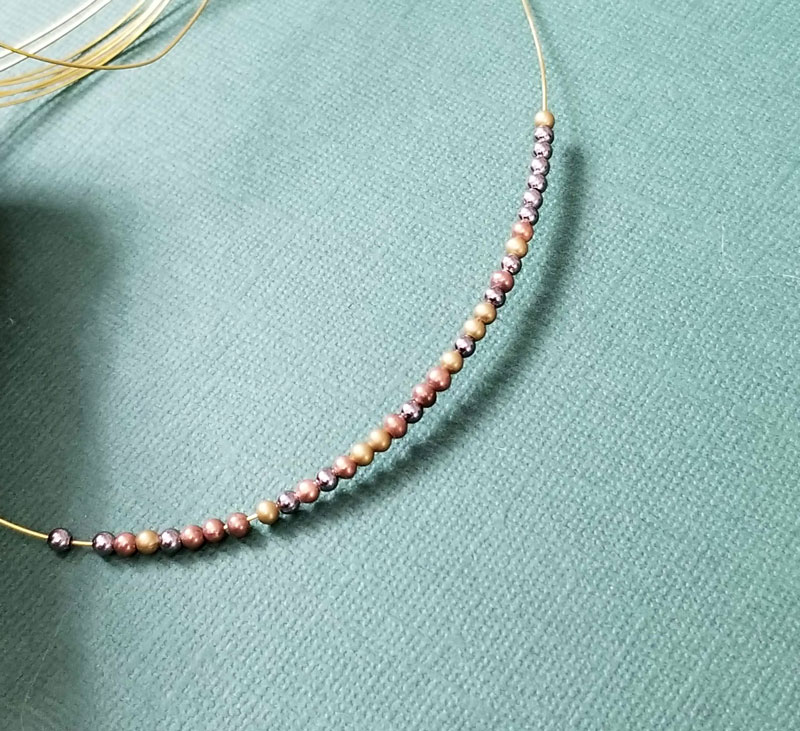 3. Slide your beginning wrap back to the start of the hoop, and then wrap the end of your beaded portion a few times around your hoop. Again, it'll slide around, but as long as you make your beaded portion the right size, you don't need to worry about this. Don't trim.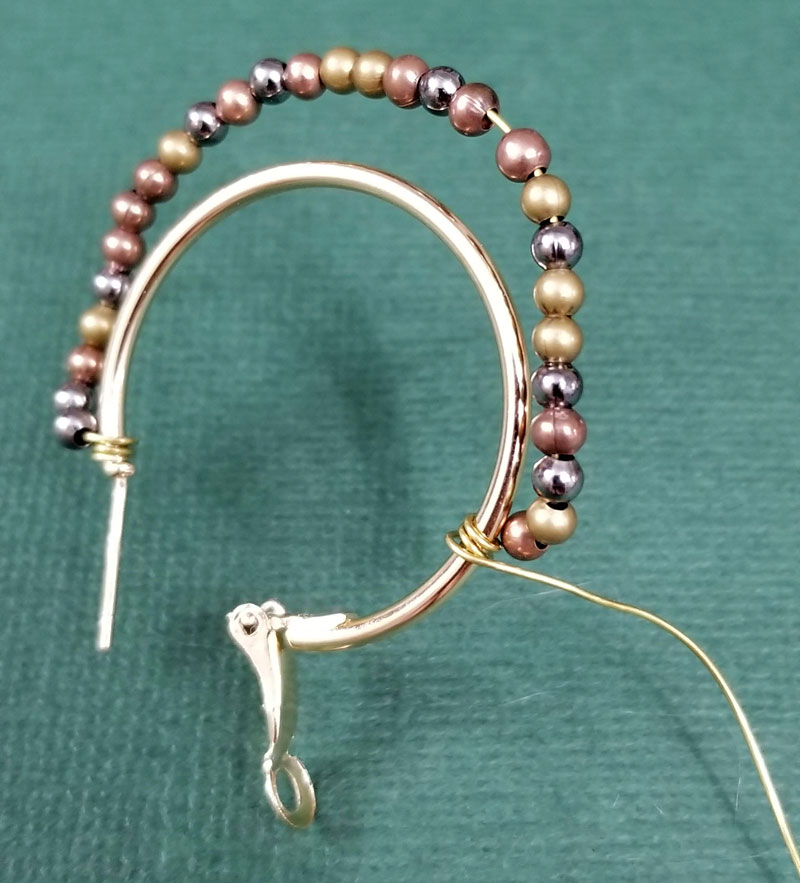 4. Make sure your step 3 wrap is sitting in the right place. Take the loose tail of wire and start wrapping it around your beaded portion. I wrapped once between each set of beads, fixing it in place on your wire. Now's when you want to make sure everything is being wrapped as it should, in the right place, because this will really fix it and hold it in the spot you wrap it.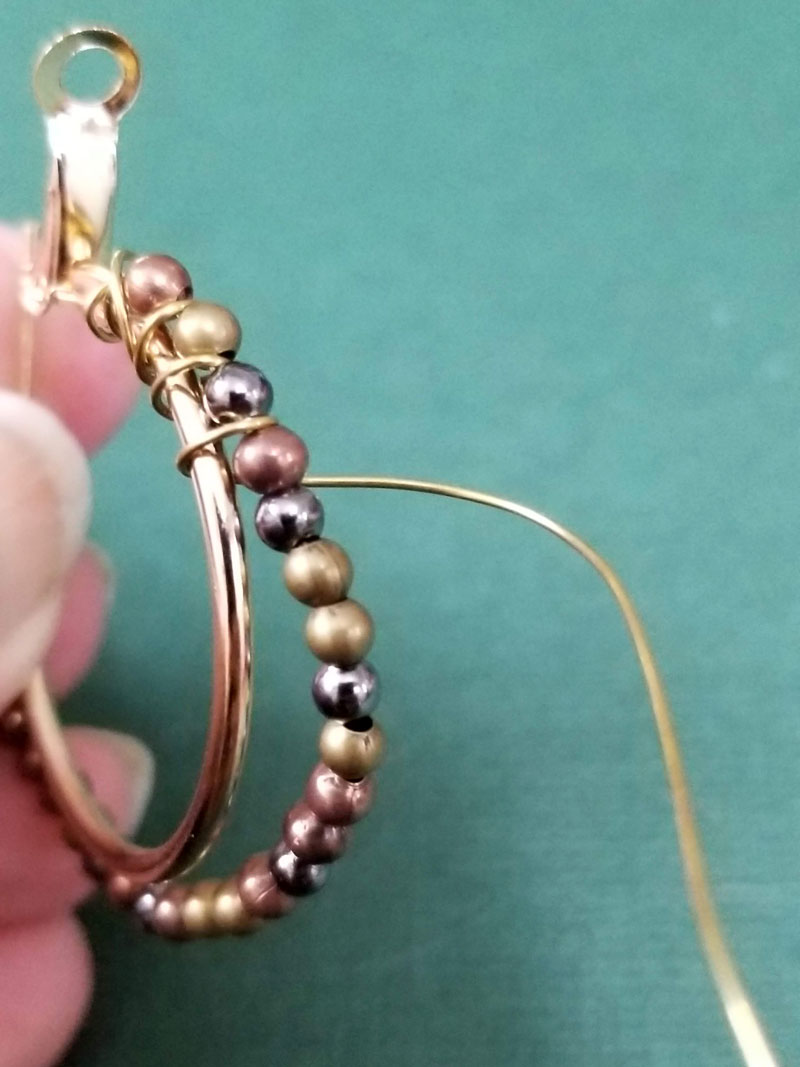 5. Keep on wrapping until you reach Step 1! Tip: it's easier to work with the earring open so that you can wind your wire around and not have to thread it into the hoop each time.
6. When you hit the part that goes into your ear, wrap around a few times and trim. Make sure to squash down/tuck in any loose ends.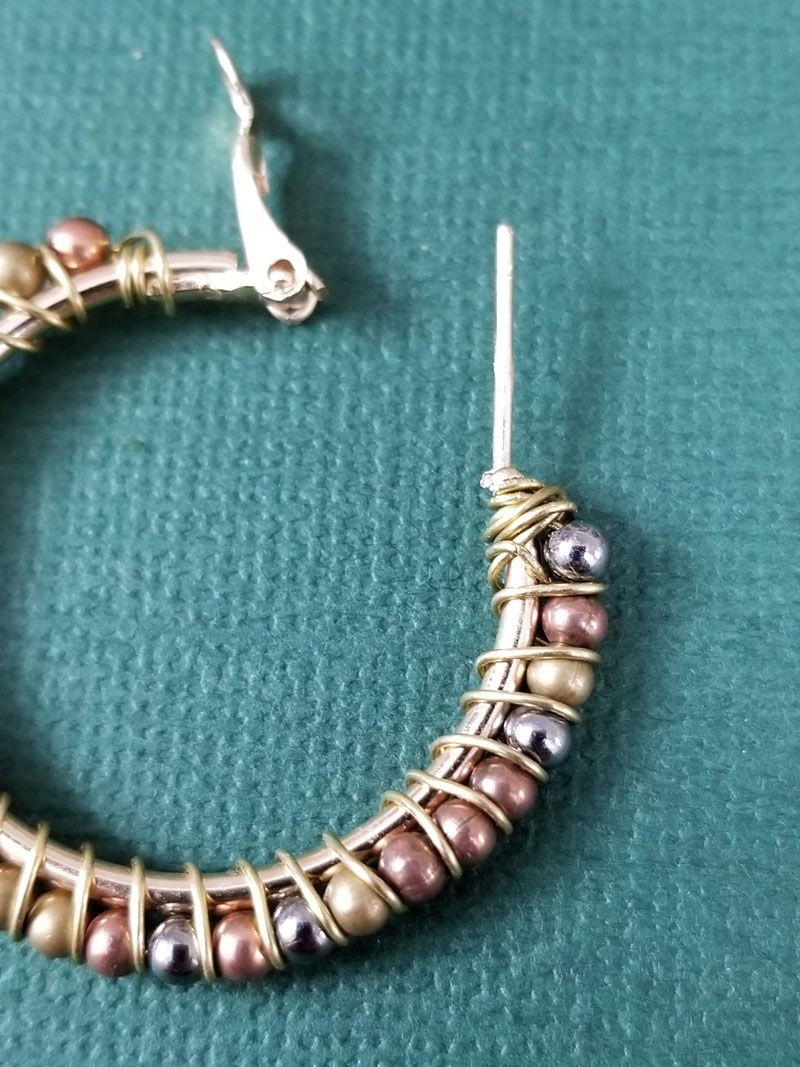 7. Make a mate for earring #1! Make two mates if you're prone to losing earrings… #lifehack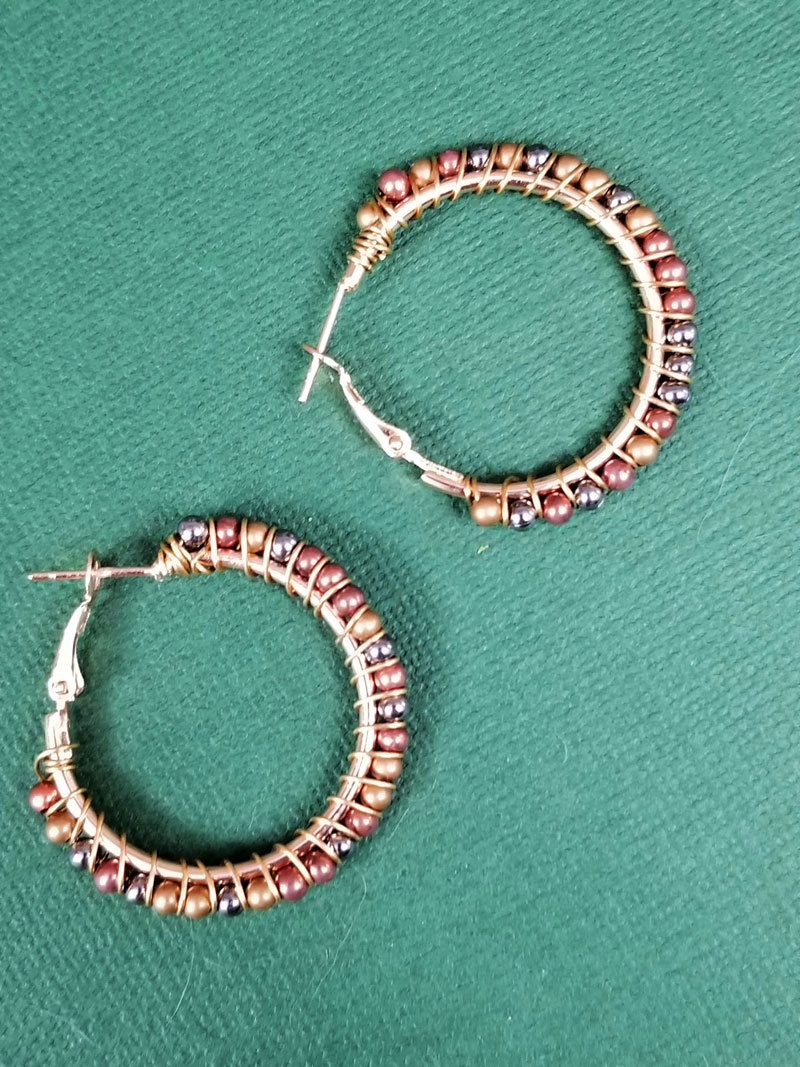 You now learned how to wire wrap hoop earrings – go try it in another color!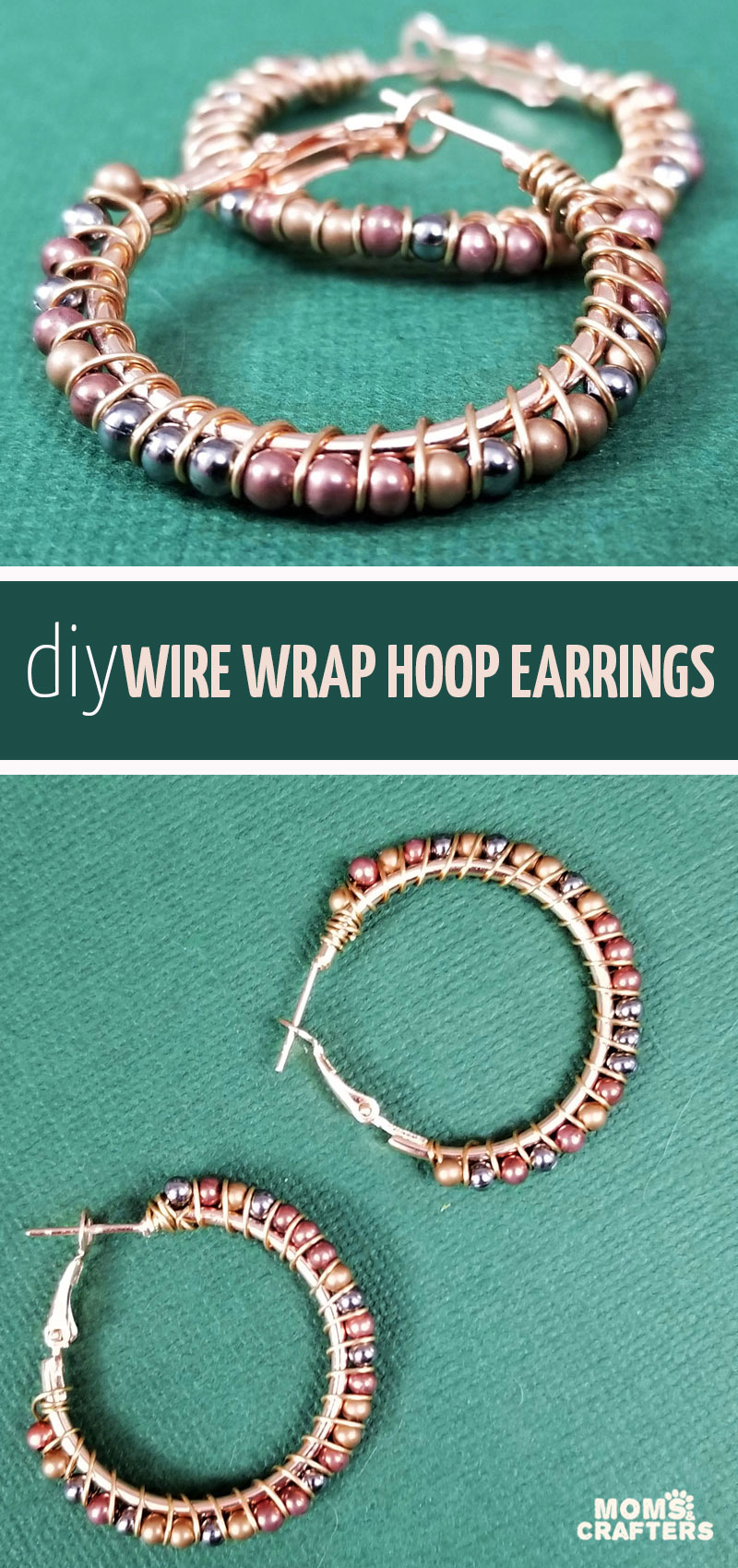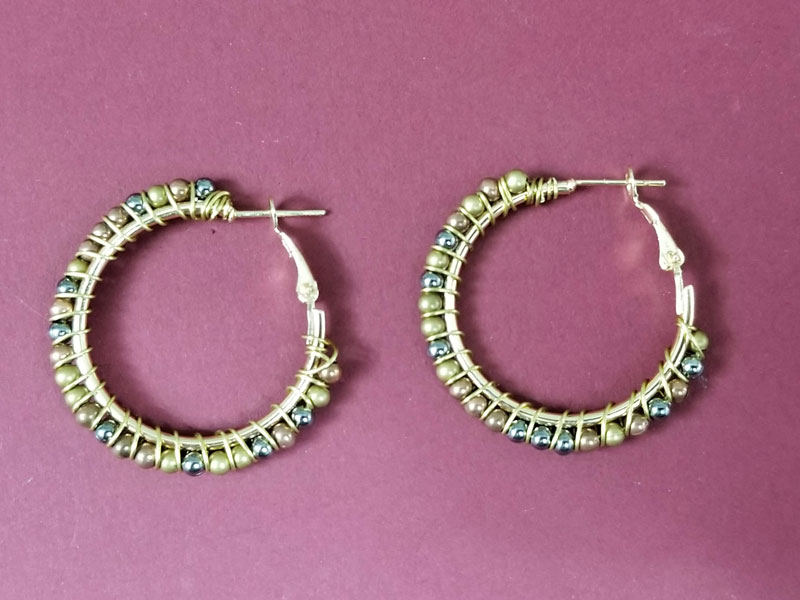 Wire Wrapped Earring Hoops
Learn how to wire wrap simple hoops to make your own wire wrapped earring hoops!
Materials
Base hoops
24 gauge wire
Small (3-4mm) beads
Tools
Pliers: wire cutters and chain nose.
Instructions
Cut a length of wire about two feet long. Wrap the end of your wire a few times as close as possible to the part of the hoop that goes into your ear. Don't worry if it slides down a bit, at the end, it'll stay in place.
String on beads long enough to cover the outside of your hoop.
Slide your beginning wrap back to the start of the hoop, and then wrap the end of your beaded portion a few times around your hoop. Again, it'll slide around, but as long as you make your beaded portion the right size, you don't need to worry about this. Don't trim.
Make sure your step 3 wrap is sitting in the right place. Take the loose tail of wire and start wrapping it around your beaded portion. I wrapped once between each set of beads, fixing it in place on your wire. Now's when you want to make sure everything is being wrapped as it should, in the right place, because this will really fix it and hold it in the spot you wrap it.
Keep on wrapping until you reach Step 1! Tip: it's easier to work with the earring open so that you can wind your wire around and not have to thread it into the hoop each time.
When you hit the part that goes into your ear, wrap around a few times and trim. Make sure to squash down/tuck in any loose ends.
Make a mate for earring #1! Make two mates if you're prone to losing earrings... #lifehack