Disclaimer: This wood and copper menorah has been sponsored by Behr. All thoughts and opinions are my own.
As the weather cools off, I'm starting to think about the holiday season, which is why I decided to create this fabulous DIY wood and copper Menorah. While traditionally used for Hanukkah, this can be used as a statement centerpiece candelabra for any occasion.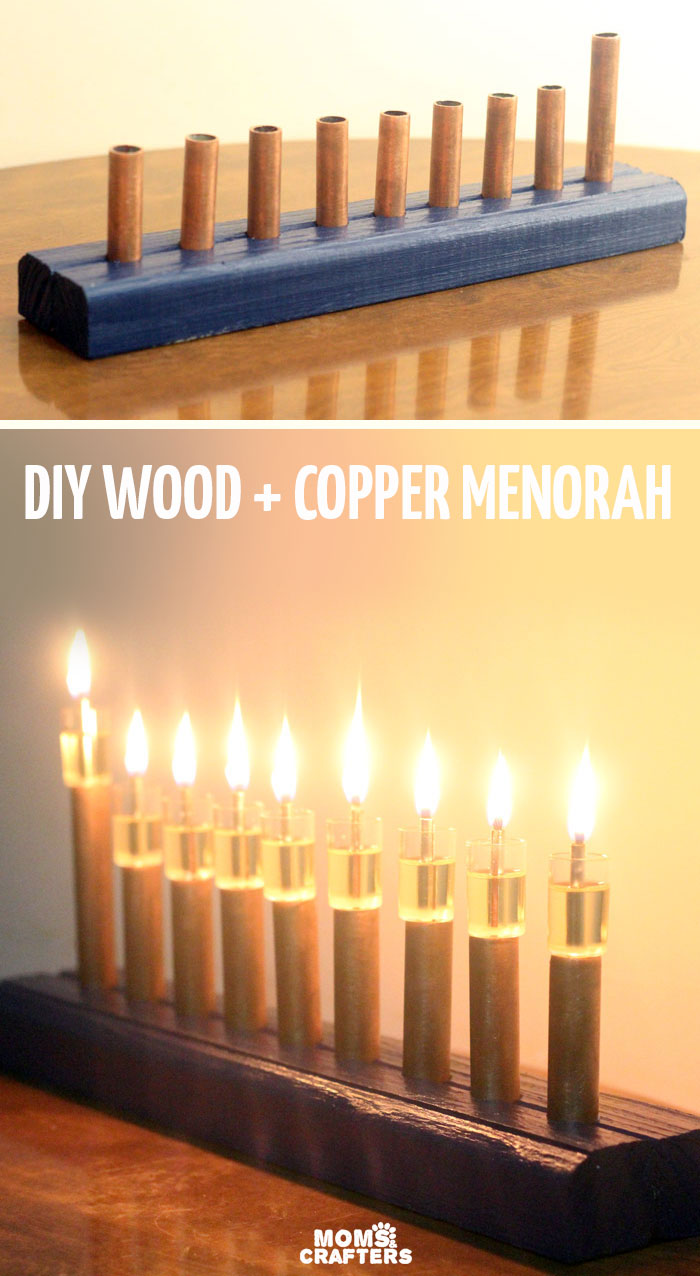 My goal with this craft was to create a functional "kosher" Menorah, in as few steps as possible. My husband and I struggled with this in the respect that we couldn't help but get raw materials, as opposed to pre-cut copper and wood. The DIY angle of it was too tempting…. I will walk you through the steps as we did it, but I definitely recommend that you go as pre-cut as possible to simplify it! For the paint, I used BEHR MARQUEE® Interior Paint & Primer, because they guarantee one-coat coverage when the paint is tinted to any of the 372 colors in the MARQUEE Interior One-Coat Color Collection.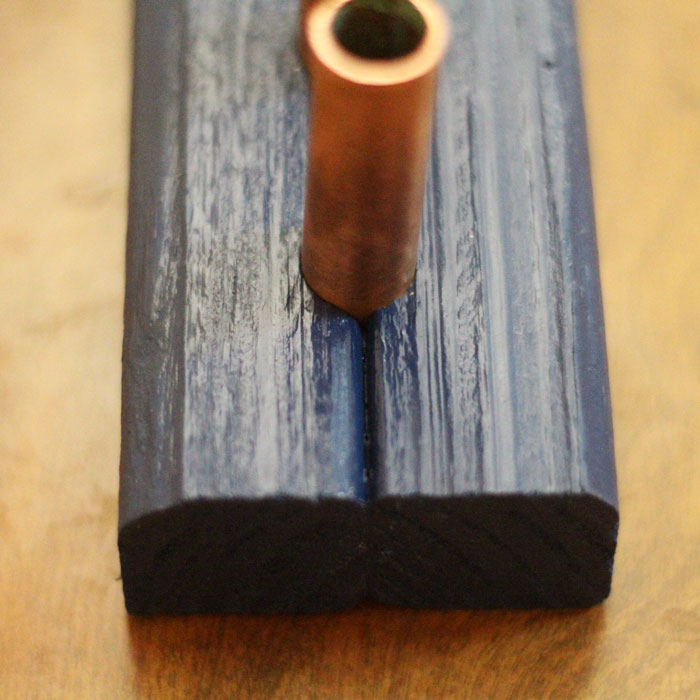 What turns it from ordinary candelabra into a "menorah" is: 1. the number of lights (8+1) and 2. the fact that there is a single light that's taller than the rest. If you just plan to use it as a party centerpiece, adapt accordingly. I definitely recommend using odd numbers, as that just seems to give it more balance.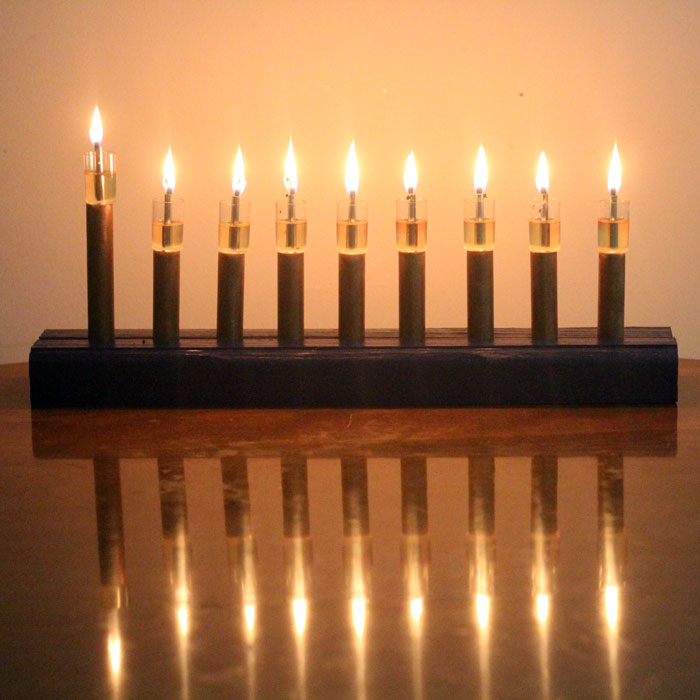 Choosing the correct color for small scale DIY projects like this one is as important as choosing color for any DIY (although probably easier) project. With the simple lines of this wood and copper menorah, the color is a major mood-setting feature. I wanted a deep color that would really set off the copper, but I needed a bit of warmth to flow and not clash. I immediately turned toward traditional blues, but gave it a non-traditional twist by going really deep. I set the paint chip next to the copper in the cart to get a good idea of the match. I finally settled on Compass Blue, a deep blue with a touch of purple. You can get some help with your color selection here.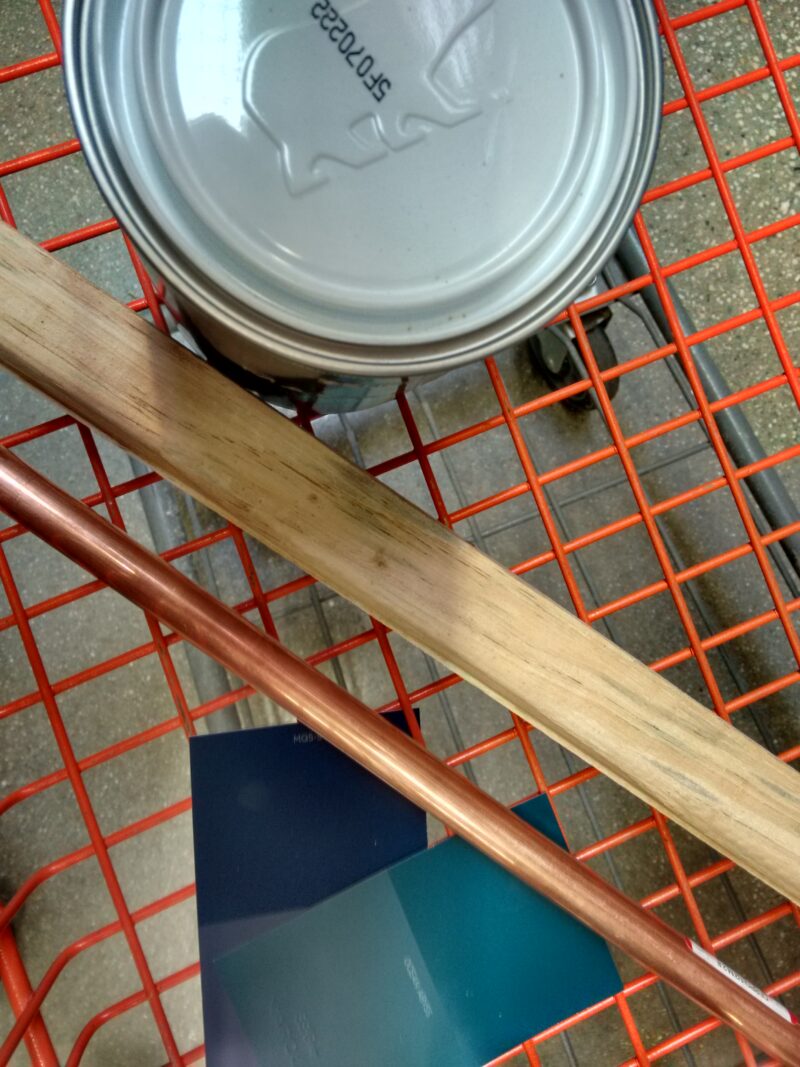 The matte copper gleams on the semi-gloss enamel BEHR MARQUEE Interior Paint & Primer. This paint allowed me to cut the process shorter, by not requiring a primer. A single coat got me this stunning sheen that reflects the copper, is easy to clean, but still shows some charming wooden texture through.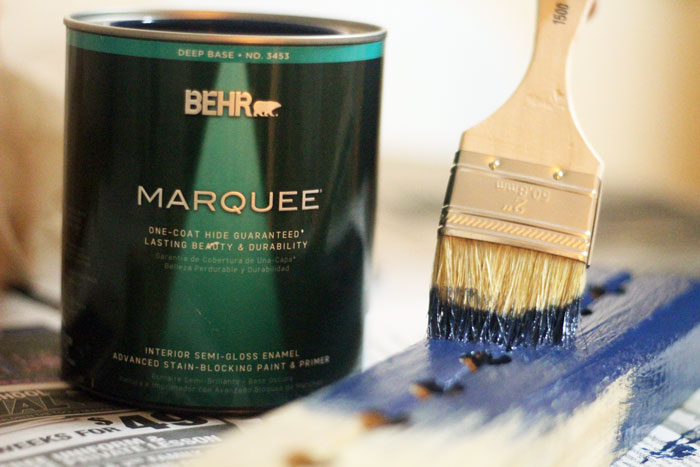 What you need to make a wood and copper Menorah:
BEHR MARQUEE Interior Paint & Primer in a shade that will complement the copper
Copper tubing (found with plumbing supplies). You can either use pre-cut pieces (roughly 6 cm tall) or cut it yourself. I used half inch pipes. Take along an oil cup or candle (whatever you'll be using) to make sure you get a good diameter.
Wood – scrap wood works great! I used a simple square baluster because I wanted to complicate things (kidding…) and because my husband and I fell in love with the subtle design. We doubled it side by side to get the design on both sides, but you can just a foot and a half of a flat beam.
5/8 inch spade drill bit (for half inch diameter pipe)
Other equipment: Paint brush, drill
If you are using a baluster like me: screws, saw, wood glue
How to make a wood and copper Menorah:
1. If you did not buy pre-cut tubing: Our tube needed a shine, so we used some mesh to shine it. That gave it a magnificent scratched finish – you might want to try that even if your copper is ready to use. We then marked the copper and cut it to size.

2. To make your menorah "kosher" you would need eight even pieces and one taller one.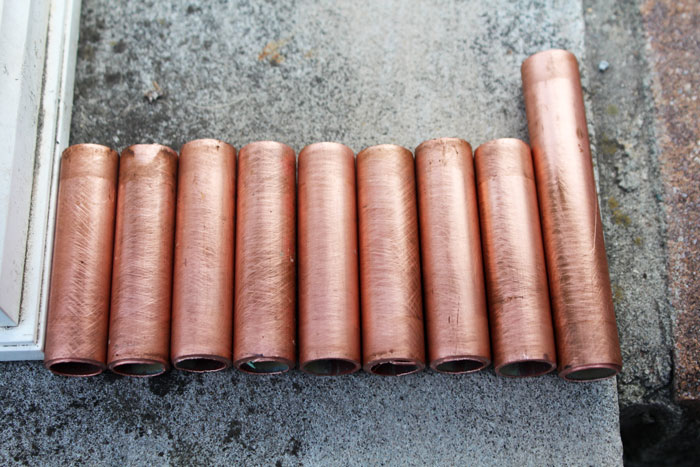 3. If you are using a baluster or other square beam, like we did, cut it in half (or two pieces at desired length.) If you are using a single piece of wood, you can just cut it to size.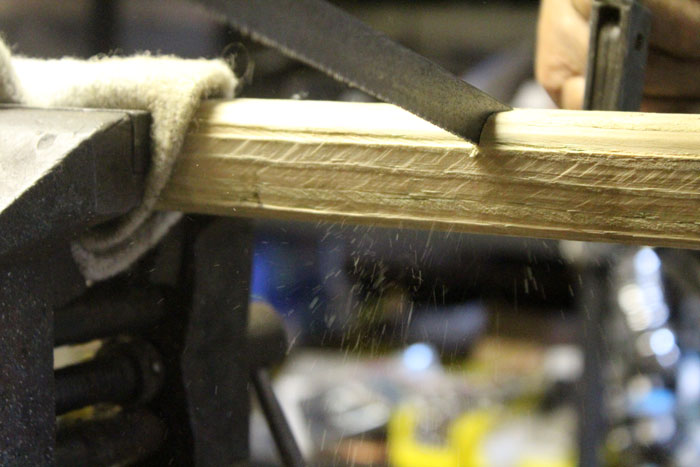 4. If you are doubling it like we did: screw the two pieces side by side, with the nice edge facing upward in opposite directions. Place the screw close to the edges so it doesn't interfere with your placement of the pipes.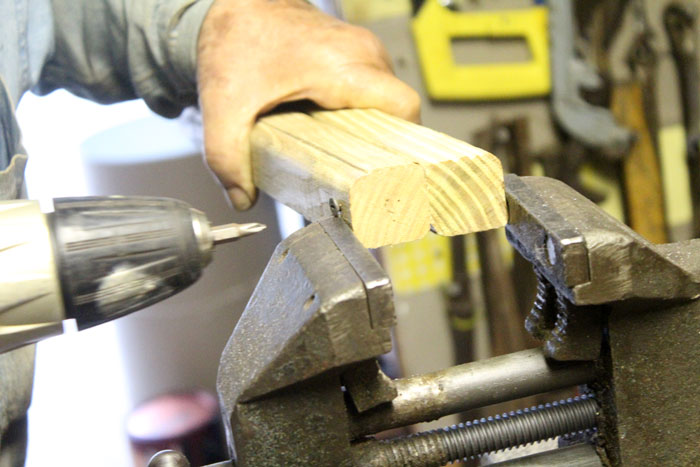 5. Measure the center of your block of wood and mark it. Plan and mark the placement of your pipes starting from the center and going outward toward each side.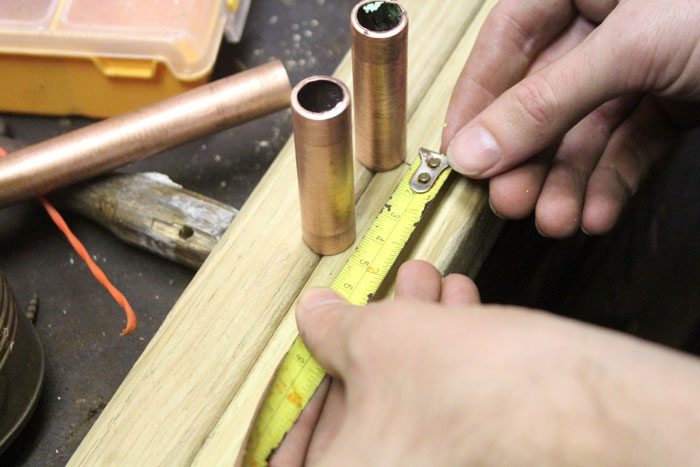 6. Use a spade bit about 1/8 inch thicker than your pipe (5/8 inch in our case) to drill nine holes in the wood.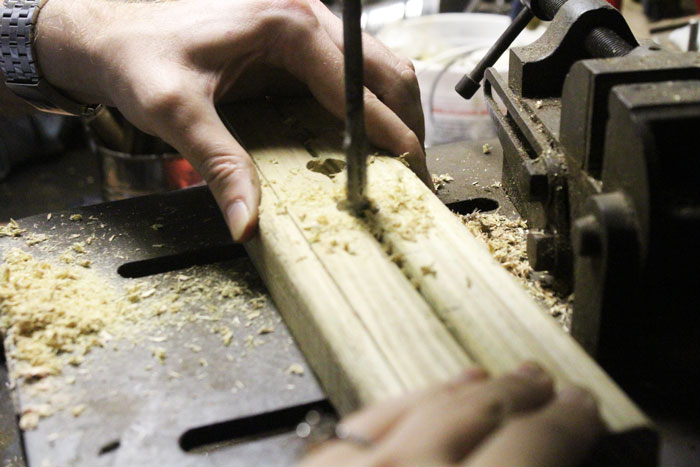 7. Prep your wood for painting. There's no need to prime – just make sure it's clean and filed down. Wipe it with a cloth to remove any residual sawdust.


8. Paint your beam in even strokes, following the grain of the wood. Paint a single, thick, even layer.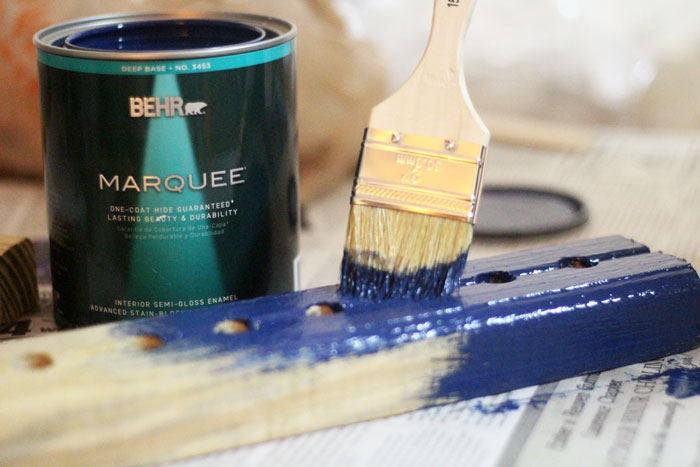 9. Spread the paint that goes inside the holes with a cotton swab. This is important to make sure drips don't stop your pipe from fitting inside.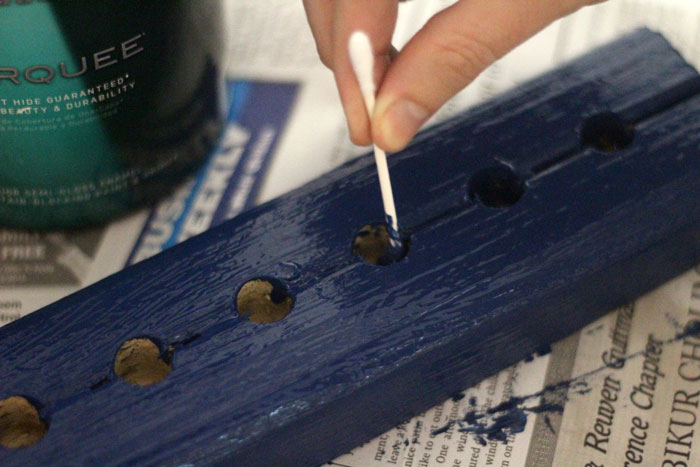 Allow it to dry overnight. You can paint the bottom at that point if you'd like.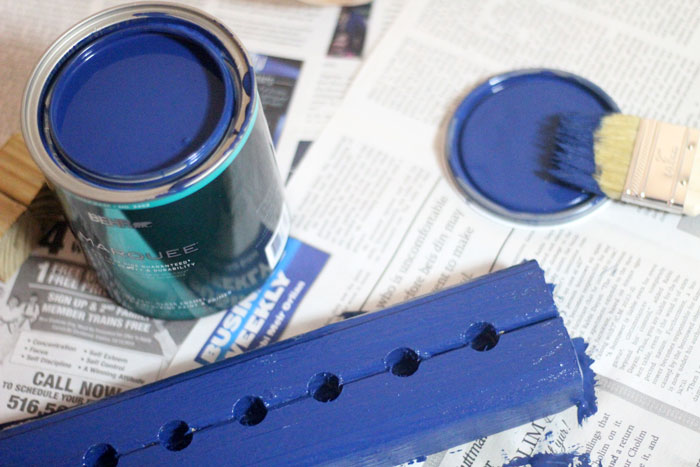 10. Insert your copper pipe. You can place the larger one at one of the ends, or in the center. I liked the modern look of having it at the end. If your pipe fits a little snugger than it did when you prepared the wood, you can hammer it in, and it should work.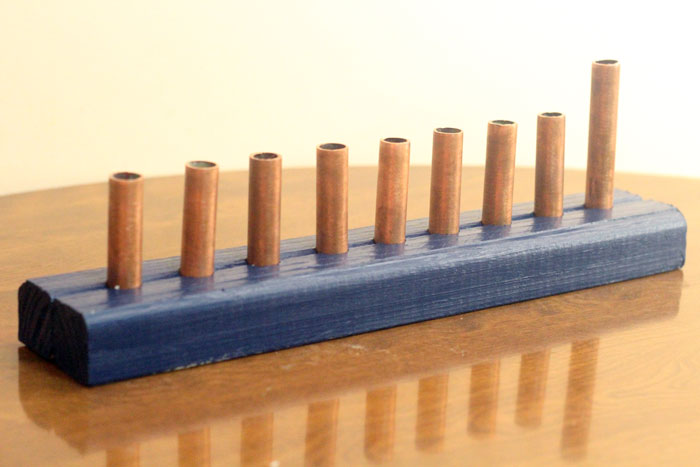 Enjoy the deep blue sheen, with the wood texture showing through – it is truly a beautiful piece!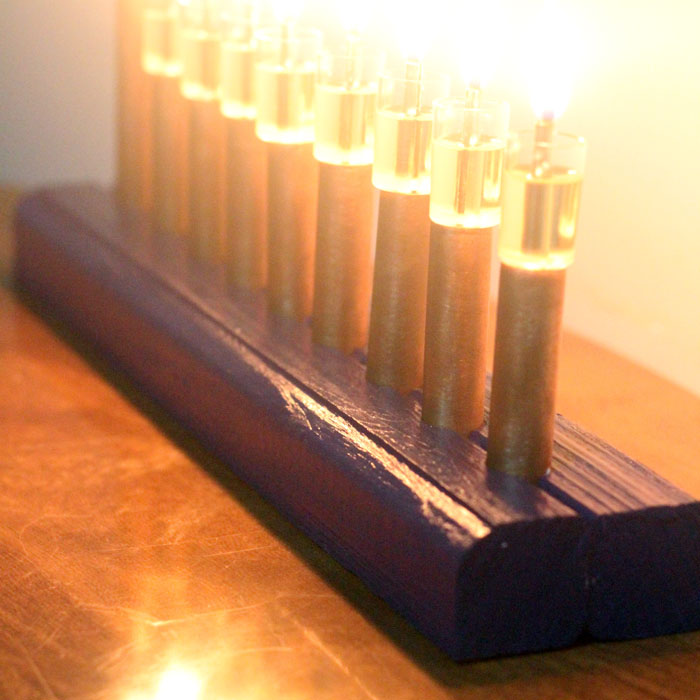 I couldn't be more satisfied with the result. Although I was strapped for equipment and therefore solicited the help of family, I totally planned and directed the project. I love the result, and since I have more paint, I'm thinking I should make a lot of these as frugal holiday gifts. What do you think?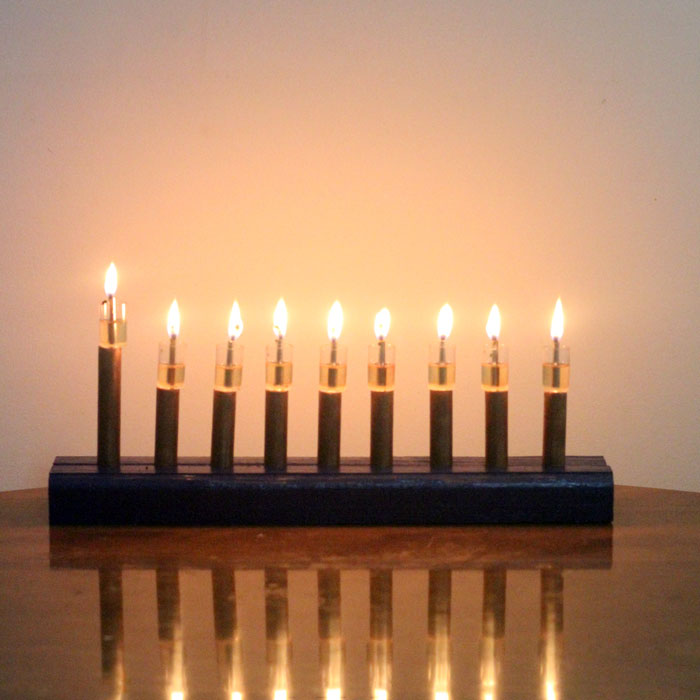 Which color will you make this DIY Wood and Copper Menorah? Which event do you plan to make it for? Comment below!
This post is brought to you by BEHR. Color that's True to Hue. If you feel it, you can find it. Visit True to Hue.
New! Get the Hanukkah coloring page packet! You can find it in my Etsy shop, or on Gumroad, or purchase it here: