You go to the beach, you can't resist those beautiful shells, now what do you do with them? These DIY seashell earrings are so easy to make, easy to make look spectacular, and a great craft for all ages. I mean literally all ages. Disclosure: this post contains affiliate links.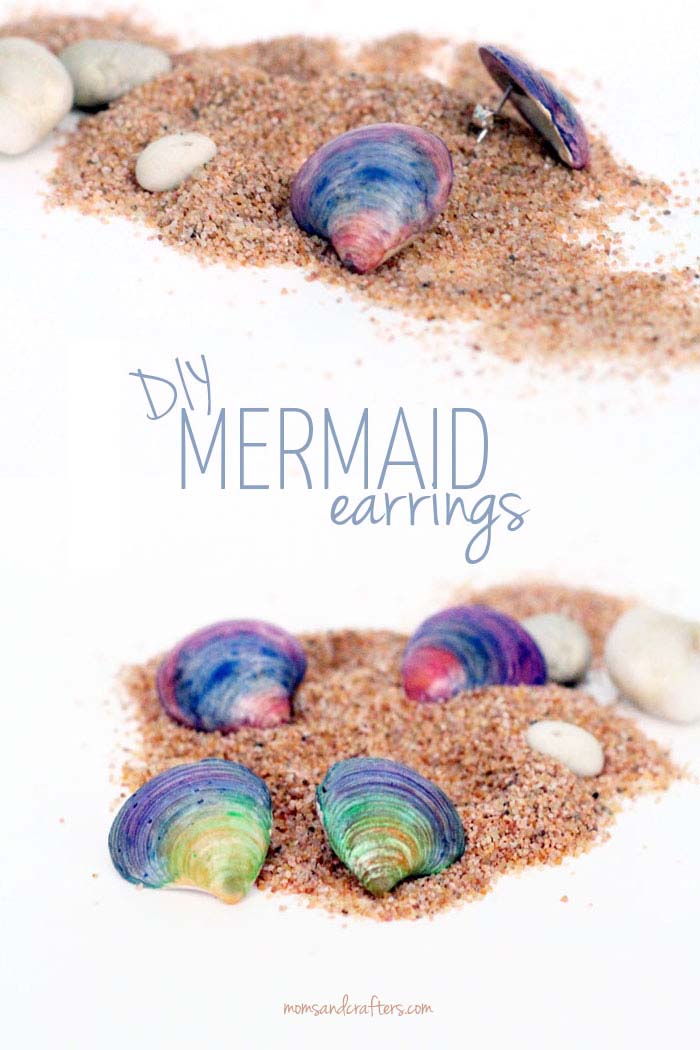 All it takes is a simple wash and a little bit of glue to make earrings that are slightly reminiscent of mermaids. I covered it with a layer of nail polish to seal it (optional) and of course you need the earrings findings as well.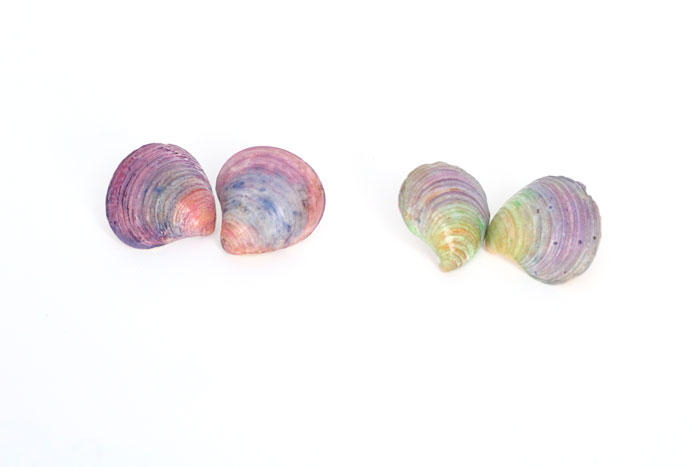 Make one, make ten, impress your friends! This is a great party craft to, and easy to do with the crowd.
I made a simple wash for the shells, instead of using straight paint so that the natural beauty of the shell shows through. You can adjust the strength of it. Use more paint in more "sophisticated" colors for a less "mermaid-y" and more mature look. Use a very thin wash if you just want to tint it.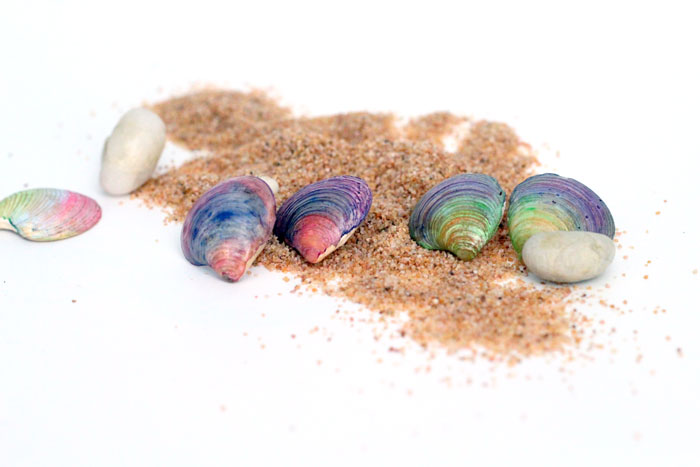 I hope you enjoy this simple craft and make a lot! Scroll down for a supplies list, video tutorial, and step by step instructions.
Supplies needed for DIY seashell earrings:
Two similar seashells, cleaned and dried. Get these at the beach, of course. If you don't have a beach near you, you can purchase shells too. Just make sure to get natural shells, without a coating, as you want the porous material to hold the color.
Crafter's acrylic, or any water based paints.
Flat pad earrings studs. These often come without backs (though the ones I linked to do.) You may want to get bullet clutch style backs because these are heavier larger studs (these offer more support.)
Clear top coat – totally optional, but will seal your color in for longer
E-6000 glue. Note: If you are doing this with young children, use a regular white or tacky glue. You can re-affix later on with E-6000 if it falls off.
Water and jars/cups for creating the wash.
The supplies list above can make a lot of pairs. The supplies are versatile too, and not project-specific, so if you need to make just one, the leftovers will come in handy.
Video Tutorial for DIY Seashell Earrings:
For those of you who prefer to see, not read, I've filmed a little tutorial. Please excuse my slightly dirty hands – paint tends to do that…

How to make DIY seashell earrings:
1. Create a simple wash. I mixed in a small pool of paint in about .5 oz of water. I made some thinner than others. Test it in an extra seashell if you're particular with the strength. This is also a great craft to practice mixing colors, as I did with the purple.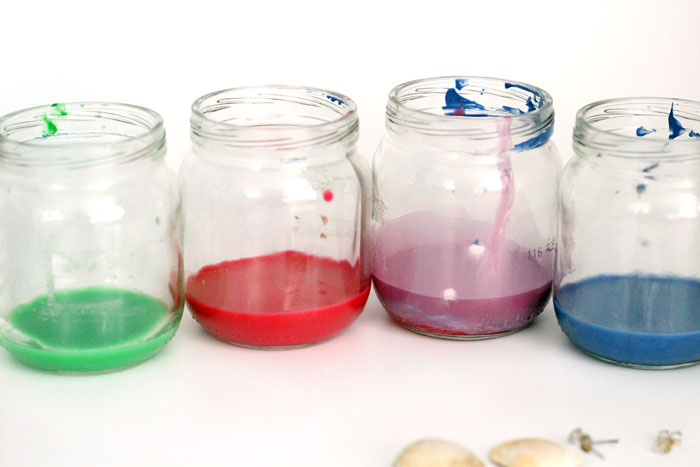 2. Paint your earrings. I decided to do stripes in the natural direction of the shell and love how it came out! It blended naturally because the wash is thin.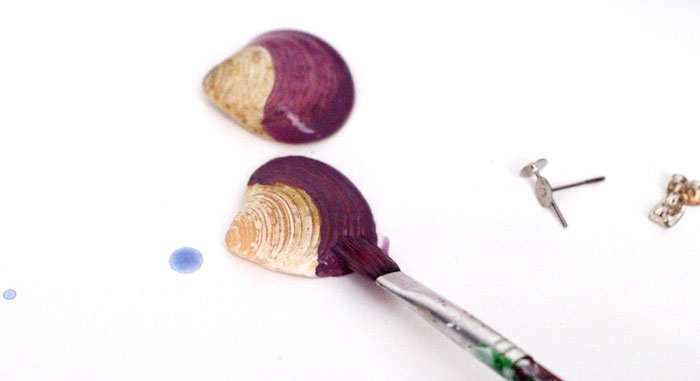 You can see that the initial wash seemed much darker than it dried.
3. Allow to dry completely, and coat it with a layer of clear nail polish. You don't have to do it (especially if crafting with young kids) but it does give the shell a polished, professional look.
4. Glue on your earring back. Make sure to do it in a spot that will lie nicely on the ear, which will NOT be in the center if working with a large shell.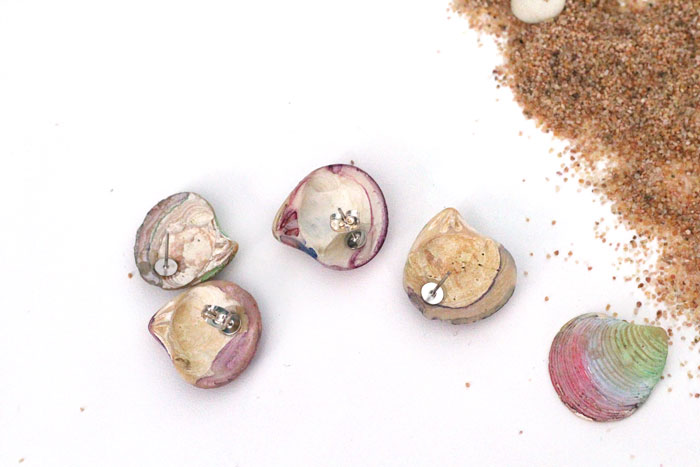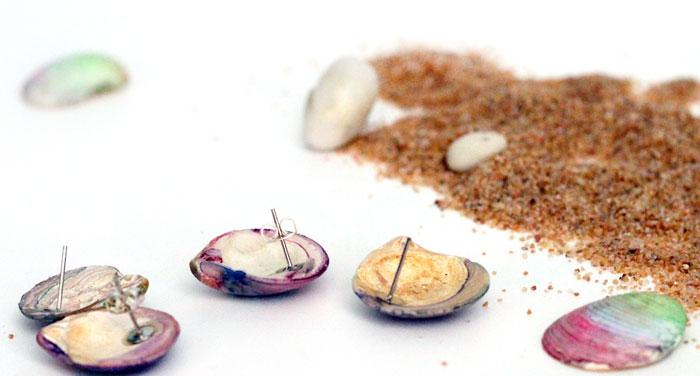 E-6000 needs 24 hours to be completely dry, so make sure not to attempt to wear it before.
But once it's dry…. wear it with pride and brace yourself for the compliments!
What do you like to do with seashells? Will you try the DIY seashell earrings this summer?