This is a sponsored conversation written by me on behalf of Cricut. The opinions and text are all mine.
Use the free SVG and PNG templates to make these stunning flower cupcake topper toothpicks using your Cricut Explore Air 2 or Maker machine! Use as party picks too for small bites and hors d'oeuvres, to decorate simple cupcakes for a girl's birthday party or wedding, or even as mini paper flowers. This post contains affiliate links.

---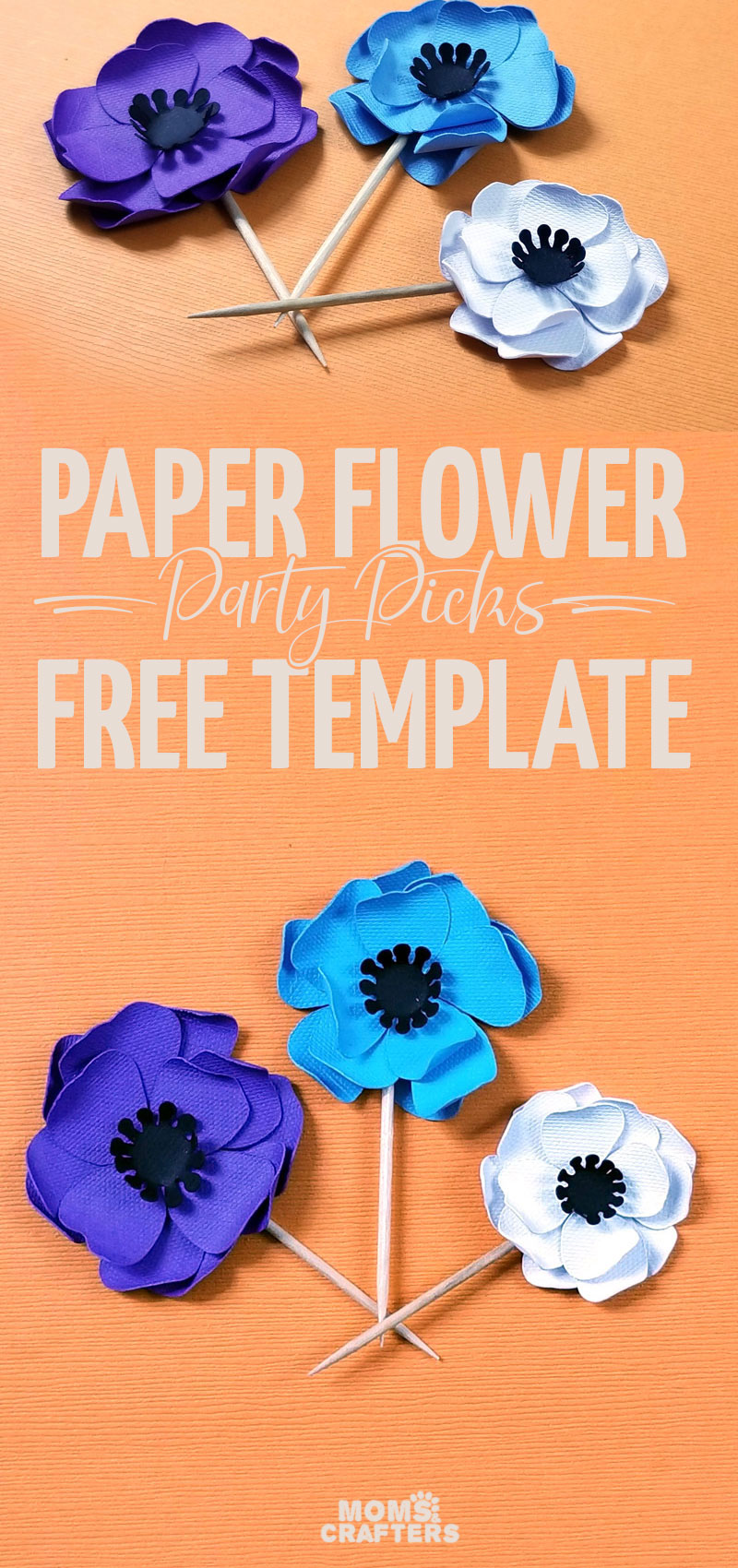 When it comes to making a party pretty, something as simple as decorating toothpicks can transform the scene!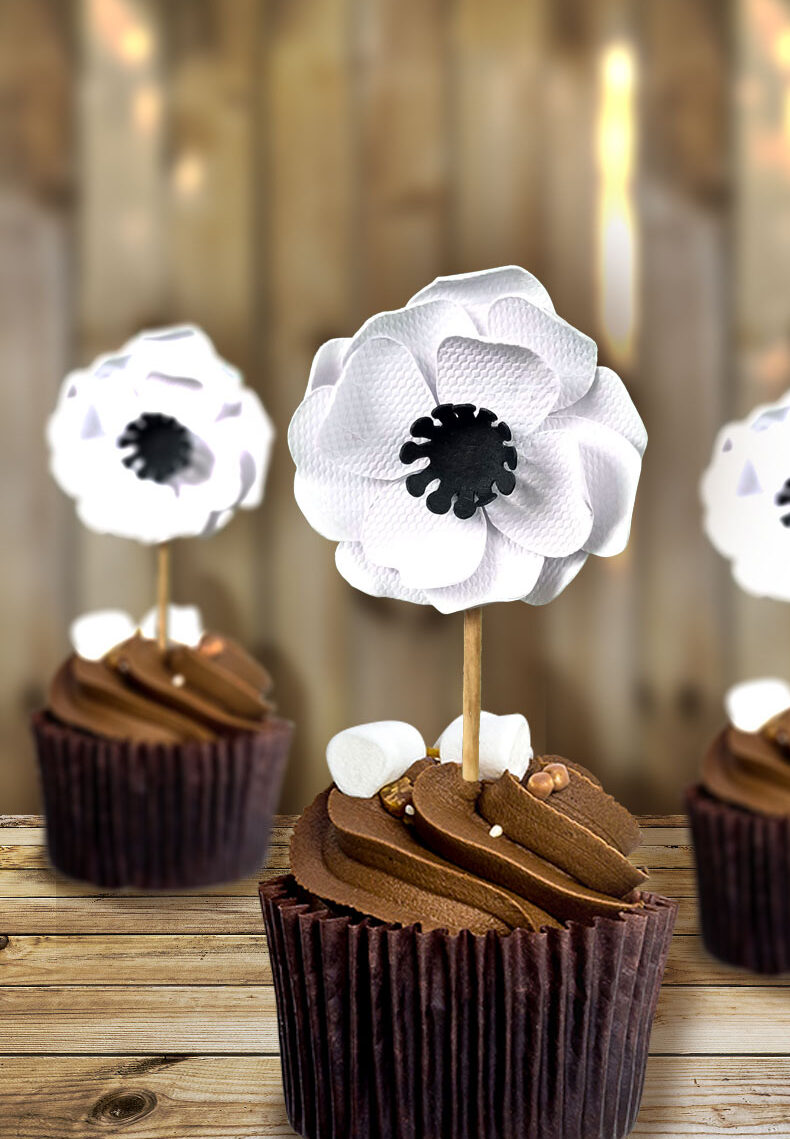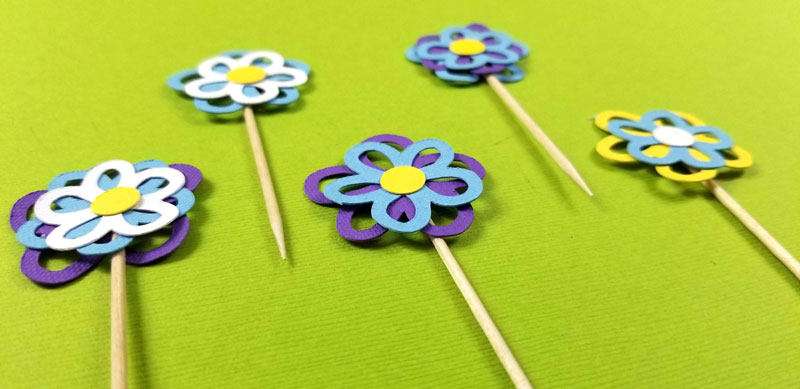 Whether you stick these into appetizers, or use them to top cupcakes, these flower cupcake toppers can add just the touch you need.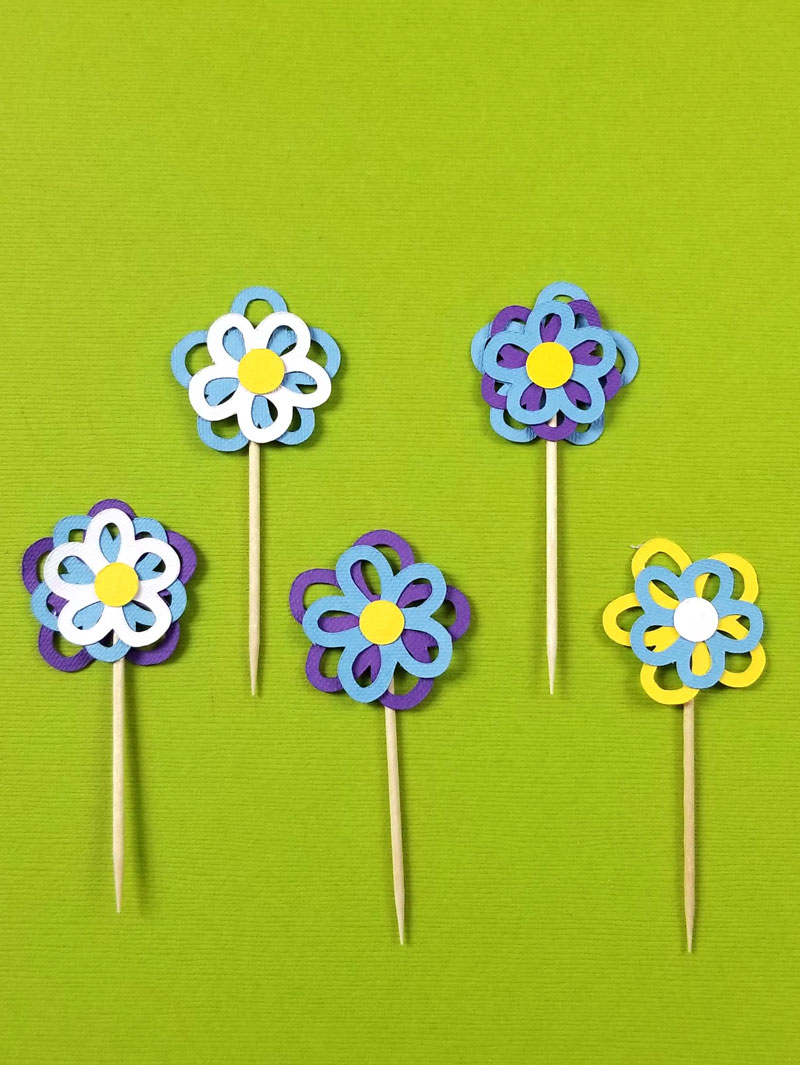 I designed two styles of flower toothpick topper.
One is a simple looped flower, overlapping in layers, with a playful touch. I had these in mind to be stupid simple to assemble, once you've cut them using a Cricut cutting machine.
They are also designed to be whimsical and playful, perfect for an informal event such as a birthday party, baby shower, or Spring bash.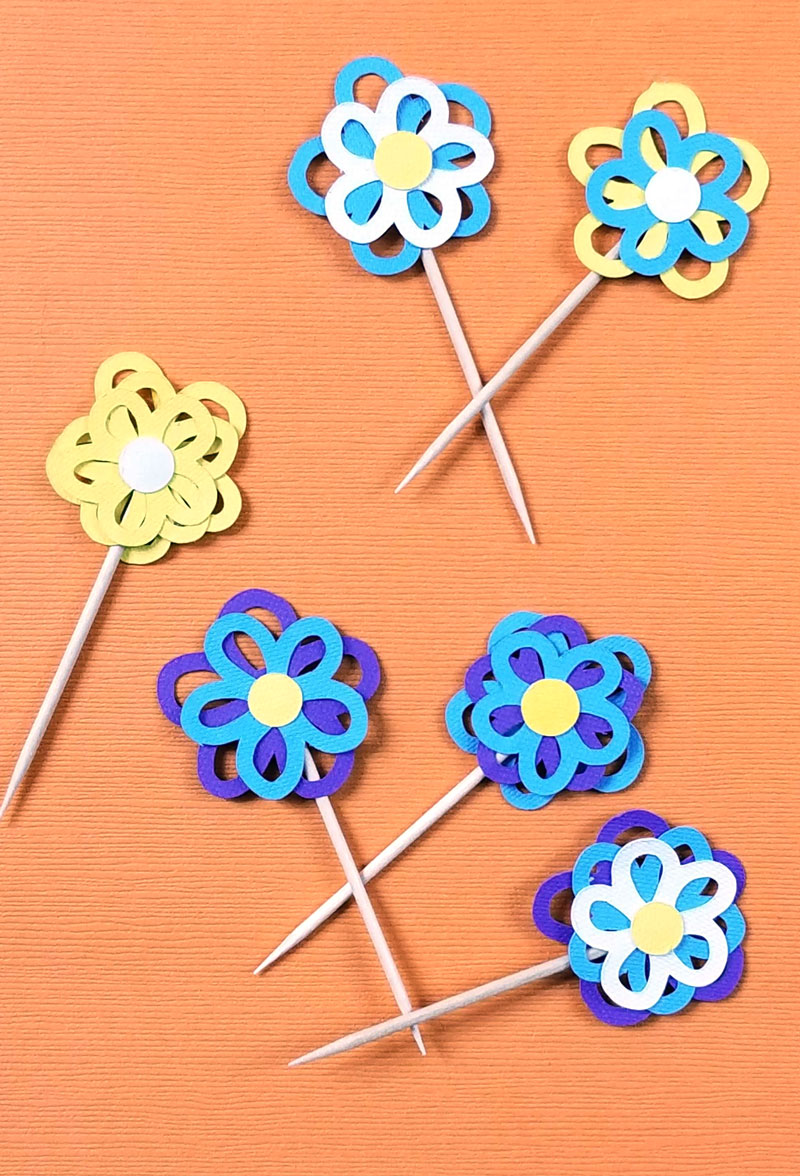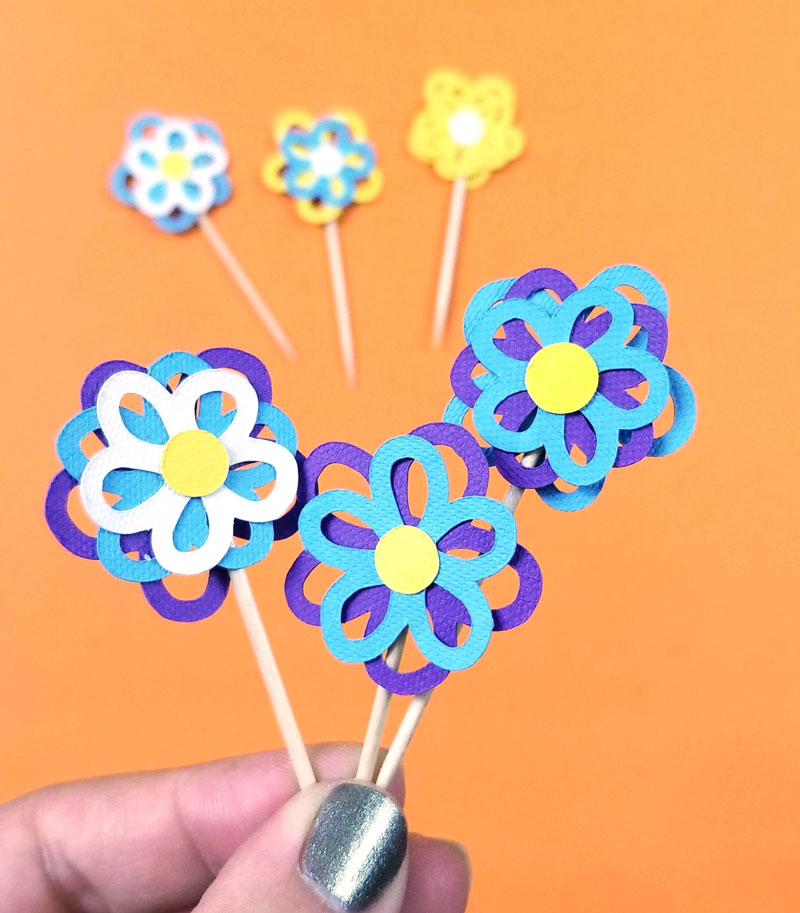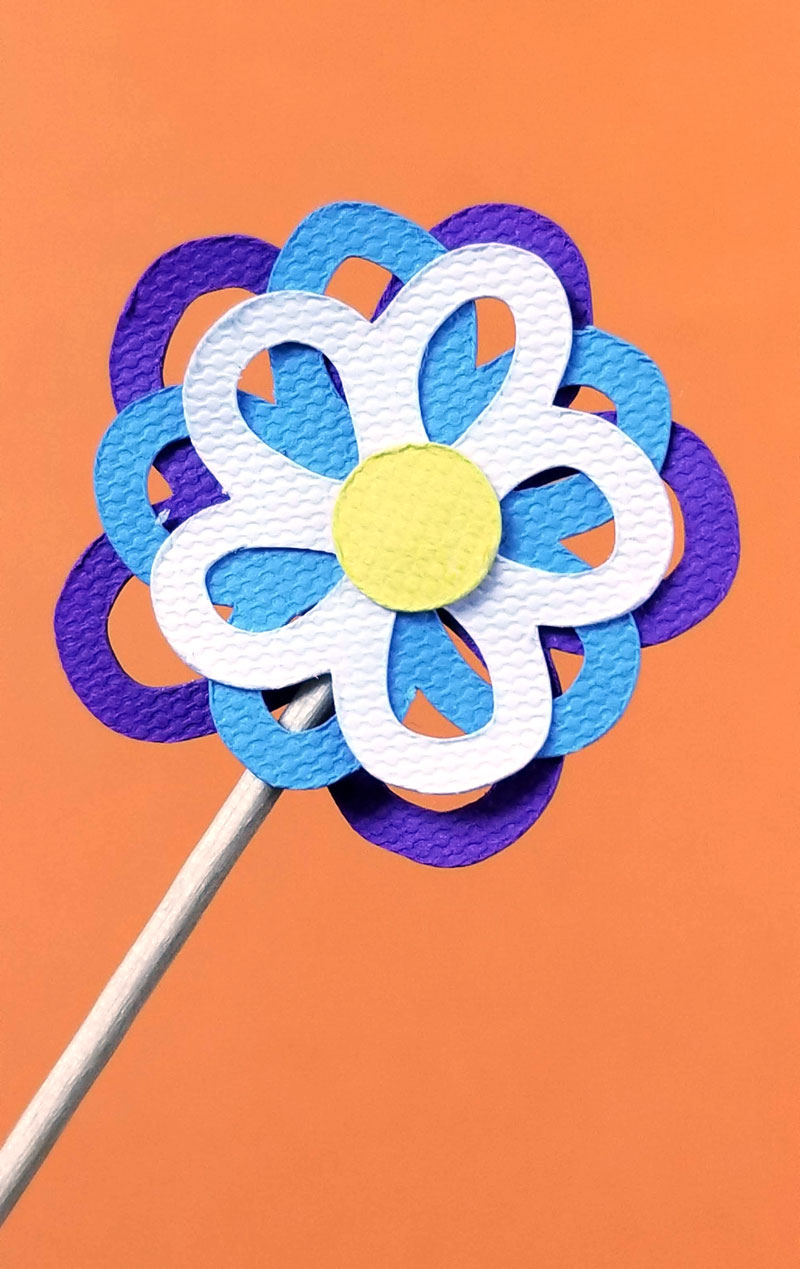 The other one takes one of my favorite simple paper flowers to make – an anemone, and turns it into a realistic, elegant 3D paper flower cupcake topper.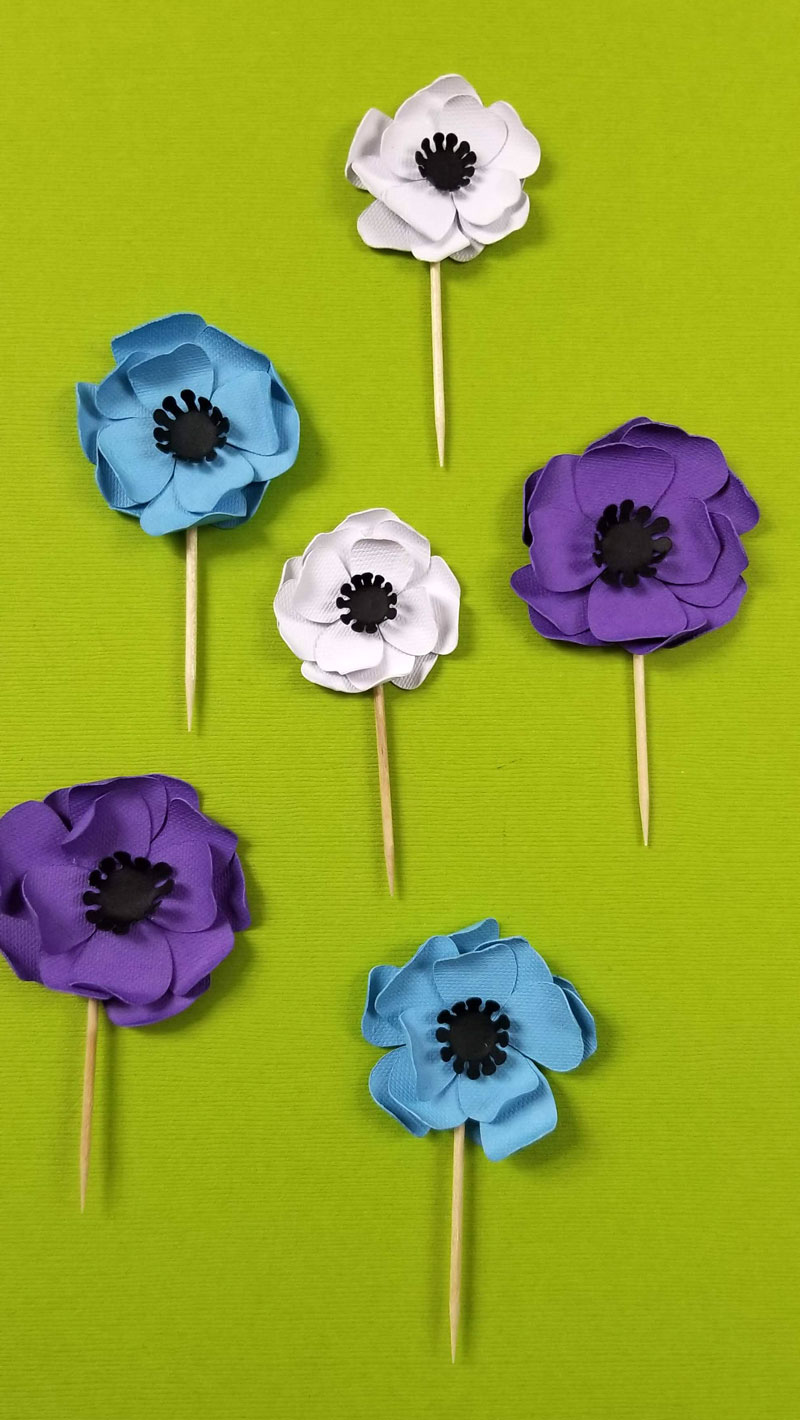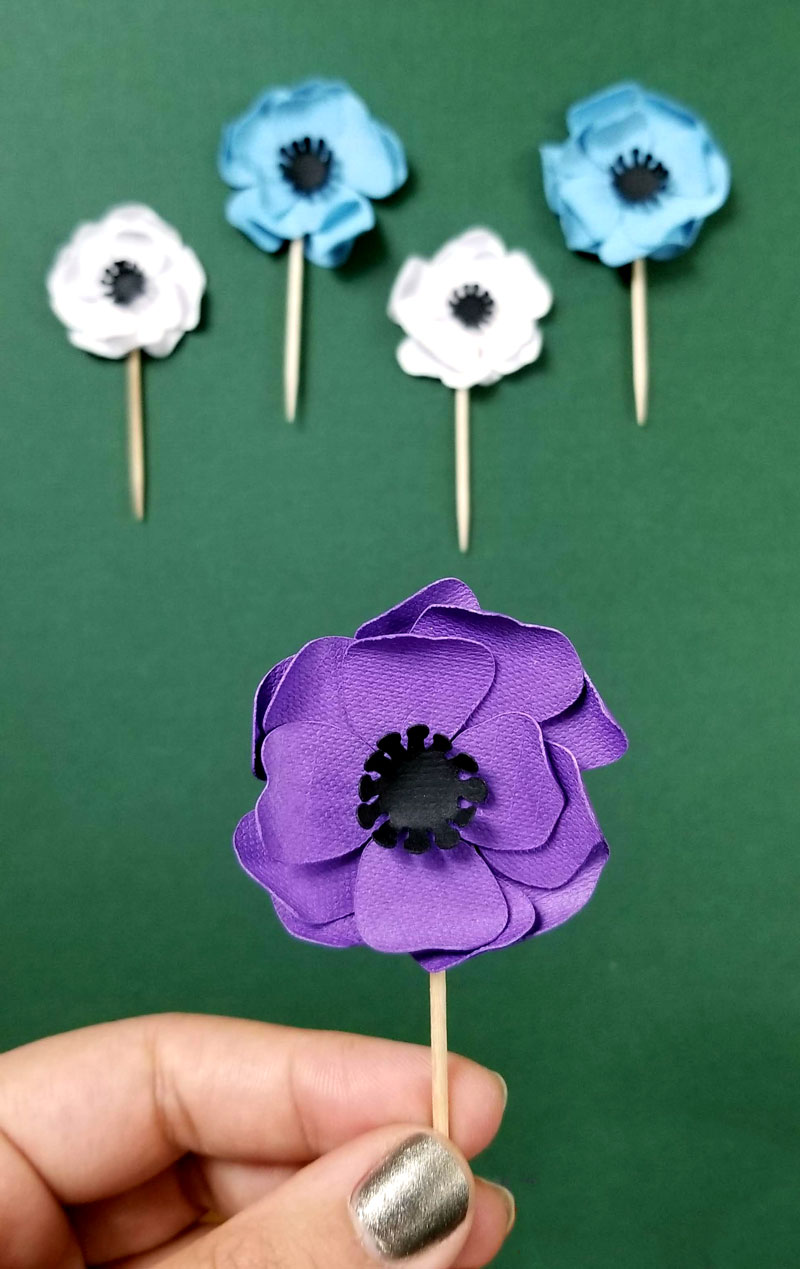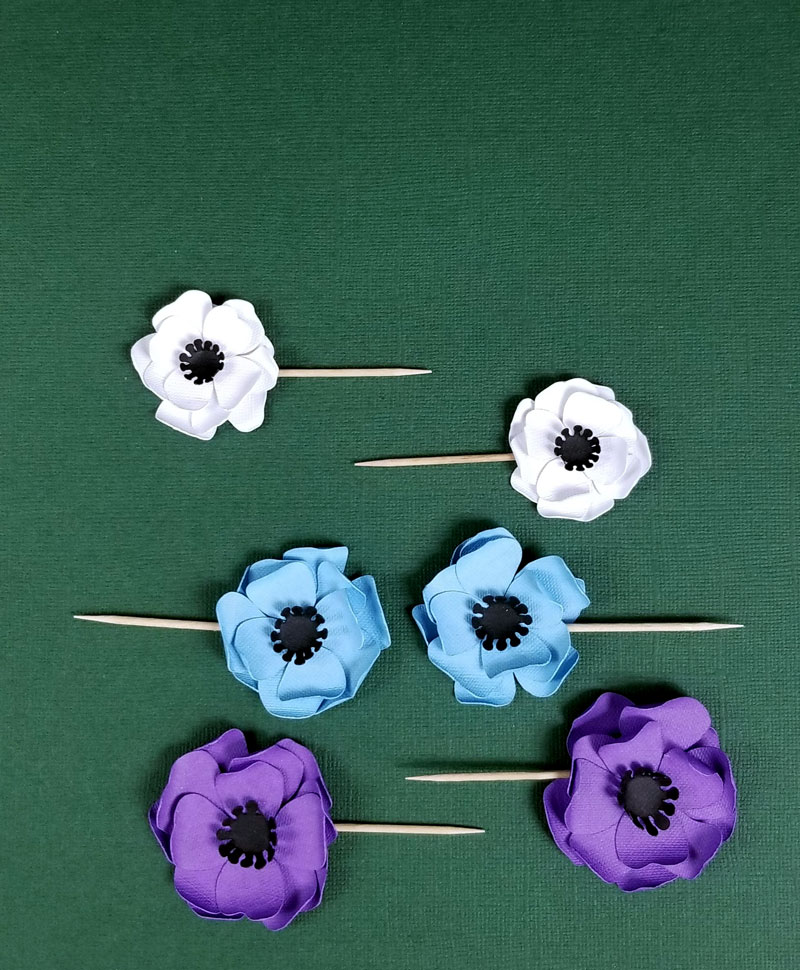 It's so gorgeous that I was considering ditching the first template and just sticking with this one! But I figured that everyone wants something different and I kept both.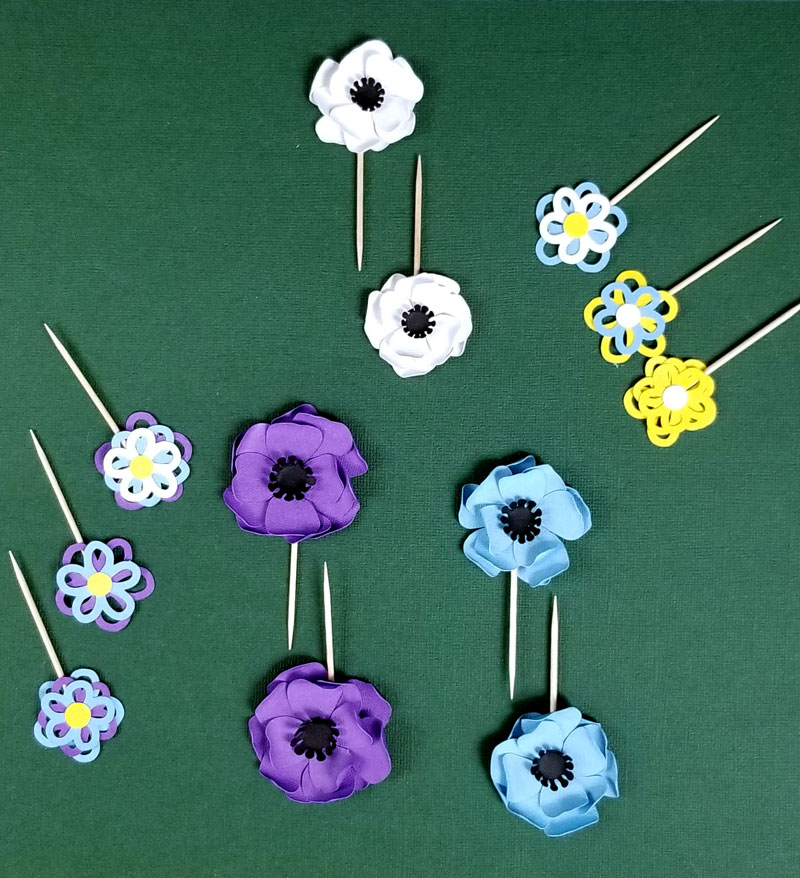 You can use white cardstock to make these super elegant for a wedding (or go for soft tones such as dusty mauves and mints).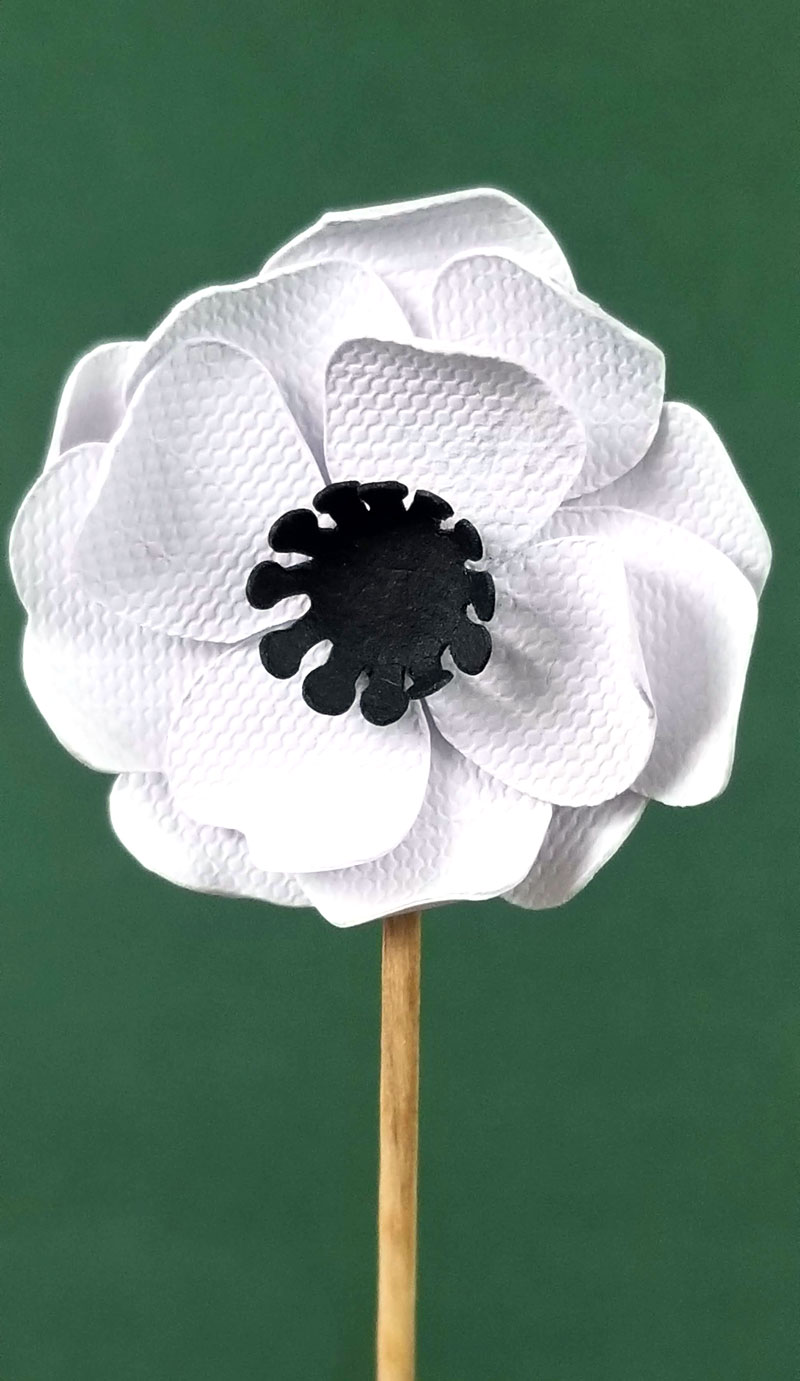 Or, go for brighter, bolder tones in any of the many vivid colors that anemone come in.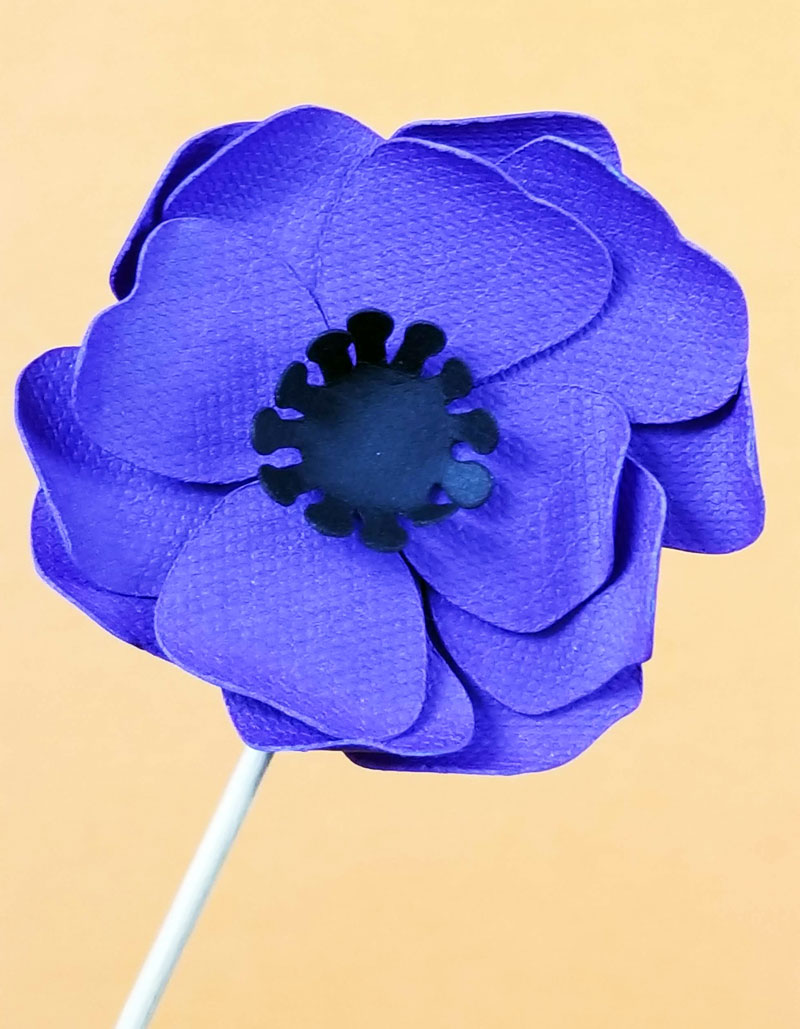 To design this free paper flower SVG, I illustrated each petal by hand in my tablet, so that you get a beautiful, organic feel. I love this touch as I'm not a big fan of the rigidity of items designed using shapes when it comes to crafts like this especially – you lose so much of the artistic value!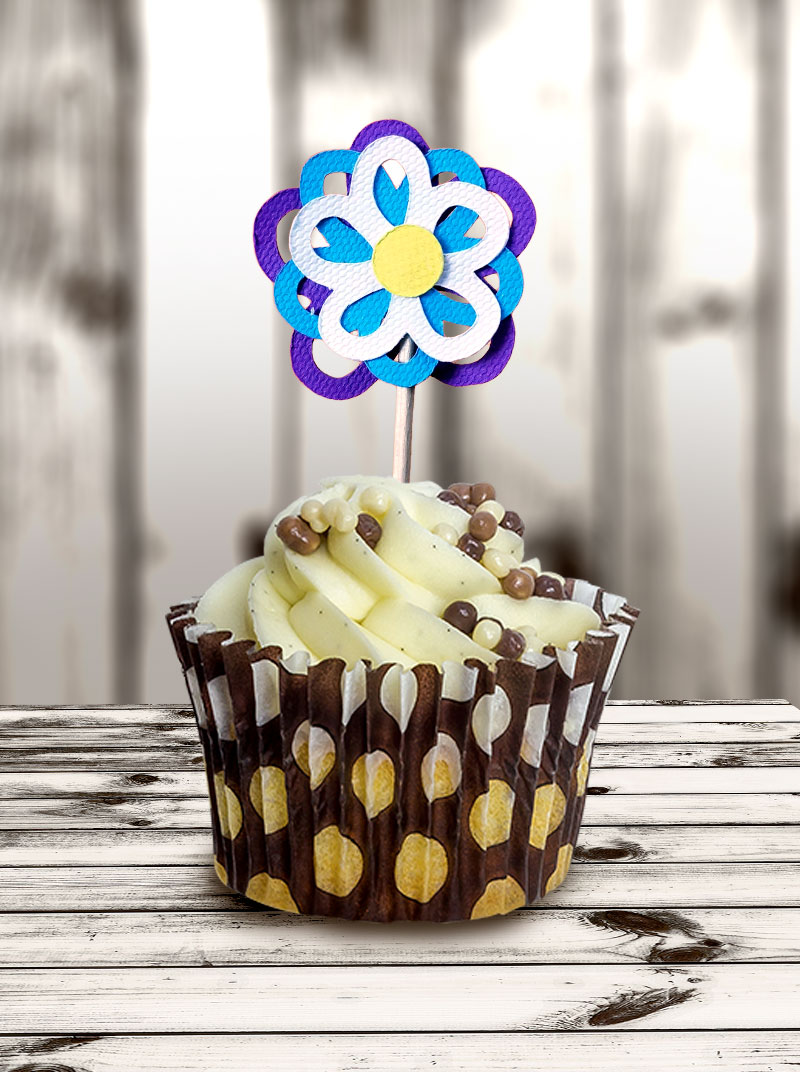 You can take these flower cupcake toppers a few steps further!
One of my favorite parts of working with the SVG format is that it is a vector image. Without going into all the technical details, this means that it's a lossless image that does not lose quality when you make it larger (as opposed to a JPG, PNG or other common image formats that become pixelated when you enlarge them).
So you can use these paper flower templates in many different types of crafts!
Make them on paper straws to spruce up your party in more ways than one.
Make them in larger and use them on any paper flower craft: on cards, as a paper flower wreath, or whatever you want.
You can even turn them into gorgeous magnets for the fridge!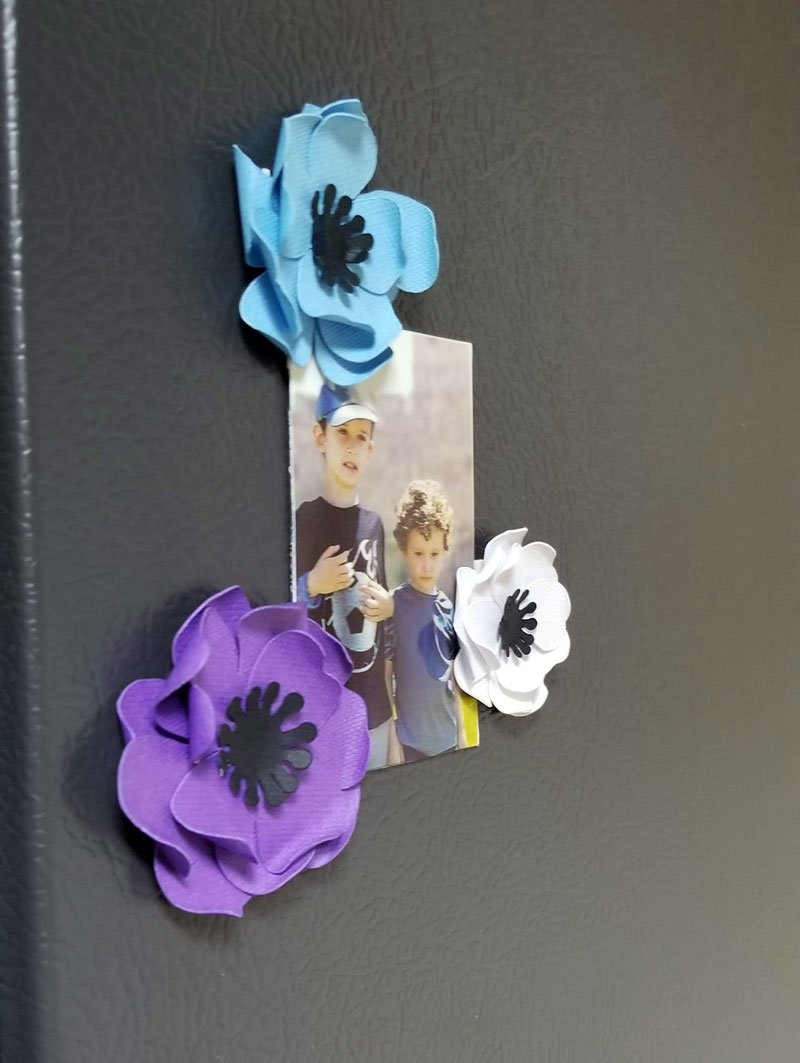 Use the simpler design as paper confetti.
Cut these on vinyl to make layered wall decals
Gather a few in a repurposed nail polish jar for a mini bouquet!
Embellish the centers with gems, buttons, or beads if you want.
Cut them all from white cardstock and touch up the edges with some watercolor paints.
The options are really endless, and the free SVG cut file is yours to enjoy for personal use!
Enter your email below to get your free paper flower SVG right to your inbox!
Supplies needed:
To cut your paper flower elements:
To assemble the flower cupcake toppers:
Toothpicks. I used wooden ones, which tend to adhere better to multiple surfaces as they are very porous
Glue or adhesive dots/strips. Glue will be stronger, adhesive dots adhere immediately.
Tip: if you're new to the Cricut Explore Air 2 you can ready my Cricut Explore Air 2 review here as well as my guide for beginners.
How to make paper flower cupcake toppers and party picks:
1. Upload the SVG to design space. Insert the image to your mat and ungroup it.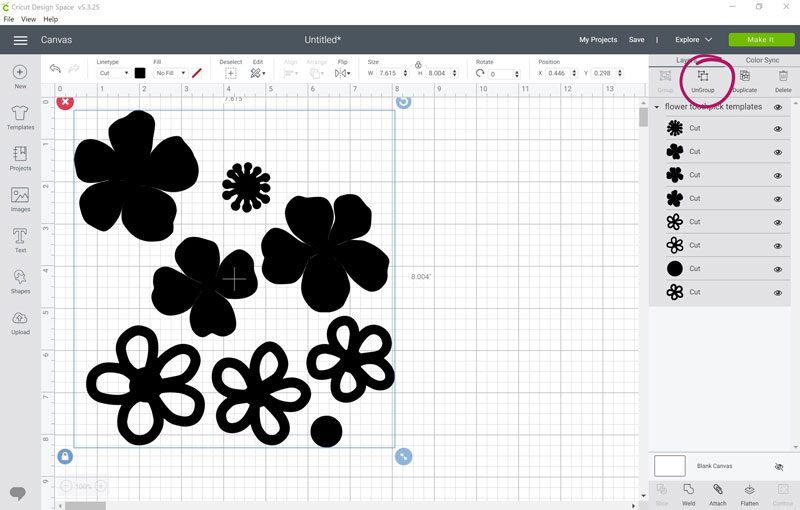 2. Change the colors of each flower element to make it the closest option to which color you want to use.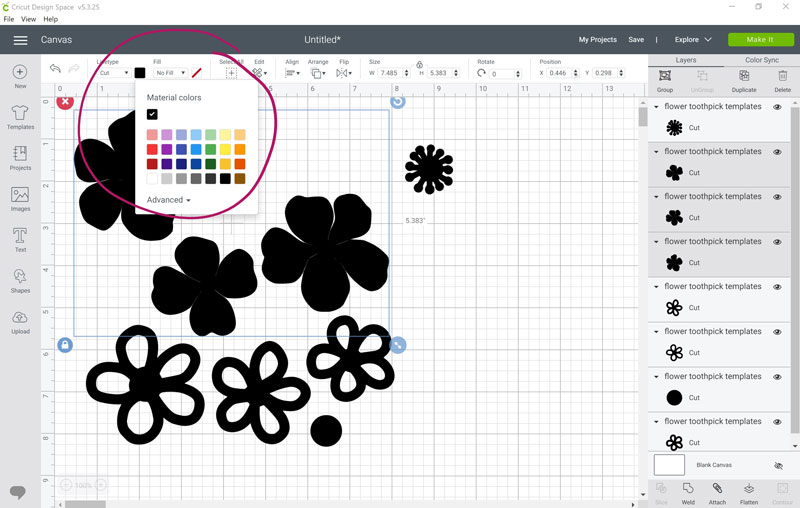 Change the images you'd like to use individually, laying out your flowers as you'd like to cut it. Use tools such as "group/ungroup" and "bring forward" (all available when you right click on your shapes you'd like to do this with).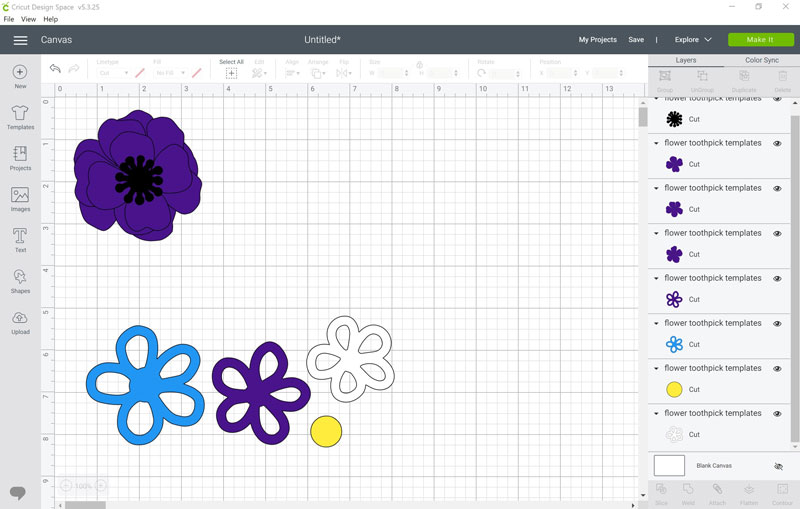 Laying it out on your mat as you'd like it gives you a good visual idea of what it'll look like. This is a customizable craft so make it how YOU want it. Keep in mind that when you hit "Make it" Cricut will rearrange each element by color. So you can keep them stacked. And on that note make sure that each element of the same color has the exact same shade selected for it.
Resize each group of flowers, making sure that it's between 3/4 of an inch – 2 inches total for a standard size toothpick. Tip: to decide how big you want it, cut a square of paper that size and hold it behind your toothpick to gauge proportions.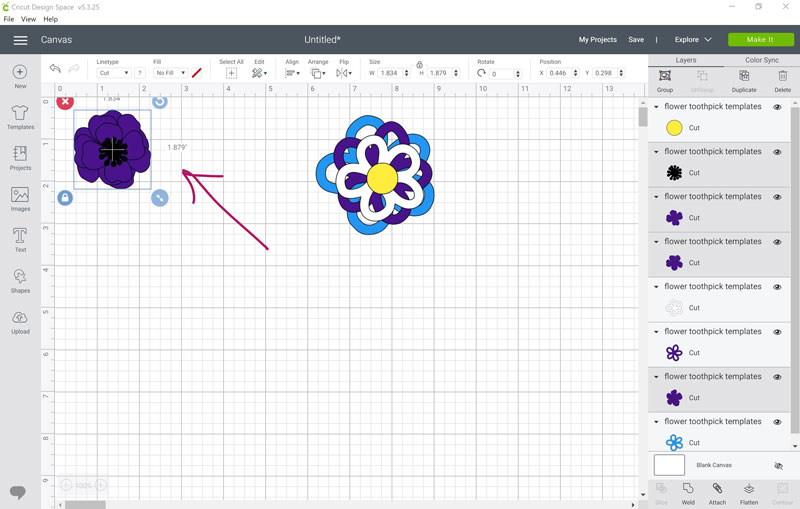 You can make it larger for other projects, however the project was engineered to work in small so if you go too big the template might not work out as well.
Make sure that each flower group is grouped together in your layers panel.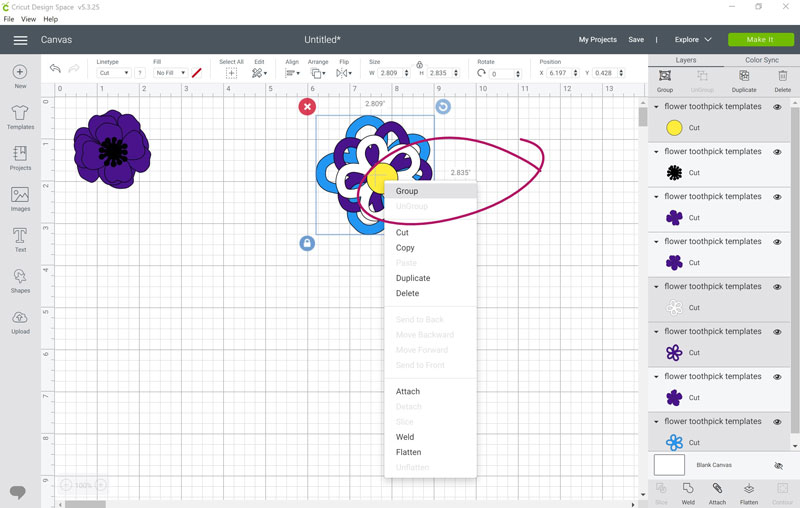 The final stage to setting up your cuts is to duplicate your flower group as many times as flower cupcake toppers you plan to make.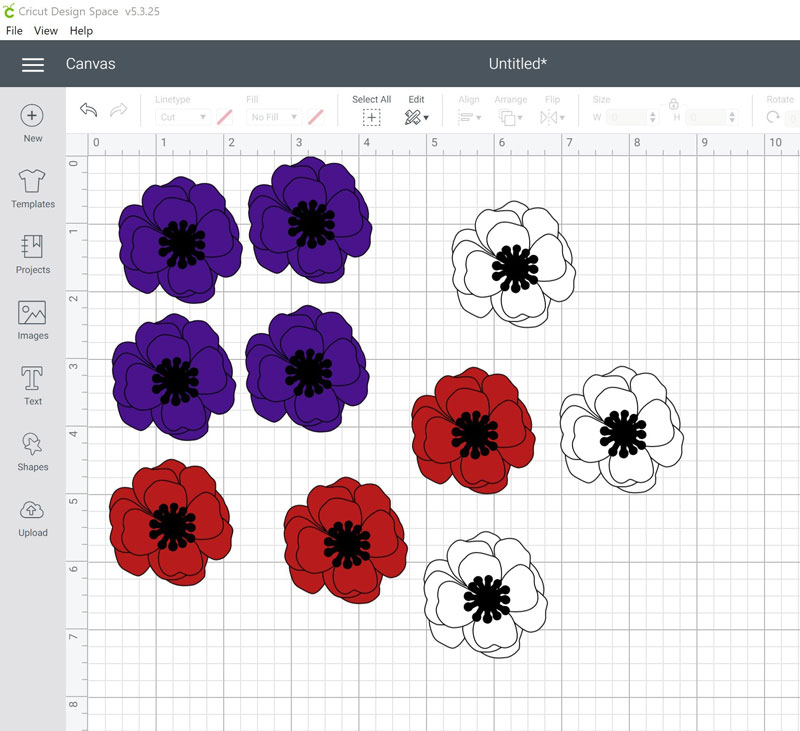 So if you're making 12 cupcakes, have 12 flowers laid out on your mat. This saves you loads of time, bulk cutting each color at once, and also saves you from wasting material.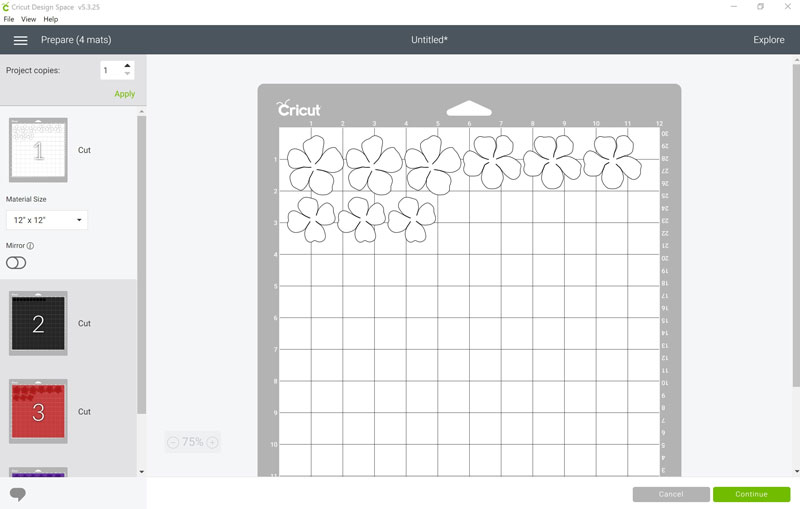 3. Click "make it". Set up your machine and your mat. Make sure to adhere it well to the mat using the scraper. Cut each color separately. I find it convenient to have two blue mats so that I can prep the next color while the previous one is cutting.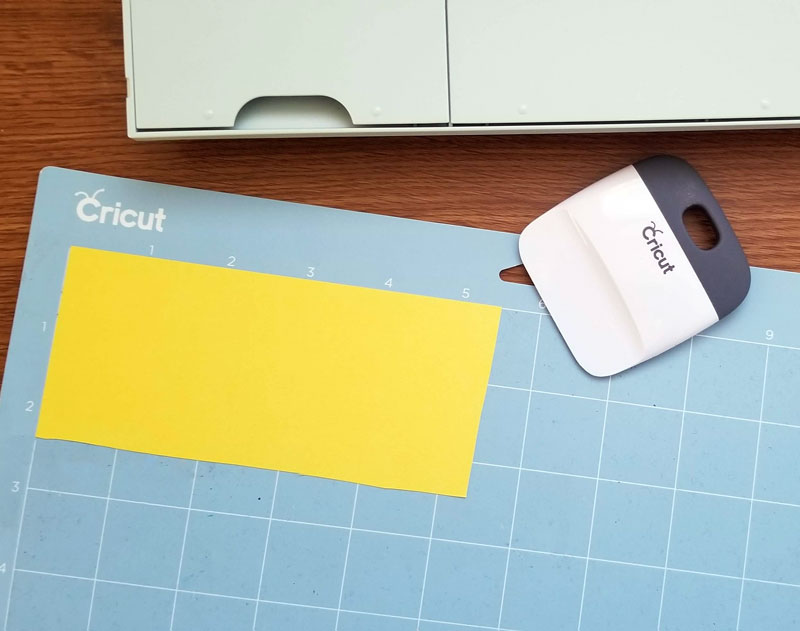 The boys love watching the Cricut Explore Air 2 cut! Gotta teach 'em about personal space…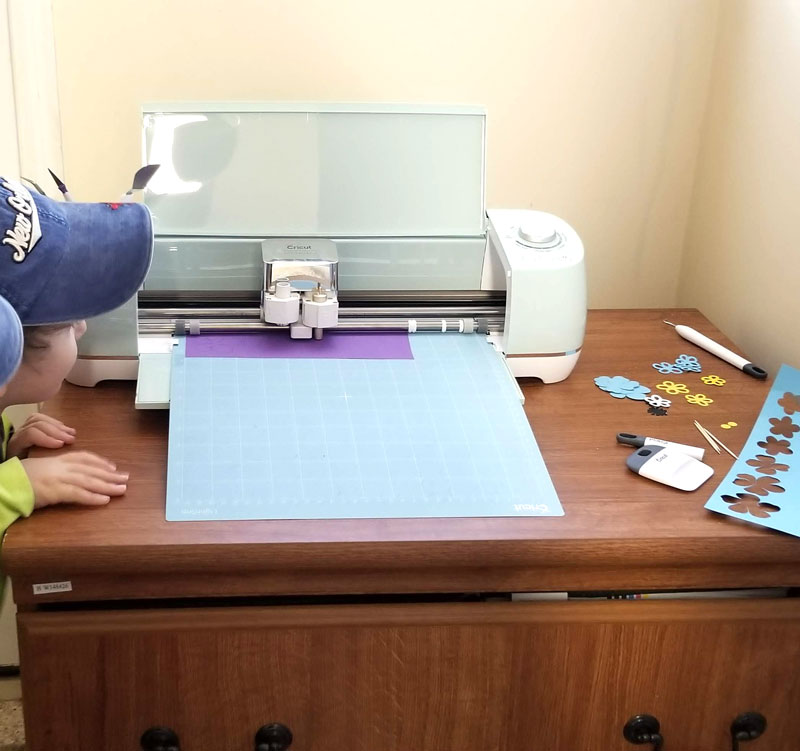 4. When you're done each color, remove it carefully using the weeding tool.
5. Sort through your pieces and plan your flowers.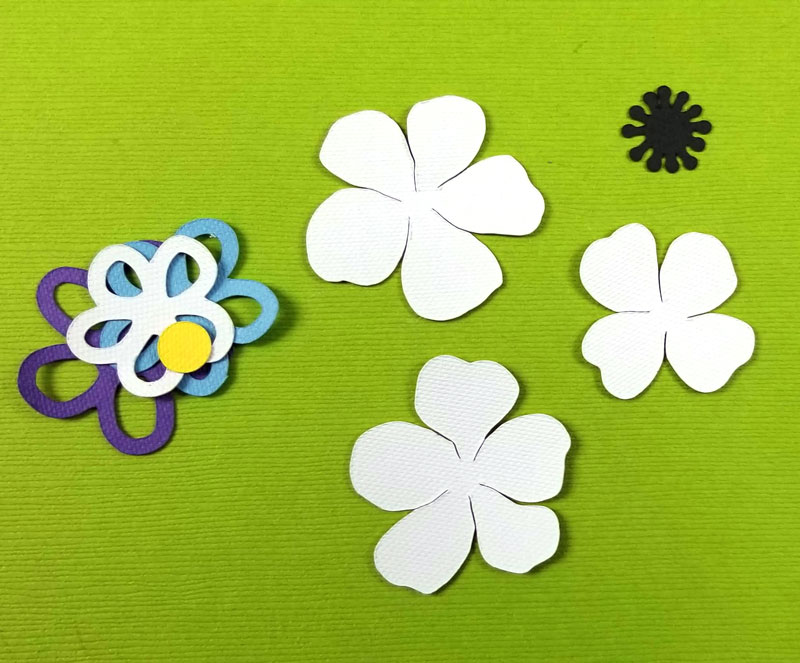 6. Optional: you'll get a much prettier anemone if you distress and curl it a little. Curl up the edges using a toothpick – or anything really. I just happened to have some toothpicks nearby…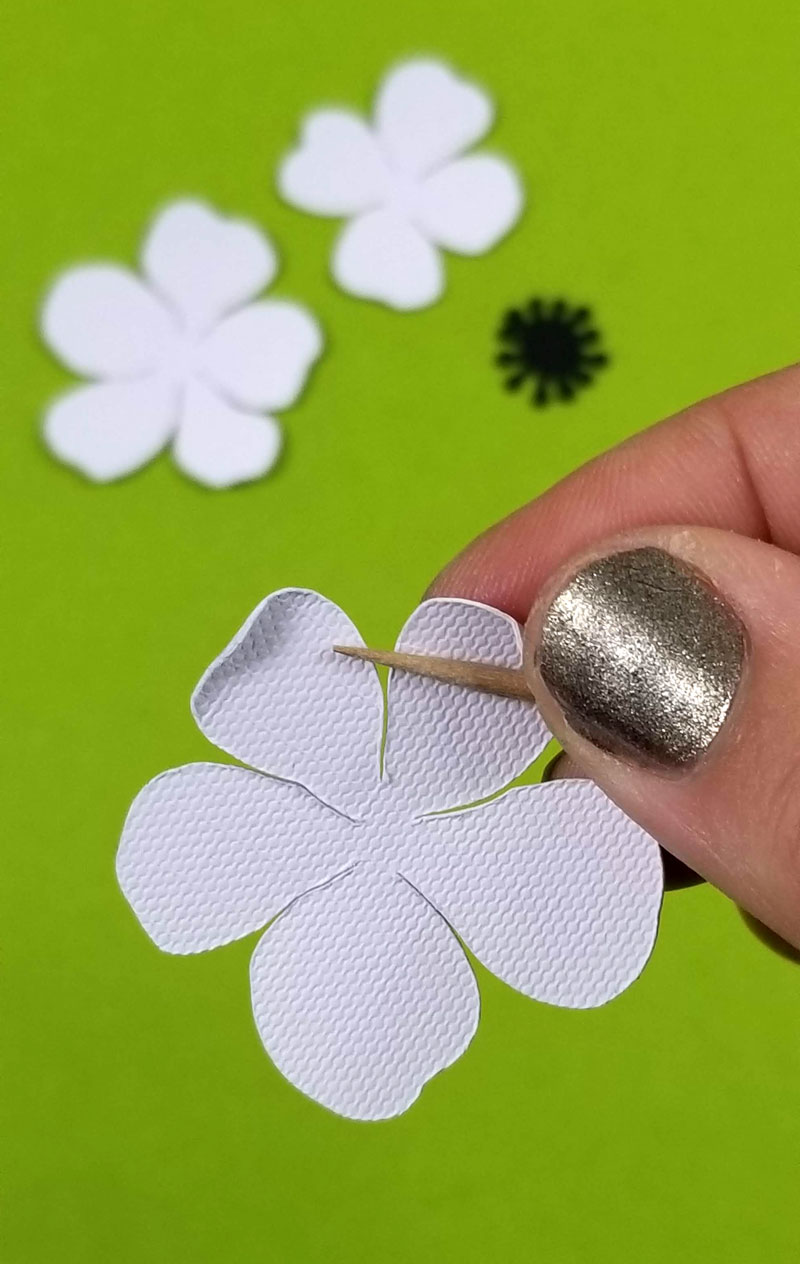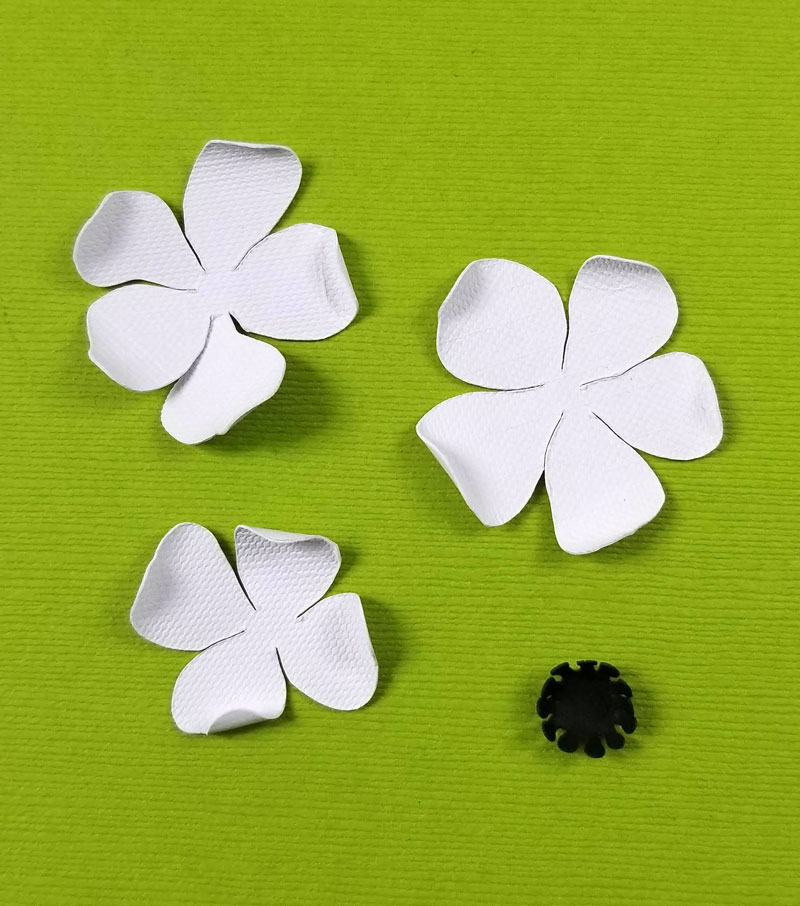 The more playful flower cupcake topper wasn't designed to be curled, so skip this step if you're just using that.
7. Place your bottom layer down and add an adhesive strip (or three dots in a row) or a small line of glue.
Place your toothpick on top, so that the tip is just above the center of the flower. If you're making your flowers larger, you may need to put it a bit lower so that you have enough sticking out at the bottom.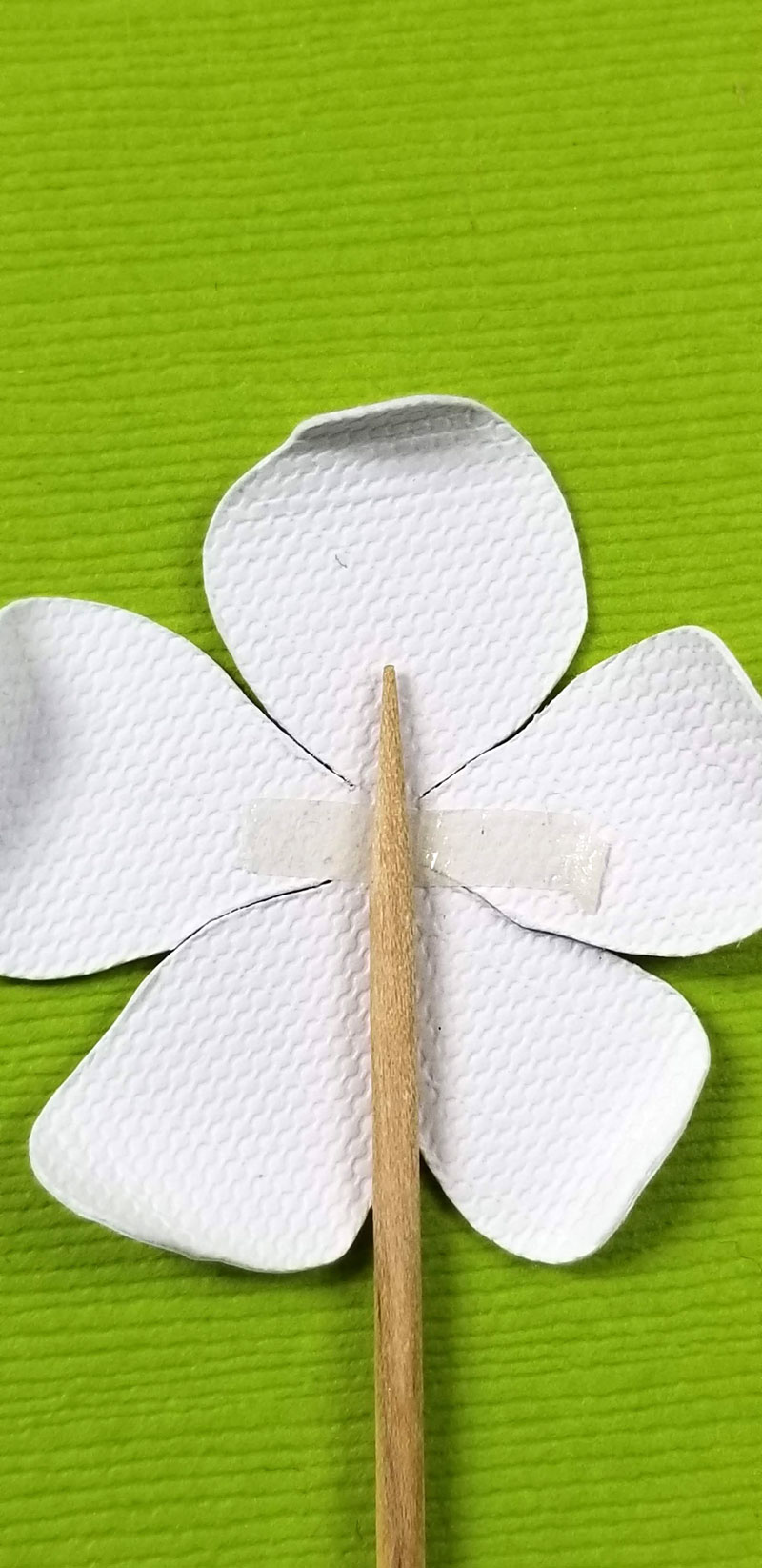 8. Place your second to bottom layer on top, and make sure it adheres well around the toothpick.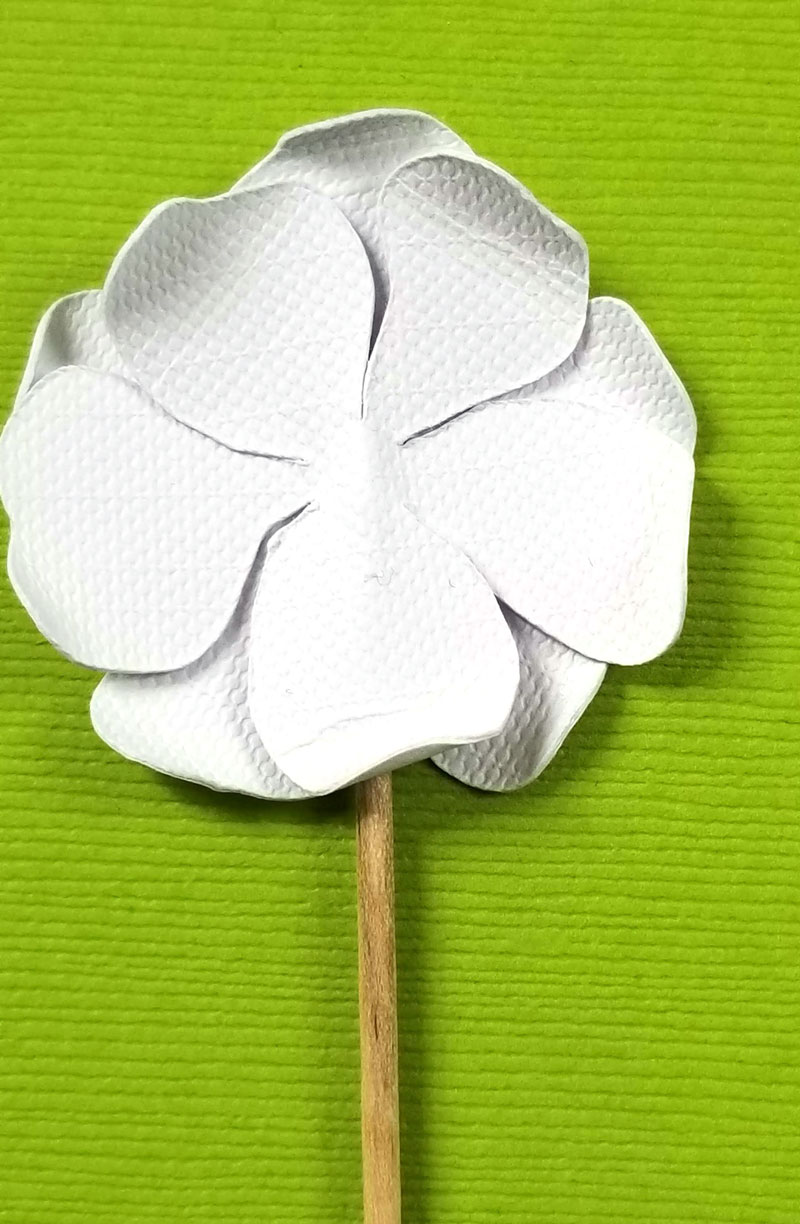 9. Add your third layer.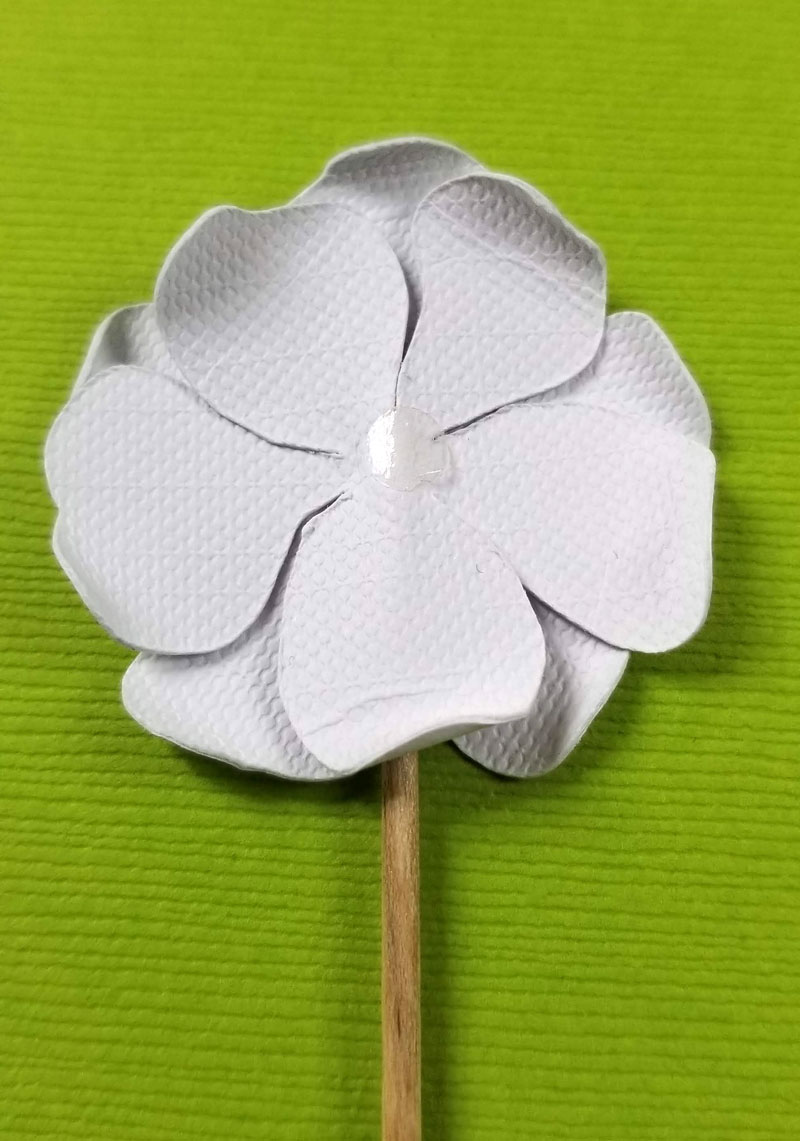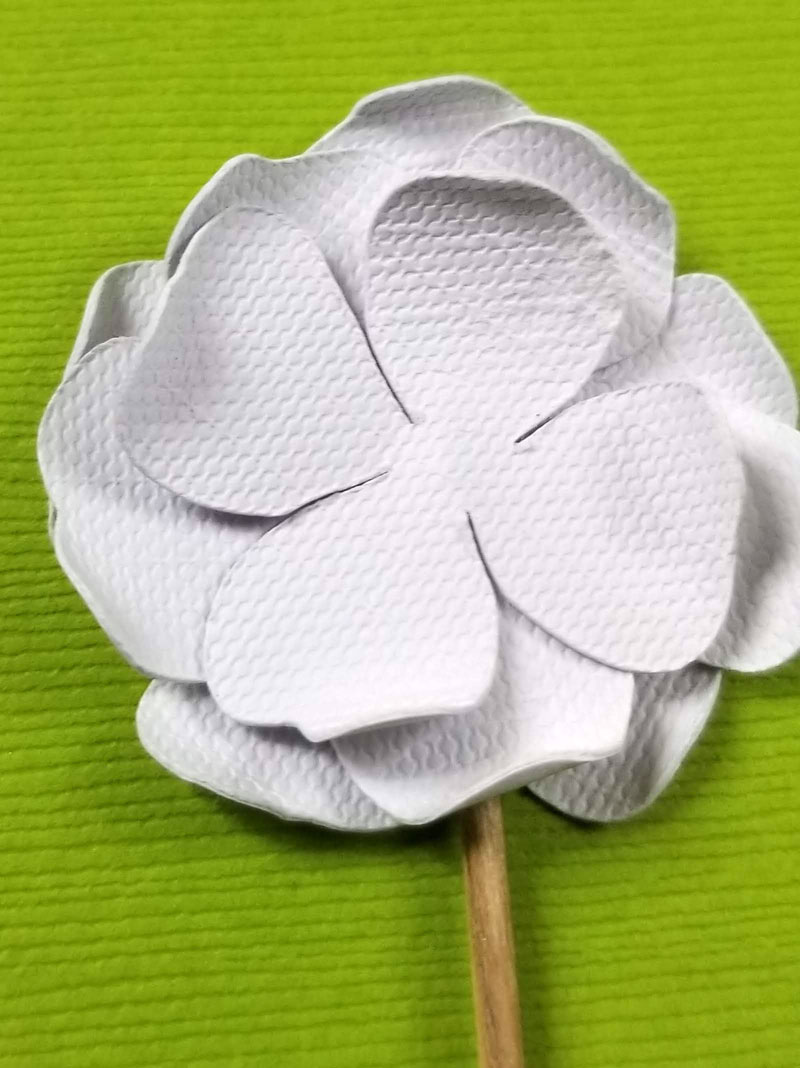 10. And finally, add the center of your flower. If you're making the anemone, you'll want to bend up the edges again.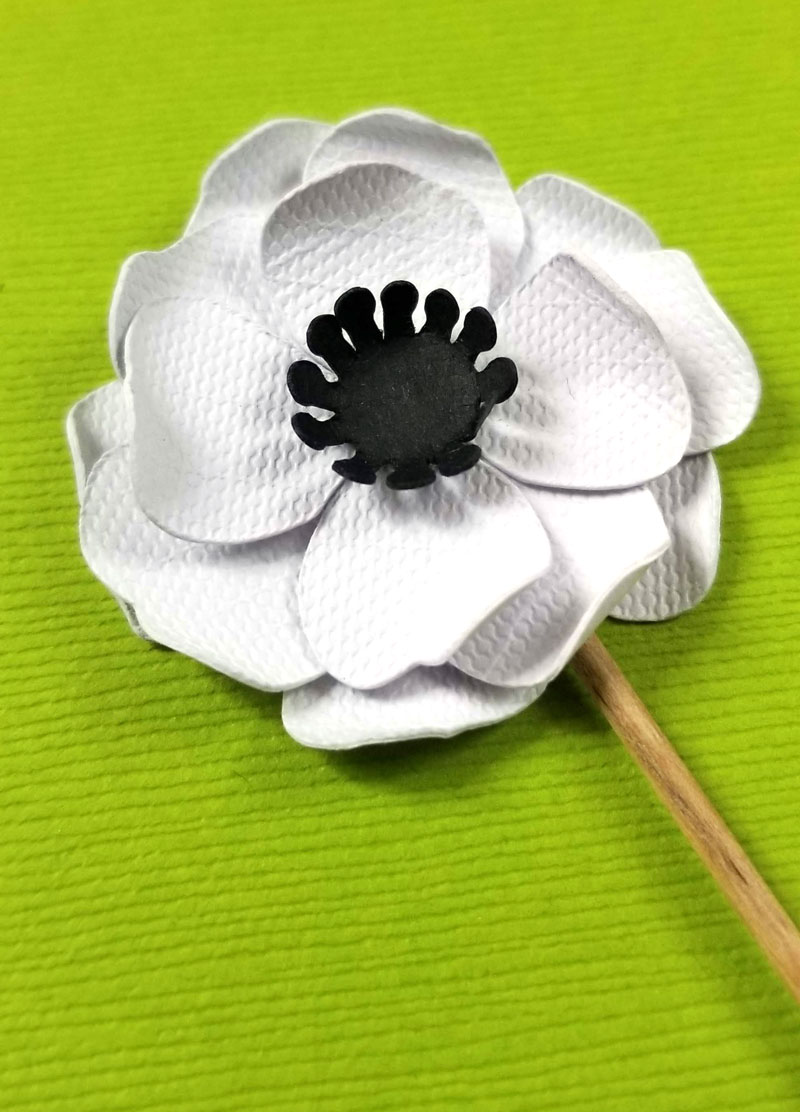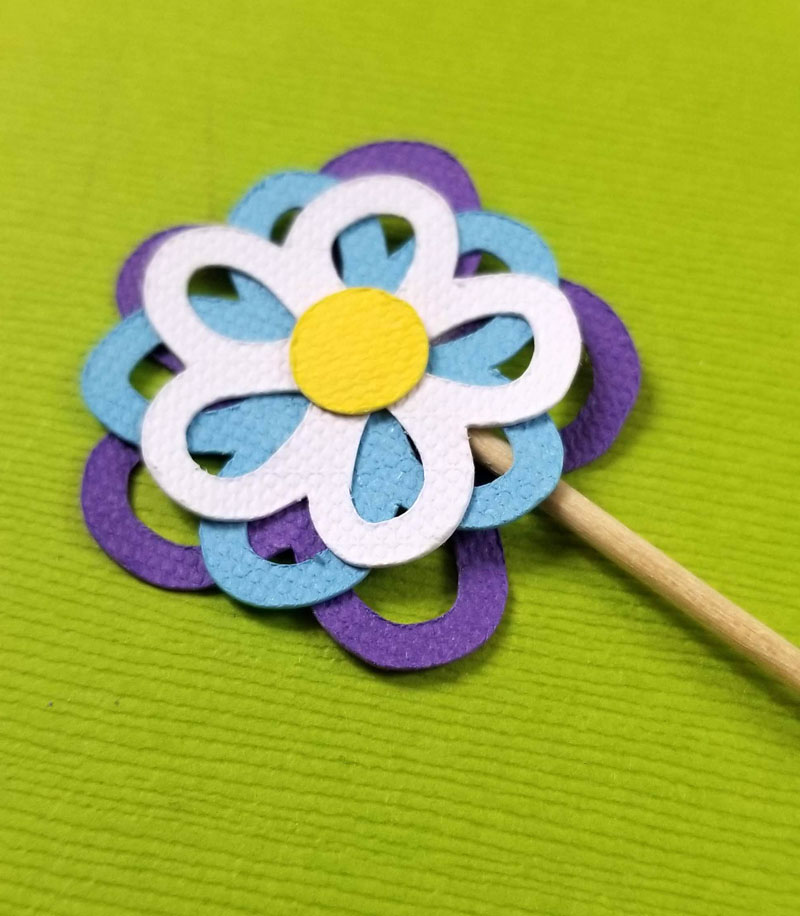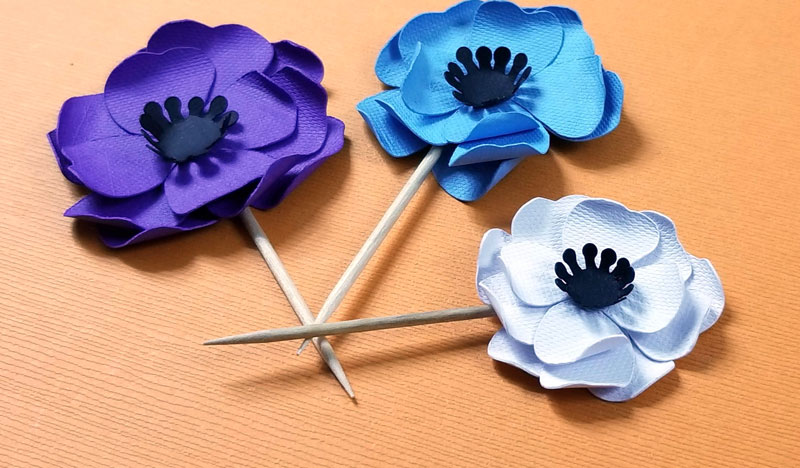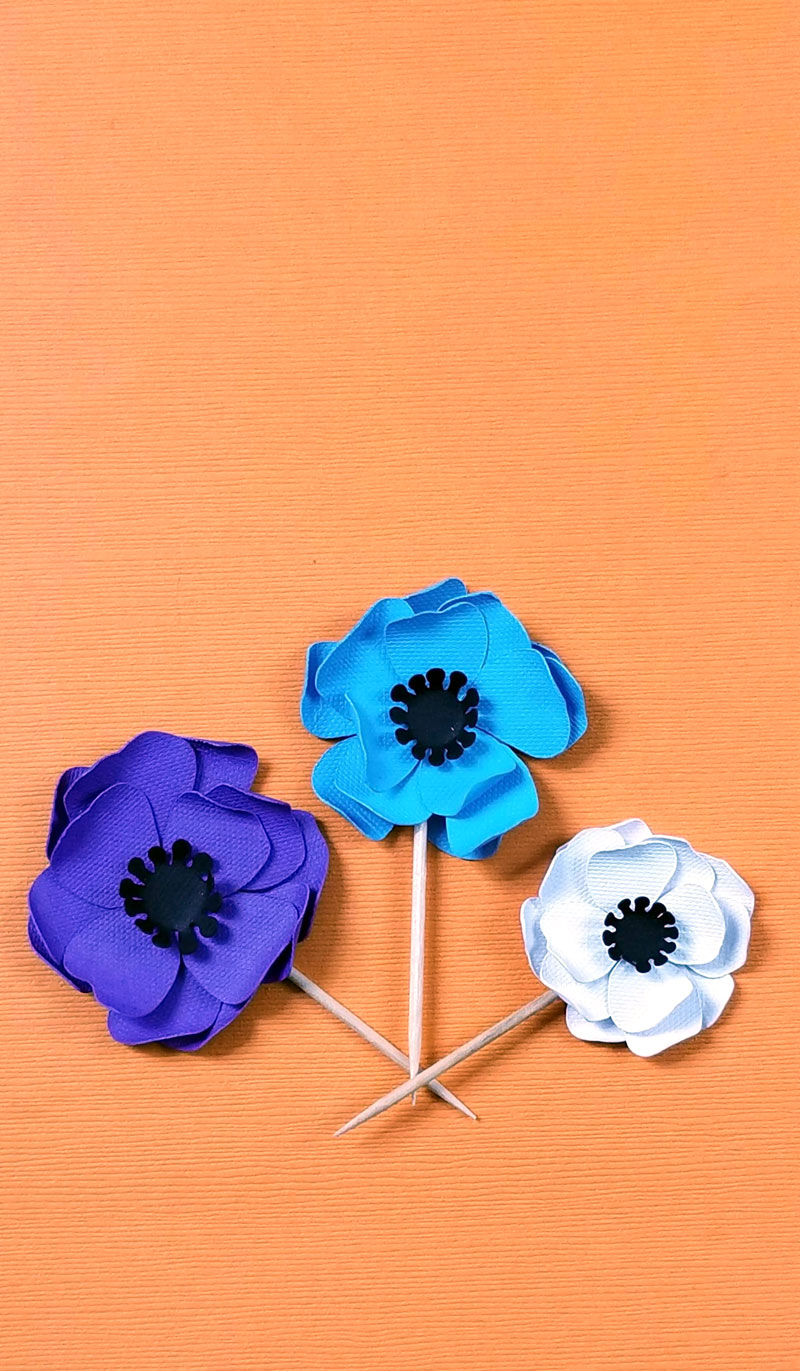 Your flower cupcake topper is complete! Keep on making 'em and have some fun while you're at it!!
Don't have a Cricut cutting machine yet? They make crafts like this so much more manageable! Learn more here!
If you haven't get, grab your free SVG file below! Or, if you prefer to work with images, download the preview image.
Want to try another sweet Cricut craft? Check out the crafty shirts I made here!