A printable travel journal for kids is a fantastic way to keep them busy and educate them about your trip! For another fun travel activity, check out my easy paper airplane templates and scroll down to learn more about this! This post contains commissioned links.
---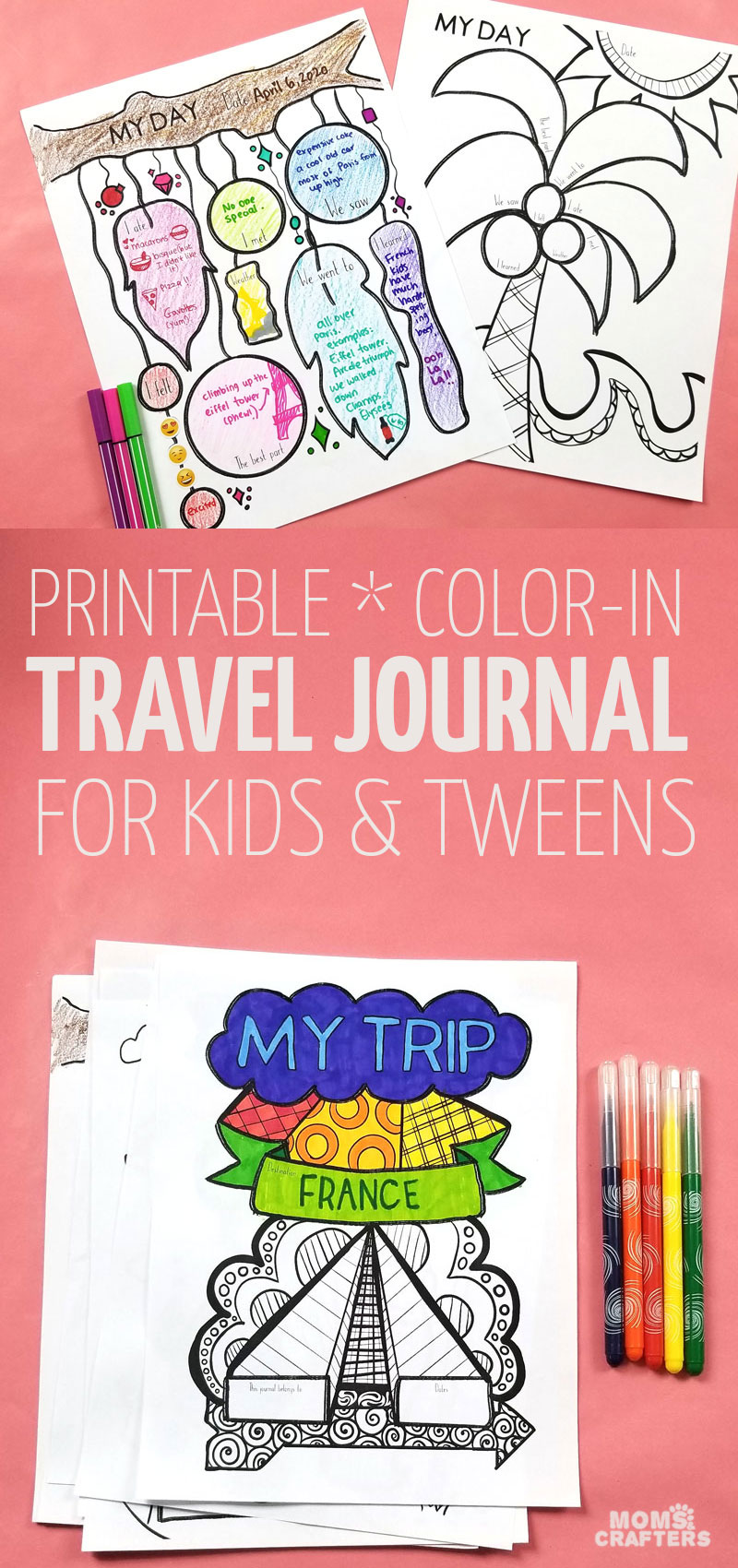 Want to skip all the reading? Click here to get your travel journal for kids!
Getting kids involved in your trip not only turns it into an educational experience, but it keeps 'em busy while you deal with all the stuff!
Part memory book, part planner, and part coloring book this travel journal for kids was hand-illustrated and is so artsy, quirky, and fun!
Use stickers to decorate it if you want, color, draw pictures – the choice is yours! I designed this with ages 8-14 in mind, but it's great for younger kids and grown-ups too.
Younger kids might prefer to draw more, and write single words if they can. They may need a little more help than older kids. For the older set it's mostly self-led and very creative!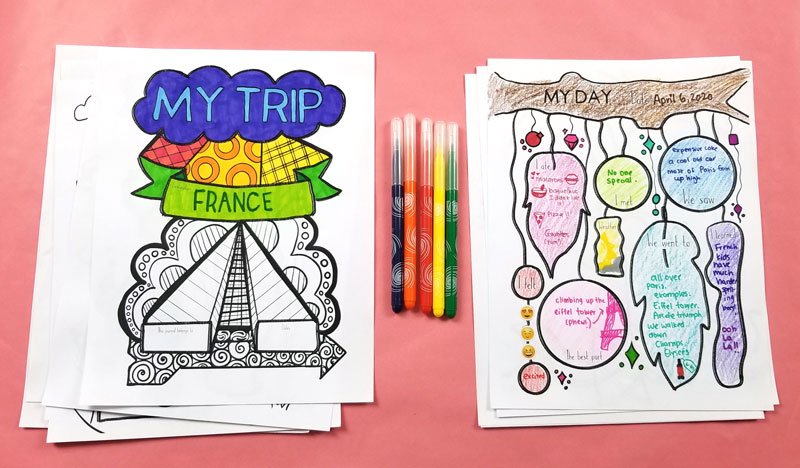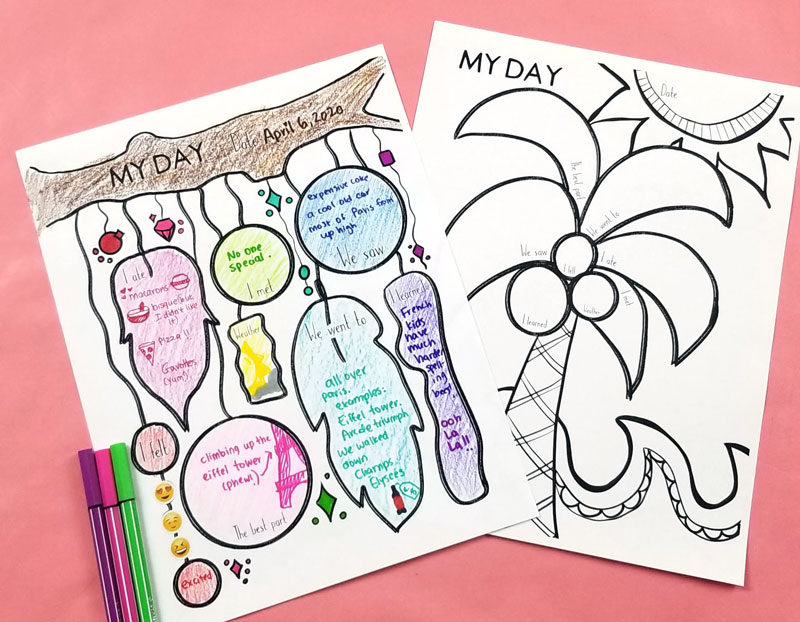 What's inside the travel journal for kids:
This travel journal includes 12 inner pages + a cover! It's full of questions, memories to write, and more. I created both A4 and Letter size formats so European peeps, this one is for you too! It also includes printable instructions so you can ditch this post and just journal.
Pages include:
1: Cover
2: About our Destination
3: Travel Plans
4: Calendar – Print this multiples times if needed!
5: On the Way
Five "My Day" pages to fill out one per day you're at your destination! I created 5 unique designs to switch things up. You can print multiples of one if you'd like, choose your favorites, etc.
6: My Day – feathers and charms
7: My Day – Pot of gold
8: My Day – Palm tree
9: My Day – Destination drawings
10: My Day – Doodle borders
11: Heading Home
12: My Favorites
13: Keepsakes – a fun "catch all" coloring page to put all those ticket stubs and maps your kids insist on saving…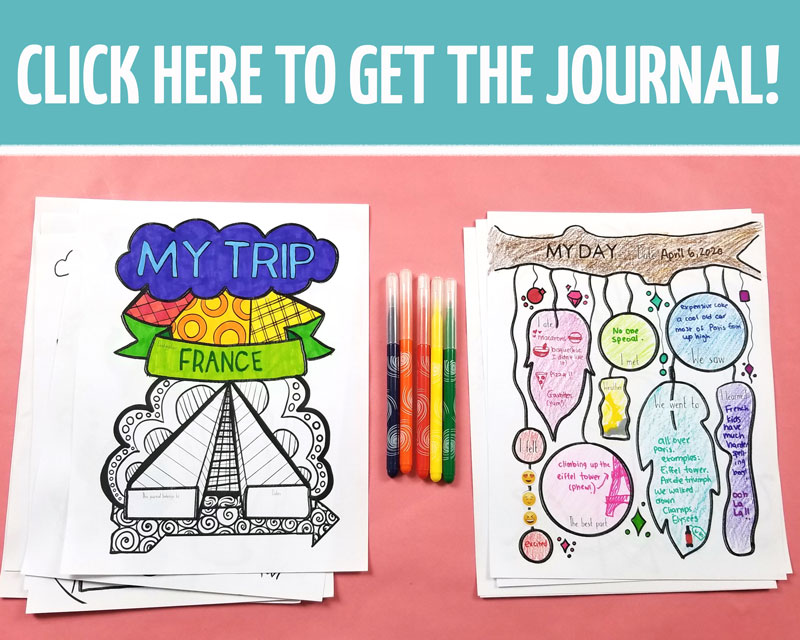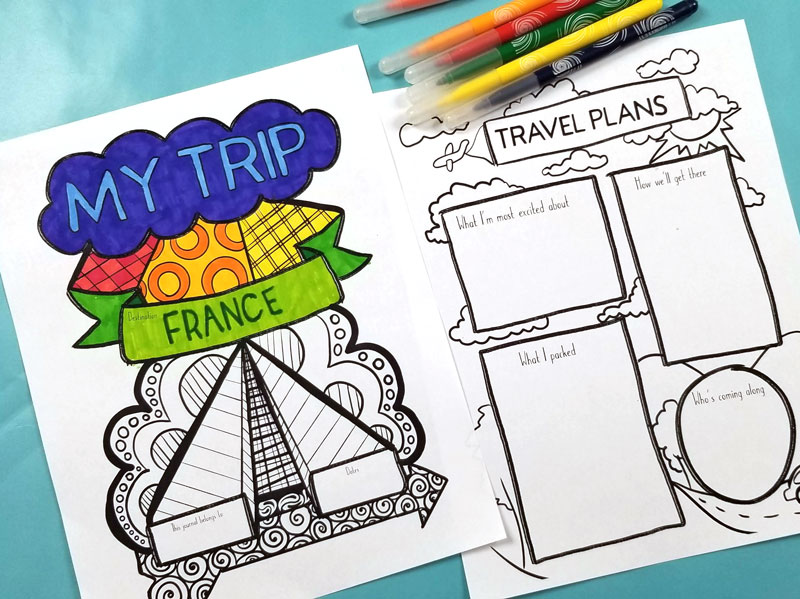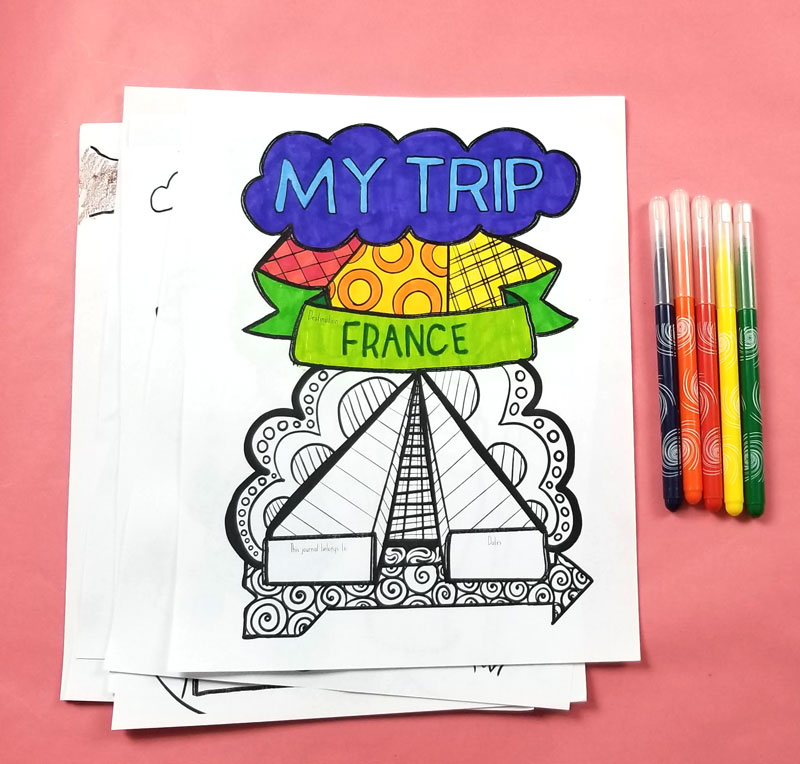 How to use this travel journal:
Printing it:
Print on regular paper if you plan to use dry media (stickers, crayons, pencils).
Print on card stock if you plan to use wet media (markers, watercolors) or a mix of both wet and dry.
If your printer does borderless printing, choose to "print actual size".
If your printer does not do borderless, or if you're not sure, choose "fit to media".
You can choose individual pages to print according to the table of contents above, and included with your download.
Calendar page: Print one page for each 2-week period your trip spans (Sunday through Saturday) – even if some weeks aren't complete. If your trip starts at the beginning of the week, you might want to add a few days before anyway for packing and prep.
"My Day" pages: Your journal has 5 different styles of these pages. You'll need one for each day of your trip, so if you're going for more than 5 days, chose your favorites to print twice. If you're going for shorter, print your favorites.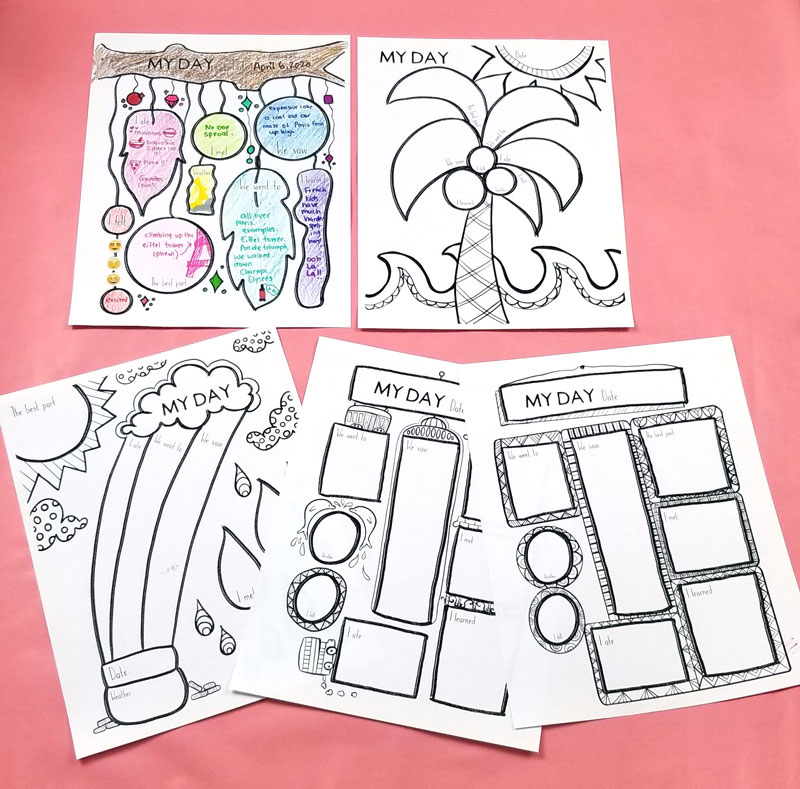 About Our Destination: This page is designed specifically for international travel. You can use it for domestic travel too but it'll be less interesting.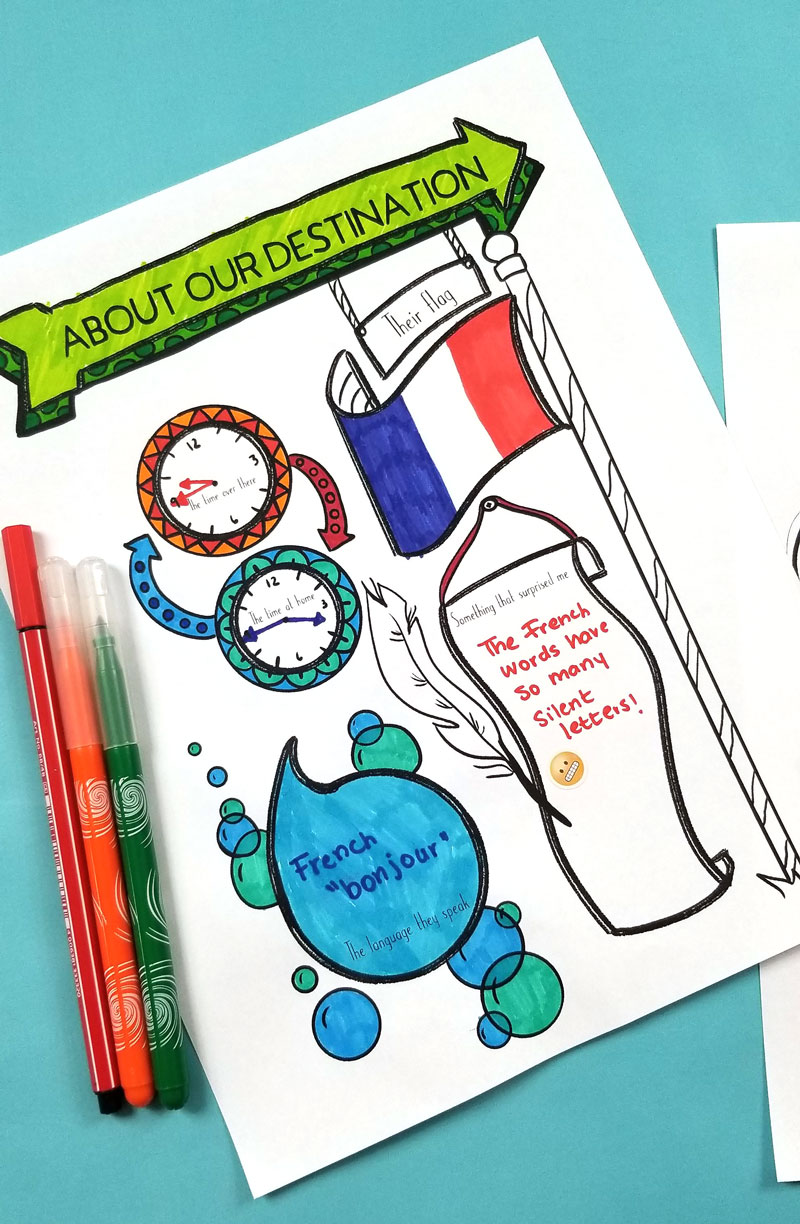 How to Assemble and Use your Travel Journal for Kids:
1. If you know you're happy with the pages you printed, you can do it permanently using spiral binding. You can get sheet protectors and use rings to join them. Or just stick them in a binder. You can even simply staple the pages together.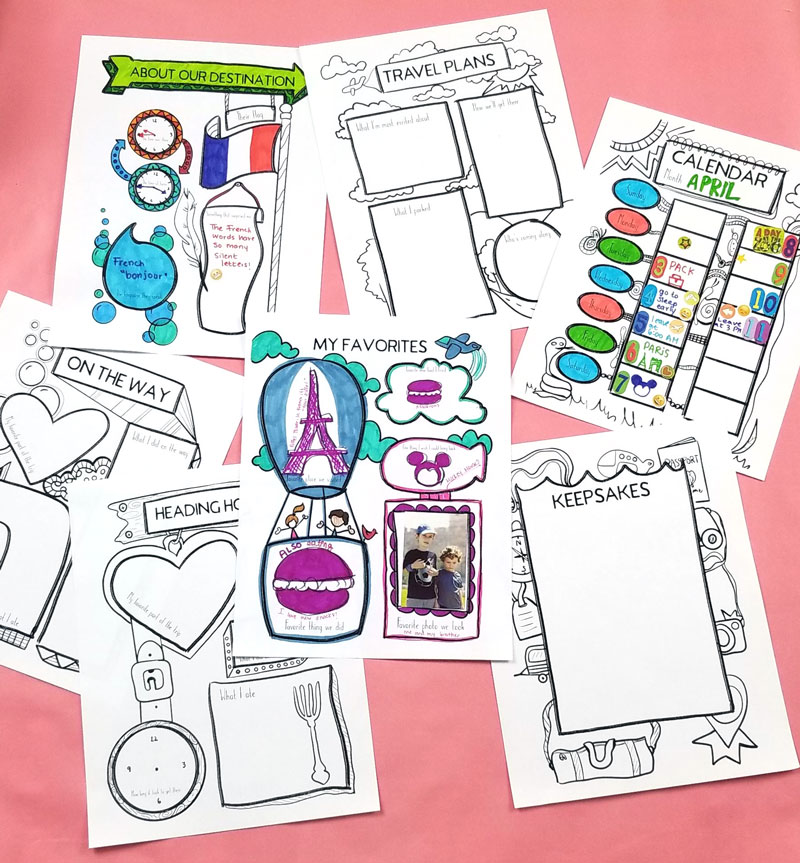 2. Fill in your journal. Use markers, pens, stickers, pencils, or whatever you want. Big kids can write things in. Younger kids and anyone who likes to be creative can draw pictures. Or do a mix of both.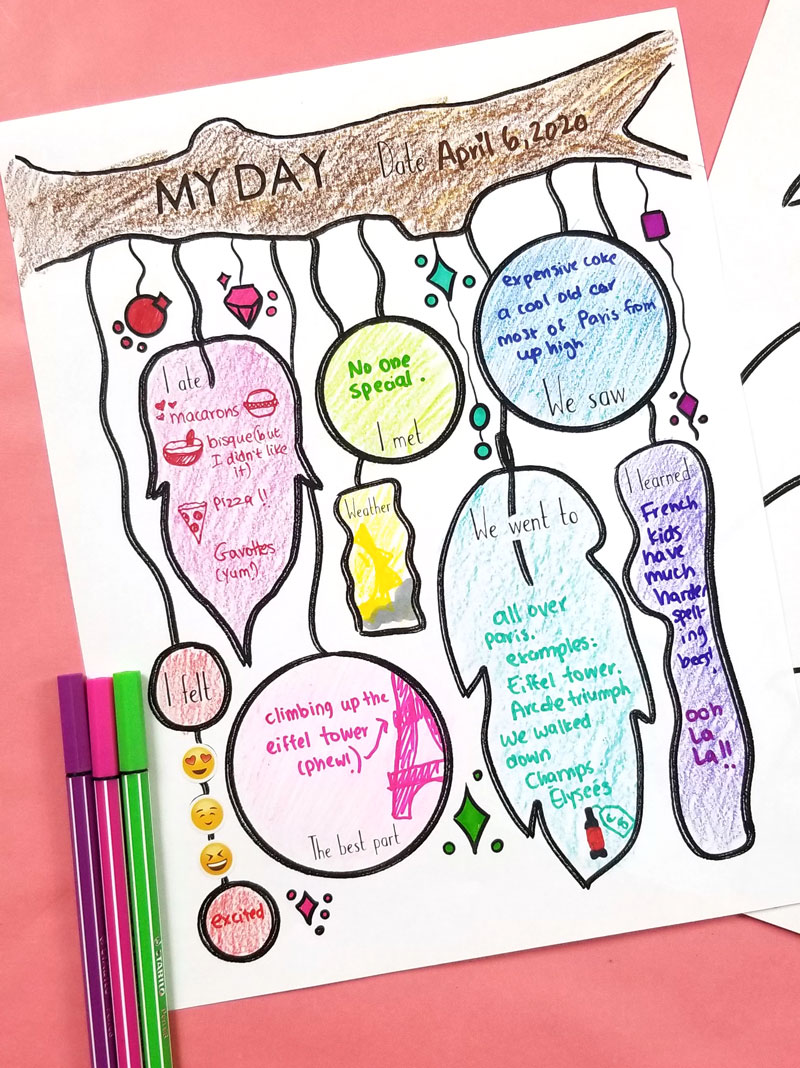 4. The My Favorites page has a spot to stick a photo. Print it in color or black and white on your home printer, or use an instant printer such as the HP Sprocket.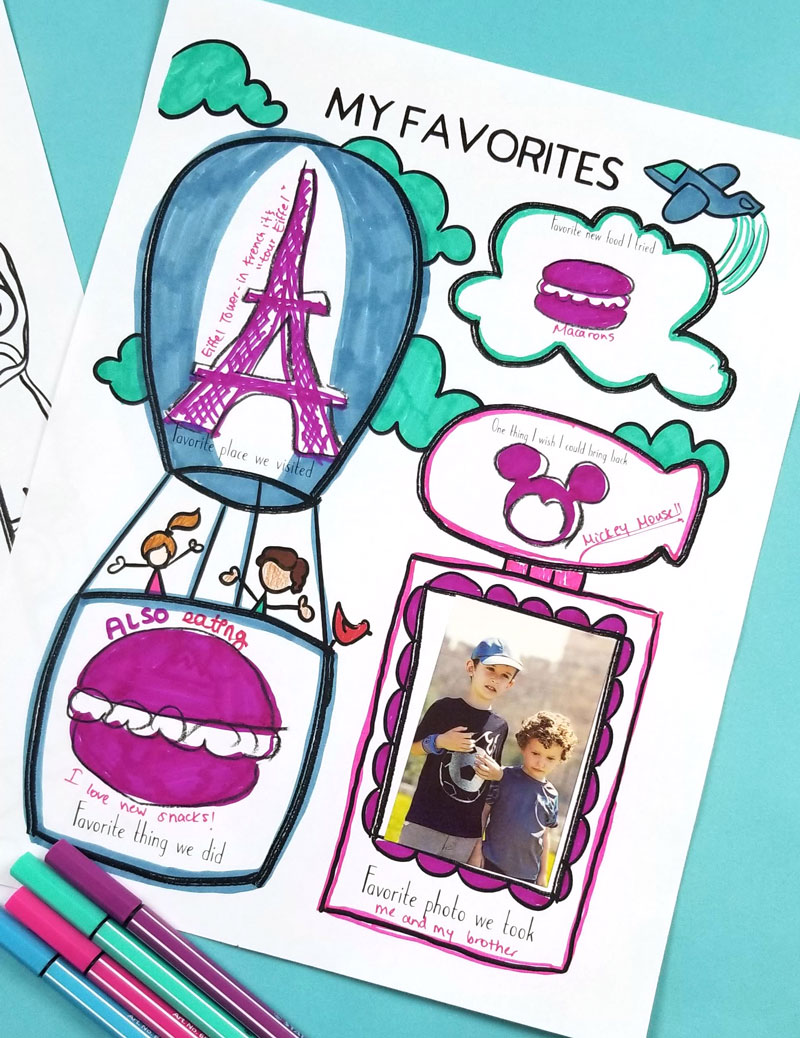 The Keepsakes page is special for sticking down those ticket stubs, admission bracelets, seashells, or whichever physical memories you want. If you need more space, print an extra page.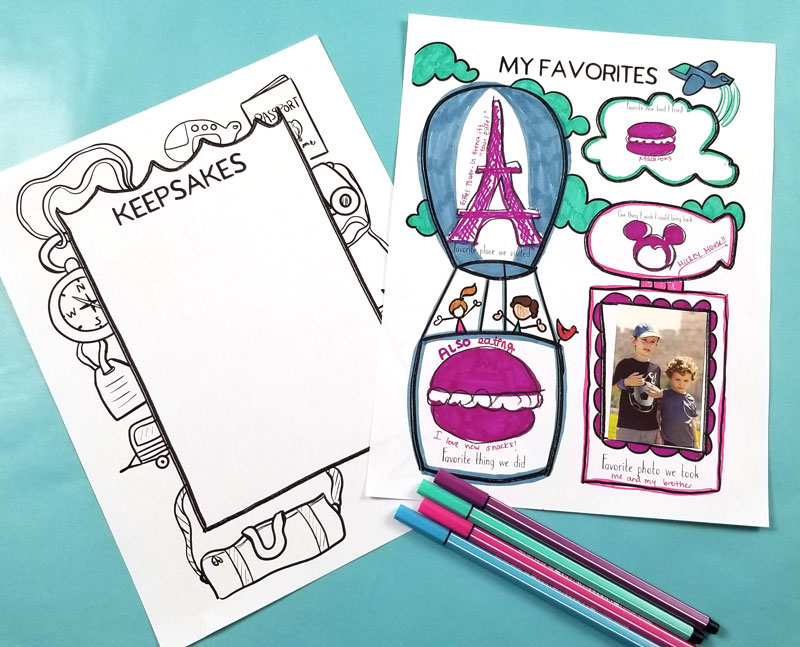 The Calendar page is for planning your trip in advance. You can add your packing days to your calendar. Add stickers and doodles – whatever you want.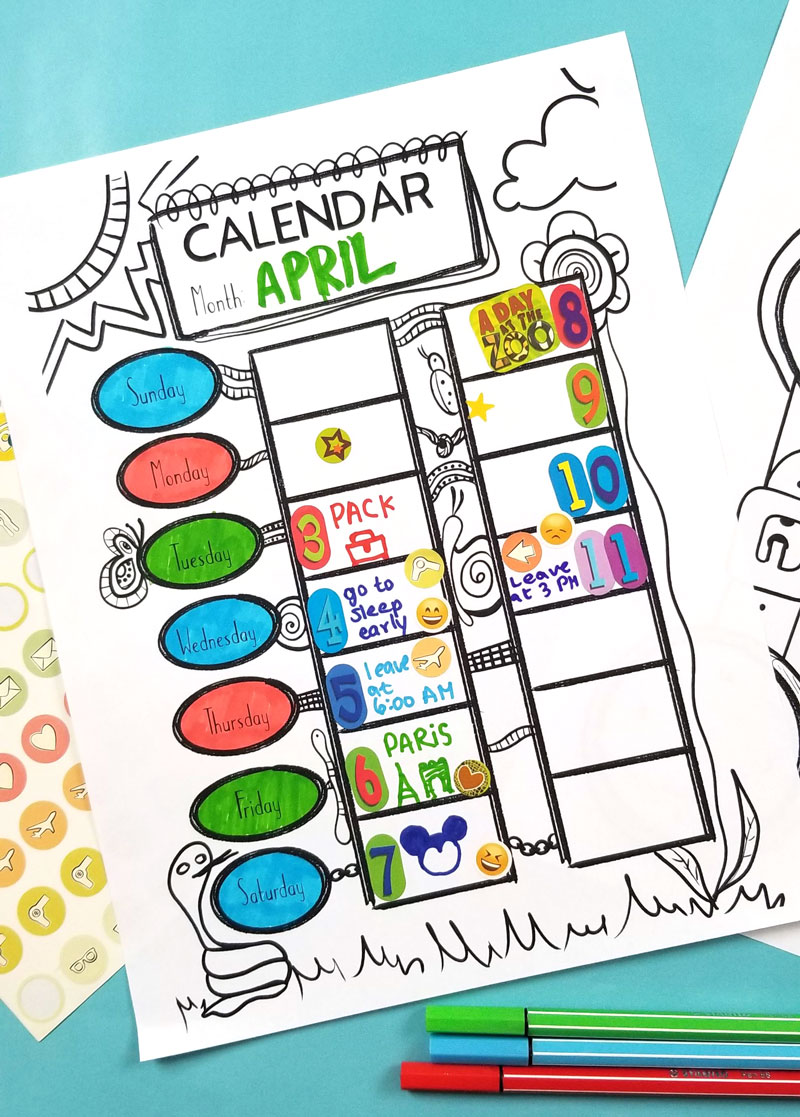 6. Color the borders and drawings. Use your imagination and creativity. You can even add your own details.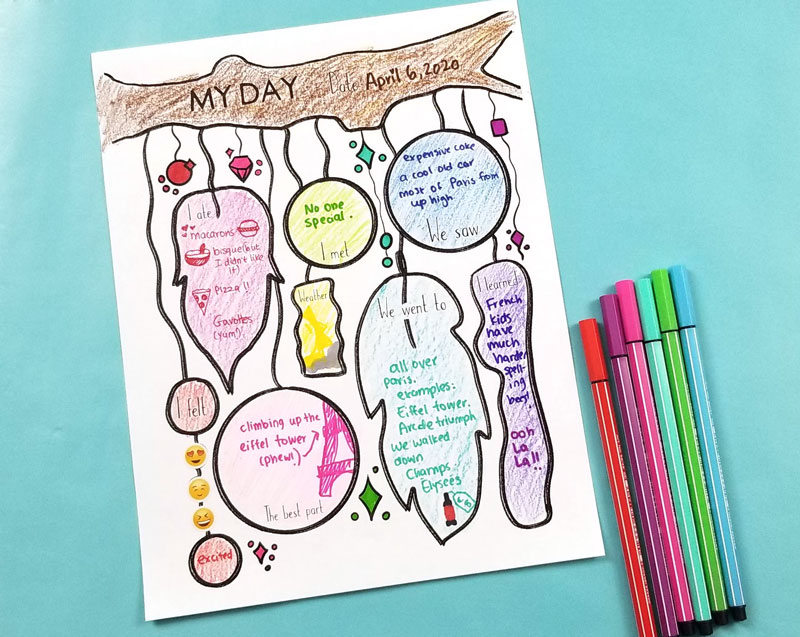 I hope you enjoy your printable travel journal for kids and tweens! Share this post to share the love!

>>>>>Get yourkids' travel journal and creative planner here!<<<<
Want more cool travel tools? Check out the adults' family travel planner inserts here. You can also find my list of travel activities for kids here!