My three-year-old helped me assemble this wonderful list of gifts for toddlers that are sure to be loved! This includes both toy and non-toy gifts for younger and older toddlers to enjoy. Whether it's for a birthday, or an upcoming holiday, these gift ideas for tots are sure to hit the spot!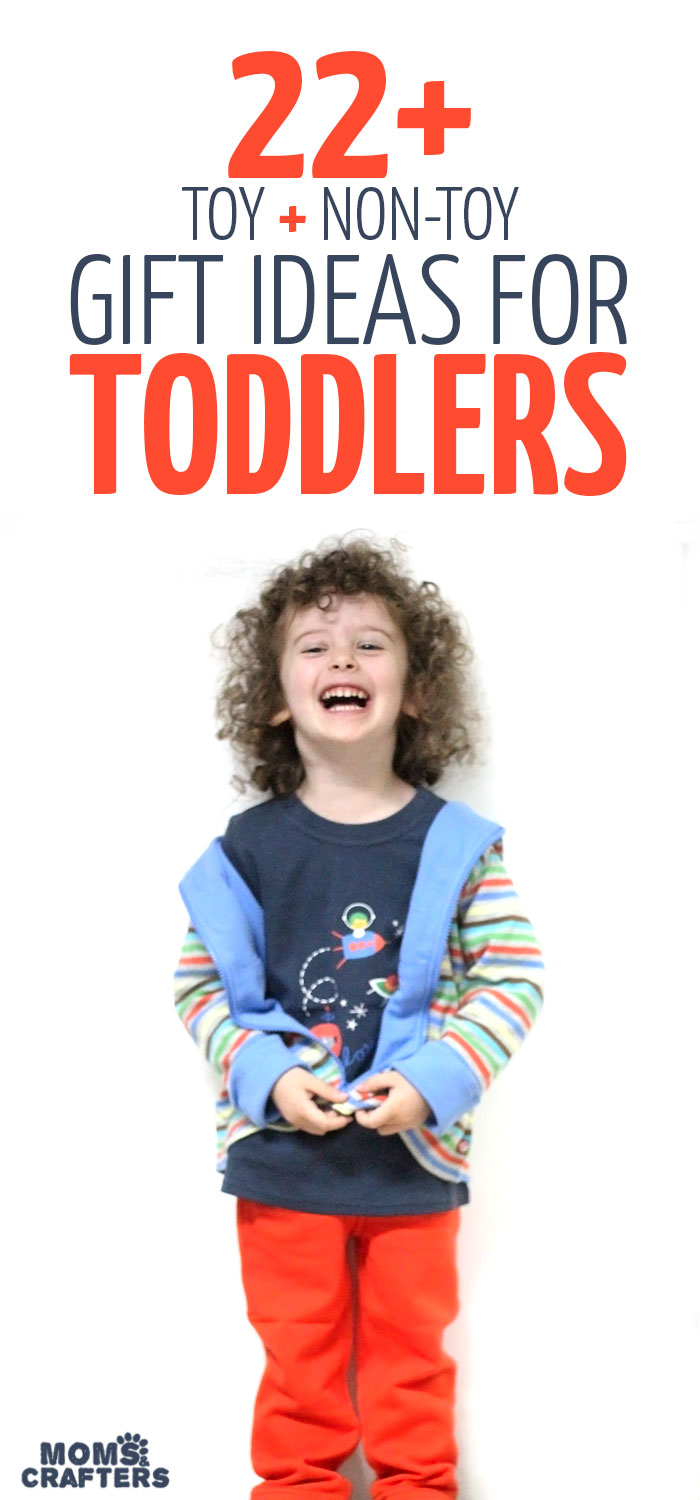 Toddlers happen to be the absolute easiest members of your list. Give them a cardboard box and they'll love it. Okay, you obviously want something a bit more presentable, but still…
One little tip: know what they love and give accordingly. For example, for M's second birthday, whenever anyone asked what to buy I simply said "if it's Elmo, he'll like it!" I even put together a list of great Elmo gift ideas and a separate one with Elmo toys but this year I decided to go with a broader list to get you going.
In this list of gifts for toddlers you'll find a large variety of price ranges to suit your budget. At the end, you'll find a gallery with even more gifts for toddlers. I truly hope it helps!
Disclosure: I did receive some samples from brands for coverage. Some of the products on this list include those samples which I have tested and enjoyed, and some are products I purchased and received as gifts, love, and chose to feature. All of these products are "tried and true" in my personal experience. Nevertheless, I am not otherwise affiliated with these brands and cannot take responsibility for quality, fulfillment, or anything else that's in their hands.
This post contains affiliate links.
Toddlers can range in age – for the sake of this post, I'm talking from age one through age three. Of course, what's suitable for a three year old isn't necessarily for a one year old, so be aware if you're buying gifts for an older toddler or a younger one.
Clothing Gifts for Toddlers:
I think that sometimes people underestimate giving clothing as gifts. Toddlers do care about what they wear, and when M gets something new that really works for him, he is just as excited as if it's a new toy. It's also practical and Mom will really love you for it! (And since I sometimes get samples that I then need to photograph for the blog, M right away asks me "I put it on and we take a picture?!")
1. Dress Wear from Tea Collection: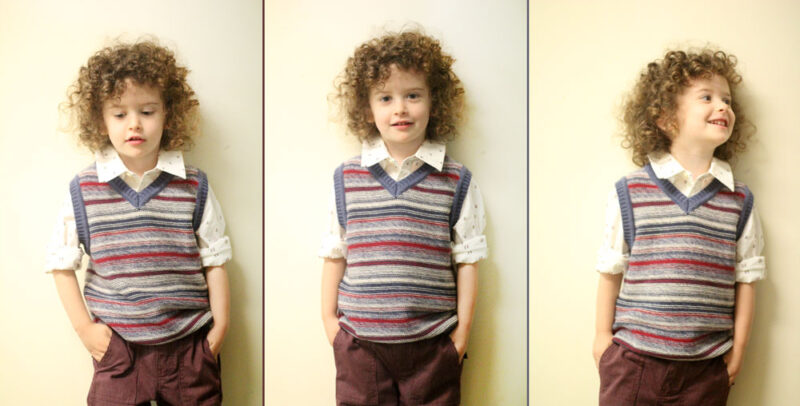 Dress up a toddler for the holidays and beyond – but let them stay comfortable. This unique, colorful dress outfit from Tea Collection doesn't compromise on comfort. They have plenty of other options, and this outfit can be split apart and paired with jeans or a tee if you want to reuse it as casual wear. The cream colored shirt has very subtle spots that match with the striped sweater vest. The burgundy pants have subtle pinstripes and are a nice change in color from the classic blacks and navy's he usually wears.
(M is wearing: Haru Sweater Vest | Striped Dress Pants | Kazuki Button Down Shirt)
2. A cozy hoodie from French Toast: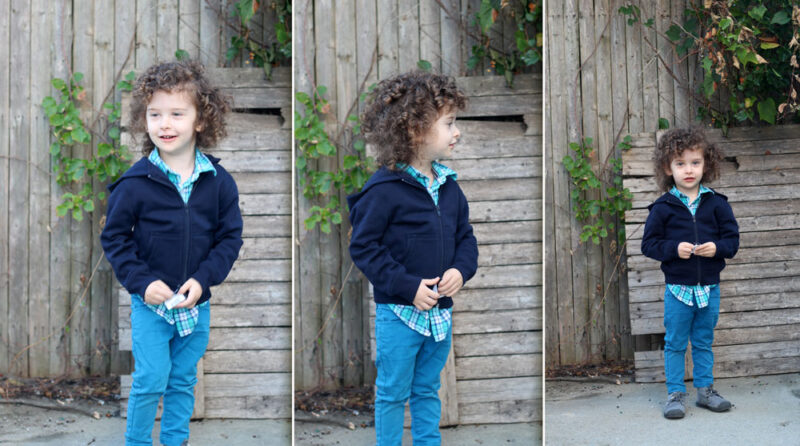 A hoodie will take a toddler through the season – as outerwear and as an extra layer for the indoors. M LOVES this navy blue hoodie from French Toast, and it matches just about anything – from school clothing to jeans. It's the perfect gift if you're looking for something small and practical. Tip: hoodies are even cozier when worn big so go a size up, and it'll last an extra season!
3. A Feltman Brothers match-everything gray cardigan: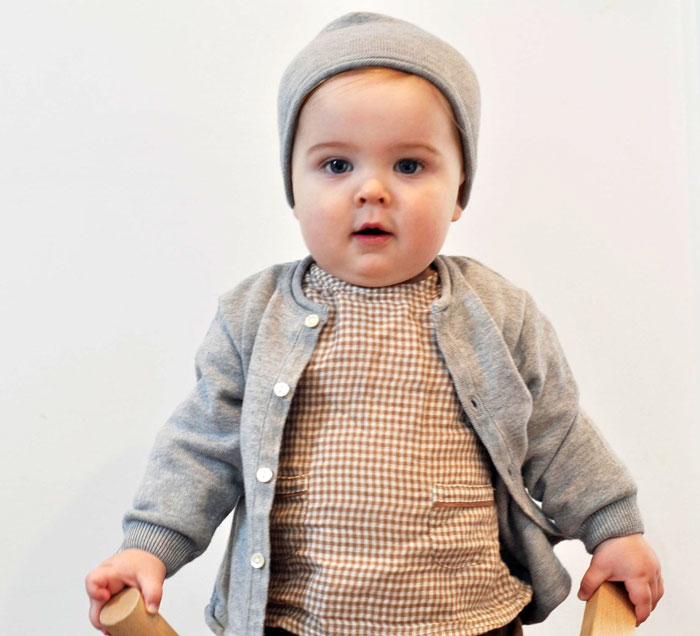 For a dressier layering choice, choose a neutral colored cardigan. The rolled edge cardigan from Feltman Brothers comes in a practical gray and a few other colors for boys and girls. It will match pretty much anything and keep your child warm while adding to the outfit, especially when it's chilly indoors.
4. Mix-n-match outfits that layer up from Zutano: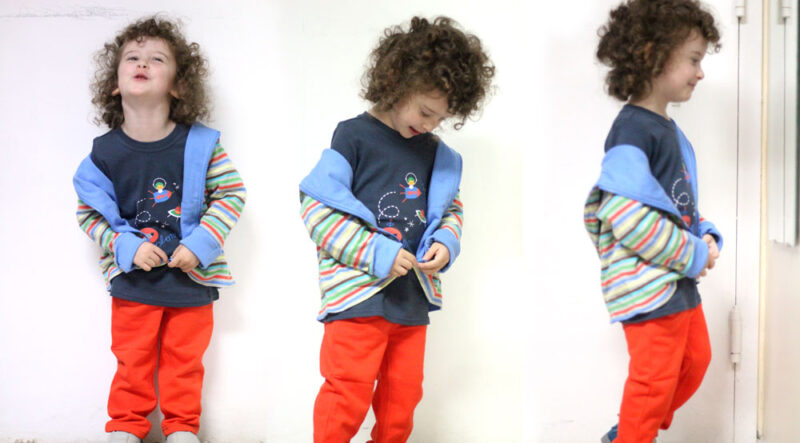 (M is wearing: Explore Screen Tee | Mandarin Matchstick Jeans | Stellar Stripe Reversible Hoodie)
Toddlers love color, and their moms love style. Get both of them with a fun mix 'n match outfit from Zutano. I love mix 'n match clothing, especially for toddlers. If he leaks on his pants, I can change just that. If he dirties his shirt, I have a spare that matches. Especially when it comes to play and school wear, a fun outfit or two that can be interchanged is the way to go.
M is wearing: Hide 'n Seek Screen Tee | Apple Matchstick Jeans | Stellar Stripe Reversible Hoodie)
The cool thing about Zutano, is that you have lots of options when it comes to mixing and matching. You can shop by print – combine two that work well together with some solids – and you have plenty to mix up. Their matchstick jeans have a comfortable interior and are easy for active toddlers to move around in. Their reversible hoodies coordinate well with more outfits, and are great for layering up in cooler weather. Finish it off with a fun tee or two and your kid will love her clothing as much as you do!
You can check out how you can match up siblings by taking a look at Baby Y's outfit in my baby gift guide. They still haven't cooperated for photos on the same day – so I haven't gotten one of them together!
5. Cozy and Stylish Pajamas from Finn + Emma: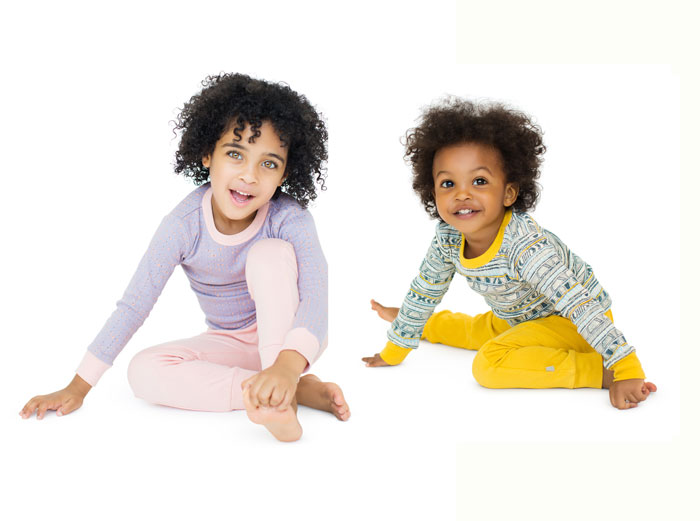 Don't forget the PJ's. M was thrilled with the tribal stripe pajamas from Finn+Emma. The yellow color is cheerful and tot-friendly, but it doesn't compromise on style in the least. It's also made of super cozy organic cotton and eco-friendly inks and dyes. It's perfect for holiday nights as it looks great, and then continues to be practical for the entire season (and beyond.) Finn+Emma has lots of adorable designs – and prints that carry out in a huge range of baby-toddler sizes so that kids can coordinate!
Toy Gifts for Toddlers:
Don't underestimate the value of toys and play! There is value to gifting toys – children learn so much through play. Of course, choosing the right toys also helps.
6. Slot & Build Texture Shapes from Lakeshore Learning: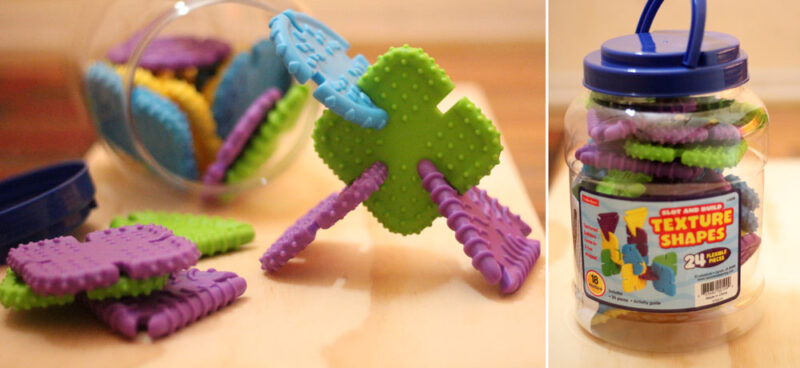 Perfect for younger toddlers too, these texture shapes help children develop early fine-motor skills. M was a huge fan of building toys where things actually connect (younger toddlers can't always stack blocks, and some are frankly not interested in them yet.) The texture shapes from Lakeshore Learning have an added sensory experience, are great for toddlers who like to chew on things too, and are large enough for easy grasp. And the best perk for mom? It comes in an easy and convenient storage container!
Here's where I'll say: know your recipient! M is a huge fan of anything musical and strums anything and everything as if it's a guitar. So obviously toy guitars with actual strings to strum make perfect gifts for toddlers who are musical.
8. Magformers Sweet House set: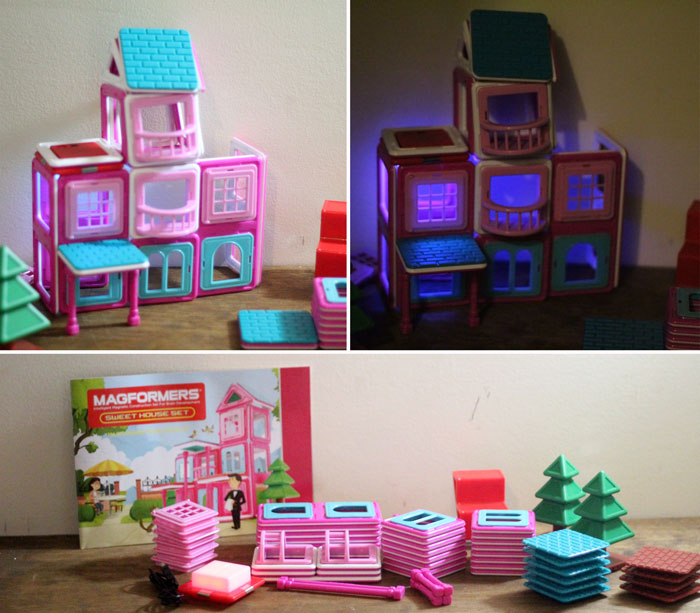 Magnetic toys have taken our kids' generation by storm and for good reason! They provide endless fun. Magformers' Sweet House Set is EPIC! It takes the magnetic play fun to new levels with this open-ended set. You can now actually snap accessories into the center of the square Magformers to make magnet creations that much cooler. Plus, you have pillars, trees, a staircase – and a light!
This Sweet House Set by Magformers is really cool – and you can see that I tested it out myself. It works with other Magformers sets as well, and is a great set for gifting even if you don't know if the child already has a set of Magformers.
9. Playgro Bath Time Activity Pack: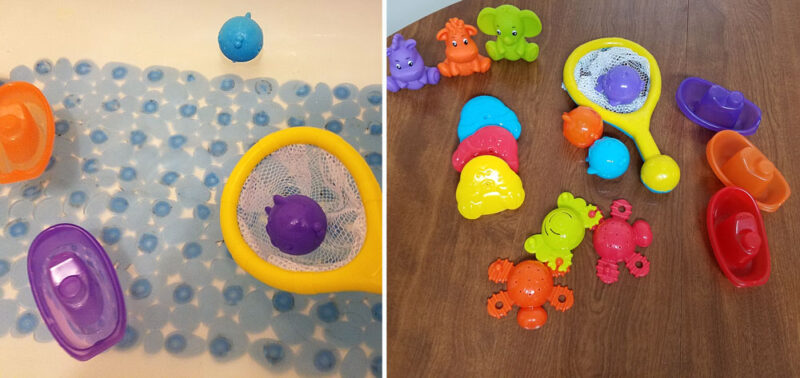 Bath time is much more fun with toys! Playgro has a jumbo set of great basic bath toys to get kids going. It's perfect from early toddlerhood and onward – as it comes with diverse toys. From boats to fishing, connecting toys, and squirt toys, this activity pack jump starts a childhood of bath time fun!!
10. A Play House:
M is obsessed with playhouses. When we go out to play he goes straight for the play house. I like it as an option for outdoor play in the winter because it's actually warmer in the play house usually (as it shelters from winds.) Encouraging outdoor play is a great way to keep kids active in a digital generation, and a play house is every toddler's dream. Bonus points: it's a gift that really lasts!
Gifts for Toddlers to encourage reading:
A love for reading starts early. In my mindset: a child can never have too many books!
11. Lillypost Book Subscription: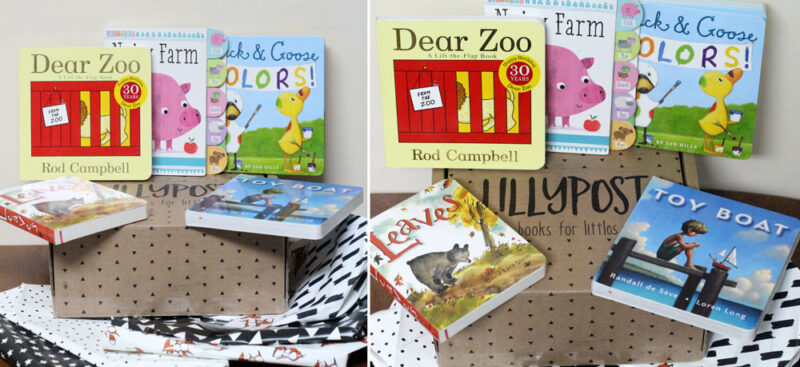 Whether you have trouble figuring out exactly which books to get, or you just want to give a unique gift, a book subscription is the perfect choice! Lillypost has options for board book subscriptions or picture books – you choose. Give an ongoing subscription for a few months, a year, whatever your budget allows! It's a gift that's remembered past the holiday season as it keeps coming…
12. Tidy Books front-facing bookcase:
This amazing bookcase allows children to see a broad selection of books, and encourages them to self-serve, making them much more likely to read. It takes up very little space in our small home, and M has been reading much more ever since we got it.
13. P'kolino Little Reader chair (get the personalized version):
This tot- sized chair along with the bookshelf above completes our personal reading space. You can get it plain or personalized – either way, it makes for comfy reading for little kids.
14. Interactive books – here are some of my favorites!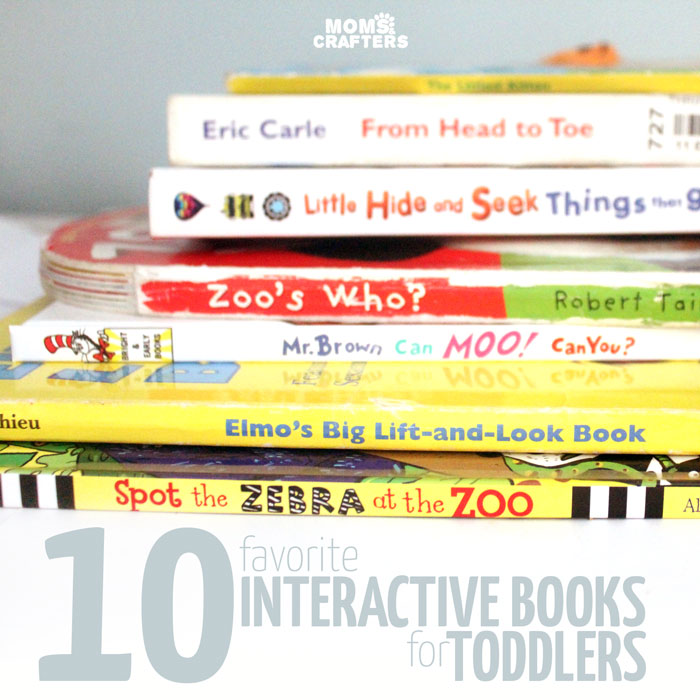 For a child that has a harder time sitting still, books with an interactive element can really encourage them to get reading. This list will get you going with some top picks from our bookshelf.
15. Personalized Book Gift Set from I See Me!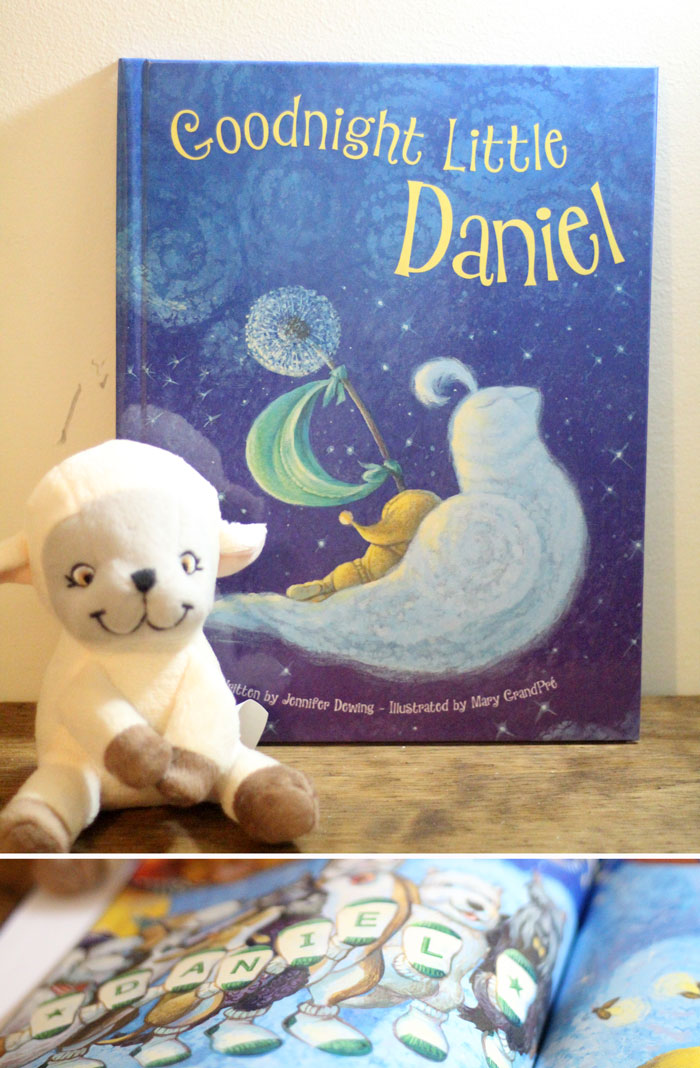 There's nothing a child loves more than seeing him or herself in a book! The personalized picture books from I See Me! are surprisingly affordable and feature your child throughout the book. As you can see in the bottom image above, it's even incorporated into the images. The Goodnight Little… gift set is a perfect choice for gifting. It comes with a little plush sheep. My tot really enjoys it – it's one of his favorite books on the shelf, and he truly feels special when we read it. He smiles every time his name is mentioned.
Creative Gifts for toddlers:
Another great life skill to encourage is creativity! Toddlers CAN be creative, and it's a perfect outlet as they grow older.
16. Fiddle & Doodle Dabber Dot Markers activity kit: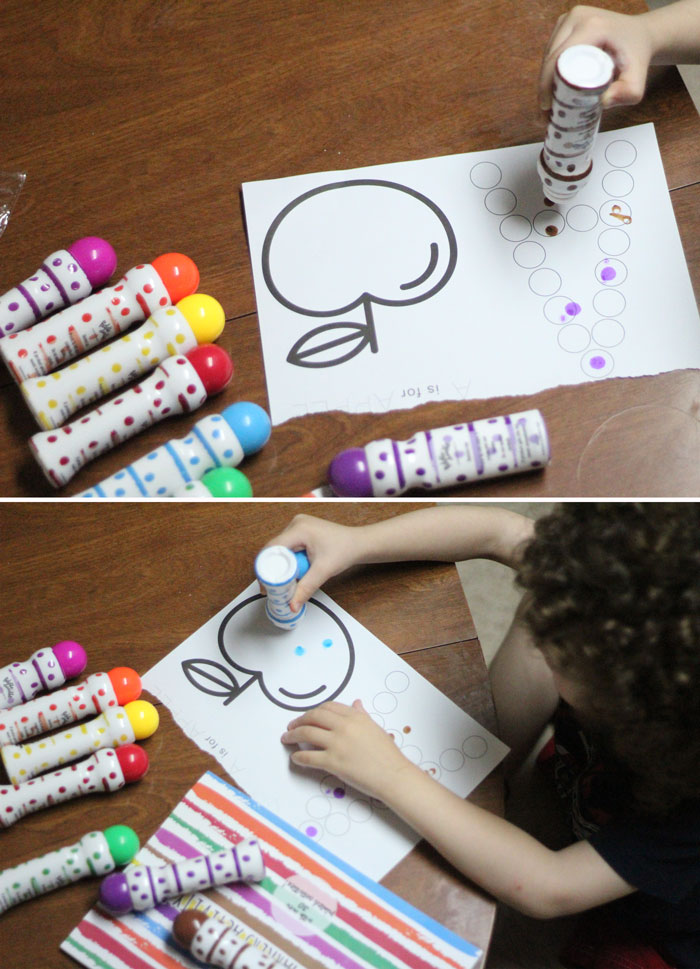 Toddlers love dot markers – they are almost like paint, but much neater, and easy for little hands to grasp. Filling in the dots on dot marker activity sheets is great fine motor practice, but open-ended drawings give them more creative freedom. Fiddle & Doodle has recognized these needs and created the Dabber Dot activity kit that offers a full set of dot markers in all the colors you need – plus an activity pad to get you started!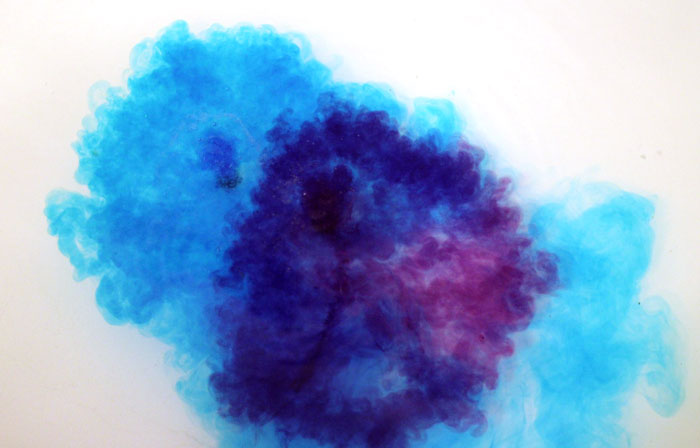 Color drops for the tub are another way to make bath time fun and absolutely loved by kids! They are fragrance-free so they don't bother the skin. We use these as a fun way to practice color-mixing – we choose two colors and see which new color we get!
18. Kiwi Crate creative subscription boxes:
Another gift that keeps on coming: a creative subscription box! Kiwi Crate is an old favorite of mine – their Koala Crate boxes which are good for older toddlers are both educational and creative. They feature fun projects on a theme as well as additional activities and learning materials. Their new Cricket Crate for 0-2 years is coming out very soon (it's probably out already by the time you're reading this…). I don't know what that one will be about – as it has yet to be released – but I have faith in Kiwi Crate to make it unique and spectacular.
19. Alphabet Stamps from Melissa & Doug:
M is obsessed with his alphabet stampers – they keep him plenty occupied! It's a great way to mix creativity with learning the ABC's.
Non-toy gifts for toddlers:
If you're looking outside of the toy category, these great picks are perfect – and didn't fall into any other category above…
20. Wooden Alligator Bank by Pearhead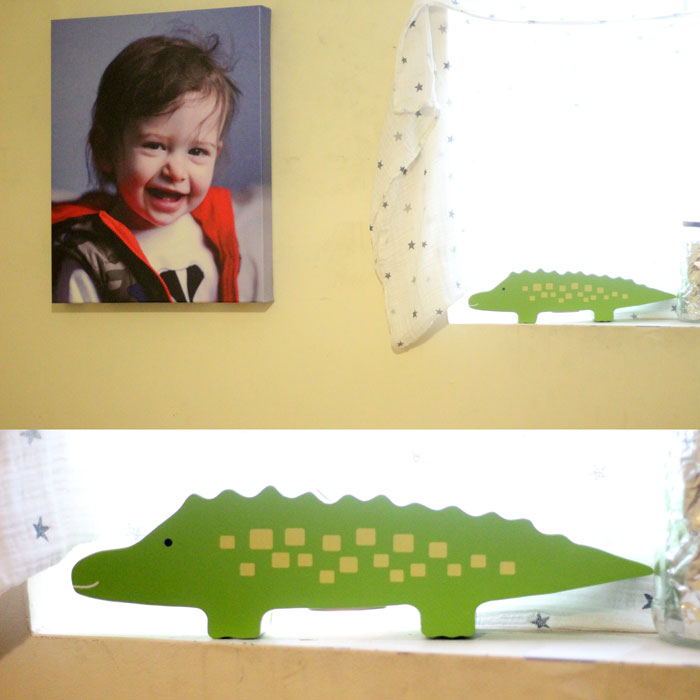 Toddlers can definitely start learning about money, and a cool bank that doubles as decor is the perfect choice. This sleek, modern, hand-painted bank is made from wood that gives it a furniture-feel. Its kid-friendly design makes both mom and tot happy. It comes in a few different designs (M chose this one) and has rubber stoppers to keep it from sliding. We began teaching M about money and spending – and he's loving it so far!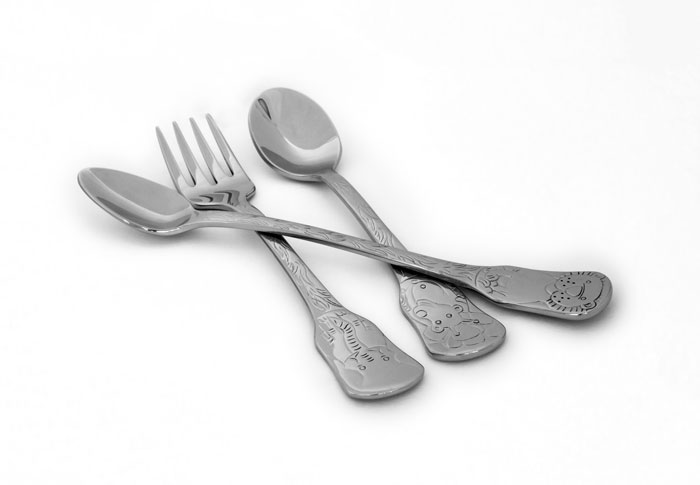 As toddlers learn to self-feed using utensils, giving them their own set of "real" utensils encourages good manners and makes them feel special. This stainless steel set from Kleynimals features kid-friendly animal designs that also look great on a set table. They are smaller in size making them easier for tots to handle on their own. The set also comes in a beautiful bag which makes it great for gifting.
22. A super cool cottage bed:
Is this toddler moving to a big bed soon? Especially if you're a parent buying for your own child, this extra special bed will make your child feel so special, and make going to sleep a fun thing to do! Plus, it doubles as a cool gift for you – because which parent doesn't love decorating the kids' room?
23. A Children's Museum membership or other experience (check Groupon for deals):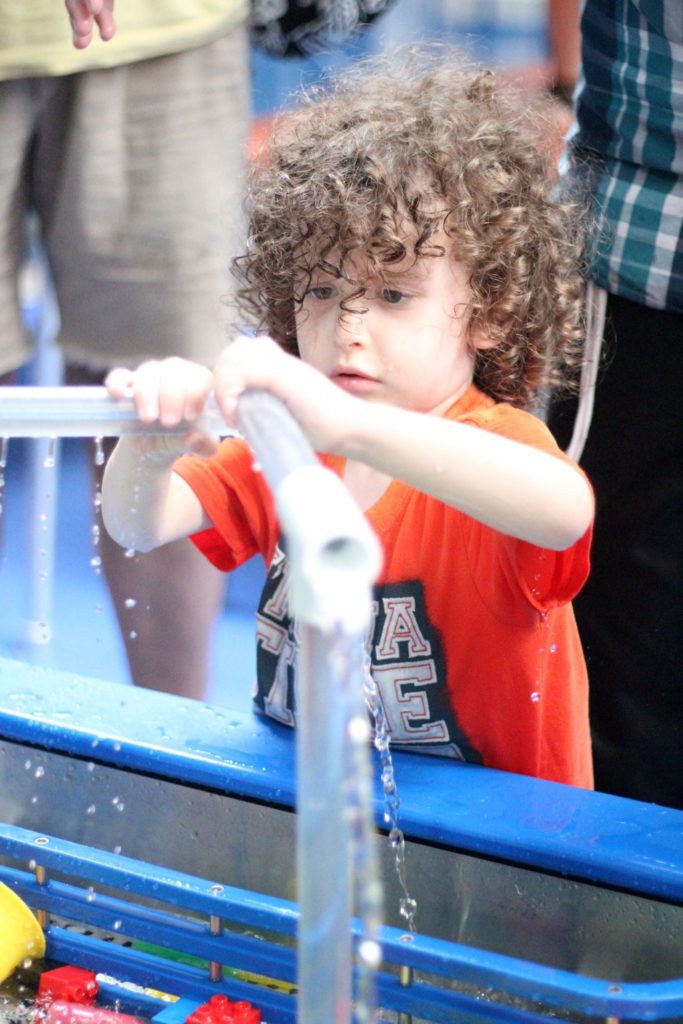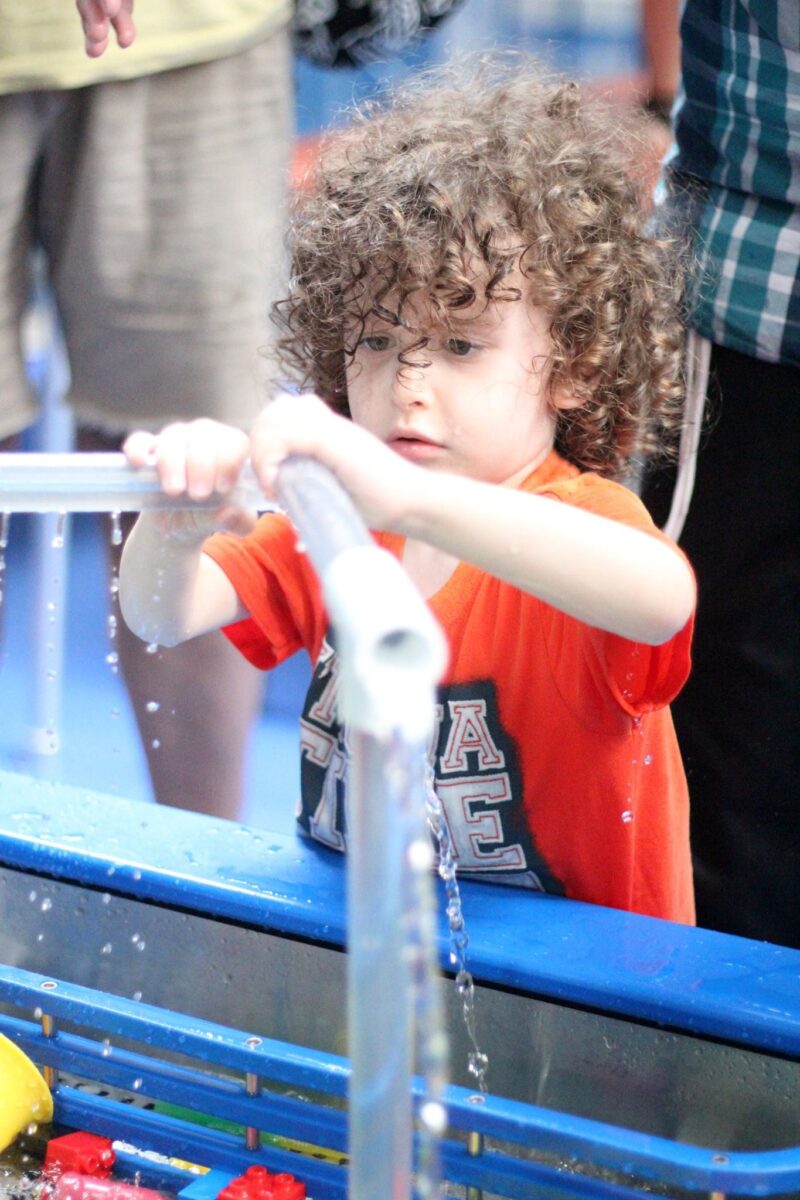 Experiences are one of the best non-toy gifts a child can have – one that is both memorable and meaningful. If you have a great Children's Museum in your area, a membership is a wonderful gift. Otherwise, it can be a date with Mom/Dad/Aunt/Uncle, a visit to Sesame Place, or whatever it is you find on Groupon.
Which gifts for toddlers would you recommend? Comment below!