Hummus is a perfect refrigerator staple for all homes. Kick it up a notch by making Sriracha Lime Hummus, a savory and zesty alternative.

In our home, EVERYONE eats hummus – well, besides for Baby Y because he's too small. But M, who's only three, loves dipping carrots into hummus. It's a great way to sneak some protein into his diet, and since kids tend to love dipping, it works great.
This Sriracha Lime Hummus might be slightly less kid-friendly because of the kick the sriracha and lime give it, but there's no reason not to give it a try! Kids can surprise you with what they will or won't eat…
Disclosure: this post contains affiliate links.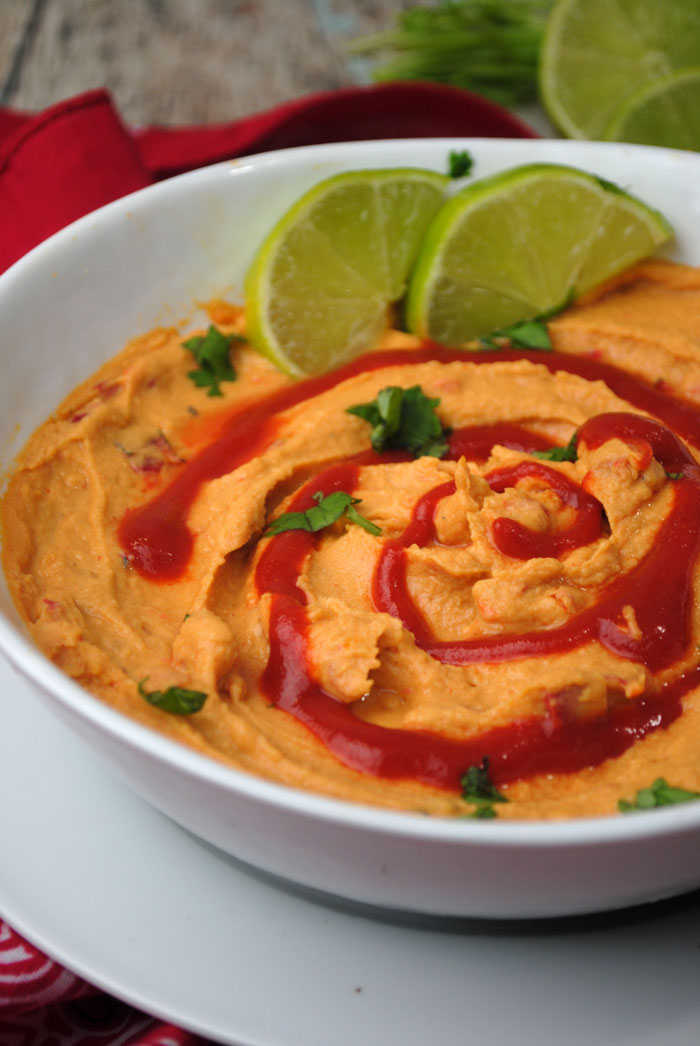 While the recipe has some Sriracha sauce (a Thai hot sauce), you can likely swap it out for a similar hot sauce and get a good flavor as well. Sriracha is available Kosher certified by the OU from Kikkoman (it used to be hard to find Kosher Sriracha.)
In a home like ours, where we go through Costco sized tubs of hummus every week, we can never get enough! Homemade hummus is so easy – you really just need a blender (I have this one) or food processor (I got this inexpensive one for making potato kugel and it works like a charm), dump your ingredients, and blend. You can then garnish it or blend in all sorts of other flavors, making it a versatile staple that you won't be able to live without!
Sriracha Lime Hummus Recipe: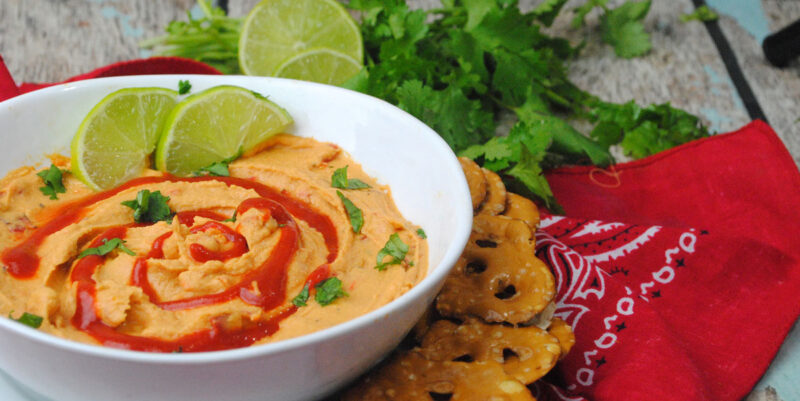 What you need to make Sriracha Lime Hummus:
2 cans of chickpeas, drained
4 TBSP lime juice, bottled
¼ C Sriracha + extra for garnish
3 tsp minced garlic
¼ C cilantro leaves
¼ tsp cumin
¼ tsp paprika
Salt, to taste
½ C olive oil
Equipment: a food processor or good blender
Making the Sriracha Lime Hummus:
Using your food processor, add the chickpeas, lime juice, Sriracha, minced garlic, cilantro, cumin,paprika, and salt.
With your food processor turned on slowly drizzle in the olive oil.
Spoon into a serving bowl and garnish with additional Sriracha, olive oil, lime slices and cilantro leaves.
Serve with pita chips and/or tortilla chips.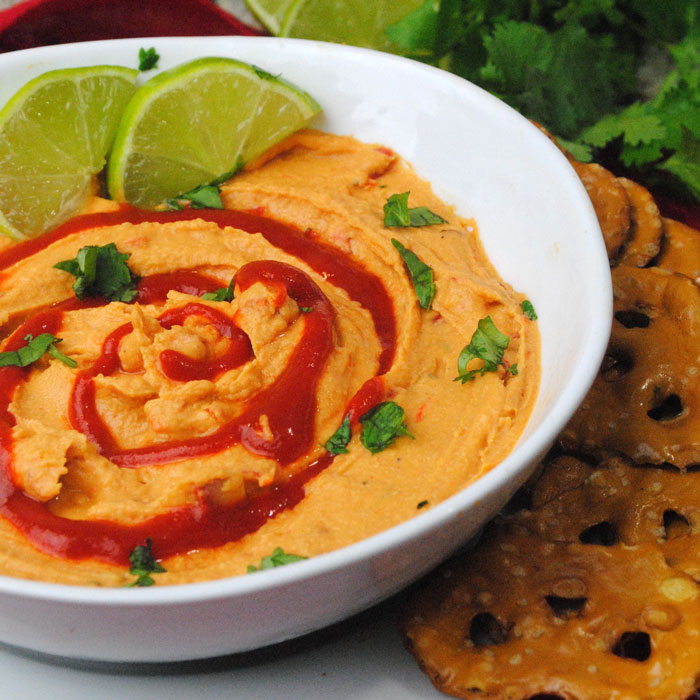 [yumprint-recipe id='12']