With the holiday season right around the corner, I decided to get started with some gifting inspiration and ideas… starting with the youngest! So what's the difference between this and my baby registry gift ideas? Scroll down and you'll find out!
I think that finding gift ideas for babies is one of the hardest to find.
Most people just registered for whatever it is they need, just got all sorts of gifts, and don't necessarily need much. I hope this list of gift ideas for babies not only gives you ideas, but points you in the right direction for figuring things out on your own.
I focused this guide on products that are appreciated also when baby is slightly older. You don't necessarily want to buy baby a new blanket because she probably already has one (or ten…) But new clothing a size or two up can be helpful (people tend to get lots of newborn and 0-3 month clothing when baby is born, and run short on the following sizes.) Splurges that mom didn't get when baby was small are appreciated. A little extra help with consumable essentials (like diapers) is so appreciated. And of course, a keepsake that baby will appreciate when he grows up is perfect.
It really helps to know your recipient: If you're mom buying for your own child, you may prefer a toy or keepsake. If you're buying for someone who is struggling financially, finding a "pretty" way to give essentials is the best idea. If you're getting a gift for someone who gets what they need but doesn't splurge, go the extra step upward. And for people who usually buy what they want, try to find something truly unique.
I've included something in every price range – from $2 to $8,000. Scroll down and enjoy these gift ideas for babies. I hope it helps!
Disclosure: I did receive some samples from brands for coverage. Some of the products on this list include those samples which I have tested and enjoyed, and some are products I purchased and received as gifts, love, and chose to feature. All of these products are "tried and true" in my personal experience. Nevertheless, I am not otherwise affiliated with these brands and cannot take responsibility for quality, fulfillment, or anything else that's in their hands.
This post contains affiliate links.
Clothing gift ideas for baby:
A baby always needs clothing, right? Some of these are winter-specific and I've included some ideas for making them cool and giftable.
If you're unsure of sizes, always nudge it up a notch, or ask someone who might know. Don't get much bigger, as you want baby to fit into it seasonally!
1. An Elf suit from Zutano:
Normally I don't recommend getting holiday-specific things, even for the holidays, but this adorable elf suit is the exception! It has that quirky pointed hood touch, but the really, it's a cozy romper that can be used all winter. It's made from super soft sherpa fleece and is perfect as an extra layer for indoors, or outdoors on days that are just a little chilly.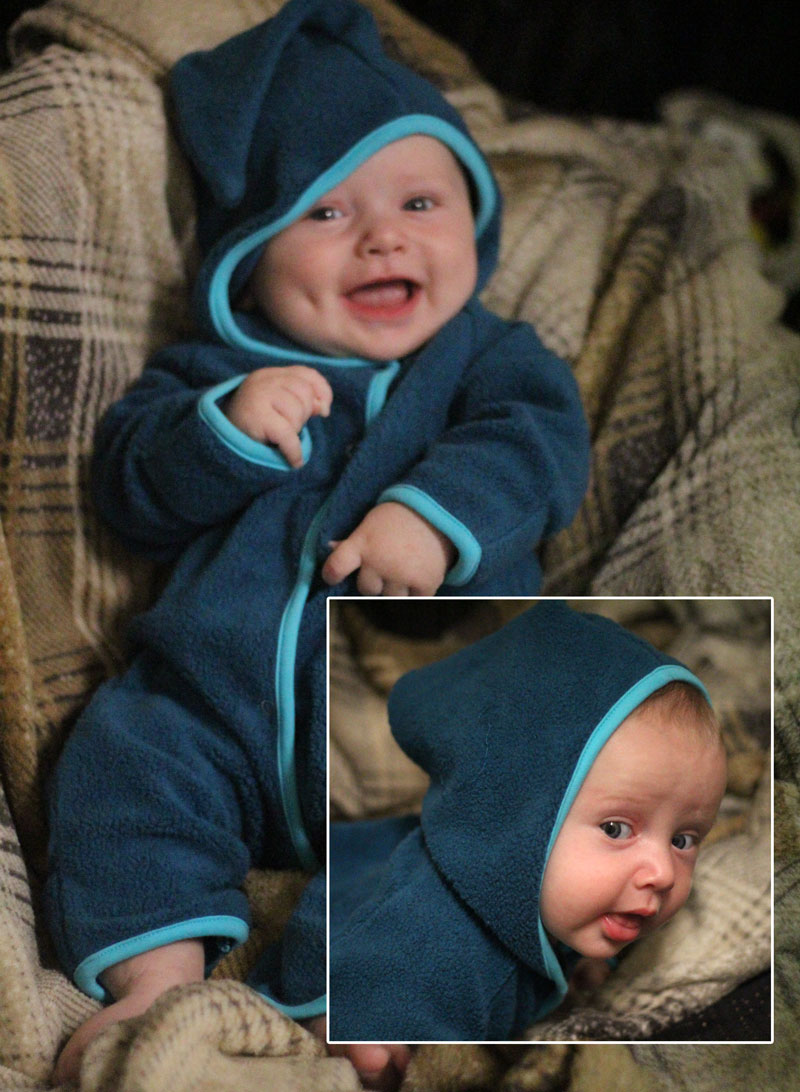 2. A Cozy (and adorable) sweatshirt set from Little Me:
This warm sweatshirt set is adorable and perfect for visiting family too! The elephant keeps it playful and childish, and the navy blue is classy. Little Me has a large variety of winter wear, perfect for you little guy or gal. Giving a clothing set is a great idea when gifting as it makes it more presentable.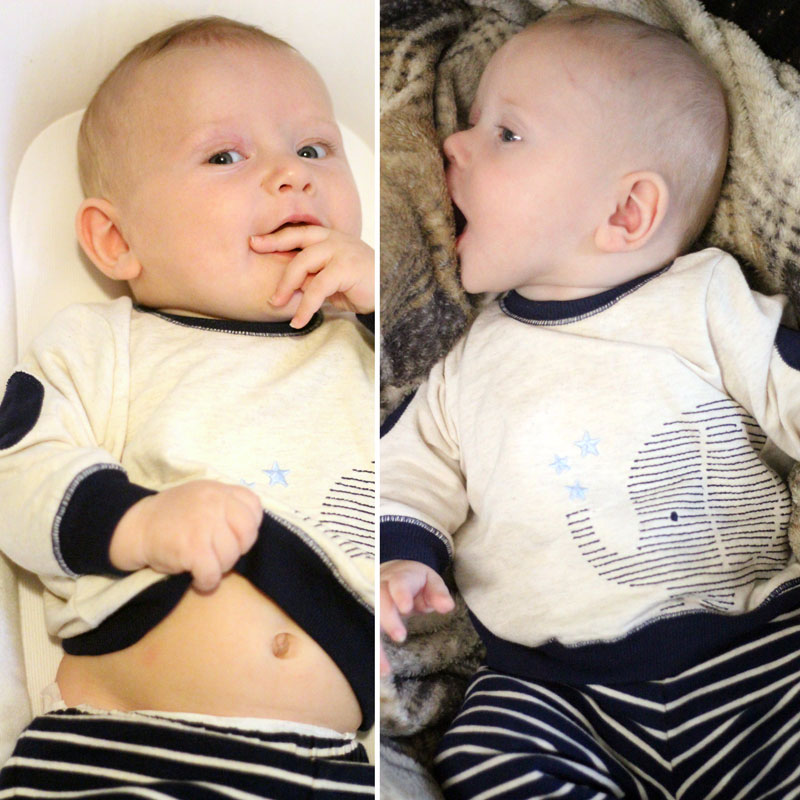 3. Zutano Mix 'n match outfits:
If you want to give a clothing set, you can actually make it your own by choosing which elements to give. That way, you can assemble the size gift you want. Zutano has been one of my favorite baby clothing brands for a while for the simple reason that they keep things cheerful and playful. They work with series of prints – so that it's easy to choose various items from a single series to create a set.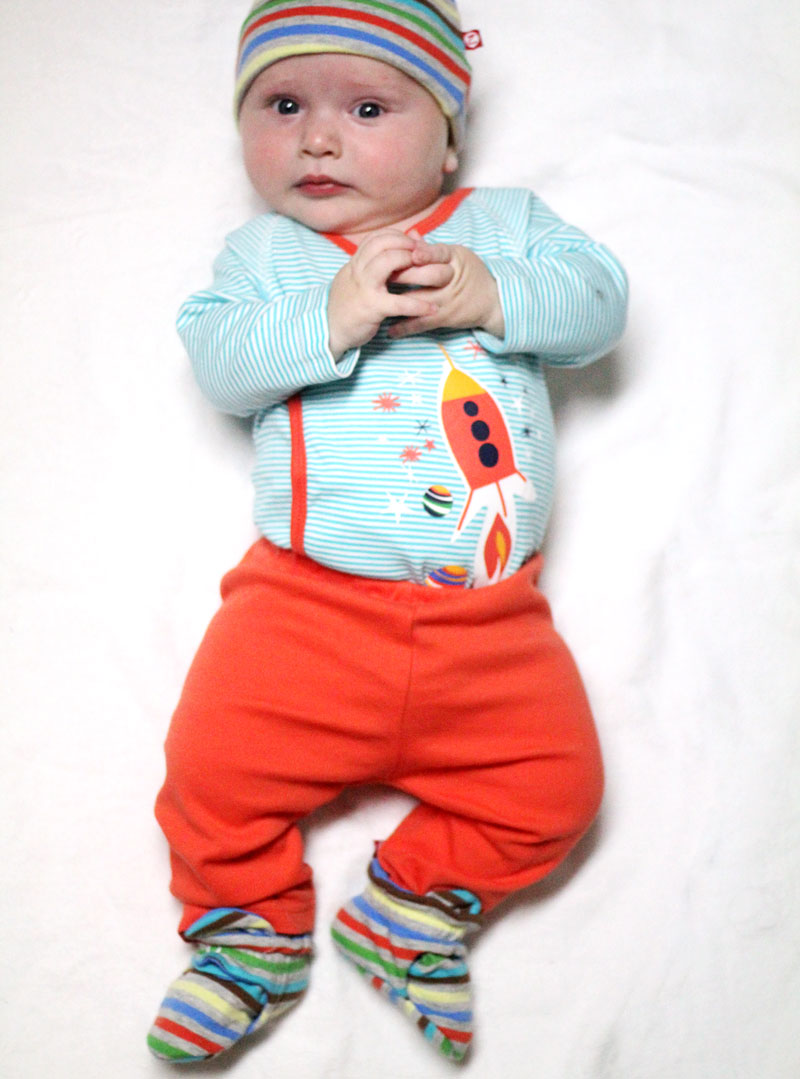 Not only that, but they usually have series that work with each other. They also have lots of adorable solids to coordinate and all their products are super comfortable. That way you can put together a practical gift package of separates so that mom can mix 'n match. Mix it with their accessories (see below) and you have the perfect gift package.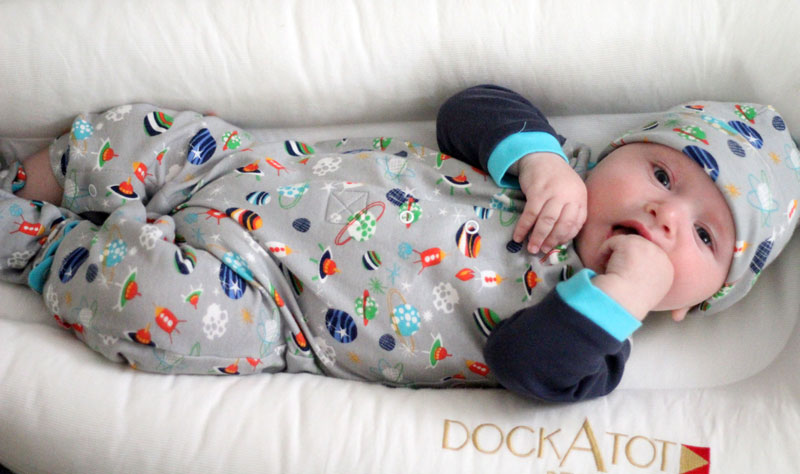 (Baby Y is wearing: Rocket Ship bodysuit | Mandarin pants | Space Romper. See below for the accessories.)
4. Zutano Hats 'n booties:
Perfect for combining with a clothing gift, these accessories work as a standalone gift as well if you're looking for something smaller. That way, you can get whatever truly suits your budget. The booties open in a way that allows me to get them on and off very easily – but they don't fall off, keeping baby's toes warm. The hat has the most adorable little ball at the top, plus the fold-down brim means its fit is forgiving.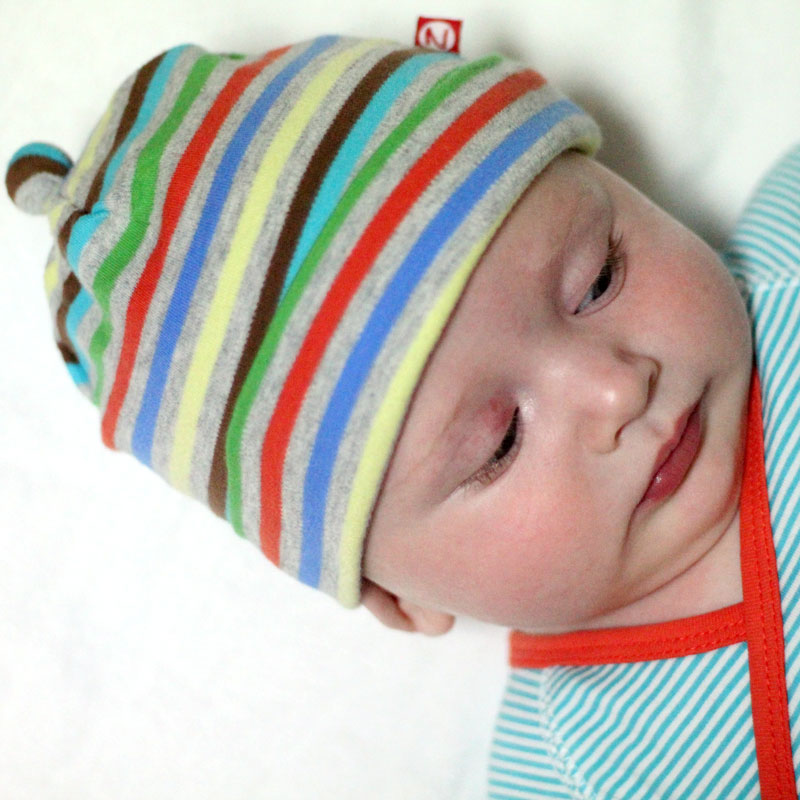 (Baby Y is wearing: Space hat | Space booties | Stripe hat | Stripe booties)
5. A winter coat:
For the baby that likes to be out a lot, pick up a full-fledged winter coat to keep her warm all season!
This is a must-have for cold winters! Even with the heat on, it tends to get cold in the room. While the bigger people snuggle under quilts, babies are not supposed to sleep with any loose bedding until they are a year old. A warm, quilted wearable blanket can be a lifesaver. We use this one when we sleep in my parents' chilly basement.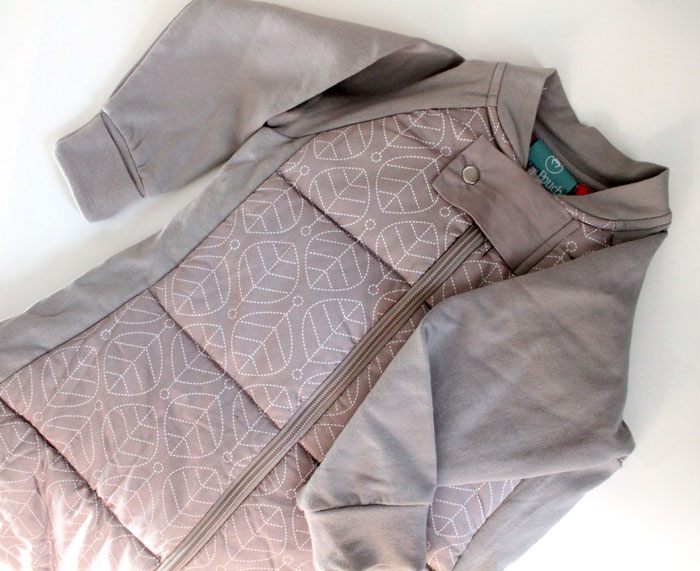 7. Dress Wear:
Since you're gifting, you can pick up a slightly fancier "splurge" that mom would never buy herself. Or if you are mom, one that you would never justify buying "just because."
Everyday Essentials gift ideas for babies:
Gifts that are made up of essentials and things that are super helpful for everyday use. These are the most practical and useful, and perfect for when you want to give a gift that will help.
[convertkit form=5126235]
8. Baby Bullet
Since many expectant moms don't necessarily register beyond the newborn stage, feeding supplies often don't make it onto the registry. The Baby Bullet is an amazing tool for moms who are beginning with solids. It can not only puree foods as your blender would, it actually comes with a milling blade too, so that you can make your own baby cereal. It has a small cup that allows you to just pop in whatever you family is eating and prepare food on the spot, and it comes with a portion tray – perfect for freezing and dated containers so that you can make a week's worth of food. It includes lids as well so that we can just stick it in the fridge for storage.
We saved so much money with M by making our own, but it was tedious. The Baby Bullet adds all the shortcuts and conveniences that we were missing, and since we're starting Baby Y on solids, this is perfect.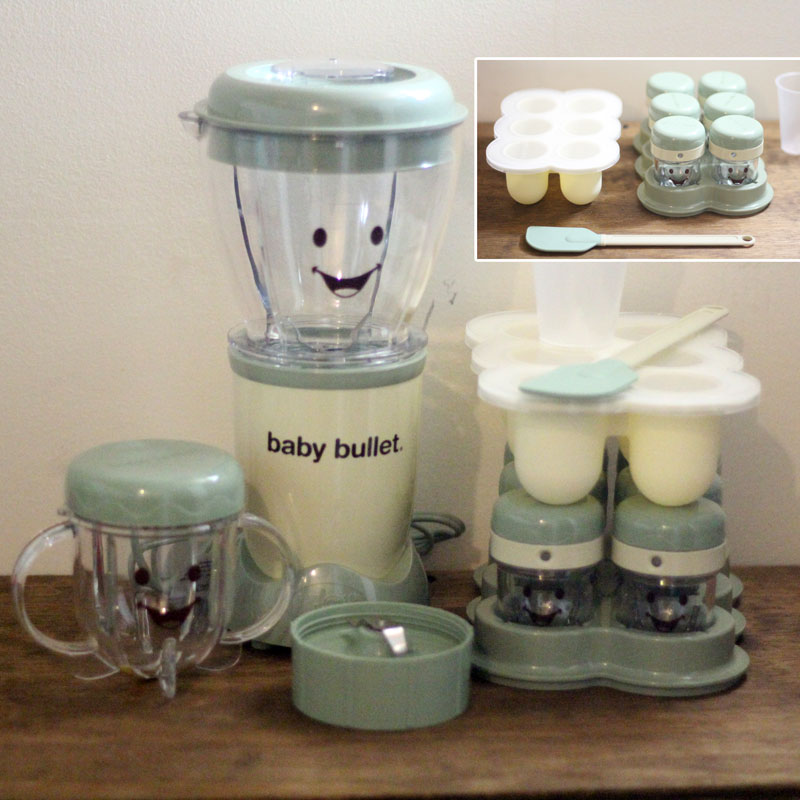 With M I used to boil the foods I prepared for him. When you boil, you lose nutrients in the water, and since babies eat so little to begin with, it's a shame to lose some of the good stuff. The Baby Bullet Steamer is a super easy and convenient way to keep the nutrients intact. Its footprint is small, making it less of a space-hog than an adult-sized machine. It can also cook eggs, and is a great gift bundled with the Baby Bullet or on its own.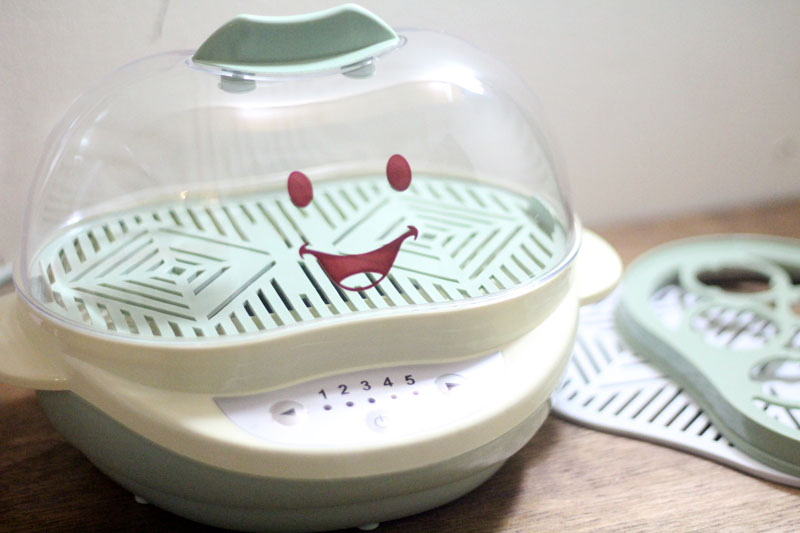 10. A funny book:
Yes, reading is essential, and in my opinion, a child can never have too many books. Get something like "Your Baby's First Word Will Be Dada" by Jimmy Fallon, that is appropriate for this stage and that will give parents plenty of laughs.
11. Basic Essentials Gift Basket from EverydayHappy
If you know someone who would appreciate even some basic essentials (I'm raising my hand right now…) put together a pretty basket to turn it into a beautiful gift. EverydayHappy makes healthier, more eco-friendly products including diapers, wipes, and baby toiletries. The diapers have a delicate gender-neutral green design that showcases its natural characteristics. I love the smell of the baby shampoo, and its gentler on both my baby and toddler's delicate skins.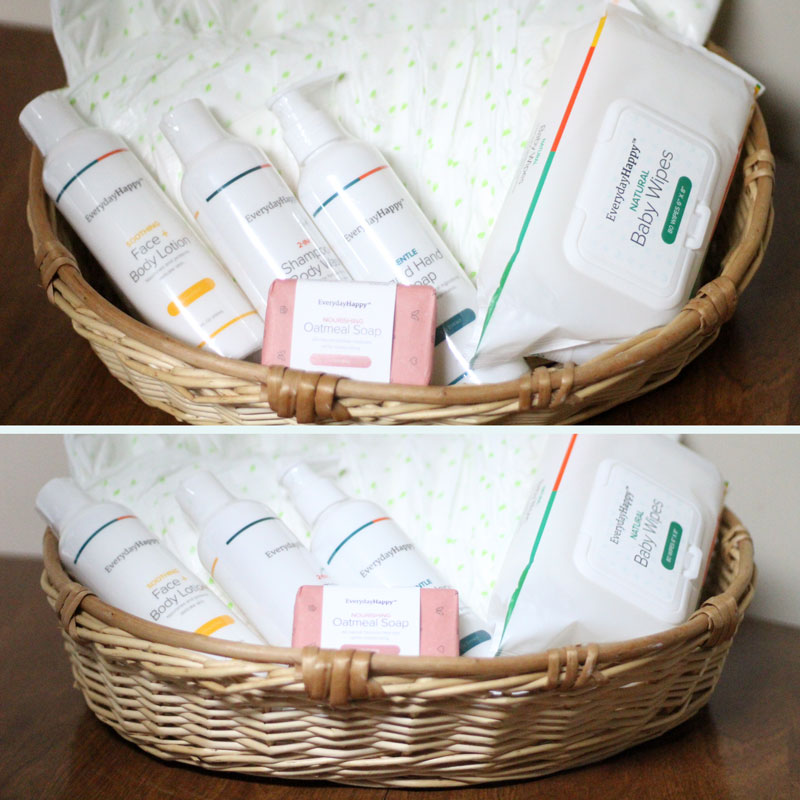 (I used: Diapers & wipes | Baby Care | Basket)
12. Munch Mitt:
Babies can start teething quite young. M started at 2 months and Baby Y at four. Baby Y is also very oral-seeking. He's constantly chewing on things.
But at that age, babies can't normally grasp things and hold them. The Munch Mitt is a perfect solution. You simply strap it onto baby's hand, and she can chew on the textured surface which soothes her gums. The mitt itself crinkles, giving baby a complete sensory experience.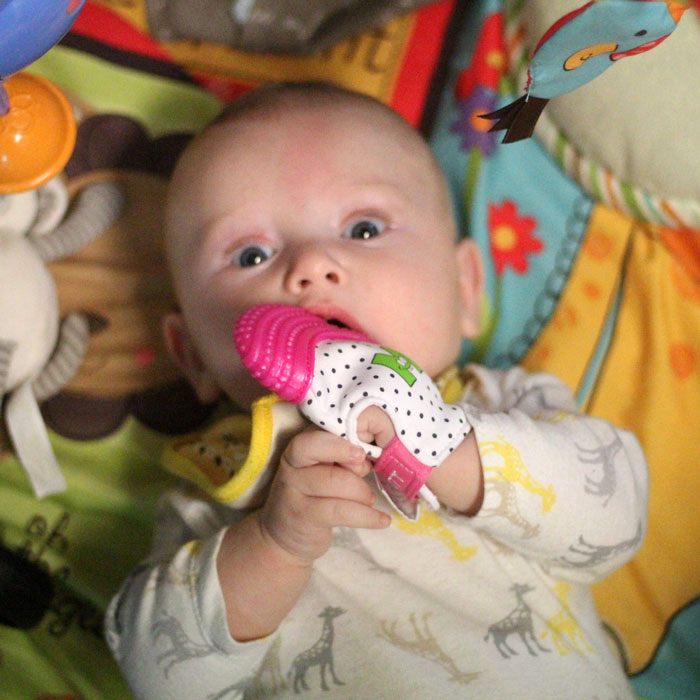 I did not get a baby monitor when M was born – it was too big a luxury to consider at the time. And even if I did have one, many monitors don't really go with the decor. If you're looking to step things up a bit, get a nicer baby monitor that will actually blend into and add to the decor of the room.
14. Finn + Emma Lovie and muslin swaddle:
Give baby a gift that will grow with him – a lovie made from the scraps of Finn + Emma's products. These products are organic and sustainable, and the do-goodies help support a children's charity. Between the knit rattle top, the tabs on the bottom, and the obvious quality, this is the king of all lovies!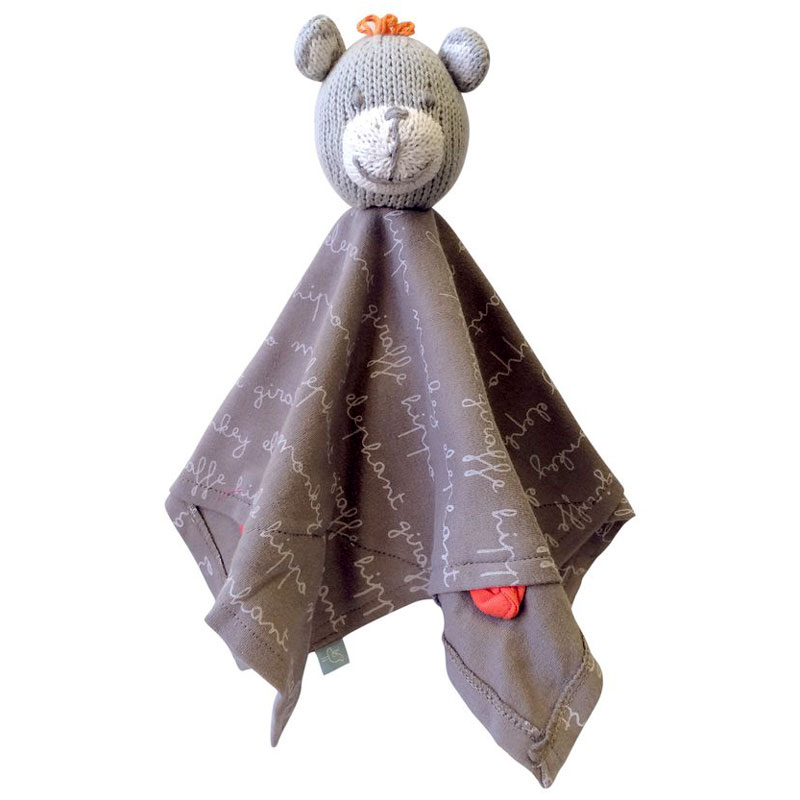 Finn+Emma also carries beautiful muslin swaddles – so if you're gifting to a younger baby, this is a great idea! These are actually very versatile and double as play mats, stroller blankets, nursing covers, and more, due to their generous size. My toddler still uses his as a summer blanket!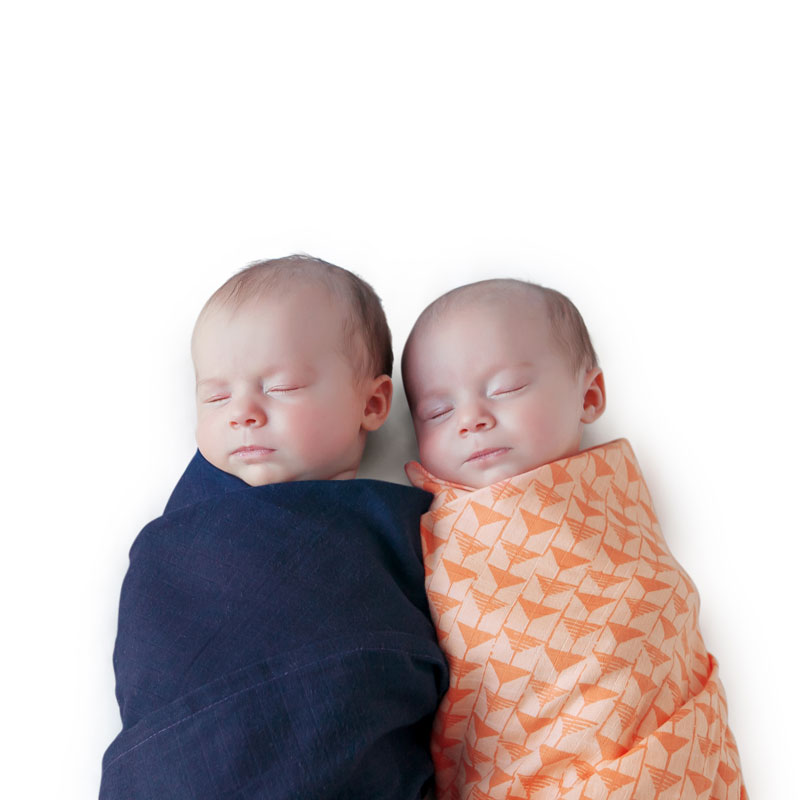 15. A baby lounge:
We have two cool baby lounges – the DockATot which we use at home, and the Lullyboo which is a lifesaver for nap times when we visit grandparents. While I can't claim either one to be a true essential, it's a great gift for the baby who already has what she needs, and when you want to get an "extra" that will get plenty of use.
Cool Giftables gift ideas for babies:
When you're looking for something extra special to give to baby, whether it's for the baby who has everything, or something that will simply grow with baby, go for this list. These gift ideas for babies are more impressive (though sometimes just slightly less practical.)
16. An inspiring print
Moms tend to get overwhelmed, so this inspiring print may just keep them going! Of course, this is a gift for baby – so get it printed nicely for a stunning nursery art idea. Make it even more giftable by printing it on wood (that's why getting it in digital is a great idea – you can choose what to do with it!)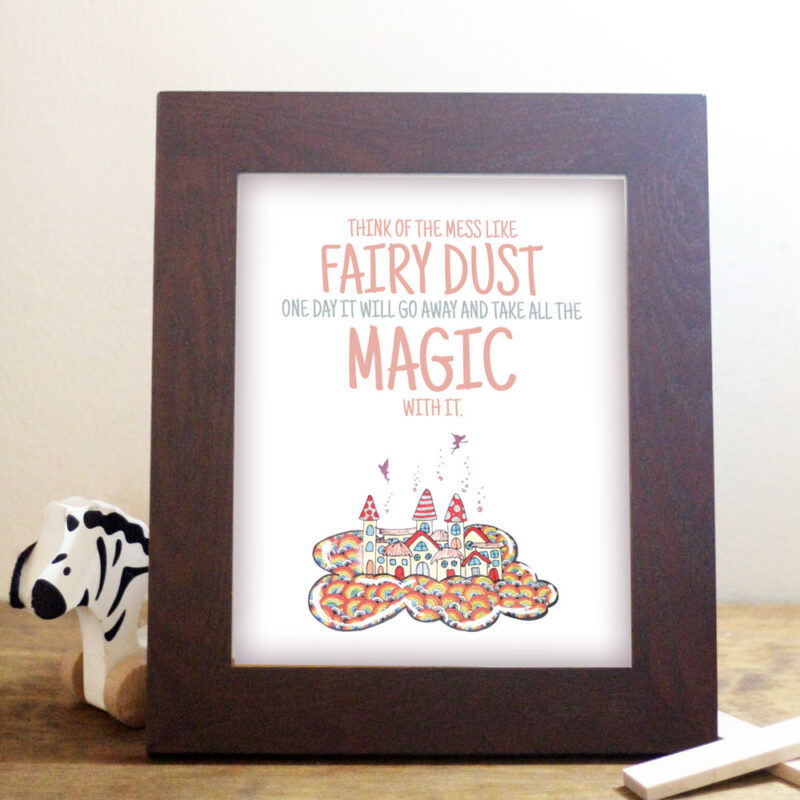 (get it in digital, print it on wood!)
17. Hungry Caterpillar set:
You can really do this with any character – throw together a bundle that's centered on a theme! I chose the Very Hungry Caterpillar by Eric Carle because that has become a classic. Assemble a few to meet your budget into a pretty basket or bag.
(Some ideas: baby toy book | board book | hats| night light)
18. Hand and footprint collage frame by Pearhead:
This beautiful keepsake decor idea is pretty innovative. You don't even get baby's hands or feet dirty with Pearhead's innovation. In today's Facebook and Instagram age, you just need to visit the recipient's profile to get beautiful photos to fill it with.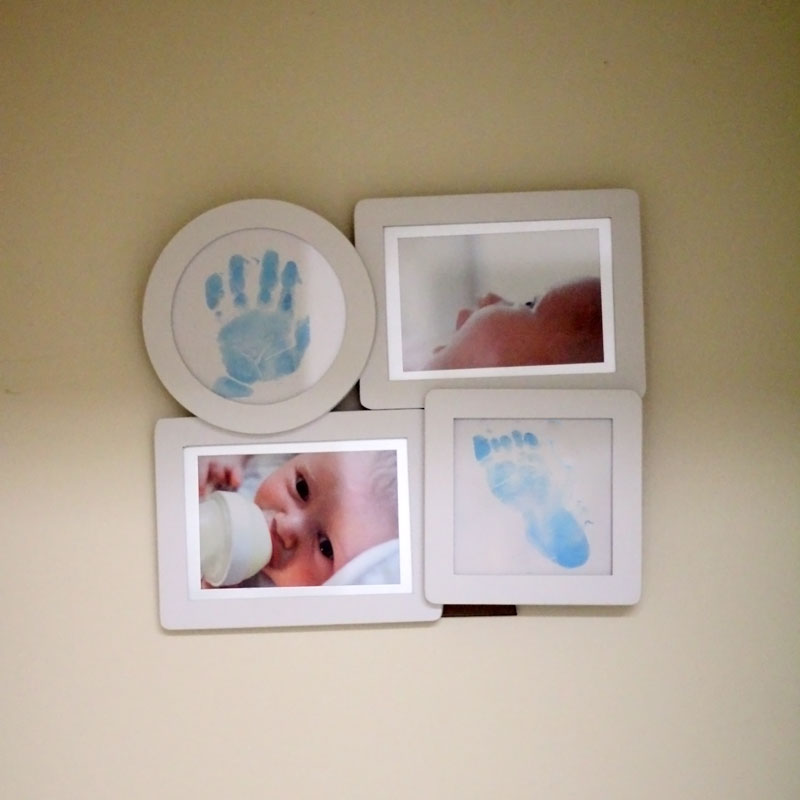 (The frame comes with a gender-neutral black ink pad. You can get a Colored ink pad separately.)
19. Subscription box:
Subscription boxes are always a great idea! Get monthly deliveries of hand-picked items. It's kind of cool as far as gifts go, as the recipient will still be getting it after the holiday season is over… Kiwi Crate, a favorite subscription box brand of mine has just come out with Cricket Crate for babies – compare that to Bluum and choose your favorite!
Now it's decor. Later it will be a fun keepsake and educational toy. This cool name puzzle is hand-carved and beautiful.
21. Luxurious baby gift basket:
In doubt? You can't go wrong with an elaborate pre-made gift basket full of luxury staples (think: cashmere.)
22. Tiffany sterling silver baby mug…
Wanna go all-out for the baby who has everything?! Get an antique keepsake like no other… (I was serious when I said you'll get all price ranges here. But this is MAD cool.)

Which gift ideas for babies would you recommend? Comment below!