Tell the backwards story of a little blonde girl who broke into the home of three domesticated bears with these Goldilocks and the Three Bears printable puppets – that are ready for you to print, color, and assemble in minutes! Then, check out the story of a girl whose mother sent her through the wolf-inhabited woods to bring food to her grandma with my Little Red Riding Hood puppets. Disclosure: this post contains affiliate links and a touch of snark.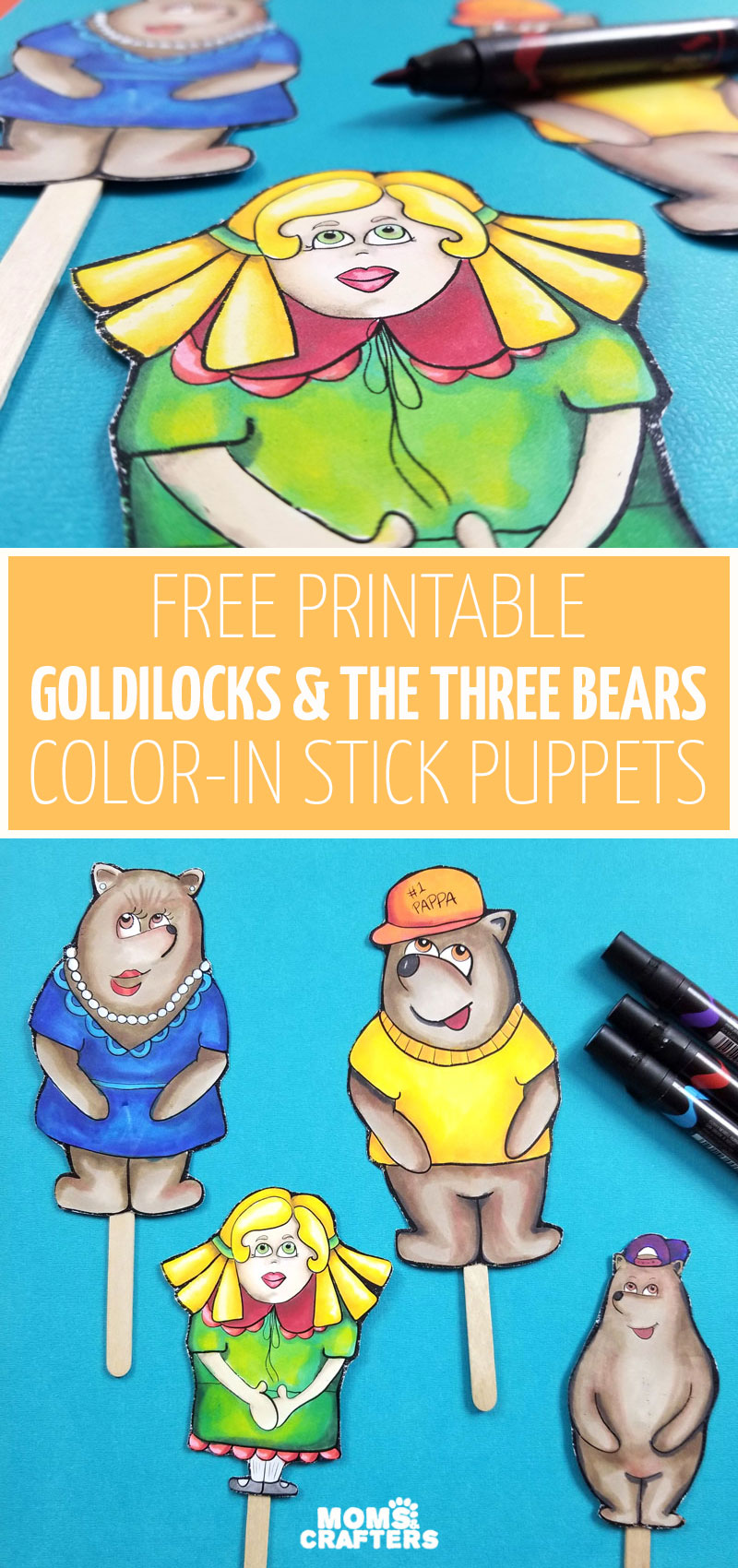 >>If you're not a "read the story behind the craft" kind of person, you can download the free printable right below. But if you scroll through, you'll get to see the video 😉 😉 <<
You may or may not have detected a hint of sarcasm in my intro.
The truth is, many kids' fairy tales and classic stories actually started out quite dark. I found this out, only when researching the finer details of these stories to turn them into puppets.
Did you know that in most of these whimsical tales, the animals ended up eating the humans? Don't tell your little ones – their childhood will be ruined. And you'll have to comfort their nightmares.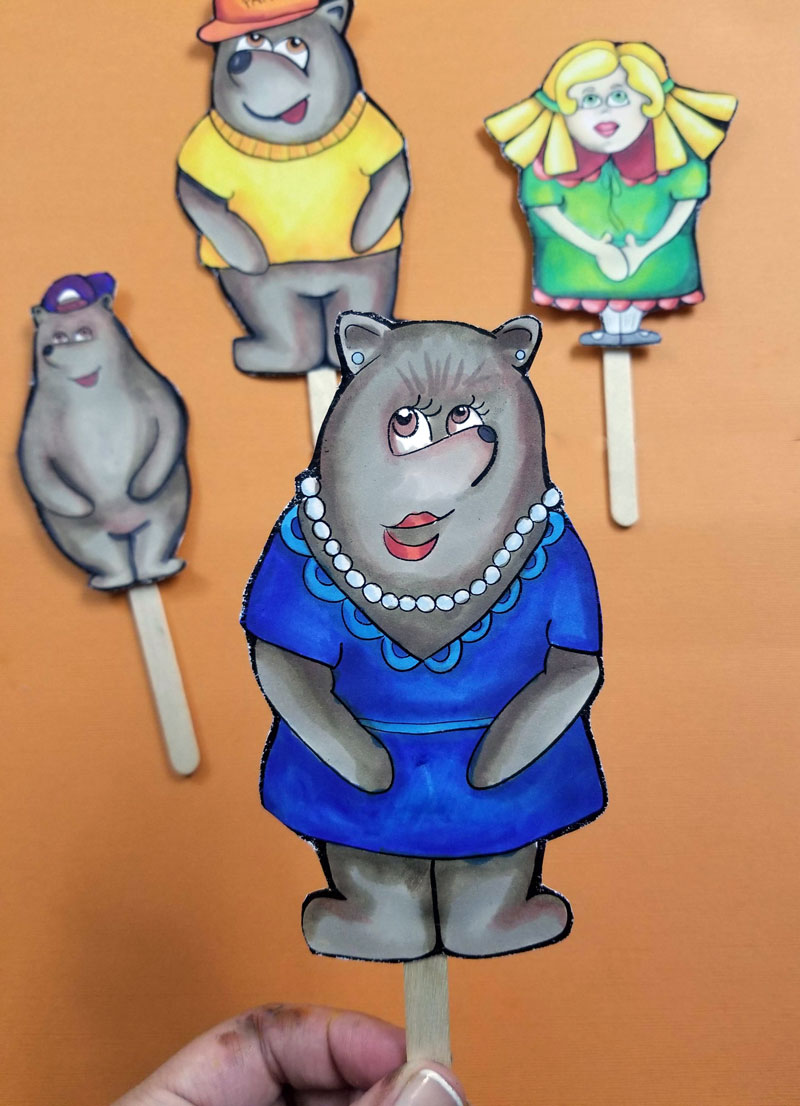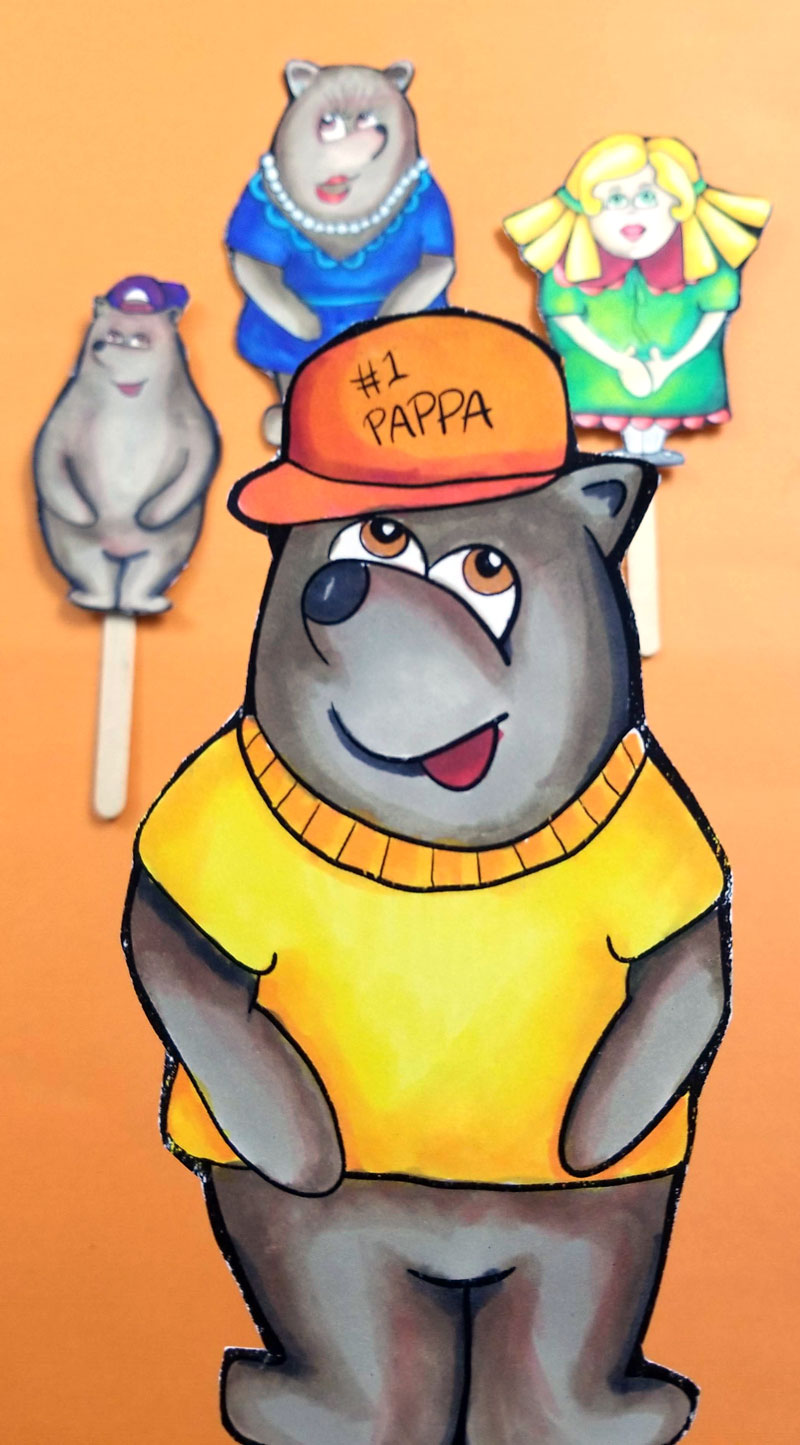 Regardless, I have a new appreciation for those who modified them and turned them into fun and friendly tales that teach my kids' lessons. Don't talk to strangers even if they seem nice (Little Red Riding Hood). Don't break into other people's homes and try to eat their porridge.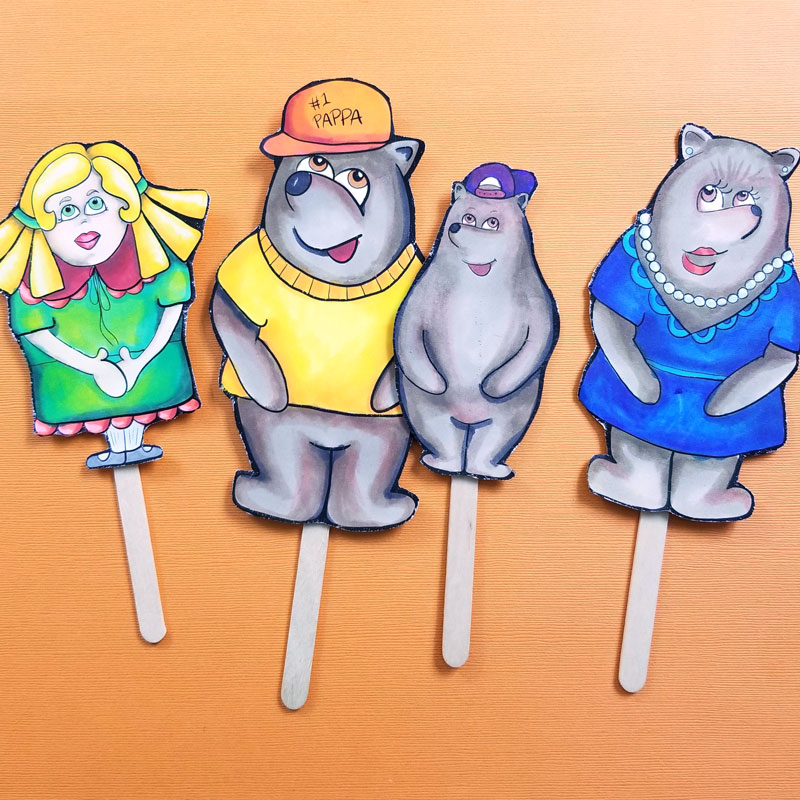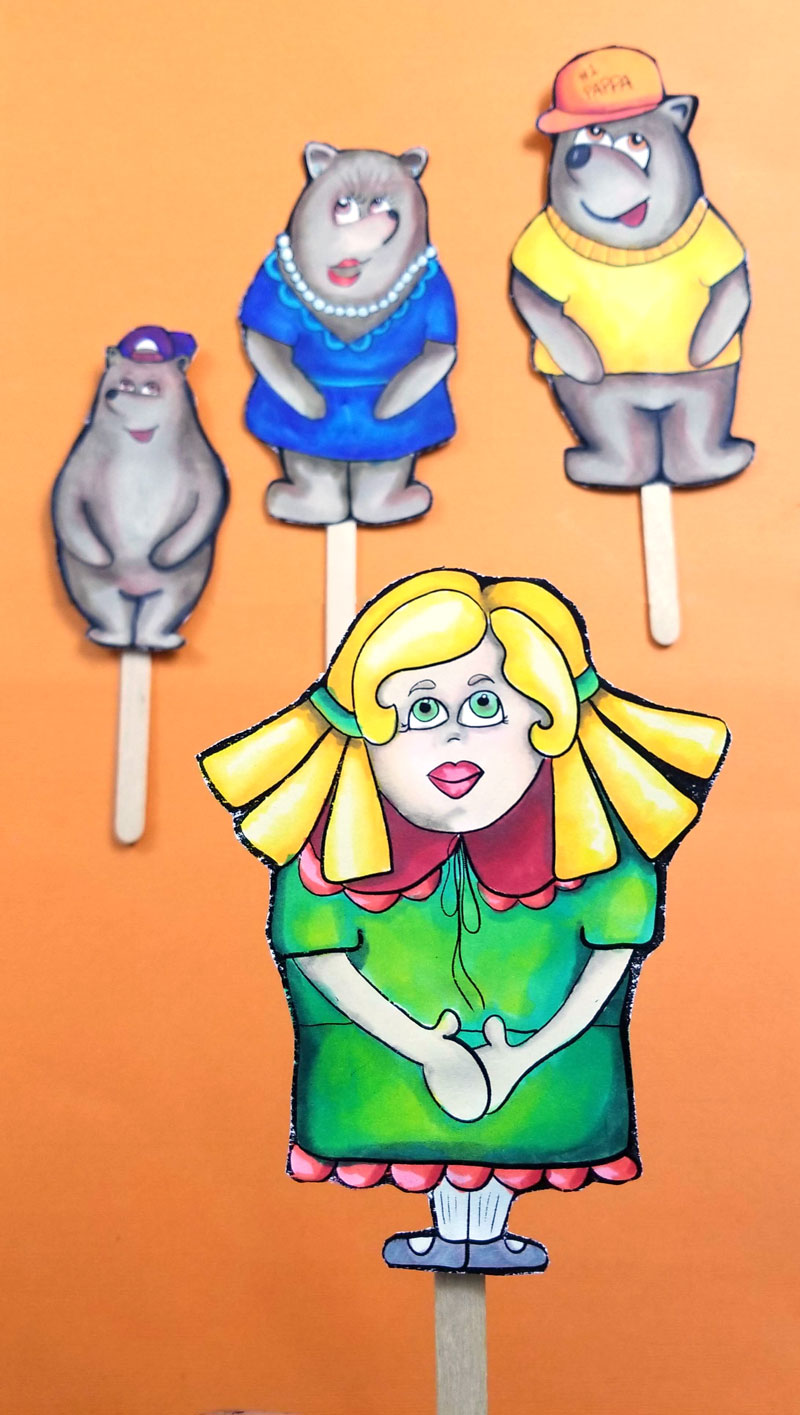 Okay, I confess.
I never really got the story of Goldilocks and the Three Bears. It's so completely backwards. I mean, had the three bears come into the home of Goldilocks and co, we'd learn the valuable lesson to always lock our doors.
So this story was waaaayyyy down at the bottom of my list of puppets to illustrate.
Until M came home from school having learned about this story in school. I think it was for the letter G. Or maybe it was to learn relativity, size, hot and cold, medium and big, blah blah blah.
Unimportant things.
I guess those things are important too. (Yep, I'm that student who always asked WHEN am I ever going to need to use algebra and real life and still refuses to believe it, even when I'm trying to wrap my head around my taxes, or build something for the home and CLEARLY need that algebra and geometry and all that stuff I used to scorn.) The non-academic in me tends to look for morals to teach my kids, because I'm a mom first. I gloss over the literary value, and the math (or whatever you call it) lessons inherent in the story.
But I know that I have many teachers and homeschoolers out there looking for good resources to bring lessons to life, and I know that as a mother who likes to be involved with my child's education, when my son came home from school having learned that story, I wished I'd had those puppets for him to color.
So, now I do.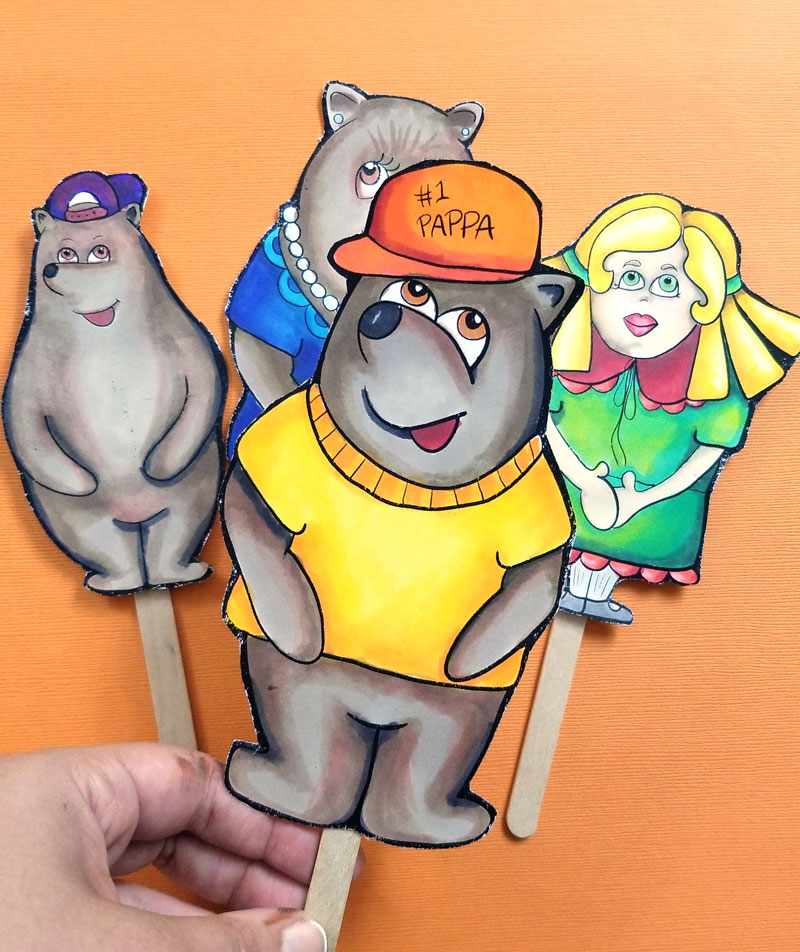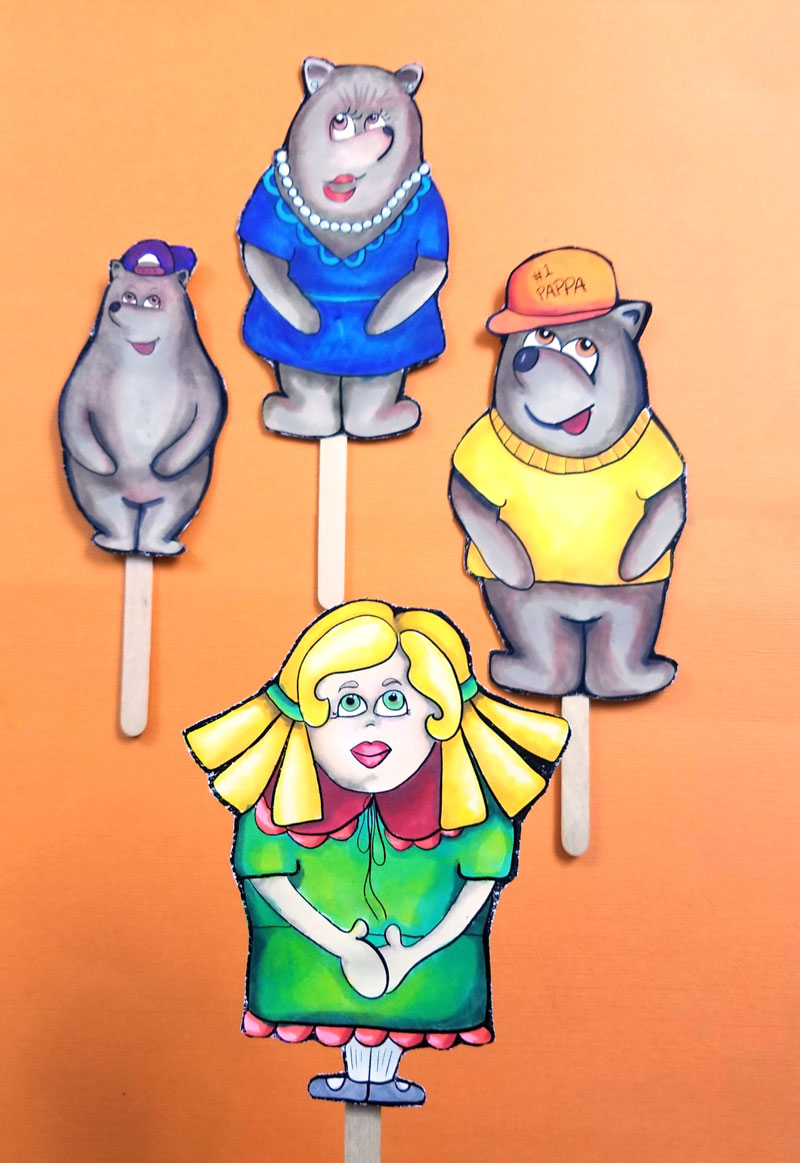 Anyway, I hope you enjoy these!
If you want fun literacy crafts that don't quite involve mischievous blondes, my alphabet animal puppets are now live!
Anyway, as you can see, Papa Bear is spelled Pappa. Whoops. While that's a much less common spelling of the word, I don't believe it's the wrong spelling.
I debated if I should go through every last photo, every printable file, and fix it. So I did what all independent-minded millennials do and I polled my Instagram followers.
The result? Leave it, who cares.
So thank you kind souls for having mercy on me. And the three people who said I should fix it: I can hook you up with some good correction fluid and a Sharpie. Knock yourself out. Peace.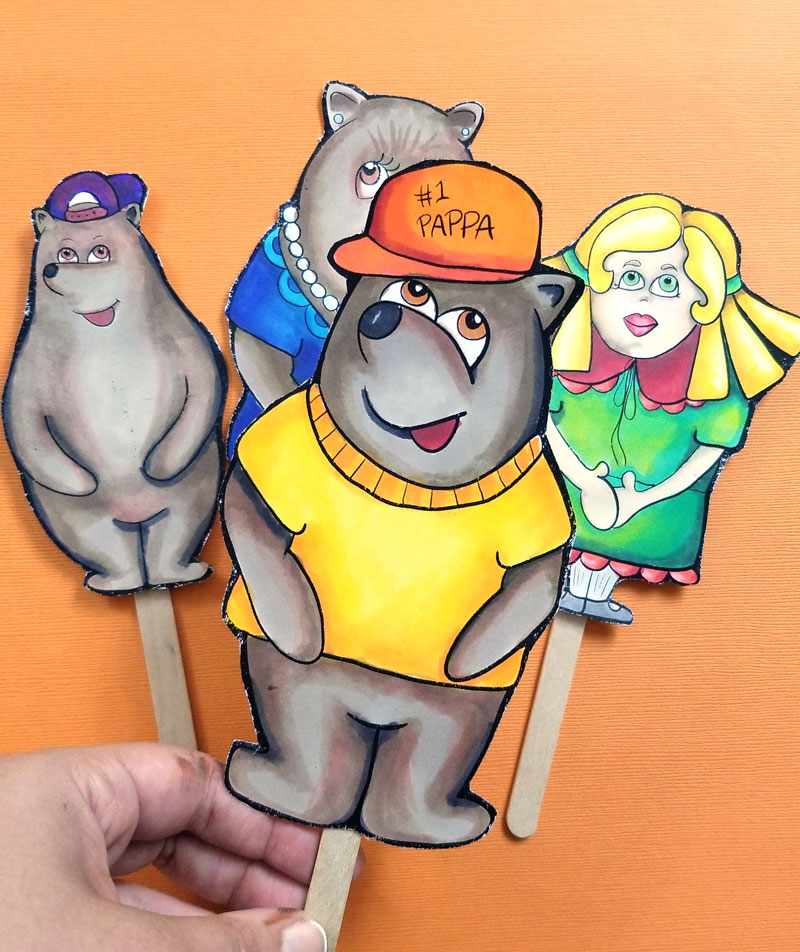 I colored these myself using Prismacolor Premier alcohol markers because why should the kids have all the fun? If you're considering splurging on them and wondering which ones I have the answer is all. Just kidding. I have the 24 color basic pack, the skin tones pack, and every other shade of each tone of gray. No jokes. But if you're just starting out, I'd begin with the 24 pack and expand with singles as you enjoy it.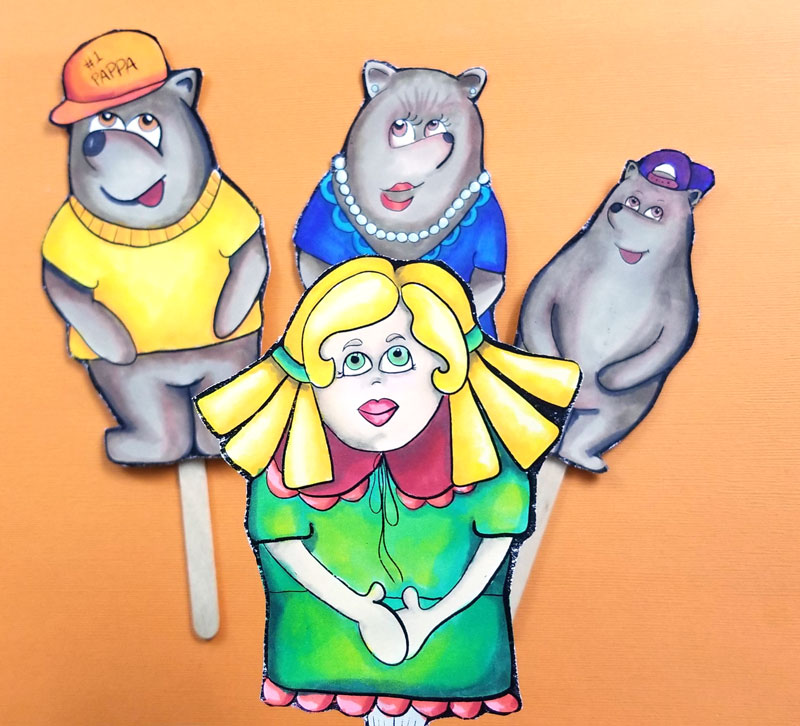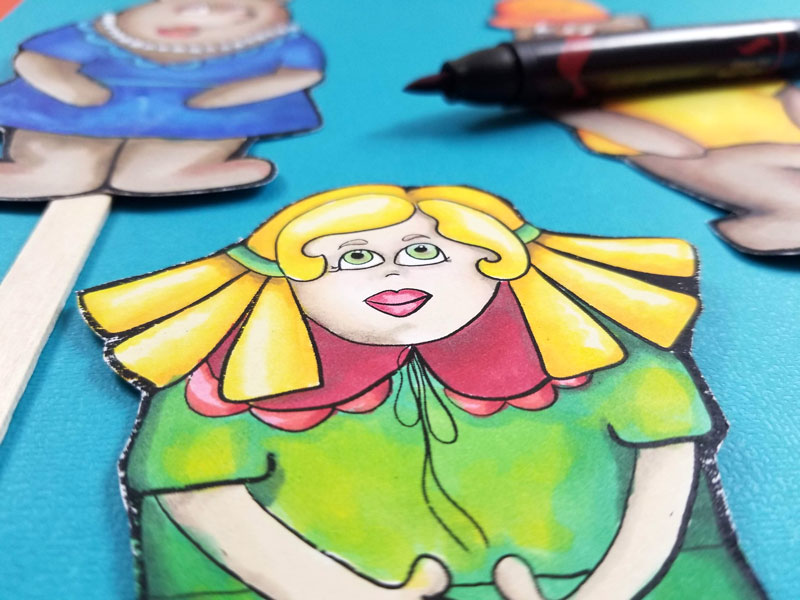 And as usual, since I have OCD and can't let go of doing everything (I'm not joking or throwing that around lightly, you can read more about my OCD journey here.) Besides for the word Pappa – that I can let go of.
So I offer a full-color version of this for a few bucks in my Etsy shop – those of you moms who want a paper toy for your kids that's easy to assemble and play with, this is for you. Also, teachers who want an easy way to demonstrate the story to your class, or anyone who for whatever reason wants a full color version.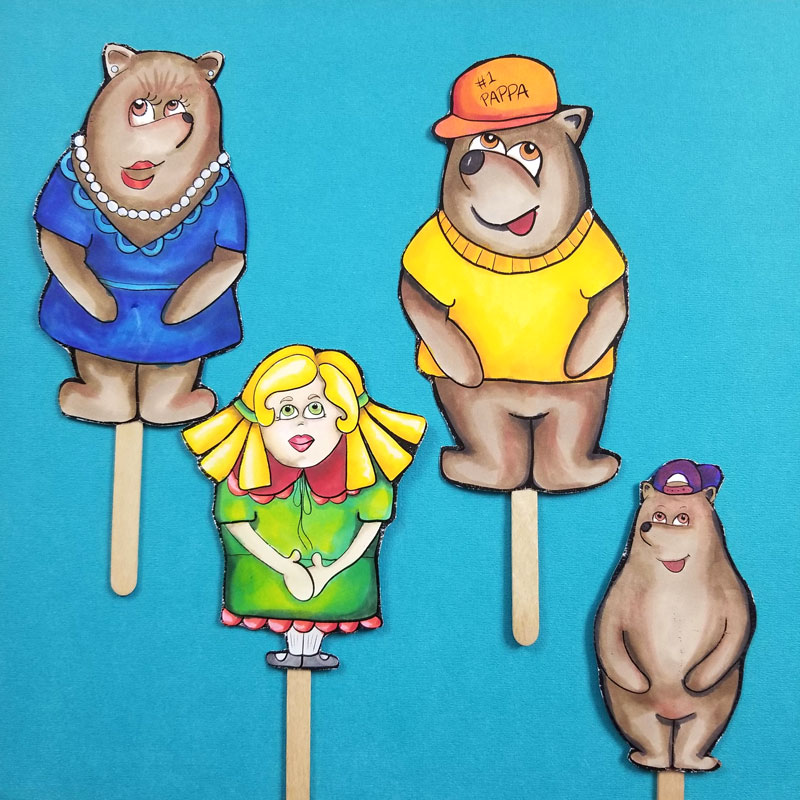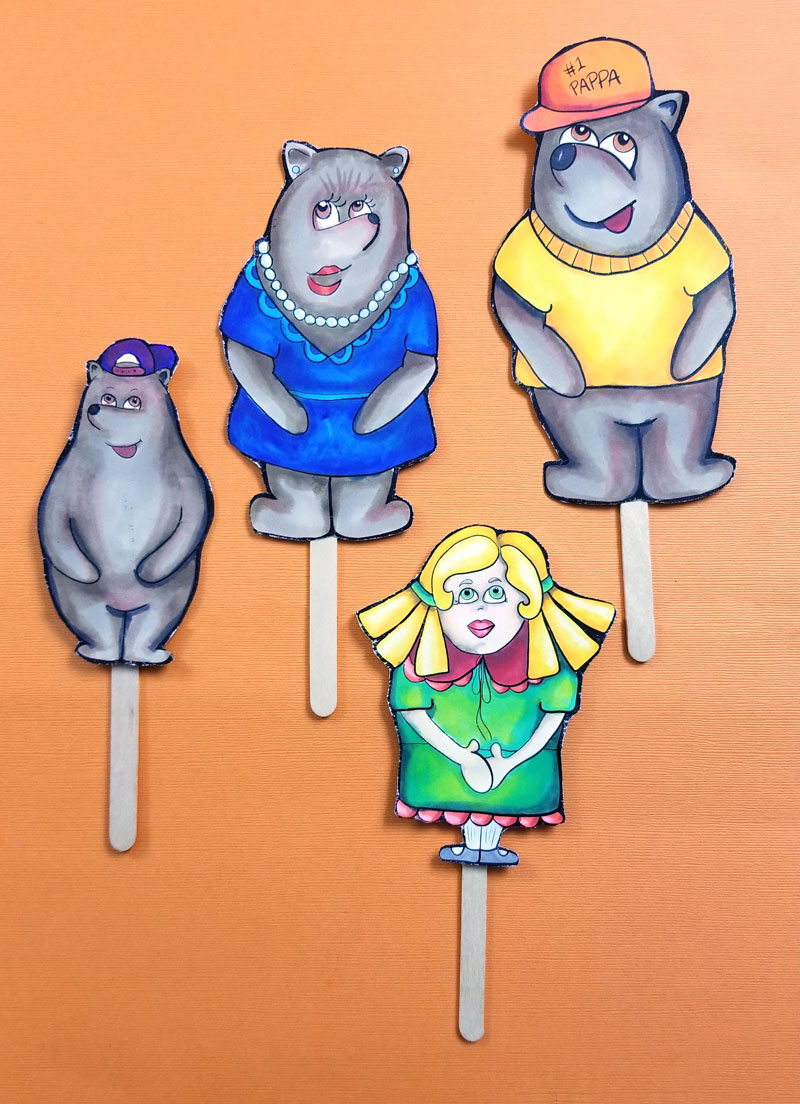 For those of you who want it as a kids' craft, boredom buster, coloring page, etc, or who love to color yourself (I NEED to meet you IRL!) the black and white coloring page is FREEEEEEE!!!
What you need for this Golidlocks and the Three Bears Stick Puppets Craft:
The template (download it here) printed on cardstock (recommended for a sturdier puppet, but not necessary for kids just having fun)
Craft sticks
Glue – gluing craft sticks to paper is easy, so any glue will really work, but for a quick, tight bond that won't wrinkle your page, tacky glue is recommended.

How to assemble your Goldilocks and the Three Bears printable puppets:
Watch the time lapse video below if you want, or scroll down for step-by-step instructions.
1. Print your Goldilocks and the Three Bears printable puppets.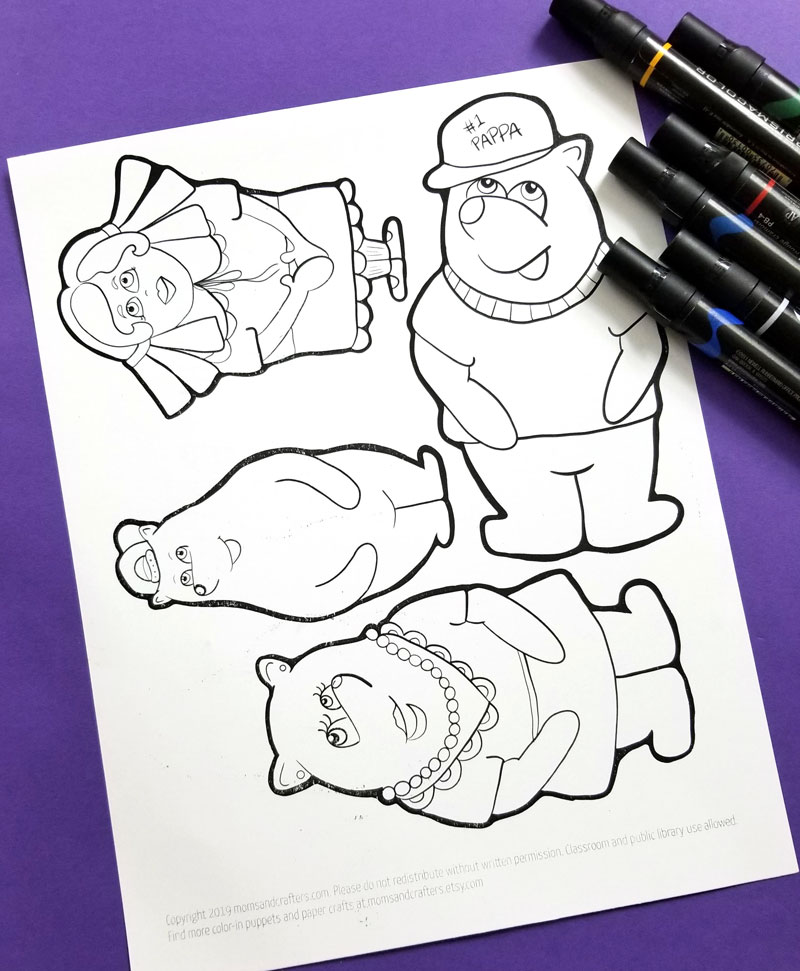 2. Color them. Be ambitious – or not.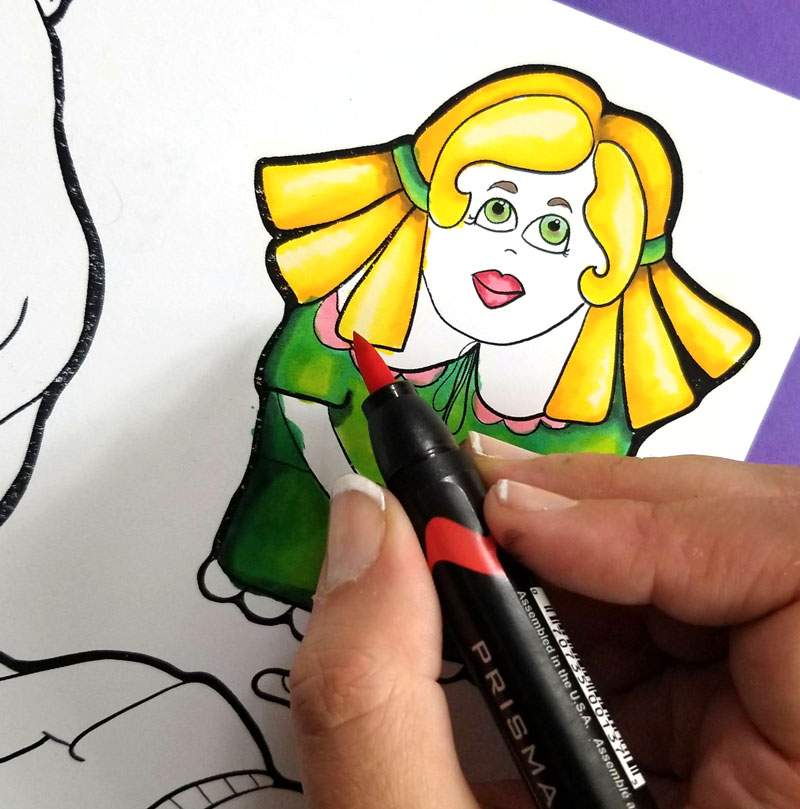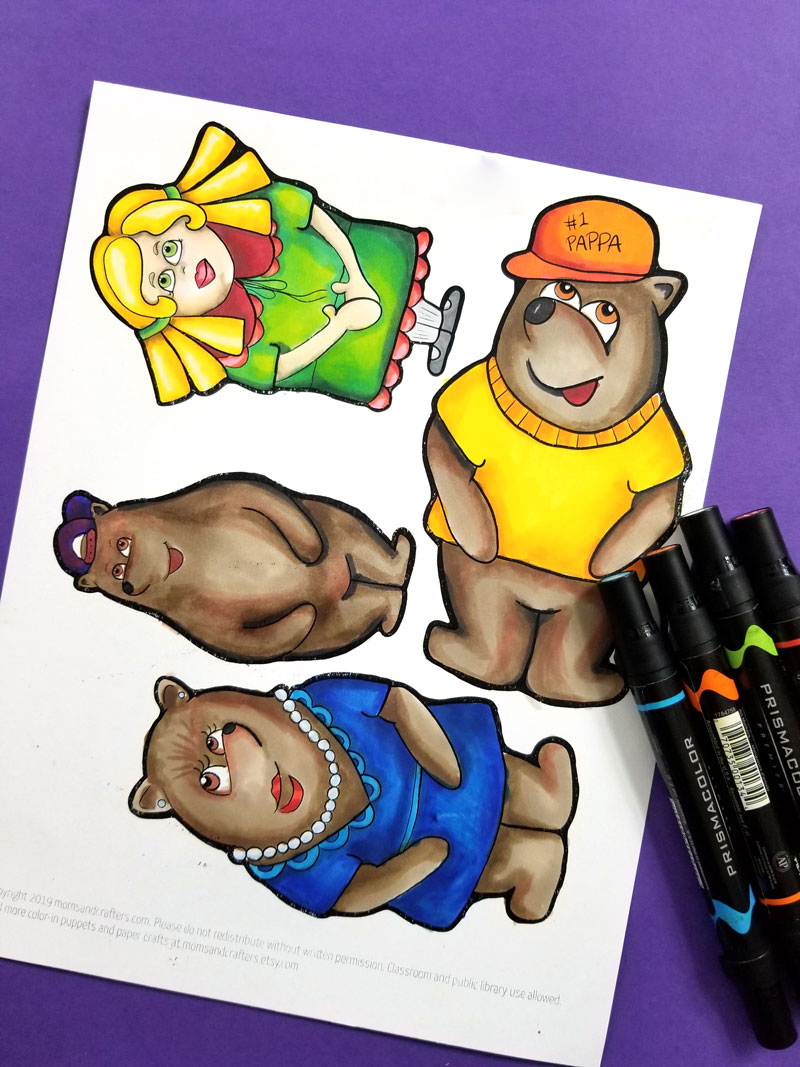 3. Cut 'em out. (young kids can just cut a rough oval around the general perimeter – you have my permission.)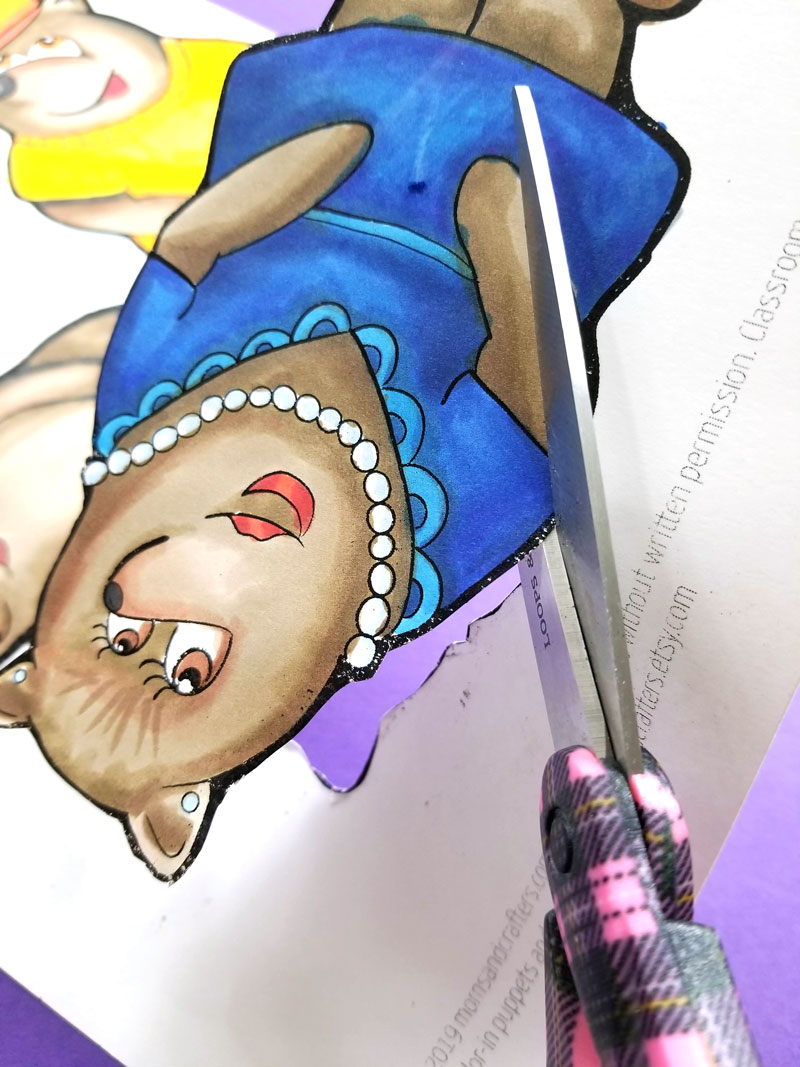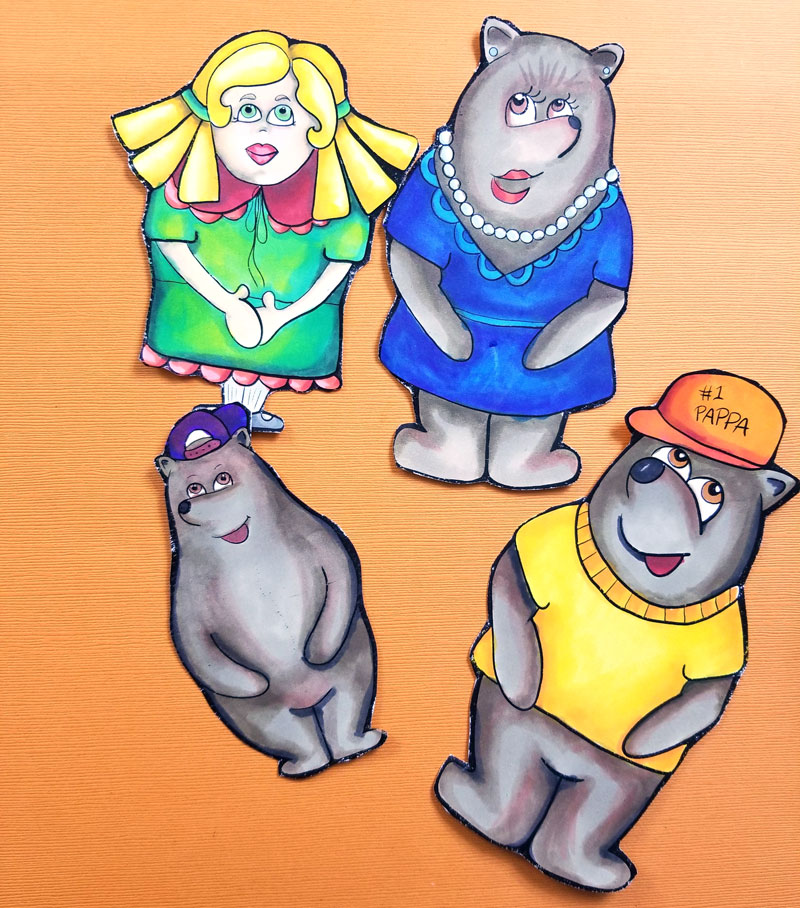 4. Glue on a craft stick and allow to dry completely before attempting a show (yes, I was that stupid.)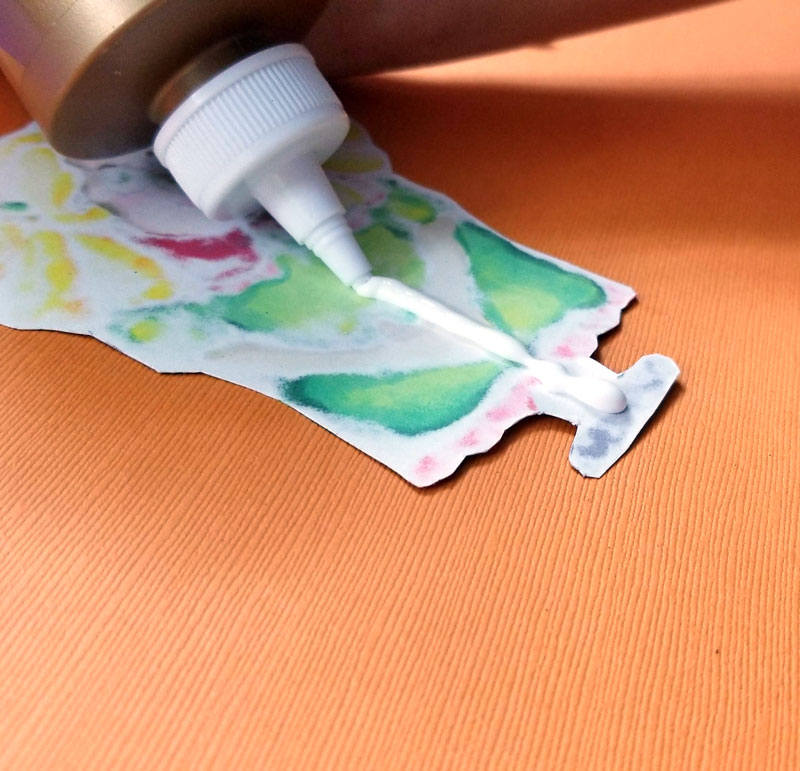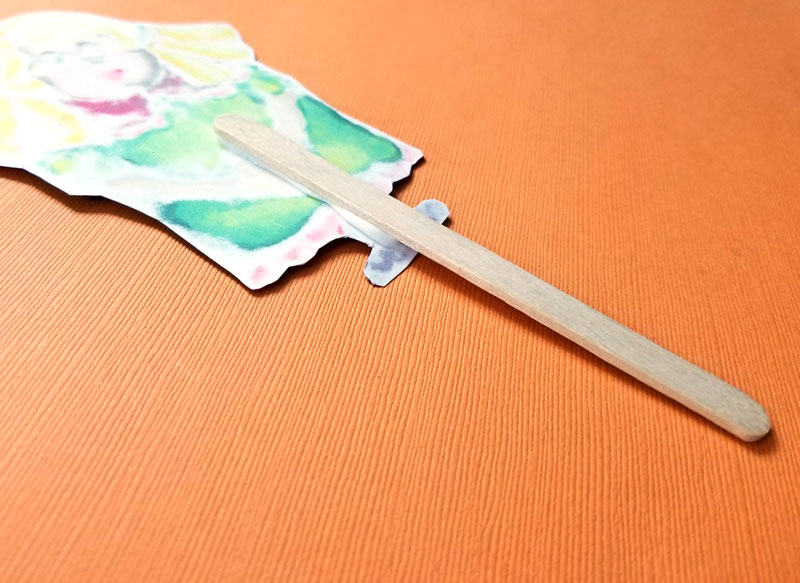 Enjoy! Store these easily in a folder in your bookcase – you can even laminate them if you want them to last longer!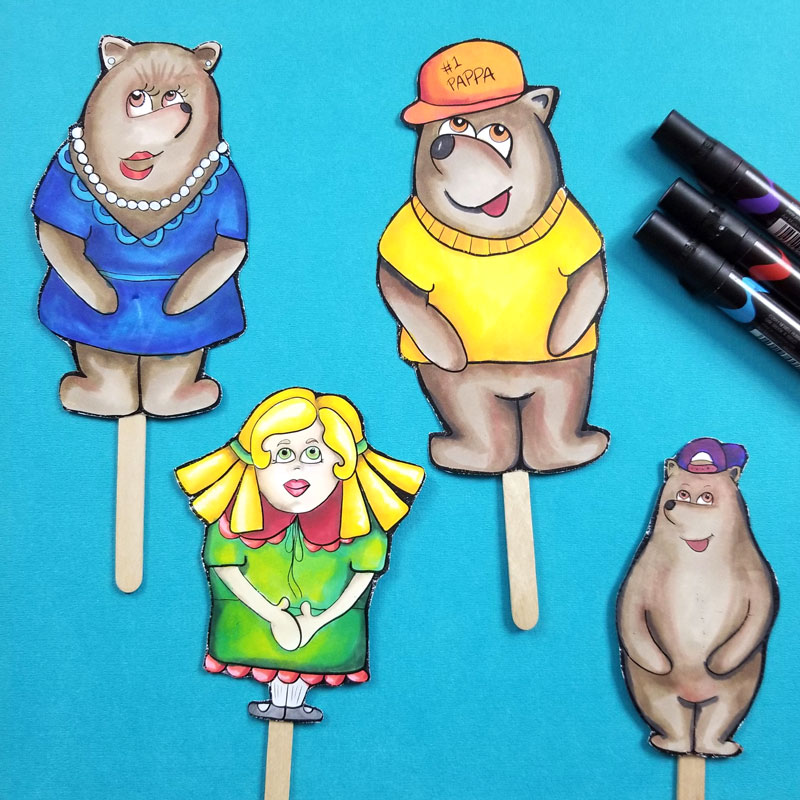 What will you be doing with these free Goldilocks and the Three Bears printable puppets? Comment below!

And if you're after some more great puppets, you can find my Book of Ruth puppets, or craft your own quirky clothespin puppets (that went viral on Facebook!) If you're traveling soon, see how I turned these plane travel puppets into a sweet airplane-ready craft and activity.