Make these sweet, colorful, and quirky paper puppets using clothespins – aren't they precious? M had the time of his life holding a conversation between the two… You can get really creative with these and then use the leftovers to make dozens more clothespin crafts. Disclosure: this post contains affiliate ads.

I thought it would be cool to make some quirky character puppets out of clothespins, so that you can open and close the mouth by pinching the clothespin. I must have drawn the template five times before I realized that I need to do a profile view instead of a front view…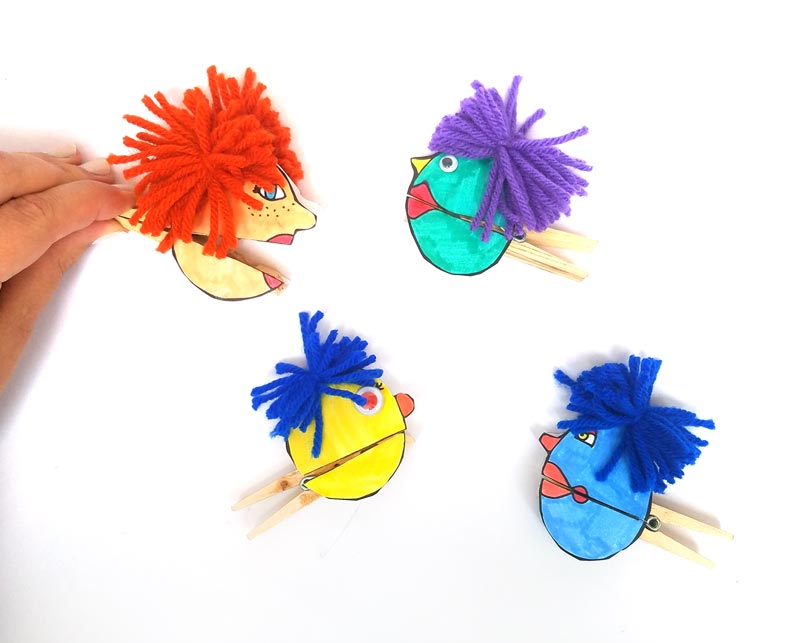 Once I had it figured out, it came out really cute. I love a craft where you can get creative and add your own touch. Besides for choosing which colors you make these paper puppets, you can also pick the wildest hair colors, add accessories like googly eyes and small pompom noses… the possibilities are endless!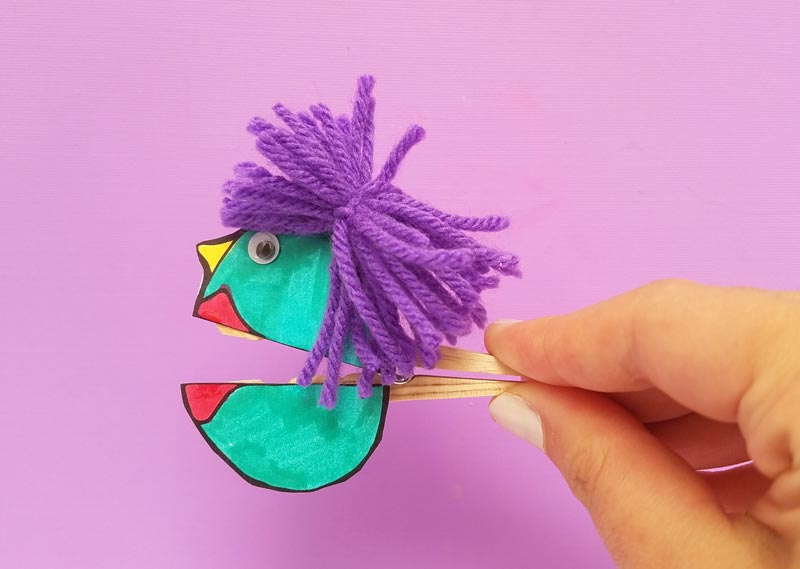 The hair is made similarly to how you'd make a pompom but you just wrap the yarn fewer times, so that it doesn't puff into a circle. On the purple-haired puppet, I wrapped three fingers but tied it 1/3 of the way through instead of halfway so that you have "long" hair. On the others I did it mostly midway so that there's a puff of hair on top.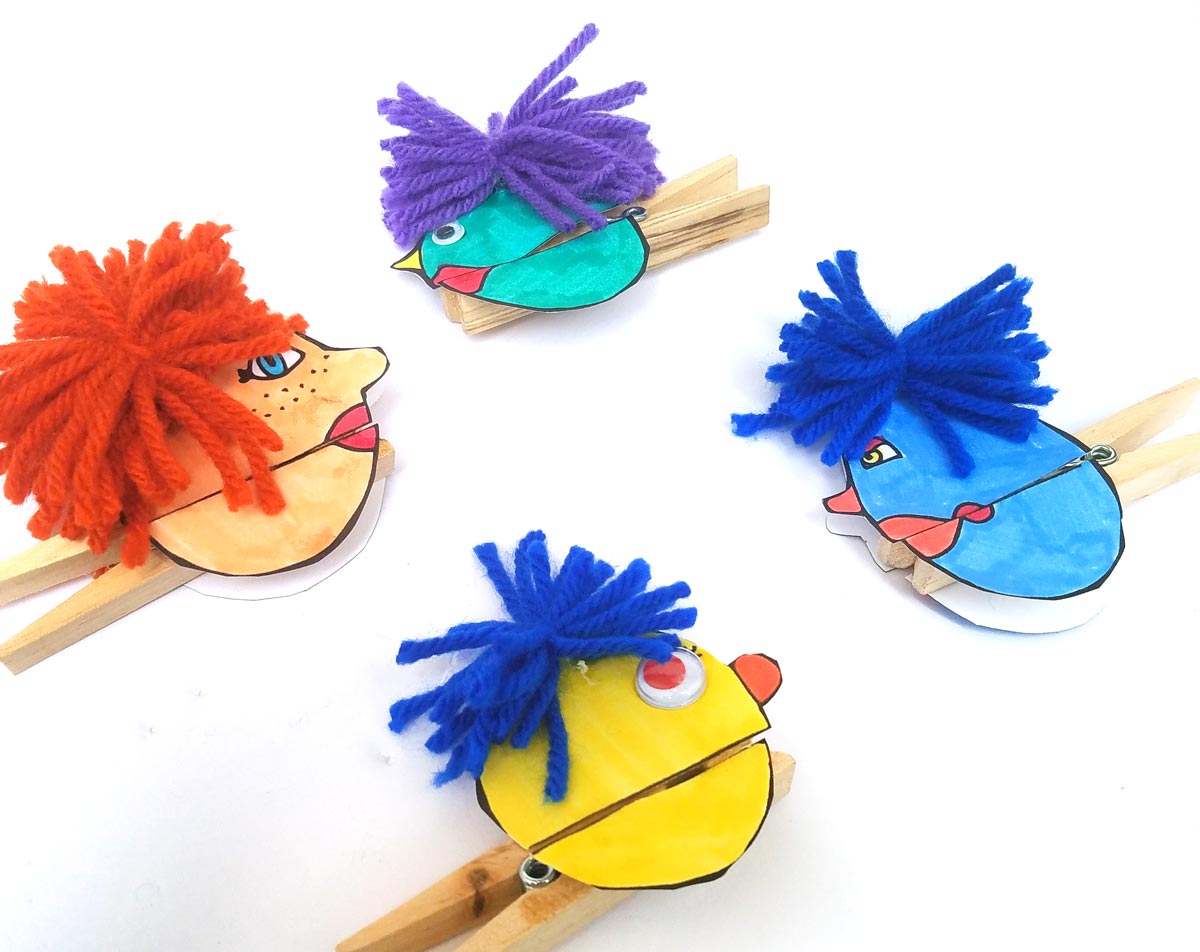 I colored the paper puppets using STABILO Power markers (you can learn more about my partnership with STABILO here). I chose for the most part unrealistic colors for the faces and noses, to give it a fun character/monster vibe. M really had fun holding fake conversations between them!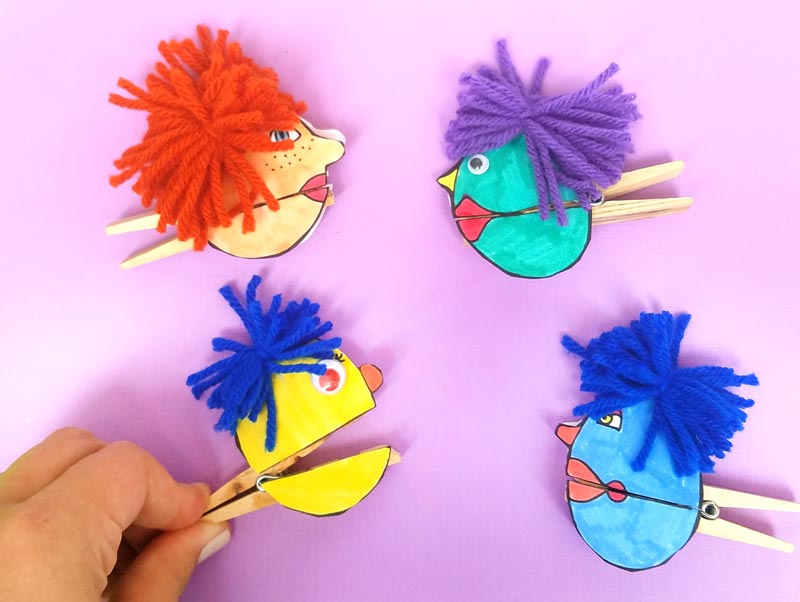 You can make the puppets two-sided if you want (I did with the orange-haired and the blue-faced ones). I included opposite-facing profiles for you in case you want to do that, but you will need to wait for one side to dry before moving on to the next.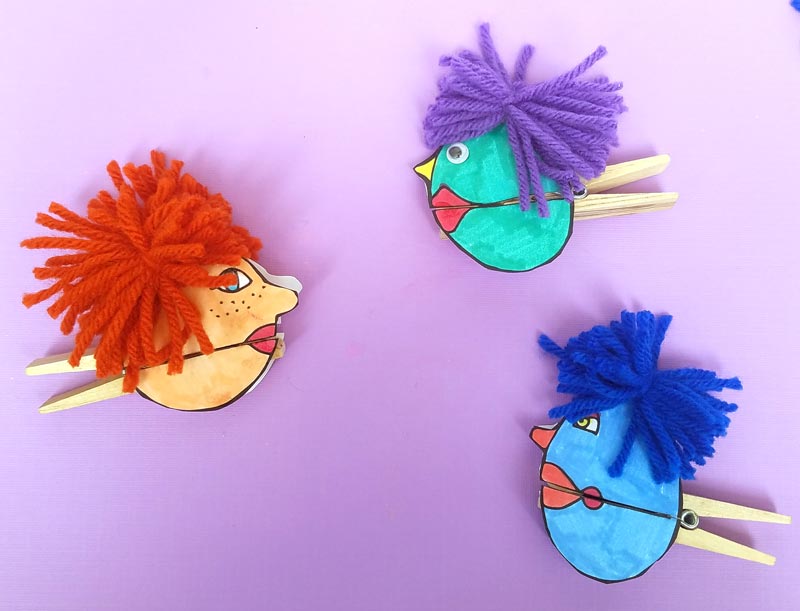 These paper puppets really ignite the imagination – I hope you'll enjoy them!
P.S. IF you love these ideas and make crafts like these, come join the Sisterhood of Crazy Crafters – for free! You can share the crafts YOU make! It's the go-to place for out-of-the-box crafting!

What you need to make paper puppets from clothespins:
The template printed on card stock – download it by entering your email address in the form below. You'll receive your printable in your inbox. If you don't want to leave this post just yet, you'll find another opportunity to download it at the end.
Subscribe and get your Clothespin Paper Puppets
Enter your email address to get your freebie! You'll also be signed up for relevant updates by email, including cool new templates like this one. Privacy Policy

Scissors
Glue – Elmer's sent me their new fun purple liquid glue that dries clear so I thought it would be cool to give it a go with this project! If you're using a kids' glue, you'll need to hold it in place for it to start setting, but I like keeping it kid-friendly!
Optional: googly eyes

How to make quirky clothespin paper puppets:
Watch the video tutorial below, or scroll down for step-by-step instructions:
1. Color your faces.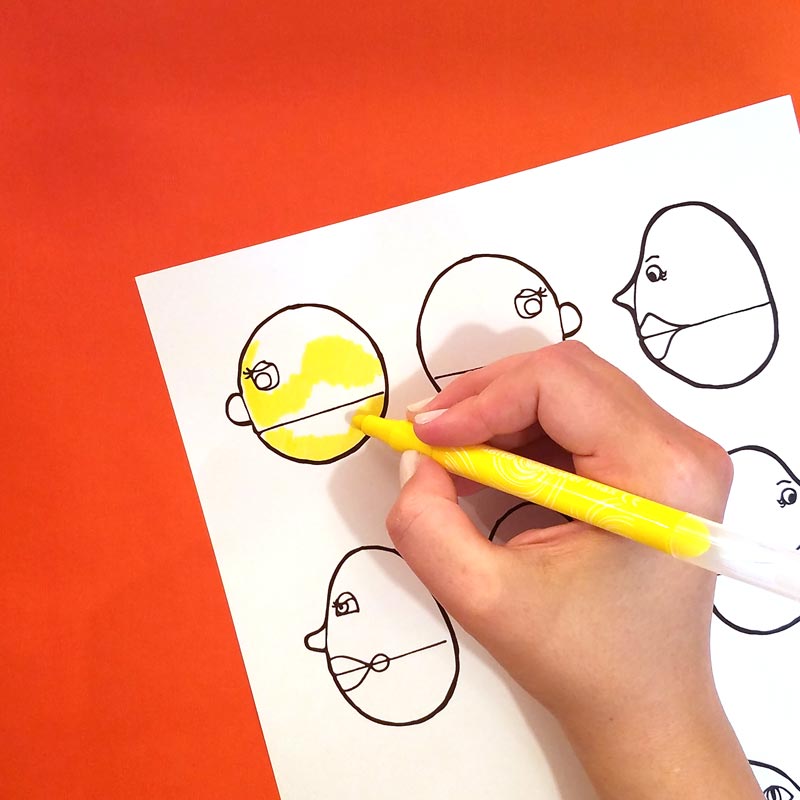 2. Cut out your faces.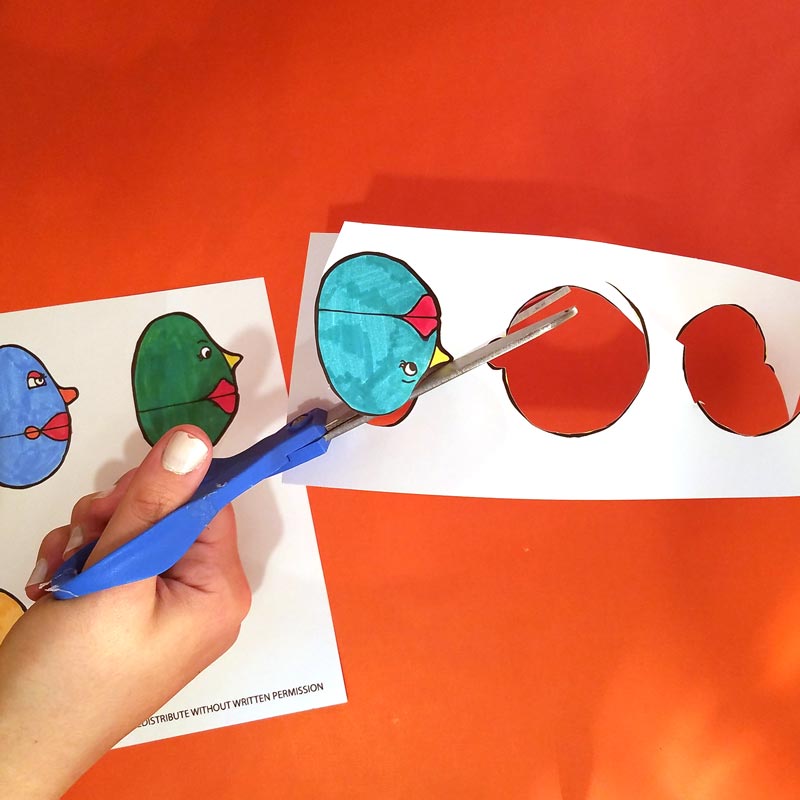 3. Cut across the line that splits the face in half.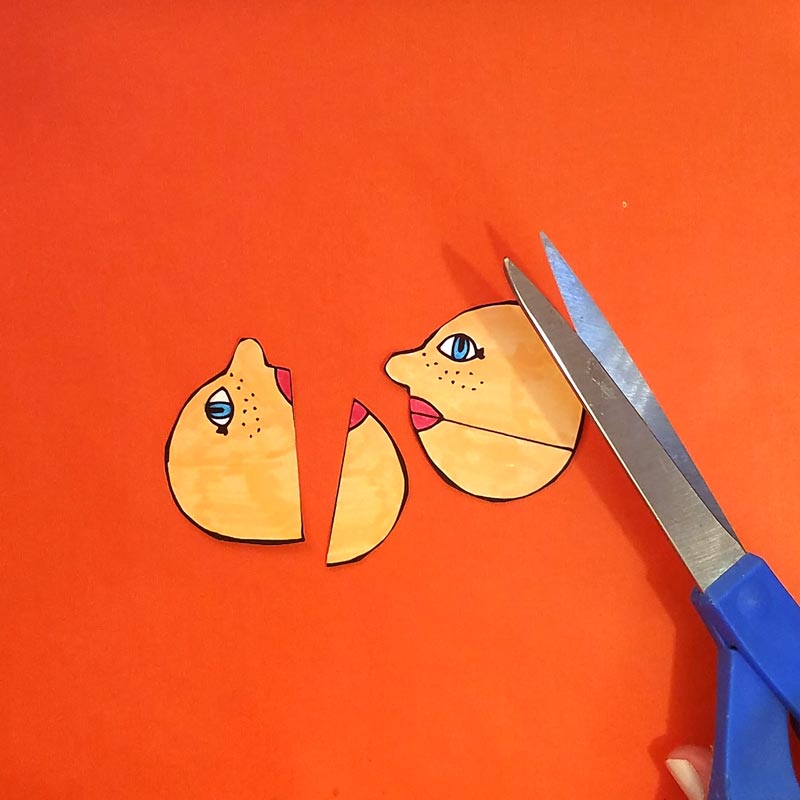 4. Create your hair! Wind some yarn around 2-3 fingers. Snip a small piece and tie it around the bundle of yarn in the center (or off-center). Pull tight.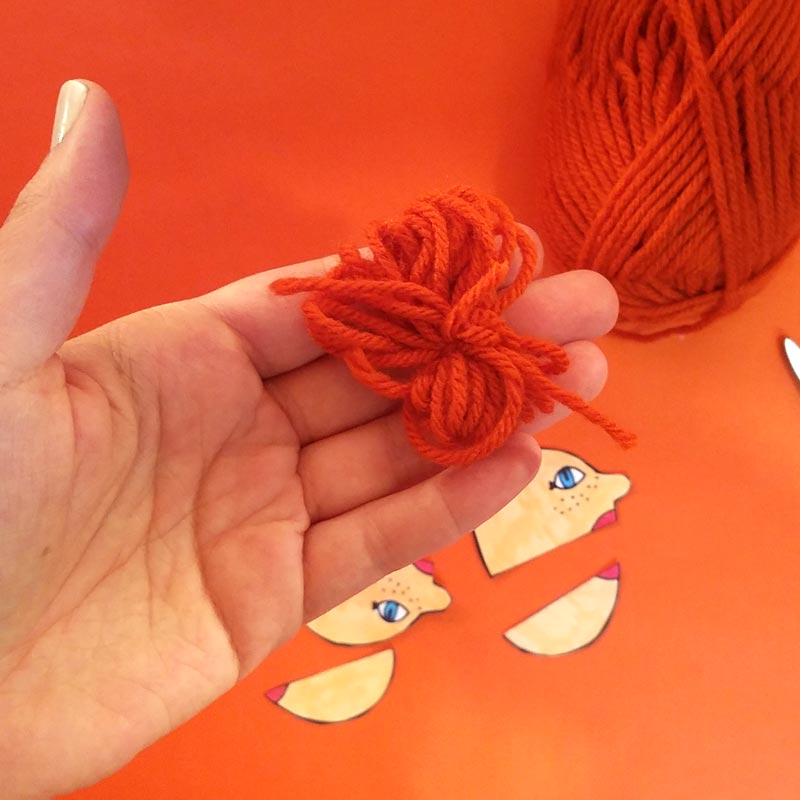 Cut the loops open on both sides of your "pom pom".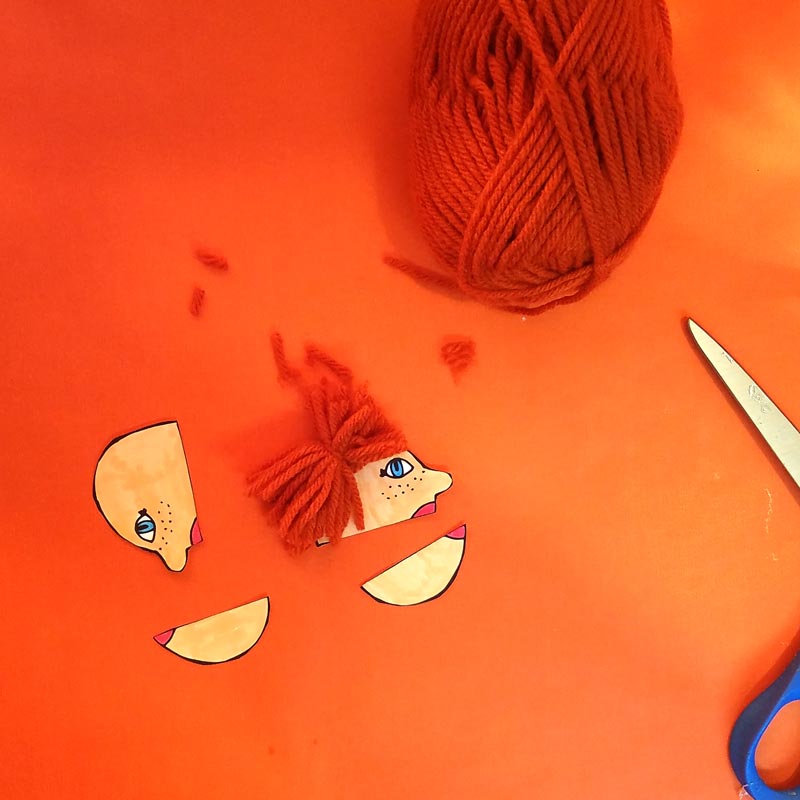 5. Glue your hair to the top of your face.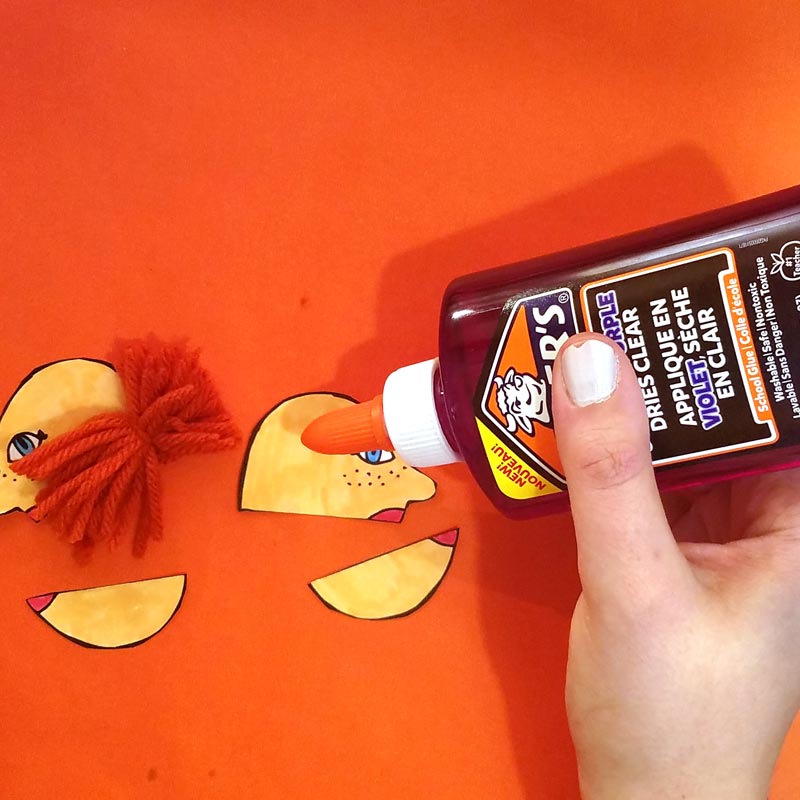 6. Add googly eyes and other fun stuff if you want.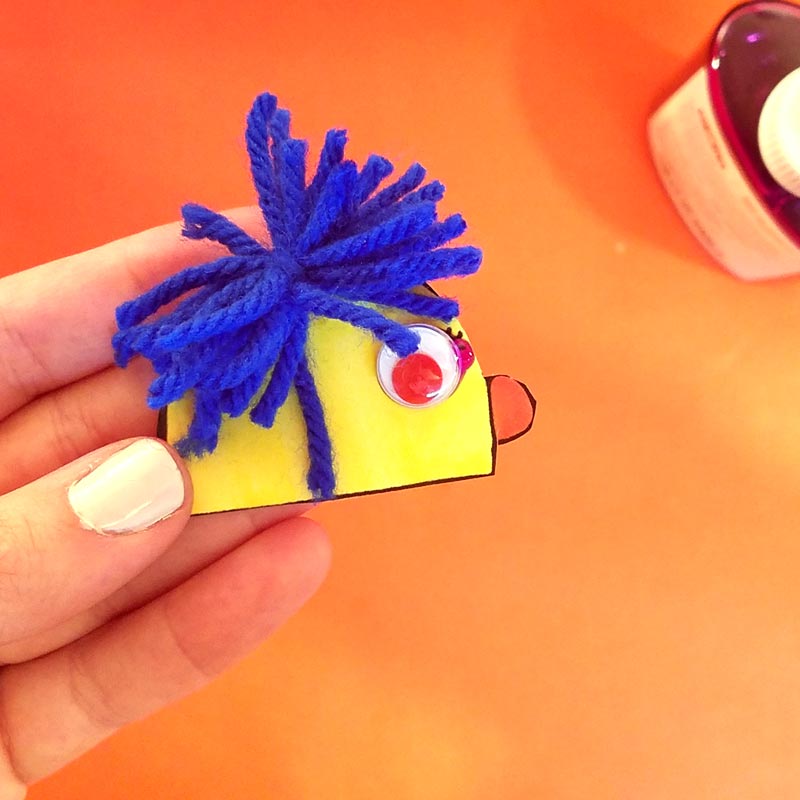 7. Put it together! Glue the top of the face to the top half of your clothespin. Glue the bottom to the bottom half. Make sure you don't glue the clothespin closed. This is where I really liked using a kids' glue that was strong enough to hold paper and wood, but not wood and wood. Hold it in place until it starts sticking.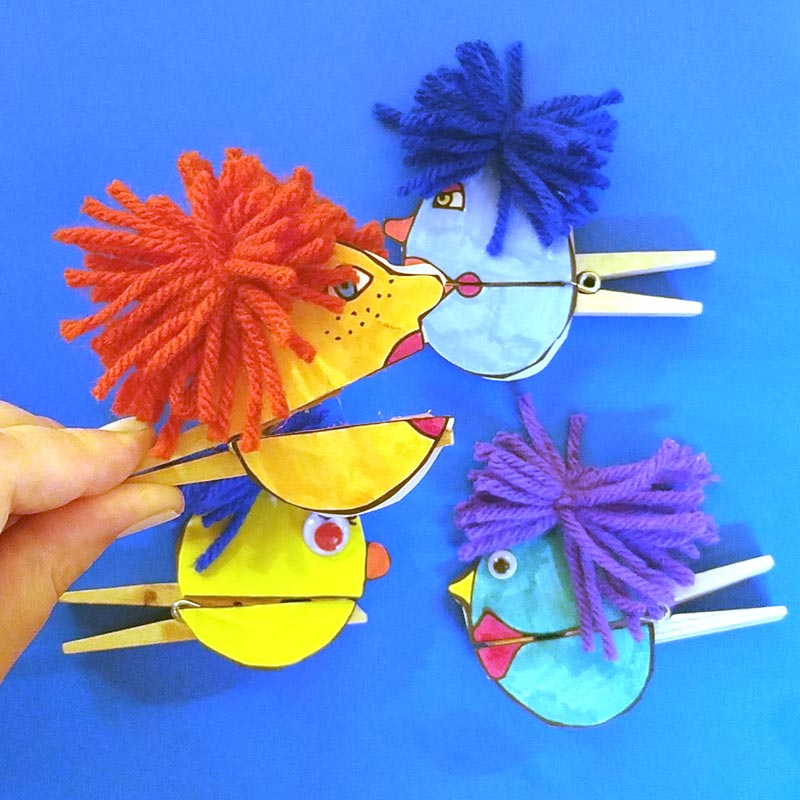 Now, put on a show!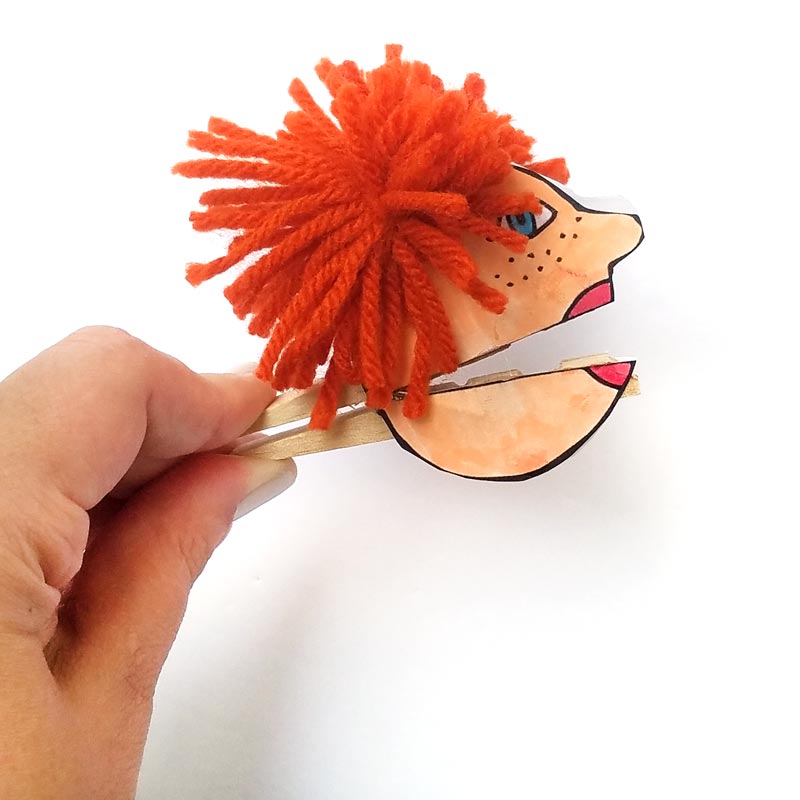 Aren't these paper puppets fun? I love this spin on clothespin crafts and I hope you've enjoyed it too!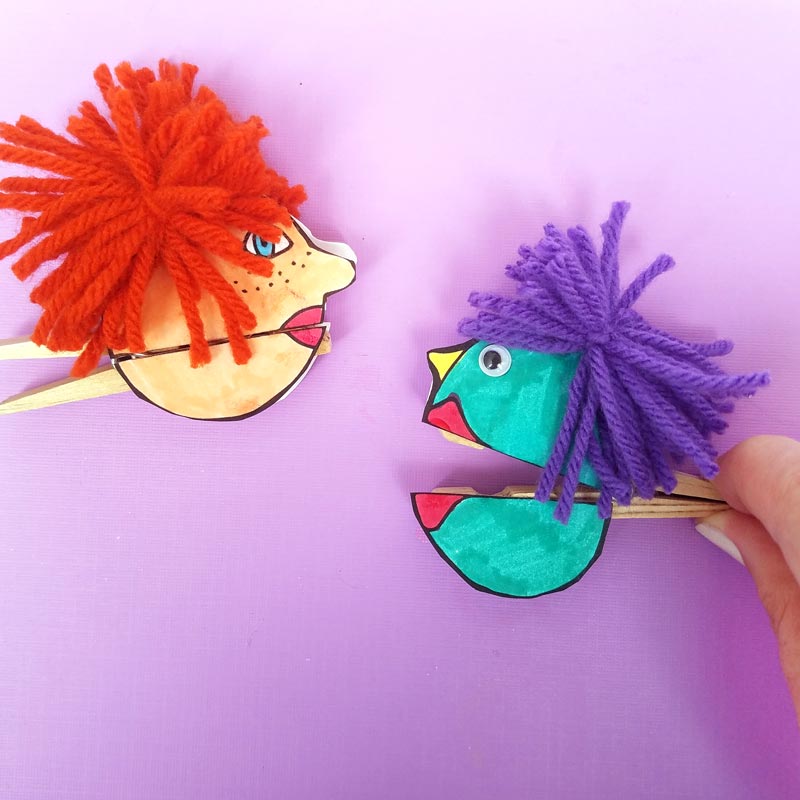 If you haven't downloaded these paper puppets yet, you can download them below:
Subscribe and get your Clothespin Paper Puppets
Enter your email address to get your freebie! You'll also be signed up for relevant updates by email, including cool new templates like this one. Privacy Policy

And if you're feeling generous today and want to help pitch in for a cup of coffee (because, you know, that's what keeps this blog going…) you can purchase the "donate" version via Gumroad below. This is the exact same file as the one offered above – so it's really purely optional (and greatly appreciated. :
I hope you enjoyed these paper puppets! What is your favorite way to craft with clothespins? Comment below!