In this post you'll learn how to make a pom pom with tulle in the ideal method that's hard to get wrong! If you loved this, learn how to make tulle bows here. This post contains affiliate links.
---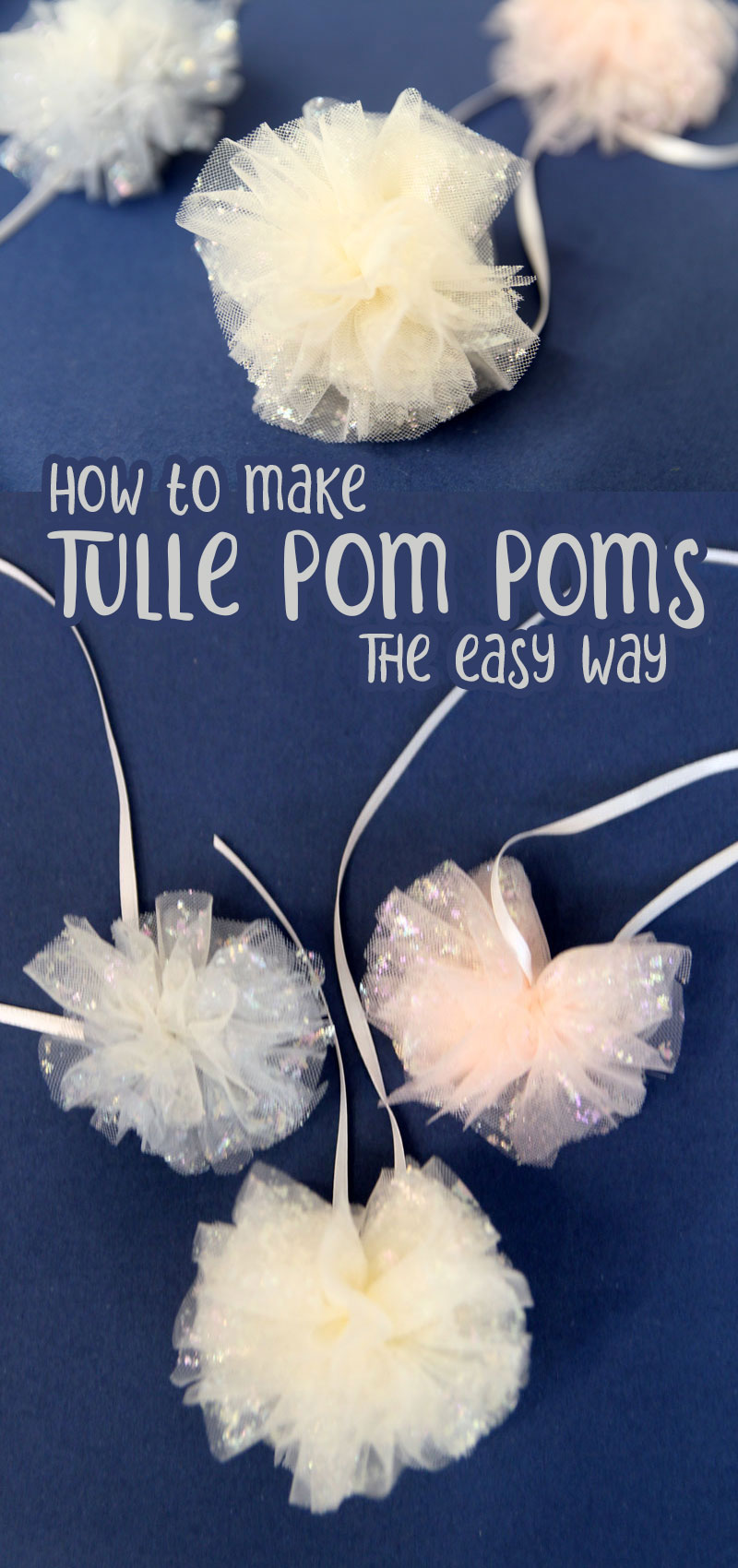 There's something so FUN about tulle pom poms. They're light and ideal for a fun, graceful touch.
When I made A's first birthday hat, I used a different method and it was "meh". While I plan to share that hat tutorial soon, I knew that I first needed to figure out a better method to teach you how to make a pom pom with tulle.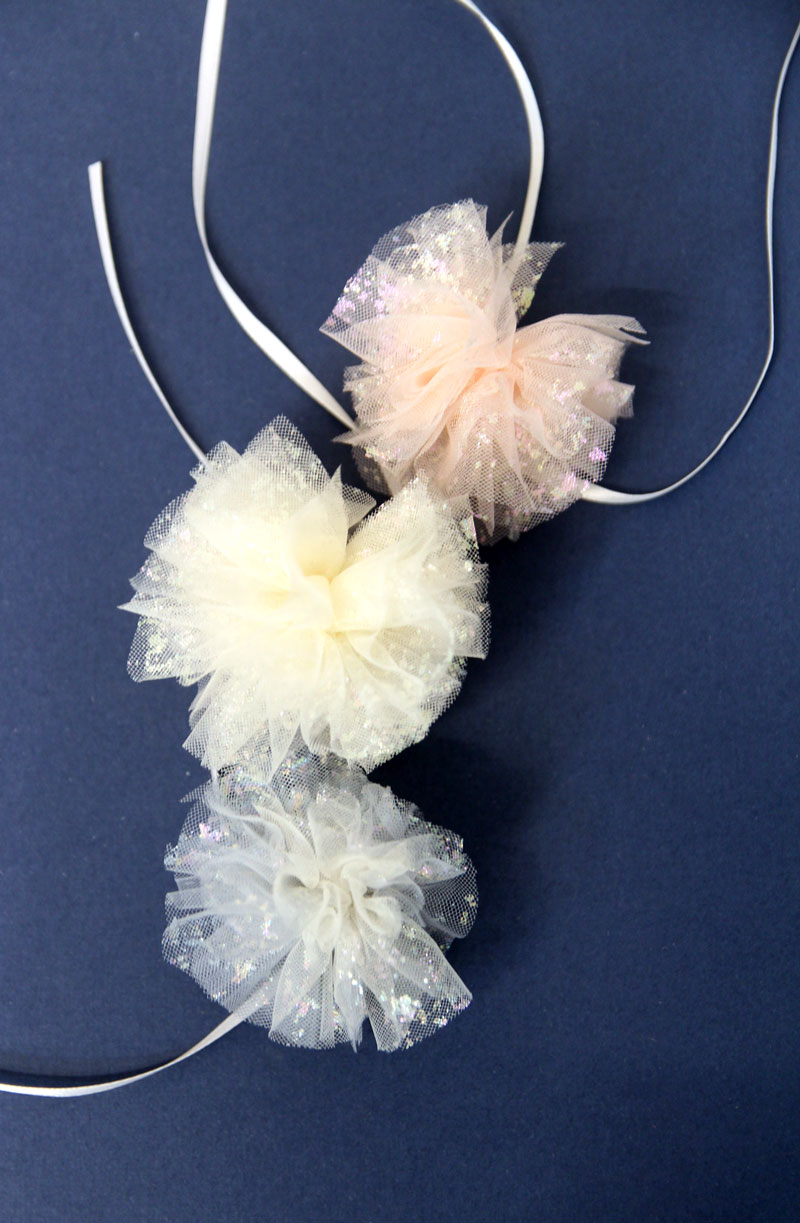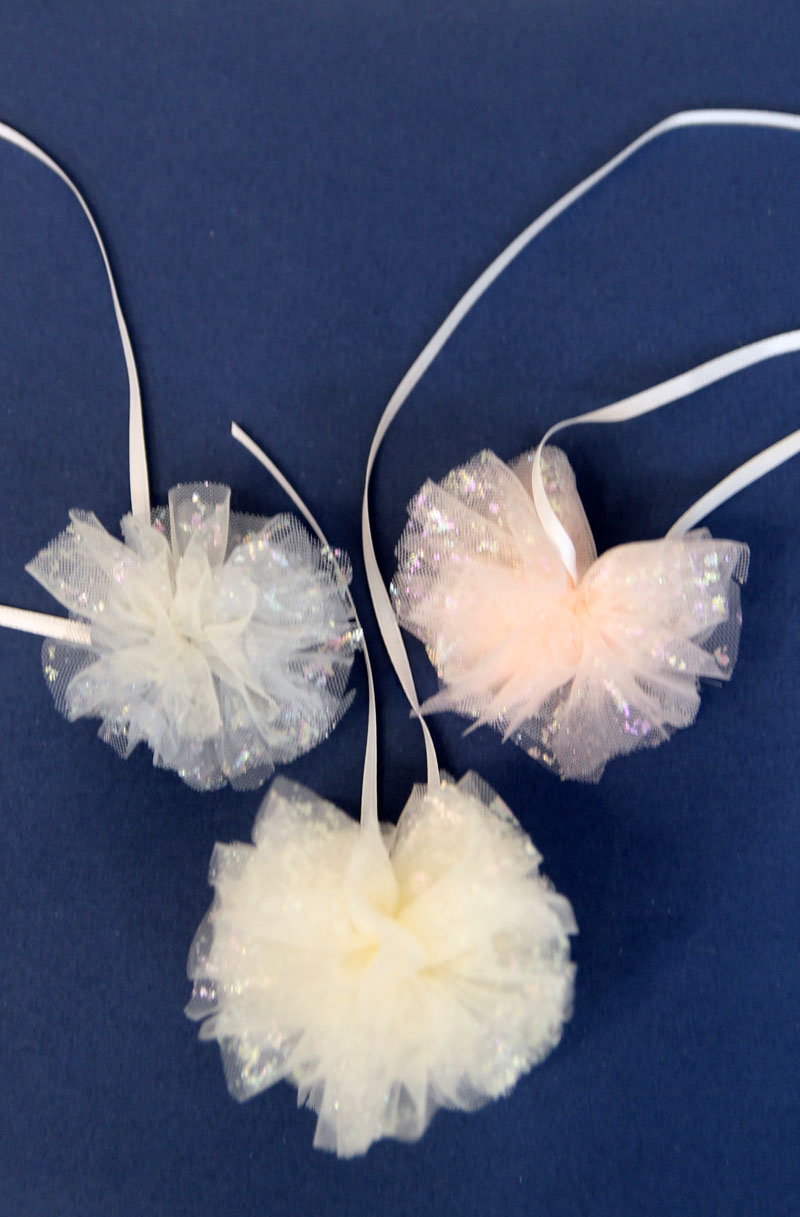 Contents:
The classic way to make a tulle pom pom is to think of it as yarn. Frankly, this method is cumbersome with tulle. First of all, you're limited to using a narrower tulle ribbon. And while I did use that, it was still very challenging. You need the tulle to line up exactly and ruffle up in the middle. It's just too wide a ribbon to get the desired effect with the yarn method of pom pom making.
Another issue with the yarn method is the tying. Tulle is simply too wide and makes for too bulky a center. A good pom pom has an invisible center. And while this would be rectified by using something thinner, you need to be careful not to go too thin as it won't really work.
Another issue: it required too much trimming. The bits of shimmery tulle looks so much like plastic and acted like glitter. It was all over. And every time I'd see another piece of "plastic" on the floor with a young baby around, I'd have a panic attack. It was also too easy for the little princess to pull pieces out.
So I pivoted completely to another pom pom making method I know well: tissue paper pom poms. And this worked fabulously!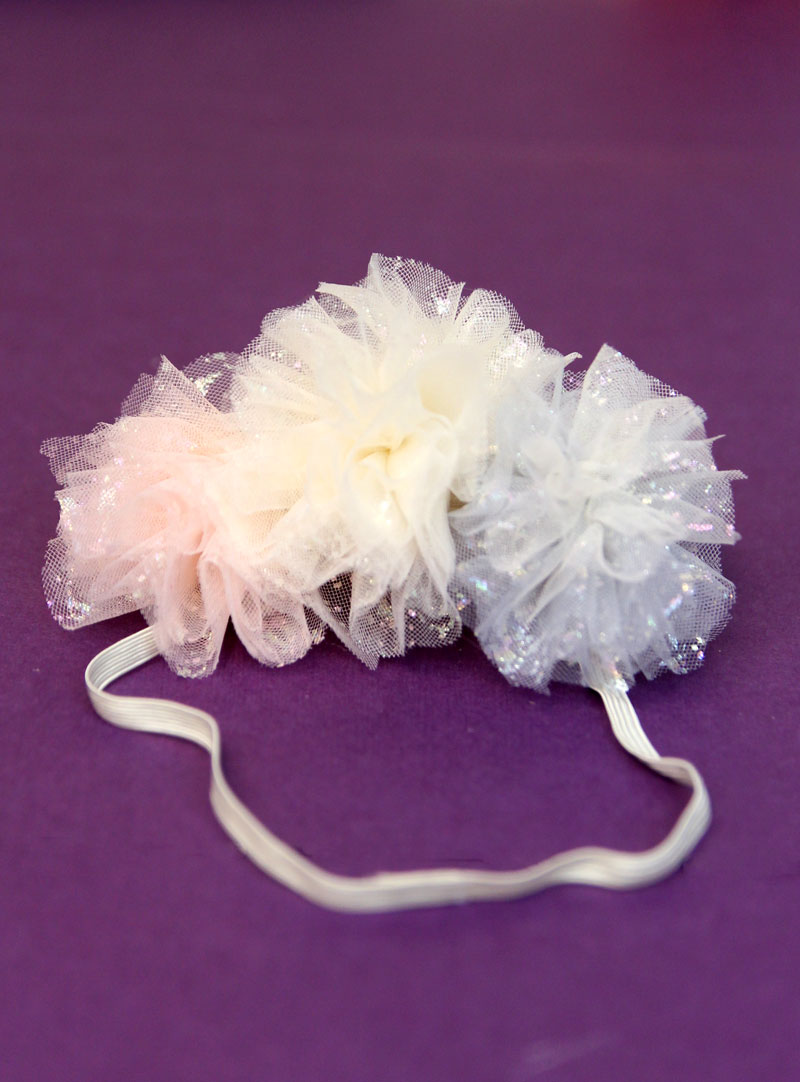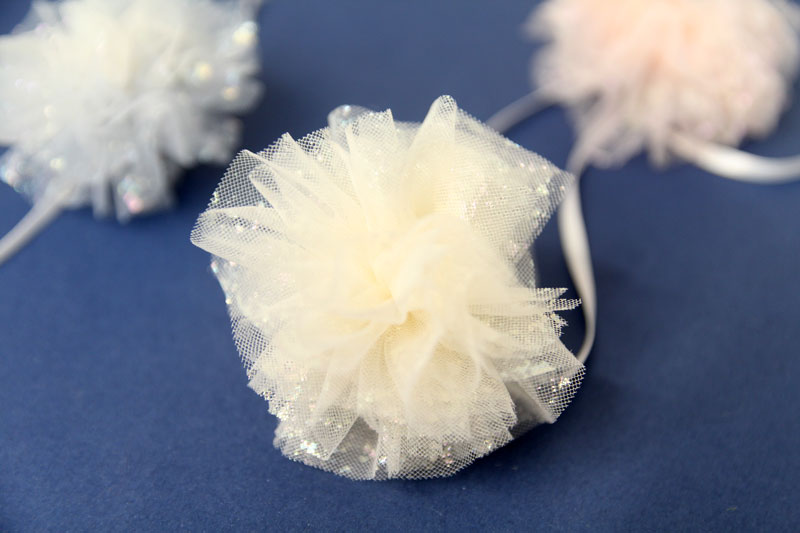 When making a tulle pom pom using this method, you simply layer sheets or ribbons of tulle, accordion fold them, tie them off, and separate the layers. This makes for wavy ribbons that fill the space much more efficiently. It's easier to control the size and density of your pom pom, and you're retaining the sheer look of your tulle by allowing the light to shine through. And almost no trimming is needed!
Learning how to make a pom pom with tulle using this technique was a game changer!
And while I did it with 2.5 inch wide tulle ribbon for smaller pom poms, you can go with larger spools of tulle ribbon too. It also uses much less tulle making it more cost-effective. It takes a fraction of the time too.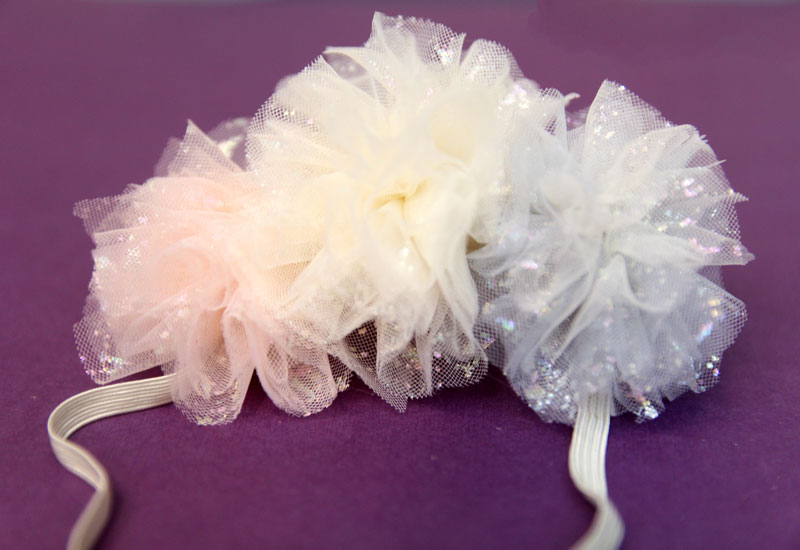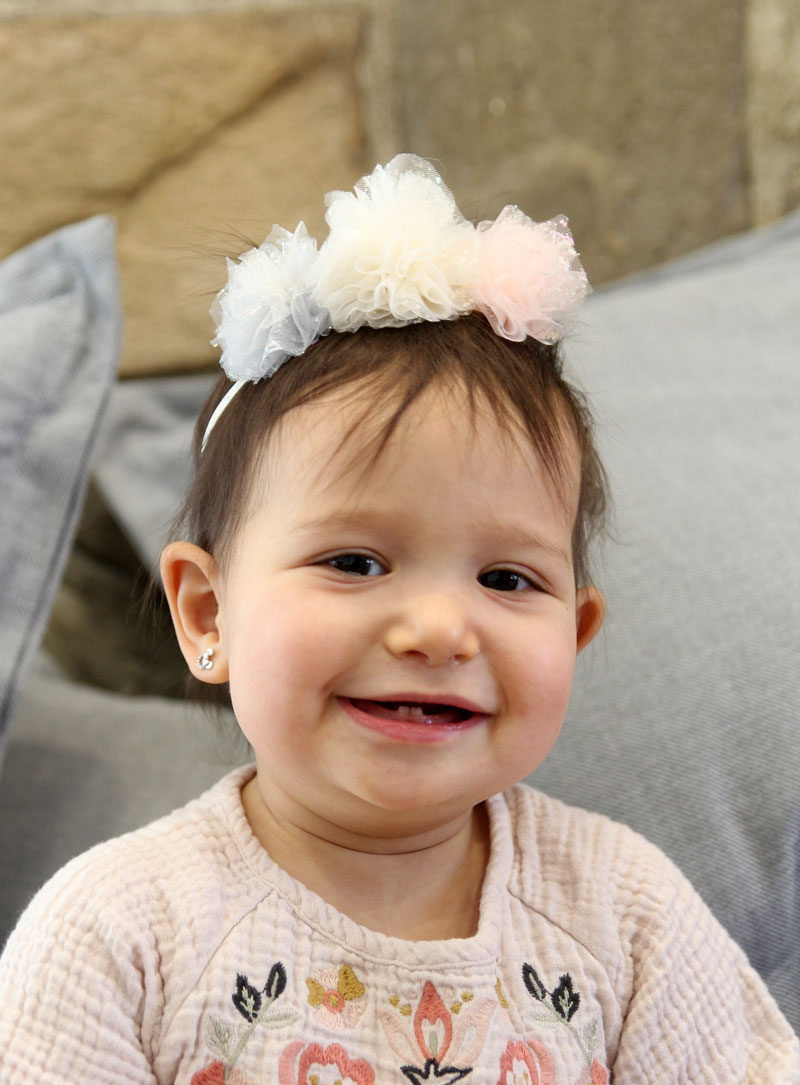 What you can do with this tulle pom pom tutorial
There's so much you can do with tulle pom poms! I first learned how to make a pom pom with tulle to make A's birthday hat, however, here are some more ideas to get you started.
Tulle pom pom garland
I love the look of a tulle pom pom garland. Make it as empty or as full as you'd like. Make it in fun pastels for Easter decor. Make it in pinks for a ballerina party. Make it in black for a dark Victorian vibe for Halloween.
Since the center of your tulle is a hanging ribbon (which you can trim down to nothing with a dab of glue) it's begging to be tied around a string. Just tie all your tulle bows around a center string, choose if you want trailing ribbons or not, and trim. Place them as you'd like and hot glue in place if you want. You can make it a closed string as people do with felt pom pom garlands, or spread them apart.
Photo background
Tulle pom poms make gorgeous photo backgrounds. Just gorgeous! It's fantastic for a wedding, baby or bridal shower, or for a spring birthday party. Make it for a bat mitzvah, quinceañera, or sweet sixteen. And of course, it would be fab for a first birthday party.
Just make a bunch of garlands and hang them vertically. Have guests take photos between them or hugging them. Or, for a softer look, have them step forward from the backdrop so that it fades into the background.
Hair clips and headbands
I turned the pom poms that I created for this tutorial into a headband for A. I trimmed two of them smaller and kept the cream colored one large and loose.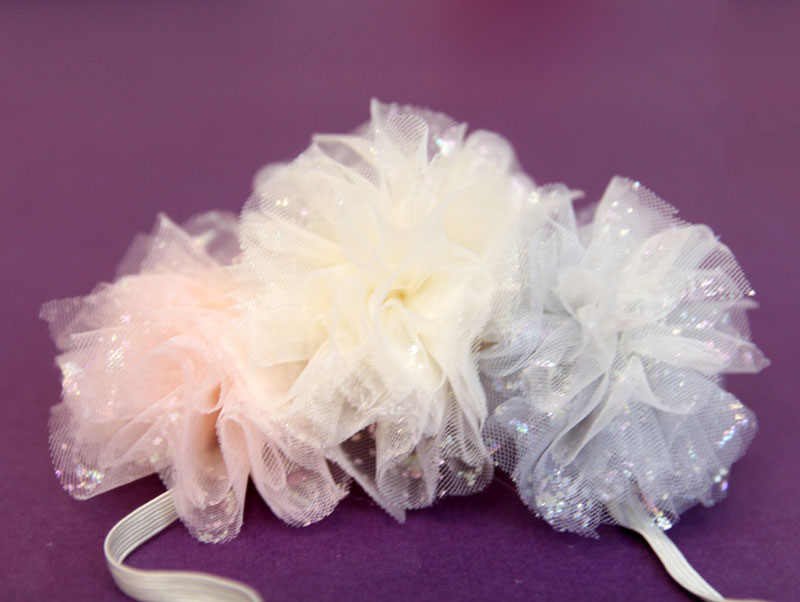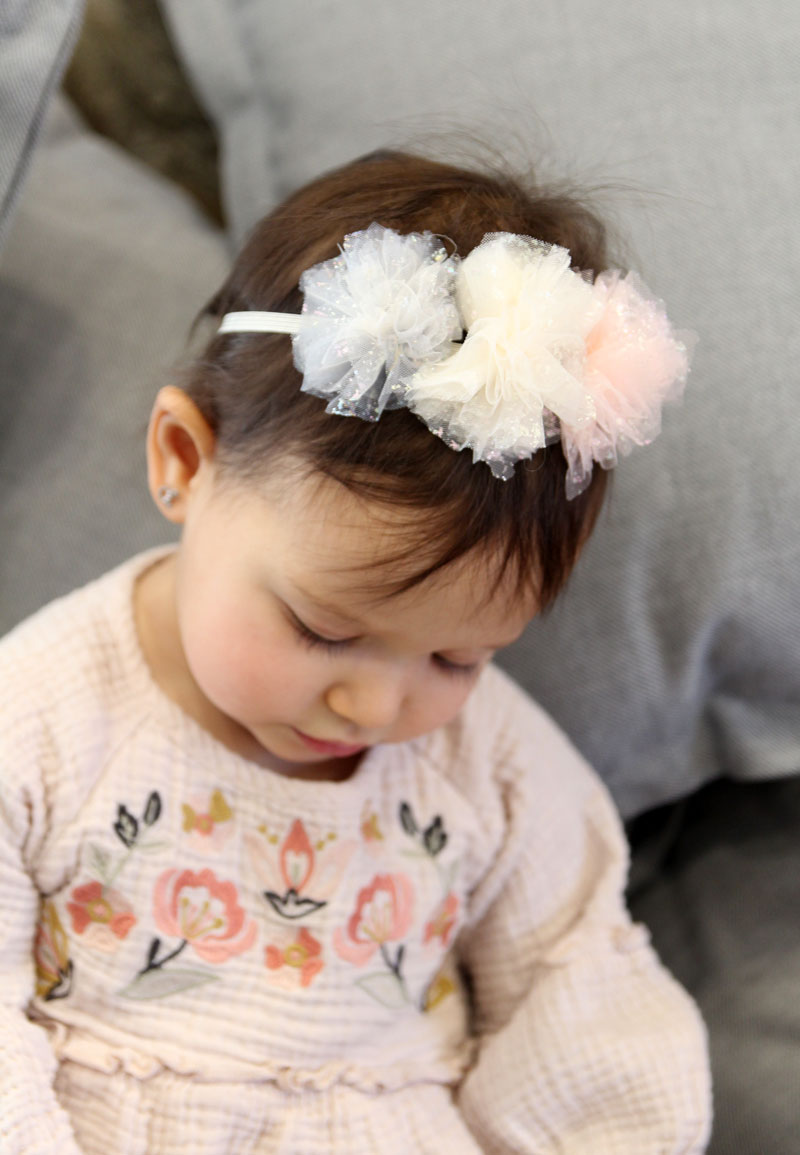 You can also make this into a hair clip by simply gluing it onto an alligator clip.
Wrist bands and pony holders
Turn these into pony holders by tying them onto a pony holder – that's it! So easy! But here's an even cooler idea. Keep your tying off ribbon long, and tie it around a wrist. It makes a super cool corsage-like accessory for special occasions.
Pen toppers
As a child, I loved those fluffy fur/feather pen toppers. Why not make a spinoff by attaching tulle pom poms to the tops of pens? It would be so much fun for your tween to write with this in class!
Costume wands
On that note, while a star might be the go to shape for wands, why not make a tulle pom pom? It is a fantastic companion to a costume that has a tulle skirt.
This can work for princess costumes, fairy costumes, or just for pretend play!
How to make a pom pom with tulle in different sizes
As I mentioned above, it's easier to control things with this method of pom pom making.
The easiest "control" for your pom poms will be the width of your ribbon. If you don't find a size that you like, you can get one the length that you'd like and cut it to width.
I made these with 2.5 inch tulle ribbon, however six inch ribbon would work fabulously as well. I'm not sure about wider tulle, but I imagine it will. You may need to simply layer more to accomplish a fuller result.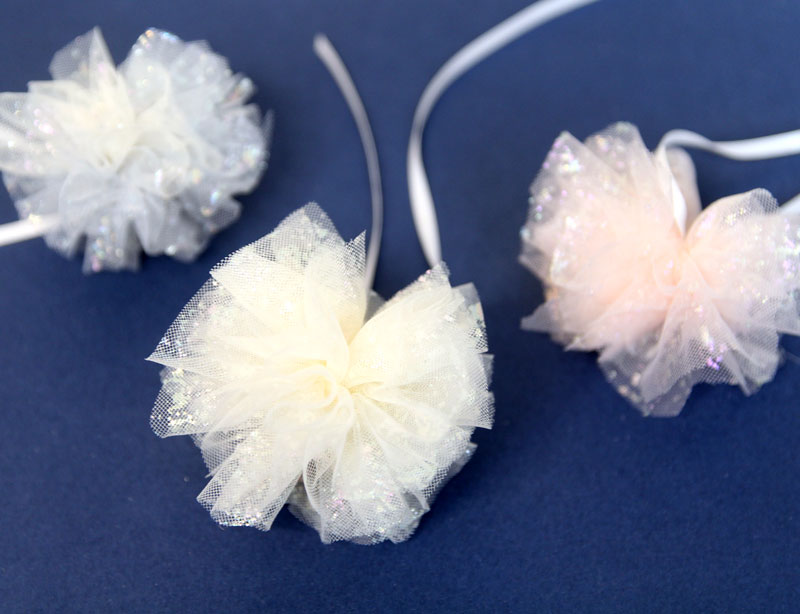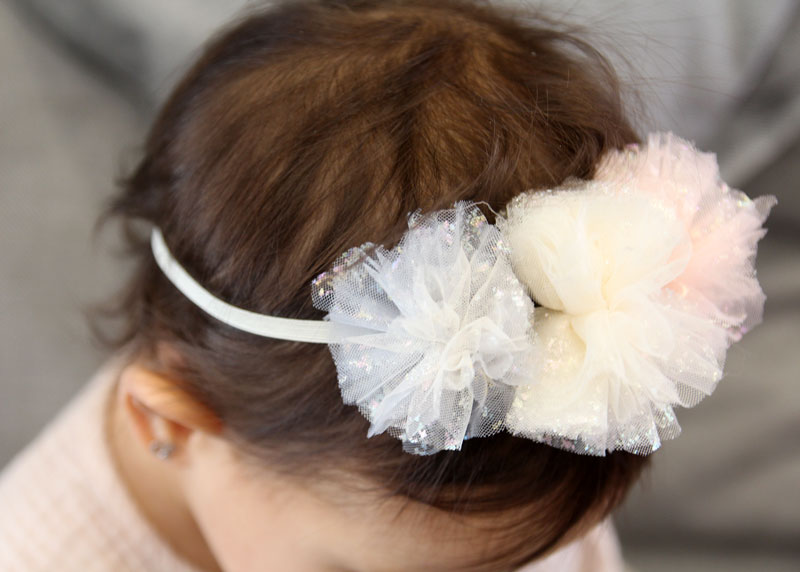 There are two controls for the overall texture and fullness of your pom pom. The first is your length and your accordion fold. The second is how many layers you use.
To make a fuller pom pom, cut your tulle longer. Your tulle length will also vary, of course for the width of the tulle. Doing deeper folds will provide for more variation and movement which will fill things in more. Too thin a fold will be hard to tie as well. Aim for four-ish sets of folds.
Additional layers will fill things in more as well, however, too many won't separate and ruffle nicely. I did between 5-7 on my tiny ones.
Ultimately, nailing how to make a pom pom with tulle is about finding the right balance of layers, ribbon length, and fold depth for your final size. Of course, I shared the details for mine in the step by step tutorial below.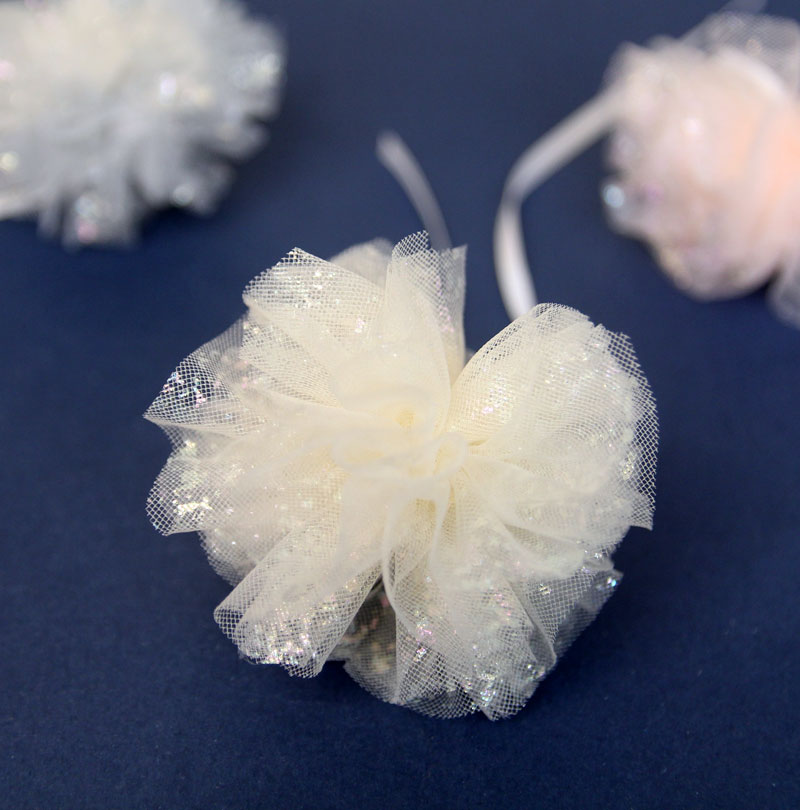 What you need
How to make a pom pom with tulle
Note: I've included measurements as I did it, however feel free to experiment according to my notes above!
1. Measure a seven inch ribbon of tulle.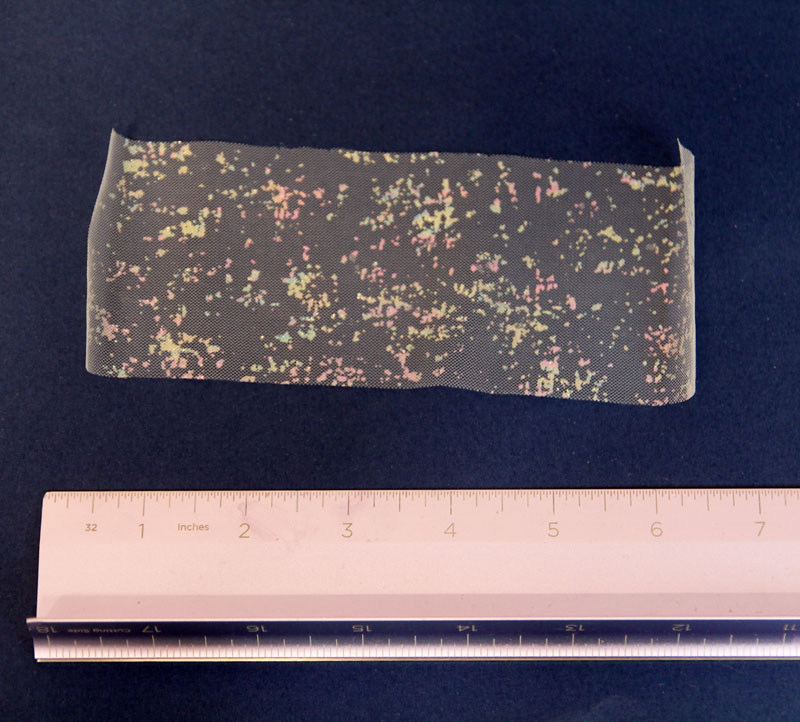 2. Layer 5-7 ribbons of about the same size.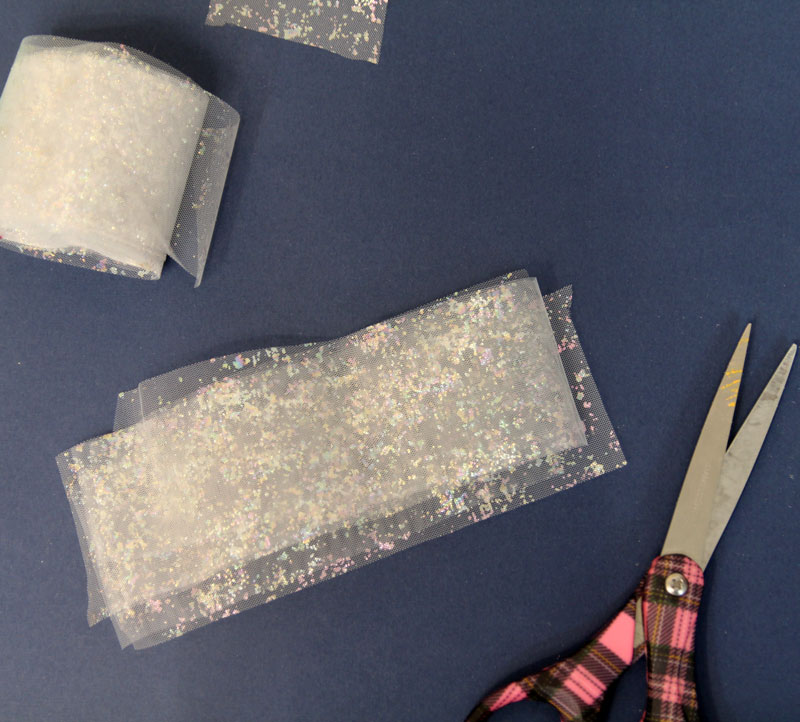 3. Start gathering your ribbon into an accordion fold. I like to do it from one direction with my fingers, but you can flip it over for each fold if you find that easier.
4. Gather it in the center as accurately as possible. Tie a length of ribbon around it.
5. Pull it tight. If you're having trouble getting a tight knot around the middle, simply make a single knot to hold it in place, then wrap your ribbon tightly around the center. You'll find that it holds it better and now you can double knot tightly.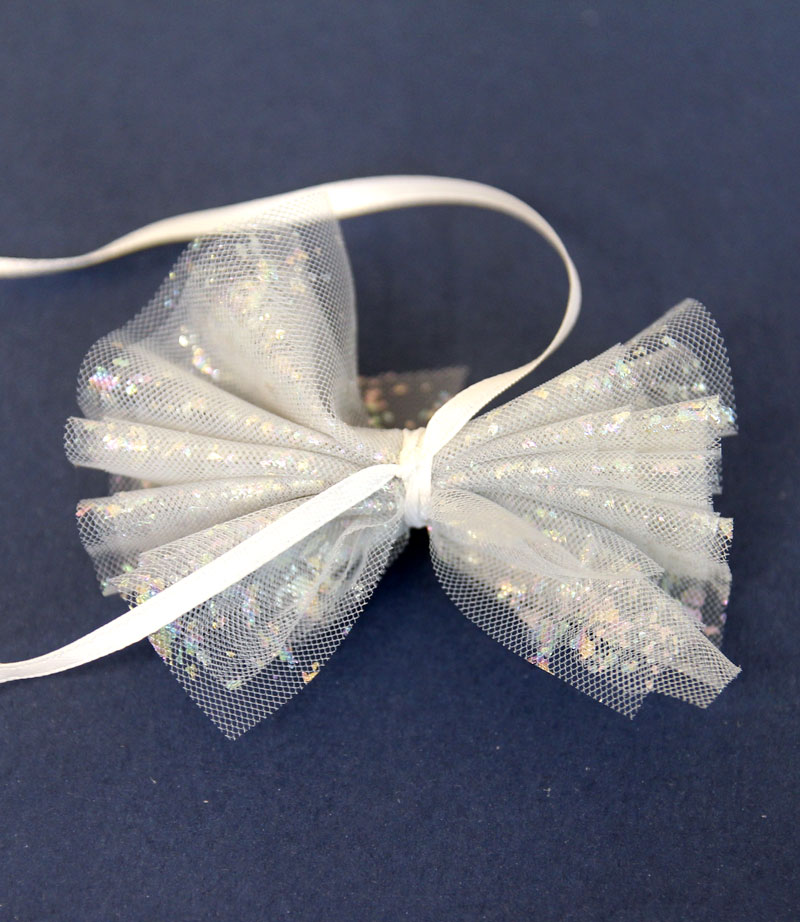 6. Begin separating your layers. Just pull up one layer at a time on each side and fluff it up.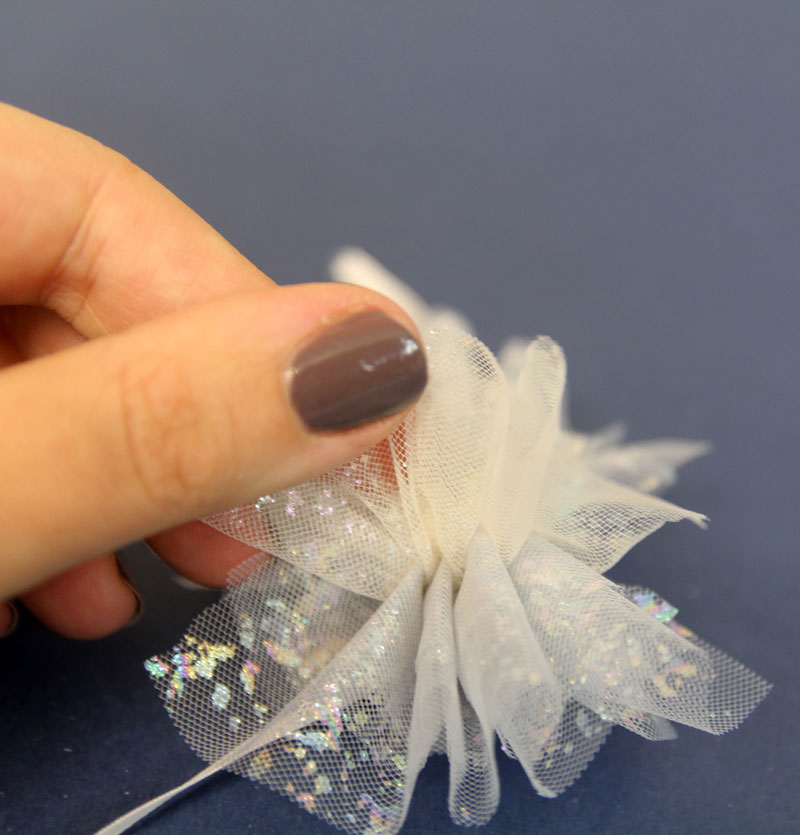 7. If your pom pom is small and your layers are tight, you might have a harder time finding each layer, but don't worry about it! Just separate what you can and fluff up those layers!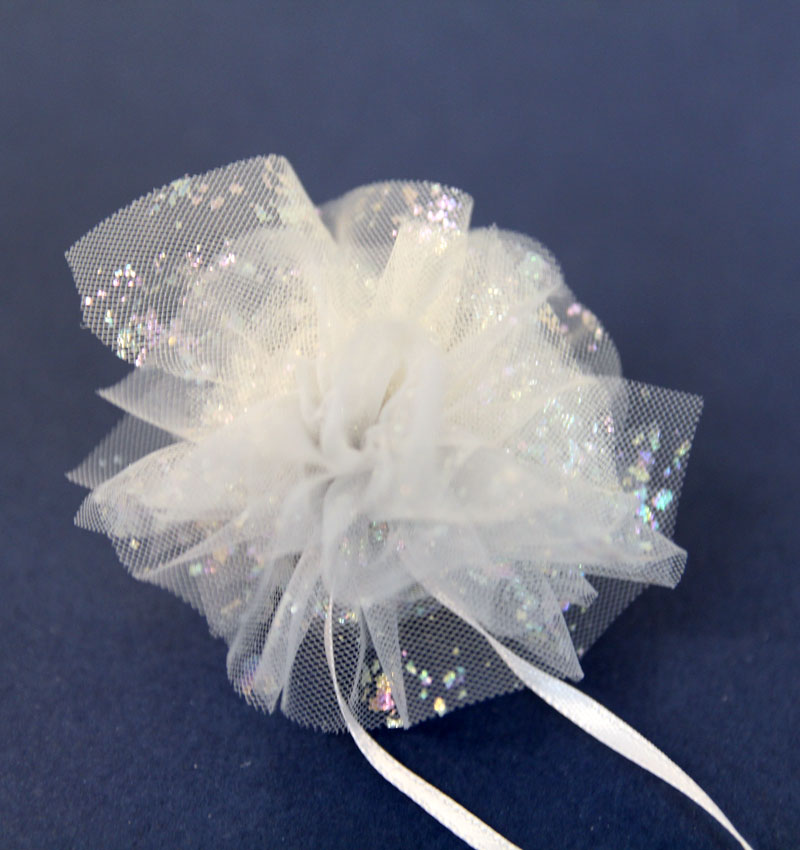 8. Trim off any bits and pieces that seem out of place. Your pom pom shouldn't need too much adjustment but there may be bits that annoy you and you can totally safely trim them off.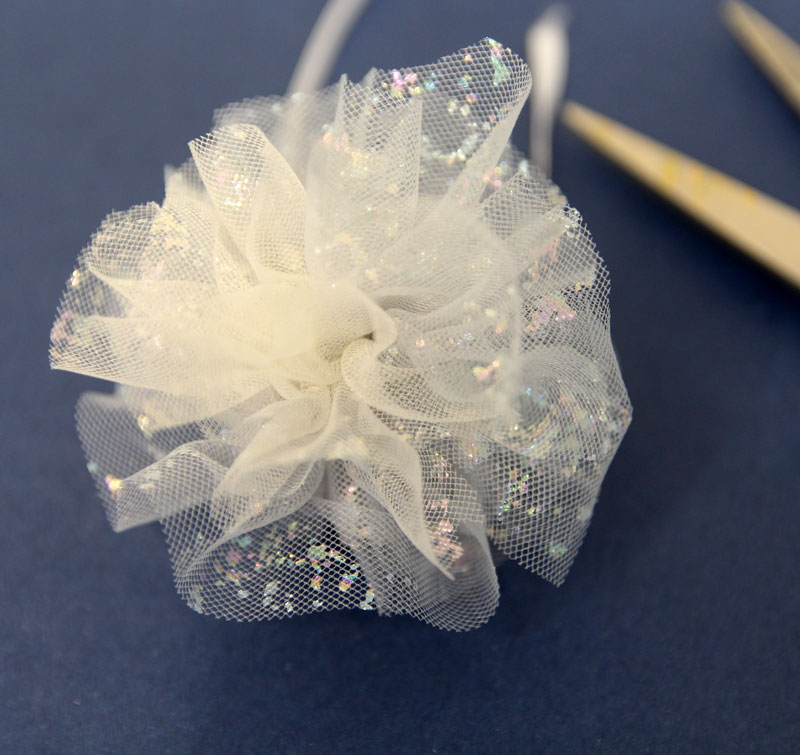 How to finish off a tulle pom pom headband
Since I made mine into a headband I figured I'd show you a glimpse of the process!
First, I placed a bit of hot glue on the core of the pom pom, by the ribbon. I glued it to the center of my elastic. Then, I double knotted the ribbon around the elastic, pulled tight, and trimmed it close. Tip: if you wet your ribbon before pulling tight, you get a more secure knot!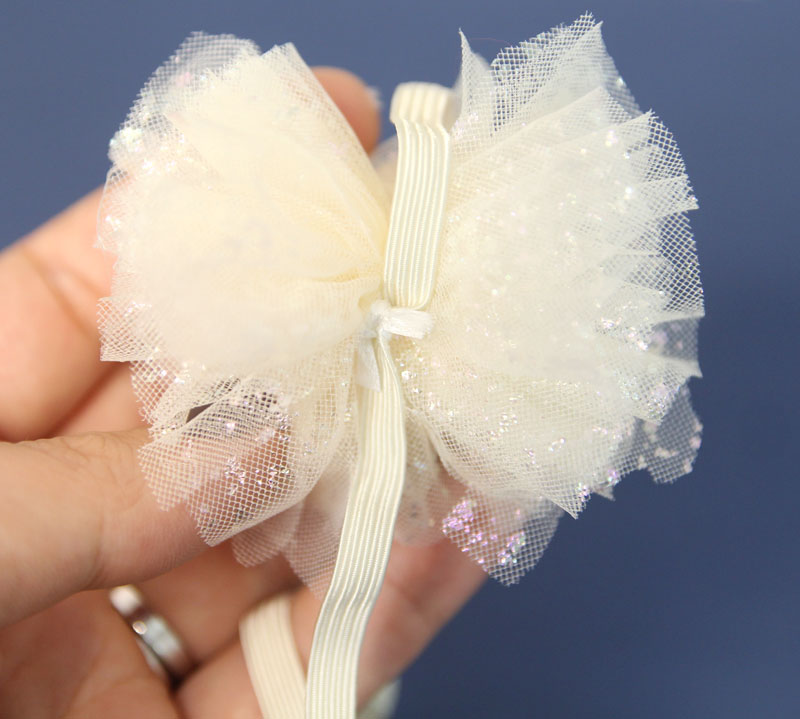 I repeated with two slightly smaller pom poms on either side (trimmed down in size a bit) and then closed off my elastic with a bit of hot glue. It looks gorgeous on our little princess!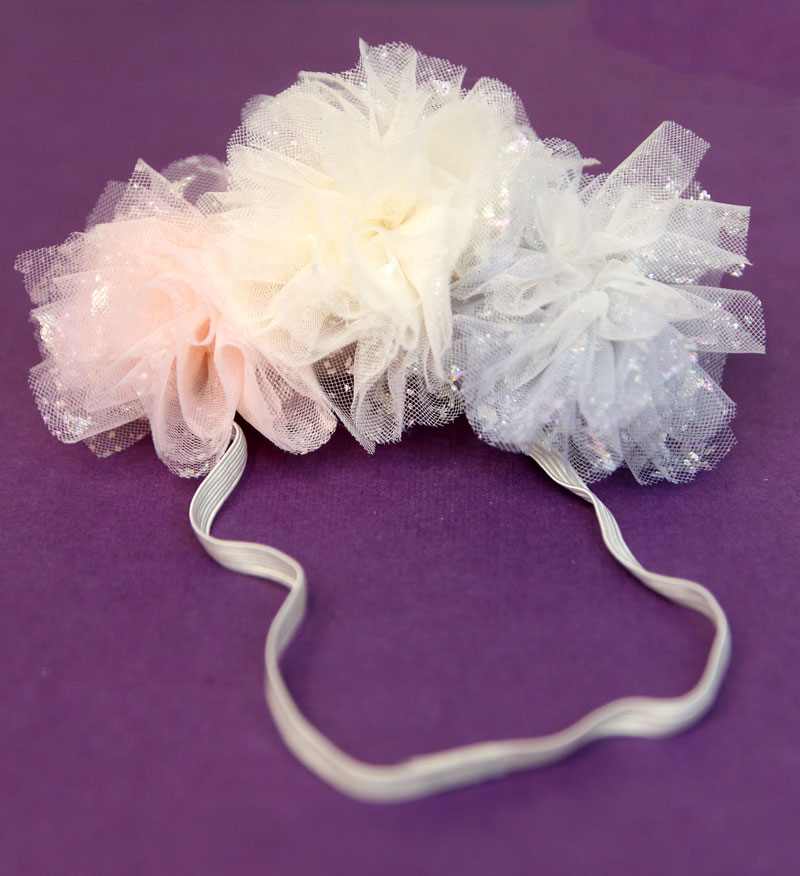 You've successfully learned how to make a pom pom with tulle! What will you be making yours for? Got any tips to add? Comment below!