To celebrate the launch of my Postcards coloring book at the beginning of this month, I decided to offer a free sample page as part of our butterflies coloring pages challenge for the Coloring Tribe for the month of April. Disclosure: this post contains affiliate links.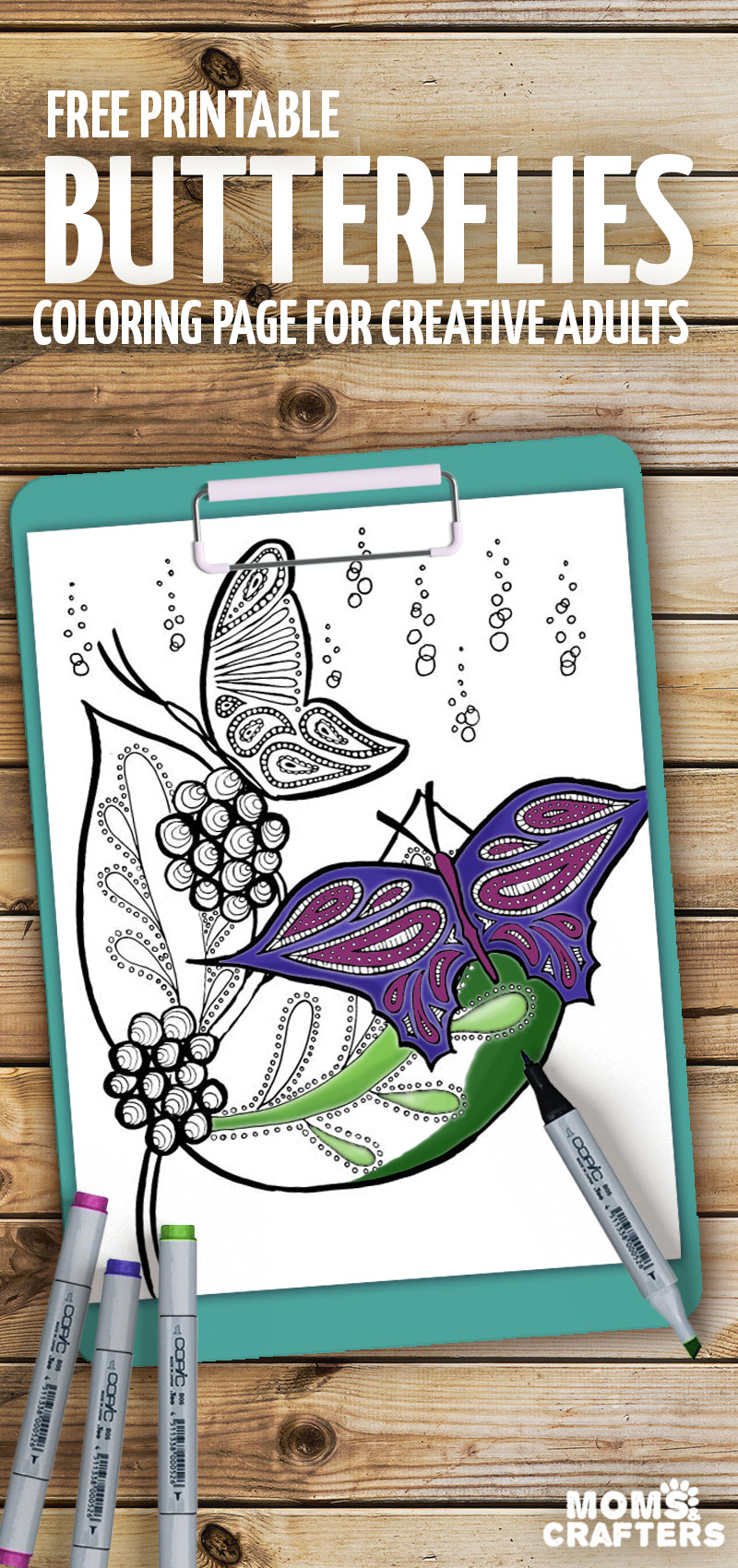 Although I'm on a lighter posting schedule for a couple of weeks while we celebrate Passover, there's one post I'll never ditch: my Coloring Tribe freebie!
This month's theme is butterflies coloring pages, and so I decided to offer you a free sample page from my newest coloring book, Postcards. I absolutely love butterflies – they bring life into any garden, but I also love drawing them. The simple patterns make for mindless drawing, which then gets transferred into your coloring experience.
Here's a reduced-quality preview image so that you can see more for yourself:
These whimsical butterflies are nestling around mega leaves, and some berries – use your imagination to complete that story!
It was hand-drawn by yours truly, while feeding Baby Y with the other hand, and discussing the latest preschool politics with M. I then cleaned it up in Photoshop and vectorized it in Illustrator to give you the ultimate coloring experience. You have a clean page to enjoy, with the handmade vibe and quality that's so precious!
Download your Free Printable Butterflies Coloring Page for Adults below:
Just enter your email and check your inbox for your freebie. If you don't see it, make sure to check your spam folder.
[convertkit form=5124896]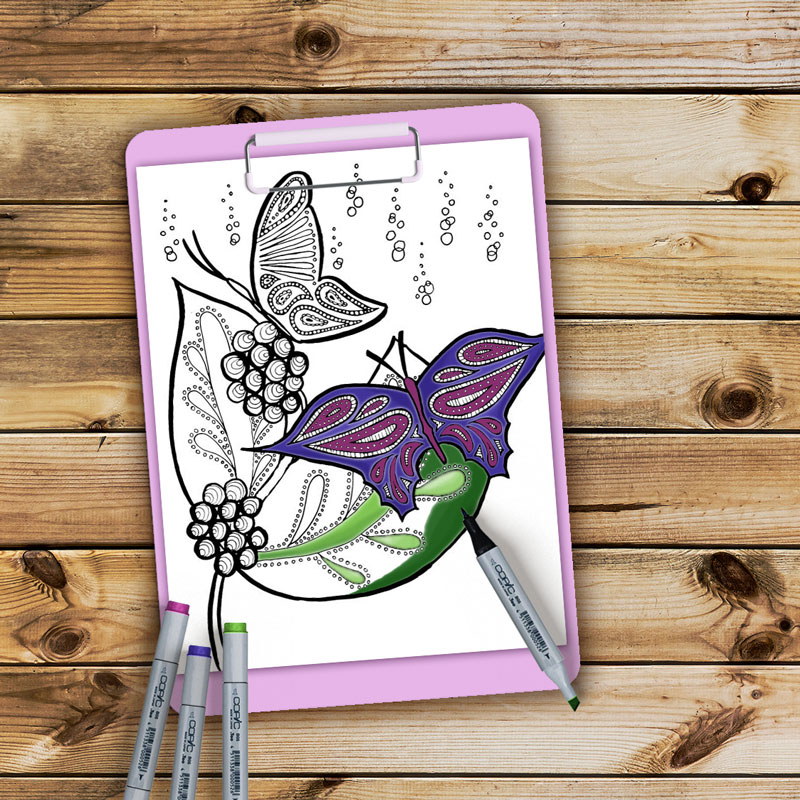 More about Postcards:
This butterflies coloring page is a sample from my newly released book, Postcards: Coloring Book for Creative Adults, which is available in digital or print format.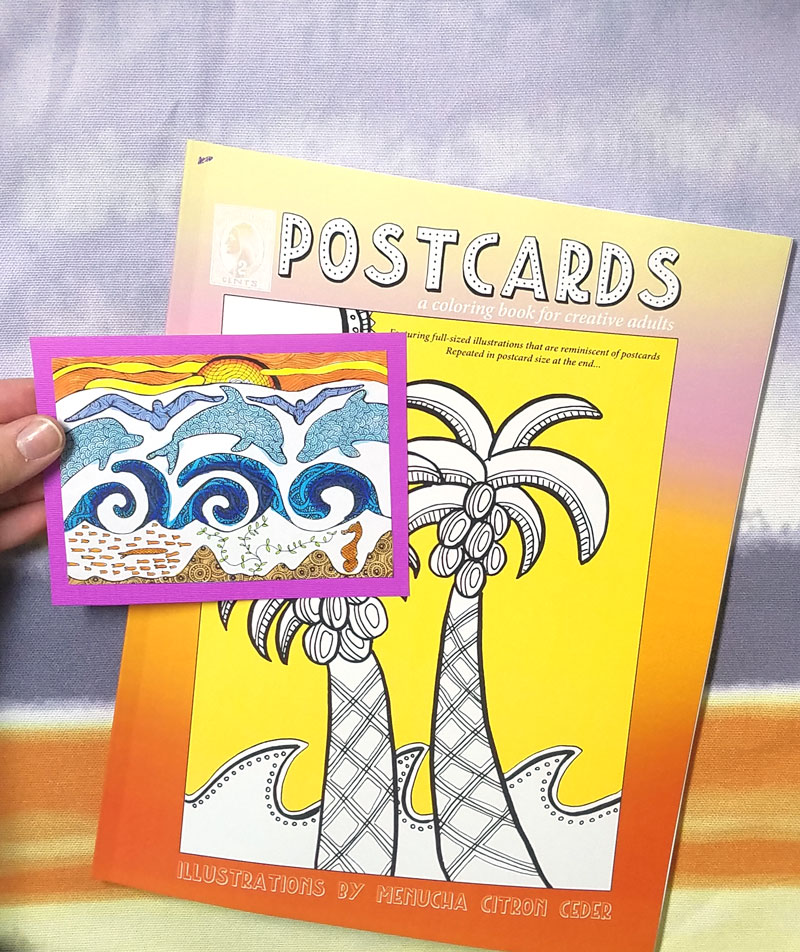 The book features full and postcard size images inspired by nature, travels, and more. You can learn more about it and see a full flip through and demo here, purchase it on Amazon, Etsy, or on Gumroad.
Get 5 more Free Butterflies Coloring Pages Below!
Click on each link and find the download area for five more butterflies coloring pages, from five talented artists! Each one represents a unique style – I know you'll love them! And then make sure to follow along with the Coloring Tribe's monthly coloring pages in our Facebook group, and share your colored artwork. Find past Coloring Tribe coloring pages here.