These adorable Valentine Pillows make the perfect Valentine's Day craft for tweens, teens, and big kids! They're super easy and fun to craft – make one or a dozen. Disclosure: this post contains affiliate links.
---

Remember those fleece tie pillows we used to make as kids in camp? We felt so cool with the final result, carrying them along with us until our projects were completed….
Today, no-sew tie pillows and blankets are a popular craft, so why not make it as a heart-shaped valentine pillow?
These are fantastic as mini gifts, and you can even use fabric paint to add some sweet messages when you're done. I do recommend doing that last so you have more flexibility with your tying, but you can also do it after cutting the fringe. Just make sure to leave good margins and to let it dry completely before proceeding!
Valentine pillows are a fun project because it takes something that typically requires a very specific skill (sewing) and makes it accessible to everyone.
Tie projects open up a world of new possibilities for crafting – whether the absence of a sewing machine makes it hard to sew, or if it's done in a group setting.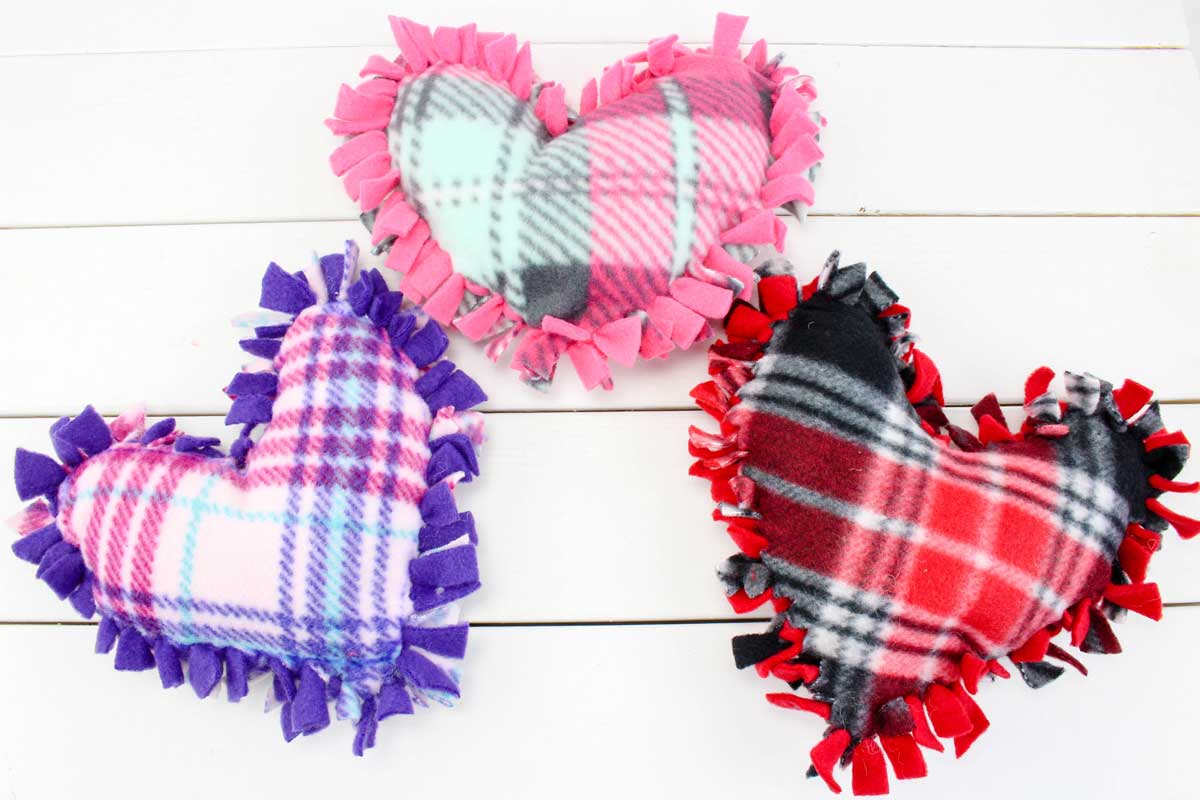 Of course, if you are able to sew, you can use fleece and PolyFill to make simple valentine's pillows by sewing right sides together, leaving a small opening to turn right side out and fill, and hand stitching the opening.
Or have fun tying this classic summer camp craft!
These Valentine pillows are perfect for anyone to make for a BFF or loved one. They are a great party craft for tweens and teens. You can pre-cut the hearts to make it easier to do in a crowd, or let them make it from start to finish.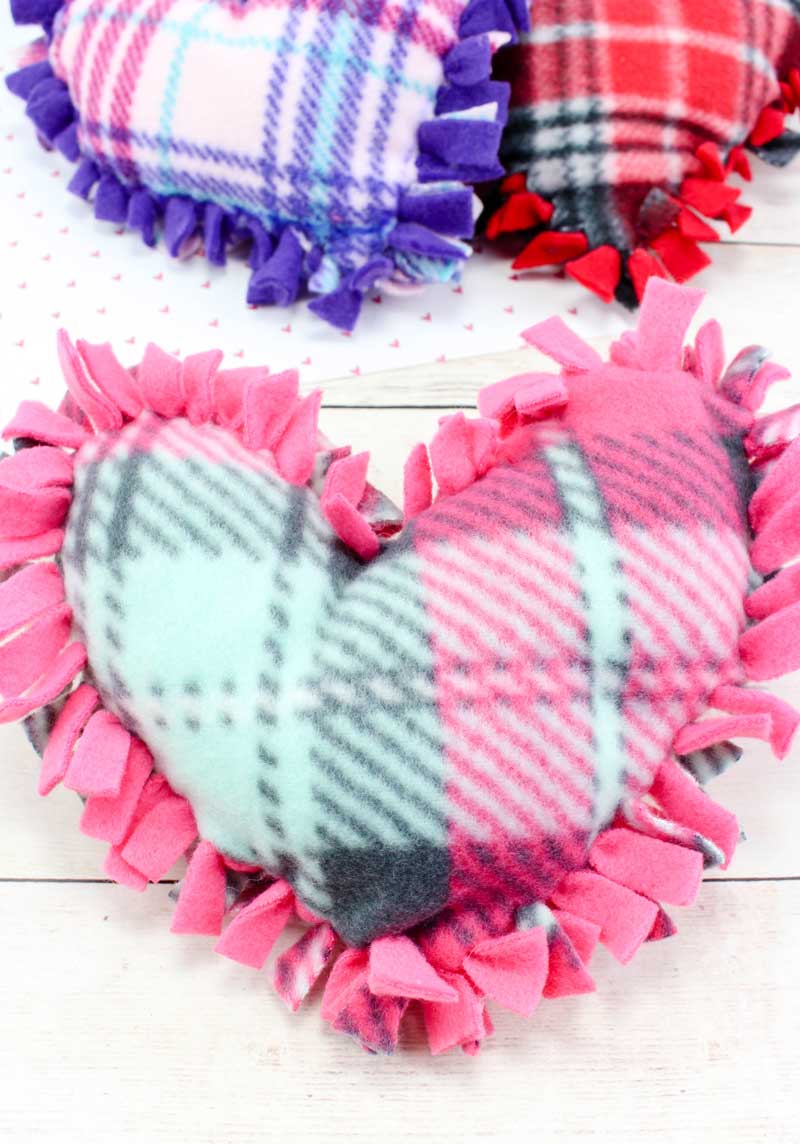 Fleece is from among the more affordable fabrics, and the fact that you don't need to "seal" the ends – it doesn't fray – makes it that much easier to make these adorable valentine pillows with them!
For these valentine pillows, you can either go with solids (which tend to be cheaper) or mix them with cute prints like this plaid to seriously upgrade your project.
Whether you are making these yourself, or crafting it with your tweens and teens, the main thing is to have fun with it!
If you're doing this as a group, you'll want to prep the basics in advance. Even if you're making it yourself, cut when you have space and time to give it your attention, and then work on tying all your knots while relaxing with a favorite show, in the doctor's waiting room, or wherever/whenever you want!
My final tip is to use a very good pair of fabric scissors when cutting!
It's a lot of cutting and the scissors you use will make or break your cutting experience.
What's Needed to Make Fleece Tie Valentine Pillows: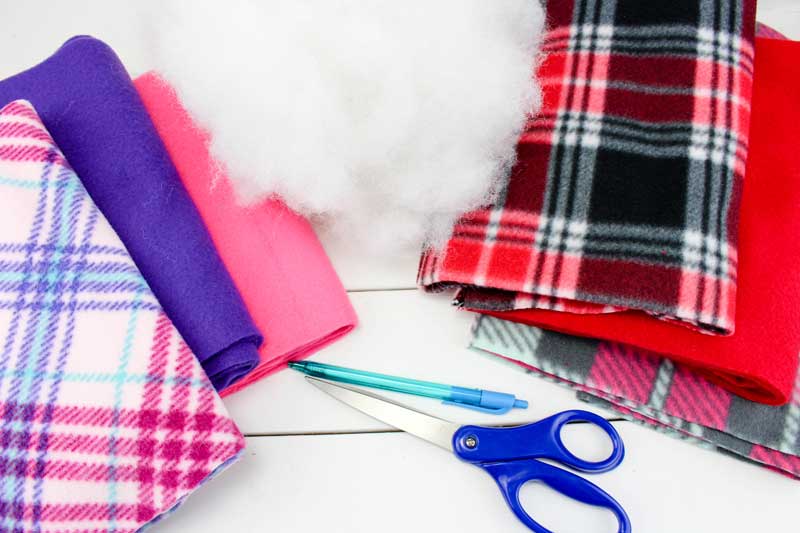 2 pieces of fleece per pillow – suggested size: 9×9 inches
Pen or marker
White paper to make your template

How to make fleece tie Valentine pillows:
1. Cut out a heart shaped template from the white paper. Make sure to make it
no bigger than your pieces of fleece. Use the template to cut out the heart shape from each piece of fleece.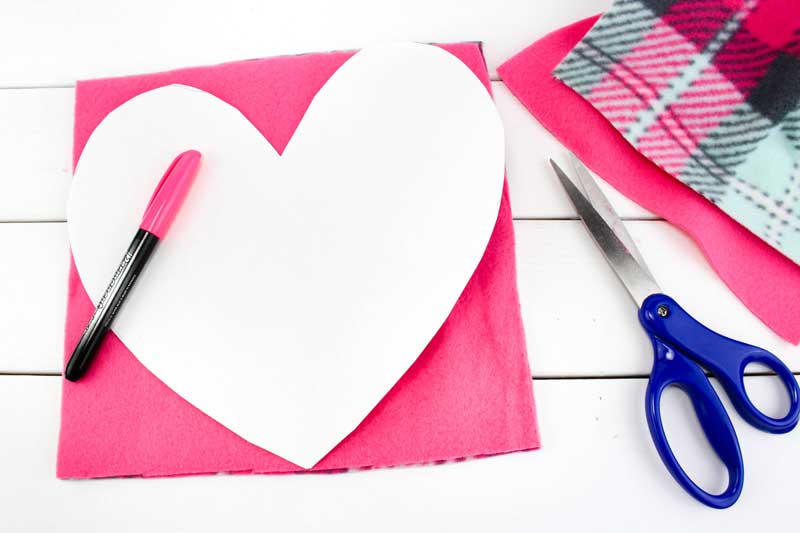 2. Lay 2 fleece hearts on top one another and draw a smaller heart on the top
heart. I suggest making it about 1 ½ inches smaller. This smaller heart is
used as a guide to cut your strips.
3. Start from an edge and cut little strips, about ½ inch wide, into the fleece, making sure to stop at the smaller heart you drew. Continue until you have strips around the entire perimeter of your heart.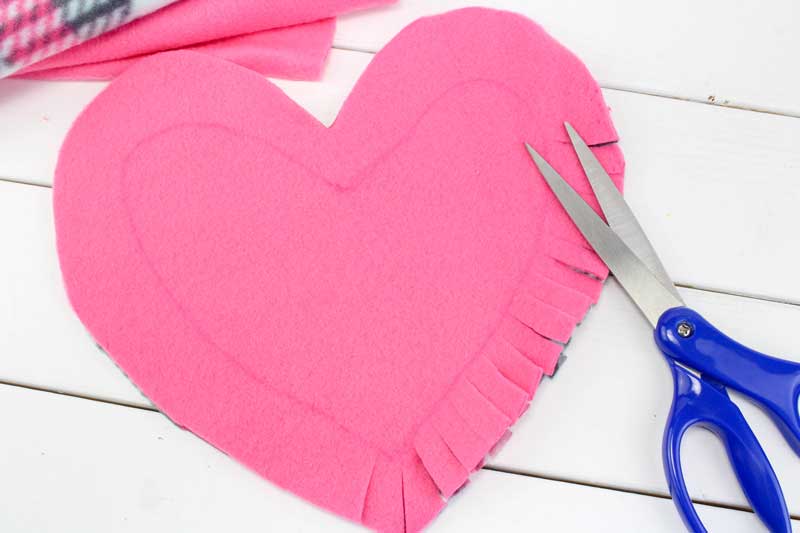 4. Now take 2 strips that are on top each other and tie them into a tight little
knot. Move on to the next 2 strips until you've gone almost all the way
around.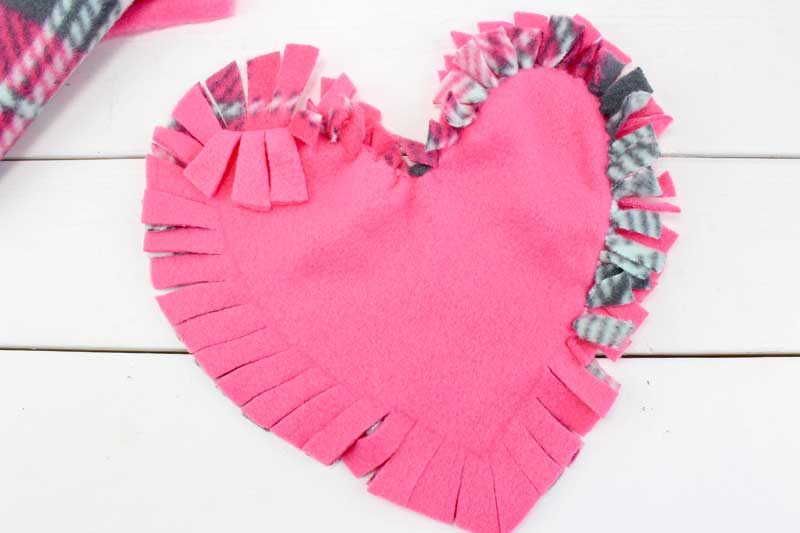 Leave a little opening so that you can fill your Valentine pillows. Stop with about a 2-inch opening.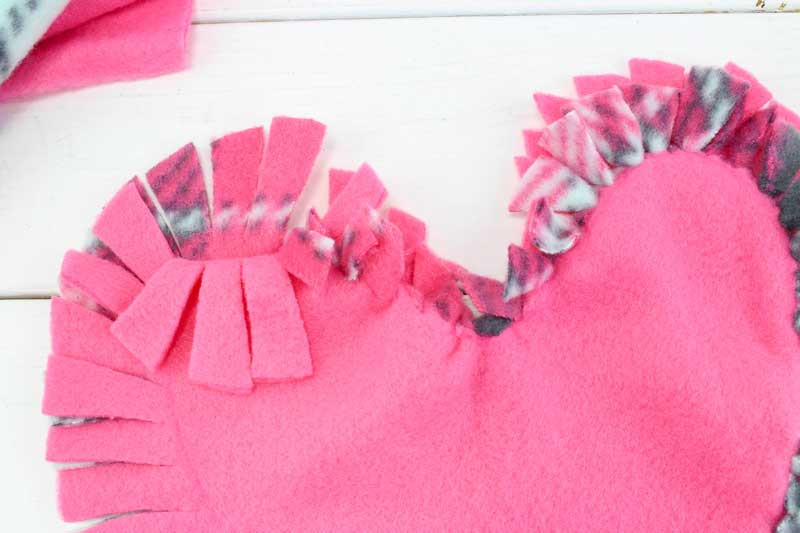 5. Stuff some pillow stuffing into the pillow until you like how full it is. Then finish
tying the last few strips together.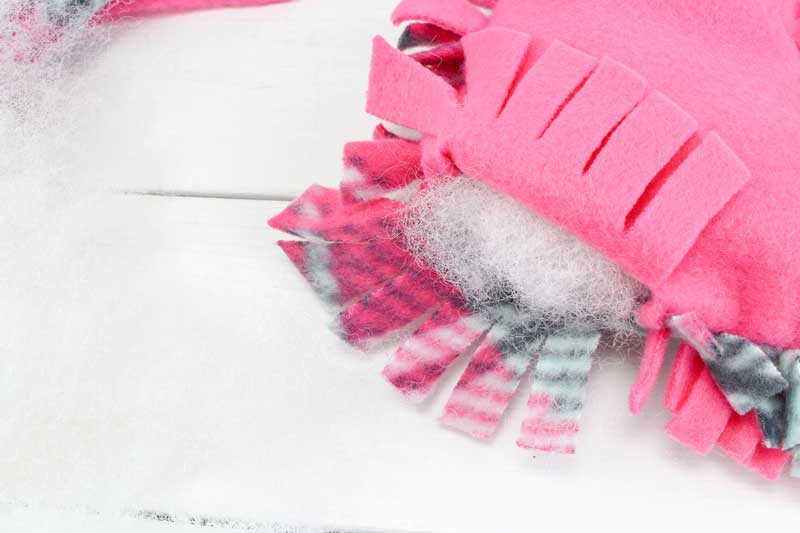 Your valentine pillows are ready to share with a loved one!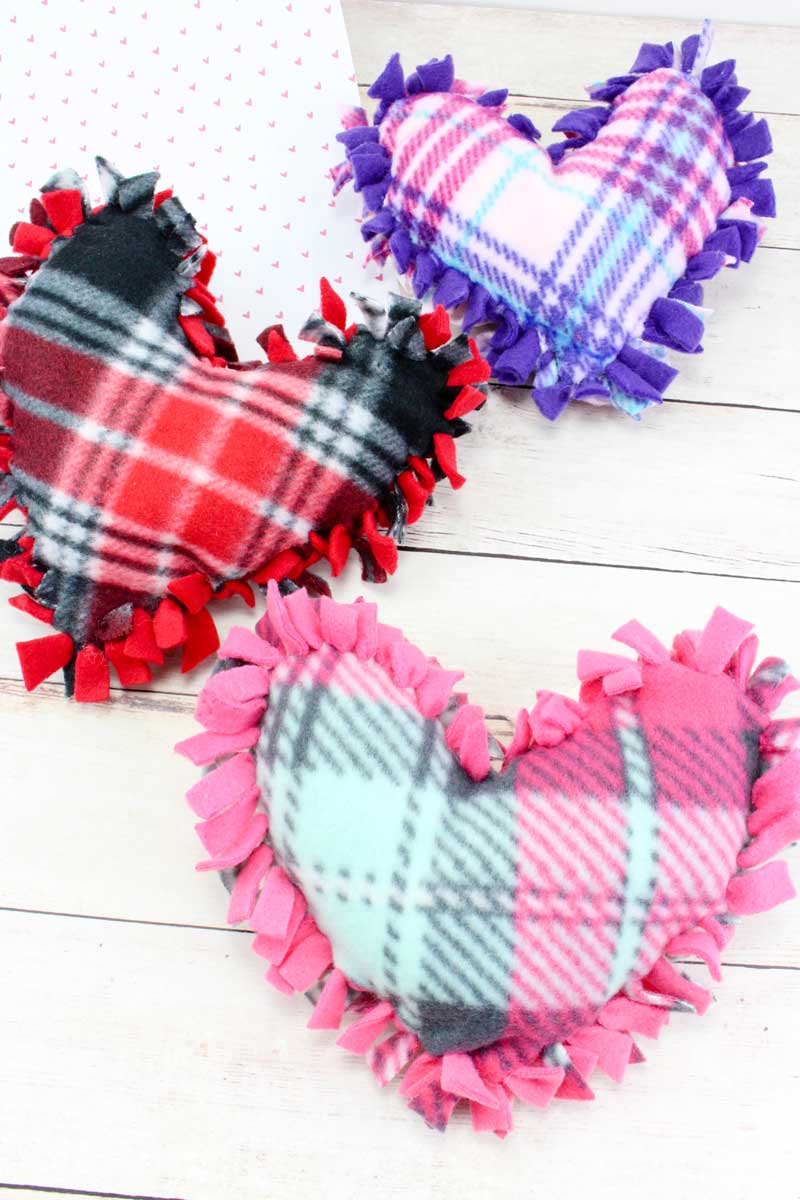 Who will you be making these Valentine Pillows with or for? Comment below!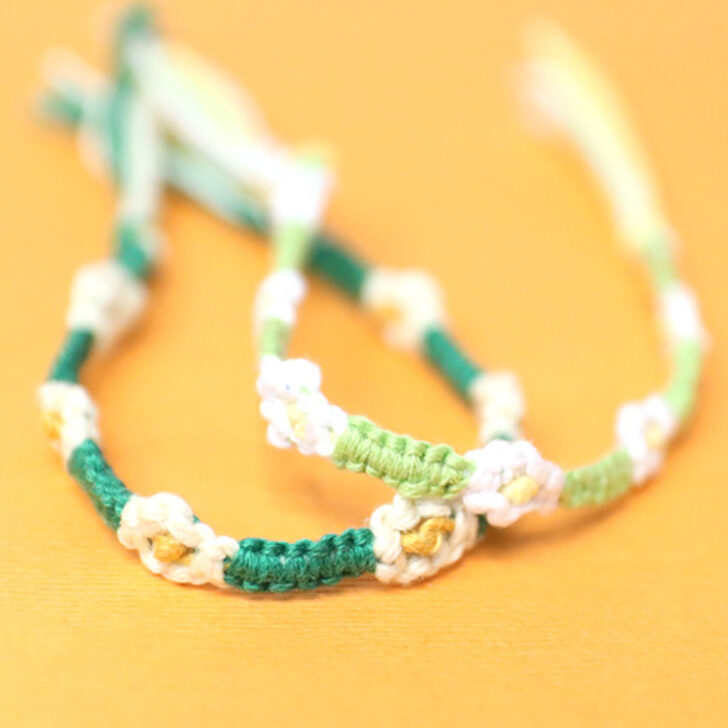 Make these simple flower friendship bracelets using basic friendship bracelet makings kills! When you're done, check out more friendship bracelet patterns for beginners. This post …