'Tis the season of stores overrun with pool noodles, cheaper by the dozen, and so the time to find pool noodle crafts and activities to try! Use these ideas to find unique things to make with pool noodles! Disclosure: This post contains affiliate links.
Pool noodles are versatile, flexible, easy to cut, and huge. They are cheap and therefore perfect for giant fun.
I wanted to present you with some ideas of my own but we don't have space for such large scale fun, so instead I spent days scouring the web and asking around for ideas from other bloggers. Make sure to check out the tutorial for each by clicking through. Leave a comment once you're at it…
Copyright:
All of the images for the pool noodle crafts below were used with the permissions of the respective bloggers for the purpose of this post. Click on the title link or image for the full tutorial.
I have created a square and vertical image for your convenience for sharing these pool noodle crafts. Please use the first or last image in this post when sharing and not one of the individual photos below, out of respect for the creators' copyrights.
18 Pool Noodle Crafts
1-2. Float these pool noodle boats by Our Family of Seven. Or try out another great version by Simple Fun for Kids.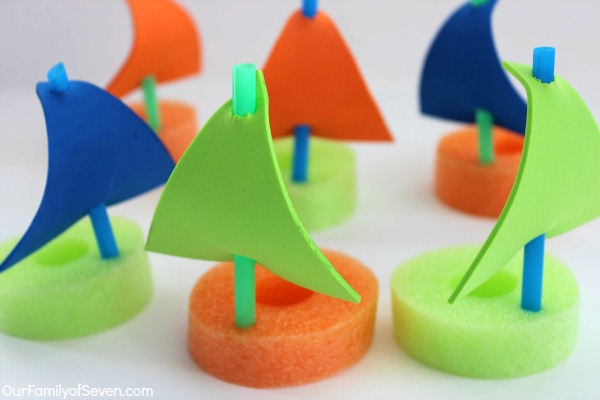 3. Kids Activities Blog has these awesome pool noodle lightsabers you can make!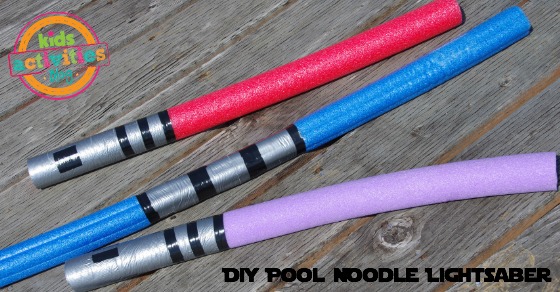 4. Make these magnificent luminaries with a tutorial from Create Craft Love.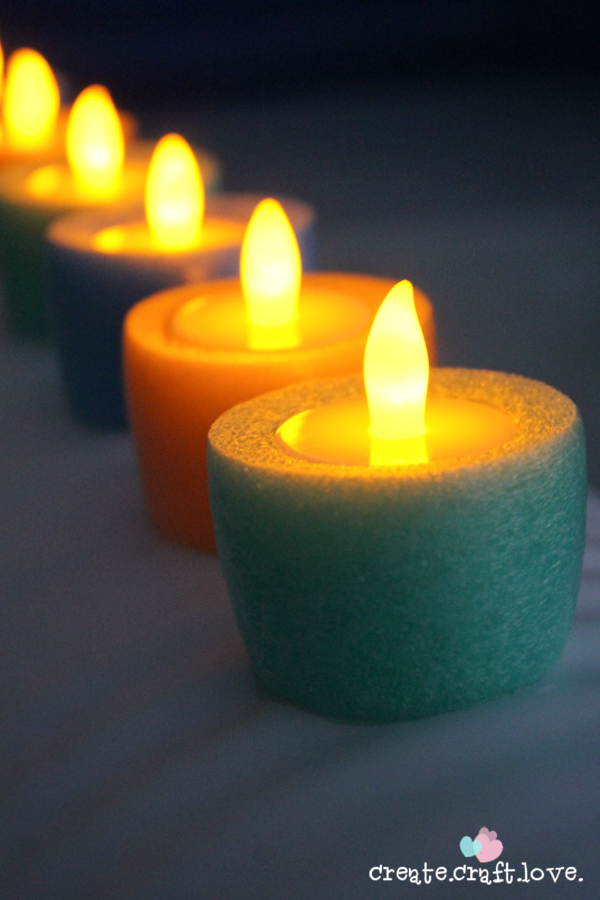 5-6. Here are two ways to build with pool noodles – one from Child Central Station and one from And Next Comes L.
7. What? That's a noodle? That's what people will say when they see this magnificent column by Epbot (if you choose to tell them).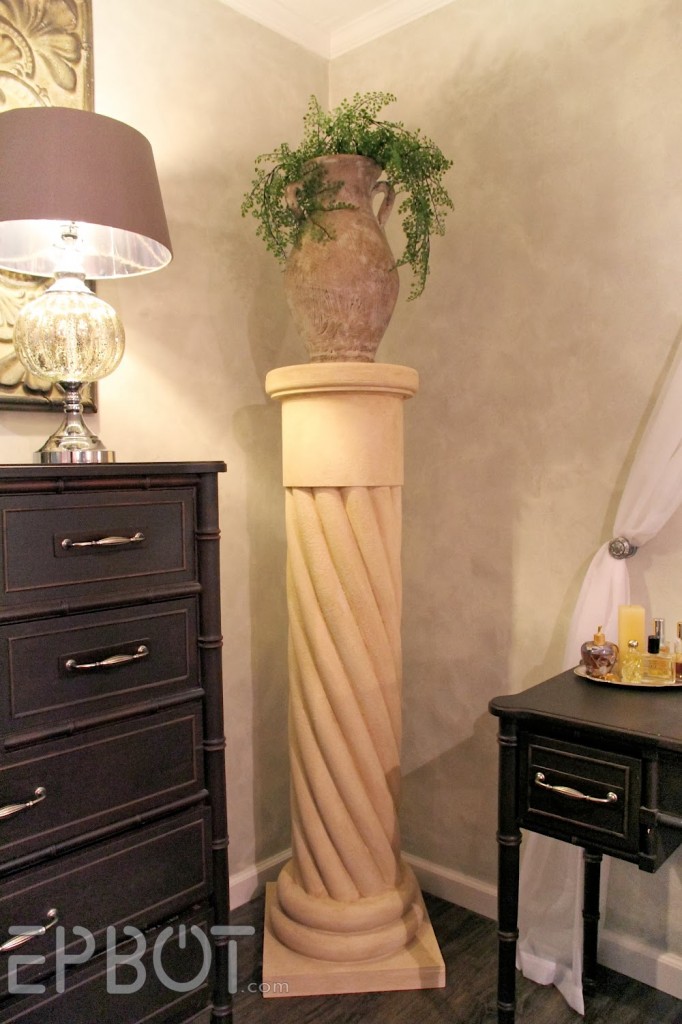 8. This jumbo pencil by Lalymom also doubles as a "chalk holder" for keeping fussy hands clean!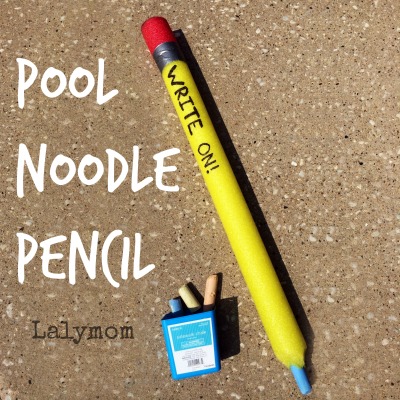 9. Can you spot the pool noodles here? Check out this genius idea for pool noodle wood piles from Miss Kopy Kat.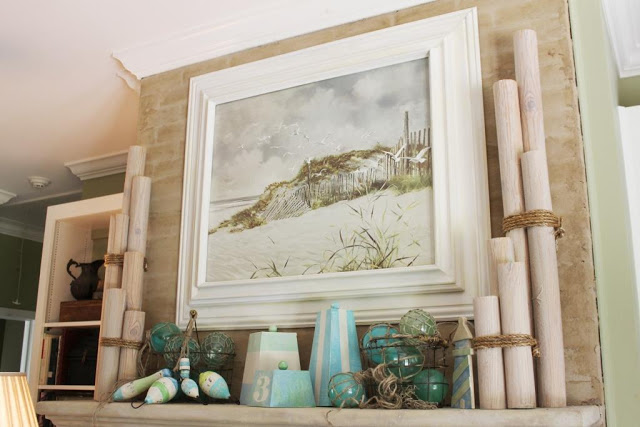 10. Make these adorable bees by And Next Comes L.
11. PBS has a great tutorial for making hobby horses from pool noodles.
12 This one is slightly seasonal, but you'll want to bookmark it for when Hanukkah comes around… because there's nothing quite as festive as a jumbo Menorah courtesy of Bible Belt Balabusta!
13. See this Instructable for making a beverage barge from pool noodles, of course.
14. Learn how to use a noodle as the base of a wreath, such as this flip flop wreath by Fox Hollow Cottage.
15. You can also use this technique by Bugaboo, Mini, Mr & Me to make a lucky wreath, or a wreath in any shape.
16. Sew Many Ways has so many ways to use pool noodles – not limited to these fun napkin rings. Make sure to check them all out.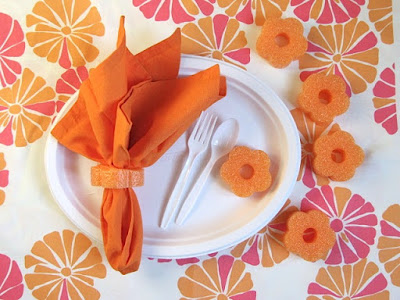 17. Tangles with Teaching used pool noodles for an integral part of this Dr. Suess themed classroom.
18. A noodle, of course, serves as the vital base for this spider by Molly Moo crafts.
4 Pool Noodle Art Ideas

19-21. Pool Noodles are great for printing! I Can Teach My Child makes olympic rings, Toddler Approved makes pumpkins, and Life Over C's makes apples.
22. Wow, wow, and wow! Check out this real working art bot made by Handmade Kids Art.
23 Pool Noodle Activities
23-24. Learn Play Imagine is a pro at making huge backyard obstacle courses from pool noodles, along with many other outdoor play ideas.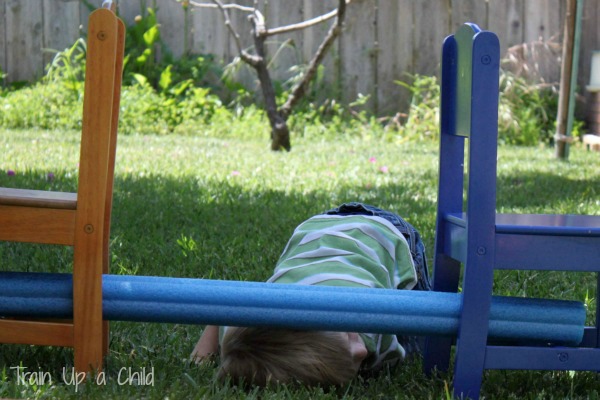 25. Pool noodles play an essential role in this cookout themed bath by Growing Book by Book. (try it in the kiddie pool too?)
26-27. A pom pom shooter or a confetti popper – it's your choice! Check out these simple ideas by Frogs and Snails and Puppy Dog Tails.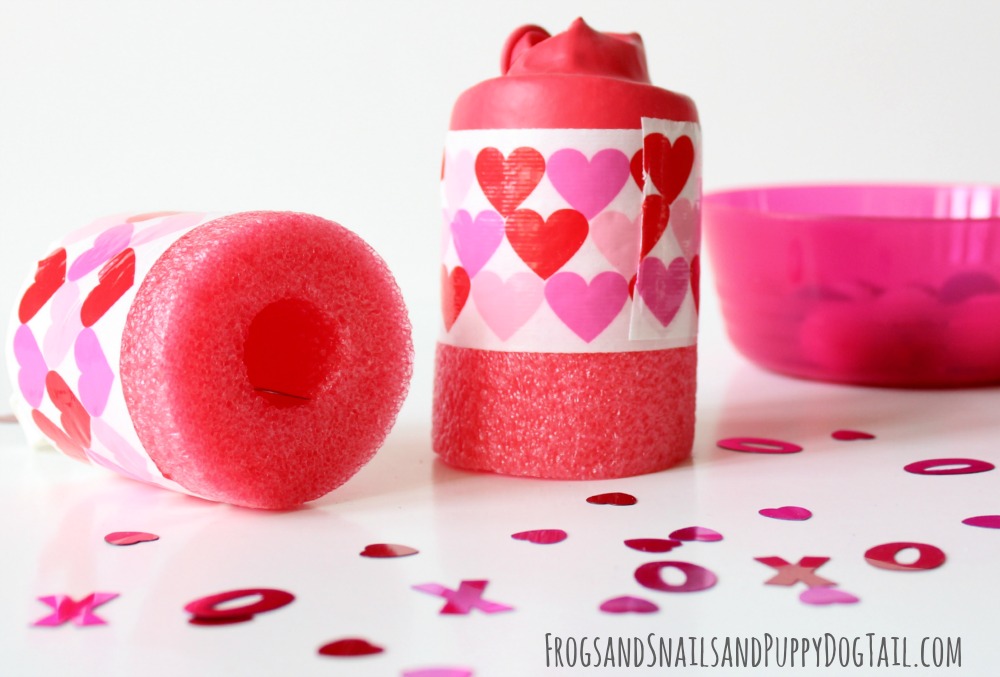 28. This pool noodle water wall by Teaching Mama looks like a blast!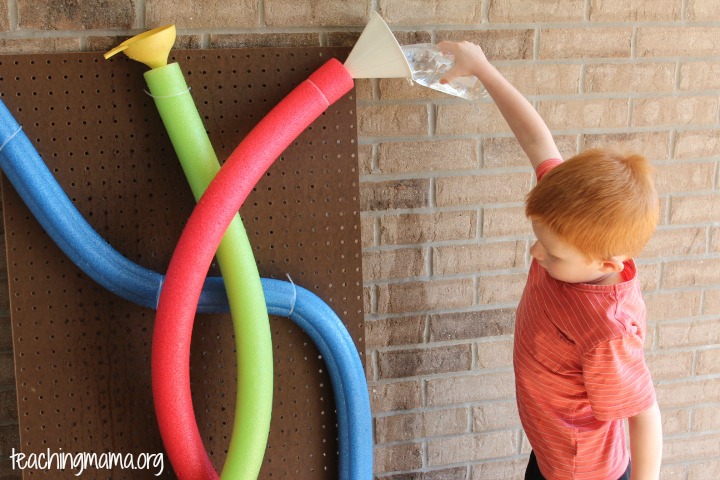 29. Make a pool noodle catapult by Toddler Approved.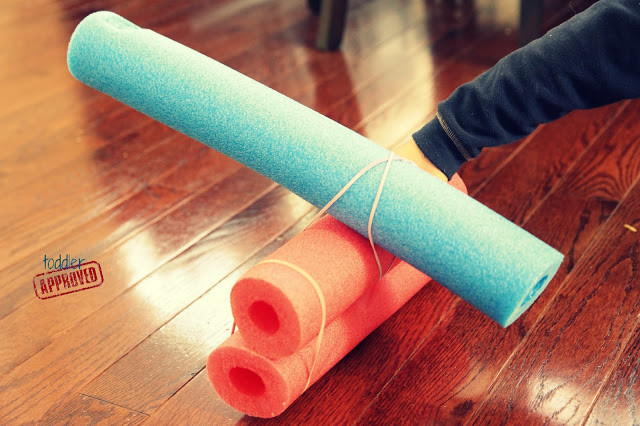 30. These simple blocks by I Can Teach my Child are perfect for quiet time, indoors or out.
31. Pool noodle train tracks by Play Trains make for large-scale fun.
32. Turn pool noodles into a massive building toy by making these connectors via A Little Pinch of Perfect.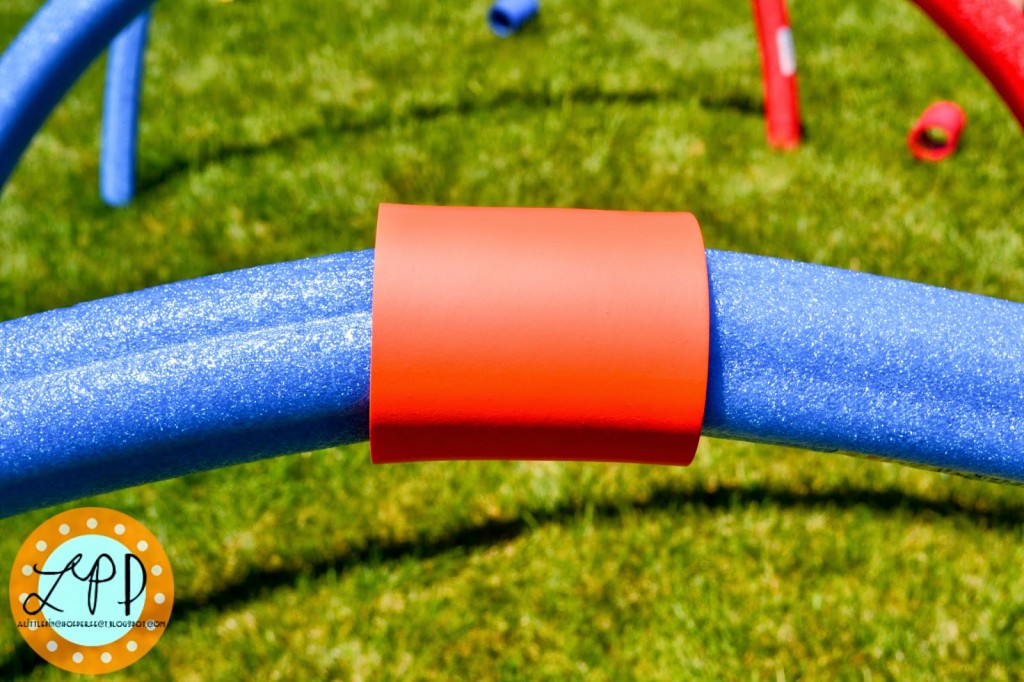 33. Therapy Fun Zone has turned pool noodles into a javelin throw with a simple tutorial. (Browse around – there are more great ideas there using pool noodles).
34-35. Frugal Fun 4 Boys always has the best inexpensive play ideas, including this pool noodle rocket flinger! and this marble run too!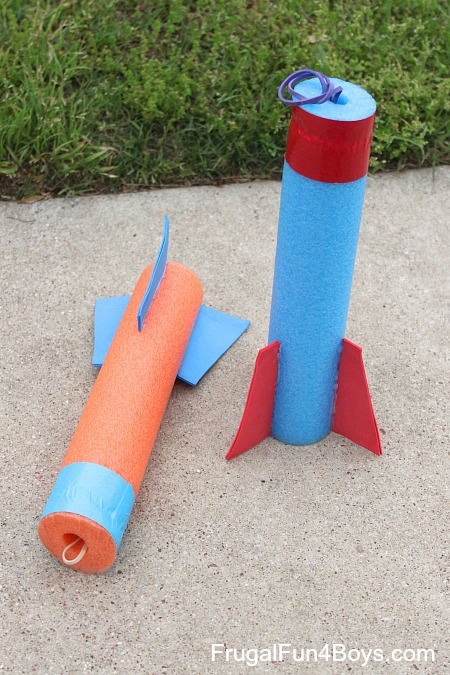 36. The Jenny Evolution uses pool noodles in simple sensory play.
37. Pool noodles make a great water bead slide too! Check out how Teach Me Mommy uses them.
38. This visual motor ring by Therapy Fun Zone looks like a blast!
39. Paging Fun Moms turned a pool noodle into the coolest sprinkler ever.
40. Pre-K Pages made a pretend play garden – a great DIY toy!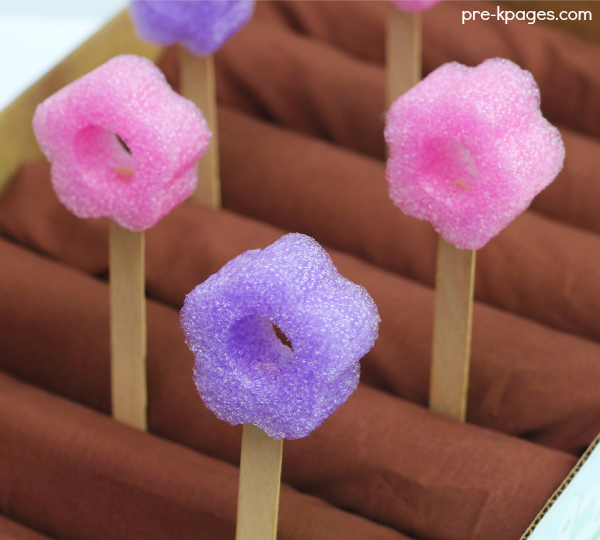 41-45. Here are five more ideas for summer fun using pool noodles courtesy of The Joys of Boys.
4 Ideas for Pool Noodle Learning
46. Learn outdoors this summer with an outdoor letter line by Adventures of Adam.
47. Make a pool noodle abacus for outdoor learning by Happy Hooligans.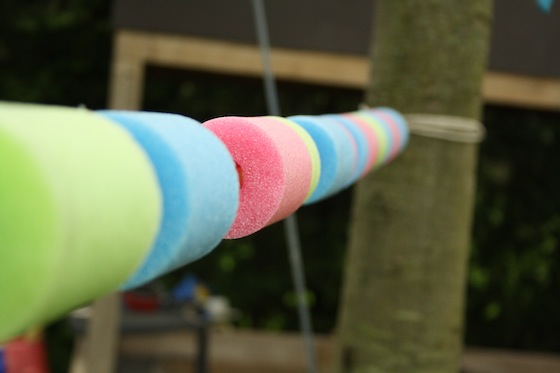 48. Pre-K Pages uses pool noodles for learning syllables.
49. Mama Pea Pod uses noodles to teach about patterns hands-on.
50+ Check out my new list with even more ideas for pool noodle activities, including some fun hacks!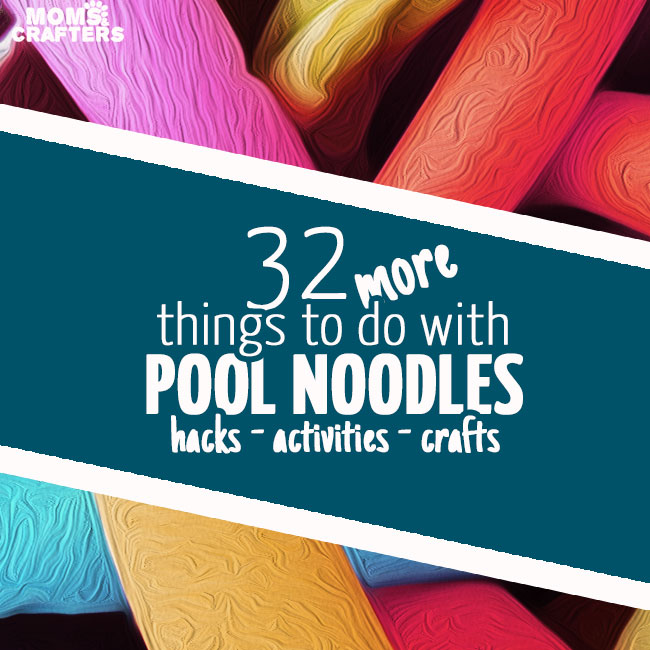 What ideas do you have for pool noodle crafts and activities?
Loved this? Check out some more unconventional craft supplies right over here.