This DIY key and accessory organizer was made in partnership with Sugru. The post was written by me, and all opinions are my own. This post contains affiliate links.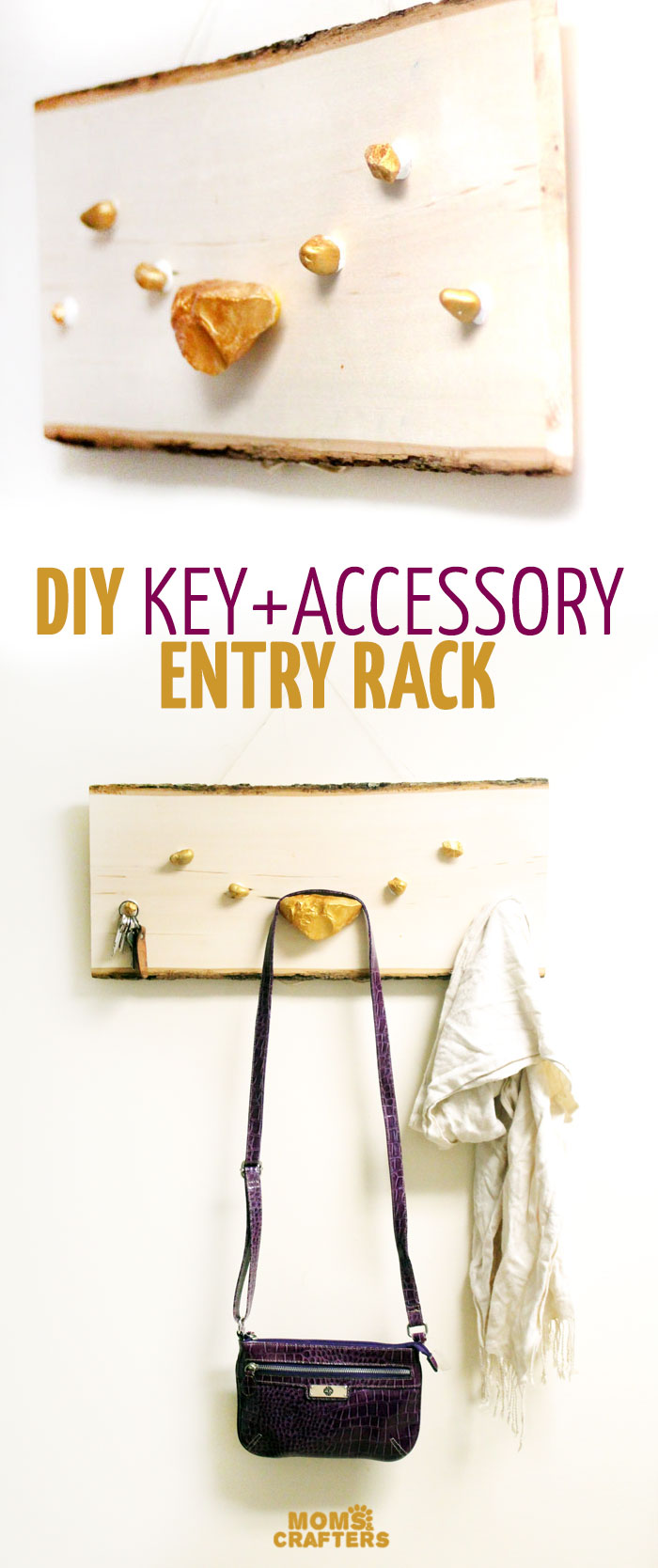 A new home… endless opportunities. And yet, until we get properly set up, I'm finding that I have nowhere to put things! And for that reason, I have been finding myself either getting cheap, not-so-pretty options, or (gasp!) dumping.
I decided that a MUST for this new house is a pretty entry-way key and accessory organizer. Since it sits out in the open and its PURPOSE is to gather clutter, the piece itself needs to make a statement. It's got to be sturdy, beautiful, and bold. Simplicity is a plus, to keep clutter at bay.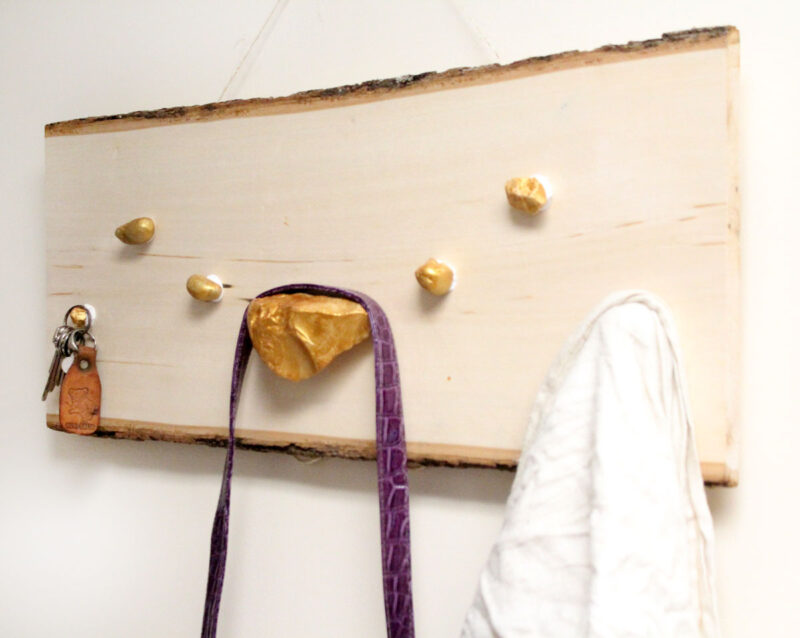 This DIY key and accessory organizer is so easy to make. You don't need special skills. You don't need tools. And you use rocks. Do you hear me? YOU USE ROCKS! to hang your things.
I'm talking about the free kind, that you find outside. The kind that, if you go too big, will fall with a nice boom. The kind that is super hard to stick to anything.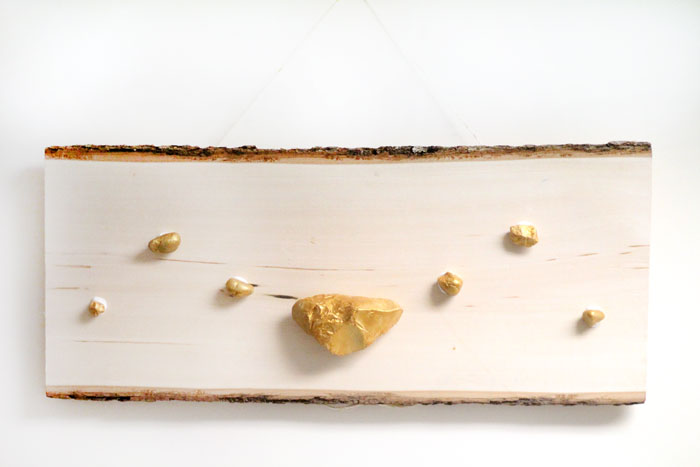 So what's the secret? Why, it's Sugru, obviously.
Sugru is a moldable glue that is actually a craft dough that when air-cured turns into RUBBER!
I am absolutely in love with this newly discovered craft material of mine. The possibilities are endless. They carry all sorts of colors. It's super easy to work with. And best of all: it's rental friendly! You can attach anything to the wall, and just slice it off with a knife when you're ready to move. I would have loved to have this at our old place…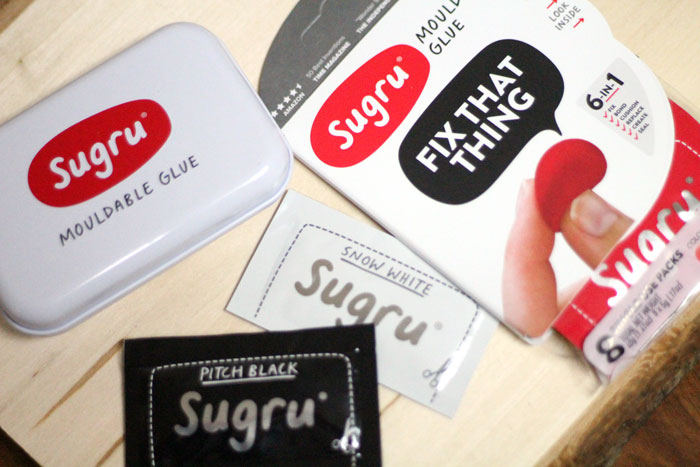 Do you see that rock in the middle? It's solid as… a rock. I was a bit skeptical and wasn't sure it would actually work on something so heavy. I decided to be brave and give it a go, and to put that huge rock in the center to hold something larger, like a handbag. And it worked.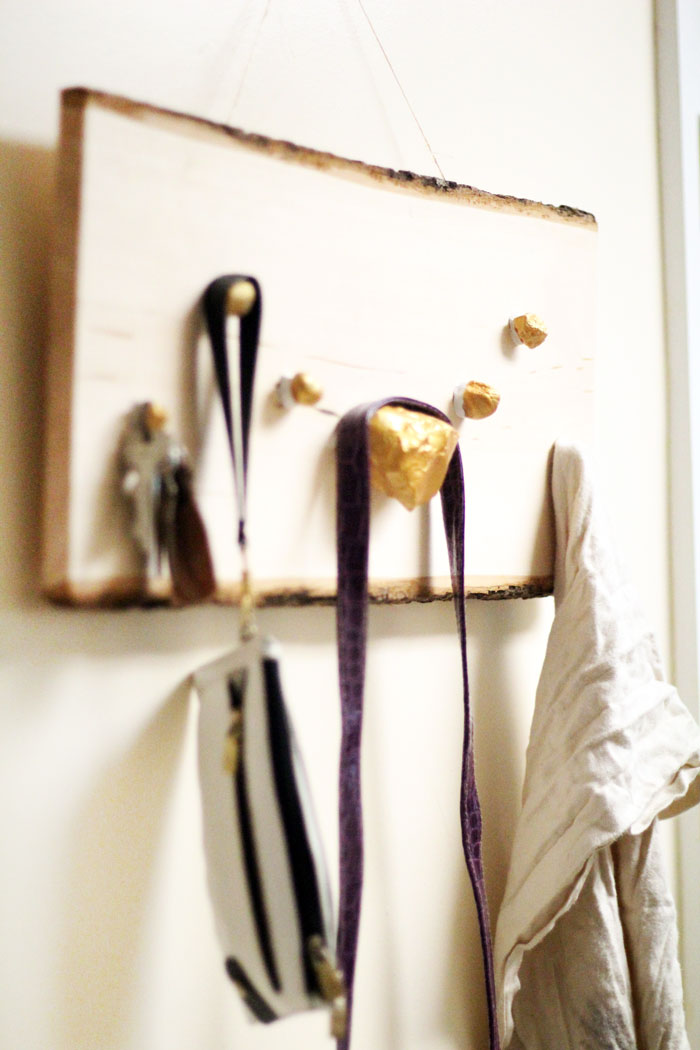 The Sugru was super easy to work with. It molded just as I needed, and wiped off my hands easily.
This key and accessory hanger has a rustic-chic look. The wooden slab (which comes that way) gives it a rustic feel, as do the organic shapes of the rocks. I painted them gold to add contrast and to brighten it up a little. Metallic notes in home decor tend to brighten and enlarge a space, so if you're living small, this is a great idea. A bit of gold metallic paint does the trick.
This also adds a modern touch, and prevents it from looking too log-cabin for a more traditional home decor theme.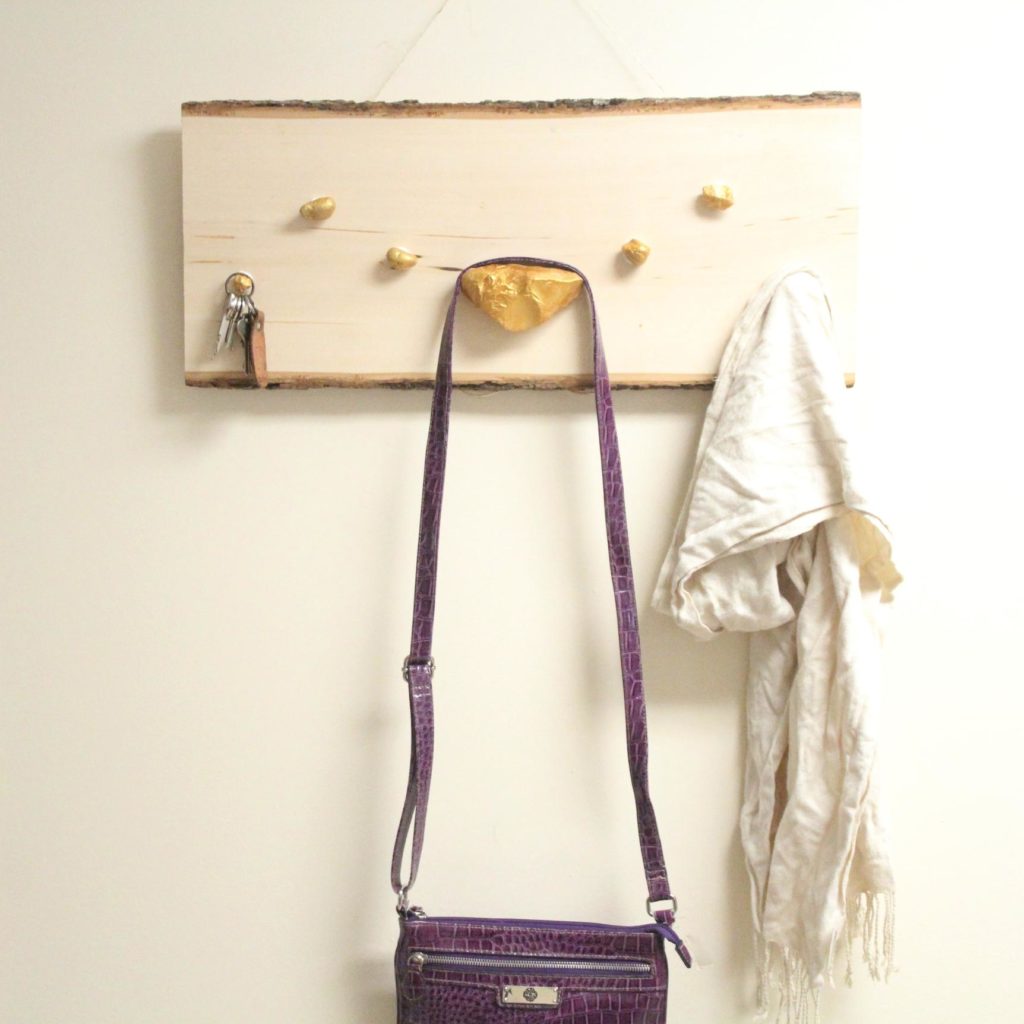 What you need to make a DIY key and accessory organizer: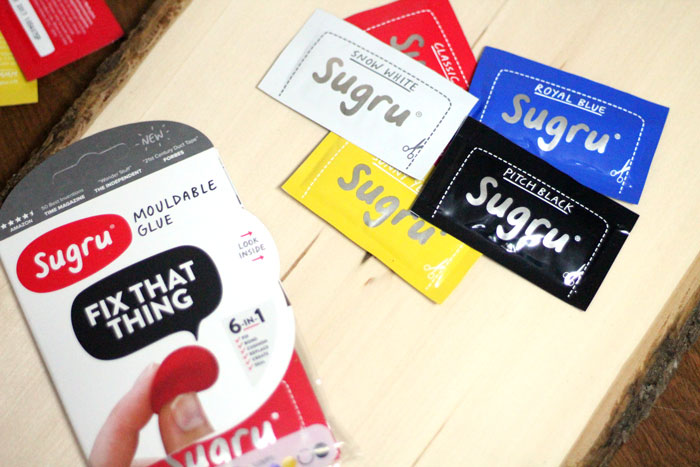 Sugru – you'll probably use a total of about 4-5 packets. White looks great behind the gold rocks, but it doesn't show on the big one. So get at least two in a coordinating color. The other packet was used on the back.
Rocks of various sizes (your choice). I used one large rock and some smaller pebbles.
A wooden plank – I used this one with pretty bark ends. Exact size depends on personal preference, but definitely focus on getting a long one. Mine is about 9×23 inches. Finish it if you want.
Gold acrylic paint and a brush
To hang: 2 pushpins or small nails, a small length of sisal twine (or your strong string of choice).
How to make this EASY key and accessory organizer:
1. Paint your rocks and let them dry.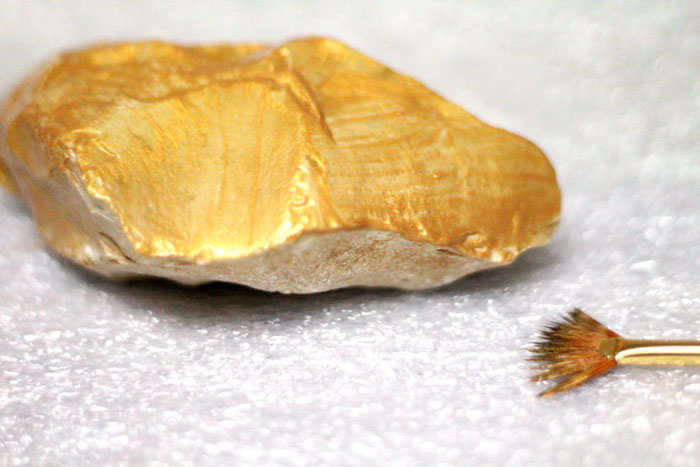 2. Plan how you want to arrange it. I put my larger rock on first as a centerpiece.
To attach it using Sugru: Roll up one packet between your fingers.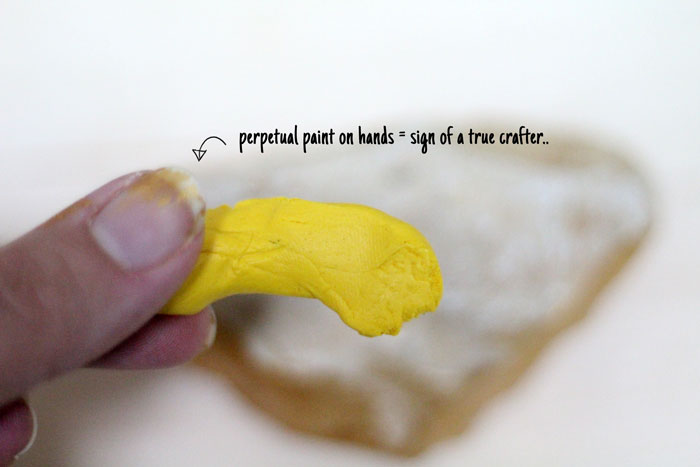 Split it into two and attach it as two lumps on the back. (You can see I didn't bother painting the part that doesn't show.)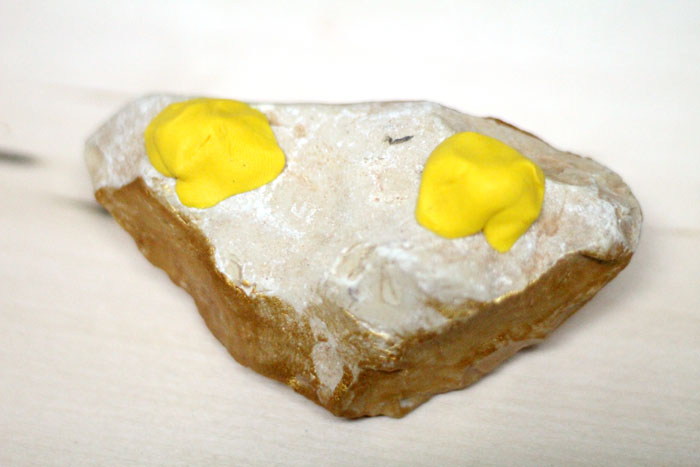 Press it onto your wooden plank. You have 30 minutes to work with Sugru, which is plenty more than you need for this project.
3. To attach smaller pebbles as hooks:
Roll about 1/3 packet of Sugru into a ball and press it on the back of your rock.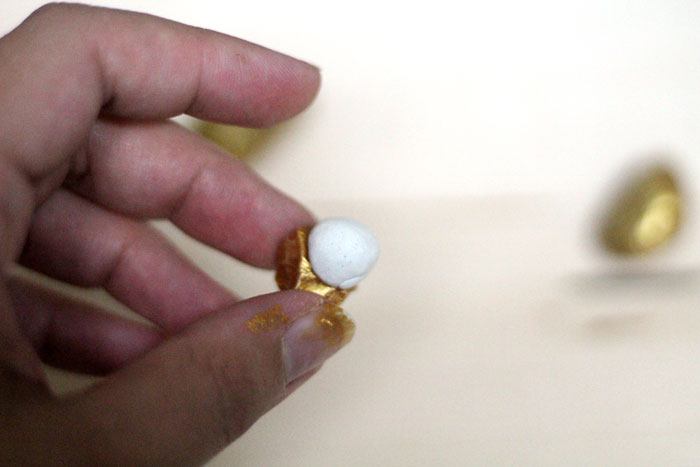 Press it onto your wooden plank. Smooth down the edges so that it's firm, forming a knob as pictured.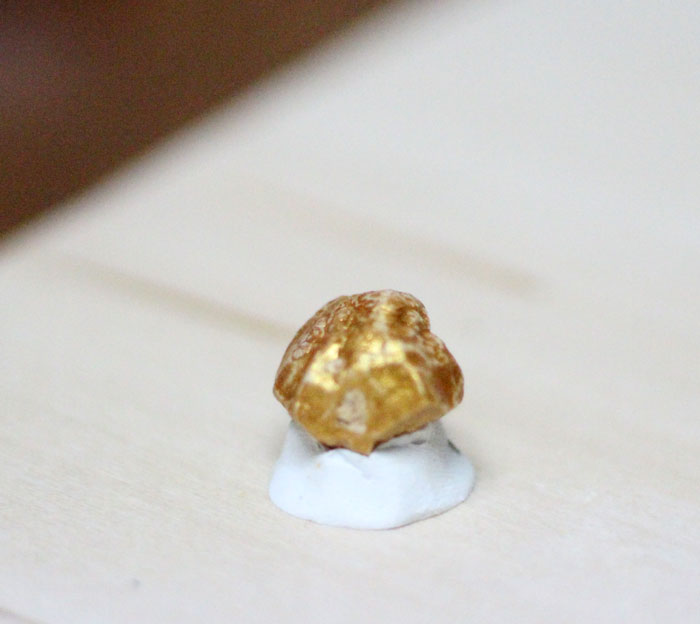 Attach all your rocks in the desired arrangement and let it cure for 24 hours. When it's dry, it will be… rubber!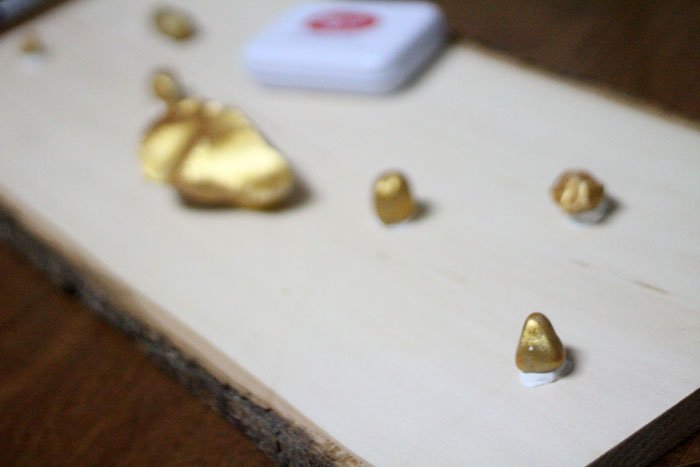 4. To hang it, you'll want to attach a string from two ends to the back. MAKE SURE YOU ARE ATTACHING IT TOWARD THE TOP! On my first try, I did it toward the bottom – oops!
Good news is, you can easily remove Sugru. You just need to slice it with a knife… No kidding. I tried it. I did need to pry out the pushpin too.
You can use regular nails. I grabbed pushpins because I had them handy. Hammer them in about a foot apart, centered.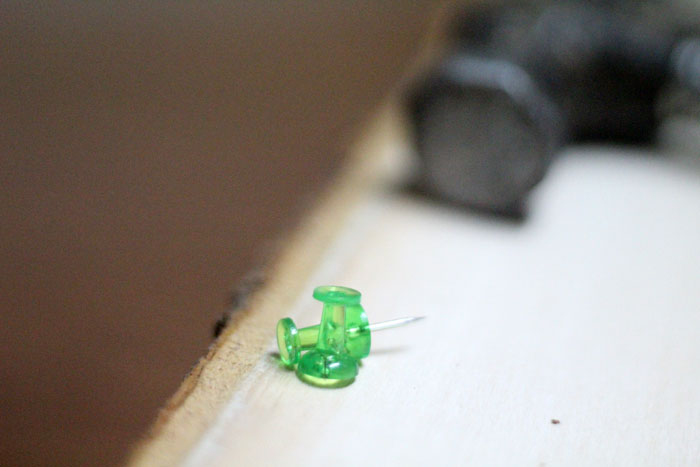 Tie a piece of twine between them.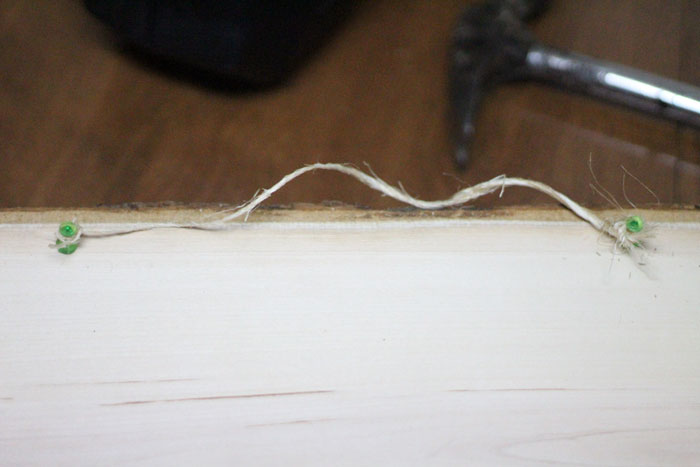 To make it much stronger, I reinforced it with Sugru (color doesn't matter.) I rolled some around it and squished it down as pictured. It's super, super, solid that way.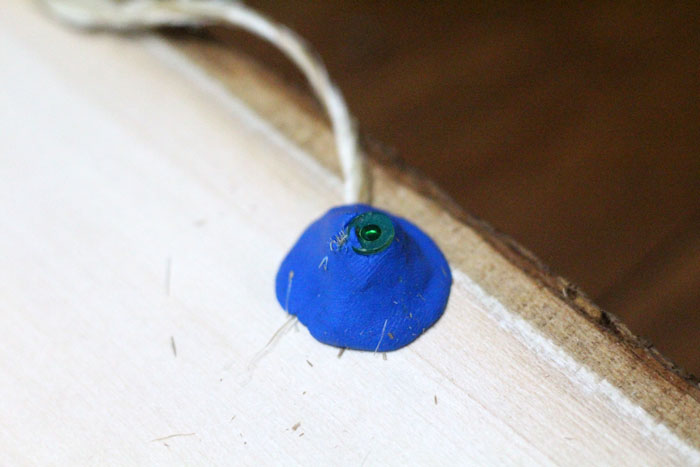 5. Hang it from a picture hook or nail in the wall! If you're hanging it in drywall, you may want to find a stud to keep it strong, since you may load it up pretty heavy.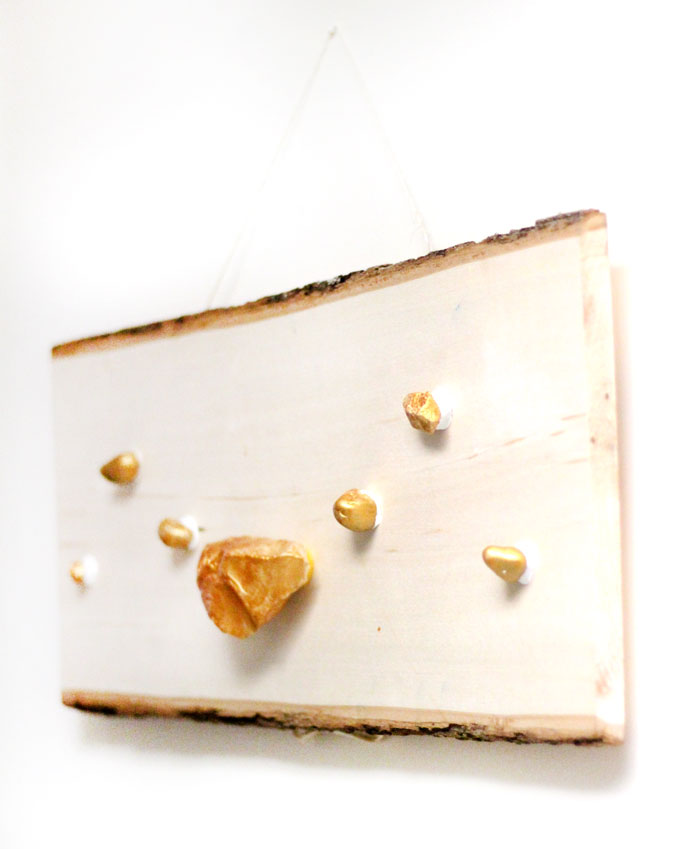 Load your stuff onto it. Isn't it great to be able to DUMP things and have it look so good?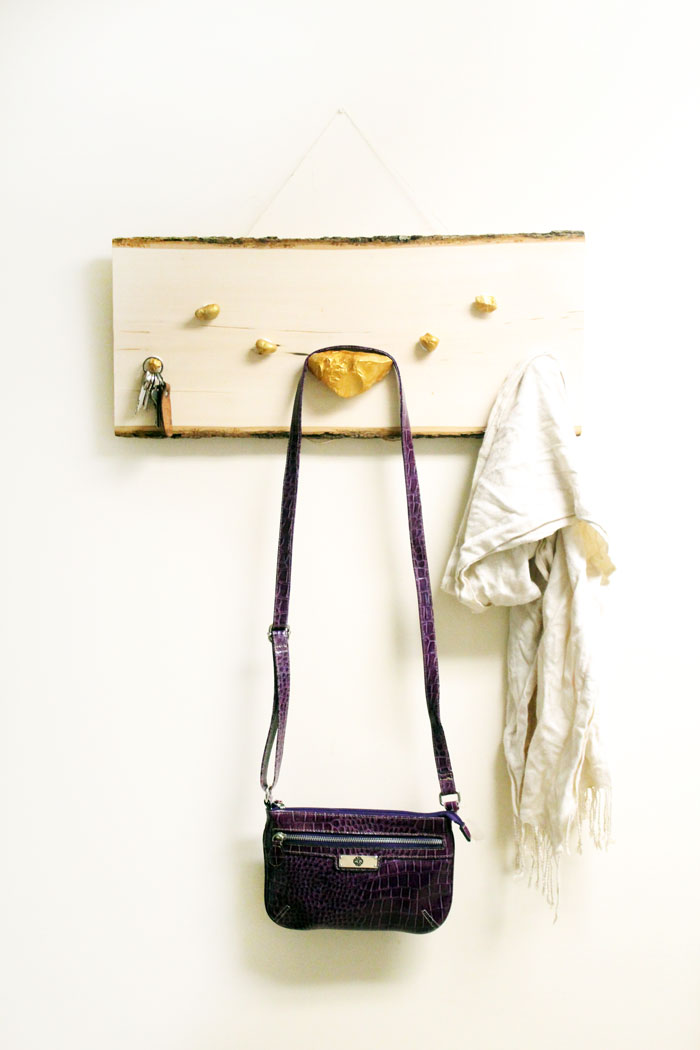 Get Sugru:
You can pick up Sugru on their website (with shipping to many countries), In the US at Target, The Container Store, Meijer, Orchard Supply Hardware and Fry's Electronics, and in the UK at B&Q, Maplin, Robert Dyas, Maplin, Hobbycraft and outdoor stores including Halfords and Cotswold Outdoor. It's availabel in ten colors, and in three and eight packs.
What will you make with Sugru? Where will you hang this accessory organizer? Comment below!