All it takes is some simple tutorials in a few different styles to teach you how to make wire bracelets. If you want to, you can first check out how to wire wrap a pendant, or scroll down for some cool wire wrapped bracelet ideas, memory wire bracelets, wire bangles, and more! Disclosure: this post contains affiliate links.

If you've ever wanted to get started making your very own wire bracelets, you're in for a treat! Wire bracelets are fairly easy to make, which makes them perfect for crafting at home. That's why I've put together this list of awesome wire bracelets you can craft yourself!
Wire bracelets can be just about any style you can imagine, which means there's tons of variety out there. The wire bracelet tutorials you'll find here cover all skill levels, beginner and expert crafters alike. Most of them offer some flexibility, so you can customize them to your look! And the best part – you'll get a new skill using a very versatile material and you'll learn how to make wire bracelets.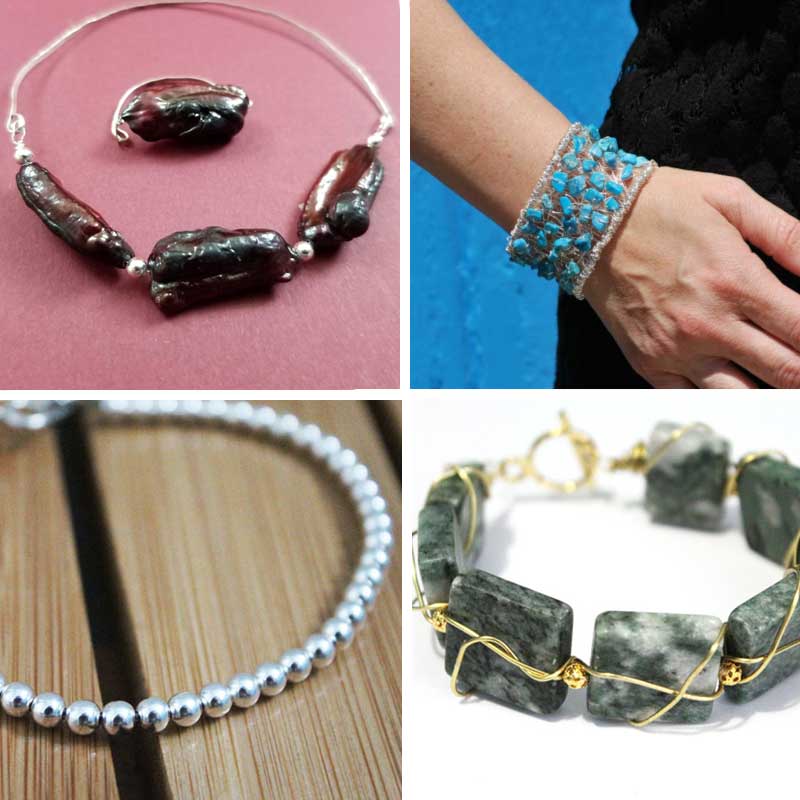 Below, you'll instructions on how to make wire bracelets of many different types. The list is subdivided into 4 categories based on their style:
Wire Wrapped Bracelets
Wire Bangle Bracelets
Memory Wire Bracelets
Wire Cuff Bracelets
What are you waiting for? Grab your wire and learn to make these cool bracelets in some beautiful and unique ways!
How to make Wire Wrapped Bracelets
Wire wrapped bracelets are so fun and stylish! These wire wrapped bracelet DIY tutorials will get you started making wire wrapped bracelets in no time!
Wire Wrapped Bracelet by Moms and Crafters: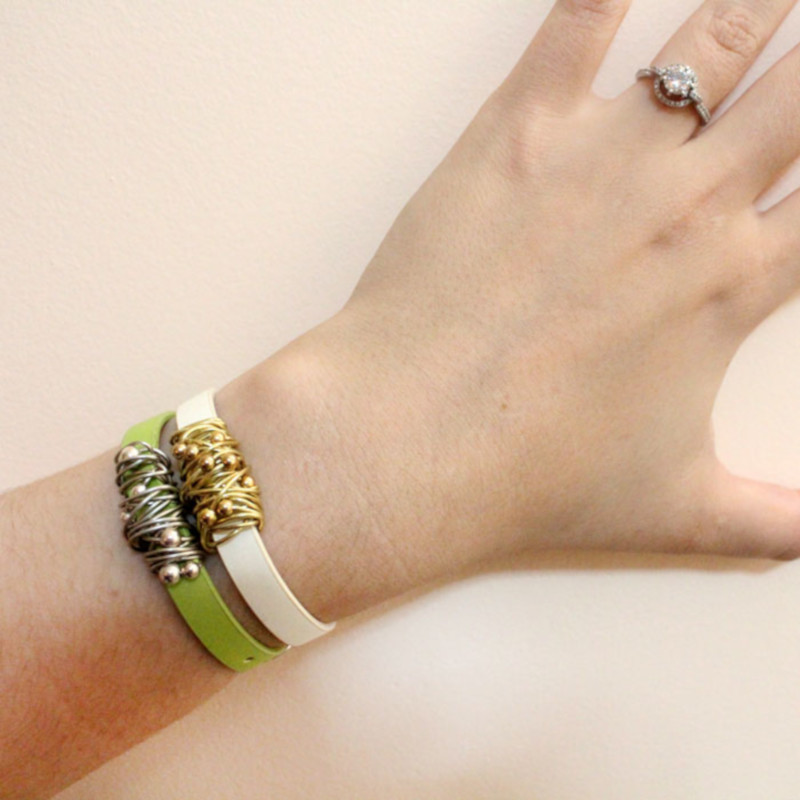 This wire wrapped bracelet steps a little outside the box, bringing you something that's trendy, and easy to customize! It uses totally freeform wire wrapping on a slider bracelet band for an inexpensive project that's perfect for beginners.
Wire Wrapped Cuff Bracelet by Artzy Creations: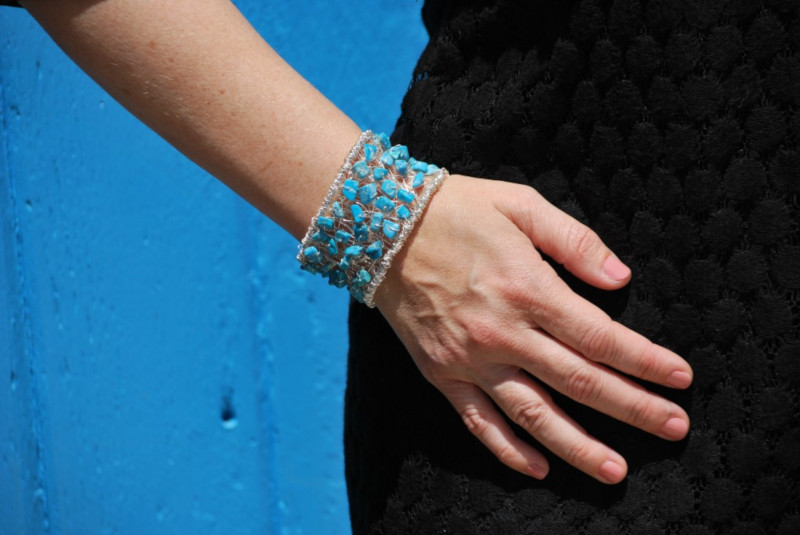 This wire wrap bracelet is so fun to make, and it looks like something you'd find in a store! Wire and beads are all you need for this one. It cleverly takes on the look of wire crochet – but isn't!
DIY Gemstone Wire Wrapped Bracelet by Moms and Crafters: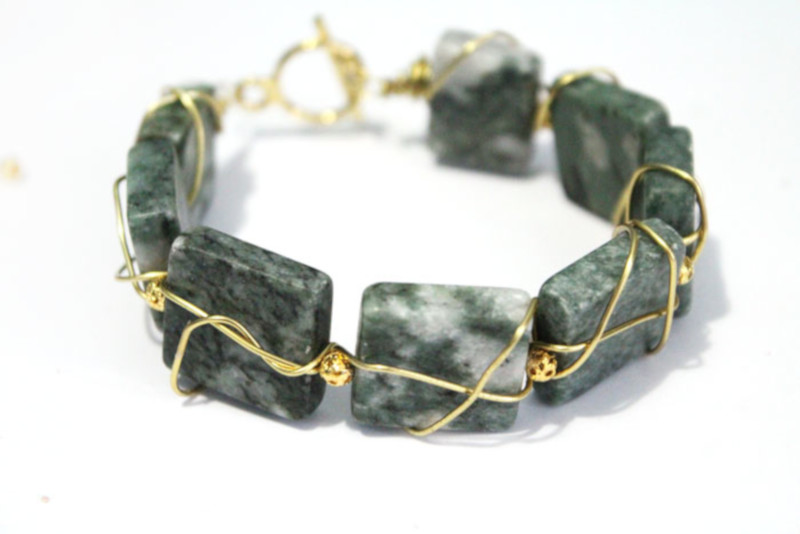 You can personalize this wire wrapped bracelet by using any gemstone, colorful pearls, or even glass beads! The key to a successful wire bracelet design like this is keeping it balanced.
How to make Wire Bangle Bracelets:
Wire bangle bracelets are the perfect touch of flair for any outfit. These wire bracelets are a bit smaller, making them a more subtle accessory if needed.
How to make Beaded Bangles by Moms and Crafters: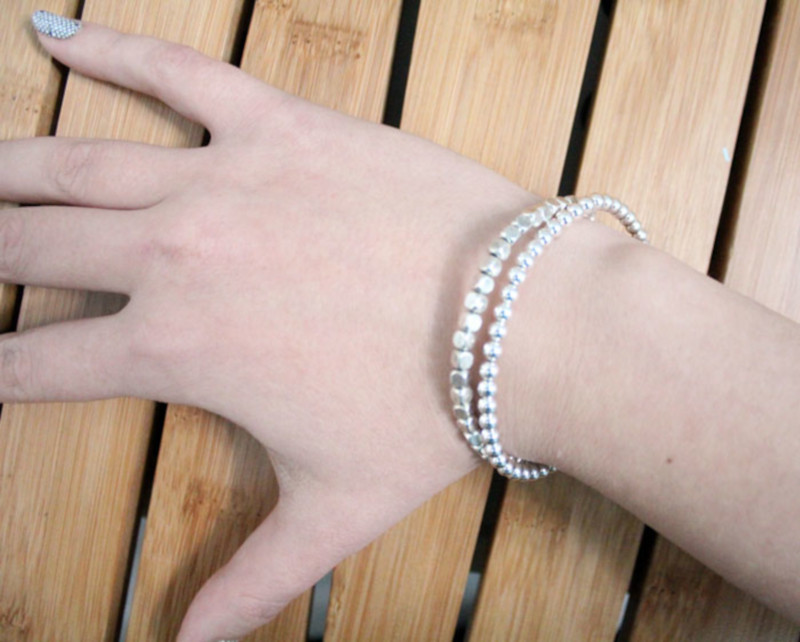 Sometimes the simplest things are the prettiest. These simple beaded bangles are elegant and charming, with a classic style. they use inexpensive spacer beads and are fun to stack.
DIY Easy Wire Wrapped Bangle by Moms and Crafters: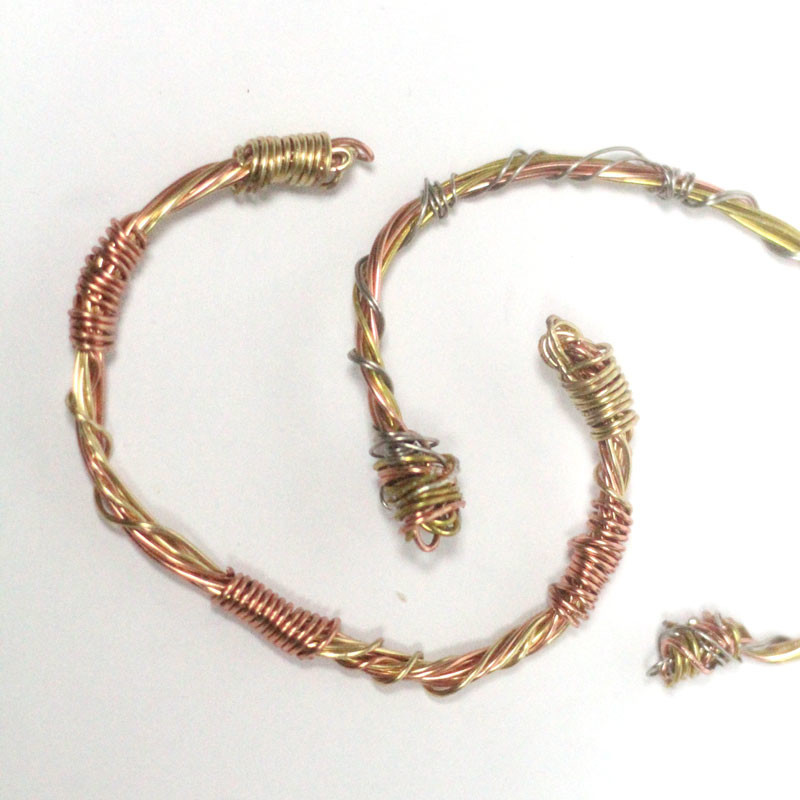 This DIY wire wrapped bangle is perfect by itself or stacked with others. You can stack it with any other bangle or even with a favorite bracelet. They started out as a mistake but the final look is so much fun!
Simple Wire Bracelet DIY by Moms & Crafters: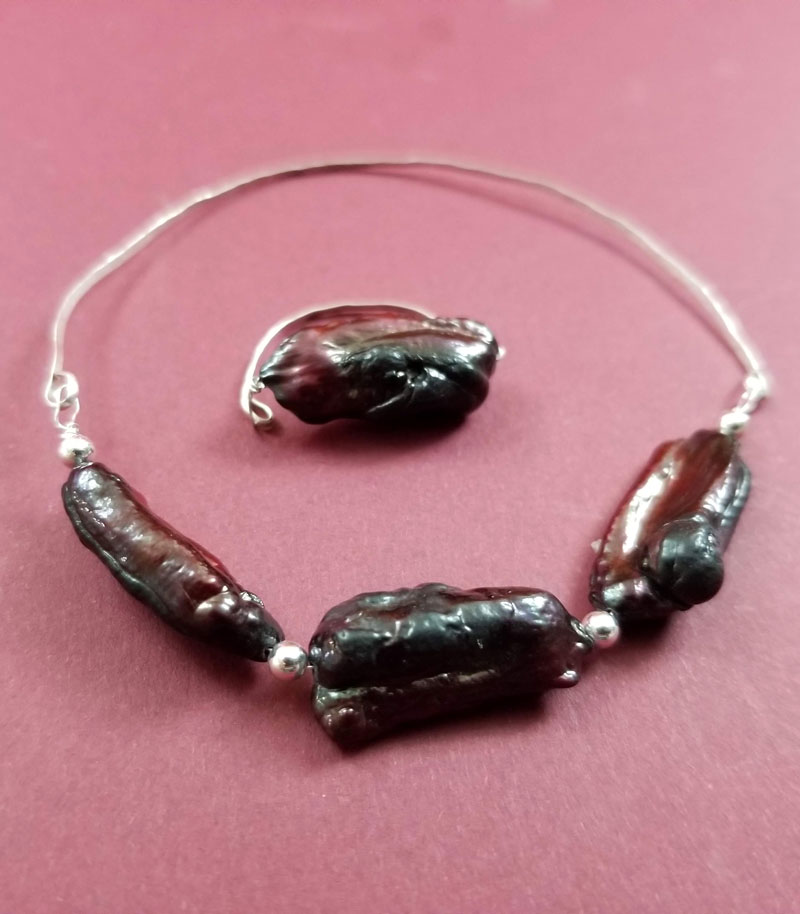 I made this simple bangle for my sister's wedding and decided to share the tutorial. It teaches basic hammering techniques – a favorite for learning how to make wire bracelets.
The Stunning Sloppy Wire Wrapped Bangle: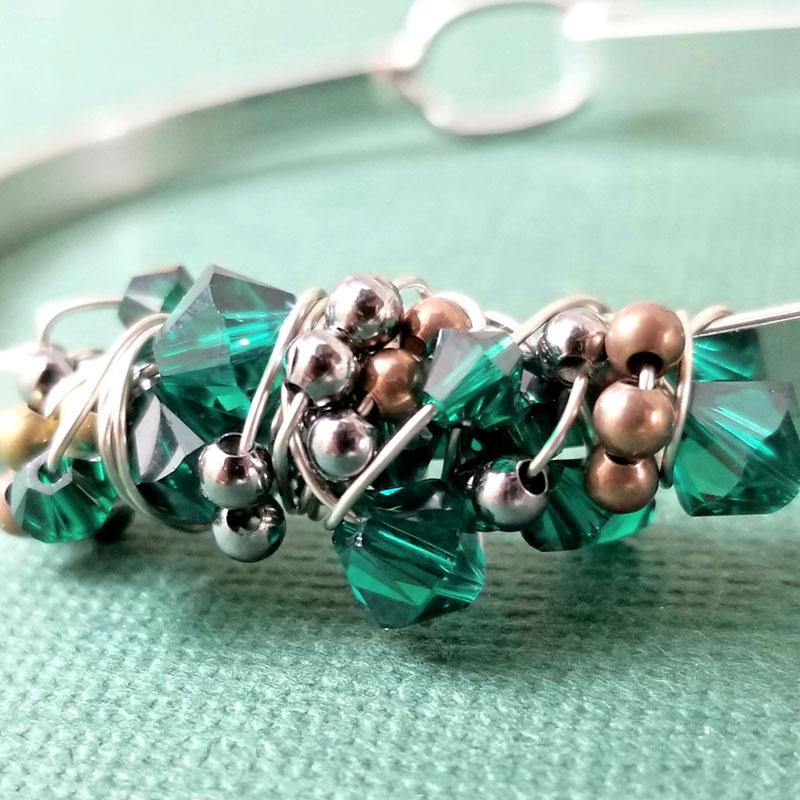 A spinoff of the first tutorial in this list, this bracelet is absolutely stunning, and adds a new level of elegance to it!
---
Want to learn how to make jewelry out of anything? Get the book!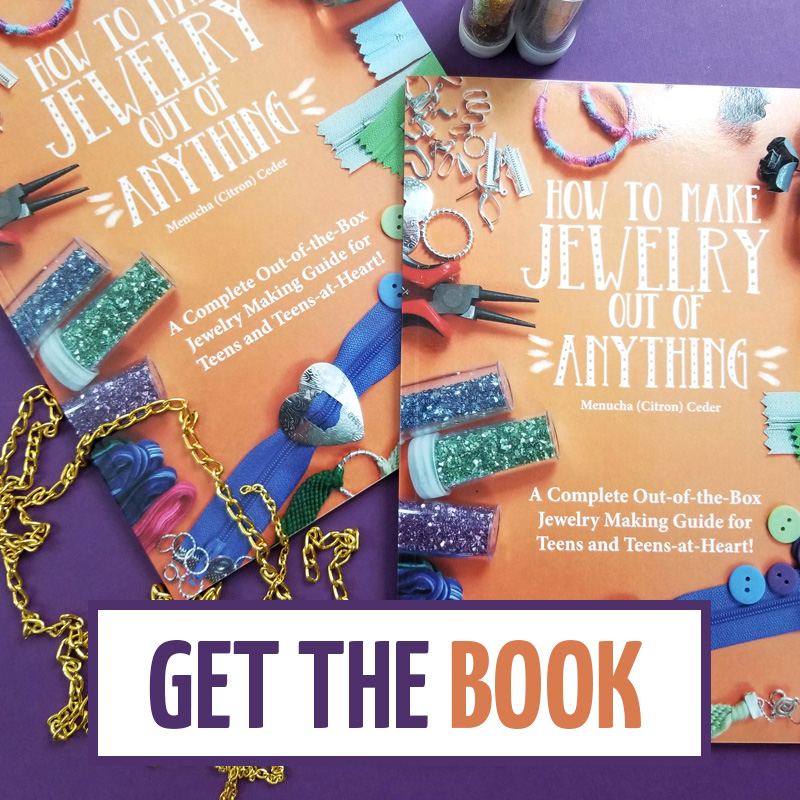 ---
How to make Memory Wire Bracelets:
Memory wire bracelets are some of the easiest DIY wire bracelets you'll ever make. Check out the amazing variety of style you can make with such a simple base!
The spiral of the wire gives a statement cuff look, but the actual process is one you learned to do when you were in preschool.
Memory Wire Bracelet DIY by Crafty Little Gnome: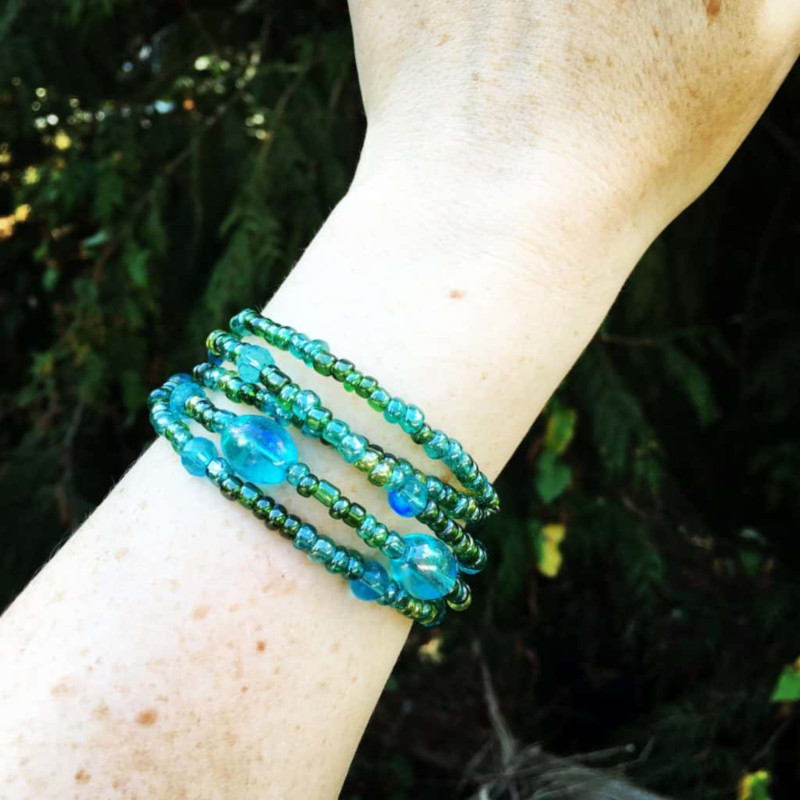 If you have a hodgepodge of spare beads, this wire bracelet is the cutest way to put them to use! You can make this bracelet any color you want to match your favorite outfits.
Memory Wire Bracelets by This Southern Girl Can:
This memory wire bracelet goes with anything! With neutral colors and a classic style, you can wear this anywhere.
Memory Wire Bead Bracelets by My Bright Ideas: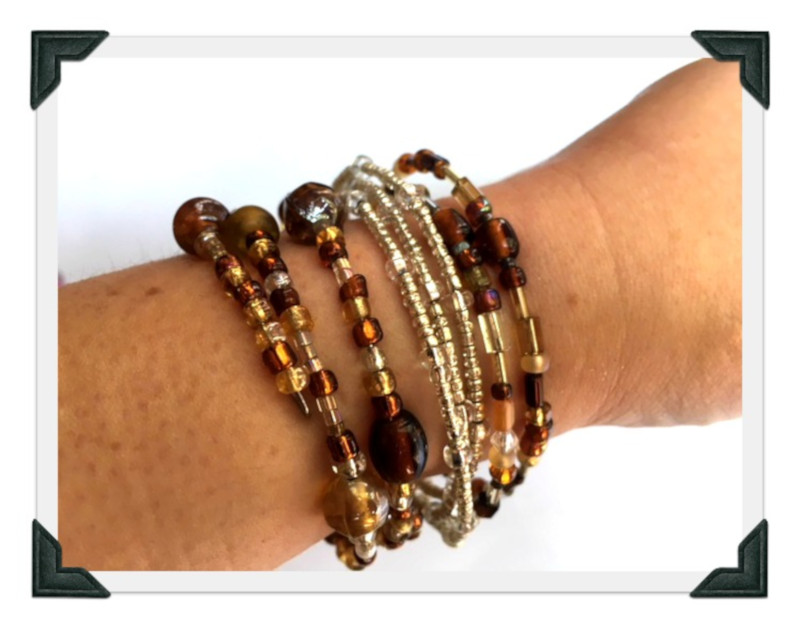 I love the golds and browns in this memory wire bracelet! It really gives it a classy tortoiseshell look.
Memory Wire Wrap Bracelet by Running With Sisters: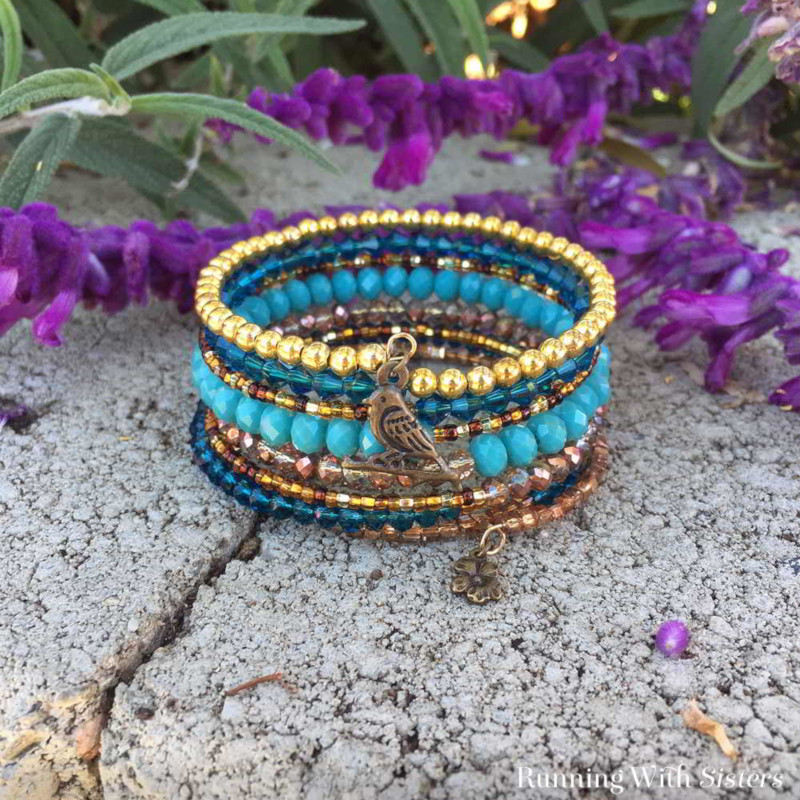 This boho-chic memory wire bracelet is so colorful and stylish! You wouldn't believe how easy it is to make! By grouping same beads together instead of doing an alternating pattern, you get a much cleaner look.
How to Make Wire Cuff Bracelets
These wire cuff bracelets show just what's possible with wire bracelets. These may be a little more intricate, but they're so worth it!
Double-Sided Pendant/Bracelet Wire Wrap by OxanaCrafts:
This wire bracelet looks like something you'd find on vacation. This could be an amazing handmade gift! The chained portion makes it easier to wear.
Savoy Knot Bracelet Wirework by Lily-Tree:
If you've ever wanted a wire bracelet with a Celtic twist, check this out! The way this wire bracelet is tied up, it looks a lot like a Celtic knot.
Swirly Wire Bracelets by Guidecentral English:
For such a bracelet that's so simple to craft, this swirly wire bracelet looks like something a professional would make! Using silver wire for this one really give it that premium feel.
Now that you've learned how to make wire bracelets from the tutorials above, it's time to try your own idea!
Have these tutorials helped you learn how to make wire bracelets? What's your favorite style of wire bracelet? Leave a comment below and share with us! Then check out the ultimate list of DIY bracelets for more!