Whether you struggle to keep up with your fast-growing child, or you simply want to give an amazing, practical gift, a kids monthly clothing box is an exciting thing to expect! For more subscription boxes for kids, check out my favorite STEM subscription box options out there. Disclosure: this post contains affiliate links.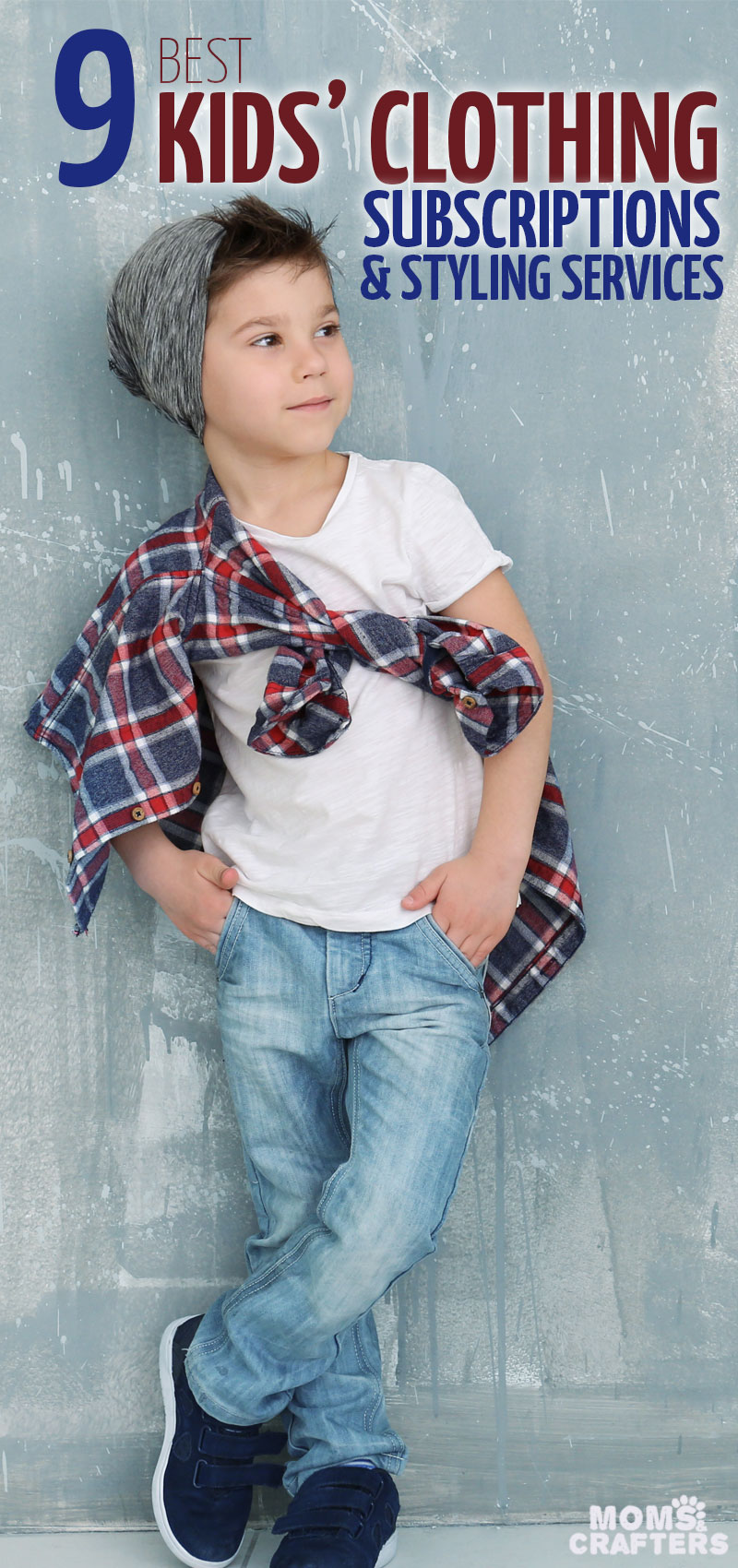 Clothing subscription boxes are changing the way the world works. Now girls and boys can have their clothing delivered right to their home. This helps parents out a ton.
What you might not realize is that many kids monthly clothing box companies require less commitment and risk than any other subscription out there! They do this by allowing free returns on anything in the box that you don't want.
You heard that right!
Many charge a "styling fee" that is then credited toward actual clothing.
That basically means that they charge you to send a box to ensure that people don't subscribe frivolously since there's no obligation to keep anything. But you get that fee back in credit to keep the clothing!
Unlike other subscription boxes, where if you don't like something it's too bad, many of these kids clothing subscription boxes allow you to return what you don't like and pay only for what you keep. Many allow you to choose your frequency, or even to order on a case-by-case basis without losing out on savings.
Some give a "keep all" discount if you like everything in your box – so that you save by getting more.
Not all of the boxes below work that way – it's just something to look out for when shopping for a kids monthly clothing box!
Prefer to choose your own clothing? Check out my list on the best kids clothing stores online! Or, visit this list of free stuff for moms.
---
Get Baby+ Clothes Monthly:
Looking to get baby clothes monthly? These kids monthly clothing box options start from the youngest in your family but cover the bigger kids too!
Age: 0-10
Price: Pay for what you keep + $20 styling fee which gets credited toward clothing if you keep at least 2 items. Sign up here to get a free $20 toward your next box!
Are you tired of picking out your kids clothes? Maybe they don't like what you're picking out for them. That is where Mac & Mia comes in! This Kids Monthly Clothing Box that get shipped right to your house.
There is a monthly styling fee of $20, but there is also a price for each individual piece of clothing sent. Each piece of clothing is unique for your child. The good thing about this subscription box is that shipping is free.
Take the style quiz and your personal stylist will help your child pick out unique clothing that they will love.
Size: Newborn to 14 for girls & 16 for boys
Price: $68-98/box however you can return what you don't want for free. That's $14-16 an item for top brands.
Getting Kidbox to take care of your children's clothing is super easy. You and your child should sit down and take the quiz. This will help understand the styles of clothing they would like to wear.
This will also give the stylists a great idea on what your child will like. They have hundreds of name brands to choose from, where your child will receive 6-7 name brand clothing with each shipment.
If the clothing arrives and you're not satisfied, simply send it back with no hassle. This is one monthly clothing box that a lot of kids will love.
Size: Baby's first year
Price: $63 for 3 boutique outfits
Do you love shopping but have a baby to tend to? Surprisly takes the stress out of shopping for a baby! You will be shipped 3 cotton baby outfits for every month, one for playtime, bedtime, and daytime wear.
Each outfit will be super cute because they use one of the best children's clothing designers from around the world.
This is also a great gift idea for a baby's first year, that will be a hit at any baby shower, or birthday party.
---
Kids clothing box for girls:
Girls, girls, girls! As a boy mom, I find that the best options out there are for girls, but if you're a girl mom, you might find the opposite to be true. That's why I'm here to share with you these great kids monthly clothing box options for girls.
Size: 4-12
Price: Depends on what you keep. Average cost per item is $13.50 + discounts. There is no styling fee.
Kidpik is one kids monthly clothing boxes that you may fall in love with – if I was a girl mom this might have been my top pick!
Kidpik is really simple in how it works. Take the fun quiz and tell them about the preferences of your child. Once they know what your child prefers, they can get started.
Each box comes with 3 fashionable mix and match outfits, plus fabulous shoes. When you keep the entire box, you even get a 30% discount.
She can pick her favorites and from there, you can send back or keep items. There is also a prepaid envelope included in the box, so there is no pressure to keep what is not loved. I wish they did this for boys too!
Size: 18 months through adult
Price: $17.99 a month
Girls deserve to look cute and adorable and that's what Girl-a-tude offers. Their saying is also adorable…"it's not an attitude, it's a girl-a-tude." This monthly clothing box is unique in the fact the girls get a super power shirt each month.
Plus, a fun gift and a personalized note. Each month, the theme changes, which is a lot of fun for the girls! They never know exactly what they will get, which adds an element of surprise.
---
Boy subscription box – Kids monthly clothing box:
Now on to the boys. While boy subscription box options are slightly more limited, many of the kids monthly clothing box options do have boys too – look in the "baby" section for some fun ideas, as well as in the section below this.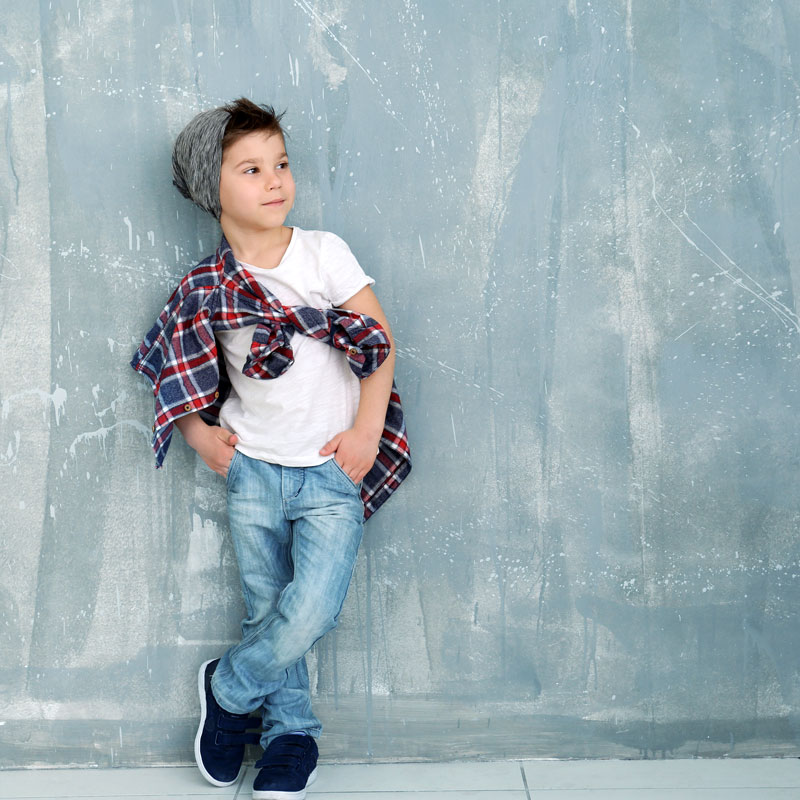 Size: Varies
Price: $9.99-$23.99
All boy moms can rejoice because there is a kids monthly clothing box that is just for boys. This is called The Boy Box and it's amazing. It's about time someone created a kids clothing box that is full of stylish items and accessories geared towards boys.
Boys deserve to look cute and adorable and now they can with this clothing box. You get to choose between a Curated Clothing or Bibdana+Hat Subscription. You'll be glad to know that the patterns change every month. There are lots of cute boy accessories and clothes coming your way soon.
Size: Toddler
Price: $21.95-61.95
Do you want to create joy in the life of your child? If you do, then Brooklyn + Fifth may be what you've been looking for this whole time.
The fact that you can have toddler outfits delivered to your front door and you don't have to leave the house. This kids monthly clothing box is a win-win for the whole family.
You can choose whether you want to get a 1, 2, or 3 item box. You will be asked a few questions and from there, someone will select the items for your box.
This is a fun box because it always comes with a free gift for your child. You will also get great discounts on Brooklyn + Fifth gear.
---
Kids clothes subscription box for more ages and needs:
Size: 2T – 14
Price: $20 styling fee, credited toward items you keep. Average cost is $10-35 per item, with discounts if you choose to keep the whole box.
Do you have a kid that is hard to dress? Stitch Fix may be the answer to your child's dressing woes. This kids subscription clothing box allows for every person to have a personal style. They are famous for their grown-up subscriptions and now have a kids' box too!
Stitch Fix will send you a box with 8 – 12 handpicked items. Each box will fit your kid's style and your budget, which is always a nice combination.
The first step is telling Stitch Fix about your kids' style preference. You will also select style, size, and even your budget.
Once your stylist sends you the "Fix" your kiddos can try on the clothes. You will only pay for what you love and the rest will be sent back. The best part about this box is that you don't HAVE to do a subscription, only if you want to. You can also choose your frequency.
And guess what? You'll love this subscription for yourself too!!
Size: T7 – 5 shoes; 2T-L clothing
Price: $29.95 a month gets applied as shopping credit for super cheap clothing – or shop as you want. If you don't want to shop that month, you can "skip".
All kids are fab, which is what makes this Fabkids clothing box so fun. Most of these clothing boxes have the clothing down, but what about the shoes?
Fabkids provides boys and girls with head-to-toe styles – including shoes! This company promises to provide great quality products that are value minded and unique.
This shoe subscription box is great because families are busy and kids are hard on shoes. How lovely that shoes can be delivered right to your door that are sent with your kids in mind.
What's your favorite Kids monthly clothing box? Tried any on the list or have any to add? Comment below!