Thank you Pampers for sponsoring this post and the giveaway too! We seem to spend our child's first years celebrating milestones. But what determines which milestones we celebrate? And what about that baby that seems to reach them all a little later?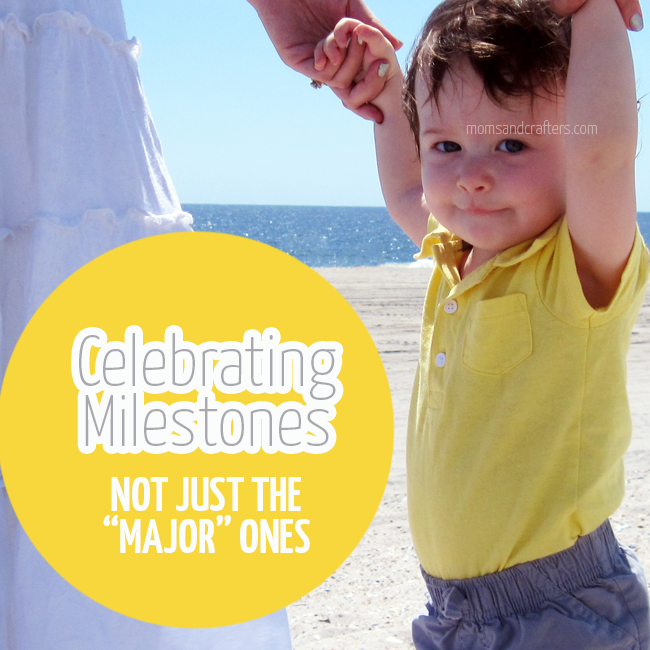 A child is born. We eagerly await for that child to start "doing". A first smile. The first time he crawls. Her first word.
Not every child meets these milestones at the "correct" age. There are late walkers. There are late talkers. There are babies that want to take their time learning new things. The society in which we live seems to take these milestones as the deciding factor on how "smart" each child is.
Celebrating Milestones – The ones we forget:
I have decided to celebrate some smaller firsts that show me how much my baby is learning. Many of these are a great sign of proper development, in the same way that those first steps are. Here are some of the firsts we celebrated with our sixteen month old (who loves to crawl really fast):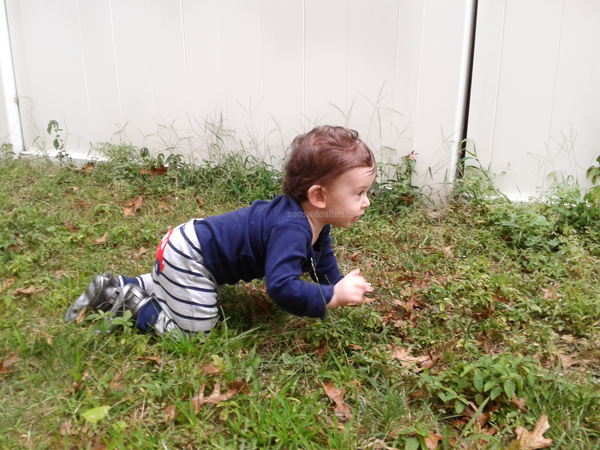 The first time he handed me something.
The first time he looked me in the eye and spoke (even though it was in a language only he understood).
The first time he stacked those cups.
The first time he tried putting my glasses back onto my face.
The first time he tried wiping my nose (or mouth) with a tissue.
The first time he fed himself a cracker.
The first time he fed me a cracker.
The first time he waved goodbye.
The first time he knocked on a door.
The first time he climbed the stairs (which is actually a MAJOR milestone)
The first time he climbed off the couch, feet first.
The first time he clapped those little hands.
The first time he bounced to the rhythm of music.
The first time he unzipped his top and took it off.
The first time he took off his pants while refusing to nap. And then his diaper.
The first time he drank from a cup.
The first time he managed to get the correct cover onto the pot, right side up.
Every new sound his little lips make.
Every new toy and game he masters.
Every new flavor he agrees to eat.
When he successfully flipped the light switch.
When he learned to climb out of his high chair (yikes!)
My sixteen month old baby may not be able to walk. He might not say much. But look how much he can do! He may need therapy, which we will decide on in a couple of months. But while we focus on helping him learn all he needs to do, we will continue to celebrate everything he already can do. Even the milestones we sometimes forget to applaud.
Celebrating Milestones with Pampers:
For many years, and for millions of babies, Pampers has celebrated firsts. They were the first diaper our baby wore. Pampers Swaddlers are Pamper's softest diapers, and will now accompany you through a few more "firsts"!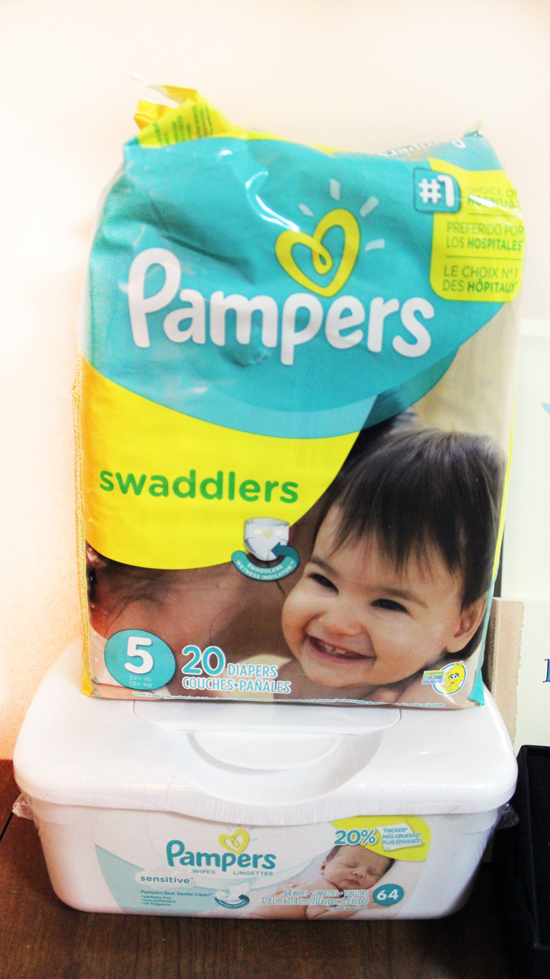 Pampers celebrates your firsts with you, and has created a video celebrating many of these first experiences we share. They celebrate all the first moments – both the big and the (ones we think of as) small.
About Pampers Swaddlers:
Pampers Swaddlers is now available in size 6! They will now accompany you through a few more journeys and achievements, up to the eagerly-awaited milestone of potty training.
Pampers Swaddlers is the softest diaper from Pampers. It offers up to 12 hours of overnight protection, wrapping your little one in blanket-like softness.

Features a color-changing wetness indicator, so you know when to change.

The Absorb Away Liner®protects delicate skin further, but pulling the wetness away.

Pampers Swaddlers is the #1 choice of hospitals in North America, and the first diaper worn by millions of babies. Now, that's a first to celebrate!
Party with Pampers:
Come join the Twitter Party on Wednesday, February 11th at 9pm EST
To participate, follow the hosts @DoubleDutyDivas, @BridgetteLA, @CeceliaMecca, @AngieKcom @WhatMommiesNeed @RamblingChick, and our sponsor @Pampers
Connect with Pampers:
Did your child reach the milestones at the "right" age? Which "minor" milestone did/do you celebrate?
Enter the Giveaway: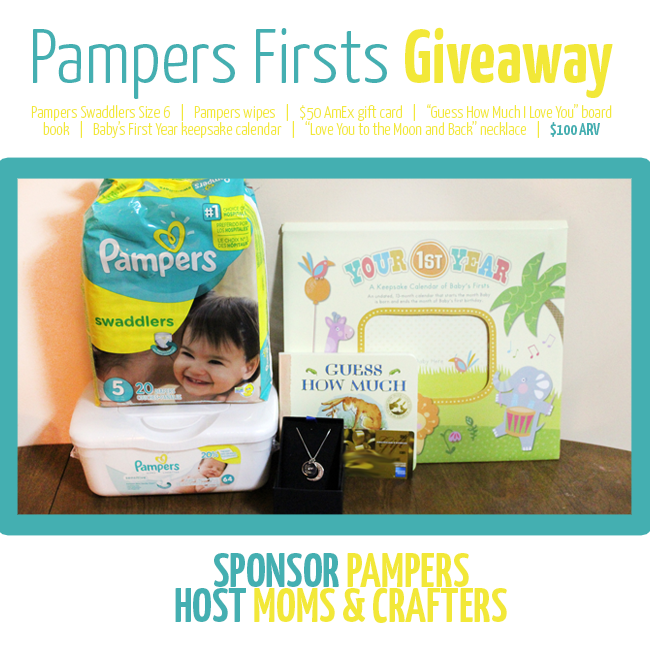 Pampers has sponsored an amazing giveaway! One winner will receive the following prize package, worth approximately $100:
Pampers Wipes

Pampers Swaddlers Size 6

"Love You to the Moon and Back" Necklace

"Guess How Much I Love You" Board Book

Baby's First Year Keepsake Calendar
$50 AmEx Gift Card
Enter using the Giveaway Tools form below. Giveaway runs from Feb. 3, 2015-Feb 16, 2015 and is open to the US only.
Disclosure: This review was made possible by Double Duty Divas and Pampers. I was provided product free of charge to facilitate my review, but all opinions are 100% mine. Moms and Crafters is not responsible for prize fulfillment. Prize will be fulfilled by the sponsor. Winner will have 48 hours to respond to email notification, before another winner is chosen. Facebook, Pinterest, and Twitter are not endorsing or liable for this giveaway.