I put together these laundry hacks for a very selfish reason. I loathe doing laundry. I mean, really dislike all aspects of it- the sorting, the folding, the putting away- only to have an entirely full basket waiting for me again as soon as I finish. I'd rather just craft with the clothing when I'm done with it….
Disclosure: this post contains affiliate links.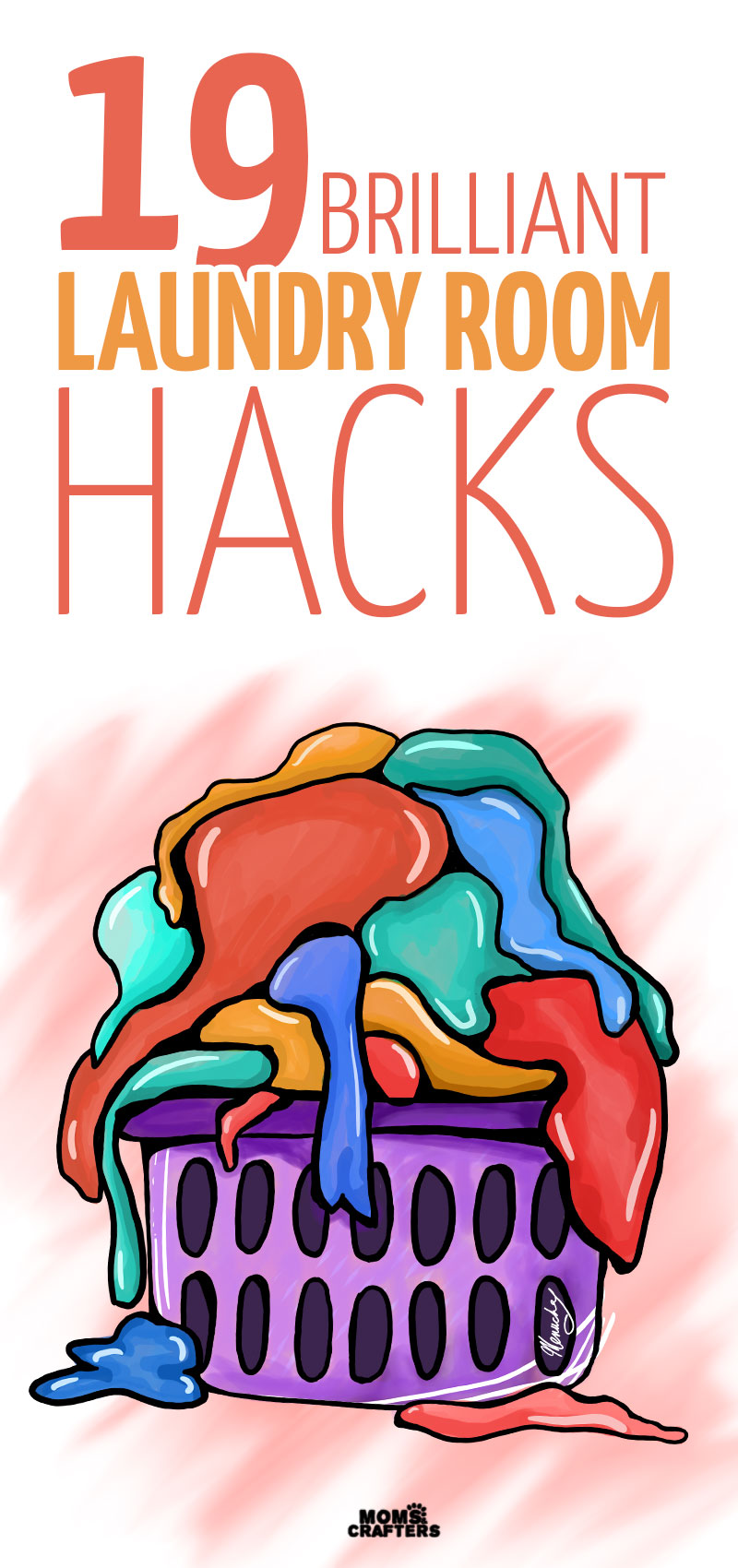 I'm a much happier camper when I've got a sink full of dishes to wash. But, no matter how much I don't want to do the laundry, I inevitably have to power through. I mean, I can't buy new clothes every week. (Or can I?)
Reading through all these hacks gave me a lot of ideas on how to make the process easier for me. Whether it's beautifying my laundry room so I don't dread walking in, or some tips on cleaning the clothes better so I'm not washing the same stained shirt three times in a row, all the ideas are useful in one way or another.
Copyright:
All of the images for these laundry hacks were used with the permissions of the respective bloggers for the purpose of this post. Click on the title link or image for the full tutorial.
I have created a square and vertical image for your convenience for sharing these laundry hacks. Please use the first or last image in this post when sharing and not one of the individual photos below, out of respect for the creators' copyrights.
Brilliant Laundry Room Hacks
1. DIY Built-In Laundry Basket Organization by Make It, Love It
Try this clear organization system in your laundry room for an easier sorting process. I like this system because there's no danger present when the baskets are removed from their respective slots.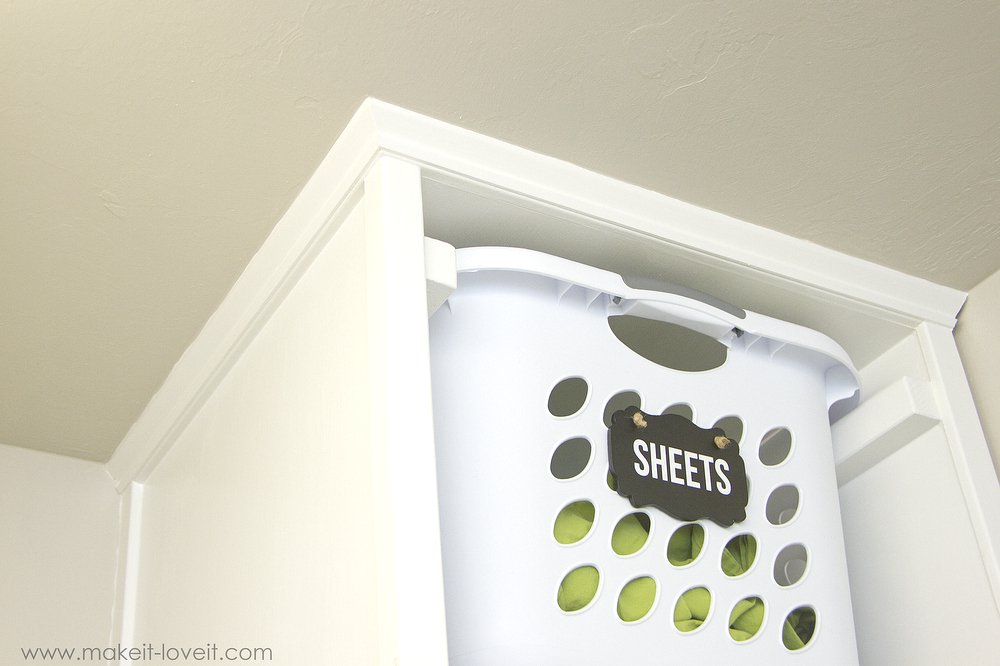 2. DIY Wall Mounted Laundry Room Lint Bin by Building Our Story
This lint bin is a great idea for small laundry rooms or laundry closets, as it doesn't take up any floor space. It also adds a pop of color to the walls!
3. Laundry Room Shelving by Design, Dining and Diapers
A laundry room requires a lot of organization to keep it neat and tidy. I love the rustic vibe of this laundry room. It makes the laundry room feel like a comfy room to work in, not just a dumping grounds.
4. DIY Drop Down Laundry Table by The Real Housewives of Riverton
Another great idea for small laundry workspace, this drop down table will add the much needed folding area without taking up any space when not in use.
Genius Laundry Hacks and Tips
5. Eucalyptus and Lemon Scented Laundry Crystals by Ann's Entitled Life
There is something so homey about using your own scents and ingredients for laundry or cleaning. This easy recipe will definitely give you that homemade touch, and it'll save you money, too!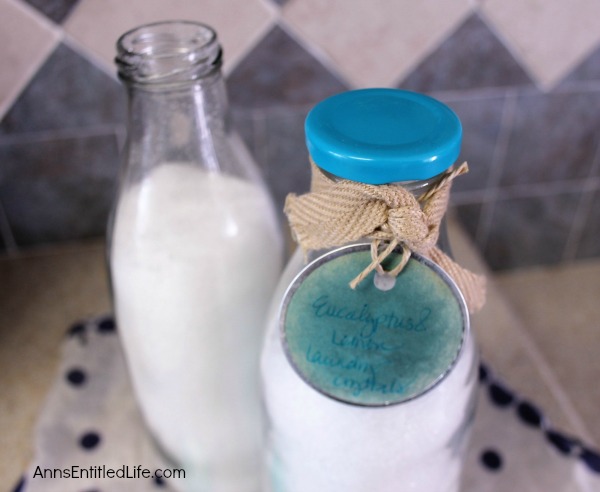 6. Removing Permanent Marker from Clothing by Thrifty Fun
We've all encountered that panicky moment when there's Sharpie scribbled or leaked over a favorite pair of pants. Check out this great tip for removing it!
7. How to Remove Tough Baby Stains (poop, spit up, pee, blood) by The Bump
I especially love these tips, not just to keep baby clothes clean, but also as a way to get out all those stains before storing them as hand-me-downs.
8. Homemade Super Laundry Sauce by One Little Project
Detergent options are so varied. Sensitive, scent-free, brand name, dollar store… There are so many options, they make my head spin. Try this homemade detergent for some delicious, sweet-smelling clothes and towels.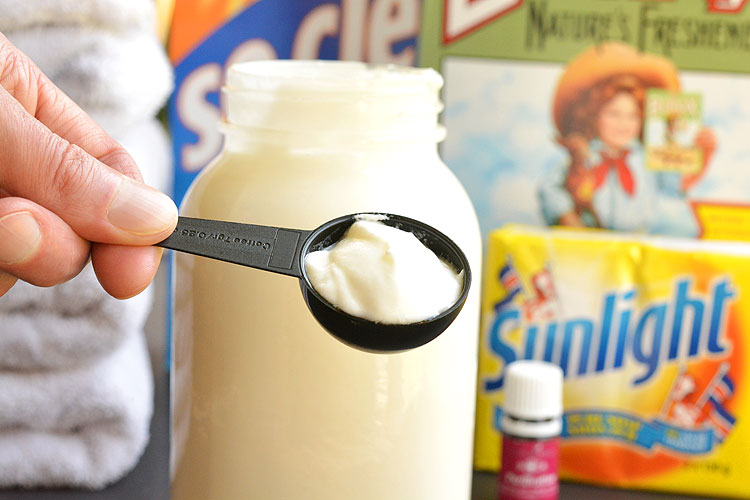 9. The Best Way to Clean a Baseball Hat by The Art of Manliness
I should probably be embarrassed to admit this, but until I found this tip, I figured that when a baseball hat is completely gross from sweat and stains, it's time to chuck it and buy a new one. Not anymore!
10. FREE Printable Laundry Cheat Sheet by Free Homeschool Deals
A cheat sheet? Yes, please! This handy little list explains all those little laundry symbols on your clothing tags, and throws in a stain removal guide. Score!
11. How to Fold a Fitted Sheet by Organize My House
I think it's safe to say that fitted sheets are the bane of our existence. I have watched so many youtube tutorials and just cannot get it right! Check out this easy method from Organize My House.
12. How to Make Homemade Detergent for HE Wash Machines by Coupon Closet
I love that this homemade detergent is specifically for HE washing machines. There are so many homemade detergent recipes out there, but this one specifically will cost you less than twenty dollars for an entire year!
13. How to Get Grease Our of Your Jeans by Drugstore Divas
Grease is one of the worst laundry problems. Check out this terrific solution for getting it out of your jeans.
14. How to Clean White Shoes by Rachel Teodoro
White shoes are a great buy- they'll match everything and never go out of style. That is, until, you step into just one rain puddle or play some softball while wearing them.
15. 4 Ways to Naturally Soften and Freshen Up Laundry by Clean Mama
I recently found out that dryer sheets are really bad for your skin- they're actually quite toxic. These tips are proving to be super helpful in drying my laundry more naturally and safely.
16. Easy Homemade Laundry Detergent by Cherished Bliss
This easy recipe is not only great for sensitive skin but it will also make your whites really bright! Sounds like a win-win to me!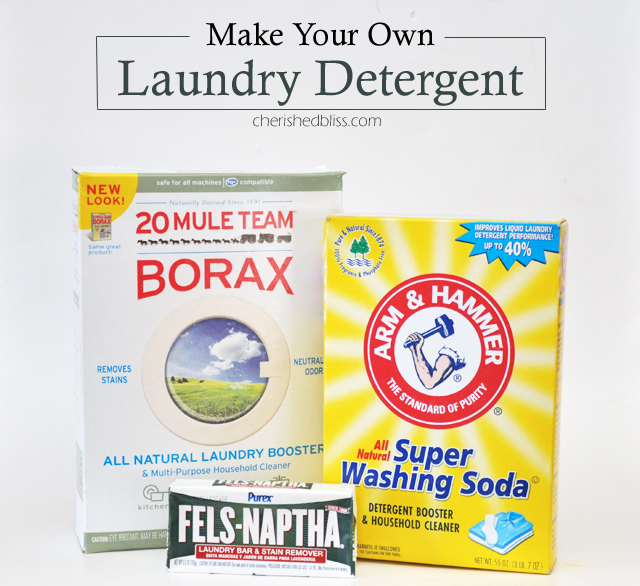 17. Chemical-Free Liquid Laundry Detergent by Dwelling in Happiness
We ingest so many chemicals from everyday life around us. Here's one way to lessen the intake, and still keep our clothes clean.
18. How to Remove Gum from Clothes by What's Up Fagans
Chewing gum got stuck to your skirt when you sat down? All is not lost! Check out this perfect tip for removing it.
19. 5 Tips for Softer Towels by Thrifty Jinxy
There is nothing worse than grabbing a towel after a shower, and discovering it's hard and uncomfortable. These tips will make your towels incredibly soft and cozy.
Do you have any awesome laundry hacks? Share in the comments!