Make a gorgeous autumnesque (or not) bracelet with this leaf friendship bracelet pattern! Learn how to make your own friendship bracelets and then go on to this simple tutorial! This post contains affiliate links.
---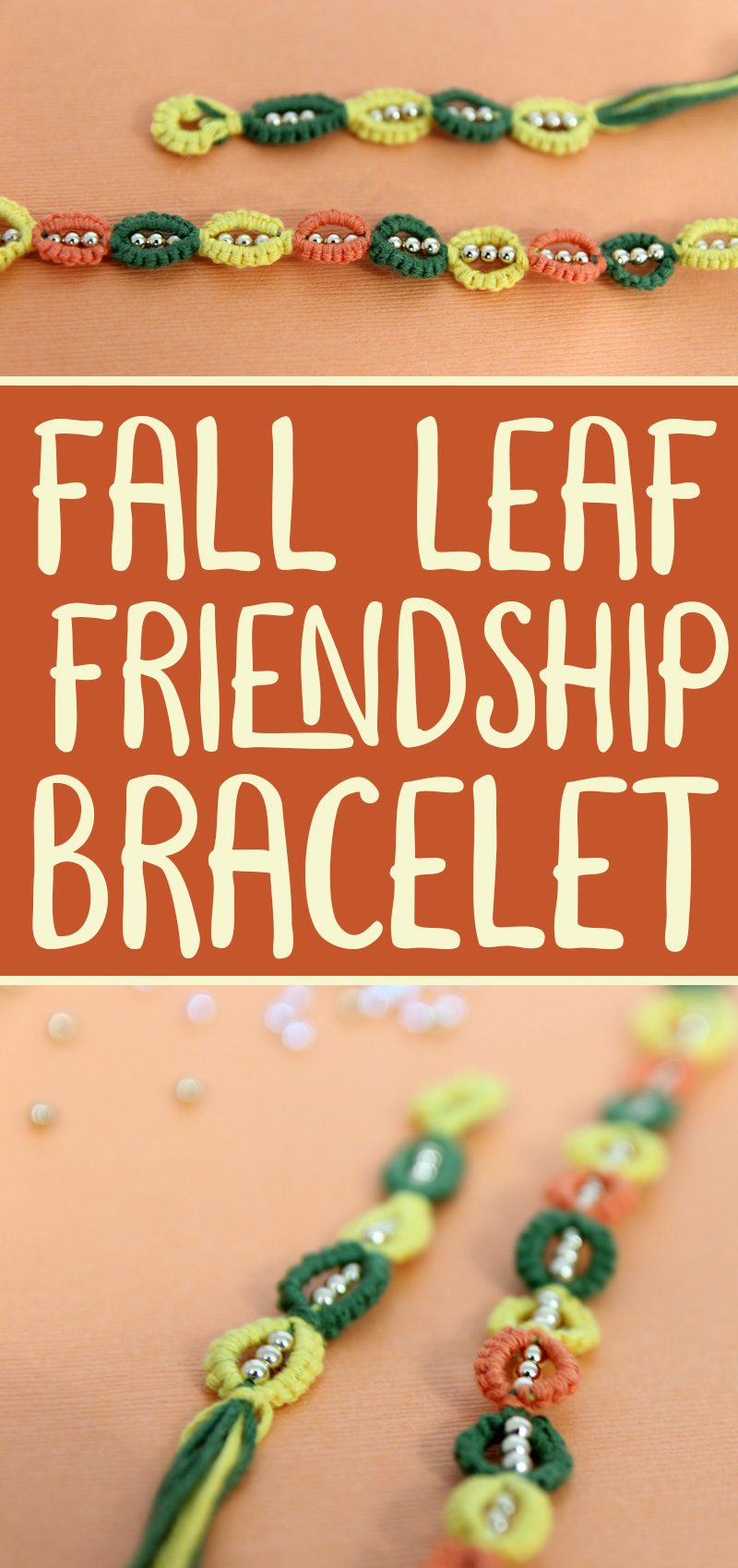 Sometime about two years ago, I had a brilliant idea to try to adapt a certain pattern to make a cool fall leaf friendship bracelet pattern. I added it to my calendar for "next fall" and then life happened. Life being Princess A, our big move, 2020 madness, being sick and recovering – and everything in between.
So work really was whittled down to the simpler things and this complex idea of creating a new pattern was pushed to the back burner.
Contents:
I pulled out this idea again this year, and realized I really don't like the original pattern I was going to adapt, but still wanted to create a leaf friendship bracelet pattern… so I got to work.
I sketched. I graphed. I tried doing a little math. And the result just wasn't what I was looking for.
So I started playing with threads instead. I knew the look I wanted but didn't know how to get it. So my next thought was "if someone has already done this there's not point in still fighting for it!"
A defeatist attitude, I know, but sometimes it's important to know when to let go.
So I started heavily digging into and looking for fall leaf friendship bracelet patterns and let me tell you: it is nearly an untouched market.
First, there's the typical one that I don't love because it leaves loose threads on the side that aren't knotted and are therefore subject to fraying (other than that it's quite cool).
Then I found the one below and I shrieked "Voila! That's the look I was trying to get!"
I was a bit unsettled with the fact that it was so complicated and technically in the area of craft we like to call "macrame" rather than "friendship bracelets" (even though they're sort of the same thing.) As in, it's quite advanced, even though it's insanely cool.
But I figured it's already out there, I can't make it, it's time to move on.
Discovering this fall leaf friendship bracelet pattern
After I'd thoroughly given up, I was actually looking through posts on my own website! and I came across this insanely easy friendship bracelet pattern.
I had a mega face-palm moment after realizing that I had been sitting on my fall friendship bracelet pattern all along.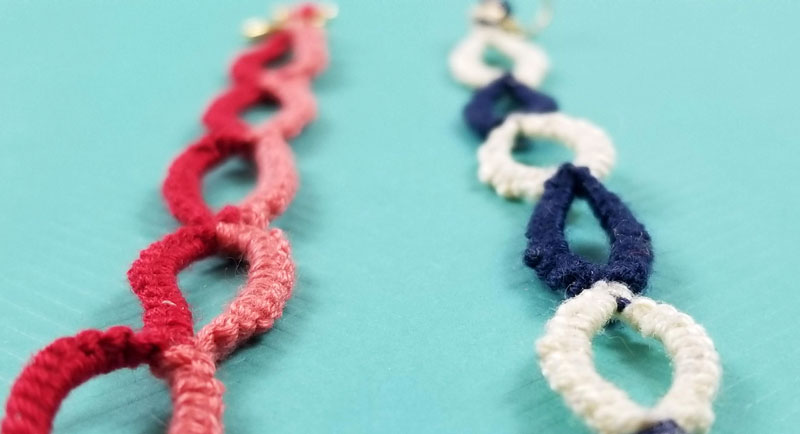 So I adapted it, tweaked it, and then made a couple, fine-tuning it as I went along.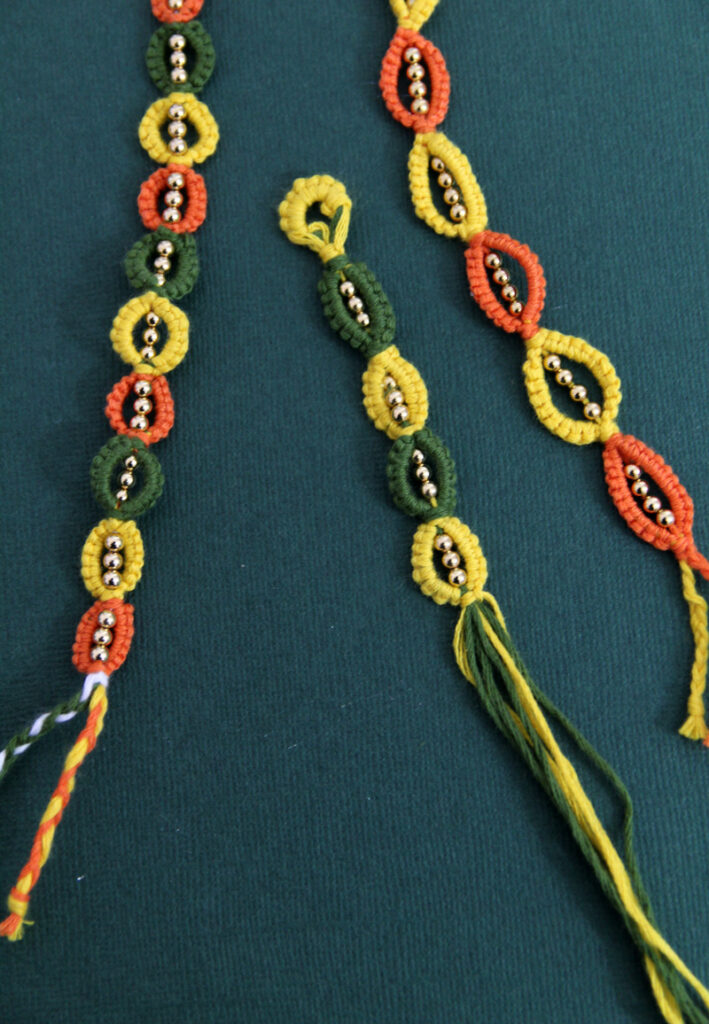 Here's where I'll insert a small-ish note about originality: sometimes it gets incredibly frustrating to always be innovating when others copy. However, I truly believe that as a craft writer, I'm best off sharing things I've come up with myself and staying original. The exception is if it's a basic learning skill to master a craft, or when I modify someone else's craft, but do attribute my inspiration (while adding my own spin to it).
But there's a catch: often I come up with an idea, 100% on my own, but if you search almost anything will already exist. As they say, there's nothing new under the sun.
So it can be gut-wrenching to put in this much work (I'm talking literally days of obsessing over this) to realize that an idea already exists.
That happens every time I share an "original" bracelet.
I'm sharing this with you so that you can understand that if you've seen my idea elsewhere and think "nah, this is old news" – it wasn't to me and therefore it probably isn't to everyone.
It happened when I first shared my zigzag friendship bracelet pattern – and I was researching which keywords to use for it. I had literally come up with it as a child, before I'd ever touched the internet. And it has my own spin. But it was tough discovering that it's already out there. The same happened when I shared this daisy-chain-like bracelet. I was aiming for the chain look, and never even put in the daisy part, discovering years later that a very similar bracelet exists.
So the same happened with this bracelet. The good news is, this time, anyone who's done it as done it very differently, and not as a friendship bracelet – more as a hemp bracelet – and the engineering of it IS different. I mean, until I bump into the one. But meanwhile, here's how it came together – and finally, here's a tutorial for those who want something EASY and very doable!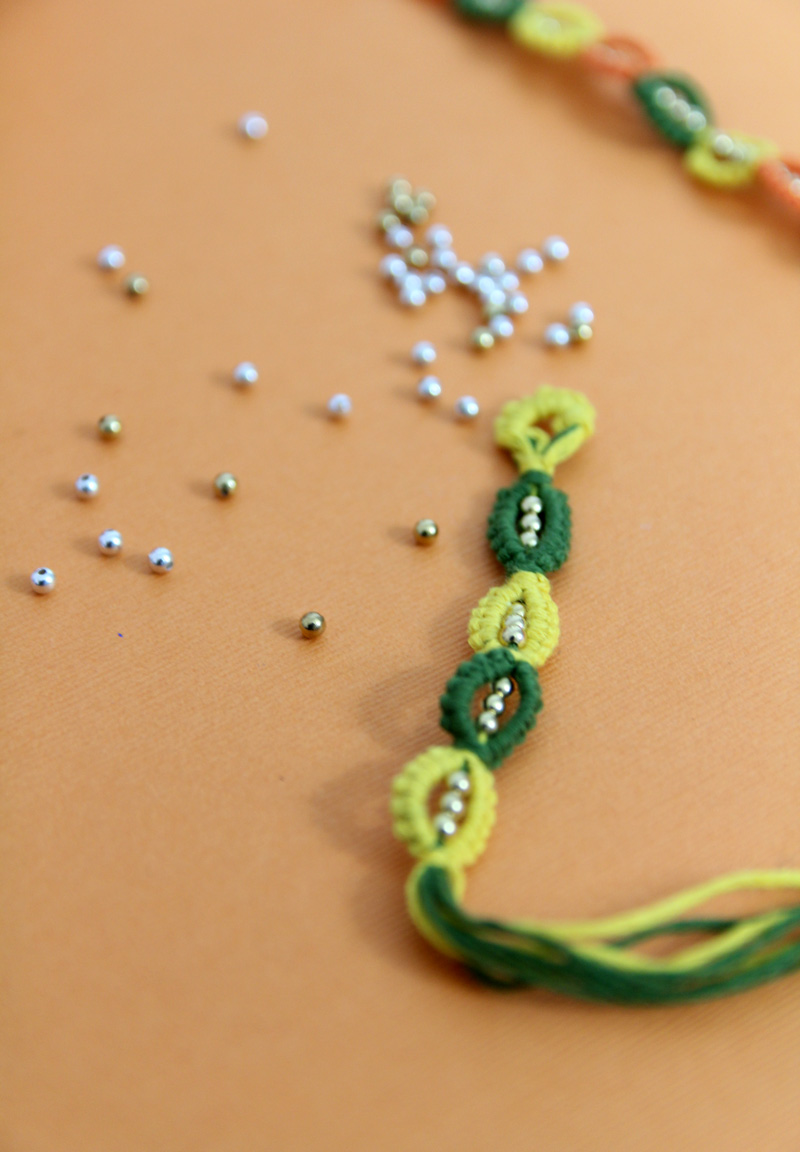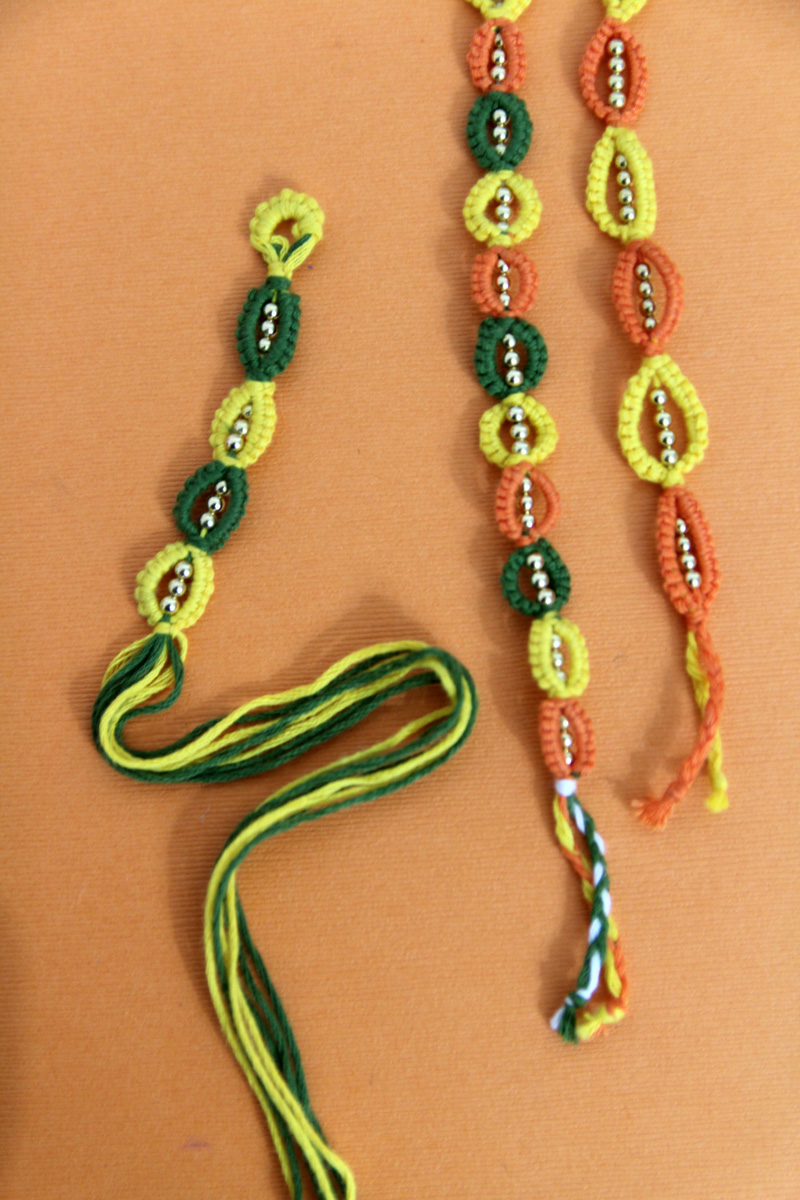 The formula for this fall leaf macrame bracelet
The idea is to add a central thread to carry some beads to convert a simple daisy chain bracelet into a super cool fall leaf friendship bracelet pattern.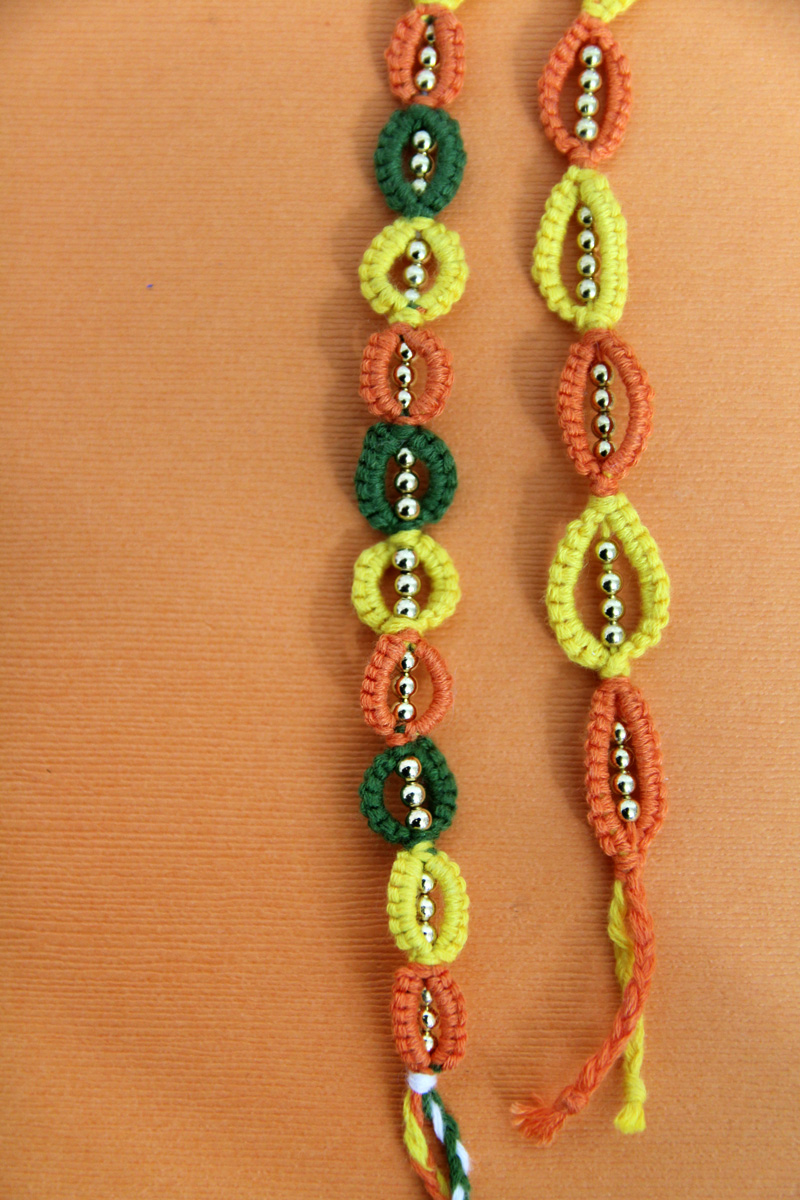 These beads form the central vein.
Another adaptation was to make this center section slightly shorter than the side portions so that we can form more of a leaf shape.
So what's the perfect formula?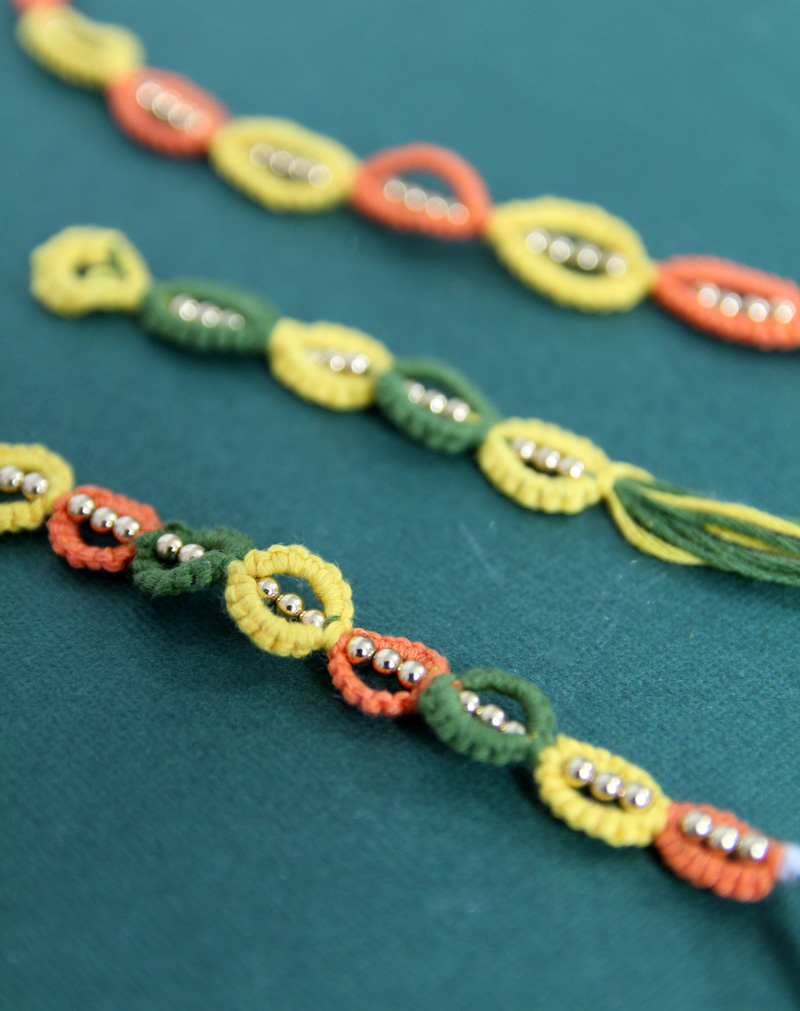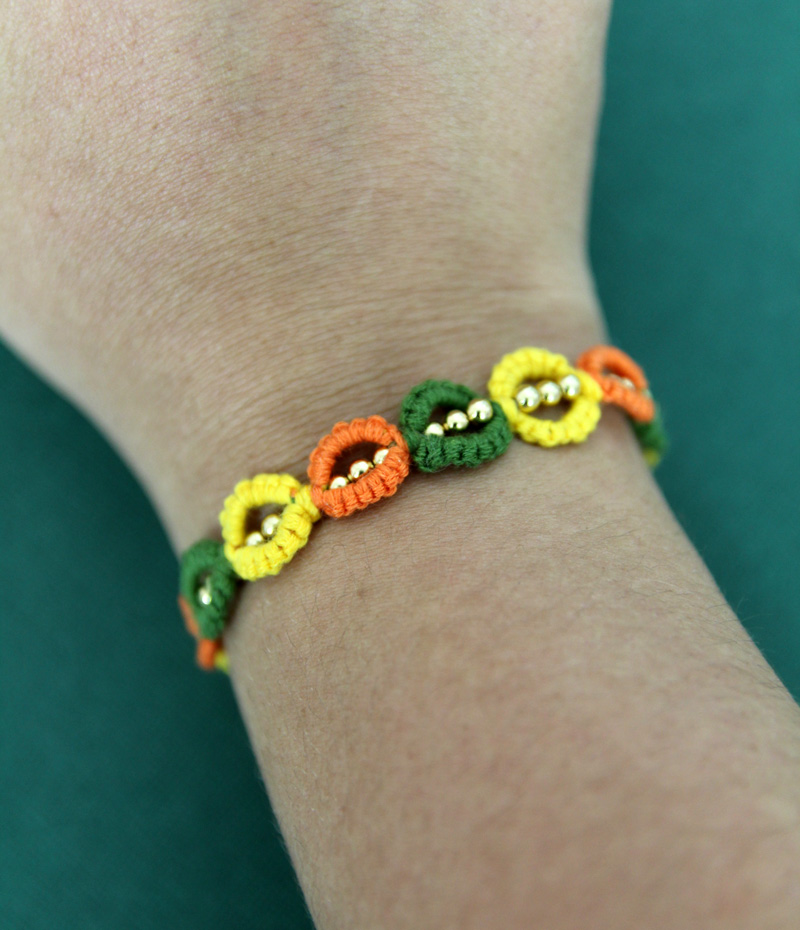 This easy fall leaf friendship bracelet pattern looks best with seven complete backward forward knots (14 total knots) per side, and 3x3mm round beads in the center.
It can also be done with larger leaves that are ten backward/forward knots (20 total knots) and four beads.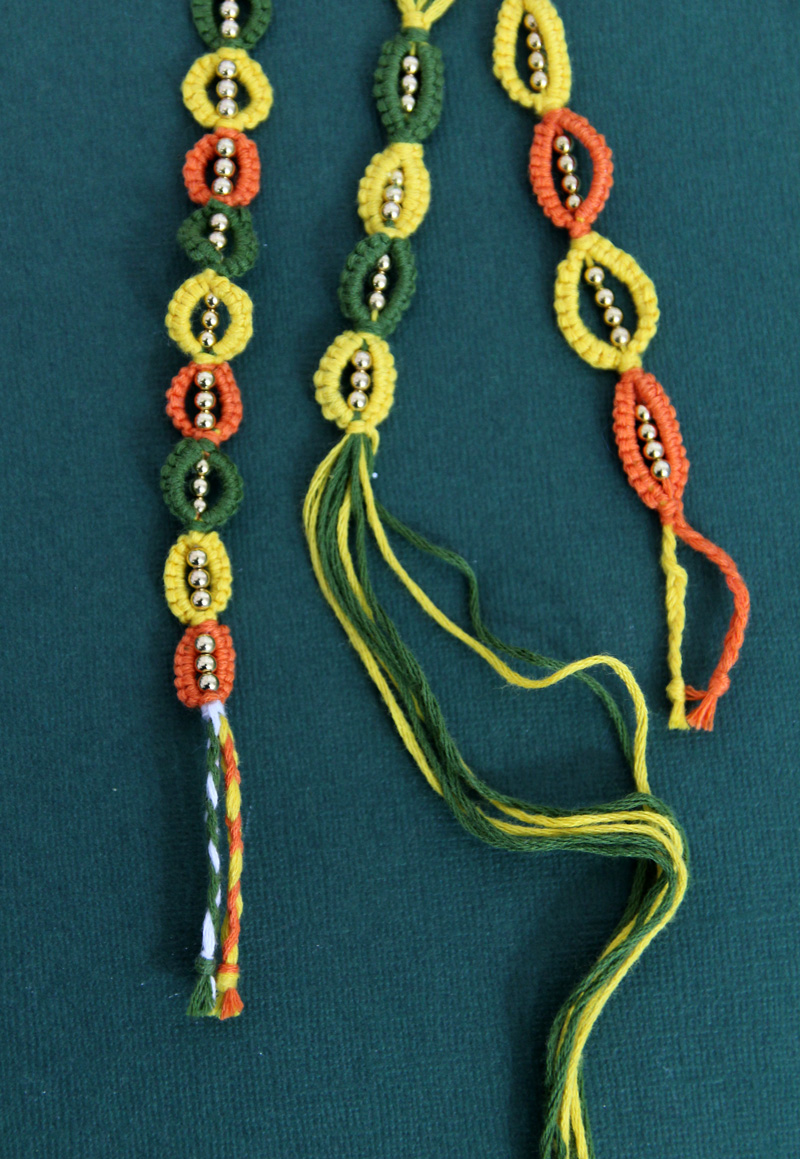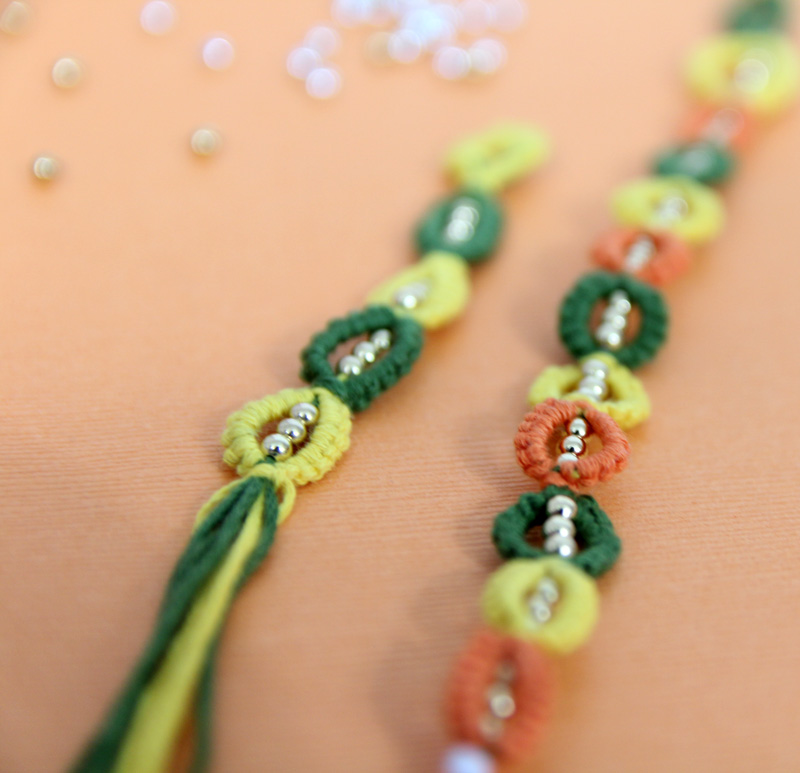 Of course, you can experiment, or just rely on my experimentation….
Check out the image below for a visual: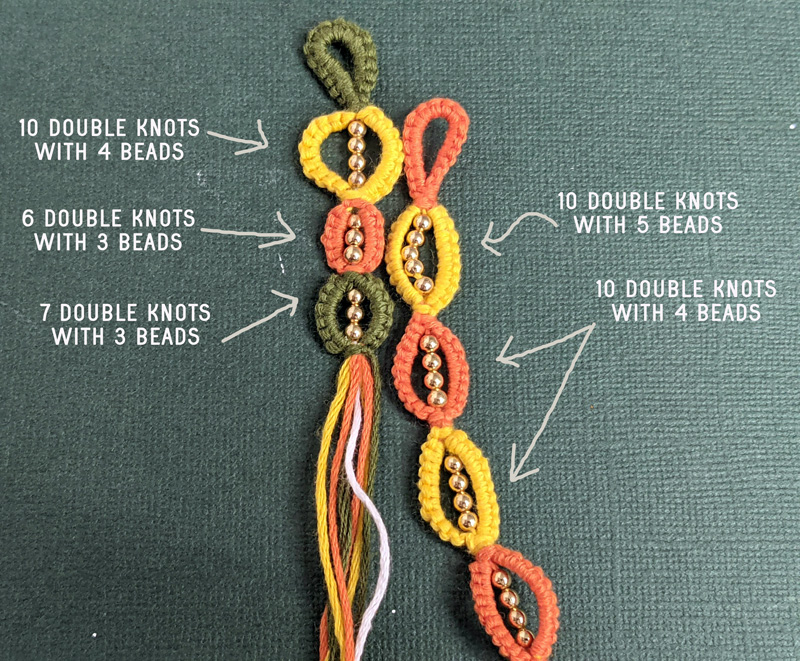 And here's a good stretch in the 7 b/f knot and 3x3mm bead combo that I recommend: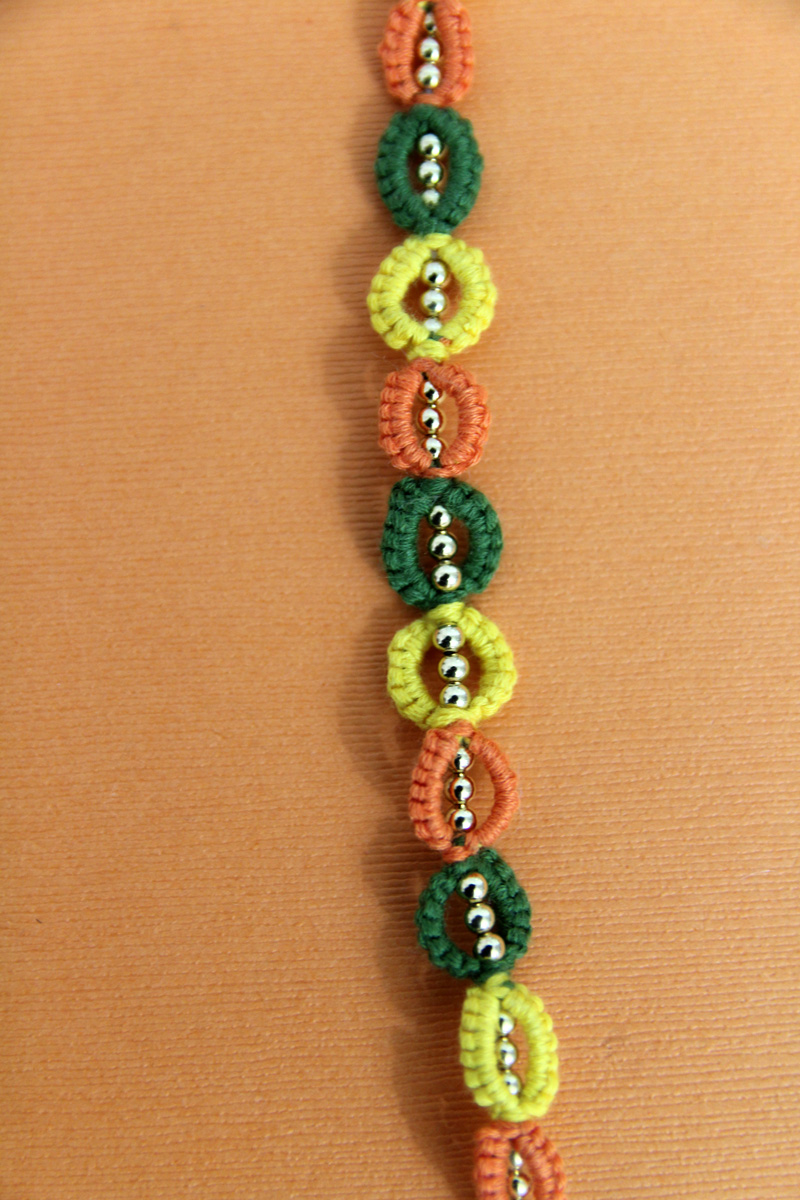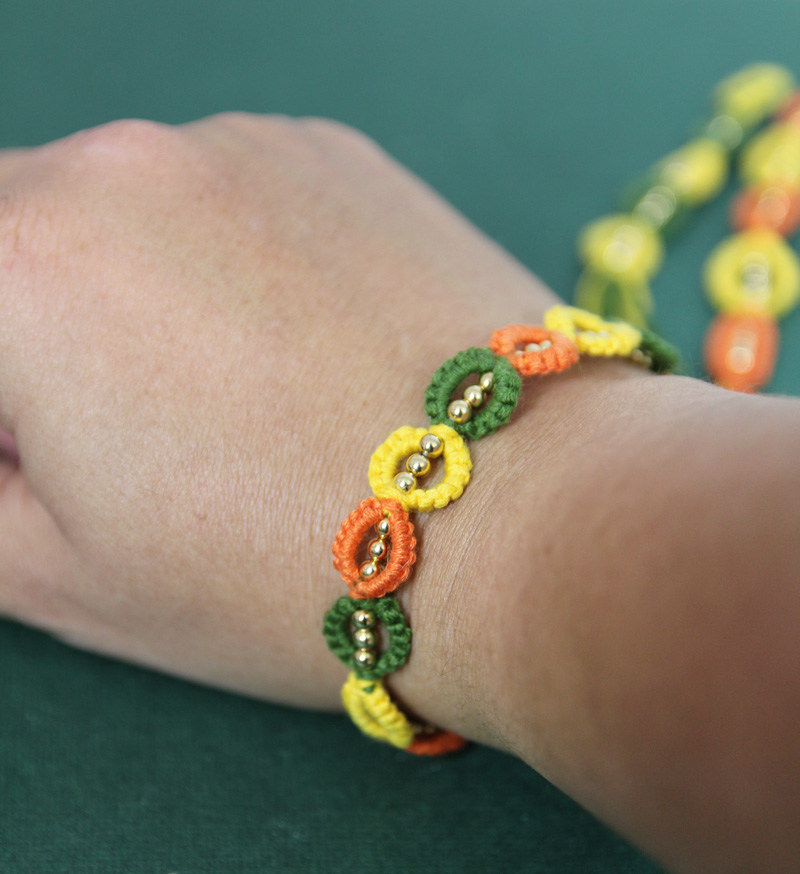 These variables will change with different thread weights, different bead sizes…
You can play and make this your own by switching up these variables. You can also try making an ultra delicate one with just one bead in the center, or even adding more colors and making the sides thicker.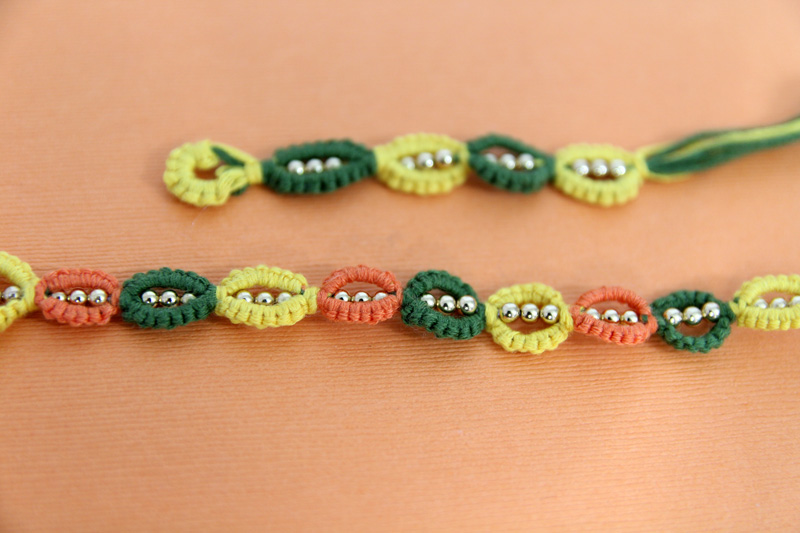 What you need to make this
How to make a leaf friendship bracelet
1. Cut 7 strings roughly from shoulder to fingertip in length. You can use 3 doubled over strings for six of them as you need at least 2 of each color. Your central/beaded string can be any color but it'll show a little. I've switched between using a "joker" neutral color, a color that's in the bracelet but that's not the working color, and the working color.
At every round/new leaf you'll be able to arrange your strings in the order you'd like.
Start your friendship bracelet however you'd like. I used Lark's Head Buckle method. Since this bracelet repeats a very specific process, I started the tutorial with a new round, so pretend there isn't a pretty leaf sitting above the first stitch in my tutorial – rather your knotted together string/starter buckle.
For each round you'll want to divide your strings as follows – from left to right:
Working color, hidden color, hidden color, slightly showing color, hidden color, hidden color, working color.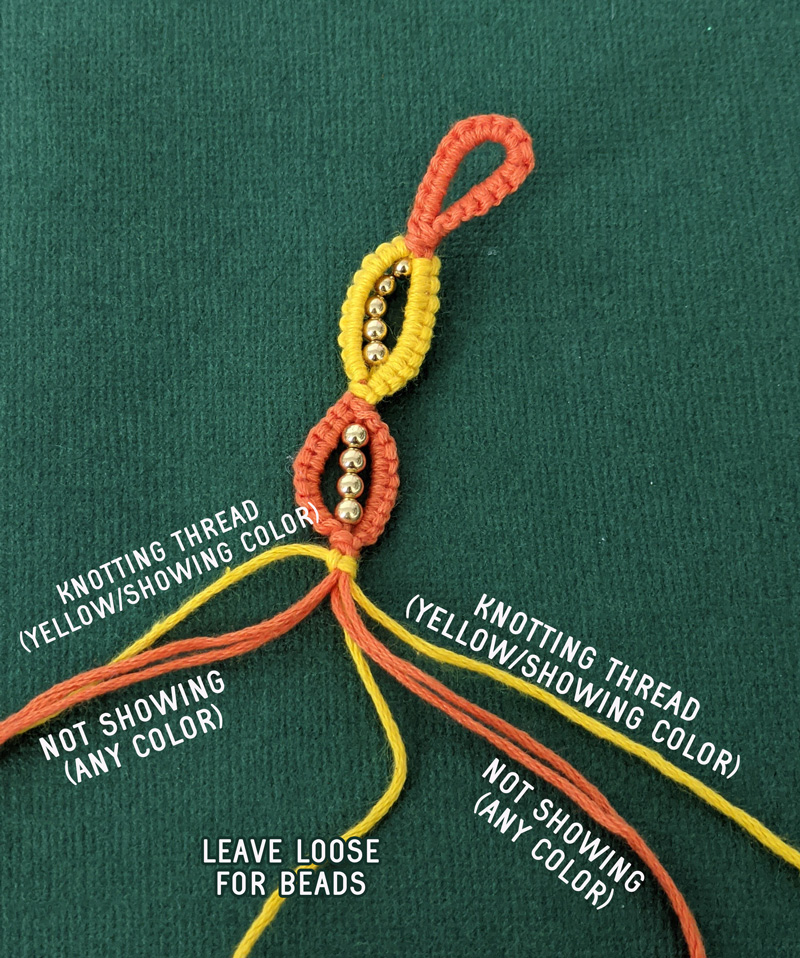 2. If you're right-handed it'll probably be easiest for you to knot the right string. (If you're left-handed you might want to try mirroring my tutorial). Take the right-most string Make a BACKWARDS FORWARDS knot around the next two strings. That is a backwards knot pulled tight, followed by a forwards knot pulled tight. If you're not familiar with these basic knots, you might want to learn how to make your own friendship bracelets here.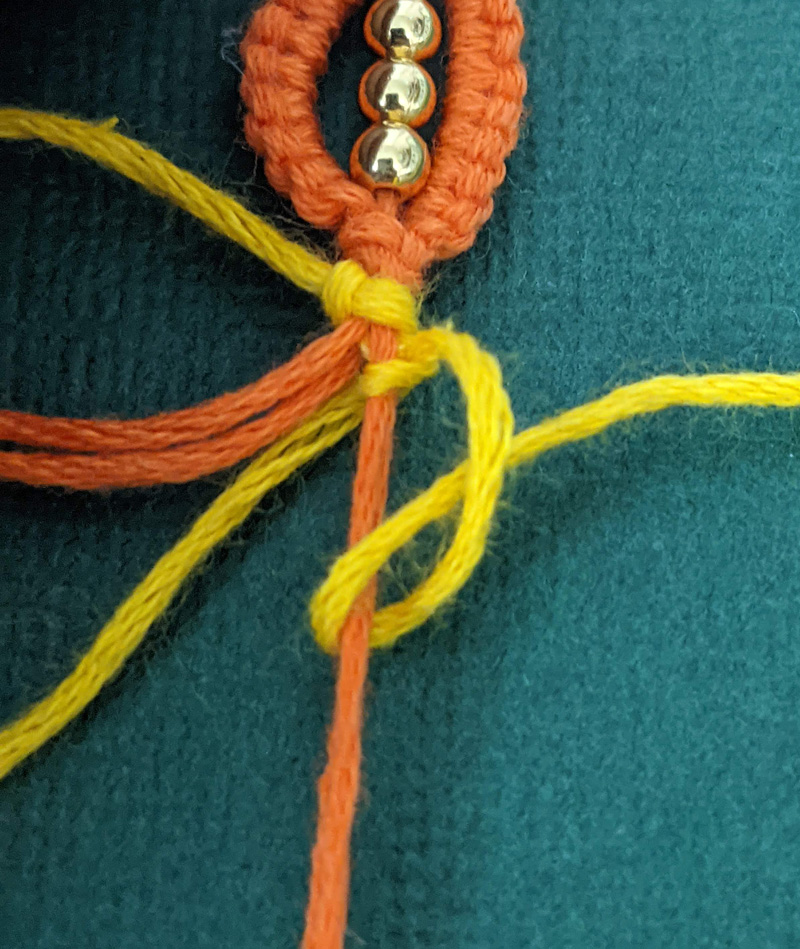 3. Continue making TEN backwards/forward knots (large leaf – pictured) for a total of TWENTY knots. OR make SEVEN backwards/forwards knots (small leaf) for a total of FOURTEEN knots.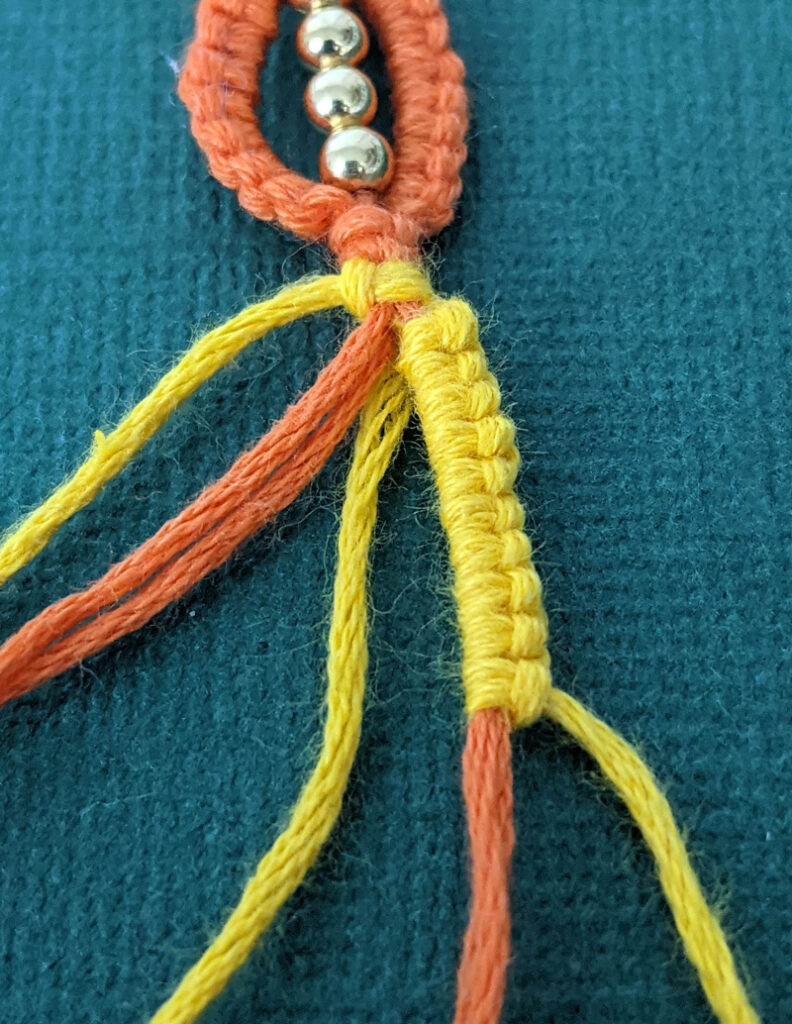 4. Flip over your bracelet. Repeat the process. Take the right-most thread and knot it around the next two using backward/forward knots.
Tip: you CAN leave your bracelet in position and simply work on the left-side of the bracelet. HOWEVER, you might find it difficult, and your tension might be different, resulting in different lengths.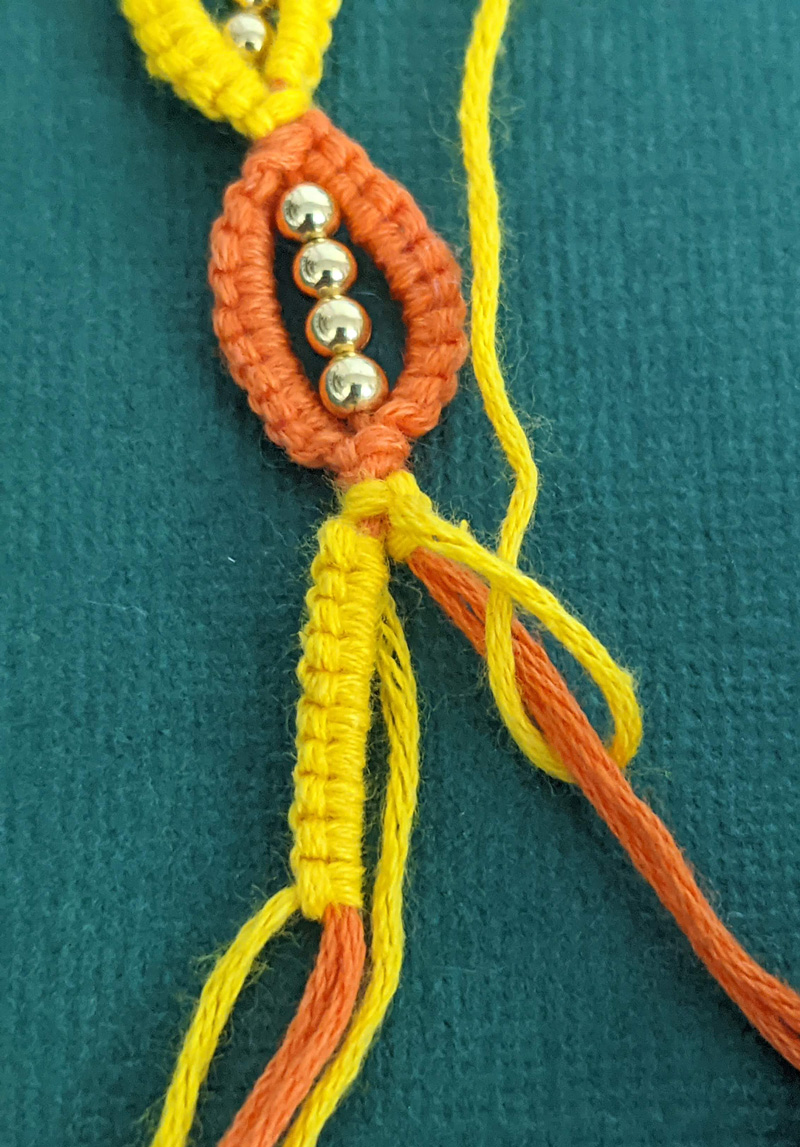 Make the same amount of knots. You now have two knotted portions flanking a loose thread.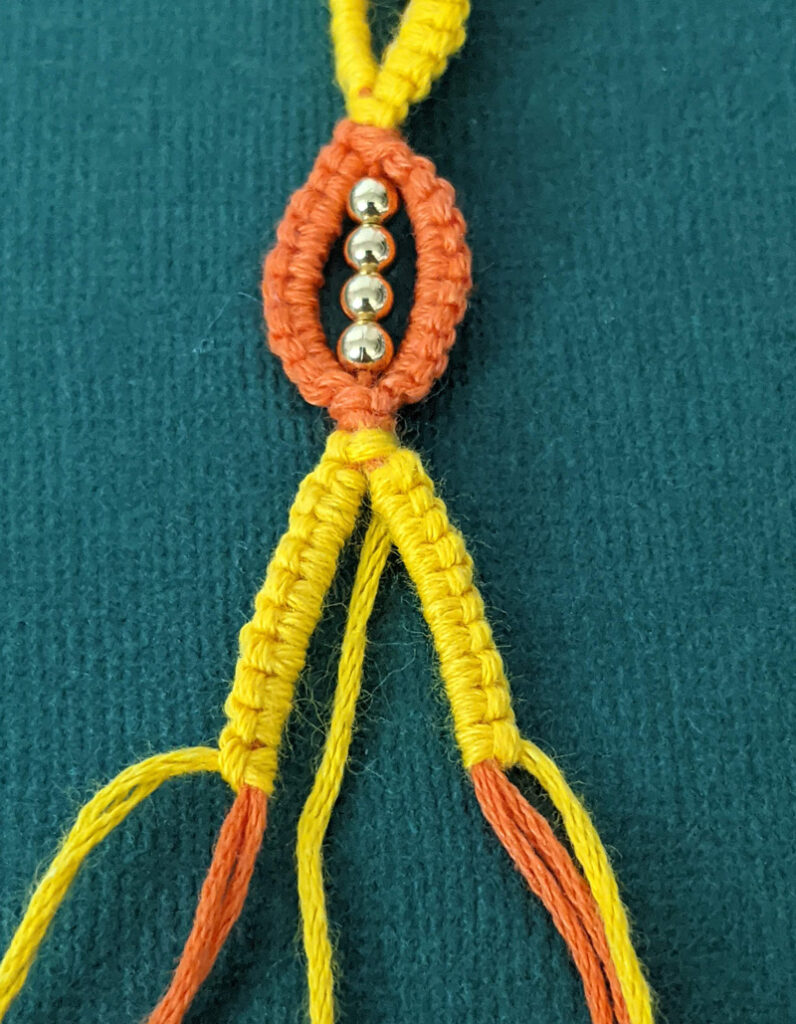 5. Add 4x3mm beads (large leaf) or 3x3mm beads (small leaf) to your center thread.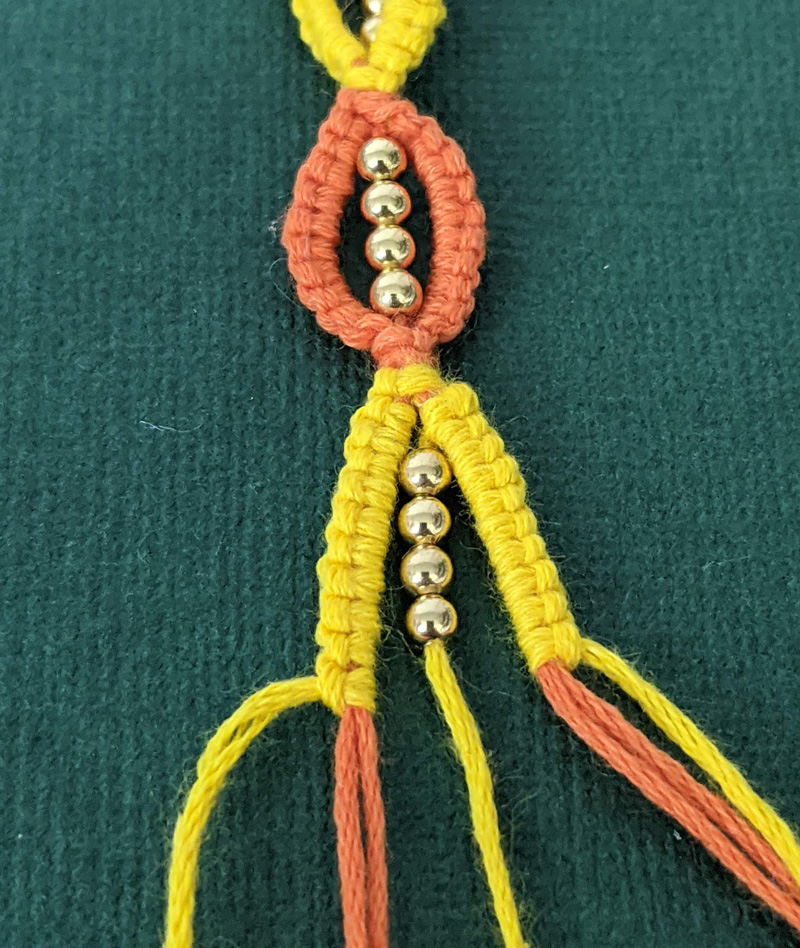 6. Now take your left thread that's your working color. Make a FORWARD knot around all of your threads.
Pull your center thread so that the leaf sides bubble out. You might need to sort of pull the thread (and if the coloring makes sense knot it around the others) as you work your bracelet to keep it tight but eventually it'll hold. And if it's not totally pulled it'll still look great.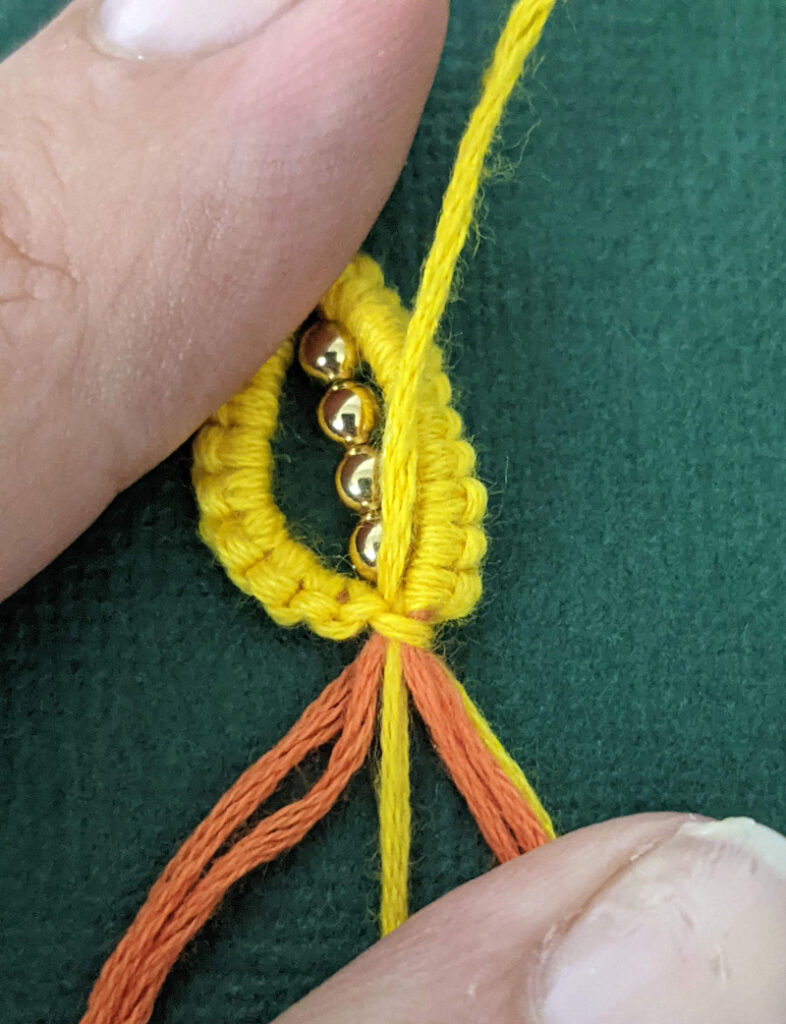 Now do a backward knot with the same thread.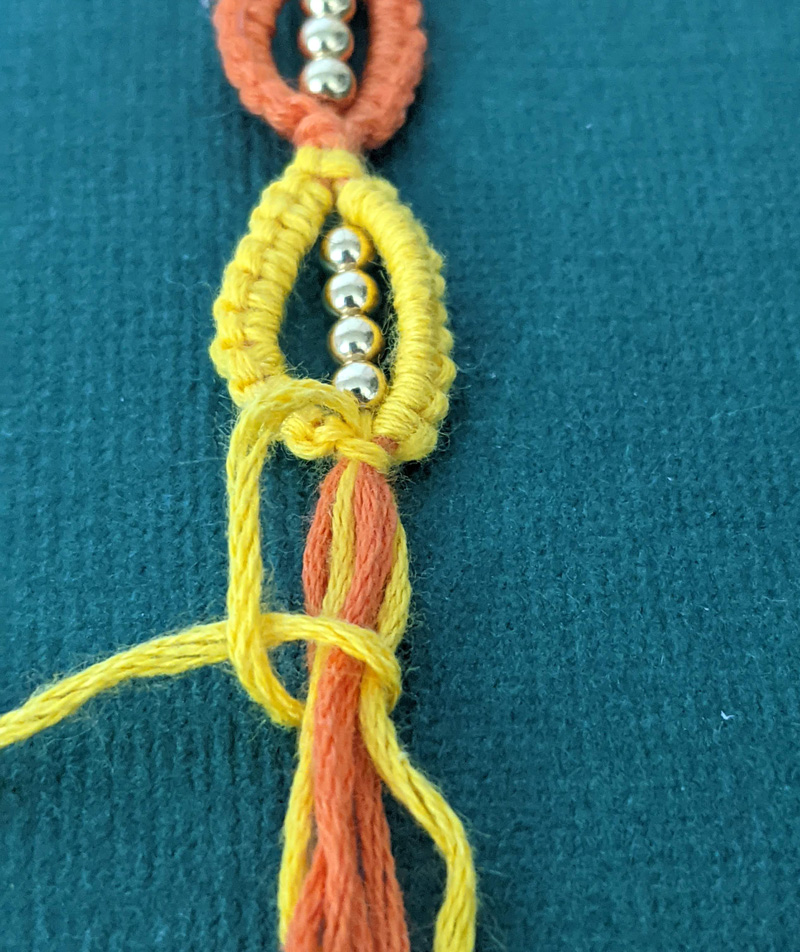 7. Take your next working color – the one that's most to the right. Make a BACKWARDS/FORWARDS knot around your other threads.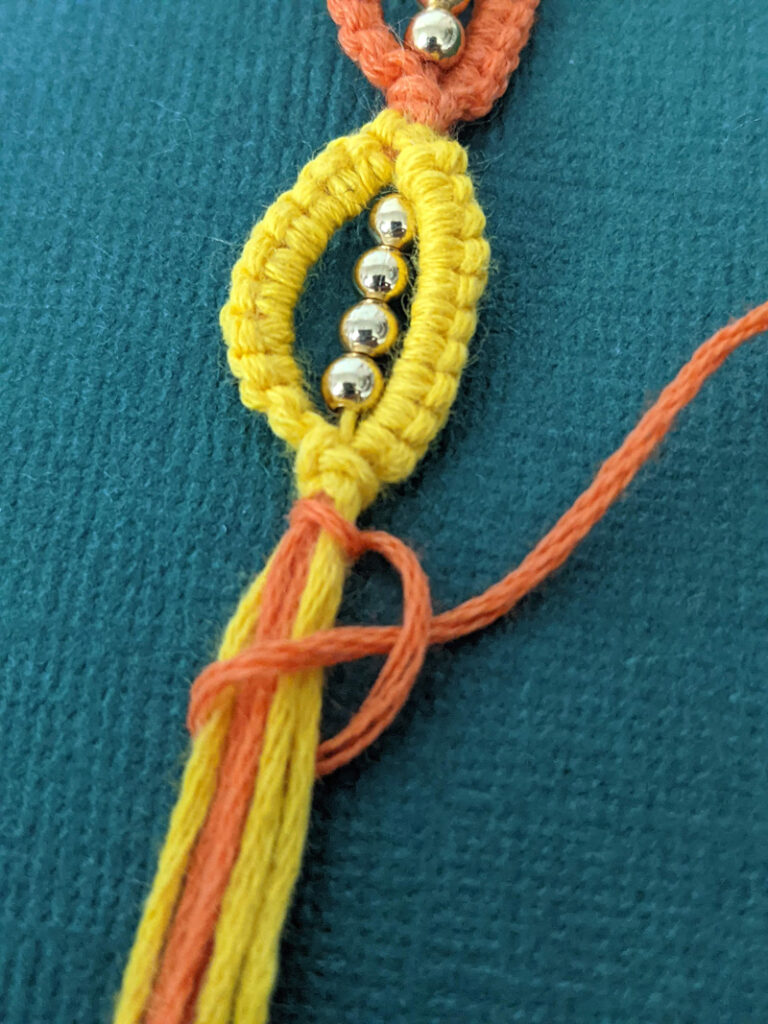 8. Arrange your threads for the next leaf and continue working this leaf friendship bracelet pattern by repeating the steps above!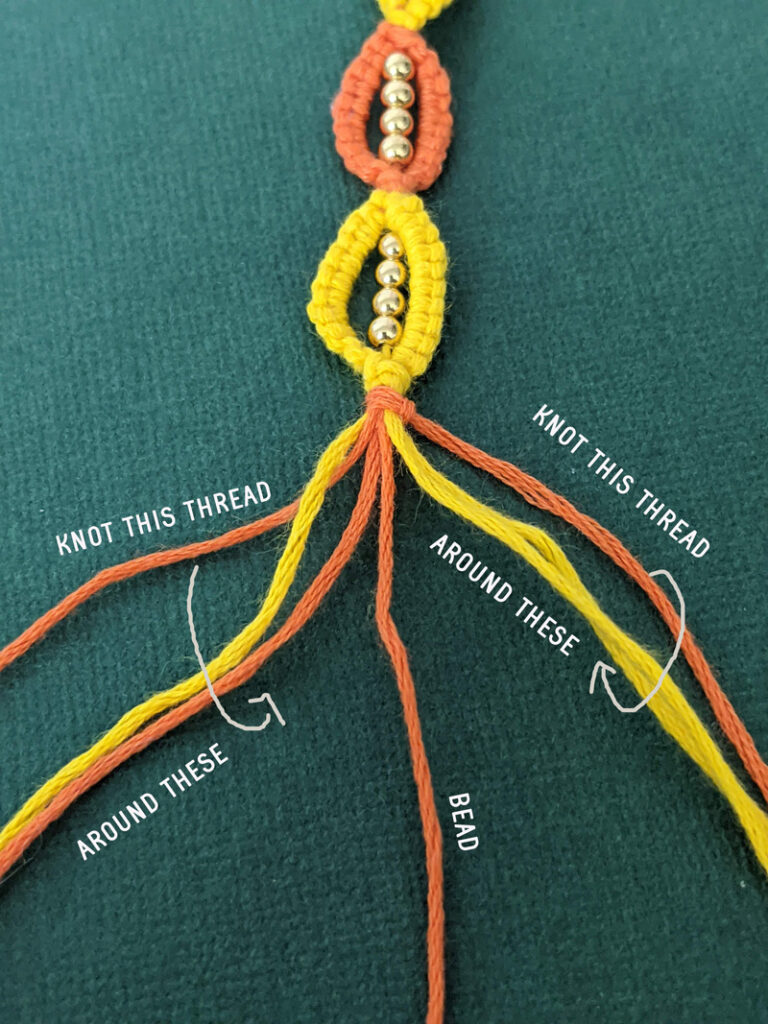 You've successfully knotted this leaf friendship bracelet pattern! Now make a few more and try different color variations. Give it a go with different thread weights, bead sizes – whatever floats your boat!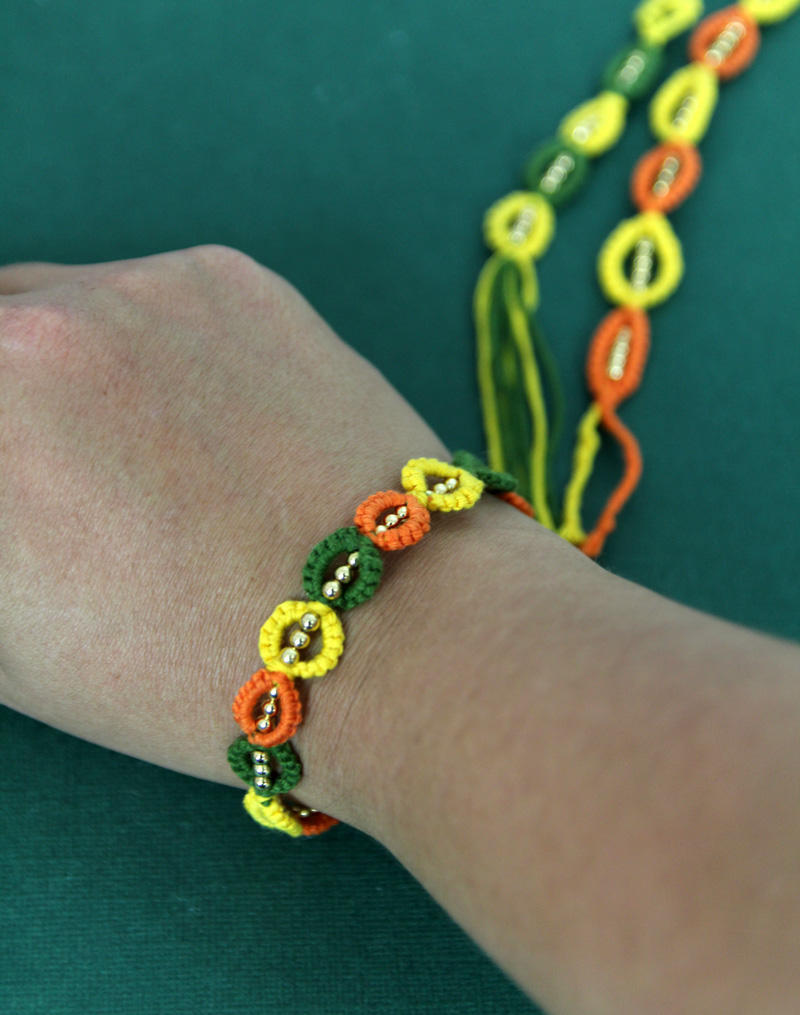 Variation: @pride.pixels on Instagram shared this beautiful variation, knotting the middle instead of adding beads! So simple and brilliant. You'd need at least 3 center threads handy for that.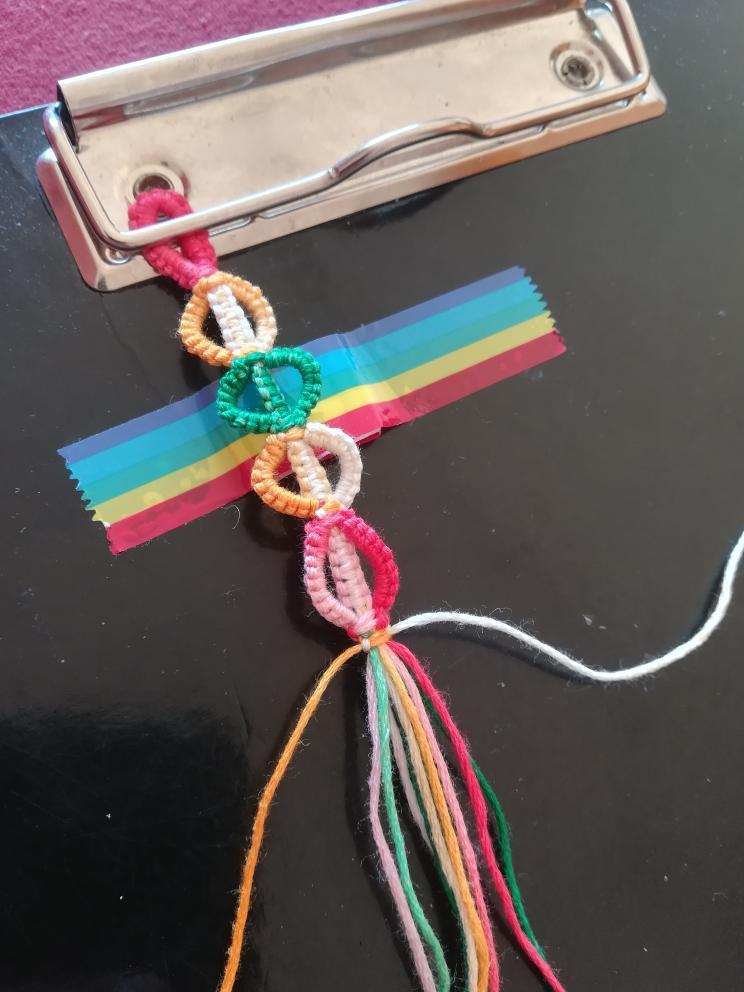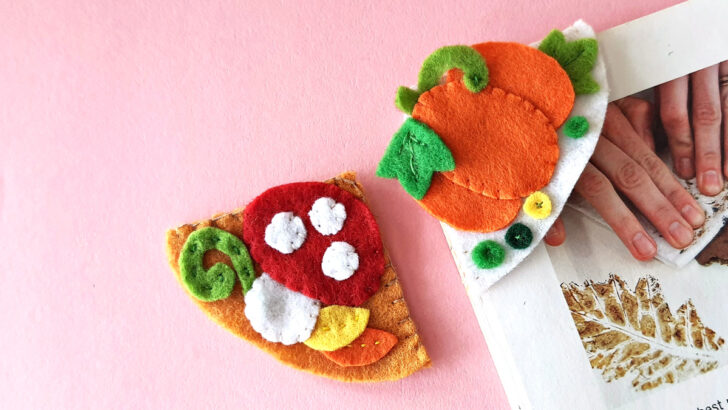 These felt fall bookmarks are the perfect accessory as you curl up with a book this upcoming fall season. When you're done, check out this …