I hope you enjoy this beautiful sophisticated scape painting art tutorial, featuring a reversed canvas for a built-in frame! If you prefer a more glam look, check out my marbled poured paint art tutorial here! This post contains links that earn me commissions. Product was stocked in my craft room by Plaid Crafts free of charge in the hopes that I'd share.
---
Contents:
We redid our kitchen to work better with the layout of the house before we moved in. We ended up with a wall by the peninsula that was begging for some decor.
Originally, I had planned to hang a small set of shelves with hooks there to serve as a coffee station, and to place my coffee appliances underneath.
I changed that plan for a few reasons:
My appliances worked better placed under my open shelving.
The open shelving created a certain amount of clutter – the good kind. But I wanted to keep this area clutter free.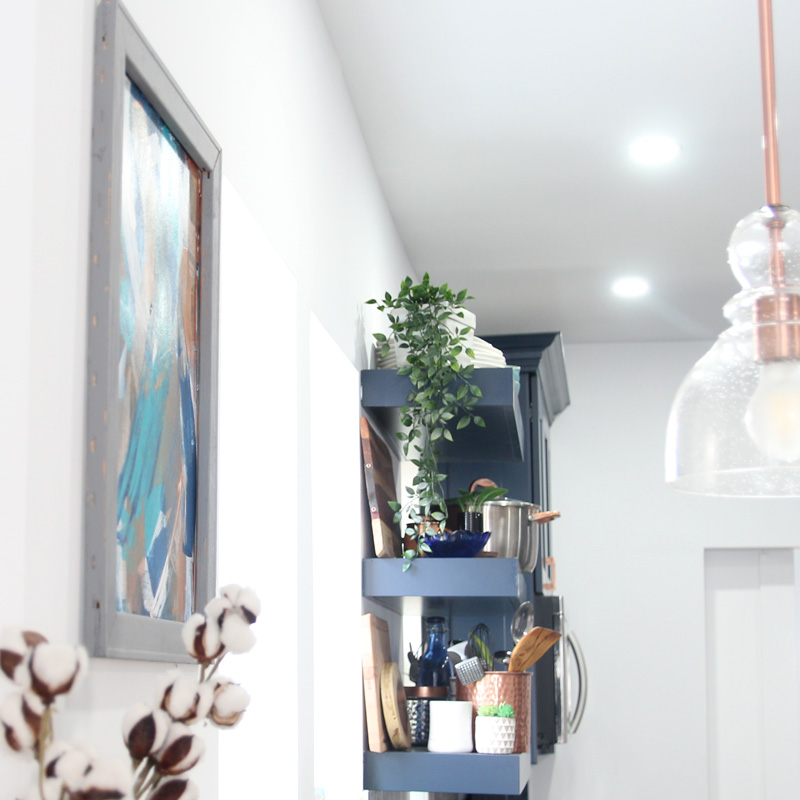 It's hard to reach, so not good for functional day-to-day use as storage.
And finally, I realized that the pendant lights we were planning to hang there would create even more clutter if that wasn't something clean.
The cool thing about being a "creator" is that you can seriously customize your home for pennies, as I did with this scrape painting art!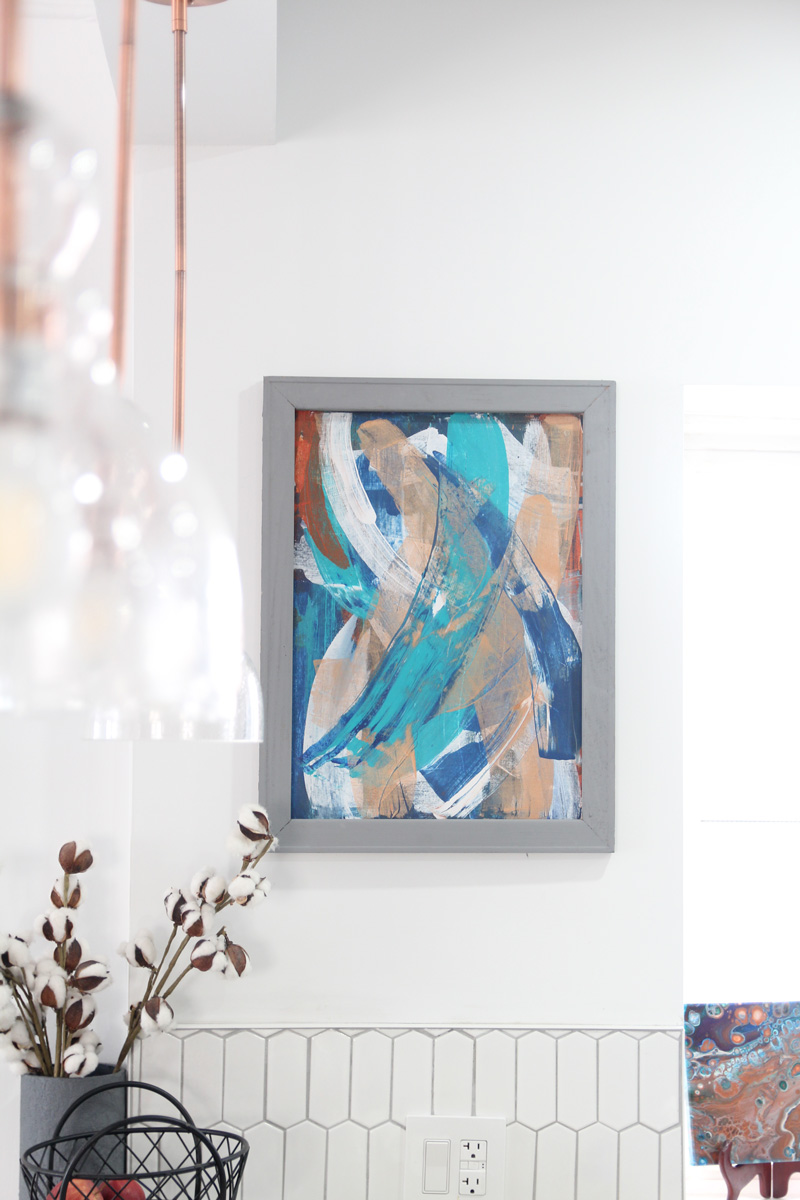 I decided that I needed a bold painting that fills the space nicely and picks up the hues of the kitchen. While a scrape painting art isn't exactly clean, it still has a solid effect. It comes across cleaner than, for example, minimalist word art would.
That is because there's nothing to look at. It just sits in the background.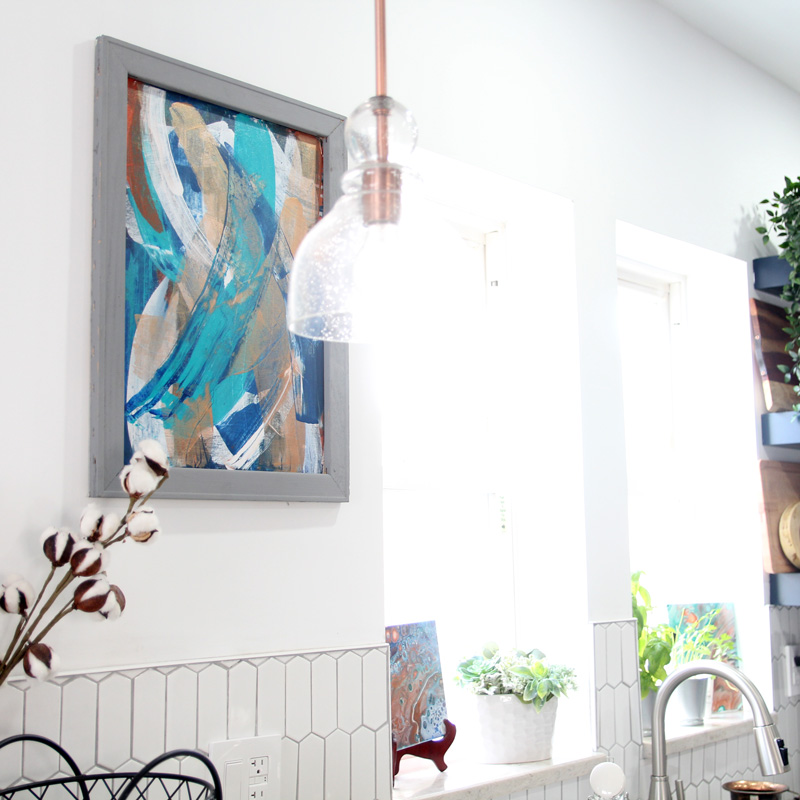 But it also draws the eye enough away from the natural clutter of the kitchen, so that at eye level you have art. That way, you notice the stuff all over the counters less. Because frankly, my kitchen rarely looks as clean as it does in these pictures! At the minimum there are a few dishes drying a couple of water bottles, and a spice grinder I neglected to put away on my counters….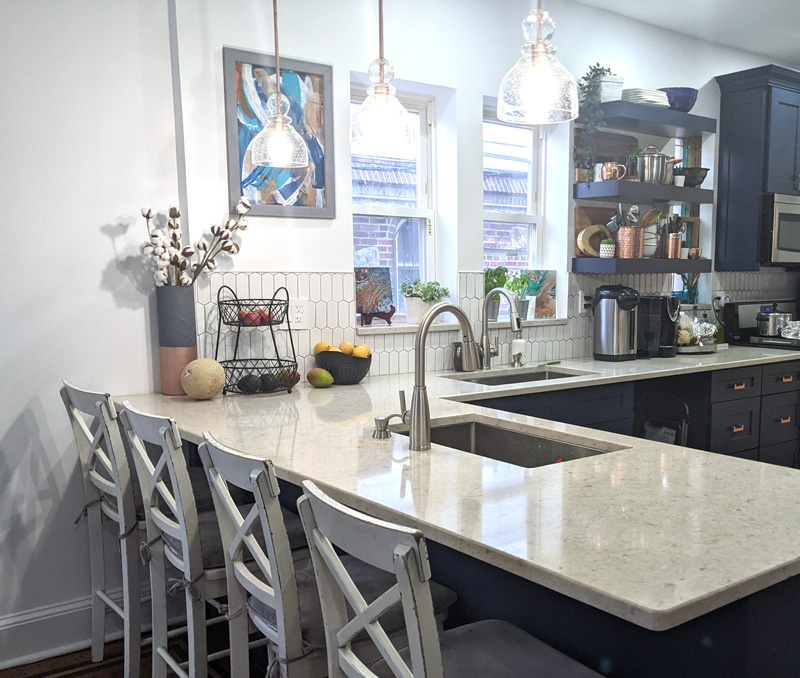 Is making scrape painting art easy?
To begin with, I had planned to spend a few minutes on making my scrape painting art.
Little did I know just how complicated it'll be…
The truth is, at first, I started recording video, then realized "I don't got this" so I stopped. I also didn't photograph normally as I had originally planned on just posting a video… I regret that, as once I finished, I feel like I have enough experience to share. So do forgive me if some of the photos are a bit improvised!
The easy part about scrape painting: you can let one layer dry, and keep working it until you are happy with what you see!
The hard part: it's much harder to control the outcome than you might think! And it's easy to get an outcome you like, touch it up a bit, and mess it all up when you overwork it.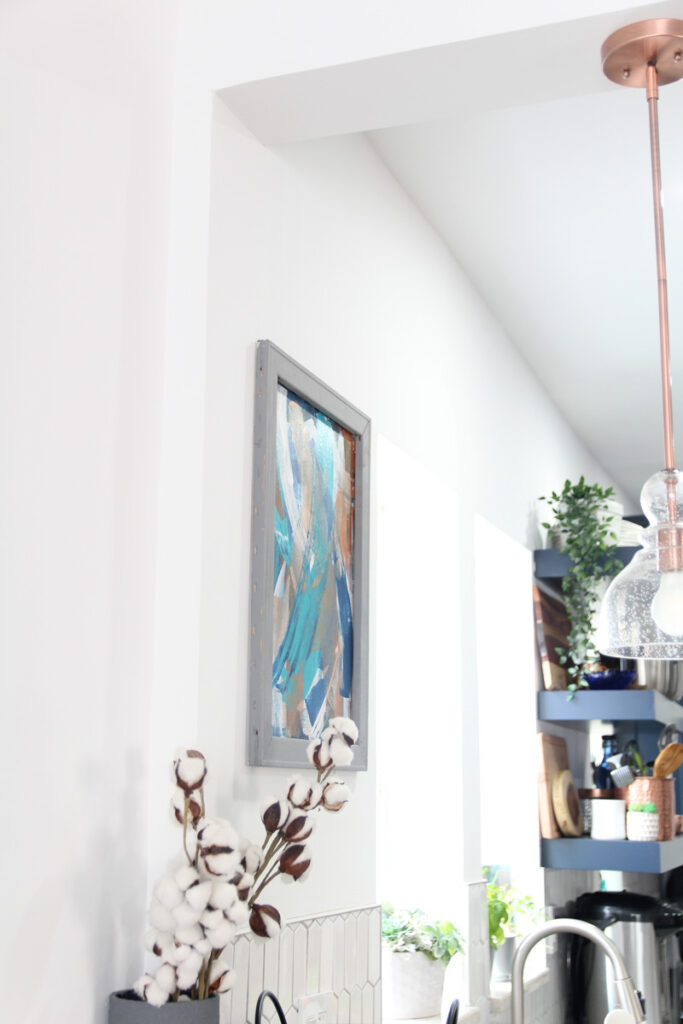 But when you're done, it can look fantastic. You'll learn as you go along. And as long as you get the color scheme right (something that I had to play around with as well) you'll end up with a beautiful custom piece of art for your home.
So I'm not going to pretend this is one of those easy peasy hack arts where in minutes you can have an impressive wall hanging. But I will stress that it is a completely beginner friendly project. You need zero painting experience. You can work it, fix it, and change your mind. In contrast, pour painting is pretty much a one and done – the paint is too thick and takes too long to dry to really rework your "fails".
The best tools in your scrape painting art arsenal will be a decent working knowledge of color theory, and a knack for picking the right shades. FYI, if you do a lot of this type of thing, I do recommend having a full spectrum of acrylic paints handy. These from FolkArt are my favorite for their rich color, quality, and durability for a variety of projects.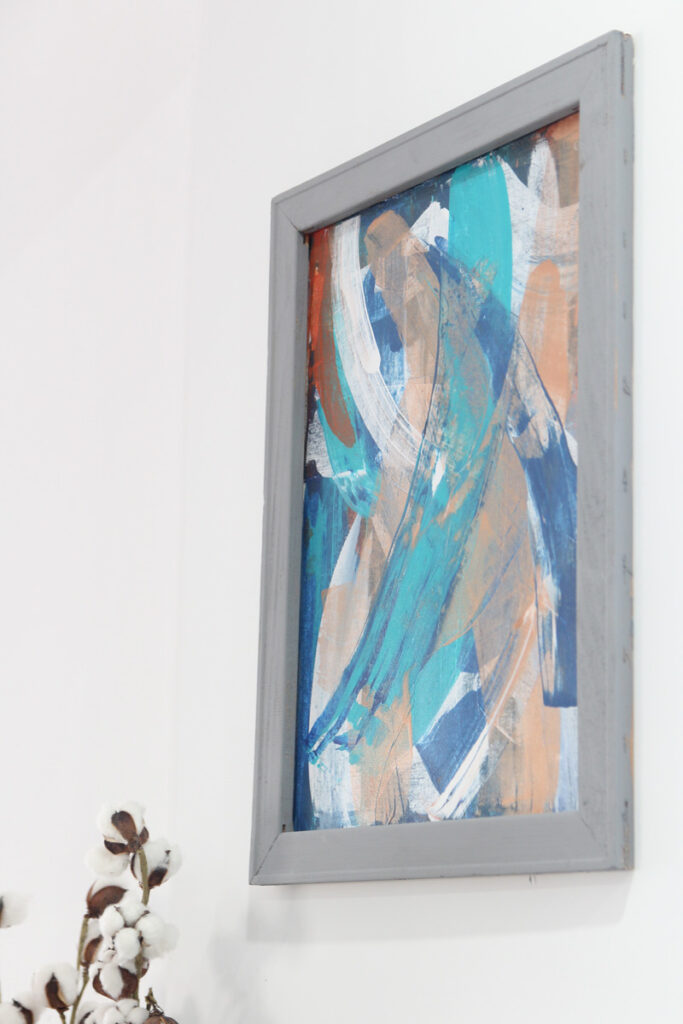 Reverse Canvas: what is it and can how to incorporate it into anything
You may or may not have heard of the term "reverse canvas art." This refers to hacking a wrapped canvas to use the stretching frame as a decorative frame.
It's popular with Cricut crafters, but good for anything that doesn't require paint to drain off, such as… scrape painting! It was created as a "modern farmhouse" look. But did you notice that we do NOT have a modern farmhouse vibe going on for the most part.
Yes! You can reverse canvas and NOT have it look modern farmhouse!
Learn how to make a reverse canvas first if you want to use that method in this tutorial. It doesn't have to be made into a scrape painting, which is why I made a separate tutorial for that.
I had originally planned on staining the frame to preserve the natural wood, but by the time I was done, the frame was a wreck. So I did what every independent-thinking millennial does and asked my Instagram followers for advice:
In the end, I went with the feedback from the lovely team at Plaid Crafts, and painted it a color that echoes the shade of my grout.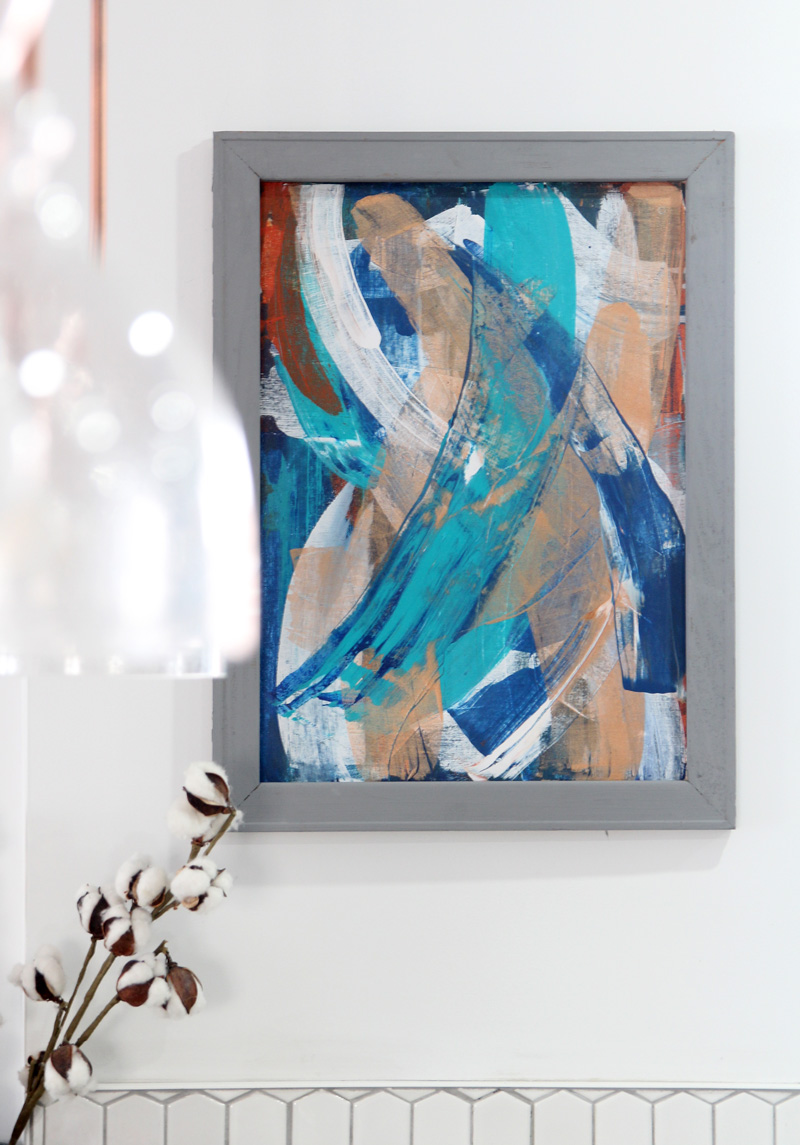 What you need to make a scrape painting
Acrylic paints in a color palette that work for your space – I used a mix of FolkArt and Apple Barrel colors, as well as premixed marbling paint.
Recommended: White paint (or almost white paint if you don't want to go true white)
Recommended: a metallic color (I used copper)
Scraper tools – these are actually designed for thicker paint with raised stencils but they worked amazingly for this!
Pouring medium – I used about a quarter of this one from Apple Barrel
Something to protect your frame (try masking tape) OR
Something to protect your art if you're painting your frame after (try wrapping paper taped on with masking tape)
Home Decor Paint for the frame
Cups for mixing in
Craft sticks to stir your paint in
How to make scrape painting art
1. I discovered after I started that scrape painting art works best with thinner paints! I just did not get a good scrape with the paint as-is. Start by pouring a couple of ounces of pouring medium into a cup. Add your acrylic paints until you are satisfied with the shade of your paint.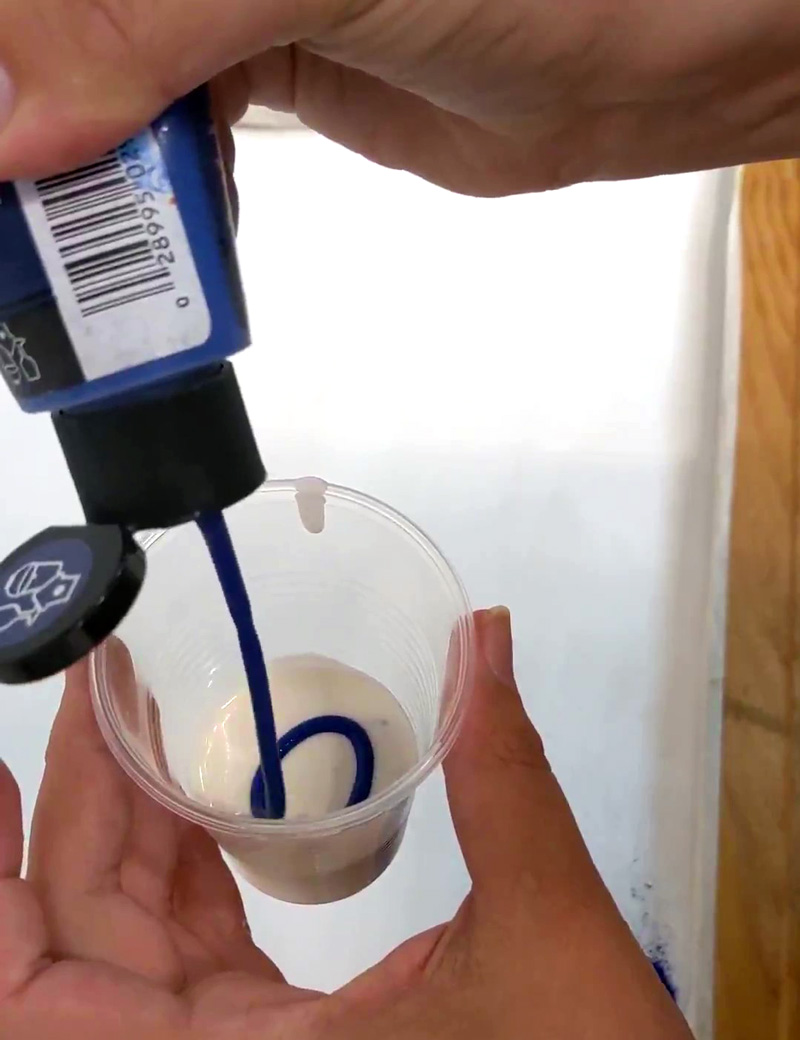 2. Continue mixing the color palette you plan to use. Avoid using any colors you don't want to show boldly (such as the orange, I used, which I ended up mostly covering up). Each color will show quite prominently. So just keep that in mind as you plan.
If you'll be painting thin coats of lighter shades, you'll want to take into account how darker colors will look underneath them, as they'll show through a little. This DOES make it more beautiful, but just make sure it won't create a muddy effect. Sticking to various shades of one color is the "safe" way to go, perfect for beginners.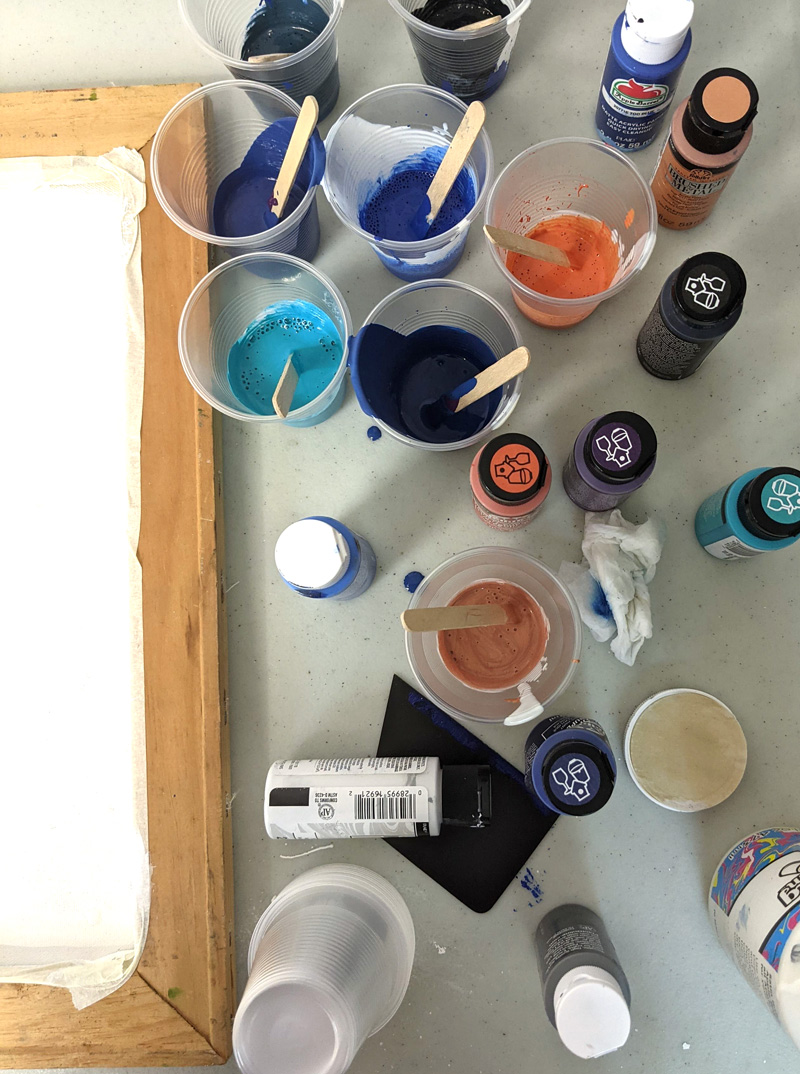 3. Cover your frame fully if you plan to keep it natural. Load a little paint onto your scraper and scrape it onto your canvas. Repeat with the next color. Note: I started doing mine in straight lines. Eventually I added curves. You don't need to keep it rigid.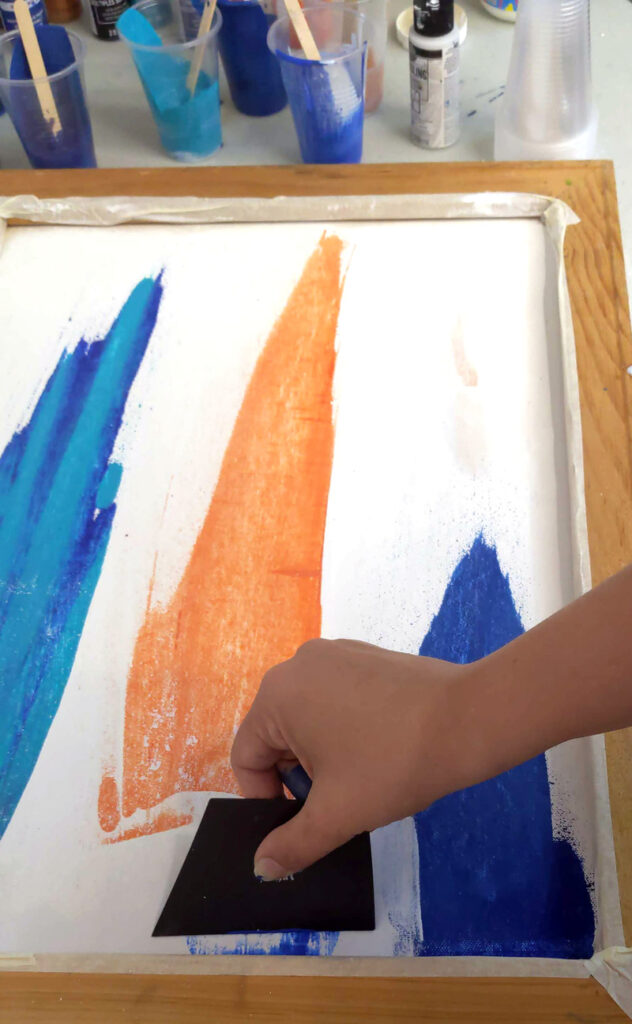 It might take a few scrapes to get the hang of the intensity of each color, and how it interacts with others. That's okay. You can layer things up and paint on top as well.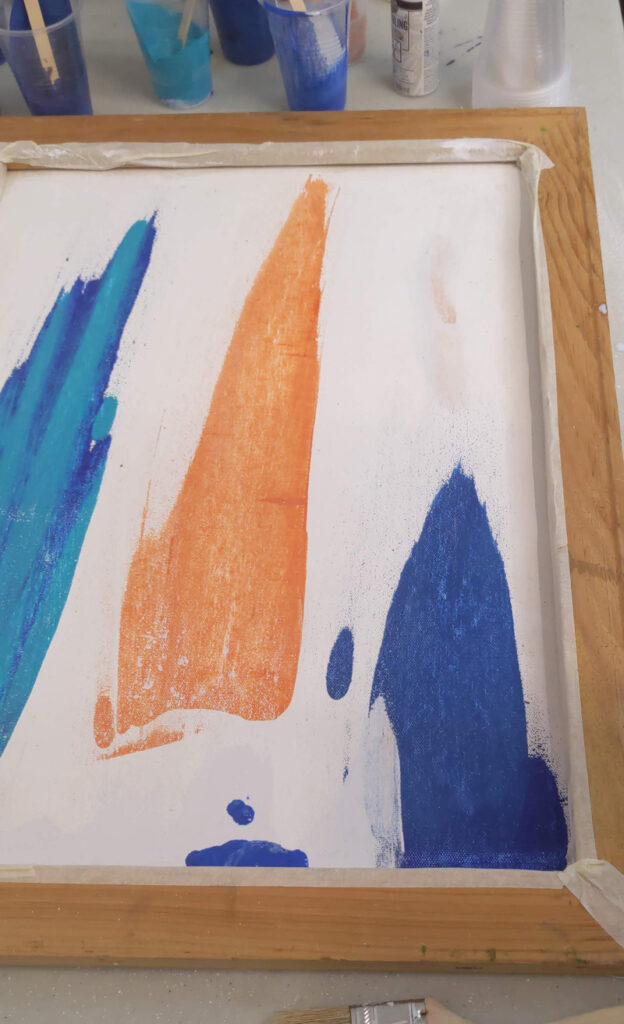 4. Keep working in your colors. If you see a color isn't getting you the effect you want (such as the "rust"/orange color here) just ditch it and work over it. Be cognizant of the edges, and how you work your first layers into those, as they will show to some degree.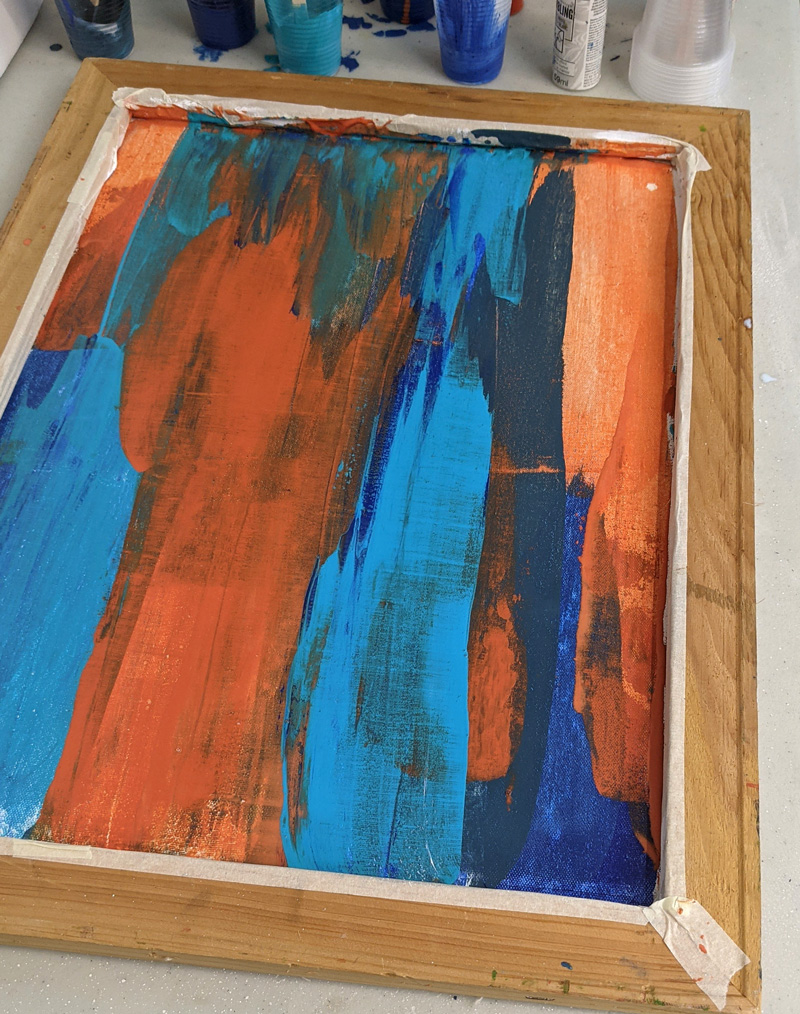 Notice how your paints go down when you clean the scraper first vs. when you leave a little of the previous color on. Both can look nice.
Don't just scrape. Take a look at what you have in front of you, the color balance, the line balance. Then calculate your next move. Try some variation in movement. Here, they're mostly still vertical lines – they just angle a little.
And I let a bit of orange peek through still, just much, much less!
When you like it, let it go! Don't overwork it. Take a look at it in context of its future home before adding anything else.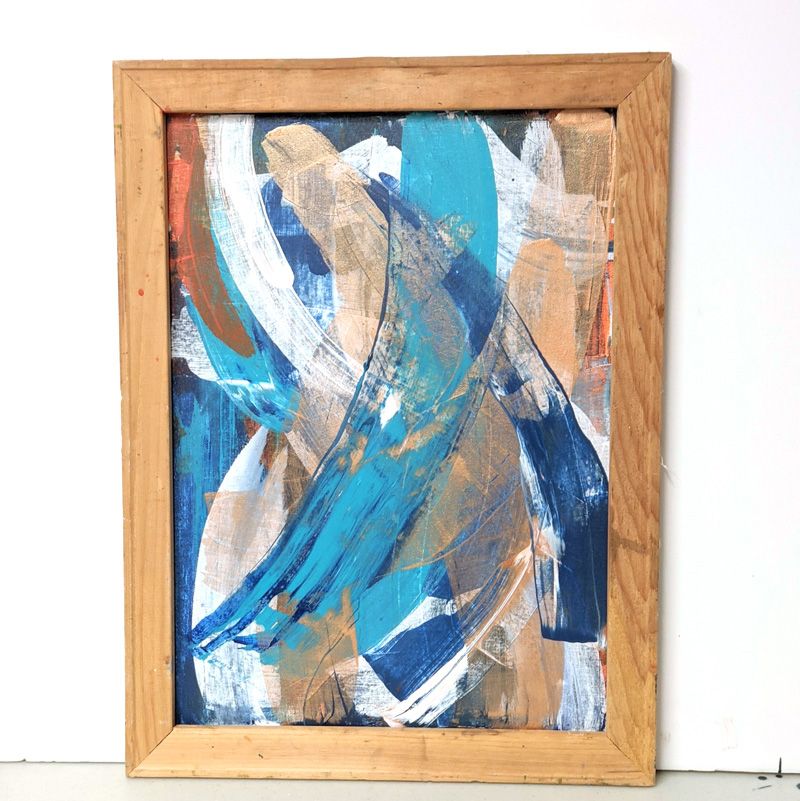 5. To paint your frame, protect your artwork.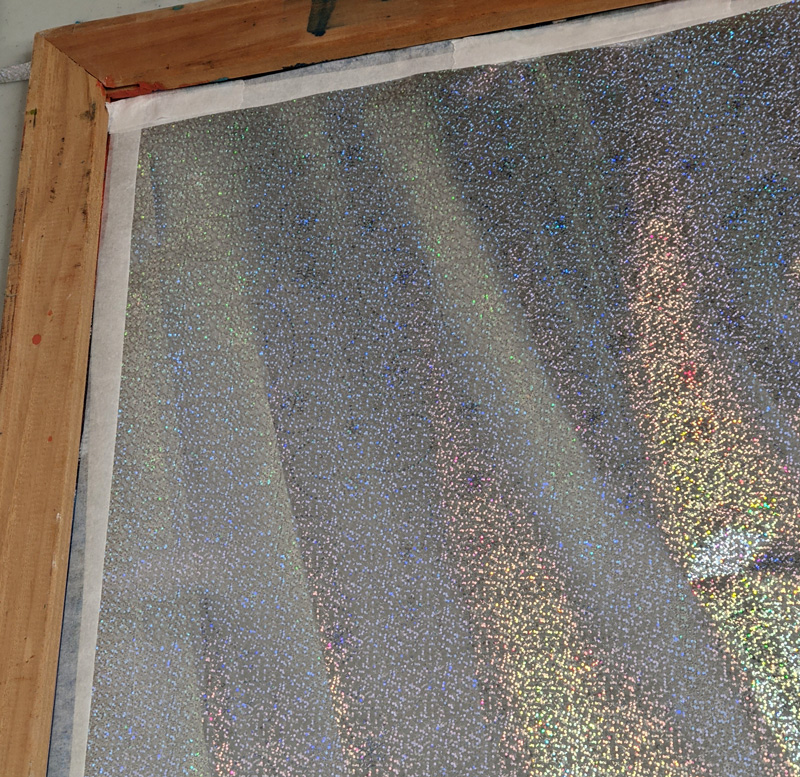 6. Make sure these is no dust on it and then paint. I used Martha Stewart Home Decor paint in Lava Stone Gray.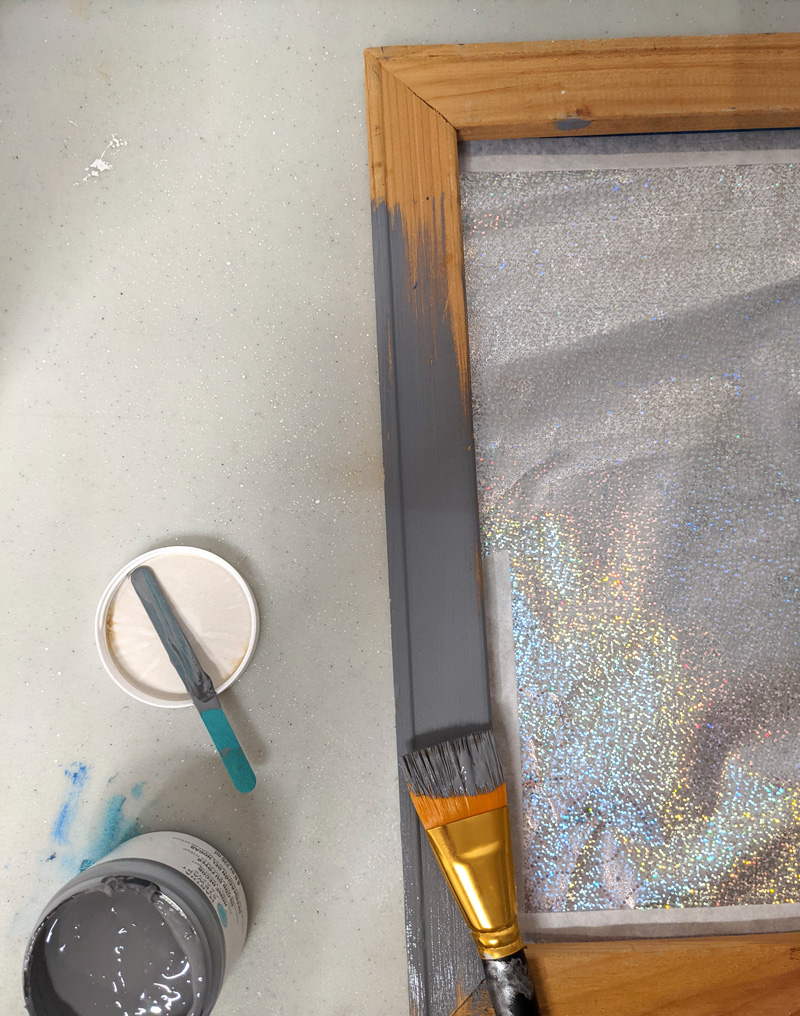 7. When your project is ready to hang, add a hanger to the back, hang, and enjoy!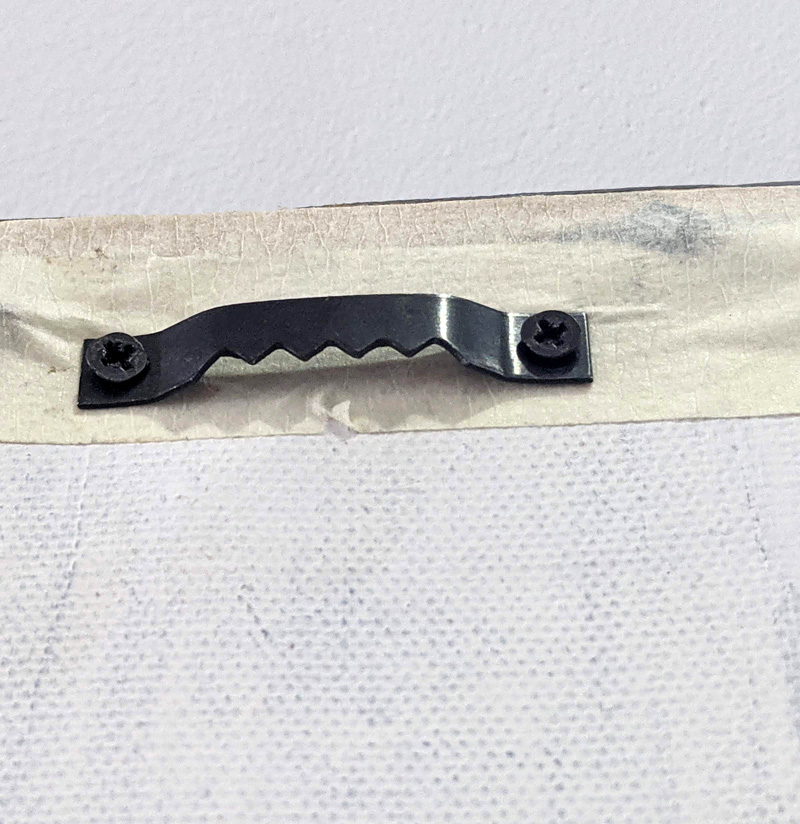 Your scrape painting art is complete! Which room are you making this for? Do you hang art in your kitchen? Comment below!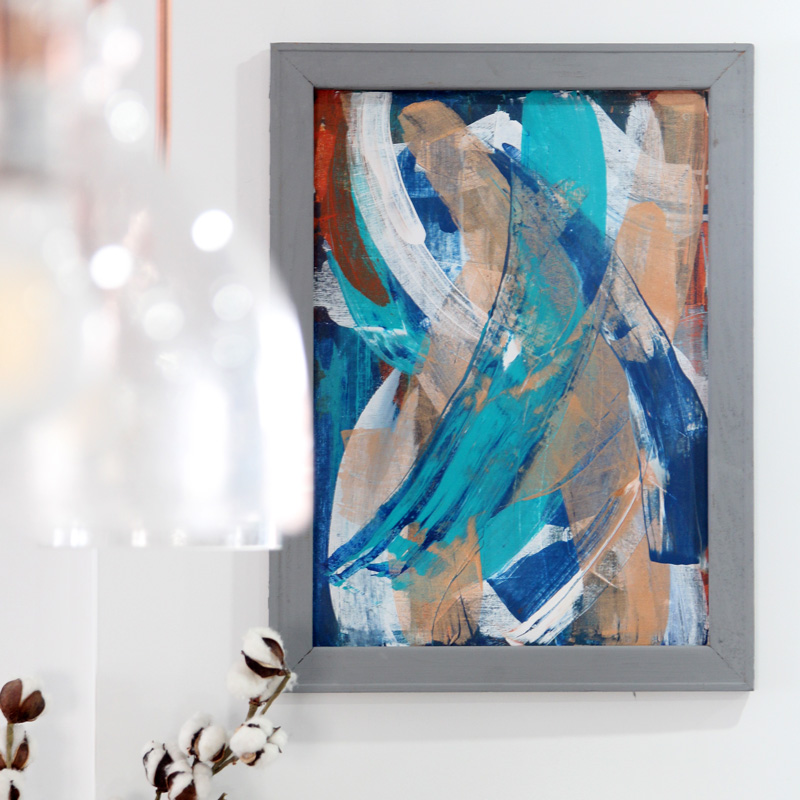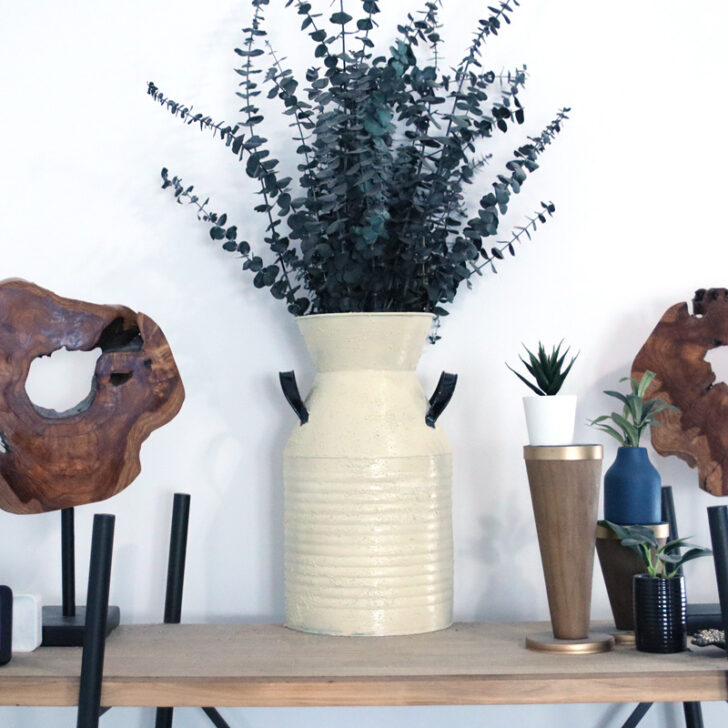 Looking for super easy step by step instructions for adding sand to paint for texture? I got you covered with a fun milk jug vase …