Make this adorable headband with Minnie Mouse ears for babies to turn a comfortable dress or bodysuit into an adorable DIY costume for infants! Find more easy costumes with normal clothes here. This post contains affiliate links.
---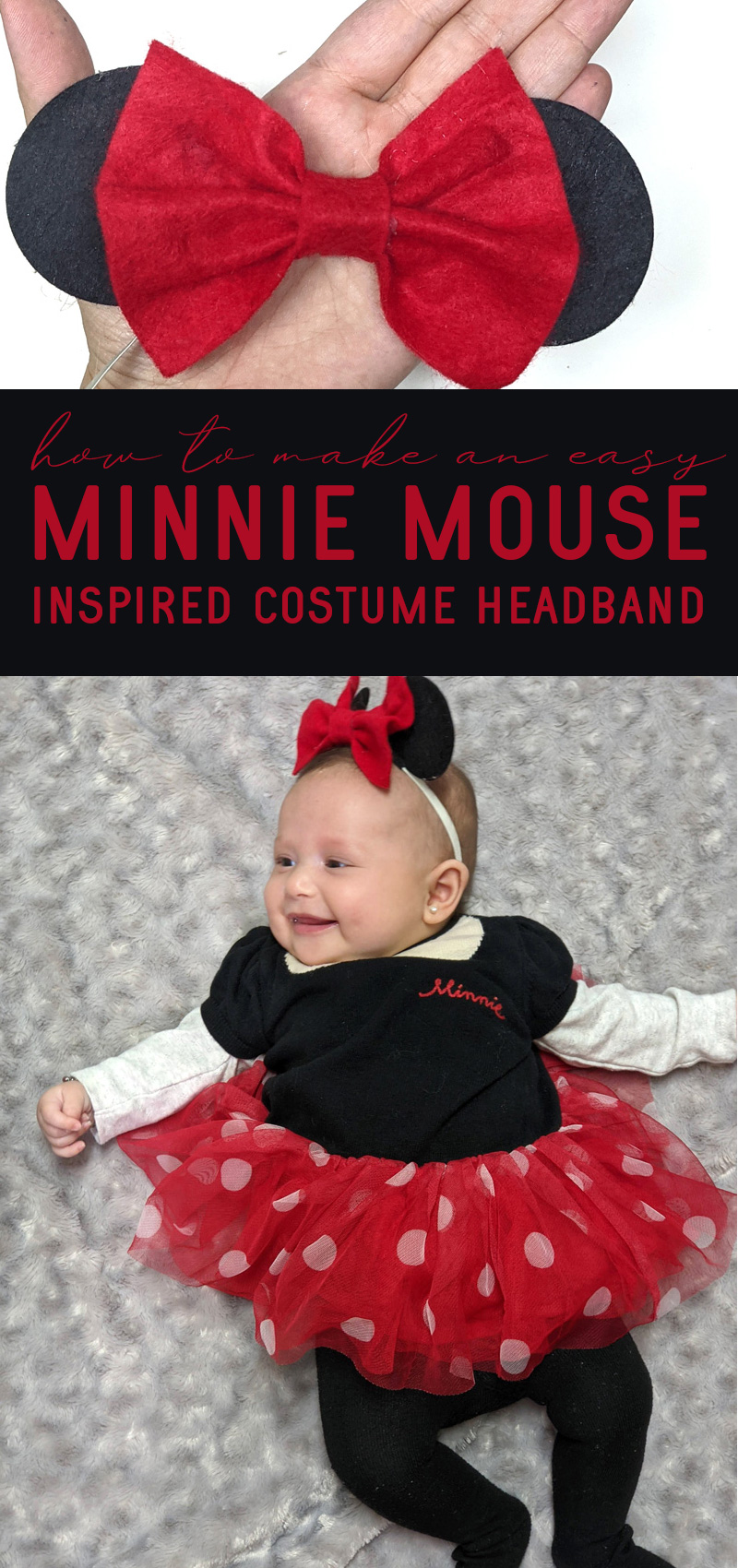 Princess A was lucky enough to have both cousins and a friends to provide her with so many adorable things to wear. Among them was this Minnie dress from Gap Baby and I knew I had to turn that into a costume for Purim.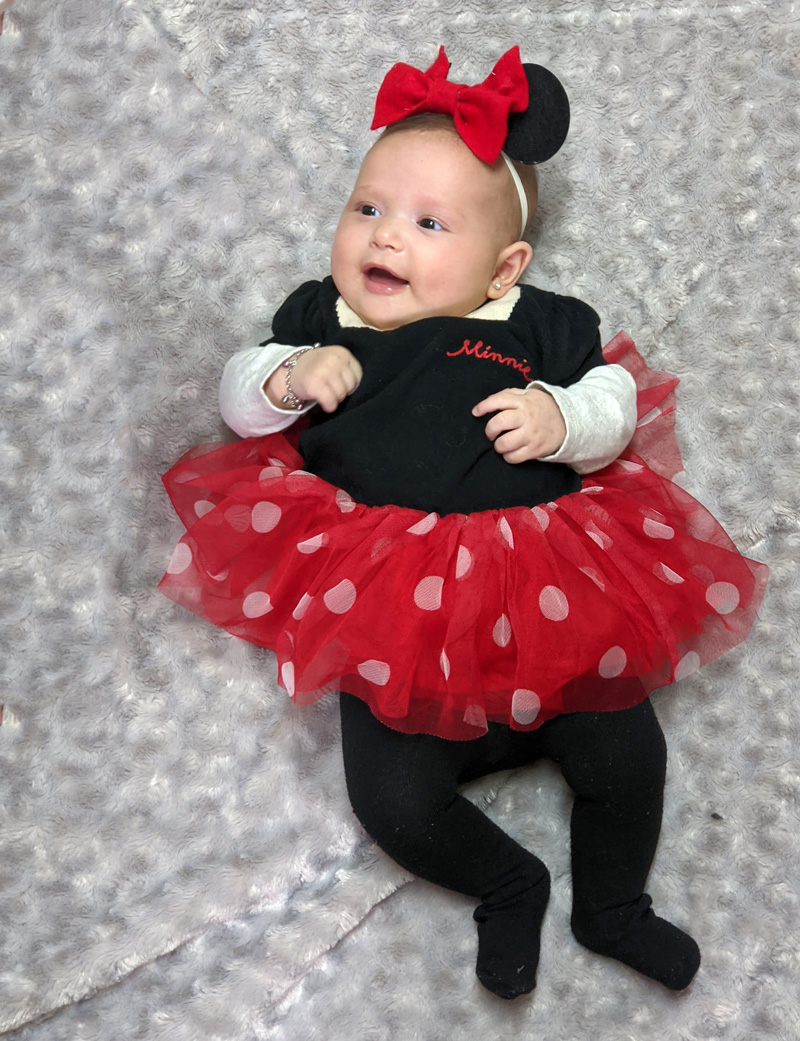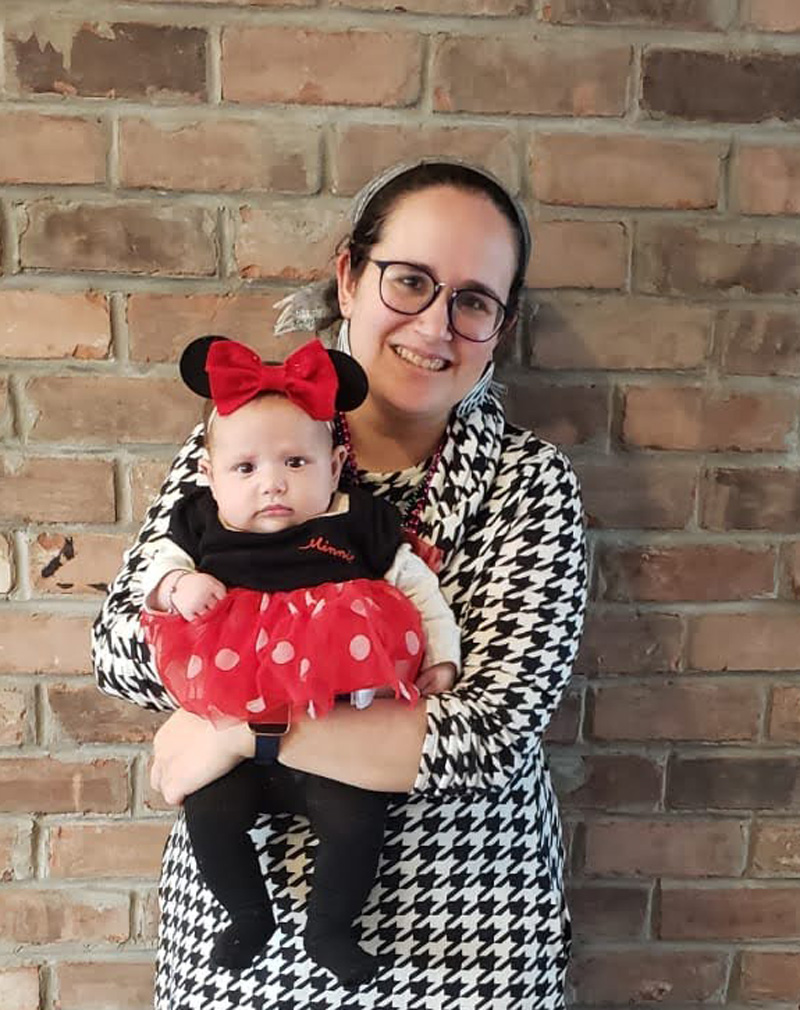 So I pulled out my felt, some elastic, and a hot glue gun and voila – an adorable Minnie Mouse ears headband for baby with a red bow perched on top!
It feels just like the other hair bows we made for her – with comfortable flat elastic and soft felt. It's super wearable for babies, and way too cute for words.
When Purim was over, we hung it on the DIY baby headband holder to wear another day.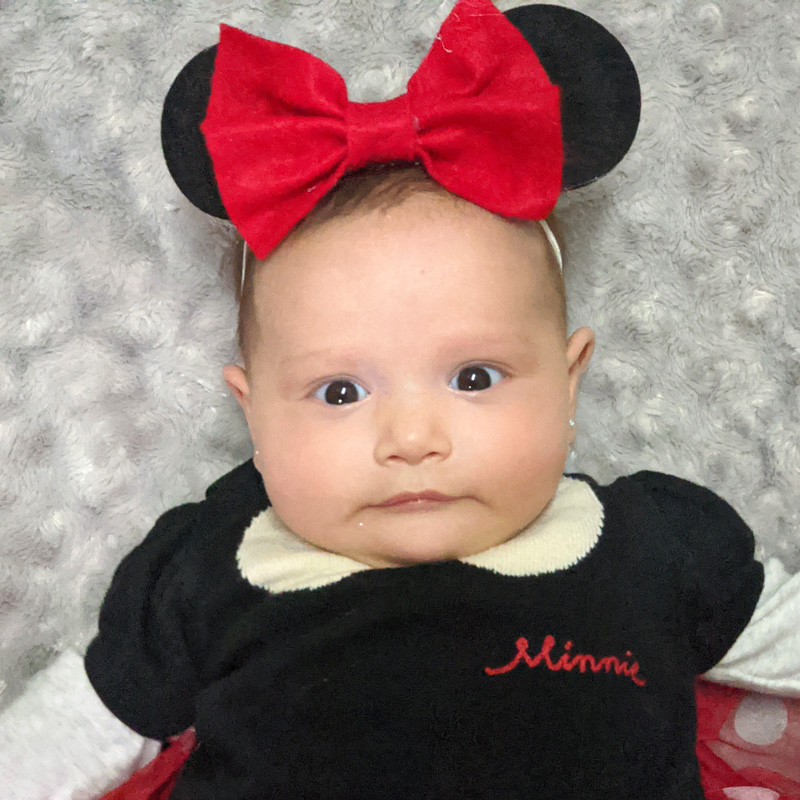 These Minnie-inspired ears are a really cute costume add-on for when you want baby to be comfortable. The best part of it is that it's super easy to make – I kept the process really simple as I was a new mom with no energy when I made it.
It's also fantastic for older kids who want more comfortable Minnie-inspired ear options as it's much more comfortable than stiff headbands are. You can even go further than me with it and purchase black elastic to blend in better.
The trick to making a Minnie Mouse inspired baby headband with ears that actually stand up is to use stiff felt for the ears. I also double layered it for added stiffness. Since it's felt (and not, for example, cardboard) it's still comfortable.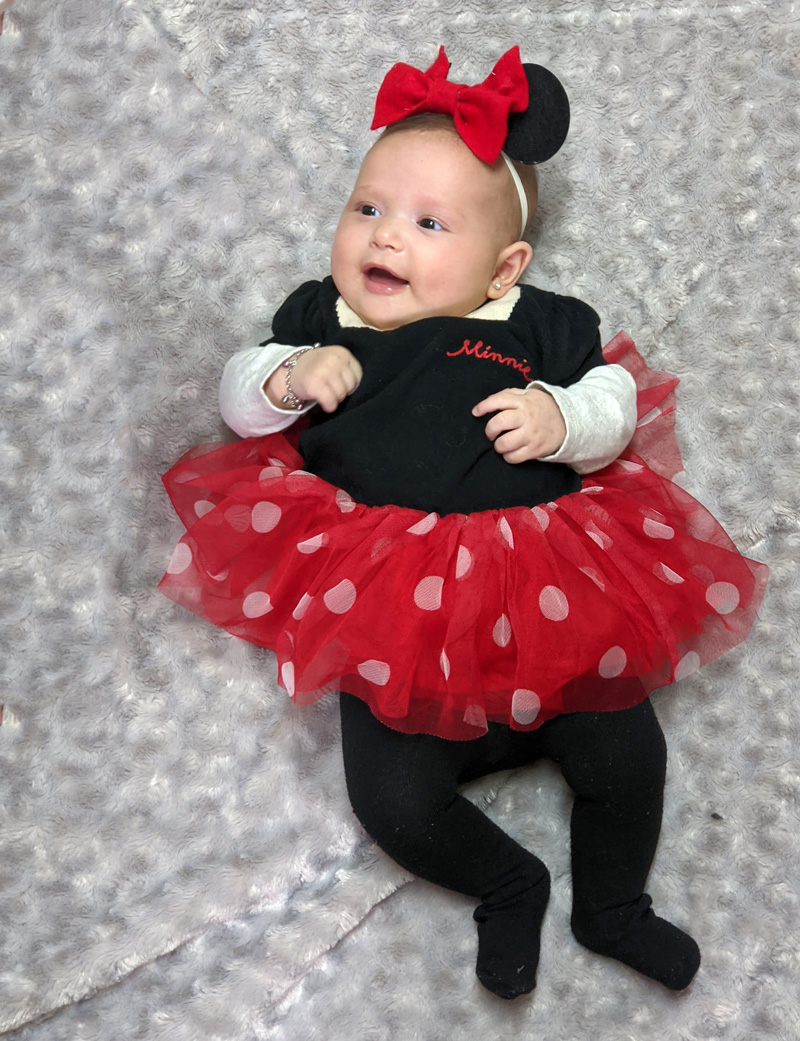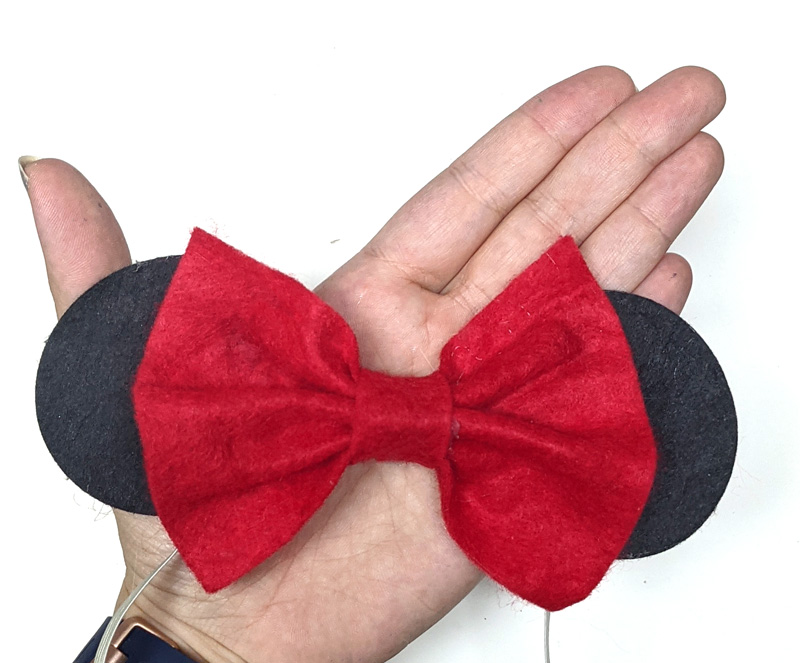 I designed the Minnie Mouse ears for babies to make on my Cricut – directly in Design Space. It's made of simple shapes, so if you're making it by hand you can simply create your own template by drawing out the instructions I outline in the Cricut tutorial. The biggest perk of using the Cricut is that you get cleaner, more professional results. It's easier to get the cut right the first time.
If you're not using your Cricut, create a template on paper and use that so that you have two identical ears. I'd even recommend simply creating an oval template, and then tracing two, connecting them with a small rectangle – so that your two sides of your ear are the same as well.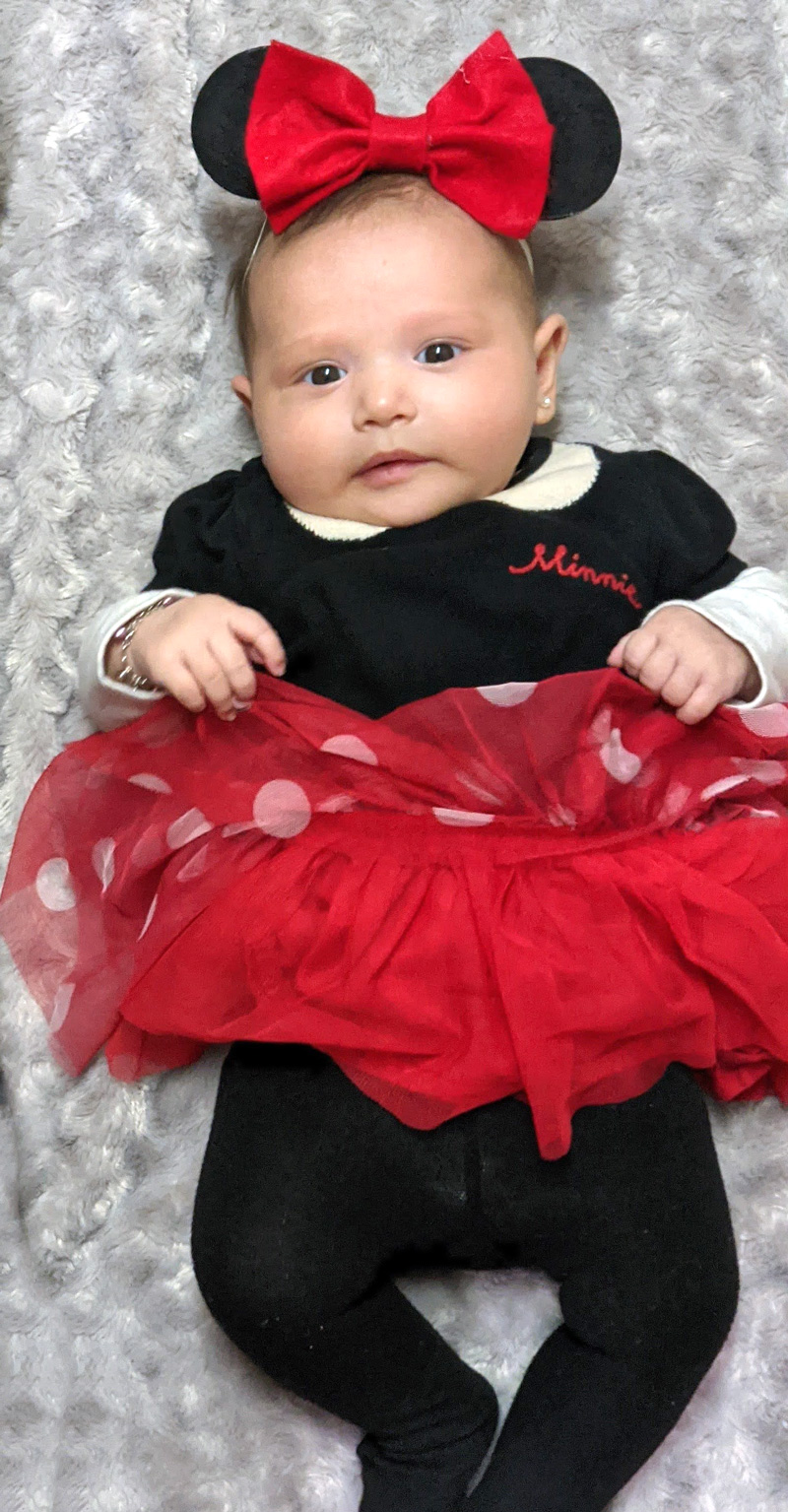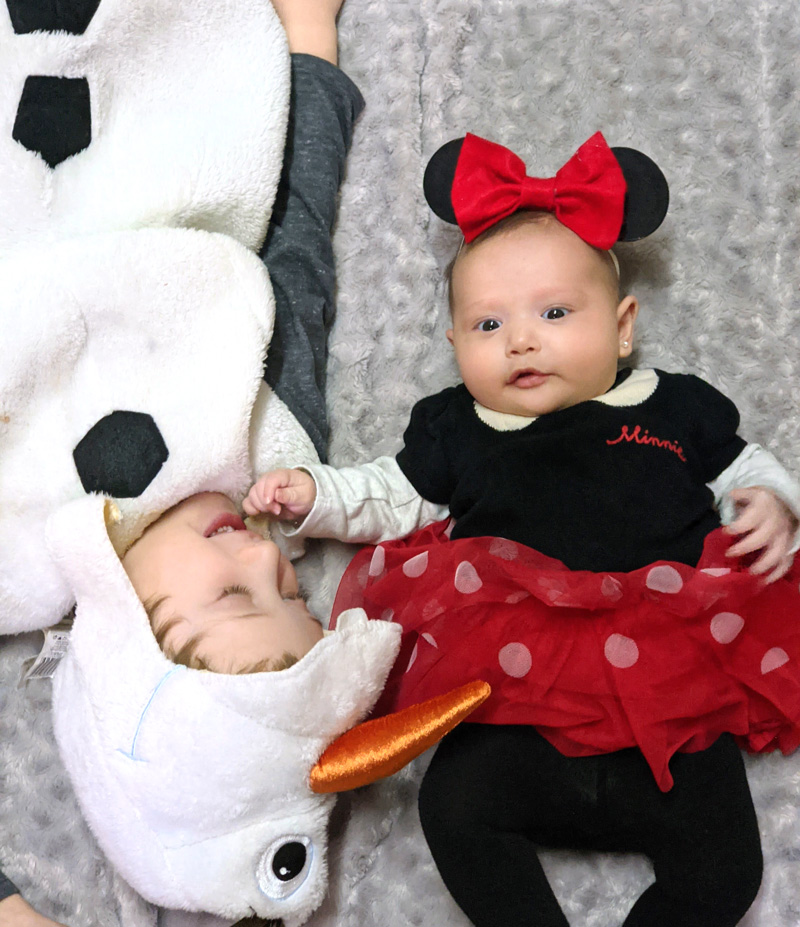 How to complete these Minnie Mouse baby ears to make a complete DIY infant costume
Part of my goal with making accessories that go with real clothing to complete a costume (check out my DIY Big Bird costume here as an example) is that you can still wear the clothing after the dress-up occasion. It's also more comfortable.
The dress that we put Princess in to go with her Minnie Mouse baby ears is really adorable. It's also a bit pricey (and possibly hard to find – though you can always try Poshmark or eBay.)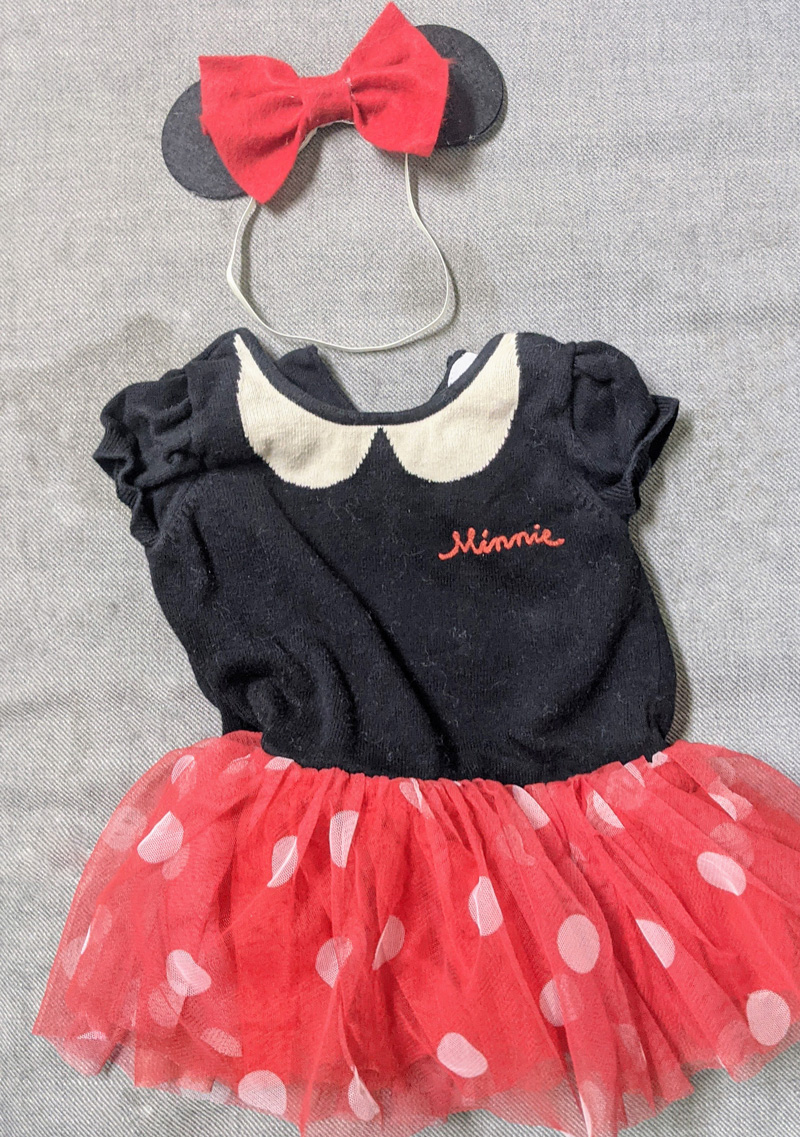 I've culled a few alternatives that fit the goal of: 1. More comfortable than your typical costume. 2. Wearable outside of Halloween. Some look more costume-y than others but all will beautifully complete these Minnie Mouse ears for babies to make an adorable DIY costume.
Here are a few alternate outfit ideas to complete your Minnie Mouse ears for babies:

What you need to make Minnie Mouse ears for baby
For all crafters:
Pink or red felt fabric (as long as it's soft and doesn't crease when it folds it'll look great) or
1/4 inch flat elastic (looks great in black too!) turned into a headband base for baby (I like to glue the ends so that they overlap without a seam)
Hot glue gun (I love this one)
Scissors
Recommended: binder clip or clamp
For Cricut Crafters:
For non-Cricut crafters:
Paper or card for template making
Pencil
Fabric pen (washable)
Something in a good shape to trace (it can be a round object like a glass, but if you have something slightly oval that's better)
A ruler
How to make a baby Minnie Mouse ears headband with Cricut
If you're using a Cricut, setup in Design Space is really easy! If you're not, you can still follow the gist of how the ear template is constructed so that you can make your own on paper.
1. Open up a new project in Design Space. Click on Shapes and choose "circle"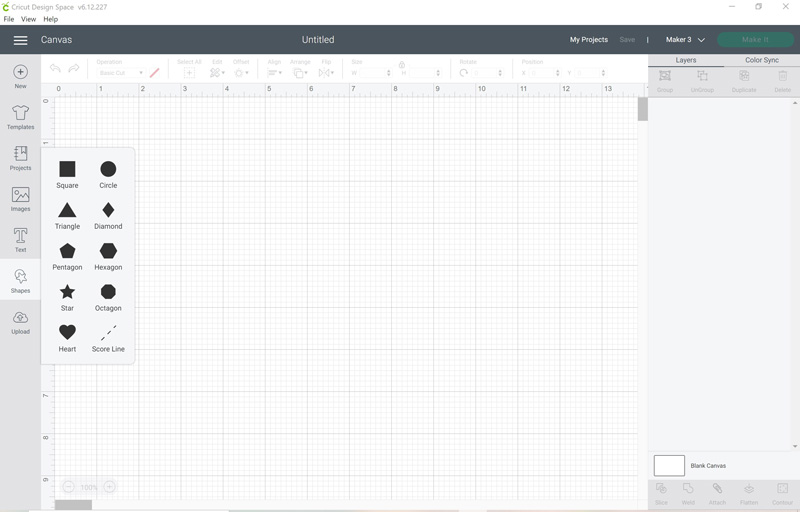 2. Unlock proportions and make the width 2.5″ and the height 2.25.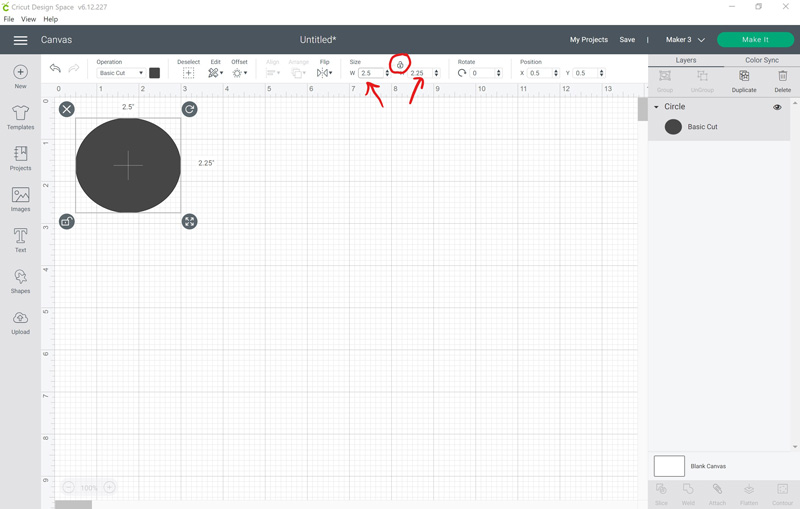 3. Duplicate your circle and move it below the first one with roughly 1/3 inch of space to spare. Go to shapes again. Choose a square this time, unlock proportions, and use it to connect the two circles so that it overlaps both.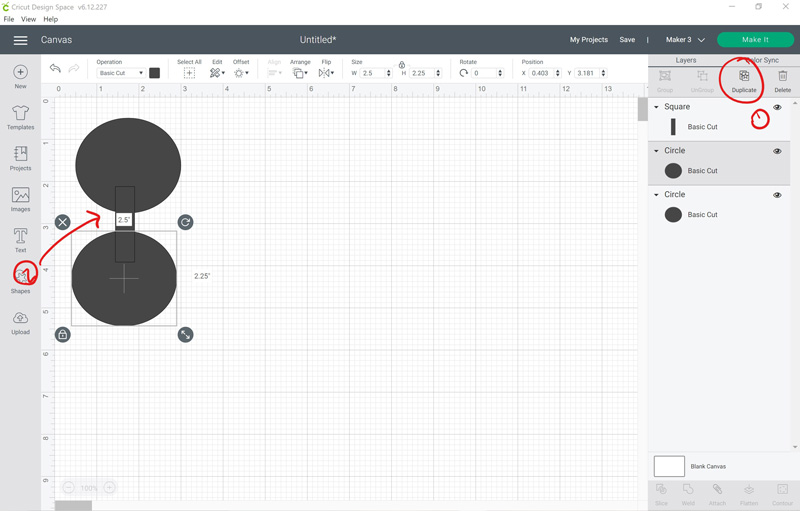 4. Select all your shapes, go to align, and "center horizontally" so that they are all evenly lined up.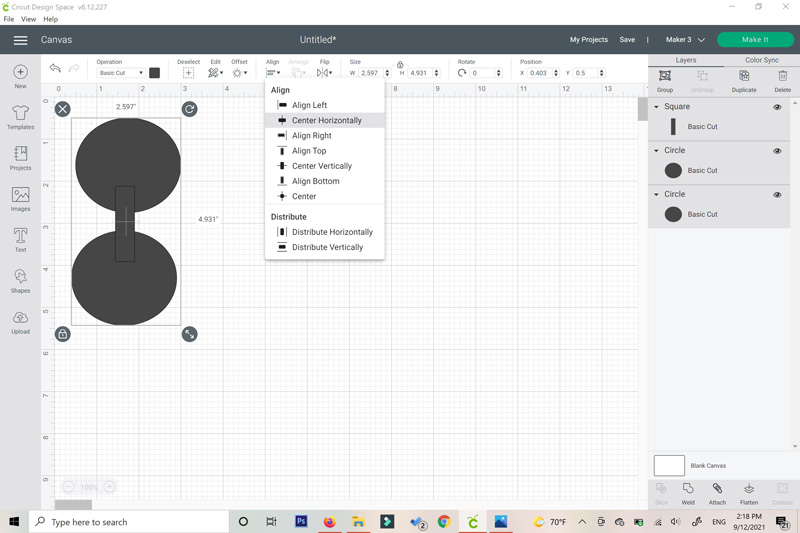 5. With all your shapes still selected, go to the "layers" panel and choose "weld" to turn it into a single object. Duplicate this whole shape to make a second ear.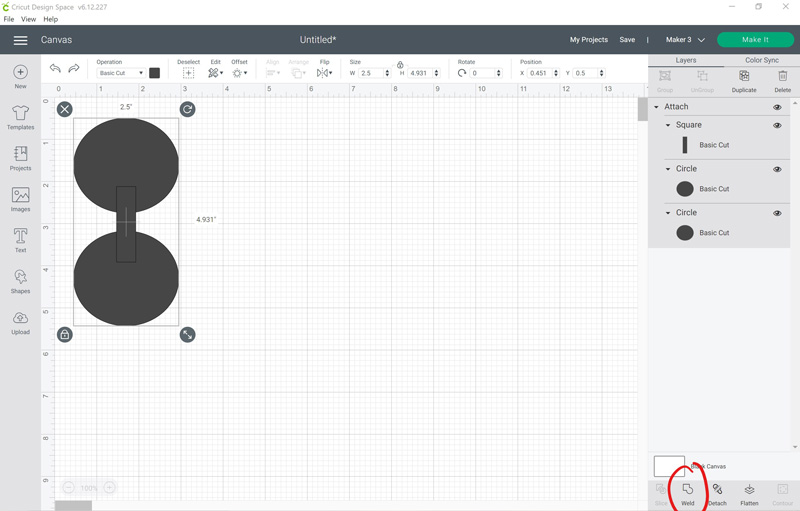 6. Add another square, change the color, and resize to roughly 4.75×4 inches.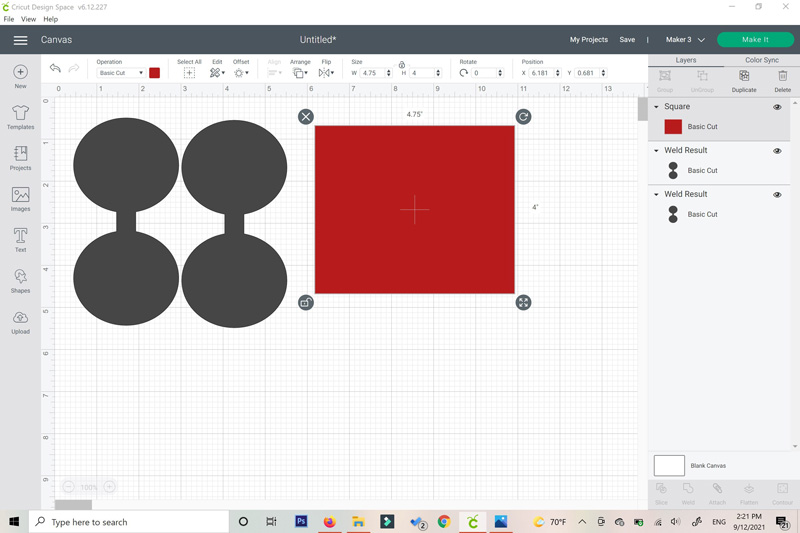 7. Your final square (technically rectangle…) should be about .75×2.25 inches.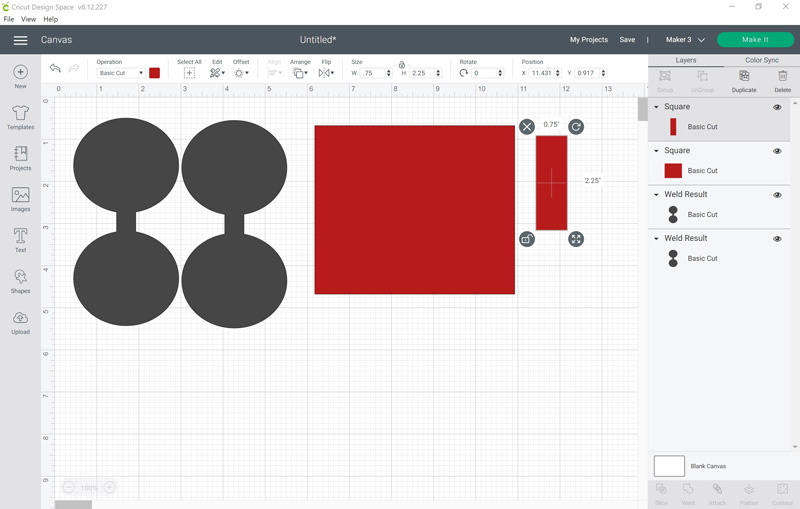 Click on "make it" and follow the prompts to cut!
I like to cut felt treating it as fabric – using the rotary blade and fabric grip mat. This works as long as the cut isn't too intricate (which it isn't here). If you're using Cricut felt, you can cut with the Fine Point blade.
Use the brayer to adhere it well to your mat before cutting.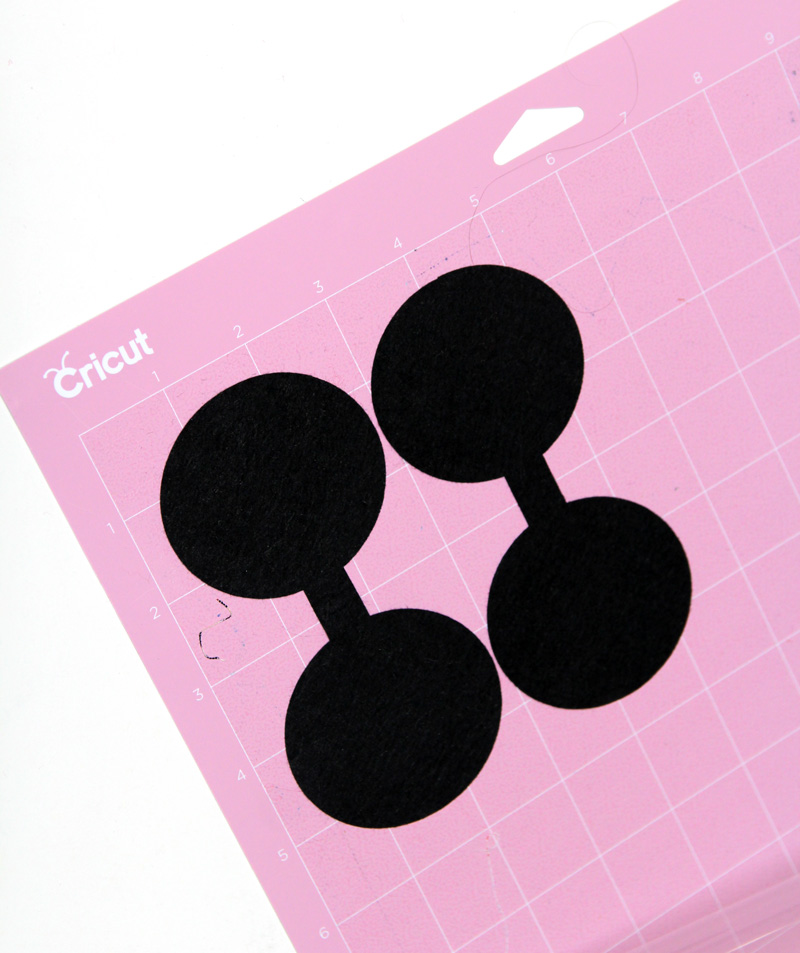 If you're cutting this by hand, use the above image to see what your template should roughly look like. Again, I recommend starting with an oval as your base and tracing that to make your shapes.
How to make a minnie mouse ears headband for baby
I wasn't planning on blogging this when I first made it, so I apologize for the photo quality!
1. Cut out your ear and bow parts as outlined above.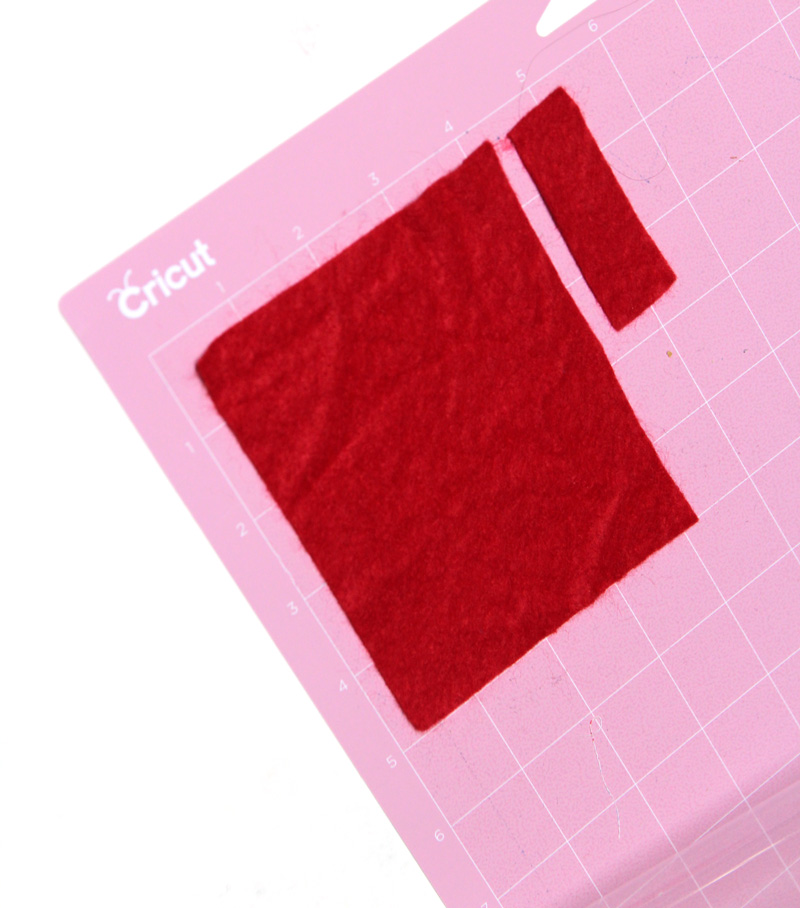 2. Take the larger rectangle and accordion fold it in the center. Hold in place with a binder clip.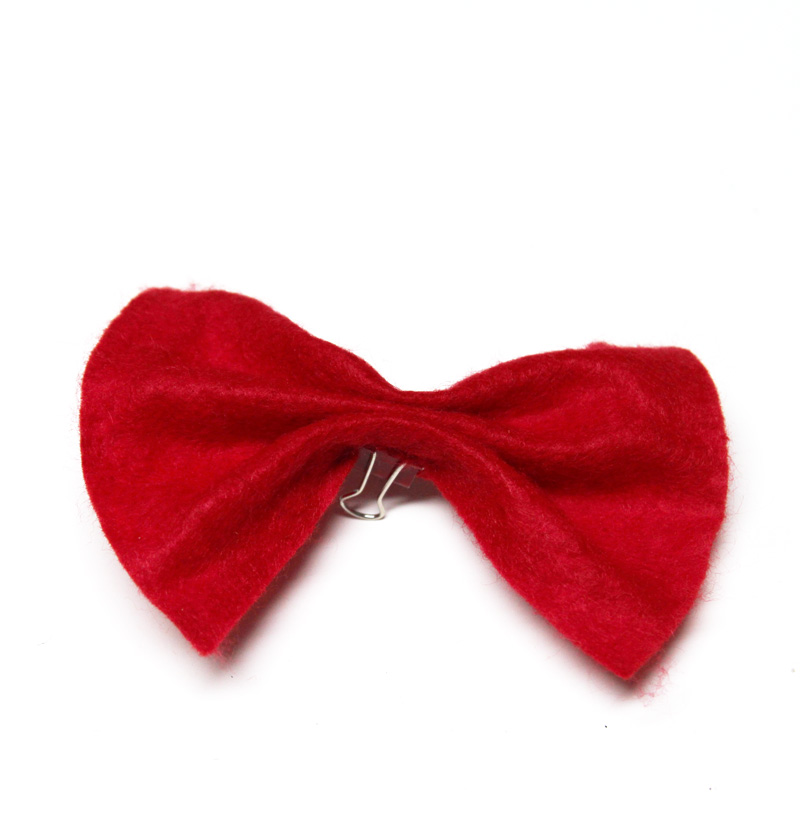 3. Glue the smaller strip of red felt to the front over your accordion fold. Remove the binder clip, making sure your folds stay put and glue to the back, holding the pleats. Glue the ends so they overlap in the back and trim if necessary.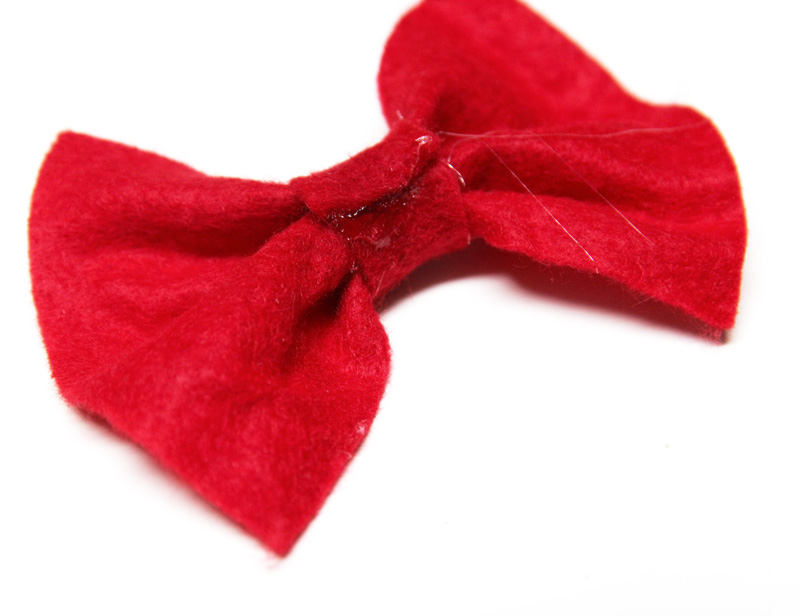 4. Glue your Minnie ears around the headband, gluing in place only on the ovals. Leave the strip that connects them loose.
5. Using your eyes and your baby's head as a guide. glue the bow in place on the ears. Glue the bottom of the bow to the elastic so that it stands up. This will help the ears stand as well. At this point, you can glue the bottom strip of the ears in place to the inside of the headband. I did find that that can add a bit of bulk and won't be as comfortable so you can skip this step if you'd like.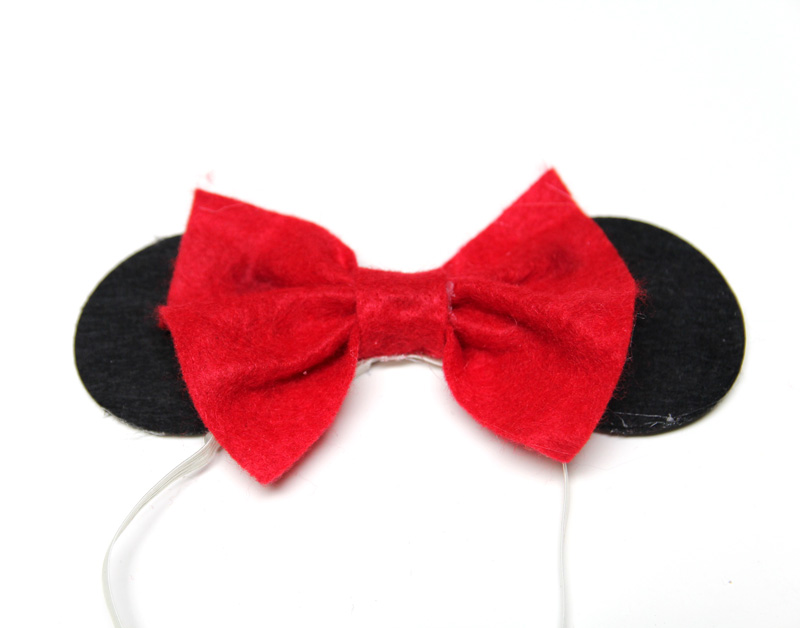 Your adorable Minnie Mouse ears for babies are complete and ready to adorn a smiling princess! What are your favorite DIY costumes for babies? Comment below!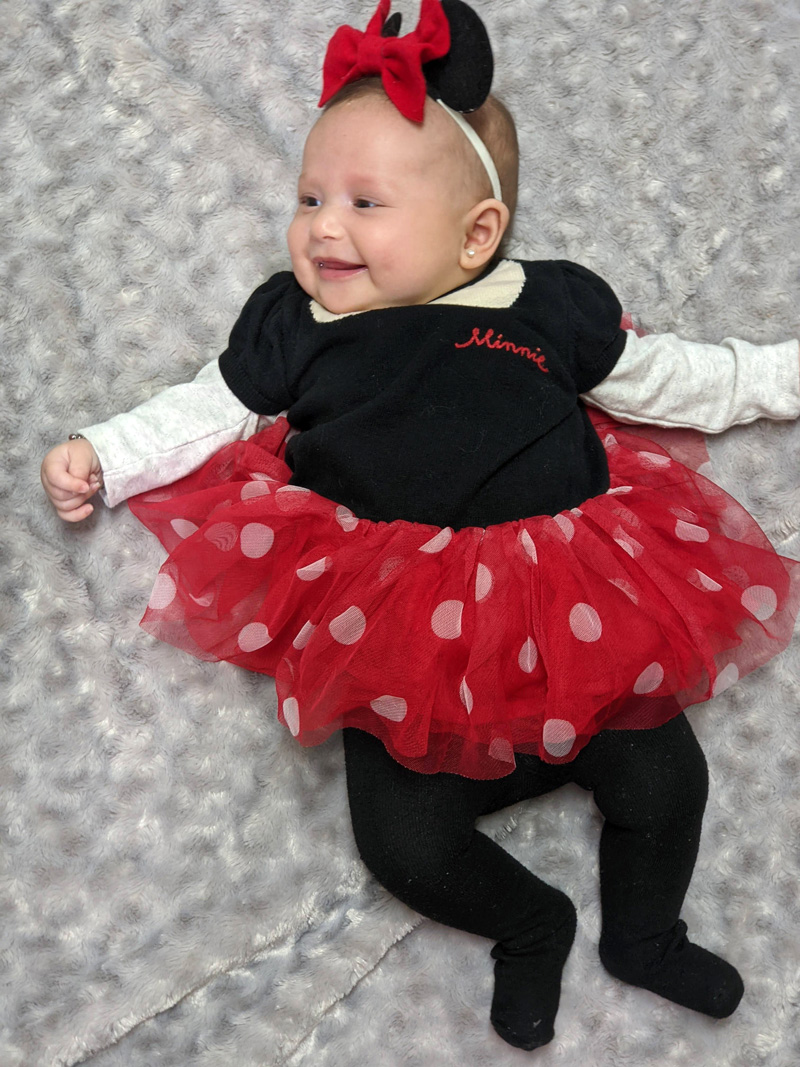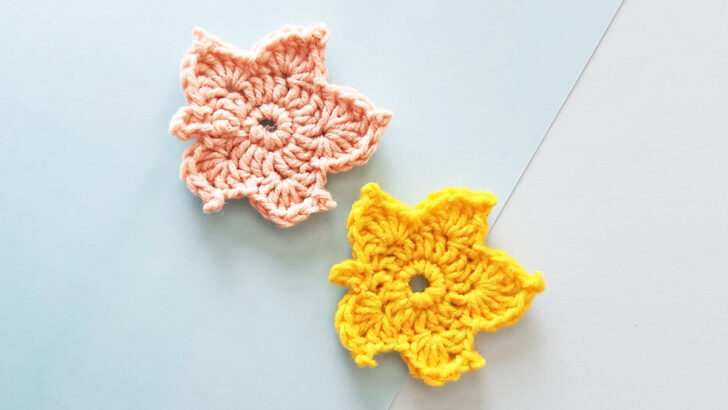 Create these adorable and festive Crochet Maple Leaves using this free patter. Don't forget to get creative and add your own twist! When you're done, …