This minion sandwich was sponsored by FunBites. All thoughts and opinions are my own. This post contains affiliate links.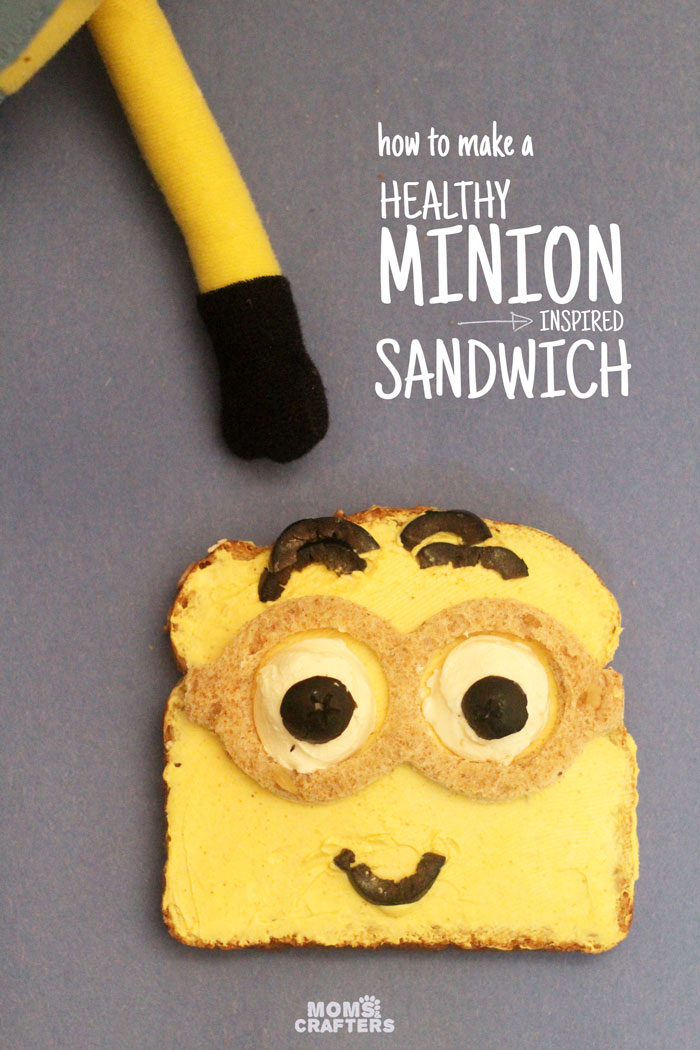 Which little kid doesn't go crazy over Minions? I know mine does. Ever since we got him a Minion plush, he's been obsessed. He was so excited when I made him this healthy Minion inspired sandwich using the new FunBites Minion goggles cutter!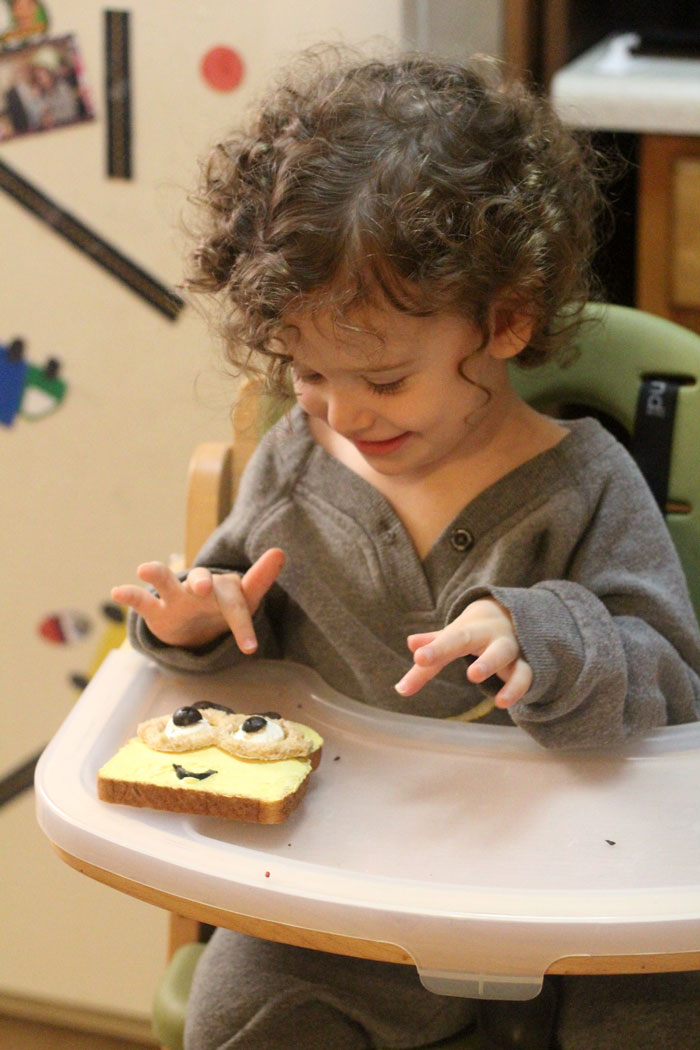 Watch this minion sandwich in action:
If you've heard of FunBites, you'll recognize them as the innovators behind the easy-to-use sandwich cutters that make fun shaped food cutters that are perfect for sandwiches, bento boxes, some food art fun, and more.
Their newest product is this limited edition Minions goggles cutter, that made this fun Minion sandwich possible. It was easy to use, even M was able to help me with the cutting, as it's safe for children eighteen months and older.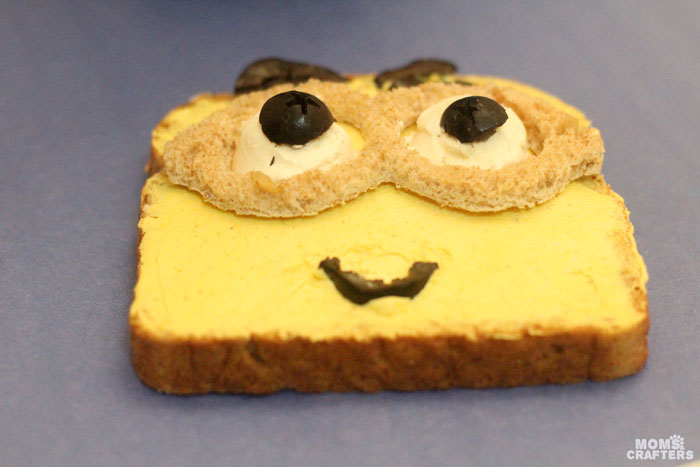 I used the leftovers from the slice of bread that I turned into goggles to make mini bite-sized sandwiches, so nothing was wasted. I really liked that the cutter cut those pieces into smaller, symmetrical parts so that I was able to do that easily.
I used only healthy ingredients, as we are very careful with what we serve M. The black parts are made of black olive, which we know already that he loves. I colored the cream cheese with turmeric, and got a pretty rich yellow. It actually enhanced the flavor a little, and the combination of cream cheese, black olive, and a hint of turmeric was a hit.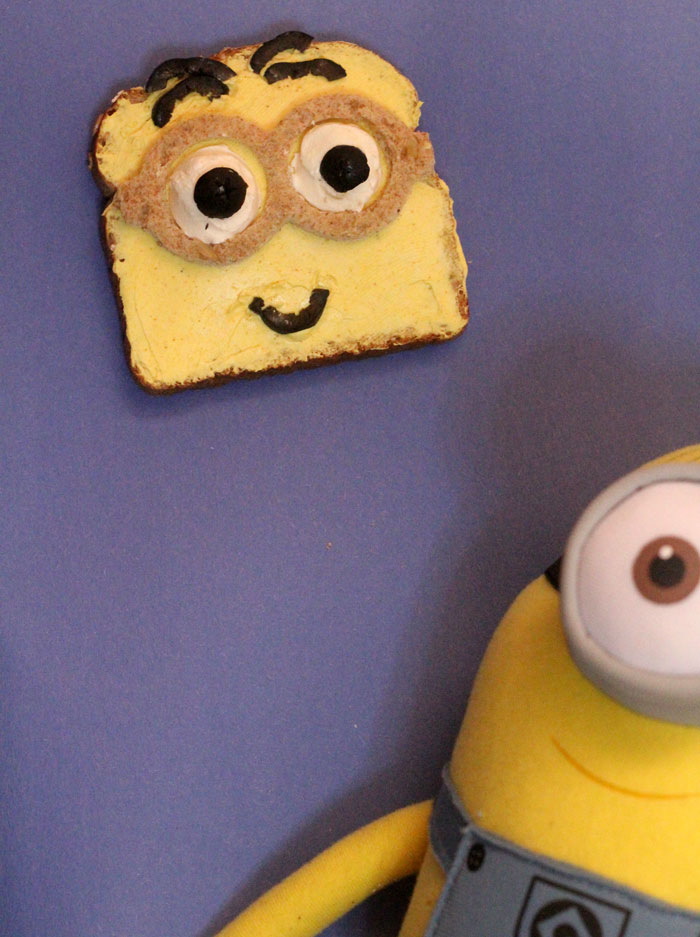 These Minion sandwiches are perfect for everyday lunches, or for post-school snack time, when you want something filling but fun, and healthy, to tide the kids over until dinner. This will definitely be a hit, and you'll find yourself making it over and over again!
What you need to make a Minion sandwich: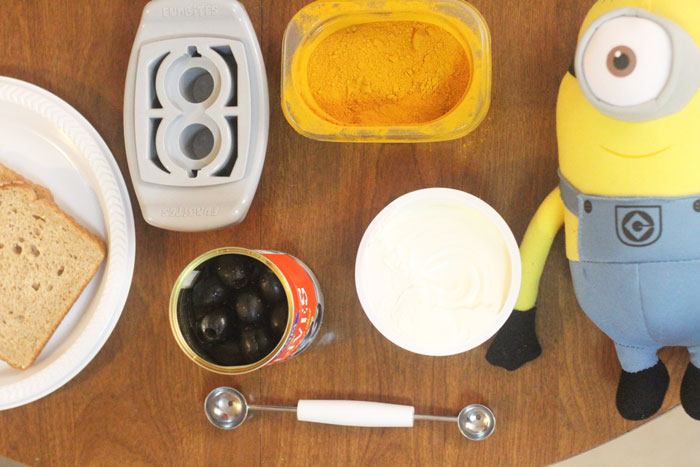 Equipment:
Paring knife
Bowl, spoon, and knife for spreading
It helps to have a Minion handy to copy, but you have mine to imitate!
Ingredients:
Two slices of bread (rye bread will be more gray for the goggles, but I used a healthier whole grain option.)
Soft (whipped) cream cheese spread
Black olives (you'll need about two, plus extras for snacking on!)
How to make a Minion sandwich:
1. Scoop some cream cheese into a bowl, and sprinkle on some turmeric.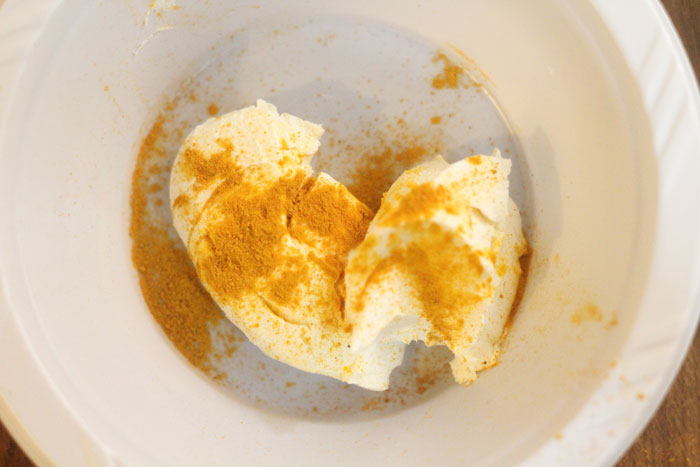 2. Mix it together, and add turmeric as needed, until you get an nice, smooth yellow color.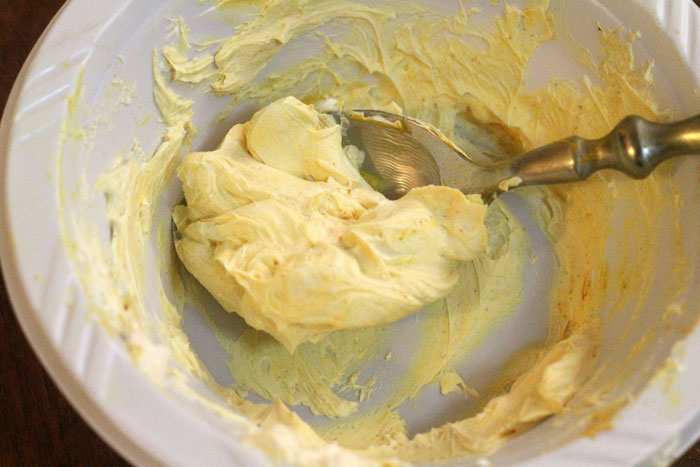 3. Spread it on your sandwich.
4. Take your second piece of bread and center your FunBites Minion goggles cutters over it. Press down.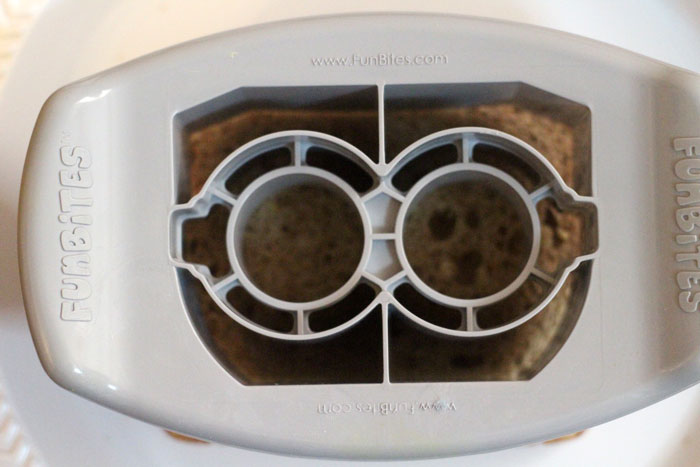 5. Flip it over to make sure that the cutter has cut through the bread completely.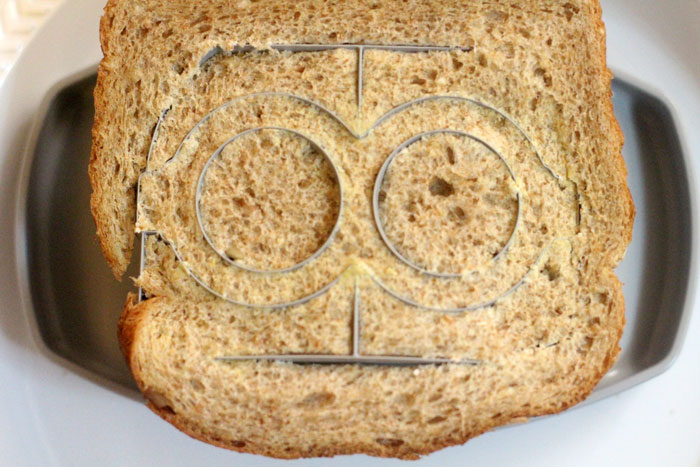 6. Now, flip it back over and insert the popper part of your cutter (the smaller piece) to pop out the bread pieces.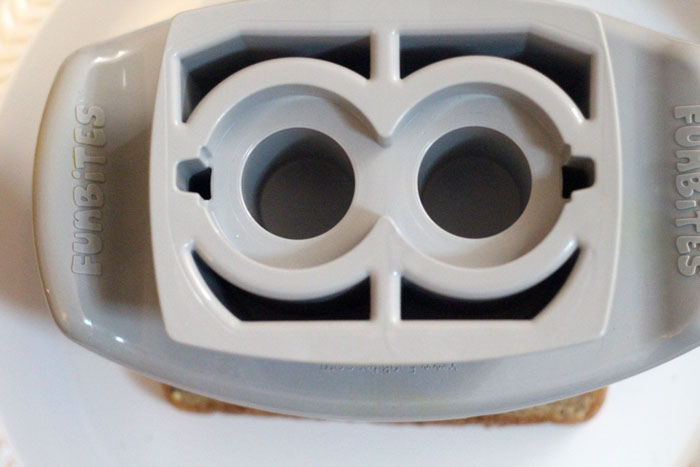 7. You'll see that you now have a clean cut of goggles in the middle. I turned the top two pieces, bottom two, and center circles into mini sandwiches to eat. The top and bottom scraps were turned into another sandwich.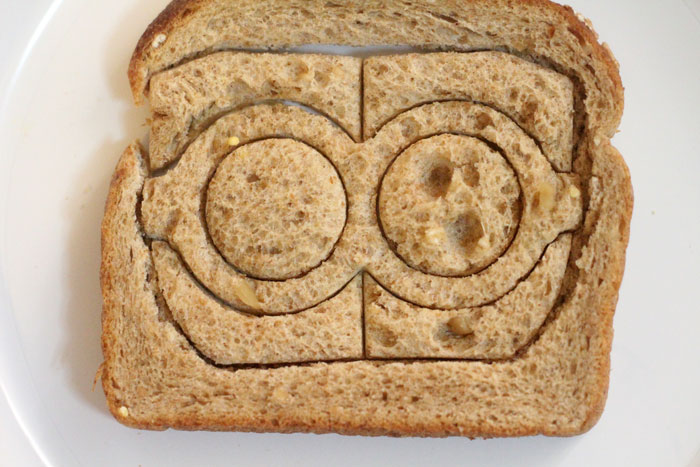 8. Place your bread goggles on your yellow cream cheese.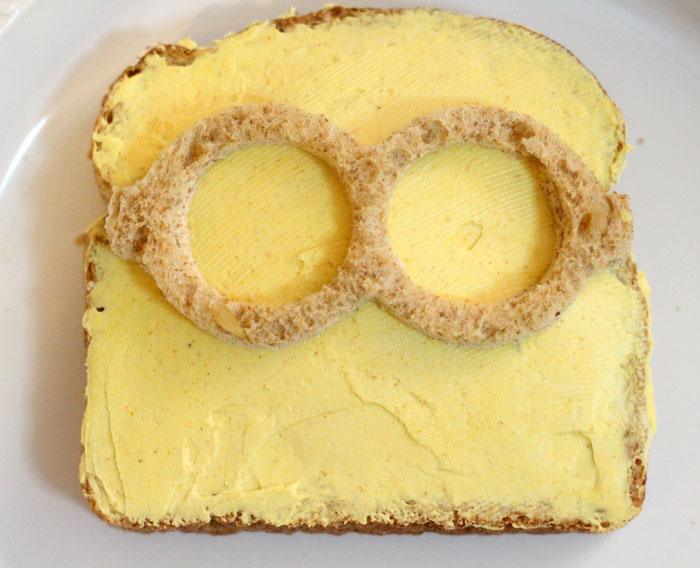 9. Use the melon baller to create balls of white cream cheese for the eyes.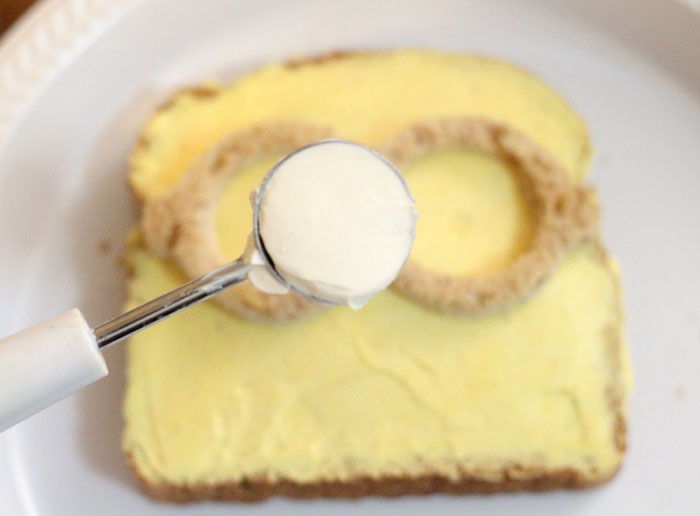 10. You might need to pry it out a little, and smooth it with your fingers. Do this for both eyes.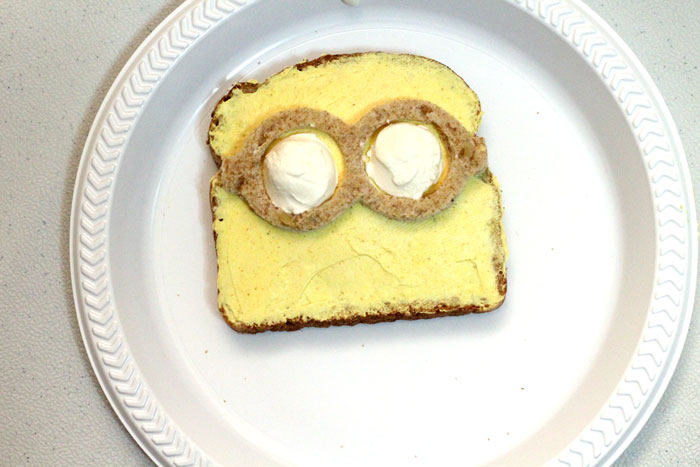 11. Cut the closed tips off two pitted black olives, and place them on top of the cream cheese balls for eyes.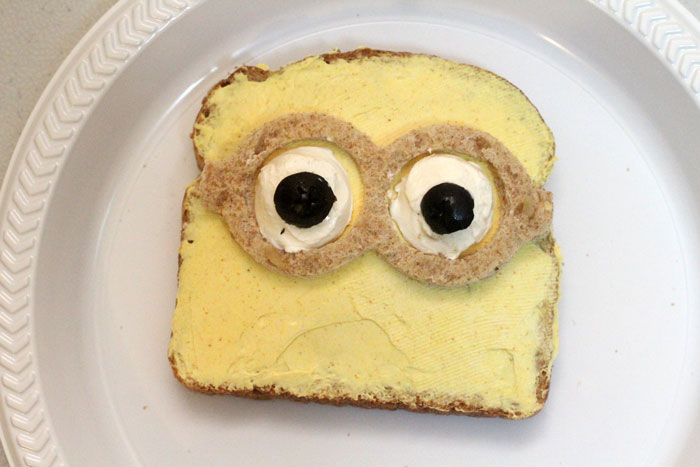 12. Cut a ring out of the pitted olive, and cut off a little bit of it, so that you have an open half-circle. Place that where a mouth would go on a Minion!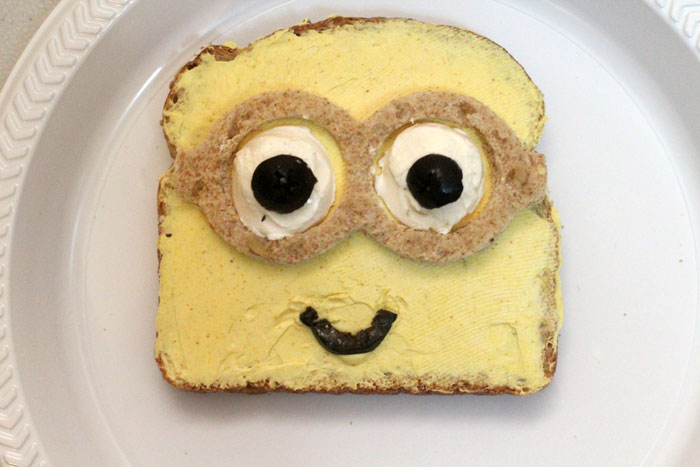 13. Finally, for the hair, cut two rings from the olives, and cut them in half. Place them as hair on top of the goggles.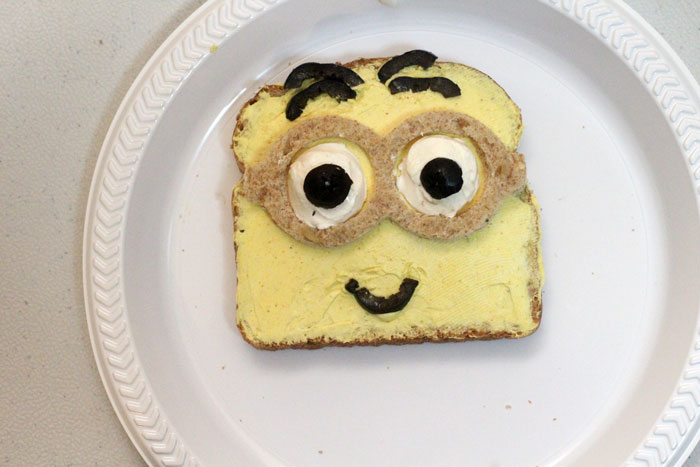 You now have a fun Minion sandwich thanks to FunBites food cutters!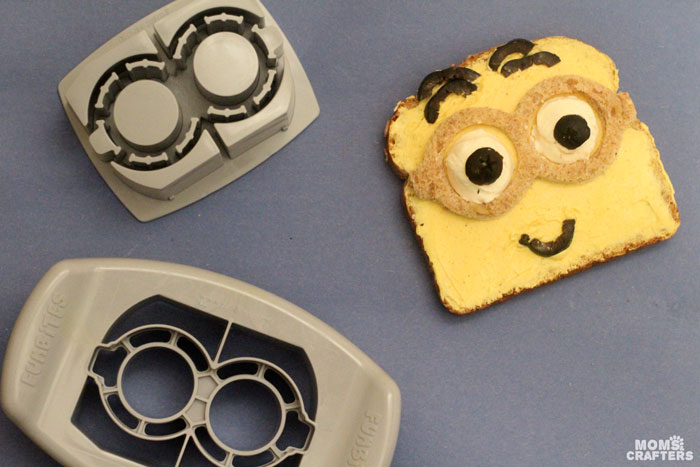 Here are some more fun facts about these cutters:
They are the first and only two piece food cutter set that easily creates bite-sized pieces in fun shapes.
They have a patented curved design, with a matching popper to remove the food bits easily.
They cut through virtually any kid-friendly foods with the curved blades.
They are made in the USA.
FunBites cutters are BPA free.
They are, of course, dishwasher safe, making them fun for mom too!
FunBites were invented by a mom like you.
They are CPSC children's products compliant, and safe for ages 18 months and older.
You can make many varieties of this Minion sandwich. Try it on a slab of pineapple, with goggles made from cheese. Use your imagination, and these fun cutters, and the possibilities are endless!