I used to make this easy tomato dip recipe every time I had the food processor out, but it's been a while since I've tried it again. I made it a couple of weeks ago for the holiday of Sukkot, and it was very much enjoyed. So, I decided it's time to share the recipe here on the blog!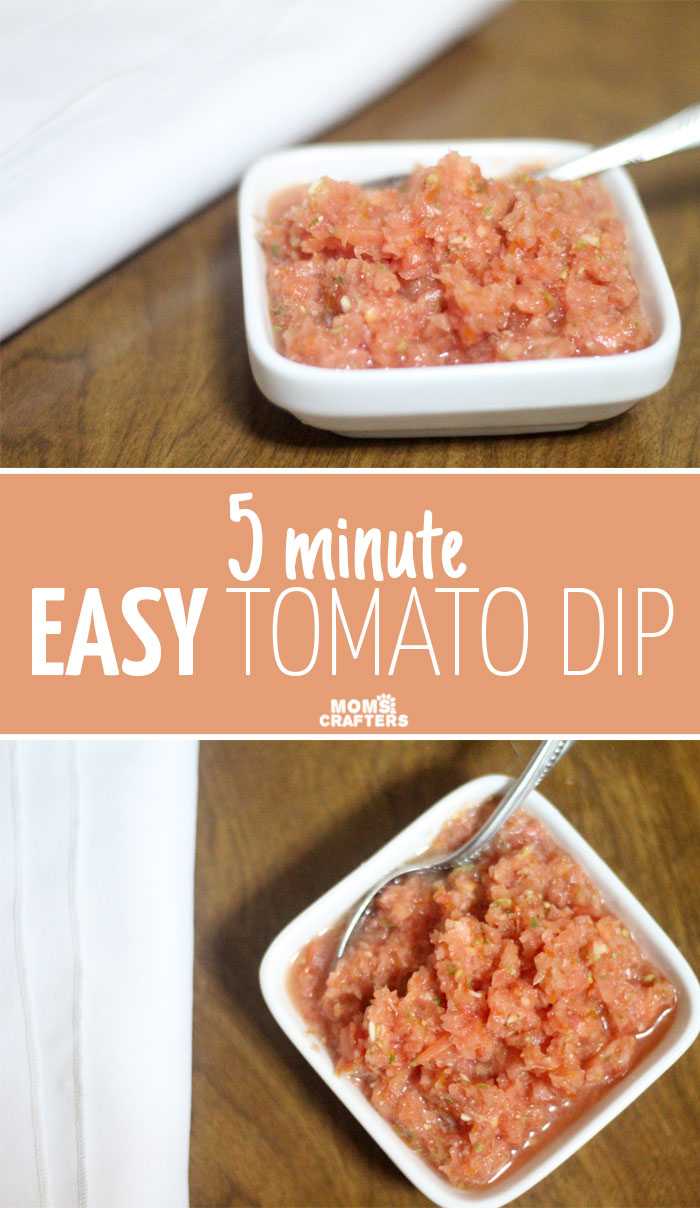 This easy tomato dip recipe is very versatile.
You can switch it up, replacing the cilantro with your favorite herb. You can make it more or less garlicky and even try adding in some raw onion.
Disclaimer: This post contains affiliate links.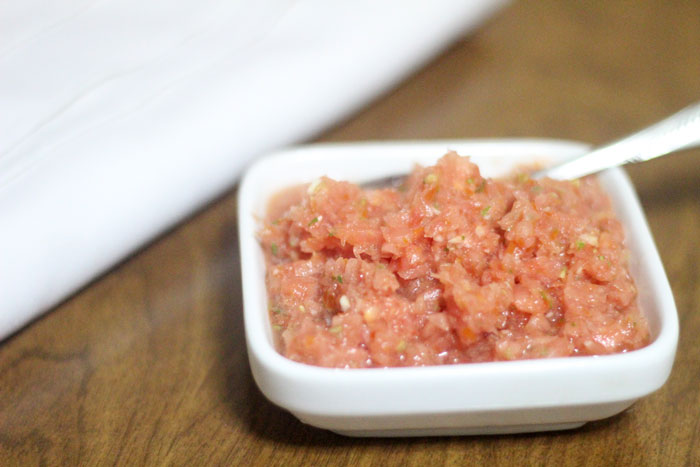 It can be served in a variety of ways.
I serve it at the beginning of Sabbath and holiday meals with Challah bread, alongside guacamole, hummus, my famous eggplant dip, and matbucha dip. You can serve it at a party with chips, with crackers, flat breads, melba toast, or whatever your crowd will like.
It has so few ingredients, you likely have them all handy!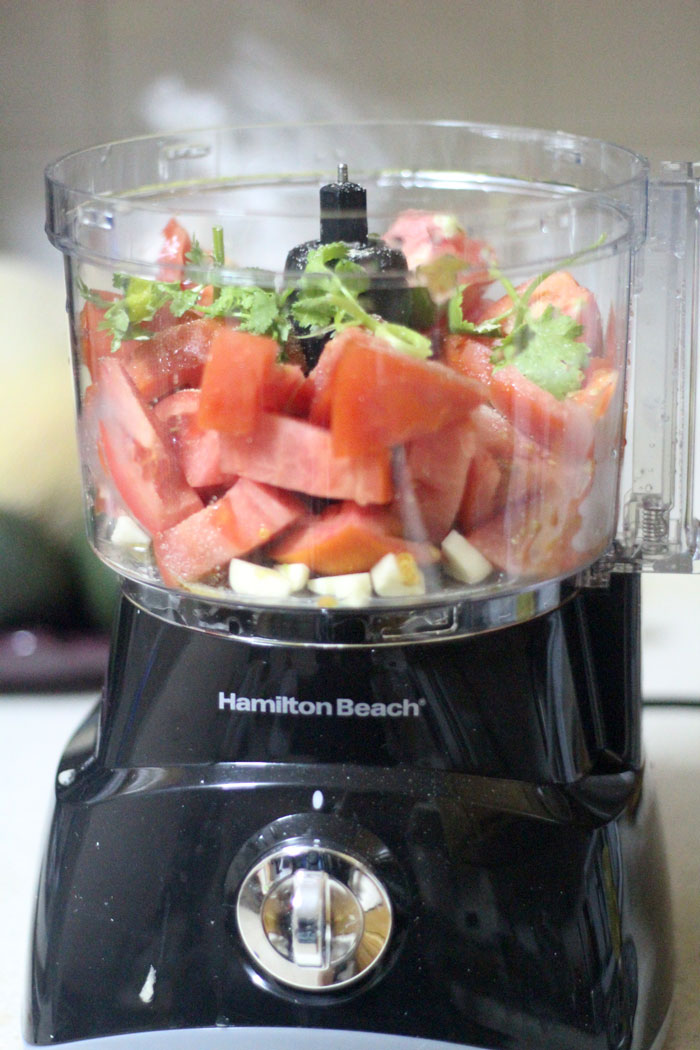 One thing to be aware of:
This dip produces a lot of juice. I don't like to strain it as I fell like it's good juicy, but you can definitely remove the loose liquids before serving. I usually store it in the juices and remove it with a slotted spoon to a pretty dish.
This tomato dip is as easy as it gets – gather the ingredients in your food processor, with the double blade, not the shredding/slicing blade.
A lot of the flavor will be influenced by how much cilantro you put in, as that is a strong ingredient here. I put a few sprigs.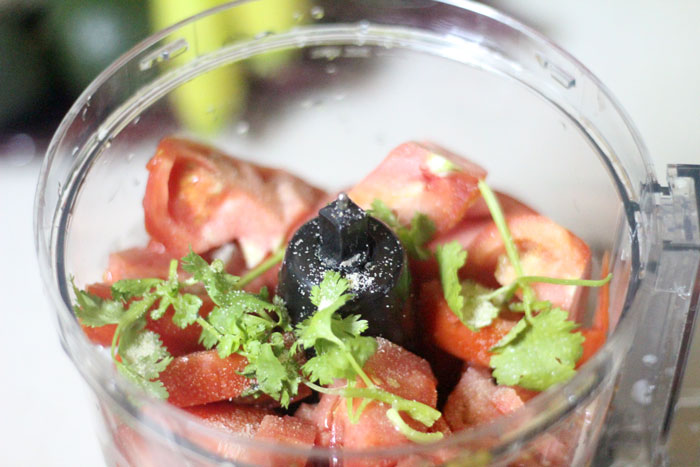 Pulse it for a few seconds and you're done!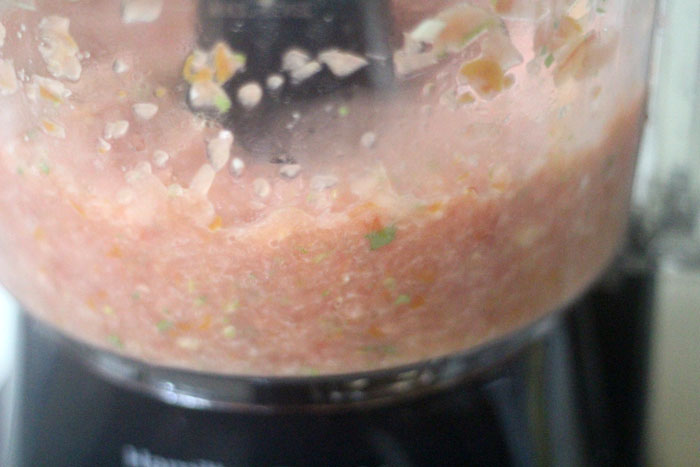 Pour it into a container to be stored (it stores for a week or so, since all the ingredients are raw, but it's best fresh) or a dish to be served immediately. I like to spoon it out to see how the consistency is without all the accompanying juices.
If you'd like, instead of adding all the ingredients to the mix right away, you can add the liquids after you process the tomatoes and remove the juice, if you want those flavors to come across stronger.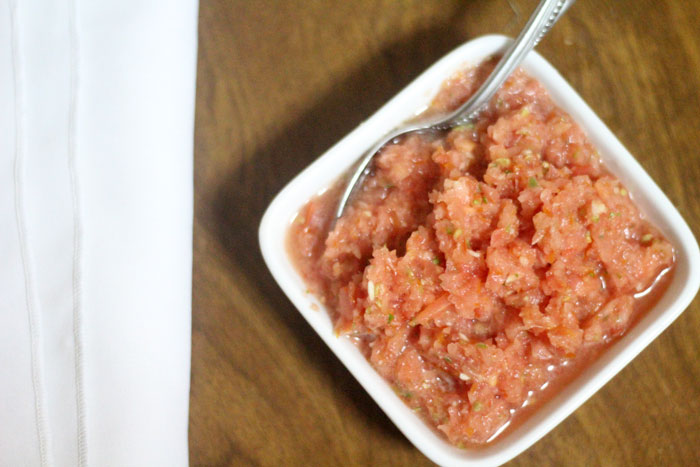 Meanwhile, munch and enjoy!
[yumprint-recipe id='3′]