If you're looking for some fun monster birthday party food ideas, these were spot on for Y's third birthday party! And they're so easy, even for a food decorating beginner! I shared our DIY monster party decorations a little while back, and now we're on to the real good stuff – the food! This post contains affiliate links.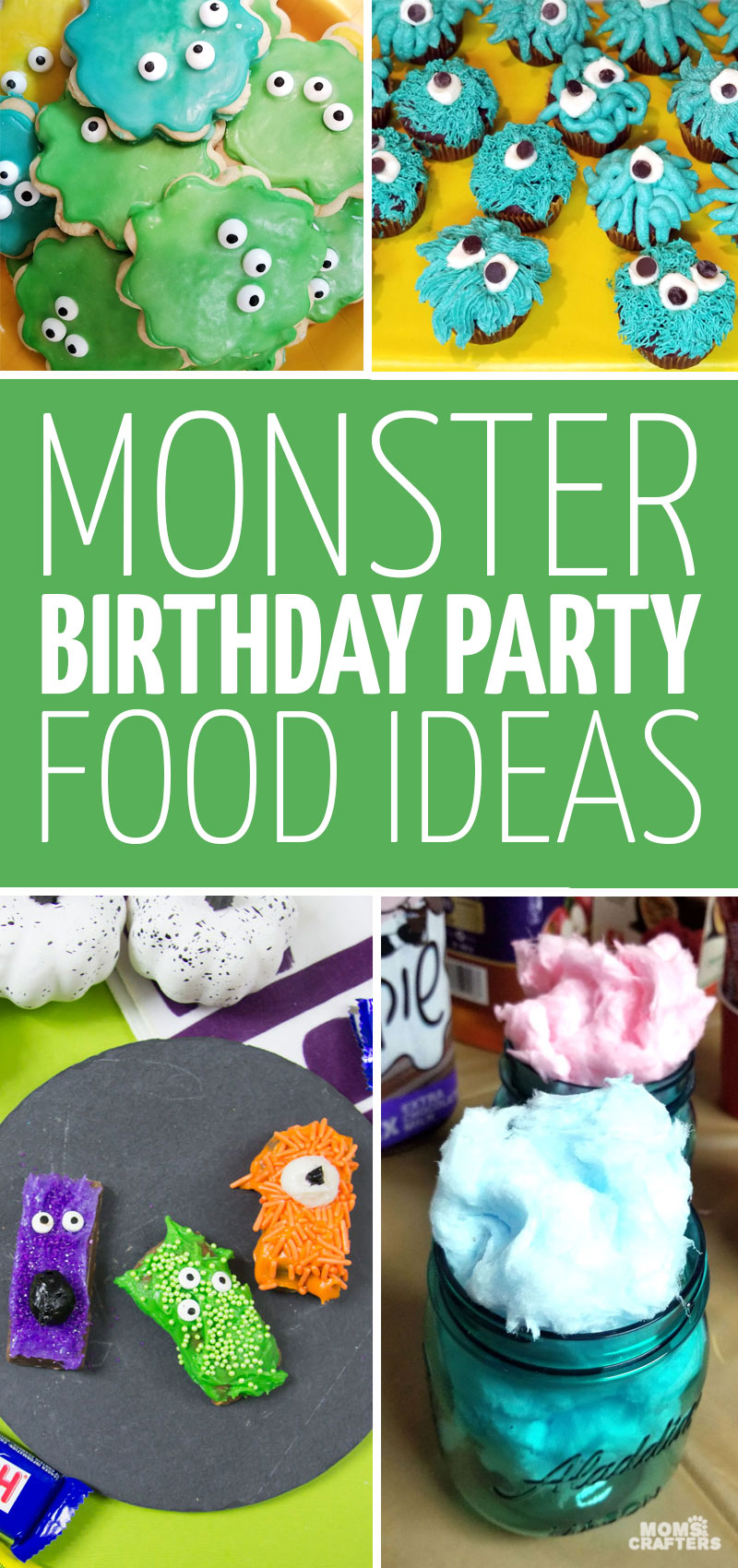 Last June, we celebrated Y's third birthday with a hairy monster themed party!! Yep, I did say hairy monster.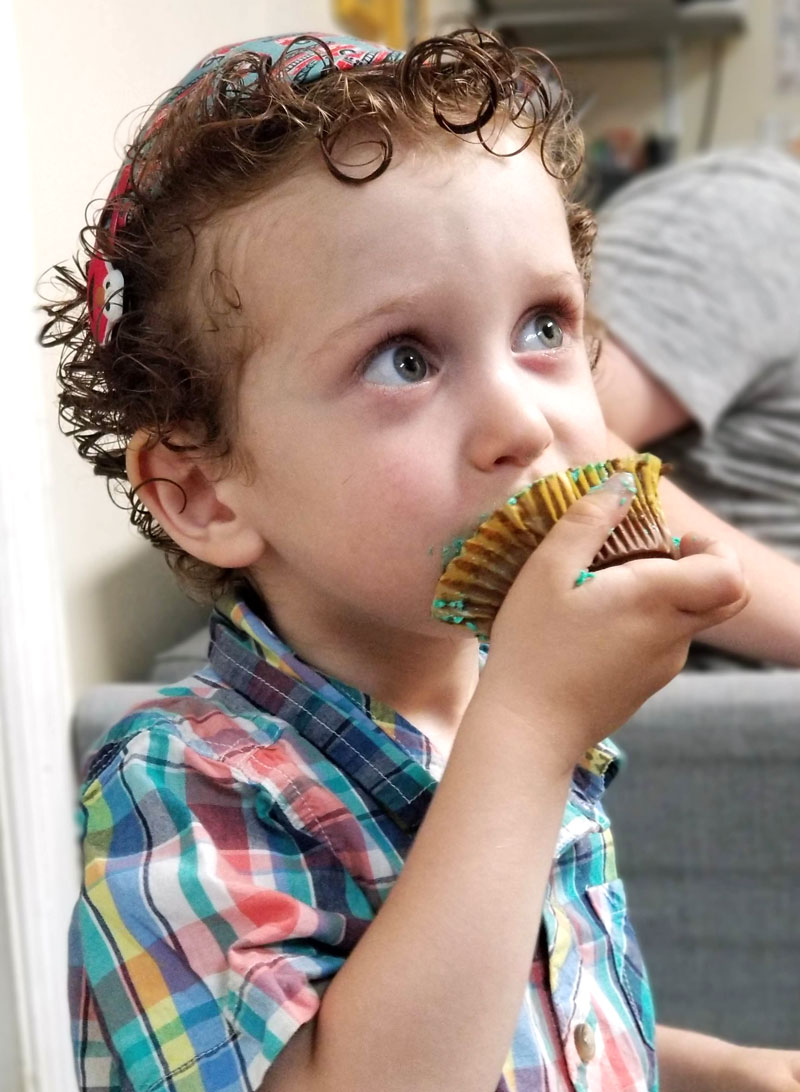 A monster theme is the absolute easiest I can think of. You can just googly eye anything to turn them into monsters. In fact, my "power tools" – worthwhile investments that did a lot – for this party were a flower shaped cookie cutter (for crafts and food) and candy/googly/sticker eyes (depending if it was a craft or food).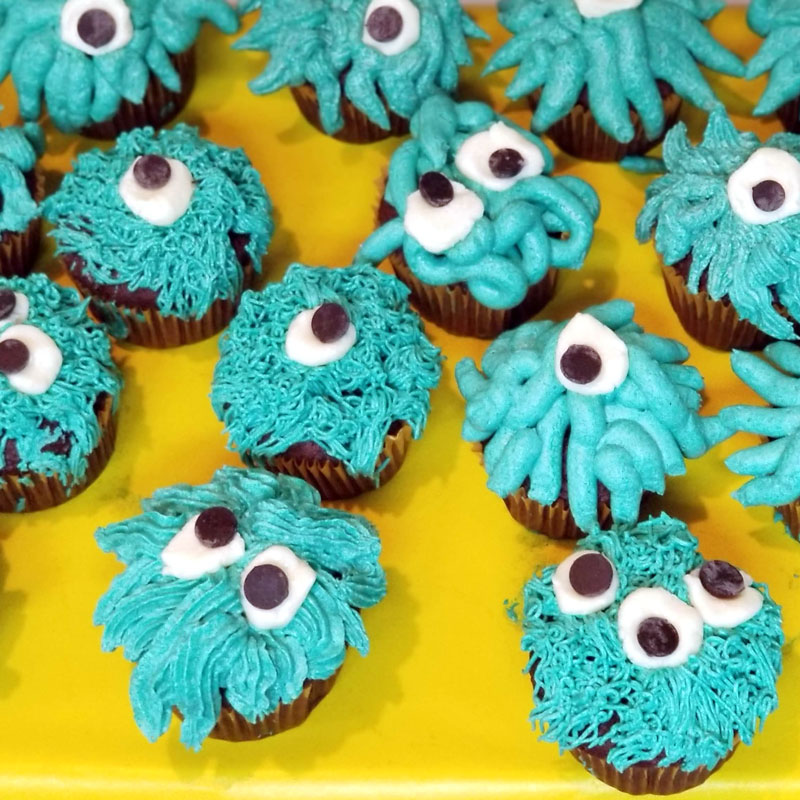 You don't need to have any experience to make the ideas below. I happen to be a certified klutz when it comes to food decorating. So even if you suck at this, these monster birthday party food ideas are for you!
And if you don't suck at food decorating, yours will just look that much better!
Monster cupcakes:
Y specifically requested blue monster cupcakes. To make these, I used:
I baked the cupcakes according to package instructions.
Now's where I share with you a game-changing birthday party food hack.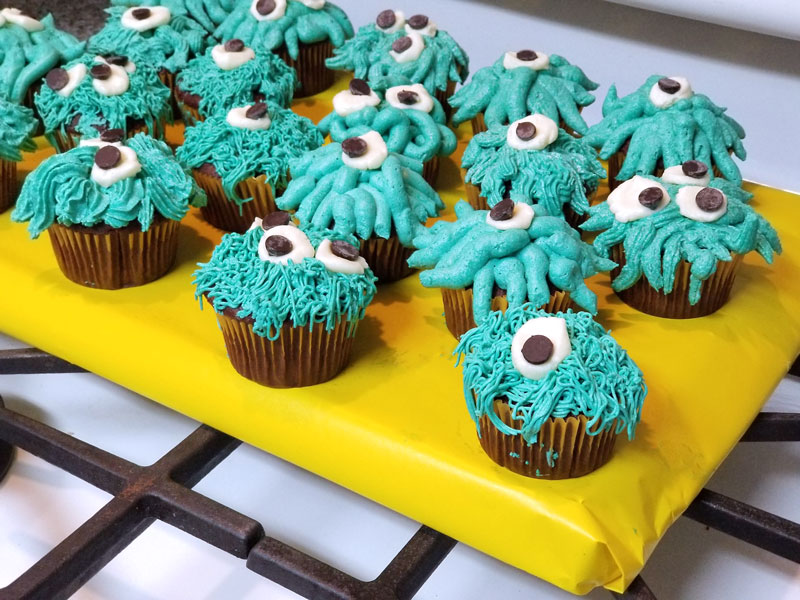 Instead of worrying about cupcake holders that aren't strong enough, open enough, don't hold enough, expensive, too complicated to make, don't match… I simply flipped over a sheet pan and wrapped it with coordinated wrapping paper!
That made the perfect cupcake holder, also for decorating them.
It's strong enough to hold them all, and totally stable. It was fantastic.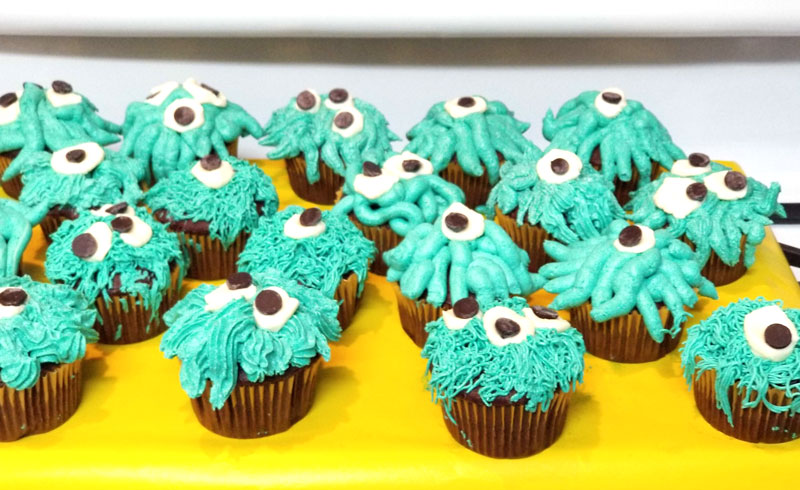 To make the hair, I piped on lines of icing in all sorts of messy directions. The messier the better. See, no experience needed?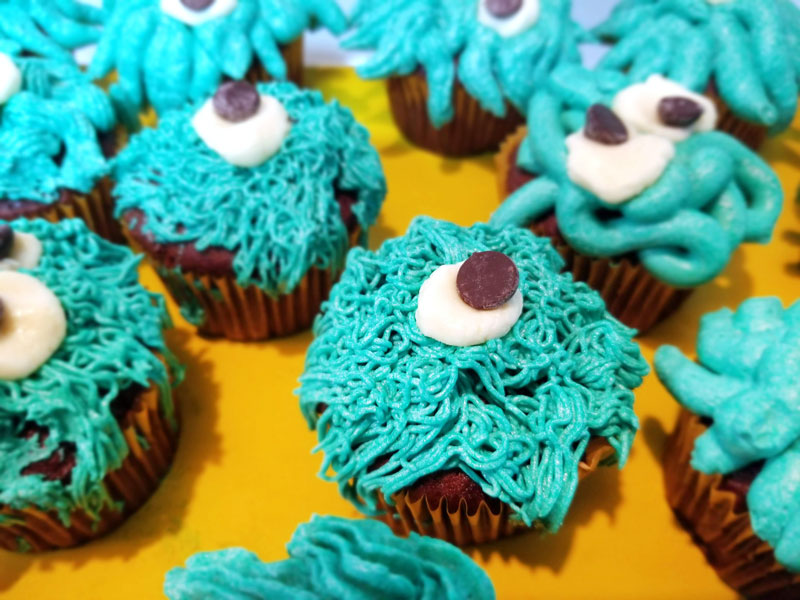 On the multi-strand one, I just piped on a messy pile. Doing straight lines just didn't work.
Now for the eyes…
Way before Y's monster birthday party, I bought candy eyes to use for the party. I ended up making the food the night before and using them all up on the cookies. They were too small for the cupcakes anyway, but had I planned better, I would have purchased large candy eyes and used those. It just makes things much easier.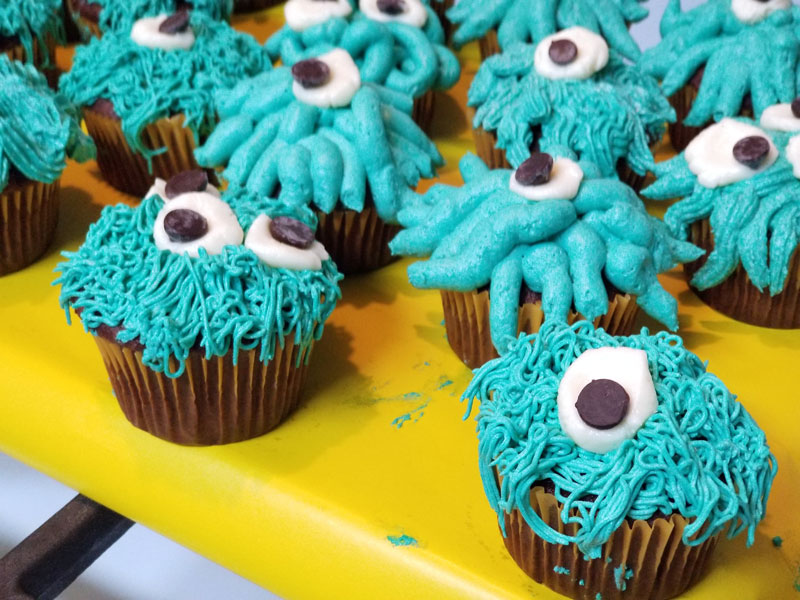 Instead, I used a white splot of icing and placed a chocolate chip in middle to make the eyes.
That. Is. All.
Monster cookies: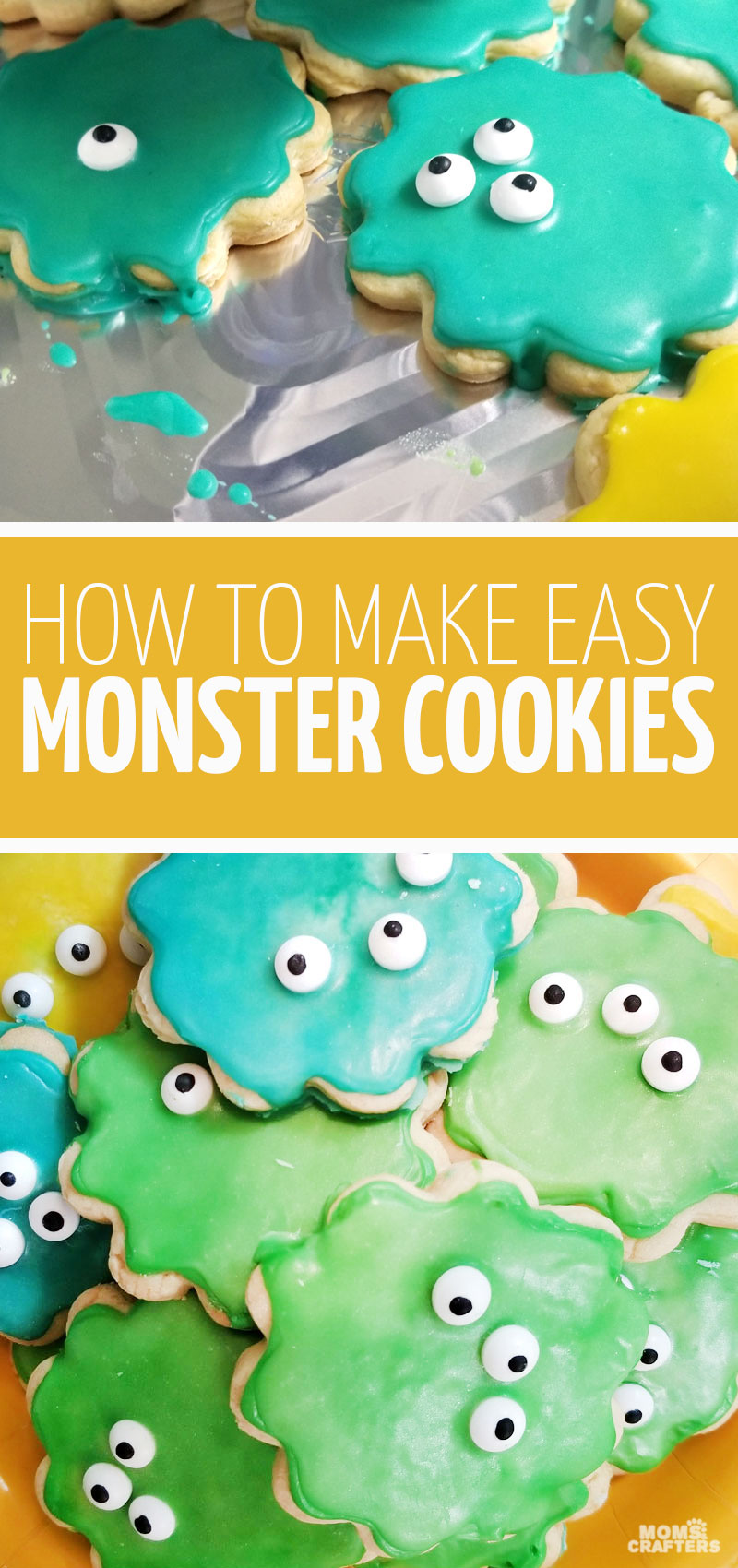 The monster cookies were a real struggle, as the royal icing I found was cross contaminated with tree nuts. So I tried making my own.
It sort of worked.
I started with a flower shaped cookie cutter (the same one I used in my monster craft invitation that we did at the party!) I made a simple sugar cookie recipe and let it cool.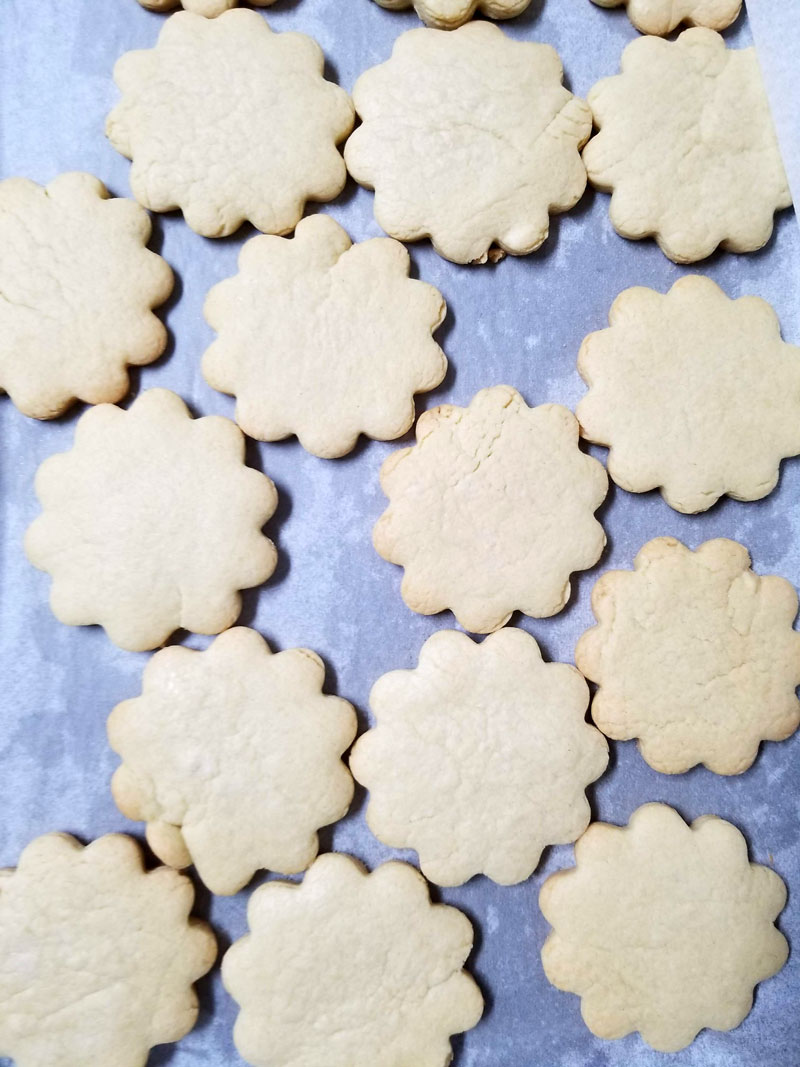 I used a simple glaze (confectioner's sugar and a bit of water) in squeeze bottles because of ingredient constraints. I had all sorts of drama (such as exploding squeeze bottles.. ) and of course we ate many failed cookies before the party, so I'm showing you my best. But in the end it worked, using a thicker icing to outline and a thinner mix to flood.
And some candy eyes did the trick, turning them into monster food.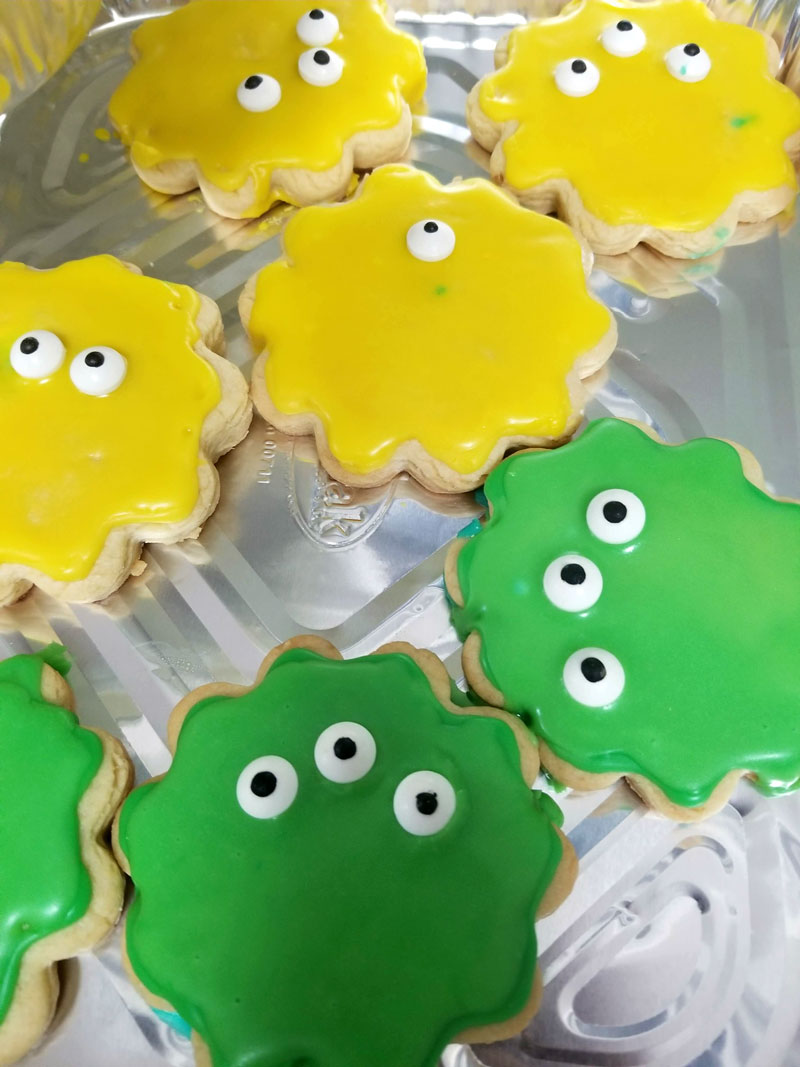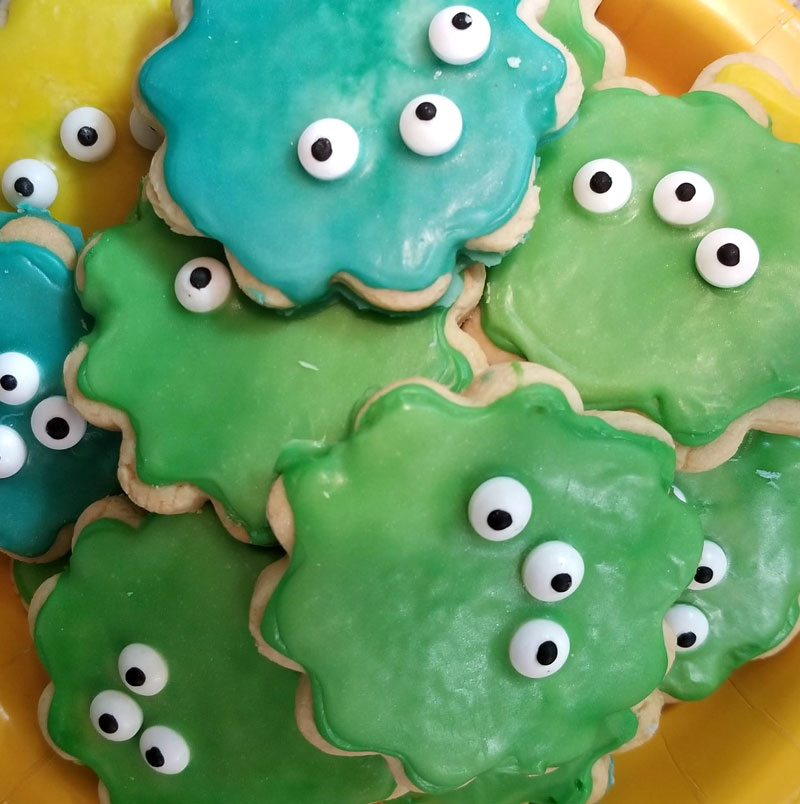 I made these in yellow, blue and green. They were delicious and a big hit with the birthday boy and everyone else.
While I did not make these as our monster birthday party food, these monster candy bars are a great idea for your birthday party!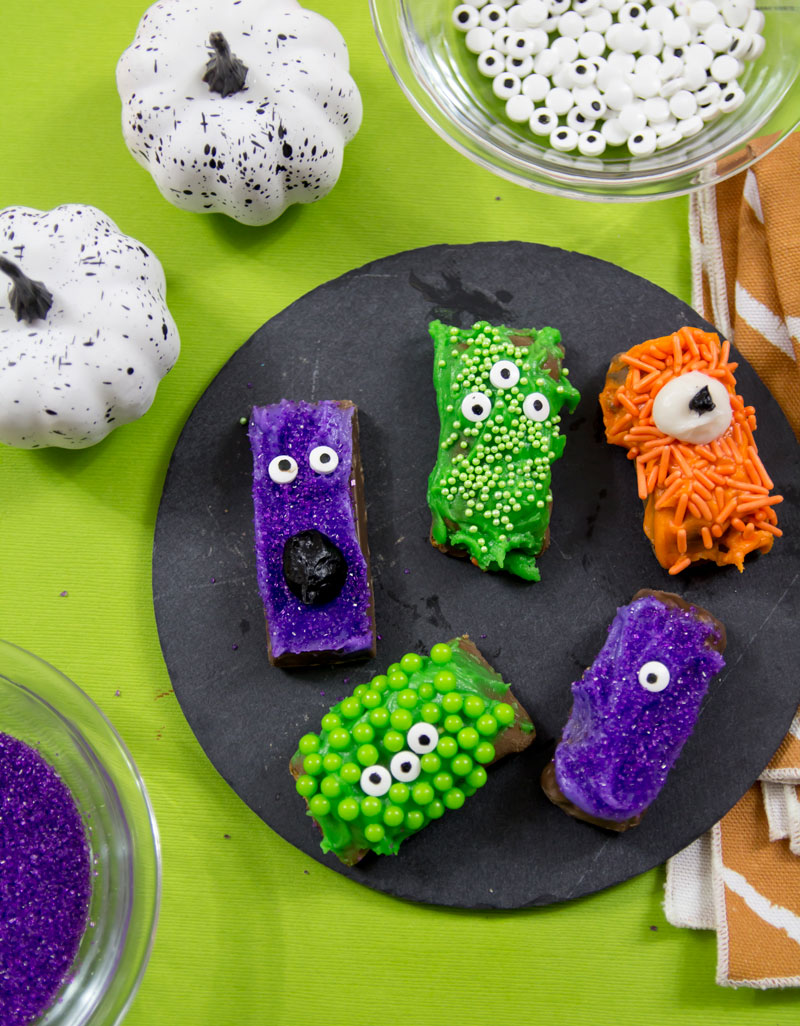 I made them after the party with Halloween in mind. I simply did not think of them before the party.
By the way, Michaels does have a great food decorating section where you can choose things like sprinkles and other toppings in individual colors. It's perfect for things like this!
This would also make a great activity for kids to do at the party!
More monster birthday party food fun:
There are many other things you can do for monster birthday party food. Our theme was specifically hairy monsters as Y was getting his "first" haircut at age three. So instead of a broccoli salad, I made a broccoli slaw salad.
I also bought pre-packaged cotton candy, and put those into teal mason cups, overflowing them like hair. I should have put eye stickers on the jars to turn them into monsters… next time!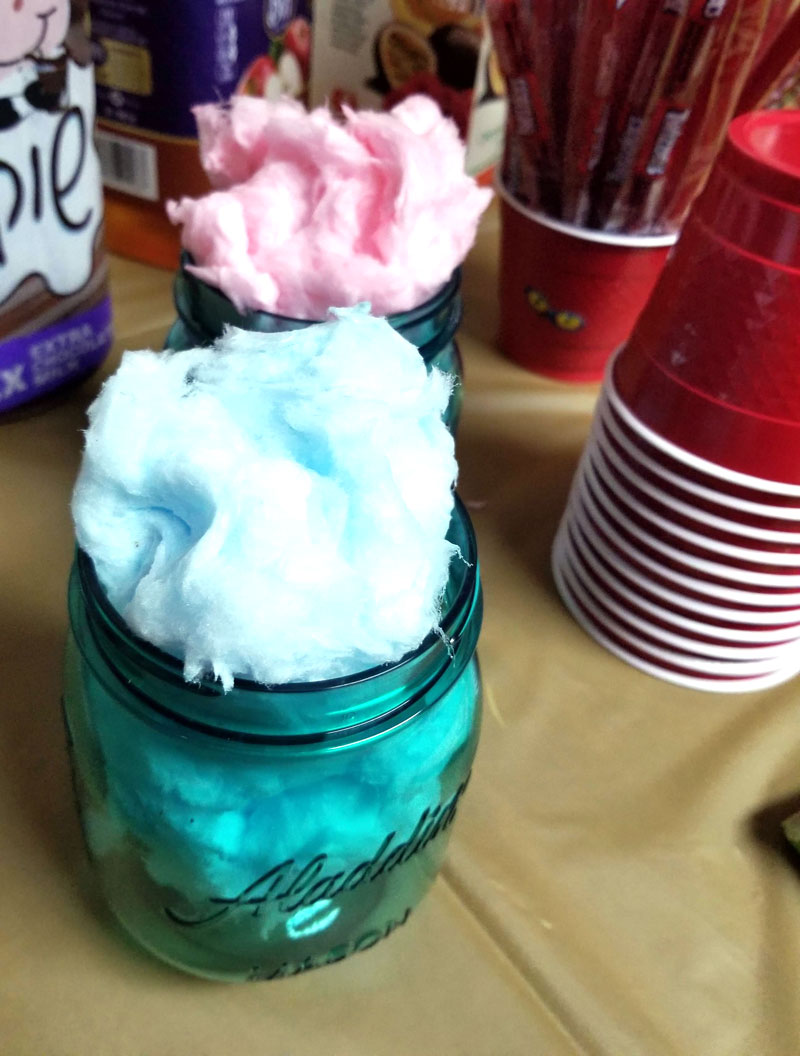 Monster birthday party food is so easy to blend in seamlessly – make a spaghetti pesto salad with black olives and mozzarella balls and you have a monster. Add large googly eyes (like jumbo – big enough to not disappear in) to guac, hummus, or any dip to turn it into a monster. Or, serve things in solid color containers and add eye stickers to those.
If you want an all-encompassing theme, the possibilities for monster birthday party food are endless.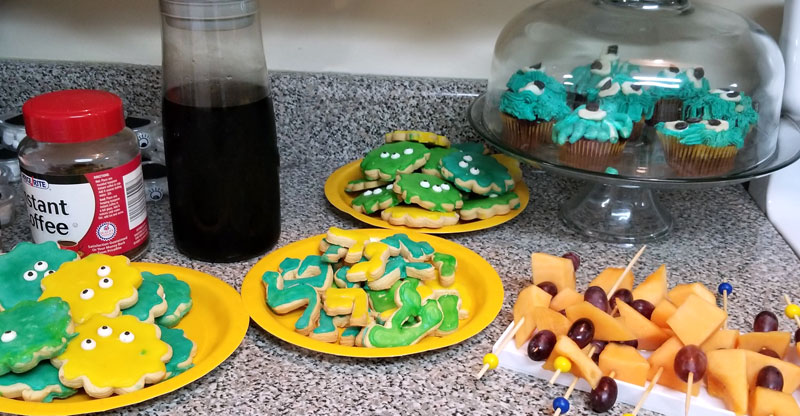 We usually choose a few food items to turn into themed and focus on feeding the crowds with the rest.
Whatever your birthday party style, I hope this helped!
What are your favorite monster birthday party food ideas?