Hand kids the reins with some monster candy bar decorating—perfect for Halloween, monster parties, or just for fun! This post has been sponsored by Ferrara. All thoughts and opinions are my own.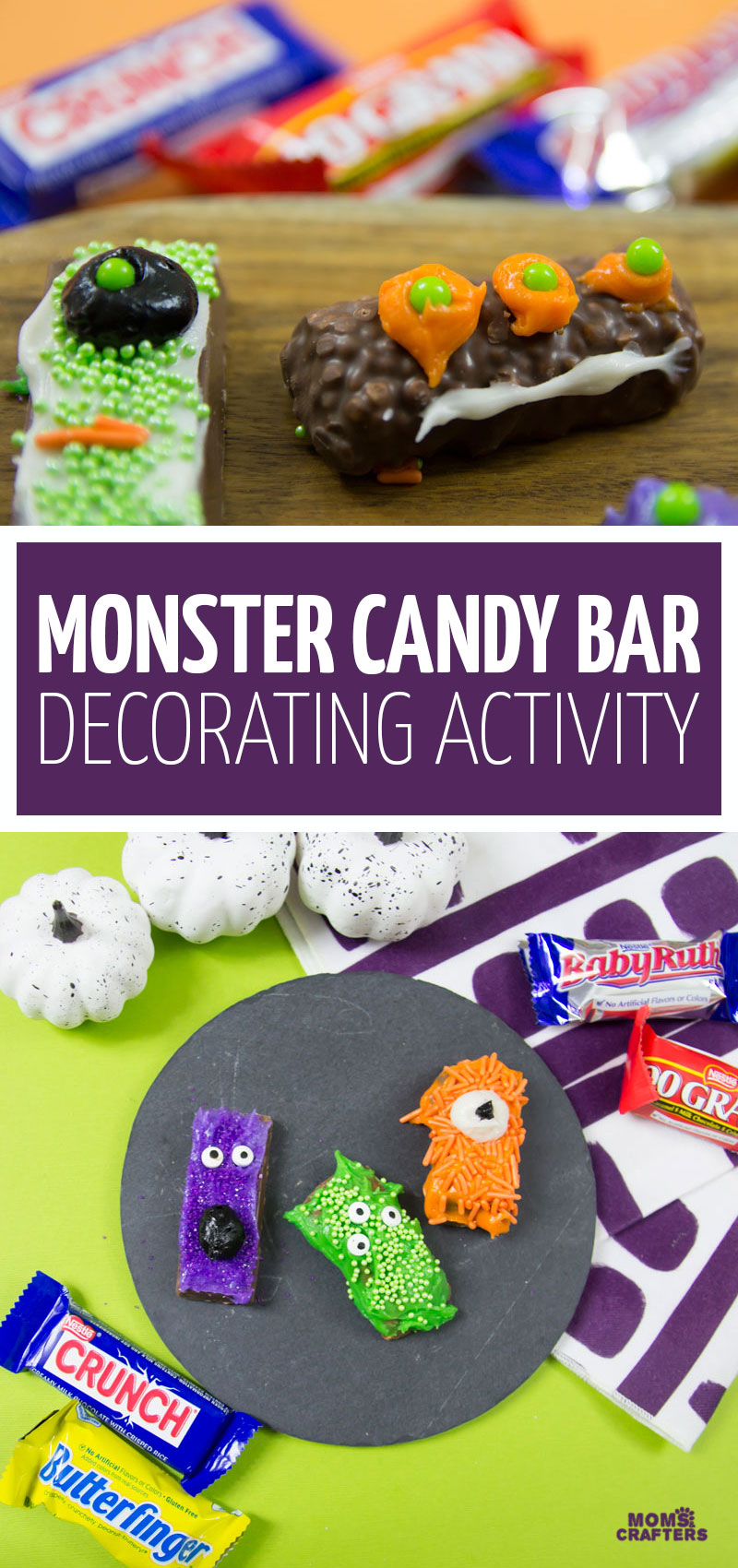 To help M with his tough start to first grade, I headed to Stop & Shop and grabbed my all-time favorite chocolate for an epic activity.
Did you figure it out?
I have always loved Butterfinger® for the flavor that oozes out of the melt-in-your-mouth center, making it THE choice for monster candy bars and bonding with my big boy.
I always find Stop & Shop easy to shop at—it's neat, clean, and organized. The fun size candy bars were in the center seasonal aisle, as I expected them to be in the weeks before Halloween.
To change it up, we also bought some Crunch®, 100 Grand®, and Baby Ruth® bars as well. It not only brought a change of flavor but also a few slightly different shapes and textures to work with. AND Stop & Shop has $1.50 off 3 Fun Size bags, leaving more room in our budget for… decorations, of course!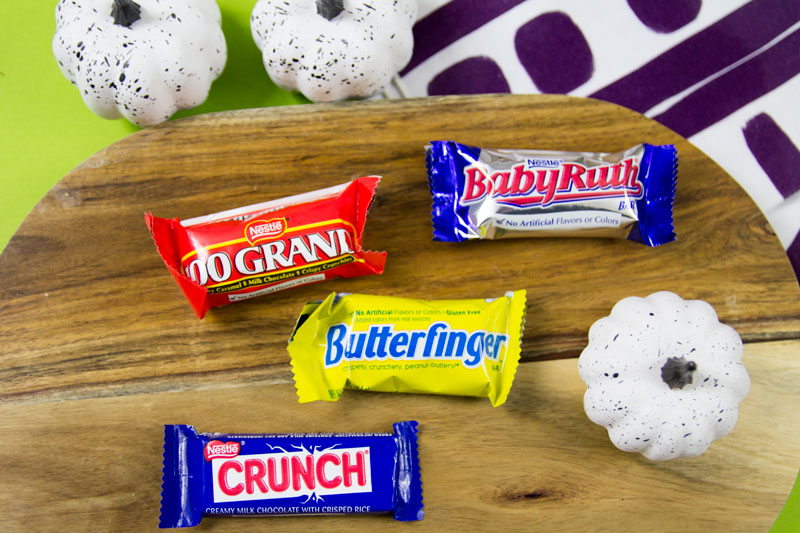 Speaking of decorations, you'll want to leave this open-ended by providing options—just as you did with your candy bar selection. I provided purple, orange, and green icing, as well as white and black. My mistake: I assumed the tubes I got fit my decorating tips. They didn't.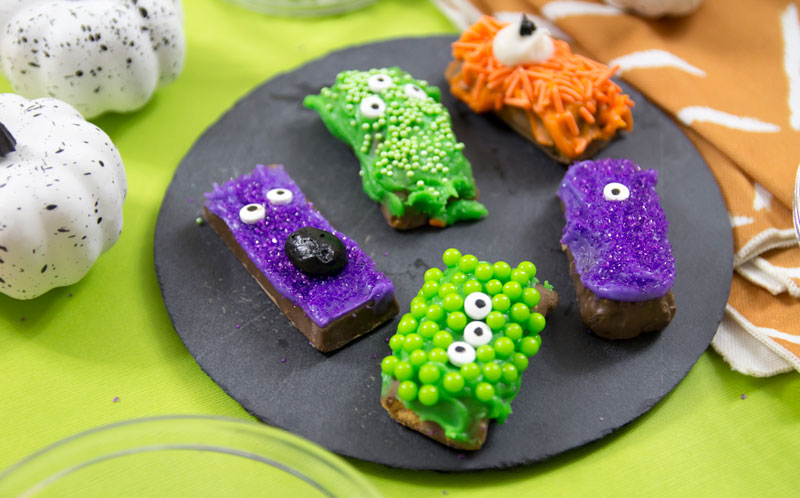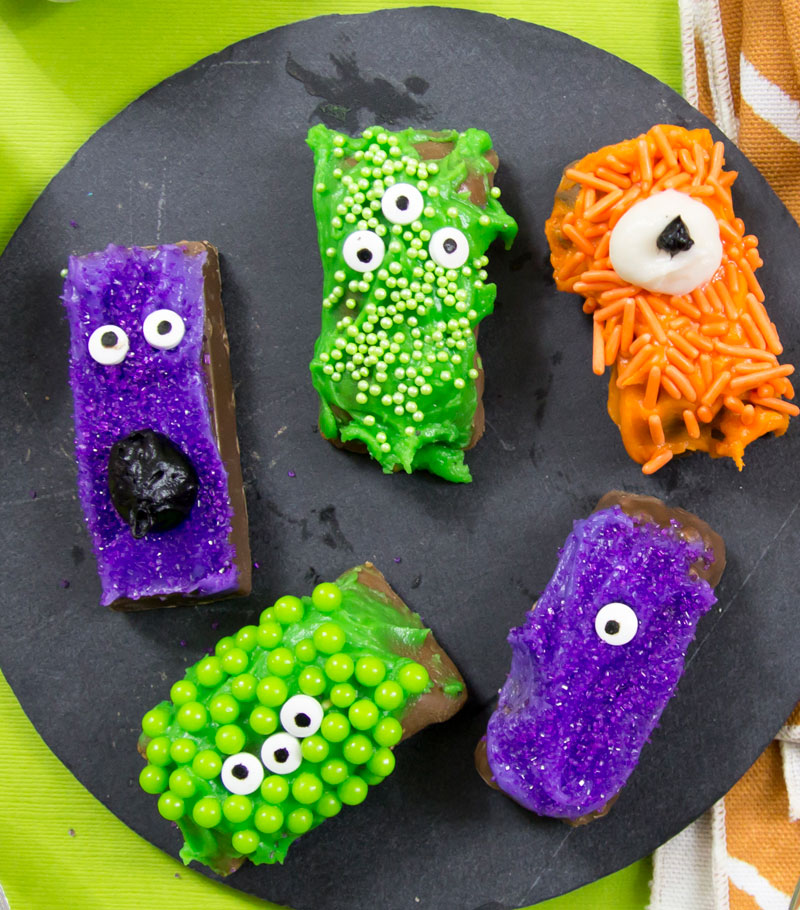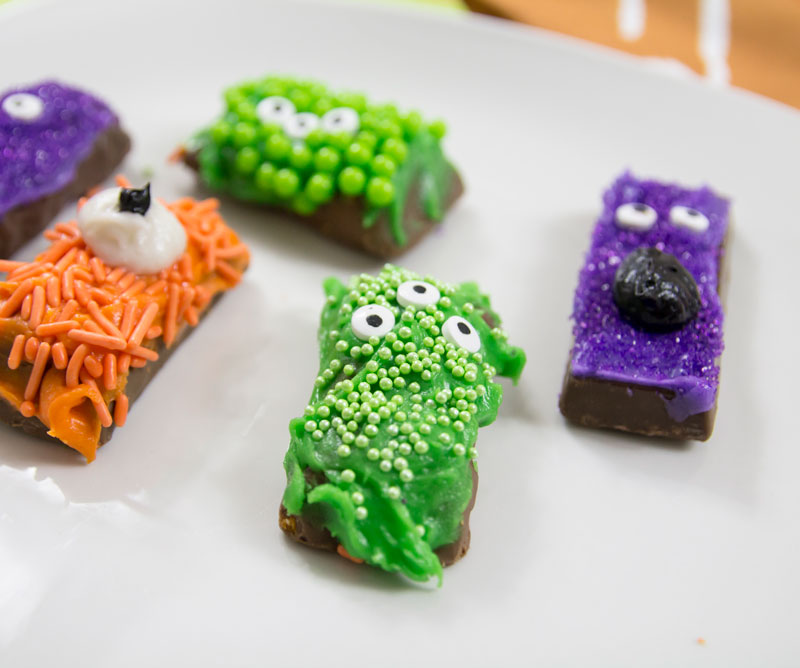 So, instead of piping on cool designs, we plopped on some icing and smeared it with a spoon. Whatever works, right? And when the candy bar inside tastes peanut buttery and fantastic, who cares if you didn't have the "right" equipment.
I worked with icing, and not melted chocolate, because it's much easier for kids to do and to design on their own with it. If you're making this more as a party treat than an activity, you can definitely dip in chocolate instead!
If you want to make these ahead of time for a party, the icing did harden enough that it can be made in advance. Once dry, it can be stored in an airtight container. Or, freeze them in a single layer and then store in a container.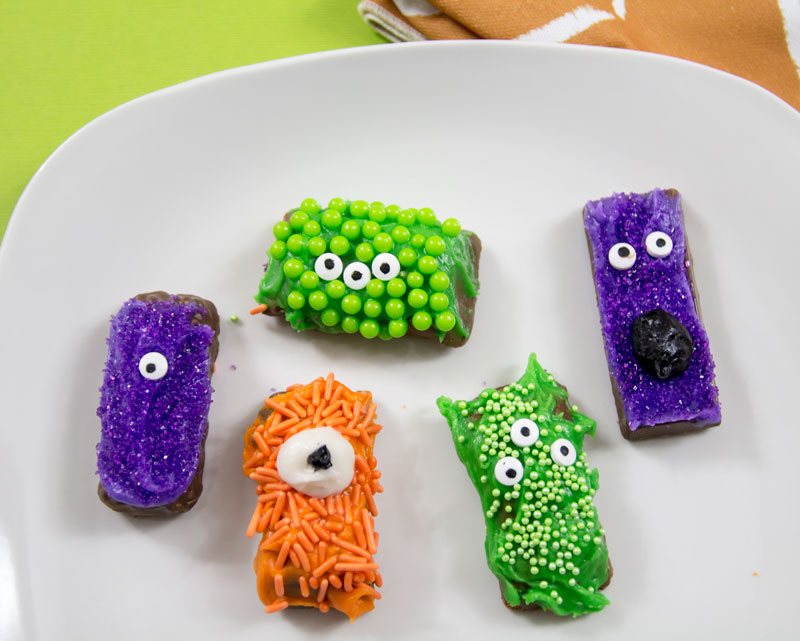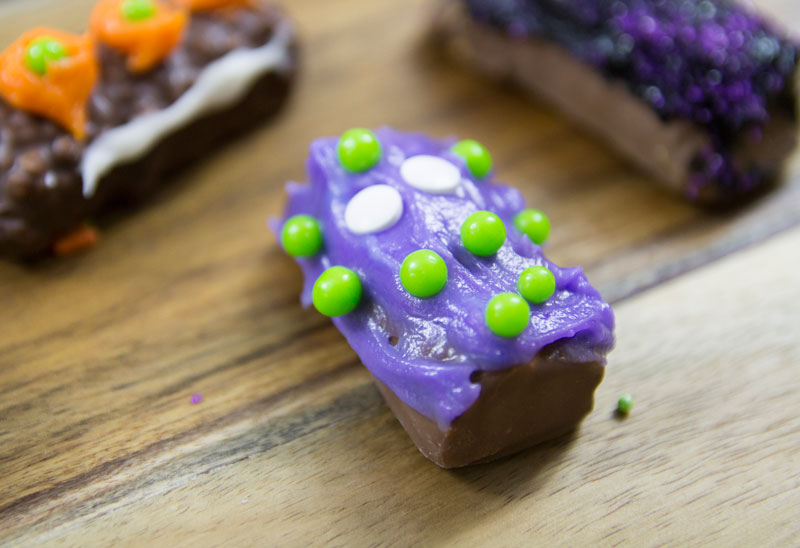 I also provided an assortment of decorations, including nonpareils in different shapes, colors, and sizes, as well as sanding sugars and candy eyes.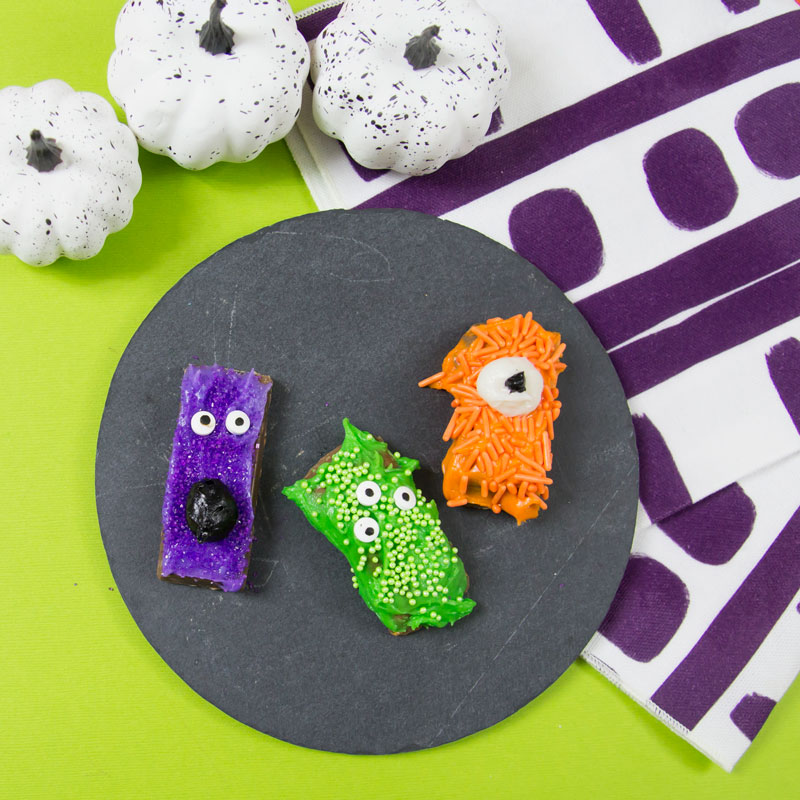 This monster candy bar decorating activity is a wonderful group activity to do with kids in anticipation of Halloween!
For M, it was the sweet finish to a tough day. Life is what you make of it and when the days are tough, infusing it with crunchy Butterfinger®, fun monsters, and time together makes all the difference.
And not only is the flavor fantastic but it has no artificial flavors and colors, making it a great choice for our family!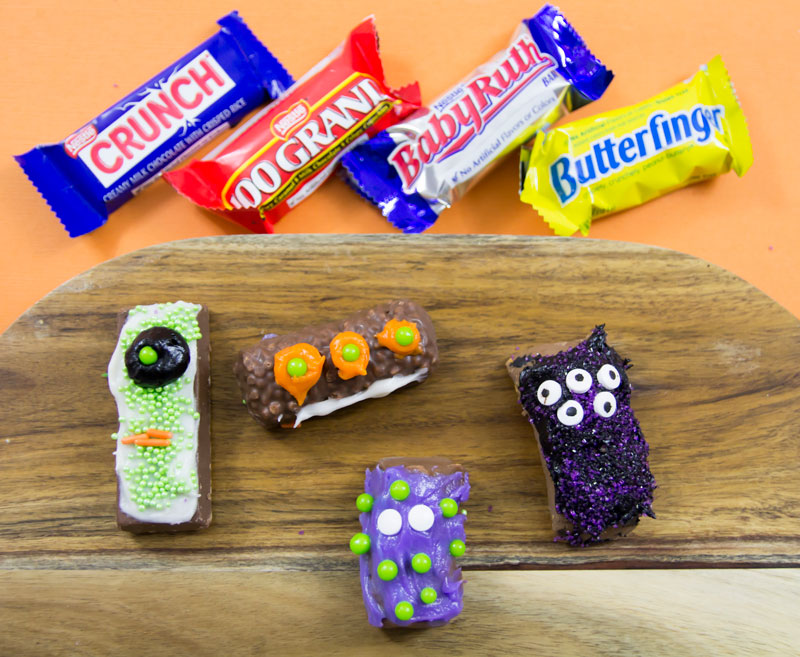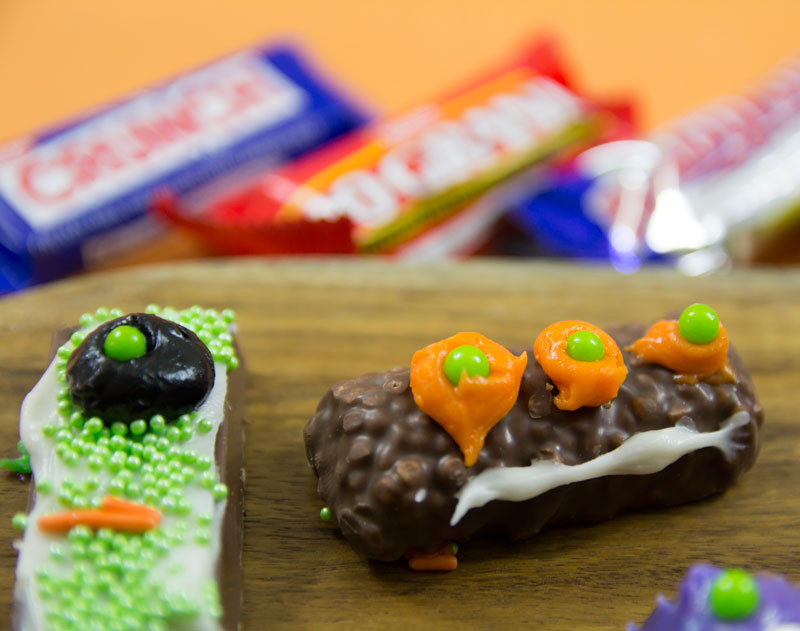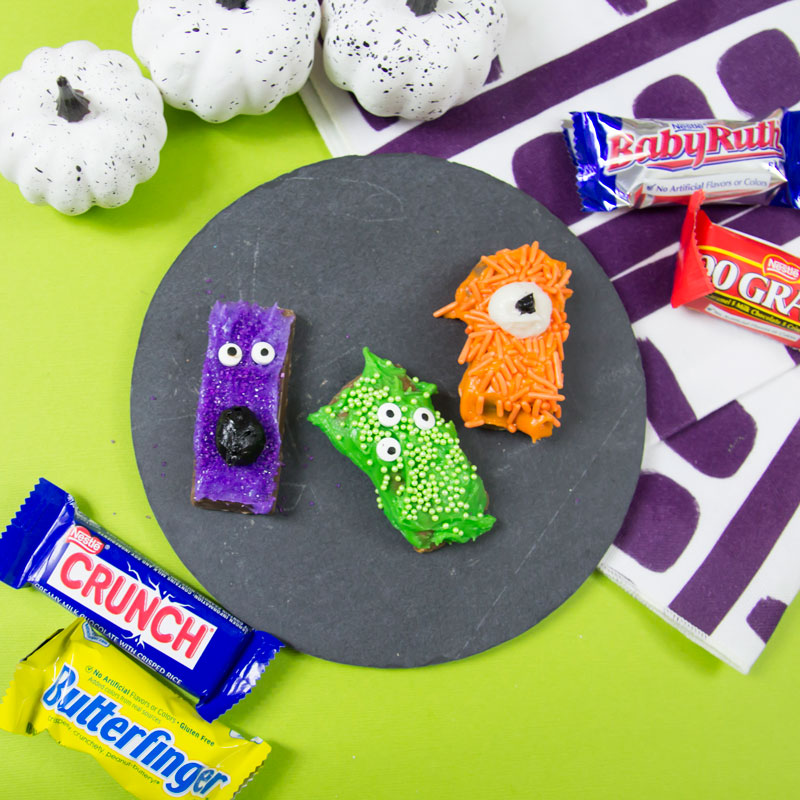 What you need:
Butterfinger

®

candy bars

More candy bar options such as Crunch®, 100 Grand®, and Baby Ruth®

Icing
Confectionery toppings such as sprinkles, dusting sugar
Candy eyes (or icing in eye-appropriate colors)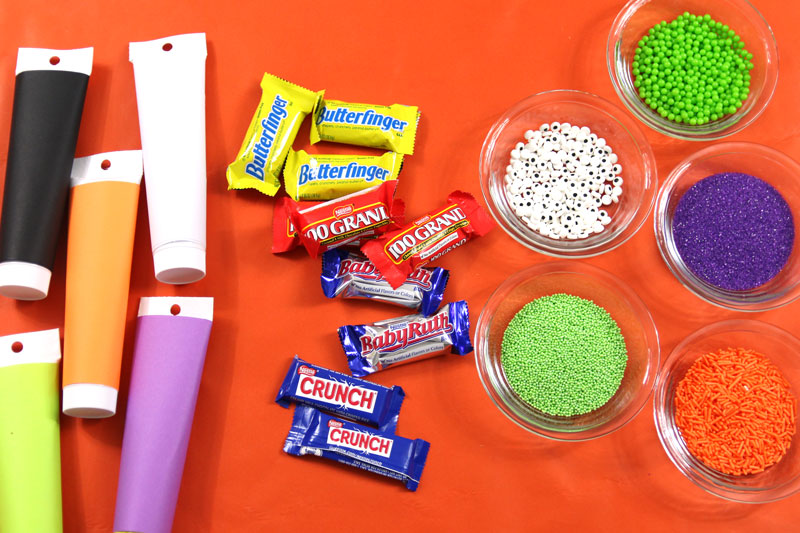 Equipment:
Small bowls to lay out your decorations (my secret: I use mini pie dishes!)
Icing equipment – You can use condiment squeeze bottles to make it easier for kids. If the opening isn't wide enough, just snip it.
A plate to work on
How to do this monster candy bar decorating activity:
1. Unwrap your Butterfinger® and other candy bars, and place a few on the plate to work with.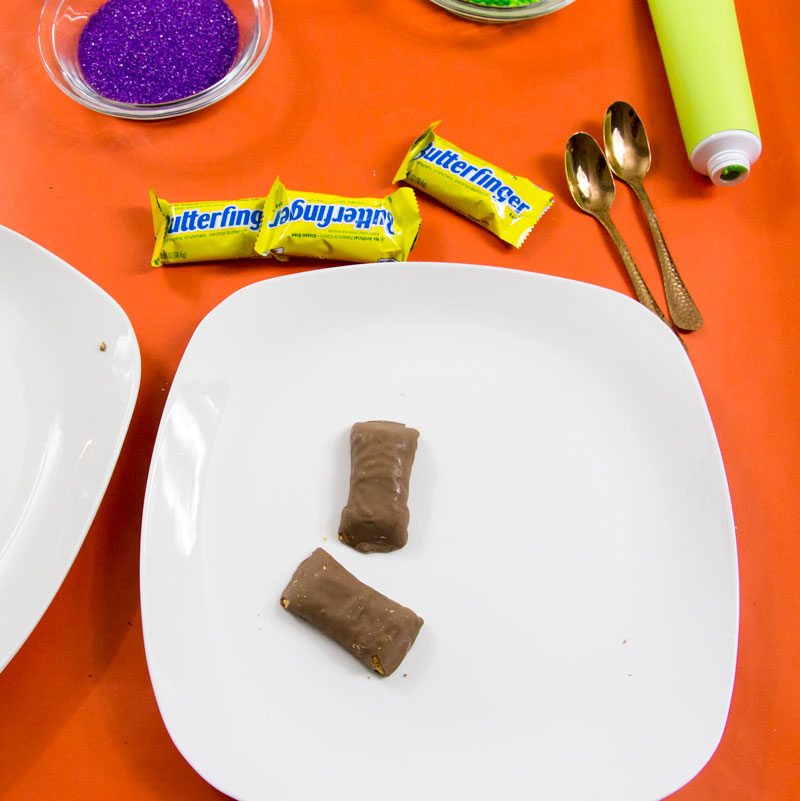 2. Pipe on some icing or just drop a lump onto your Butterfinger®.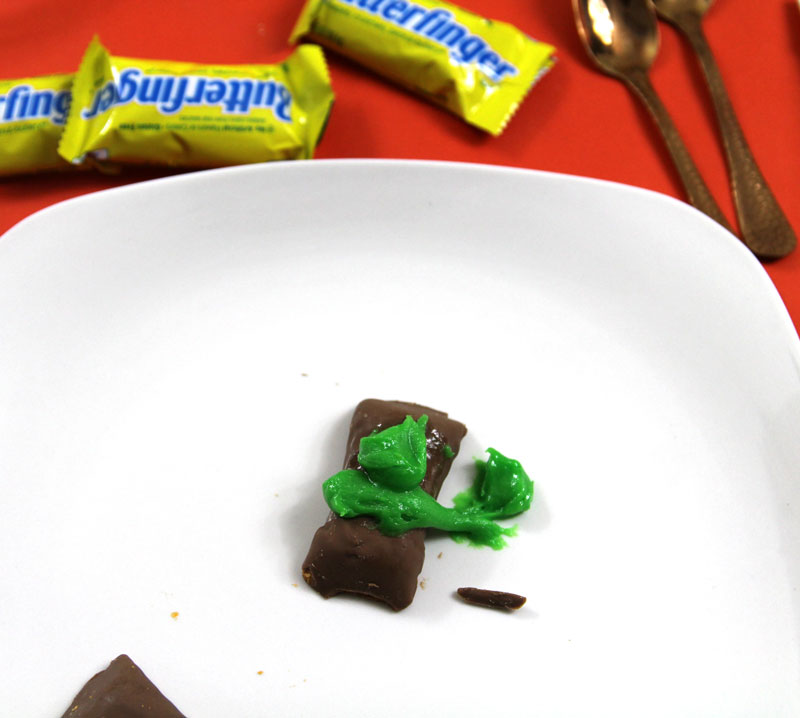 Spread it out. Don't worry if it's not neat! Monsters are DEFINITELY NOT neat.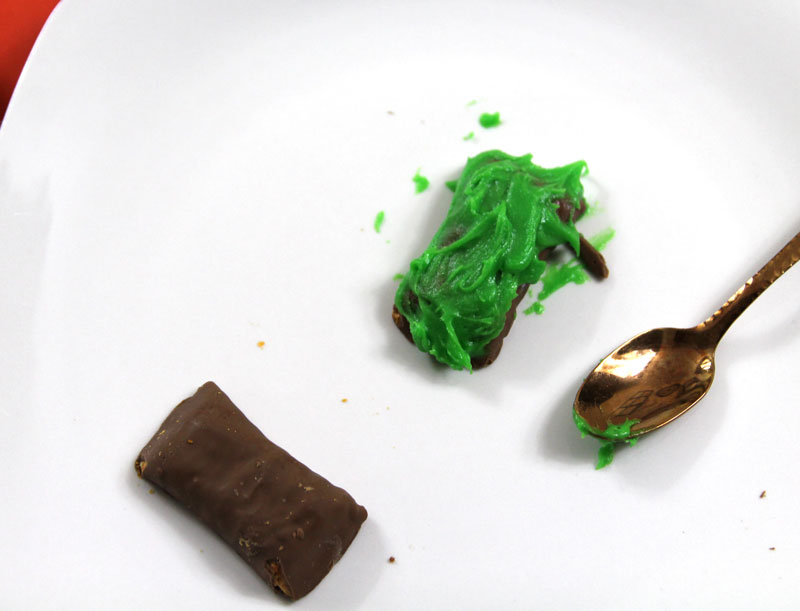 3. Cover it with sprinkles or other decorations.
4. Add eyes. If you want, you can add other features as well—but I love the mysterious look of monsters with just eyes… LOOKING at you! You can see that I played with pre-made candy eyes, as well as icing. Since I didn't have proper piping tools, I dotted on the pupil with a pick.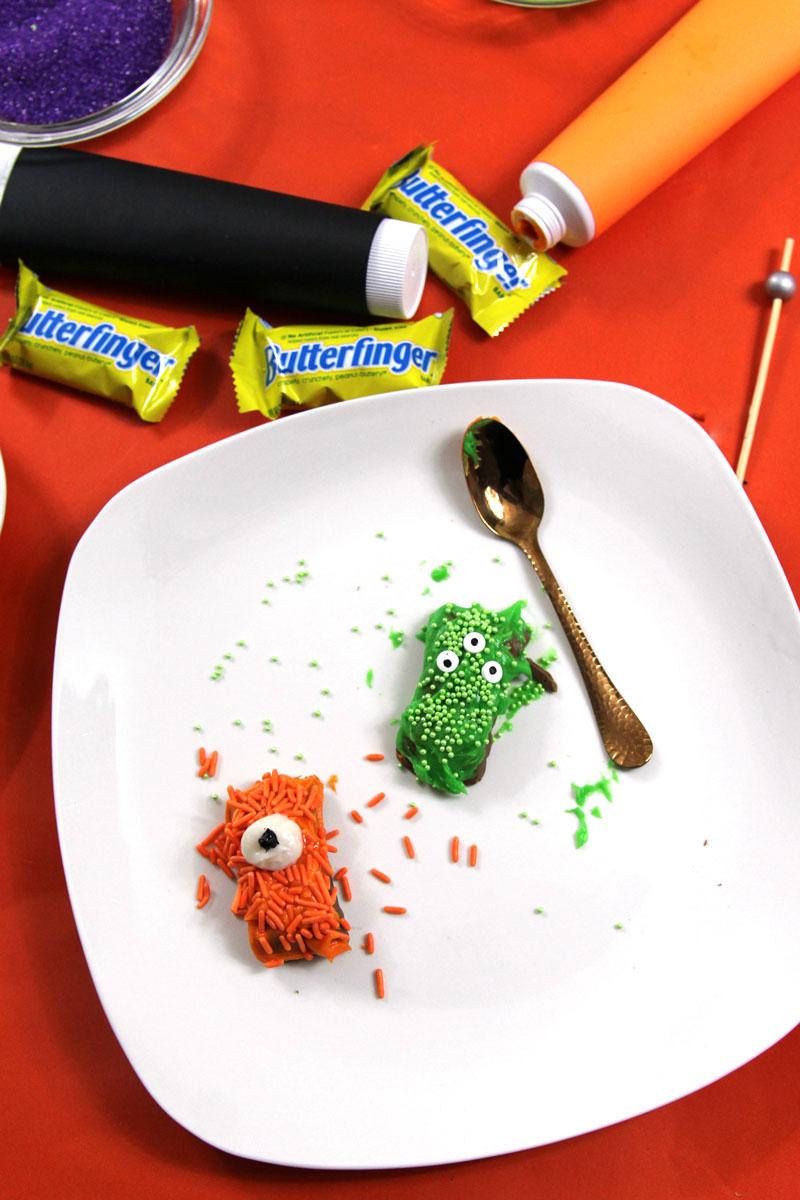 5. The cool thing about decorating a monster candy bar is that each one can be made differently! Have fun! Explore the unique shape and texture of each candy bar.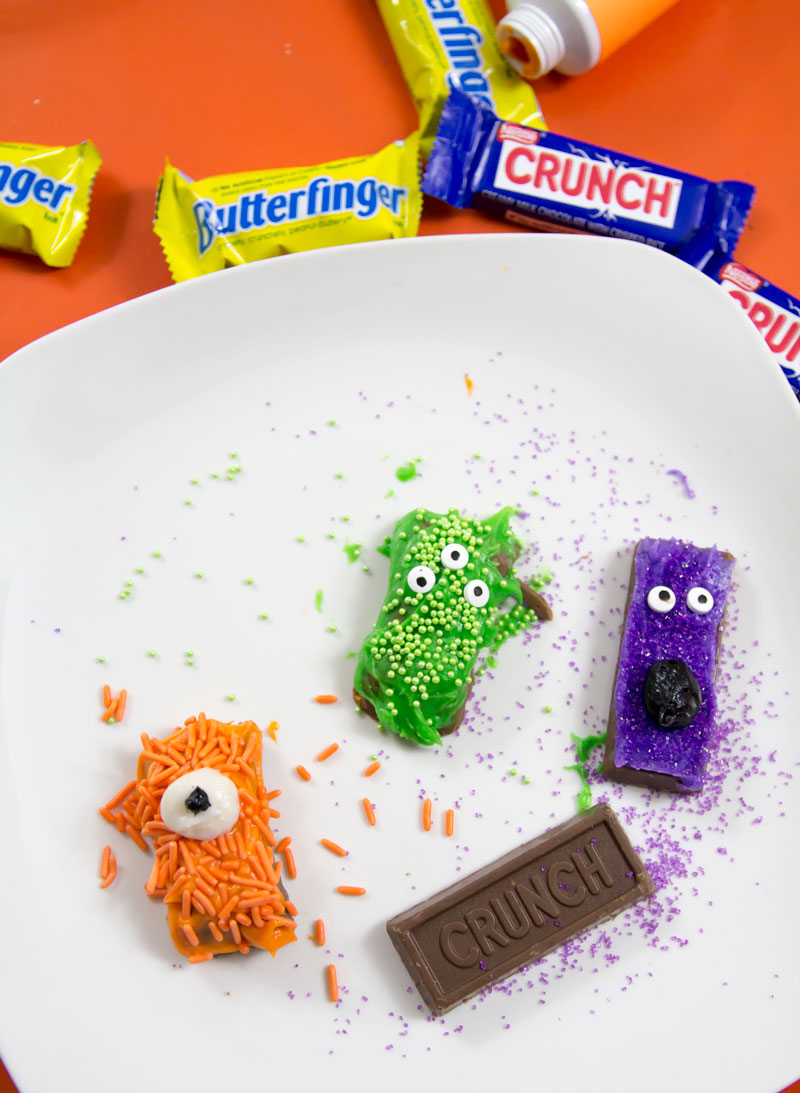 Get creative and think outside the box! Here, I left one 100 Grand® bar naked, and used dollops of orange icing and green jumbo nonpareils to make super creepy eyes. I piped on a mouth. On the Crunch® on the right, I used a contrasting color nonpareil, used three long orange sprinkles to make a mouth, and did the same creepy green eye thing with black icing and a jumbo nonpareil.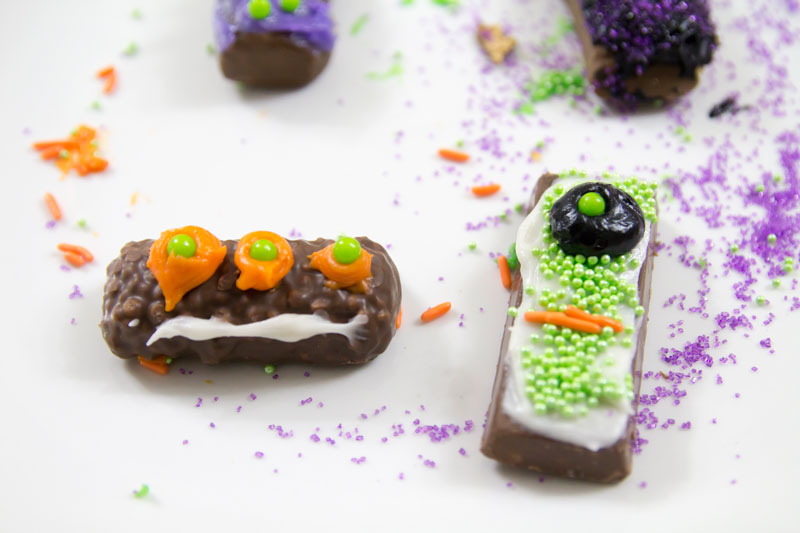 Here are another few monster candy bars I made:
And here are M's monster candy bar ideas, which didn't quite make it to the final photoshoot before he enjoyed them. I managed to sneak this shot for you: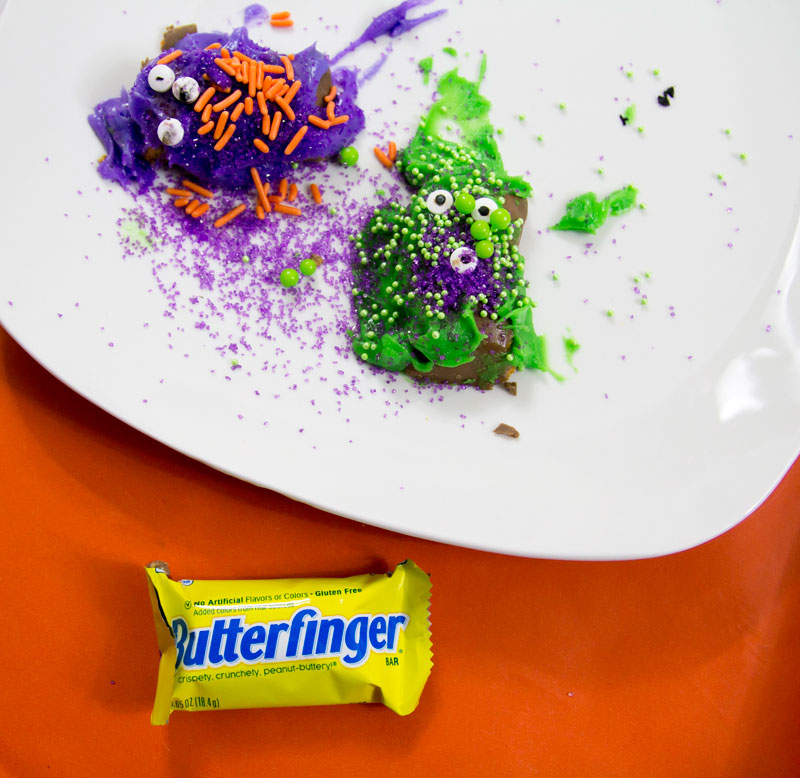 Put them out at a Halloween party, enjoy them for dessert, and have a blast!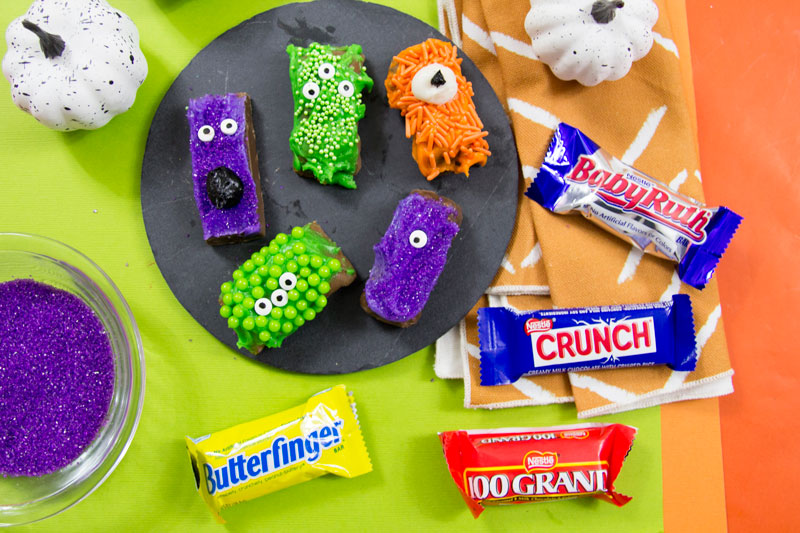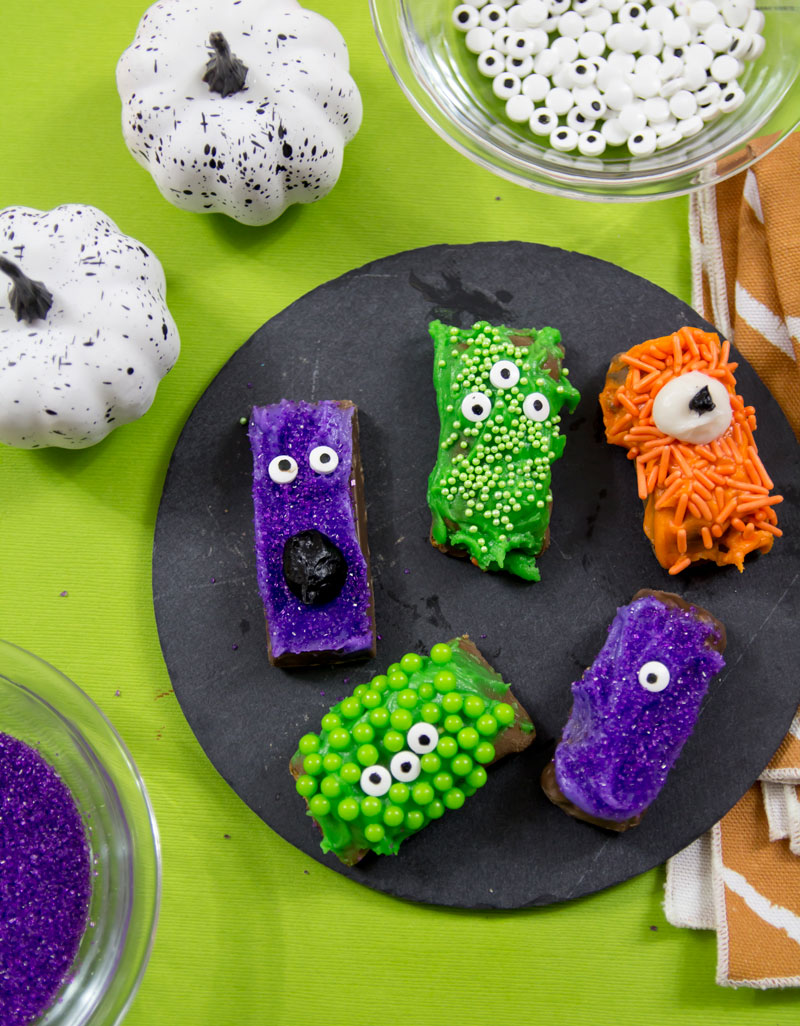 Now it's your turn to share! What tips or ideas would you add to this monster candy bar decorating activity? Would you make it yourself or hand kids the reins? Grab your candy bars and decorations, and comment below!