My ocean coloring pages for adults are finally live – and it's one of my favorite sets (after the coffee one, of course!) I created these while extra super pregnant with Baby Y, and put everything into making it a winning set for you! Disclosure: this post contains affiliate links.

With this set of adult coloring pages, I decided to offer you something extra diverse. I chose the Flip Flop! page to color, though I really want to get to the Deep Doodle sea page too! The package includes 5 fun, unique pages all in an ocean, beach, or sea theme.
You can purchase it on on Gumroad right below, or scroll down for more info on the pages. I have also made it available on Etsy if you prefer to use that platform to purchase:
5 Ocean themed adult coloring pages – what you get:
Below is a low-resolution preview of each page that's included. I share these because I want you to know exactly what you're getting. To get the high-quality image you do need to purchase.
Each image has been hand-drawn and then scanned and vectorized by me. Each page took roughly between five and twenty-five hours to create. I hope you can appreciate the detail!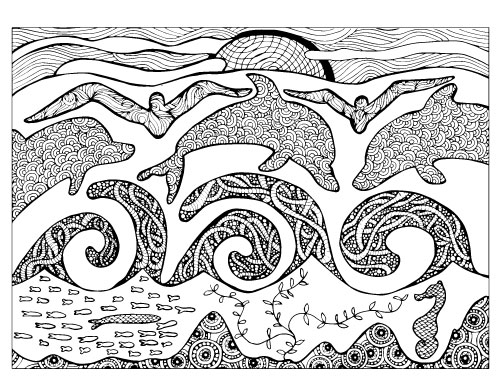 Deep Doodle Sea: OK, I know that is painfully corny. But I couldn't resist. I made use of the silhouettes and the white space in this image to create fun doodle patterns with a bit of character. You can choose to create shading by filling the doodles in with deepening shades of colors, or just relax and fill in the patterns!
This is a great page for practicing color theory and such.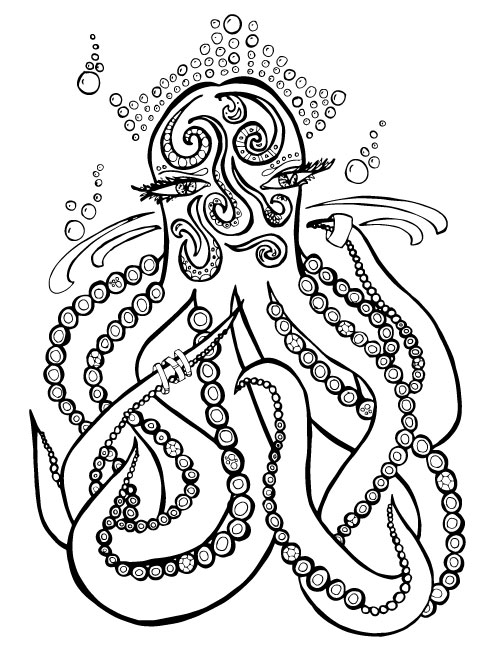 The OctoDiva: This octopus is a total diva, with the bling hidden in her tentacles, which were simply made for wearing bangles, her crown of bubbles, and her false lashes. It's a great mix of doodles to color, and practice shading for more realistic detail.
Flip Flip! Hidden Images: The images on this fun pair of flip flops are camouflaged by the pebble pattern. The challenge is for you to make them stand out as you color! I had fun trying to get a good texture for the pebbles (it wasn't easy!) and I've shared the details below.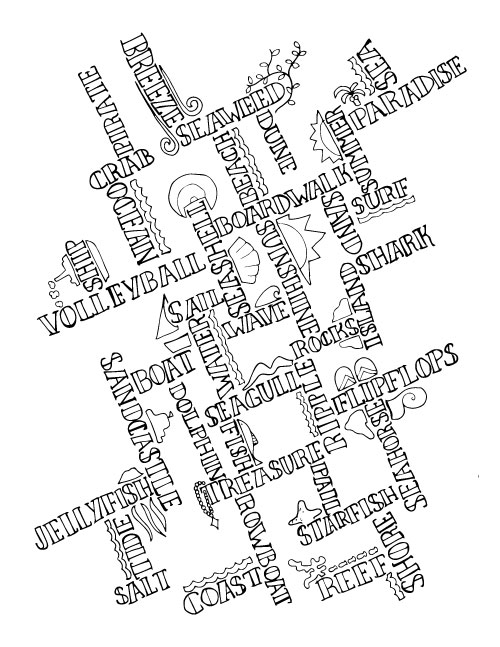 Water words – this simpler page is perfect for your relaxation. Play with your own doodles within the words, or just follow along with a simple but fun coloring page for adults.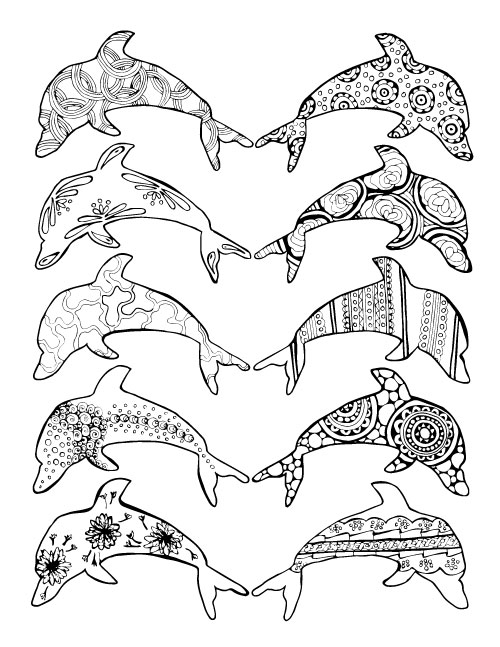 Doodle dolphins – because dolphins in real life are so full of personality, here each one has his own too! I decided to create another page like my coffee cups page, that's broken up into smaller tidbits, for those of you who are short on time but don't like to leave something in middle.
I hope you enjoy these ocean coloring pages for adults!
Once again, you can purchase them here, or, if you prefer Etsy, you can find them in in my Etsy shop too. Check out some photos of the sample page I colored below and enjoy!
Update: Some of these pages have since been included in my new book – Postcards: coloring for creative adults. Click here to learn more about this fun coloring book, available in print and in digital format!