These Passover printables will solve all your Passover needs – from table decor for your Seder, to kids activities and entertainment! You can find my Purim Puppets here, or scroll down for the Pesach goodies! Disclosure: this post contains affiliate links.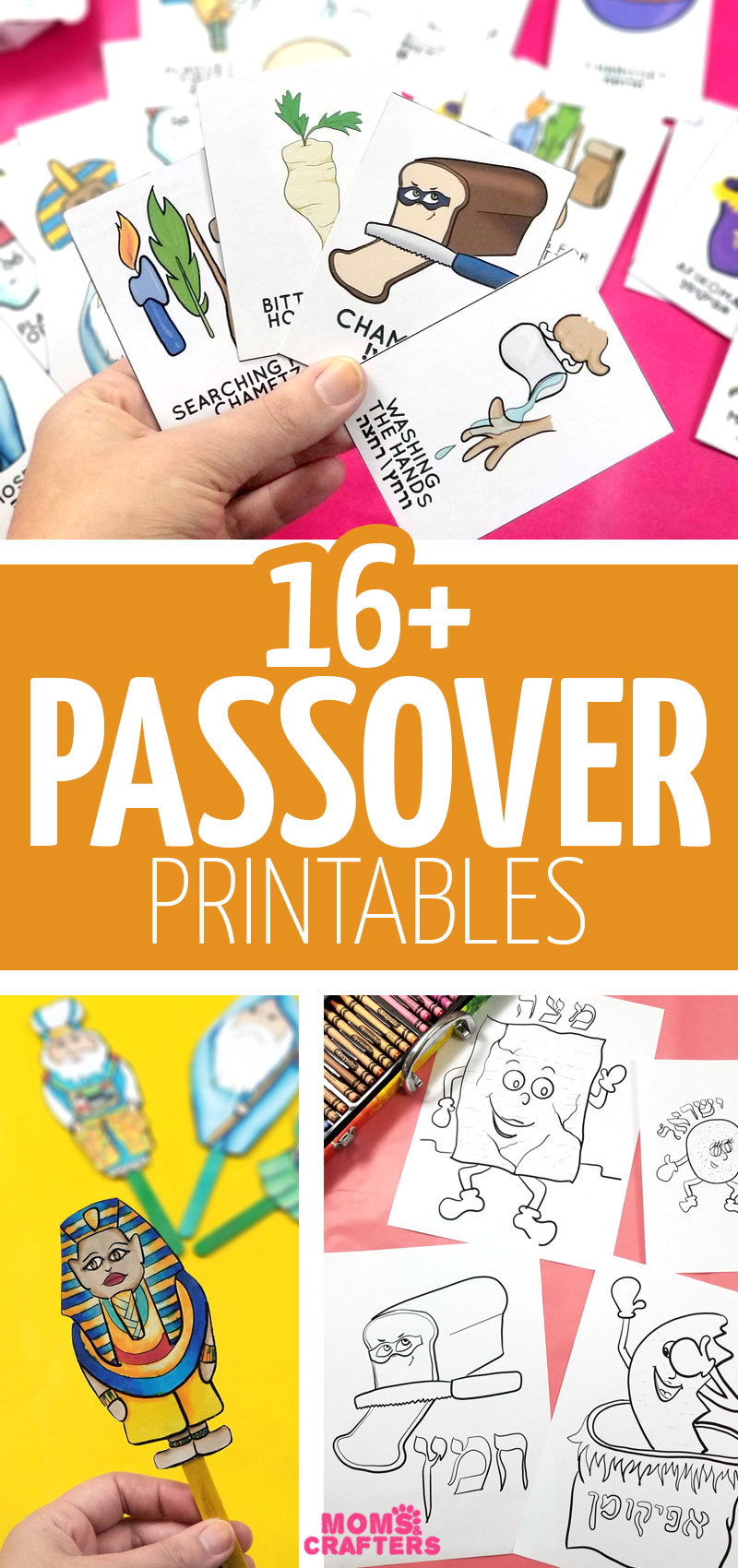 Passover time can be hectic – whether you're hosting a big family seder, or packing out for the holiday. These Passover printables help you organize, decorate, entertain, and most of all: they'll help you bring the holiday alive for you and your kids!
If you want the huge bundle of printables with all the paid products below in a single easy purchase, you can get the entire bundle featuring everything listed in this post (besides the freebies) right here.
The last section of this post features some free printables too!
Otherwise, scroll through for the individual Passover printables.
---
4 Kids Coloring Pages and Crafts Passover Printables: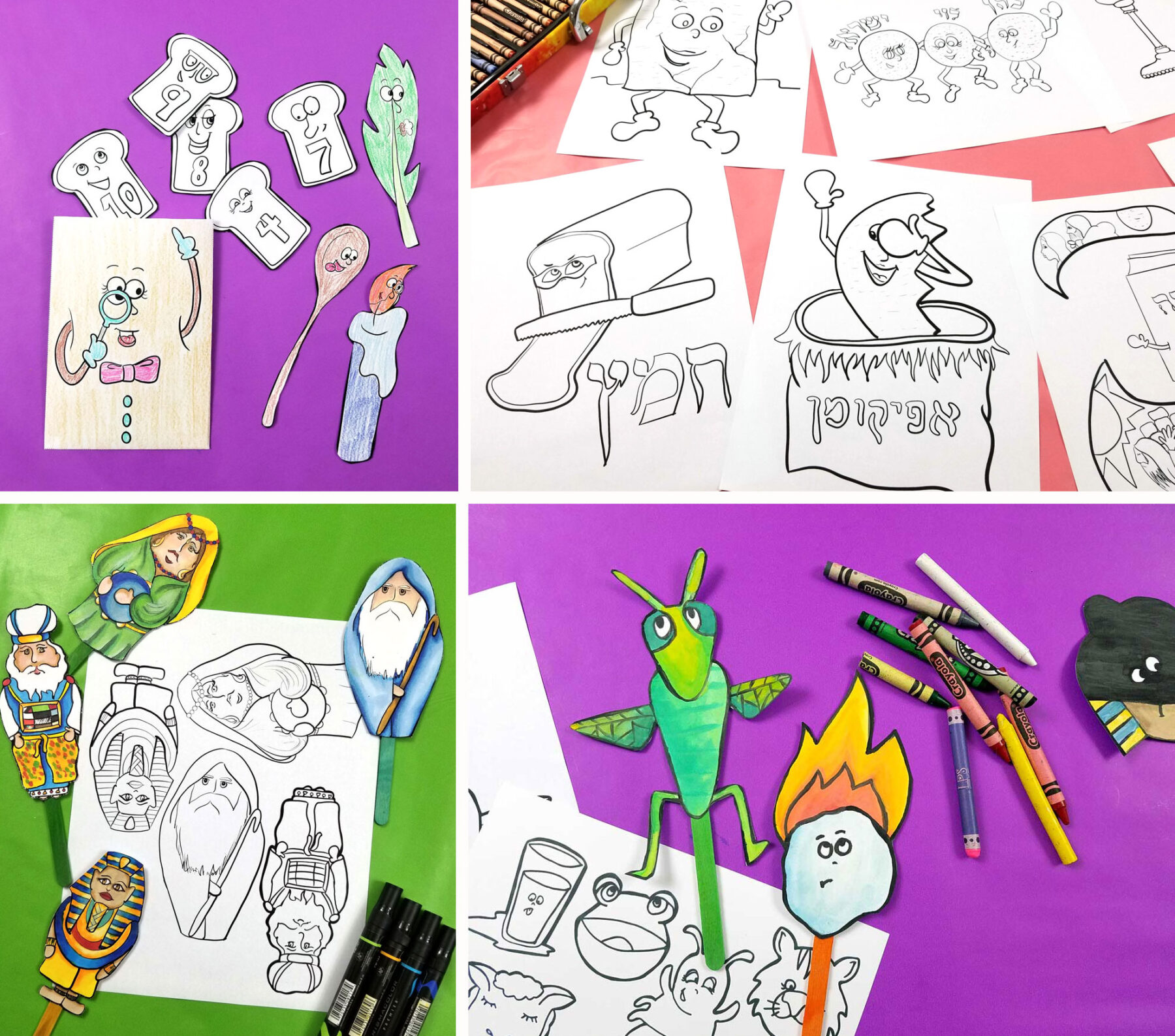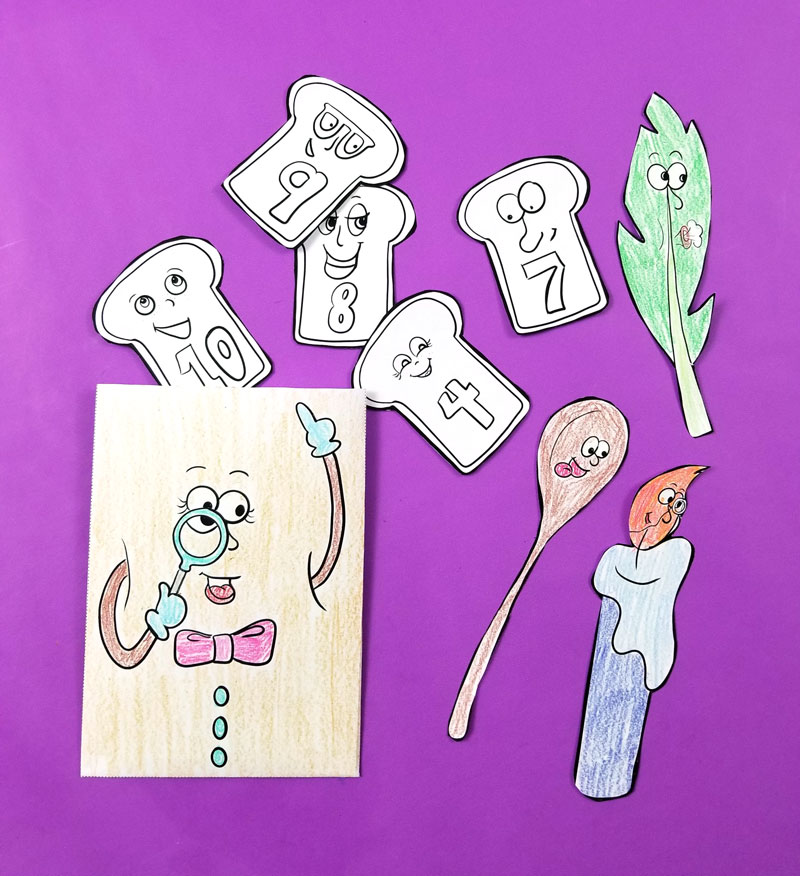 The tradition of bedikat chametz includes hiding ten pieces of bread, and then searching for them, to ensure that chametz, or leavened bread, has been completely removed from the home.
In this coloring craft, kids get to color and then search for their own "bread" using the traditional cartoon-like bag, feather, candle and spoon. It's a number hunt and counting game too, perfect for preschoolers!
2. Passover Printable Coloring Pages for Kids: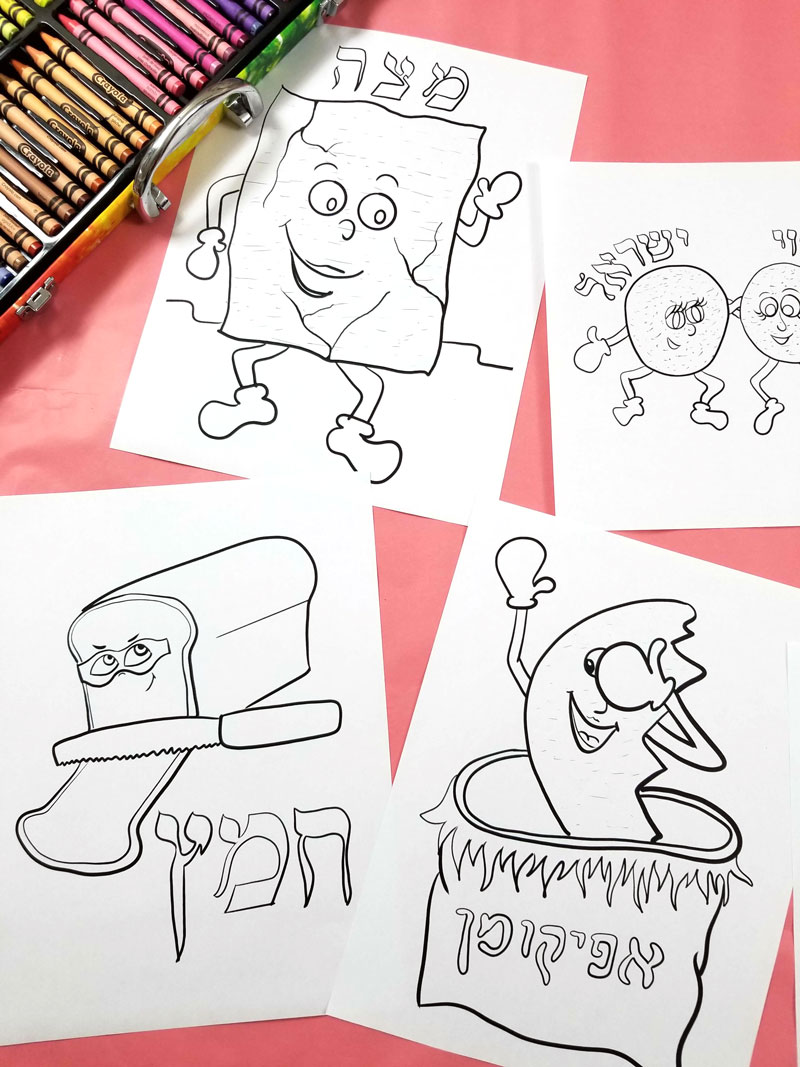 This mini-coloring-book features nine fun Passover drawings in a kid-friendly style. You can print them out multiple times for your class or for each of your kids.
I've illustrated these in a way that brings the holiday and tradition to life, that'll make the kids chuckle, and will help them relate to the holiday. The broken matzah sits on a wall, the Chametz bandit is quite sneaky, and a little child asks the four questions. A Haggadah tells the story of Passover, the Afikoman is hiding in plain sight, and the three matzahs, representing the three branches of the Jewish people, dance together in unity…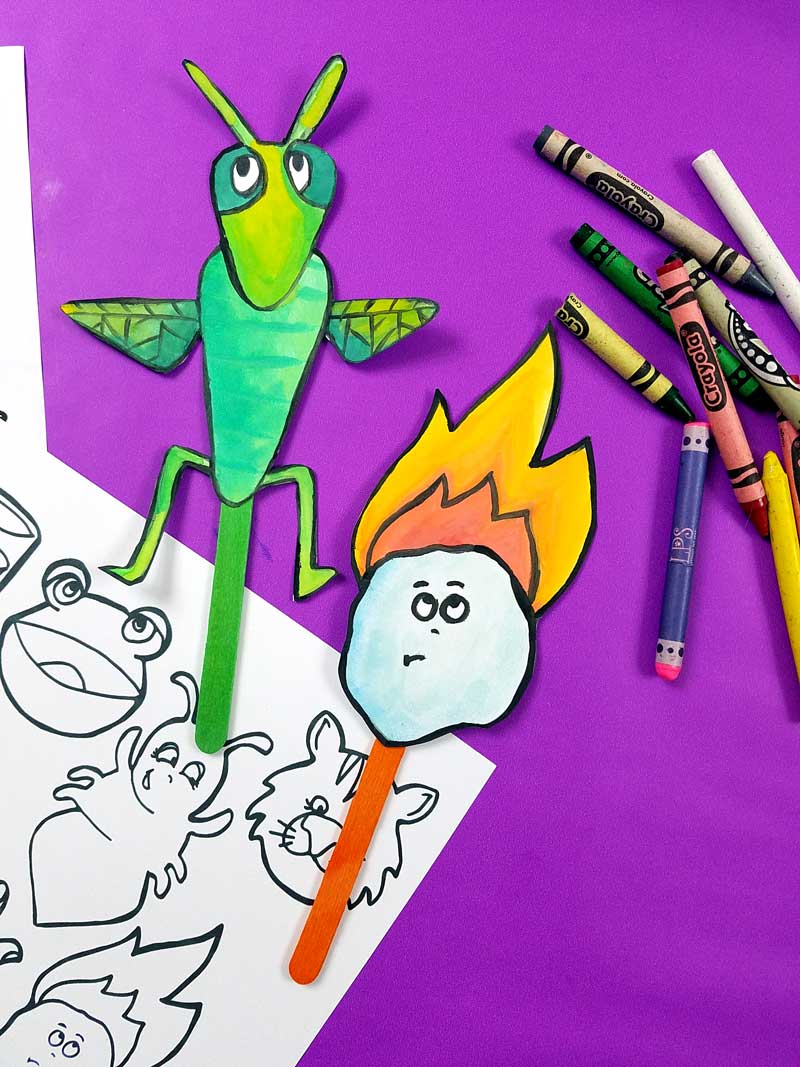 Color and craft these fun puppets representing the ten plauges in a less-scary way! This is a really great way to bring the Passover seder to life.
You can purchase them here, but here's a secret: I also have these available as a free download for newsletter subscribers. You can grab these passover puppets here.
4. Passover Character Puppets: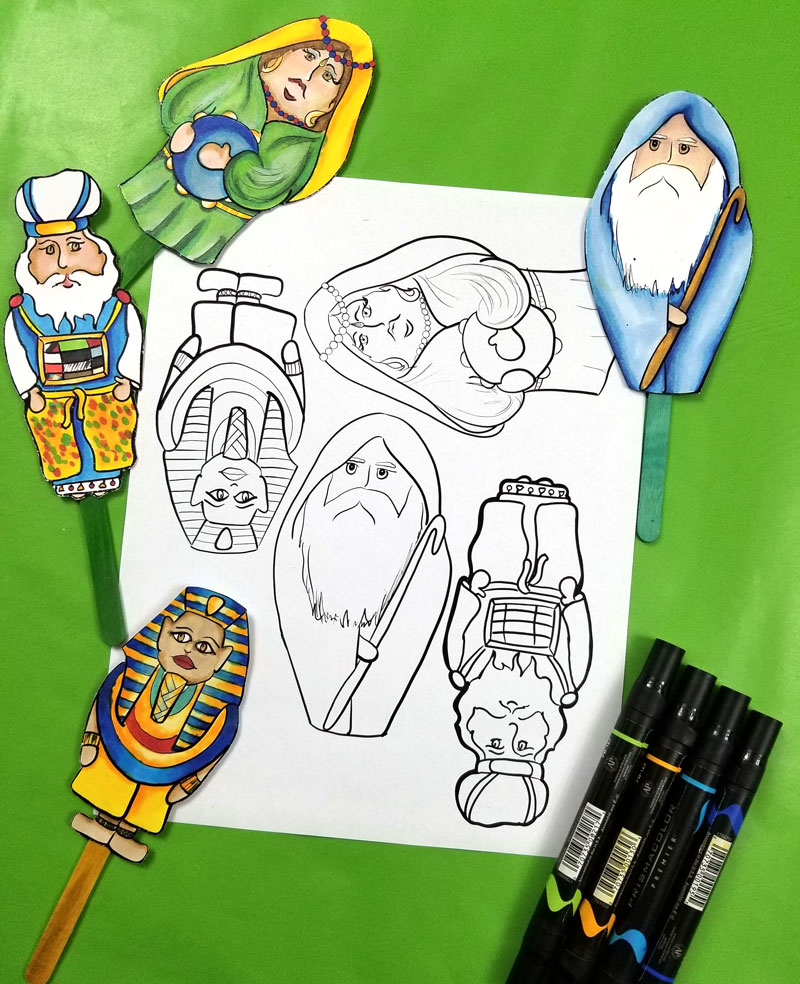 Would you prefer to color the characters of the Passover story? Four main characters are included in this set, and are ready for your little ones to color and use in retelling the story.
Note: I recommend printing all puppets on card stock for best results.
---
4 Passover Printables kids toys and games: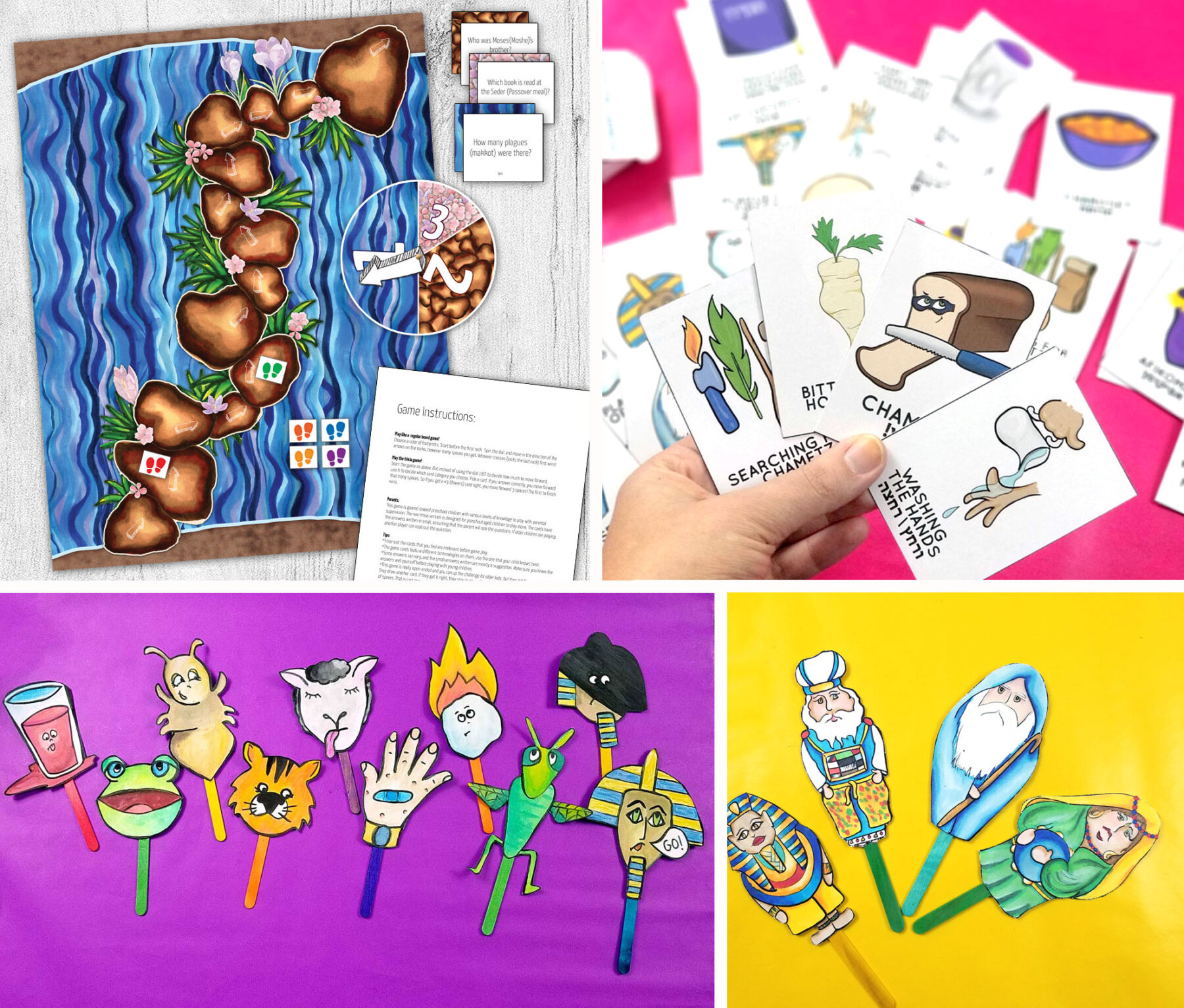 You'll want a decent color printer to print these out (or take them to a copy shop) but once you do, you'll have some fun, easy-to-assemble games to play this Passover!
5. Full Color Ten Plagues Puppets: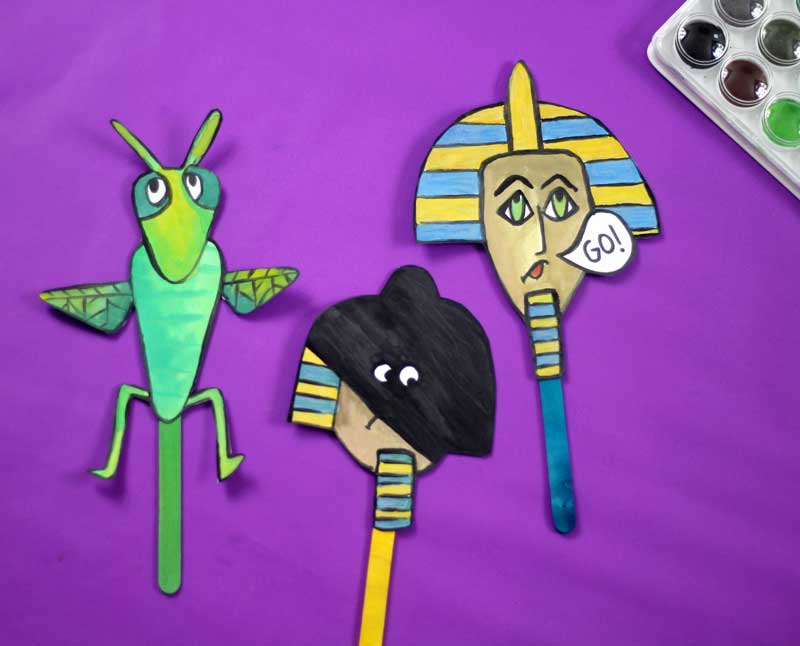 You know those puppets I shared above? Guess what?
You can also get them in full color!
If you're looking more for a toy your kids can play with on Passover, rather than a craft to keep them busy, these beautifully watercolored ten plague puppets are ready to print in full color, cut out, and glue onto craft sticks.
6. Full Color Characters Puppets: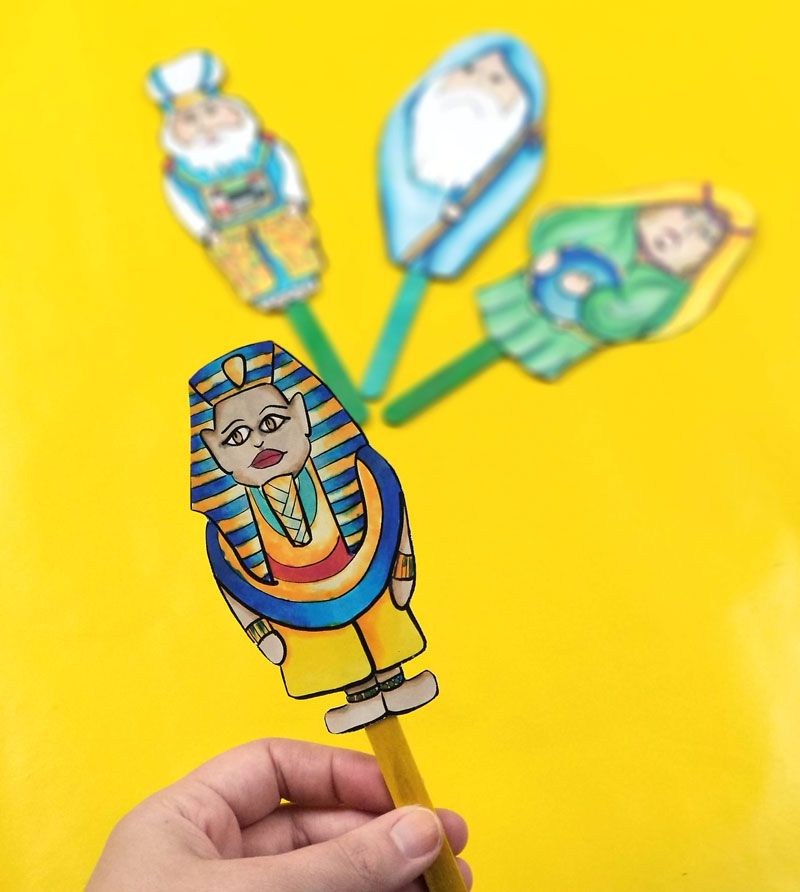 Just like the ten plauges puppets above, I've also colored these, this time using these art markers. You just need to print them out in color, cut out, and glue onto craft sticks.
7. Old Maid & Memory Match Card Game:
I illustrated loads and loads of clipart, took images from other projects (such as the puppets), and turned them into a fun Passover printable card game. I even designed a box to go along (optional). You'll find Hebrew and English descriptions on each card, so kids will be learning by mistake while they play…
You can play two classic games with this:
Old maid: your "old maid" card is the chametz bandit – don't get stuck with it! (Full game play instructions are included).
Memory match: Remove the Old Maid, because that one doesn't have a match (or leave it in for an extra challenge). Place them face down and have kids take turns flipping over two at a time.
8. Crossing the Split Sea Board Game: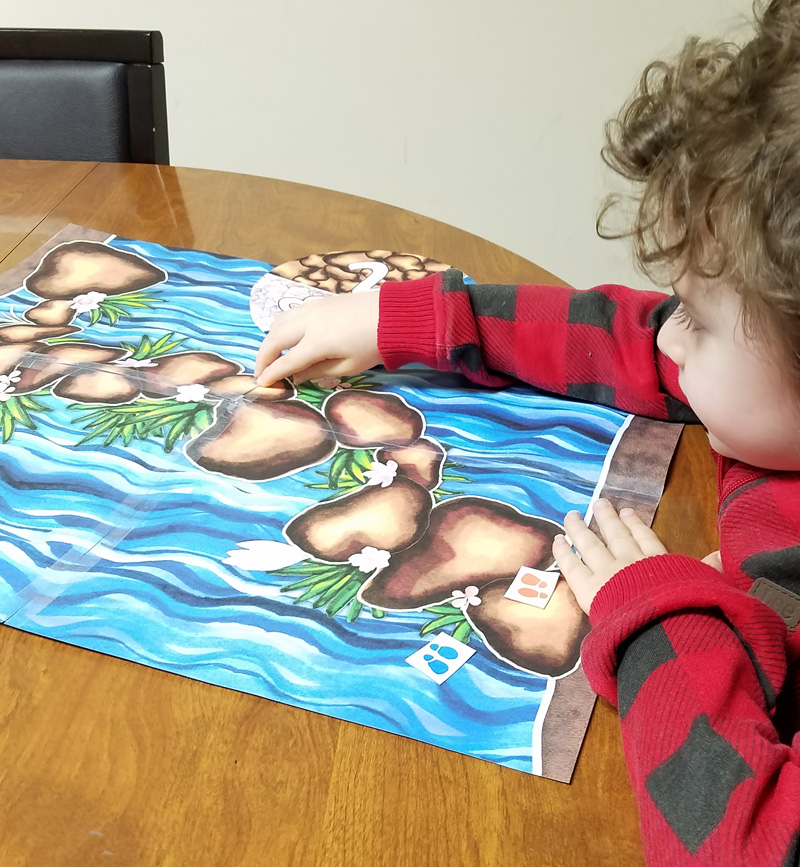 I designed this printable board game a few years ago – it's a classic board game, with a design inspired by the splitting of the sea. To add to the game play, it includes three levels of trivia cards.
Since this is a printable, I offer two options for printing the game board: a mini board on a regular letter-sized paper, or a four-page spread you can tape together to make a full-sized board game.

---
6 Table Decorations Passover Printables: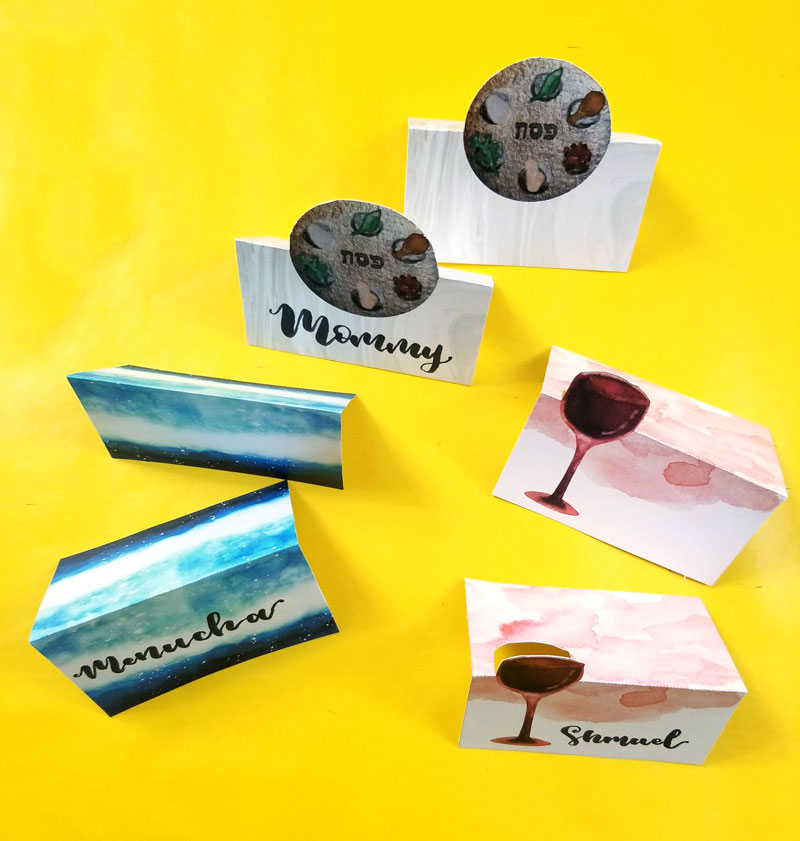 To make these really cool Passover printables and table decorations, perfect for the seder, I created original artwork: a "split sea" design, a wine glass, and a seder plate.
All of the napkin rings use a glueless closure so that they can be stored flat, take very little space and reused. The place cards can also be stored flat and reused – especially if you laminate them, and especially if you have the same guests from year to year.
A fun pop-out design, these seder plate Passover printables feature attention to detail and a neutral design.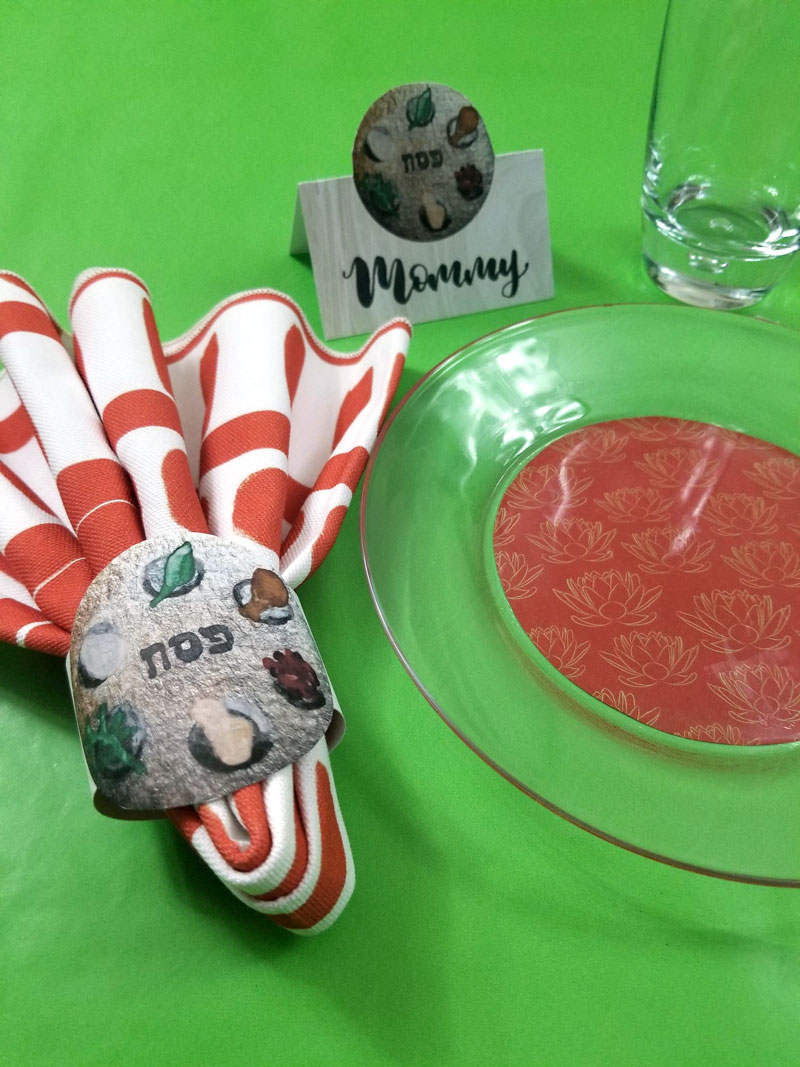 The matching napkin rings make for a beautiful place setting. Or use them on their own!
11.Water/split sea place cards:

The artwork for these Passover printables was inspired by the splitting of the sea, and designed with those who like to do split-sea inspired tablescapes.
I was careful not to overdo the look, keeping it abstract. These are the easiest to assemble, as they are a simple bifold card, without the cutout.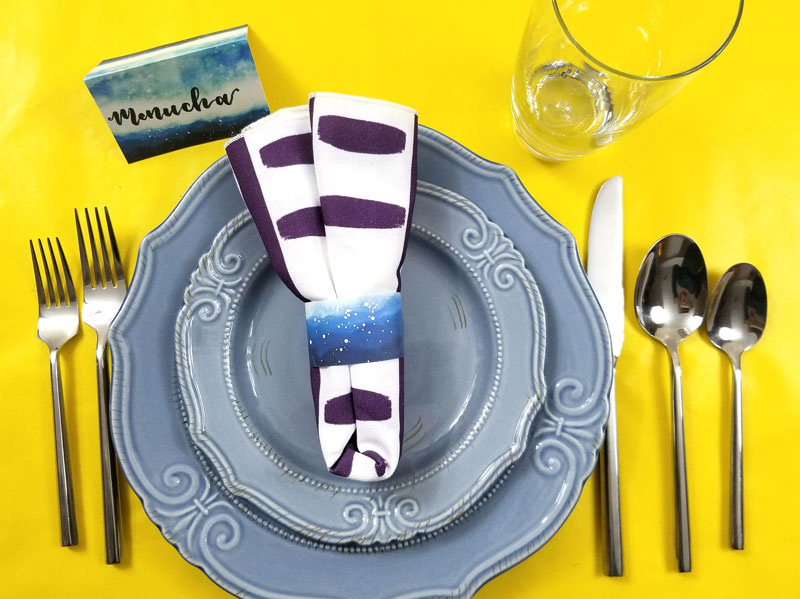 12. Water/split sea napkin rings:

The matching napkin rings have two styles – a lighter one, from the top of the "split sea" and a deeper one.
Four glasses of wine or grape juice at the seder means you almost always have a full cup! These place cards have a wine glass cut-out/pop-up and a white space to write names.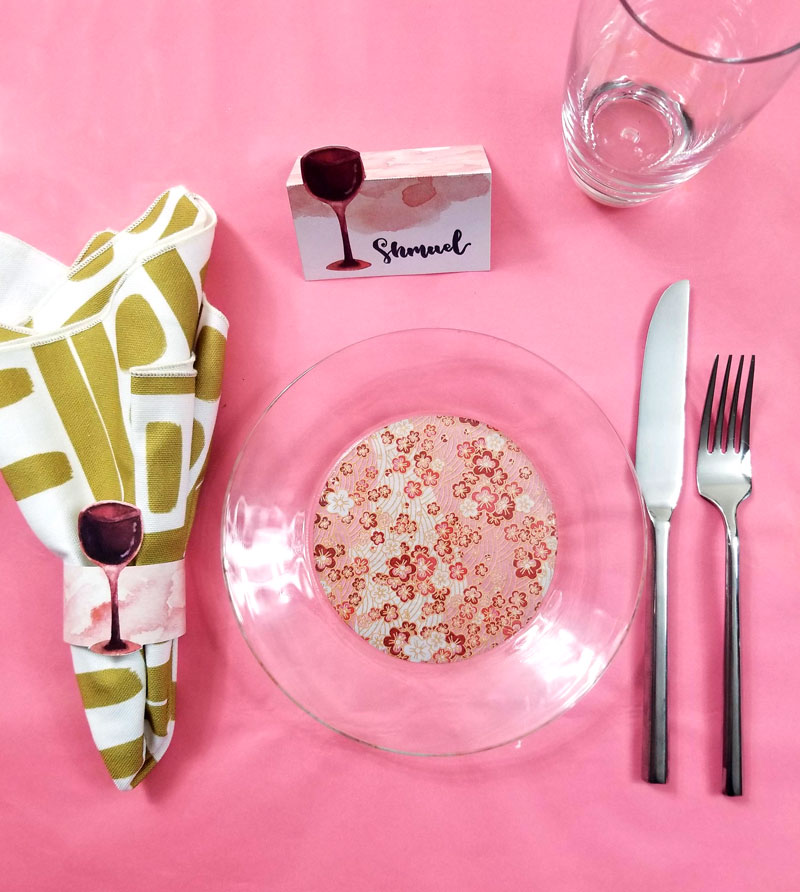 The matching napkin rings will look great on your table too!
---
3 FREE Passover Printables:
While there was simply too much to create for Passover to offer everything for free, I still have some free Passover printables to share with you.
15. Passover Coloring Page for Adults: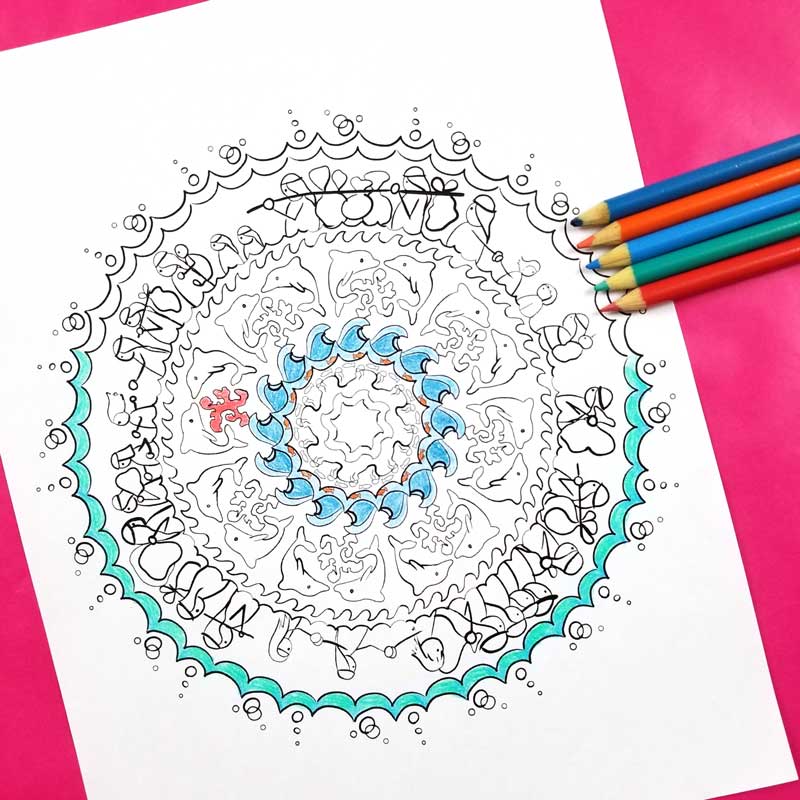 We all know that the grown-ups need a break sometimes too!
This fun mandala-style coloring page features the Israelites crossing the split sea, with some humorous touches and a sea-inspired design.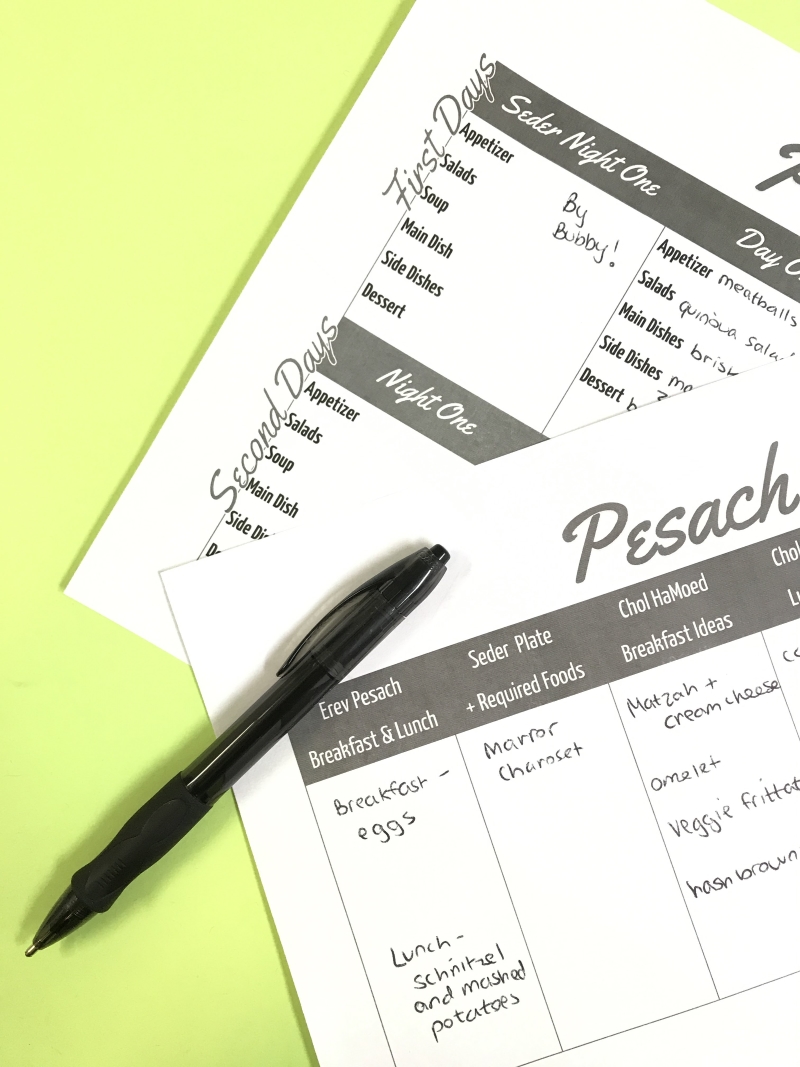 Designed by my friend and blog partner Rochel for our joint blog Beyond the Balagan, this menu planner features at-a-glance planning for the entire holiday.
17. Passover Cleaning Checklist: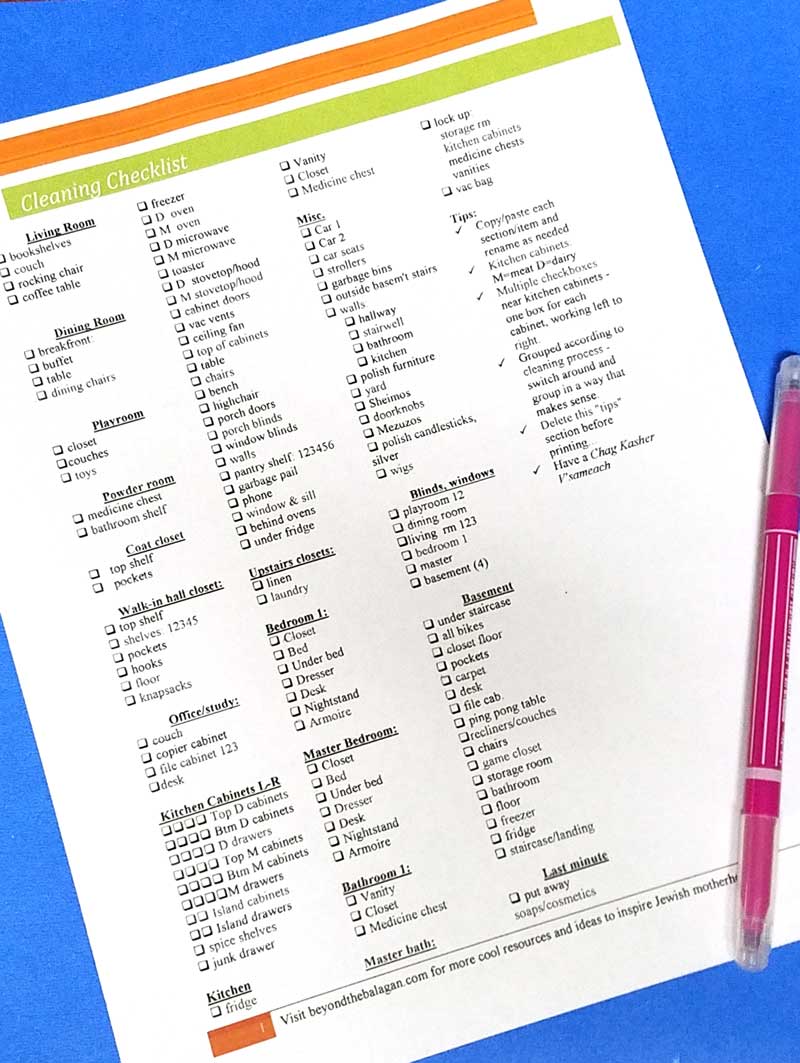 This checklist is really the one that my mom has used for many years – throughout my childhood for as long as I can remember. I made it more generic so that anyone can use it and adapt it.
---
What are your favorite Passover Printables? Looking for something you didn't see here? Comment below!


This post is part of the Passover for Kids Blog Hop from Multicultural Kid Blogs. Visit the co-hosts below for more about how to celebrate this special holiday with kids. You can find even more ideas on our Passover board on Pinterest.
Participating Blogs
Faith Seeker Kids on Multicultural Kid Blogs: 10 Fun Facts for Kids About Passover
Mommy Evolution: Children's Books About Passover
Moms & Crafters: Passover Printables (you're here!)