All it takes is a brilliant idea and a cool tutorial to help you learn how to wire wrap a pendant! These 14 ideas will have you set with different styles and techniques. Check out my full directory of necklace ideas, or scroll down for these wire wrap pendant DIY ideas. Disclosure: this post contains affiliate links.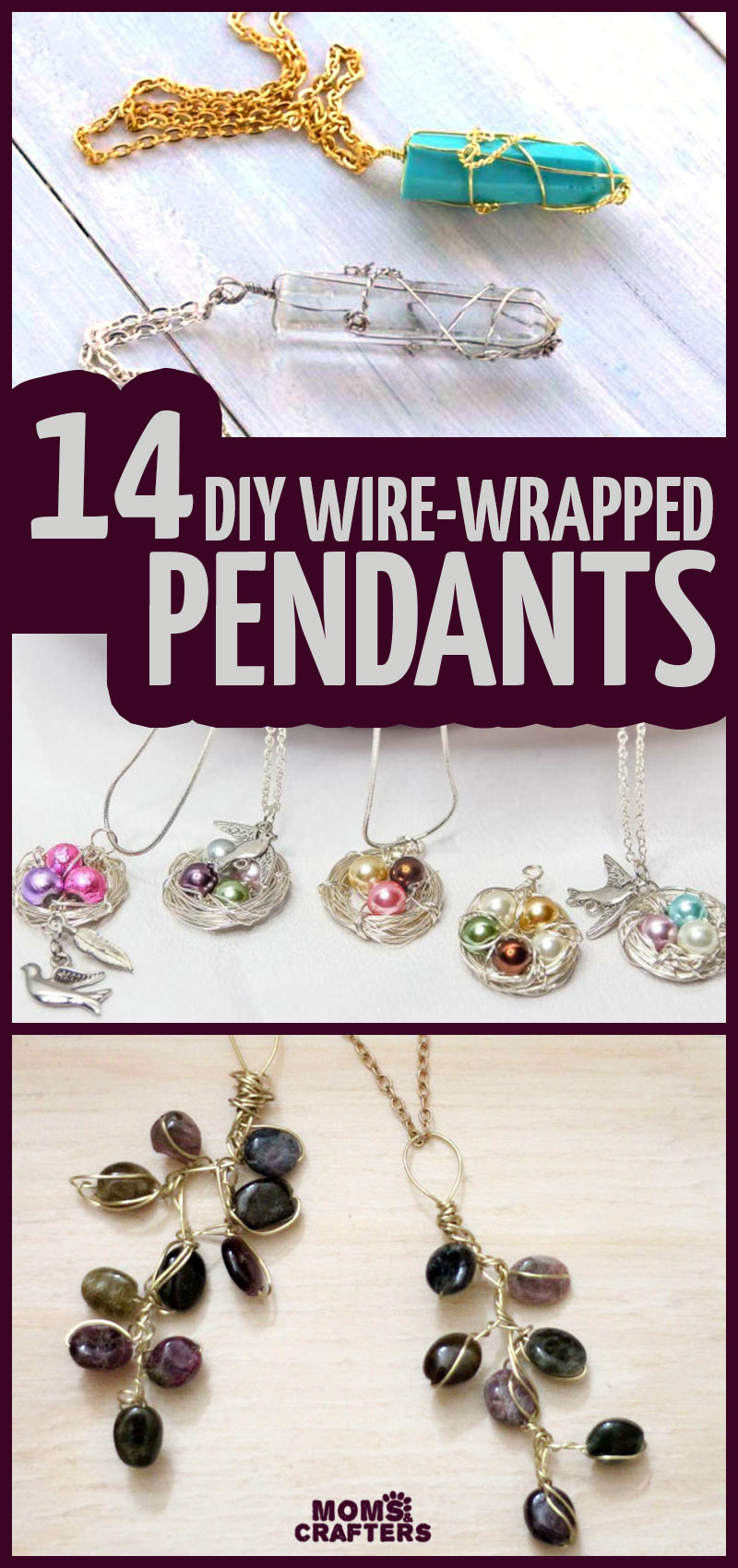 If you've ever seen a piece of wire jewelry in a store and thought "Wow, how do they do that?" you're in luck! This list is full of awesome looking wire wrap pendants you can make right in your own home!
You can even use these to learn how to wire wrap a pendant from scratch. Some of these will be easier than others based on your crafting experience, but all of them will look amazing.
Learning how to wire wrap a pendnat yourself can seem overwhelming at first, but don't worry! If your wire wrap pendant comes out a little lopsided or uneven, that's actually often a positive thing. It adds a lot of personality to the piece!
Below, you'll find some amazing tutorials on how to wire wrap a pendant! It's broken down into 3 categories based on the main material:
Stones
Beads
Other
Are you ready to learn how to wire wrap a pendant? Well get your wire ready and start crafting!
How to Wire Wrap a Pendant using undrilled Stones or Cabochons:
These DIY wire wrap pendants can take ordinary stones and turn them into something extraordinary!
1. Gold Nugget Jewelry by Moms and Crafters: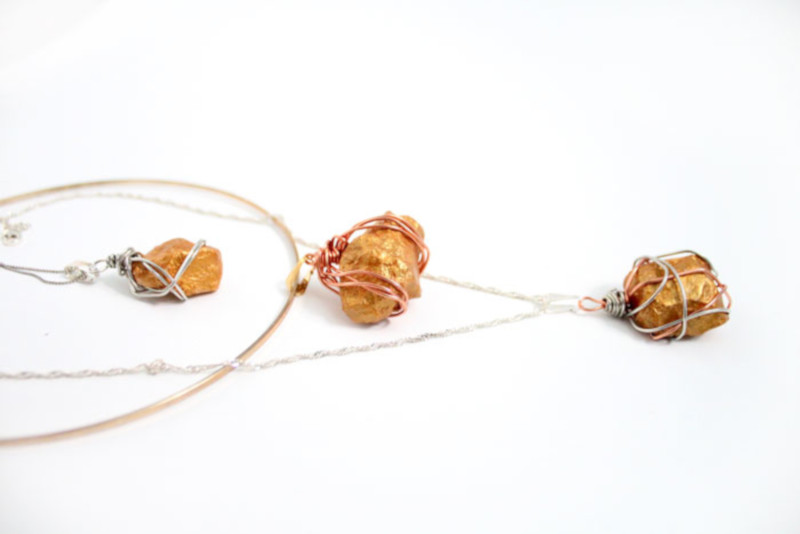 All of the flair of gold, with none of the cost! These gold nugget pendants will give any outfit some flash! They're made from… rough stones and gold acrylic paint. Whaaattt?! I get tons of compliments wearing these – no one guesses that they're literally rocks!
2. Multiple Stone Free Flow Pendant by Wire Wrap School:
With intricate wire wraps and smooth flowing curves, this wire wrap pendant looks professionally made. This one will take some patience, but the end result is worth it!
This beautiful wire wrap cabochon is actually made from a plain glass dome, customized with cheap nail polish! It's a great beginner project for free-form wire wrapping.
4. Symmetrical Free Flow Pendant by Wire Wrap School:
Wire wrap necklaces are often asymmetrical, giving them a distinct hand made look. This wire wrap necklace is proof that asymmetrical design is just as stunning!
5. Spiral Cage by Make & Fable: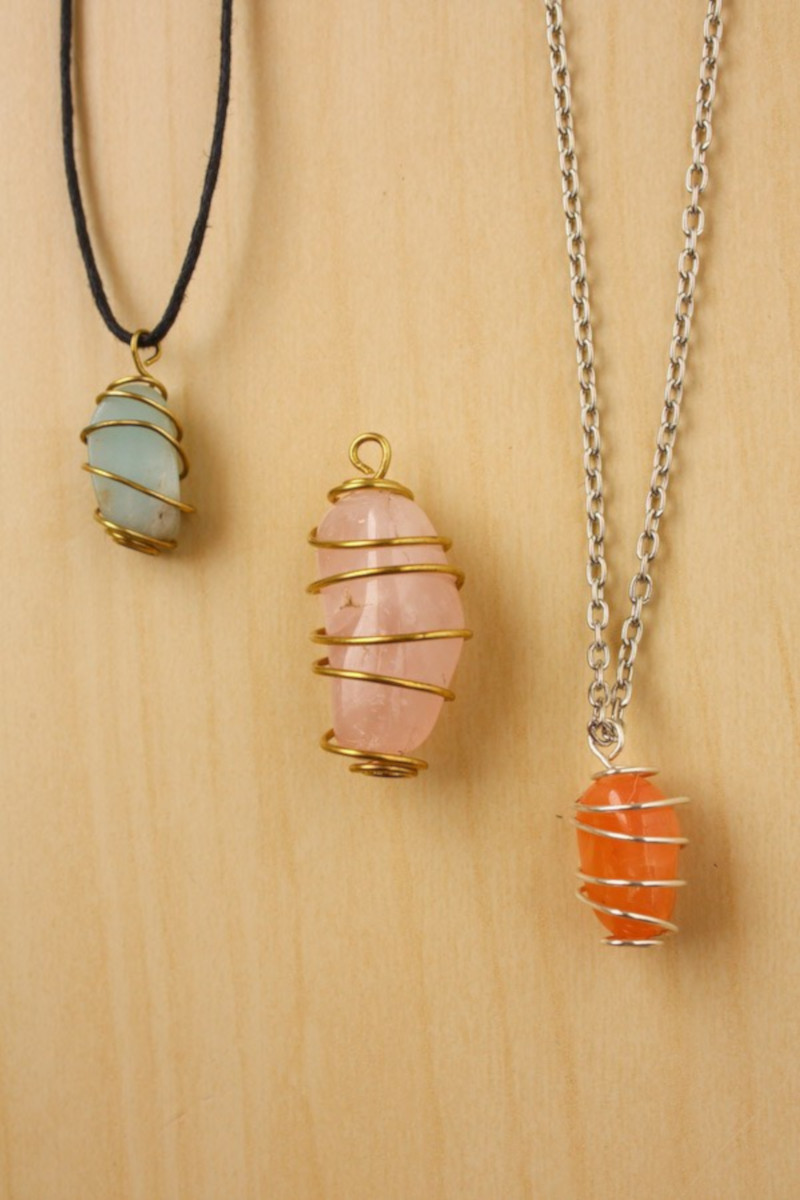 This cute wire wrap necklace is probably what comes to mind when most people think of wire wrap necklaces. They have a simple elegance to them, and the beautiful stones really give them personality!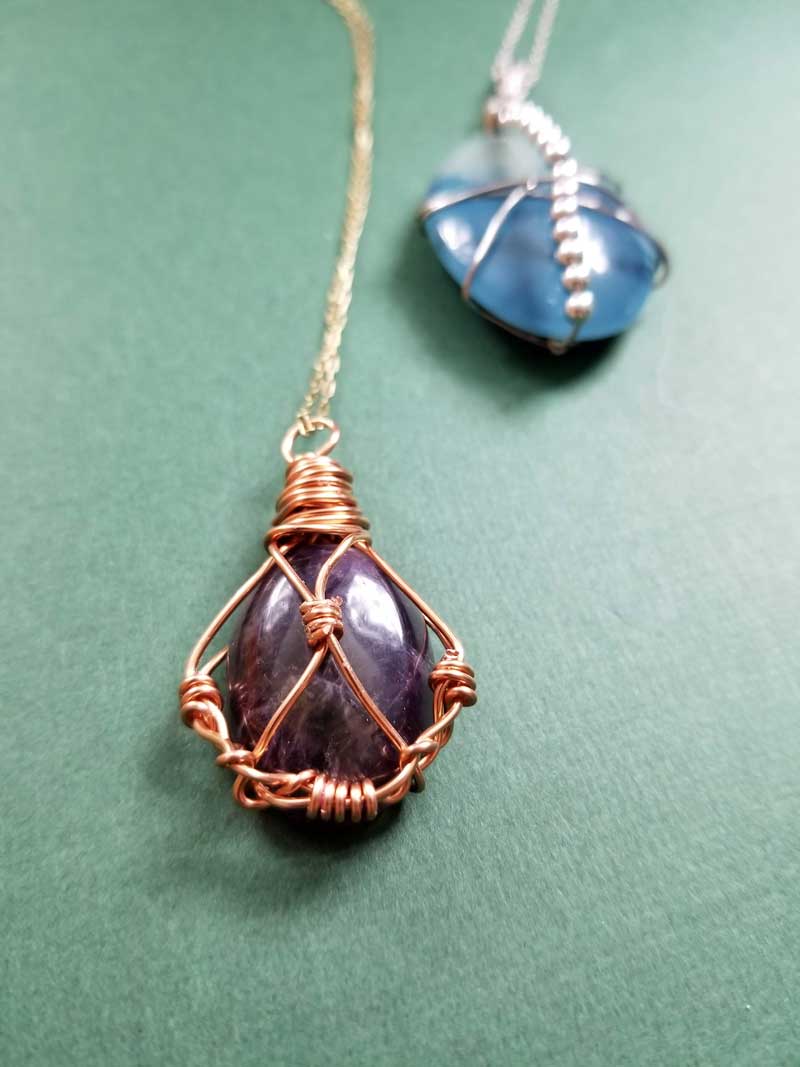 Here's another fun tutorial on how to wire wrap a pendant. This one uses an amethyst cabochon and copper wire for stunning contrast. You can also learn how to wrap a crystal with wire here.
---
Want to learn how to make jewelry out of anything? Get the book!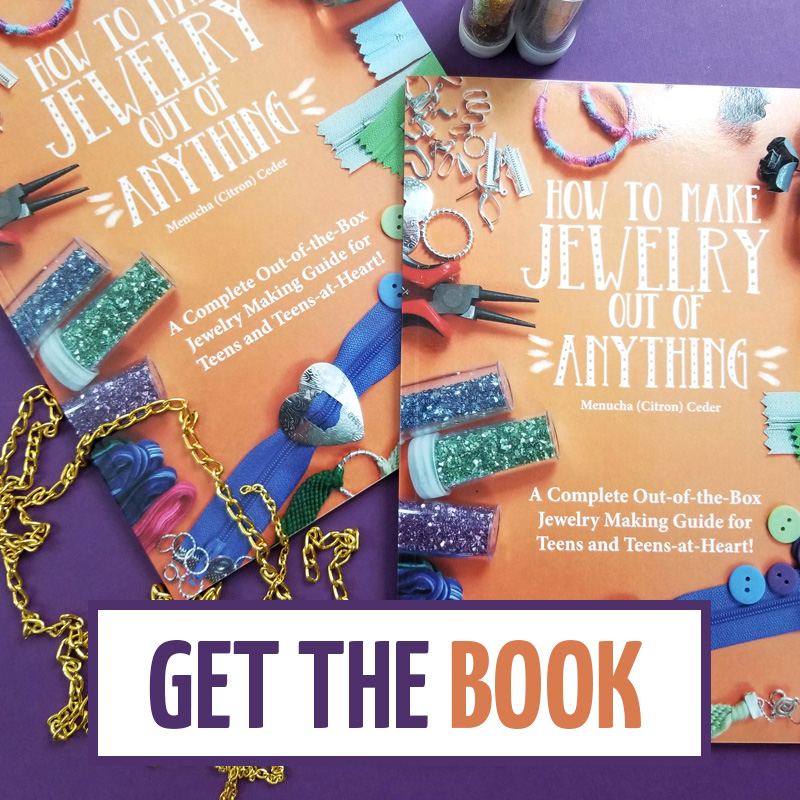 ---
How to wire wrap a pendant using beads:
Even using your average crafting beads, you can make beautiful wire wrap pendants! These are so easy to make, and they look outstanding!
7. Branch Necklace by Moms and Crafters: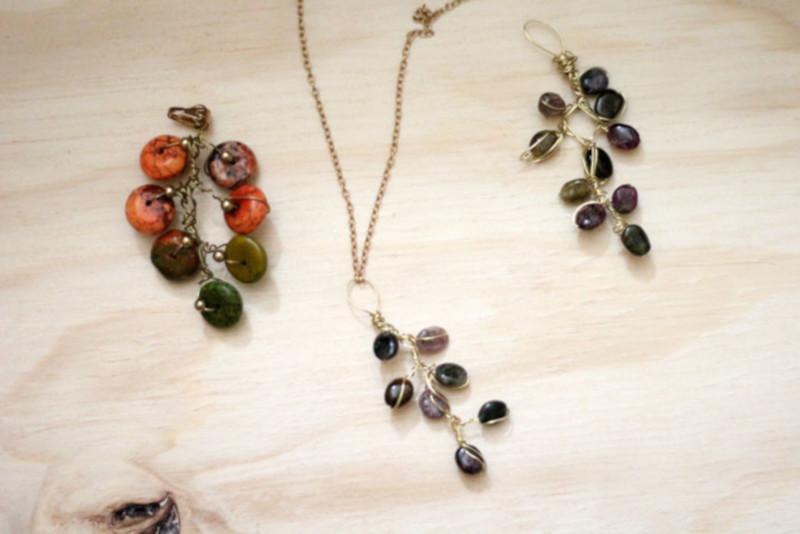 This wire wrap pendant uses thinner wire to resemble a branch on a tree, with beautiful beaded gemstone leaves! Add as many or as few stones as you want to create different styles!
8. Owl Pendant Necklace by Fantasia Elegance:
These adorable wire wrap pendants are owl faces! This design is great for all ages, and is super simple to make!
9. Wire Wrapped Pendants by Moms and Crafters: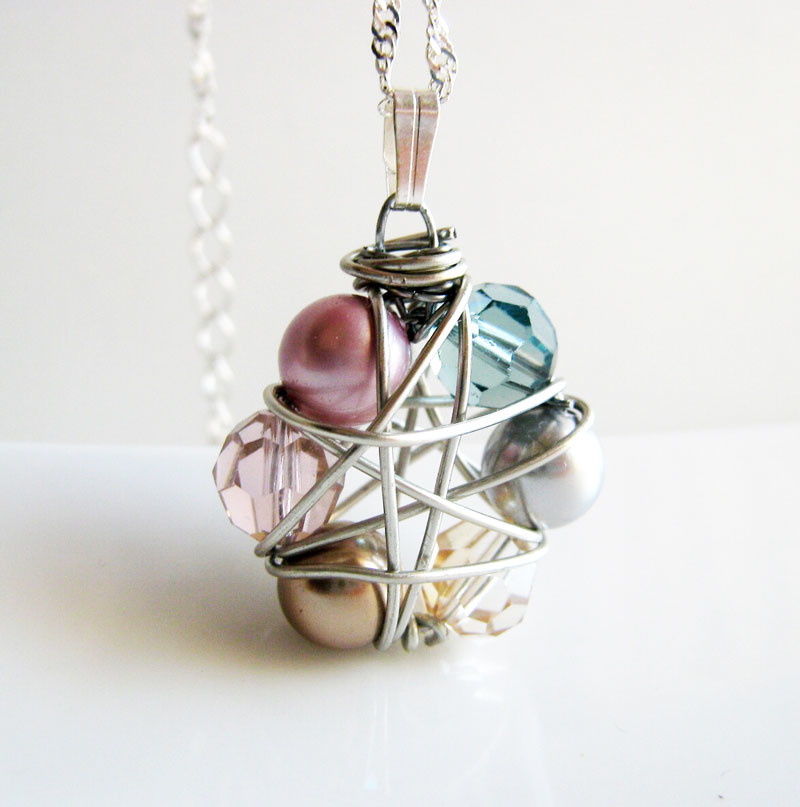 This pendant is so simple, so versatile and a great way to start wire wrapping! You can create any style you want just by changing the beads you use. I recommend using 8mm beads like I did.
10. Bird Nest Necklace by Busy Creating Memories:
These wire wrap pendants look like little bird nests with eggs in them! These would make a great gift for a loved one. You can make each egg represent another child, or something else that's meaningful.
How to wire wrap a pendant using other stuff:
These wire wrap pendants use materials that don't quite fit into the other categories. With things like freshwater pearls or seashells, you'll make something truly one of a kind!
11. Keepsake/Picture Pendant by Rachel at Wire Guild:
If lockets are too old school for you, give this wire wrap pendant a try. Using just wrapped wire, you can make a beautiful little p[icture frame you can wear anywhere!
12. Necklace Wire Wrap by Moms and Crafters: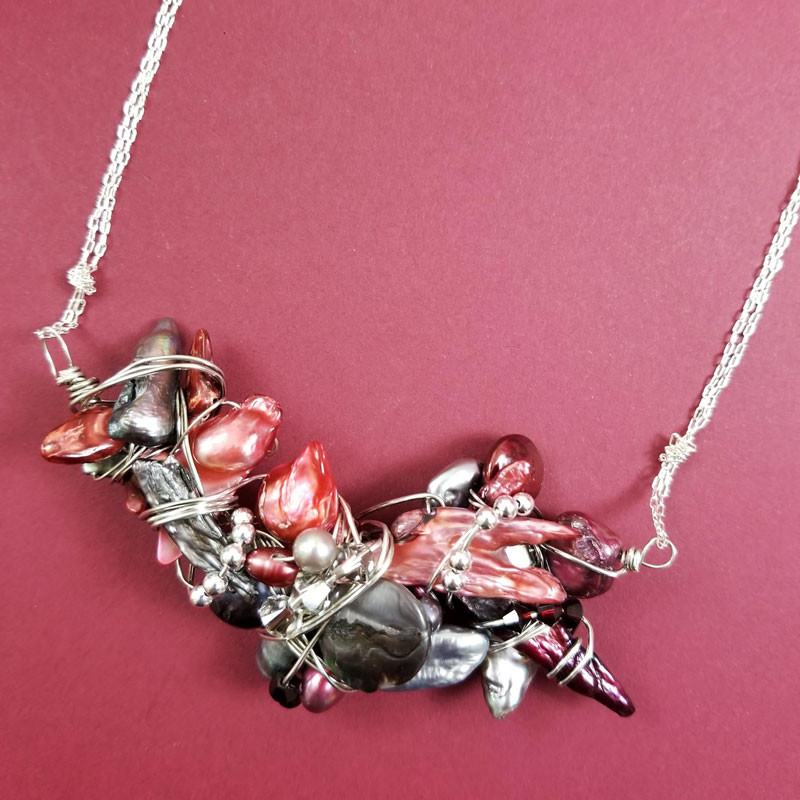 This wire wrap necklace gets its unique look from shimmering freshwater pearls. These pearls vary in shape and color, making them amazingly versatile! I included this tutorial in this list even though it's more a necklace than pendant because I simply couldn't leave it out!
You can see more DIY statement necklace ideas here.
13. Wire Wrapped Nature Pendants by Pink Stripey Socks: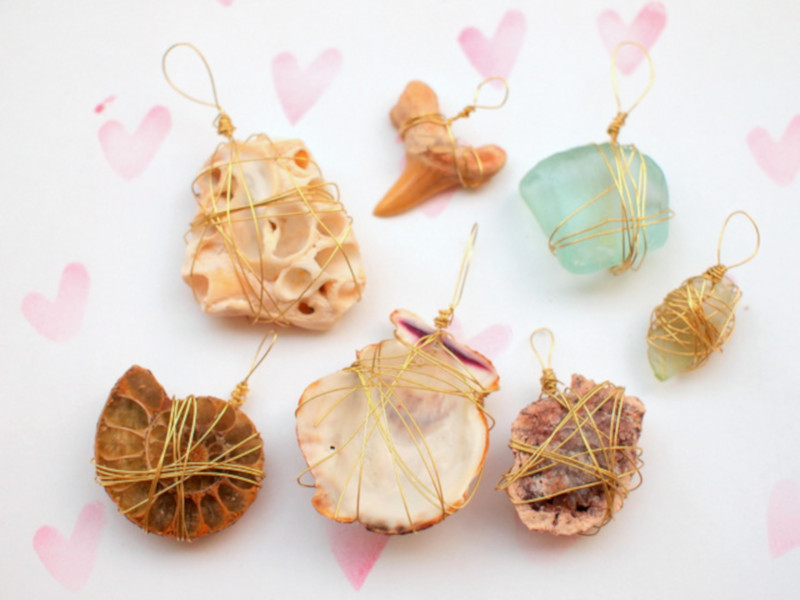 These are truly the definition of beauty in wire wrap pendants! Using just a wire and any piece of nature you can get your hands on, you can make an amazing piece.
14. Resin Crystal Wire Wrapped Pendant by Resin Crafts: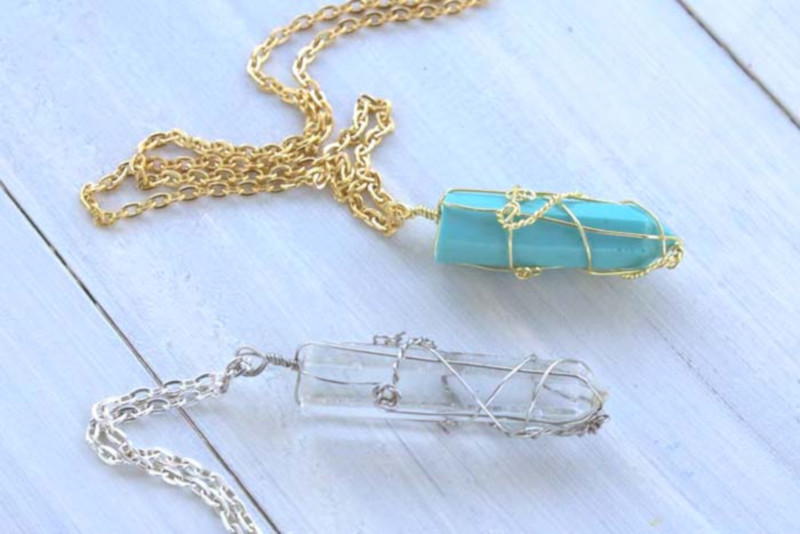 These wire wrapped crystals are not what they seem! These are actually crystals made using resin and a mold, making them far more customizable than natural crystals.
Bonus: Wire Heart Pendant Tutorial: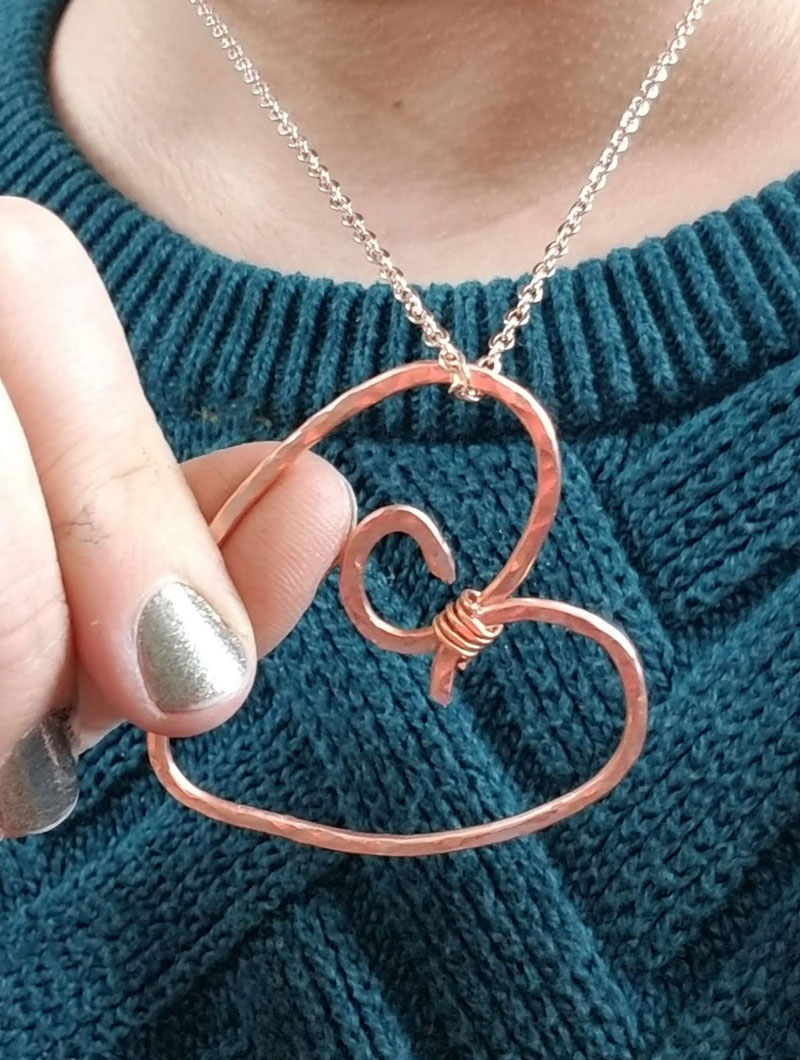 Learn the basics of creating hammered wire jewelry with this classic tutorial! You'll be using two sizes of copper wire because it's affordable, but you can replace with silver or something else once you get the hang of things!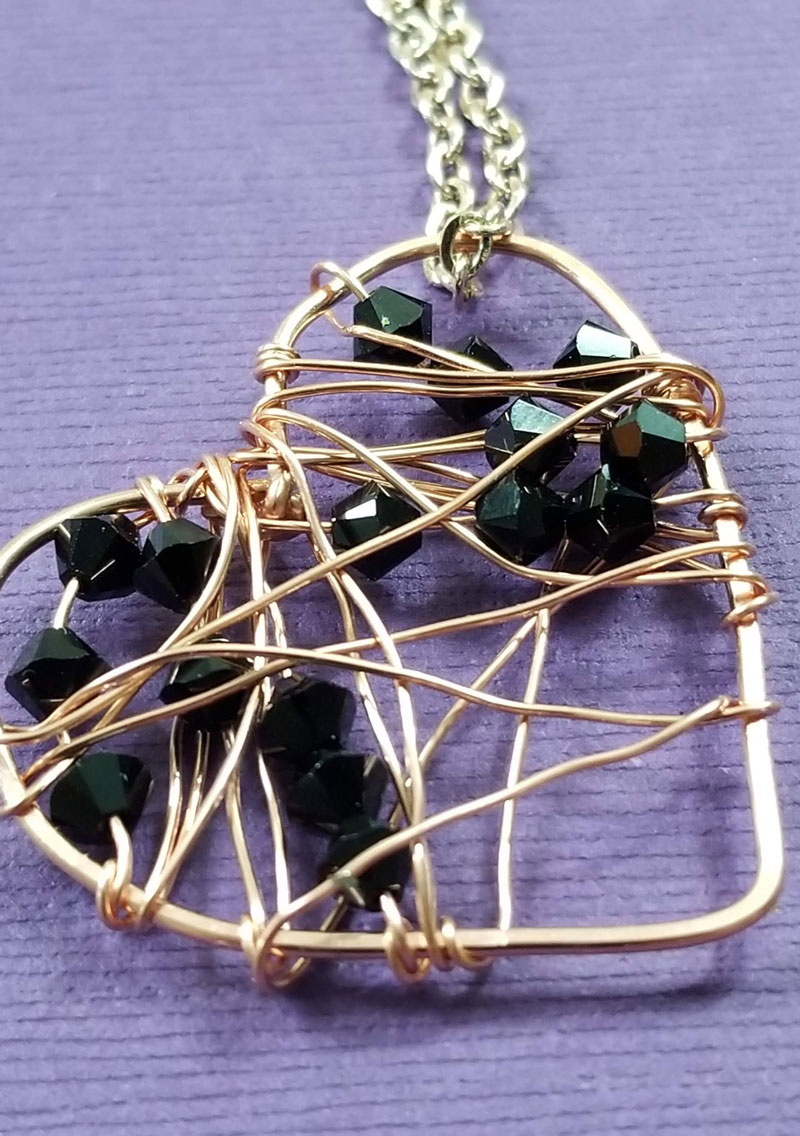 Wire wrapped hearts make stunning jewelry crafts and were my first way I learned how to make wire wrapped pendants!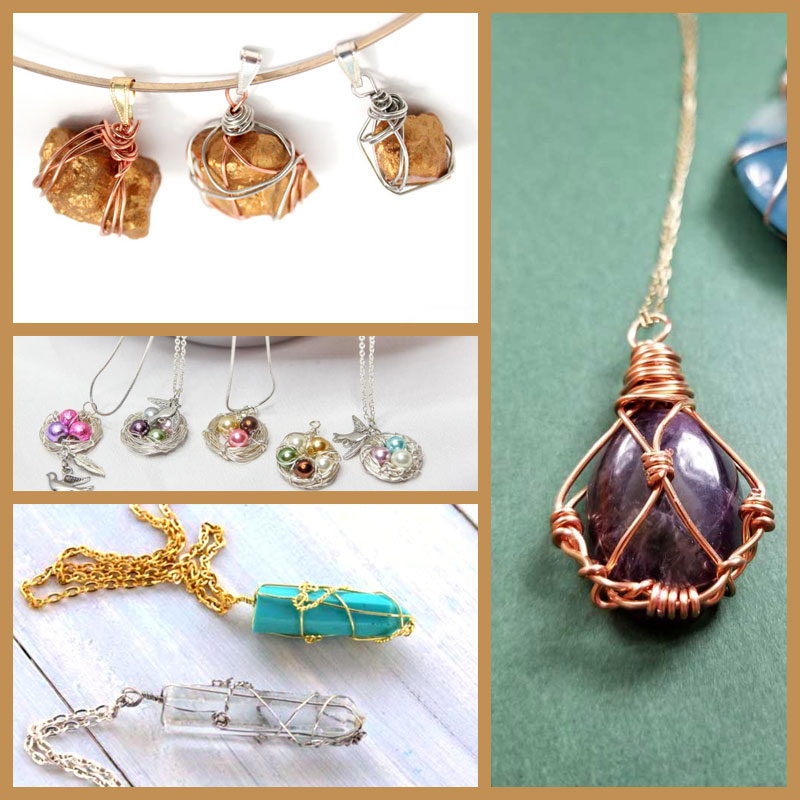 Which of these wire wrap pendants will you make first? Share your favorites either from this list or anywhere else in the comments! Did these help you learn how to wire wrap a pendant?