Make this super sweet rainbow cake topper – designed for a first birthday party (with a variation for any rainbow themed event!) This post contains affiliate links.
---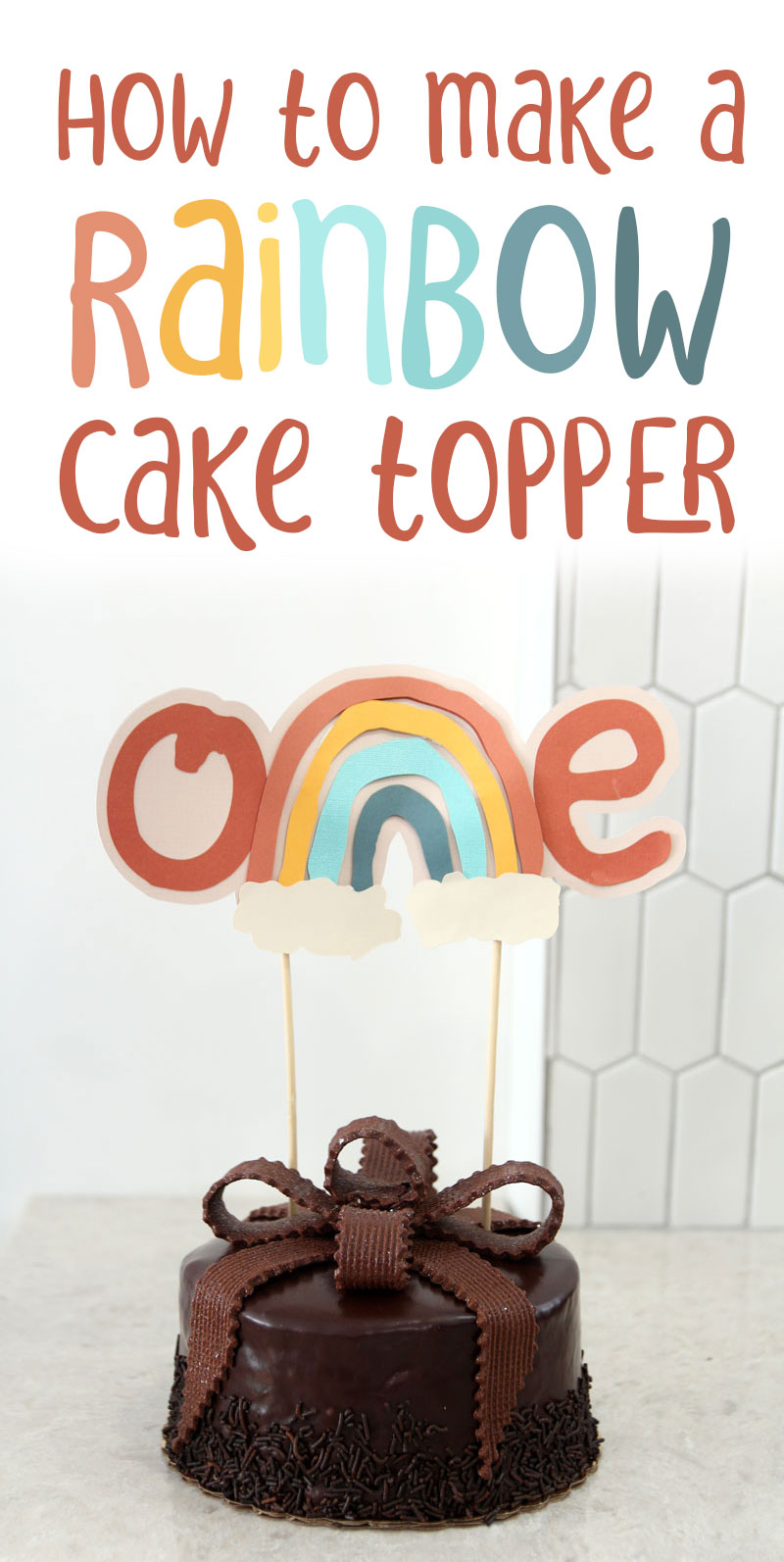 We're officially on to the next in my series of A's first birthday party posts! If you missed the previous posts in this series, you'll want to learn how to make a first birthday hat for girls as well as a high chair tutu.
I'll try to add in the others in the series as they go live, as well as link to the whole birthday party overview!
In this post: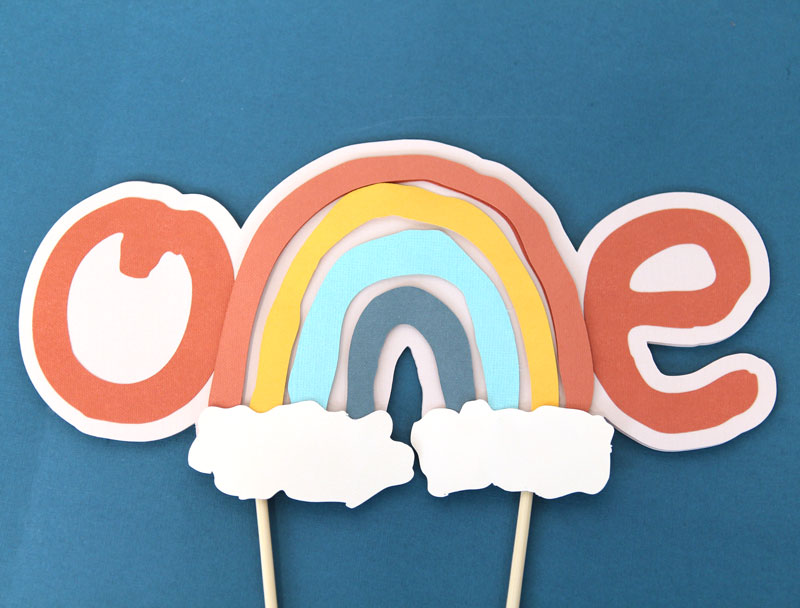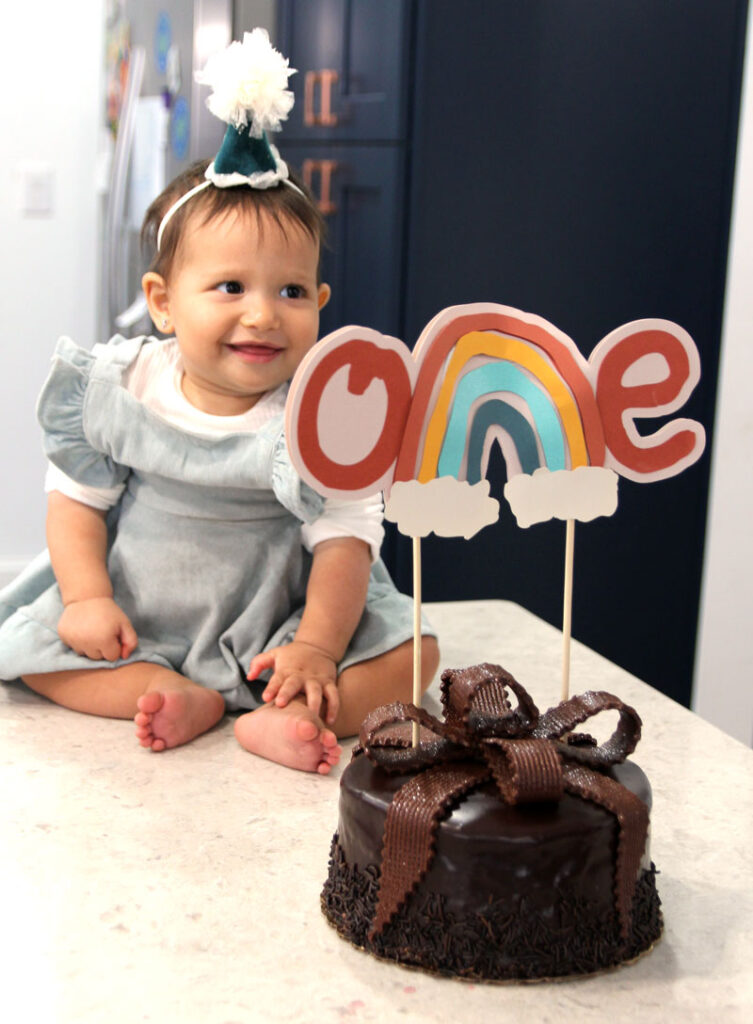 Today, I'm going to be sharing with you how to make a rainbow cake topper – a super easy last-minute fix that can be added to a bakery cake or otherwise! I made this using an SVG file that I designed special for her birthday, and that I'll be sharing with you so that you can replicate this gorgeous, playful theme. To make it accessible to everyone, I also made PDF and PNG versions – even if you're not a Cricut crafter!
I designed this rainbow one look for her birthday, where the "n" in "one" is the rainbow. Adorable, no? You can use it with clouds or without, but I prefer it with.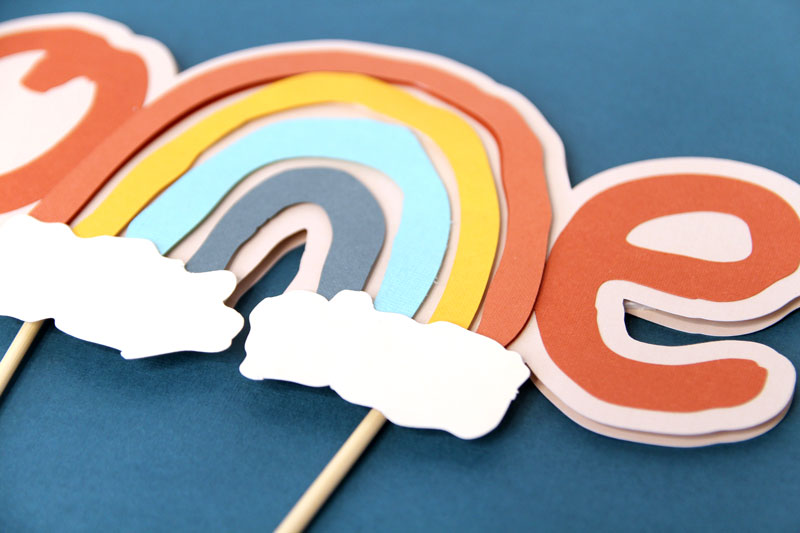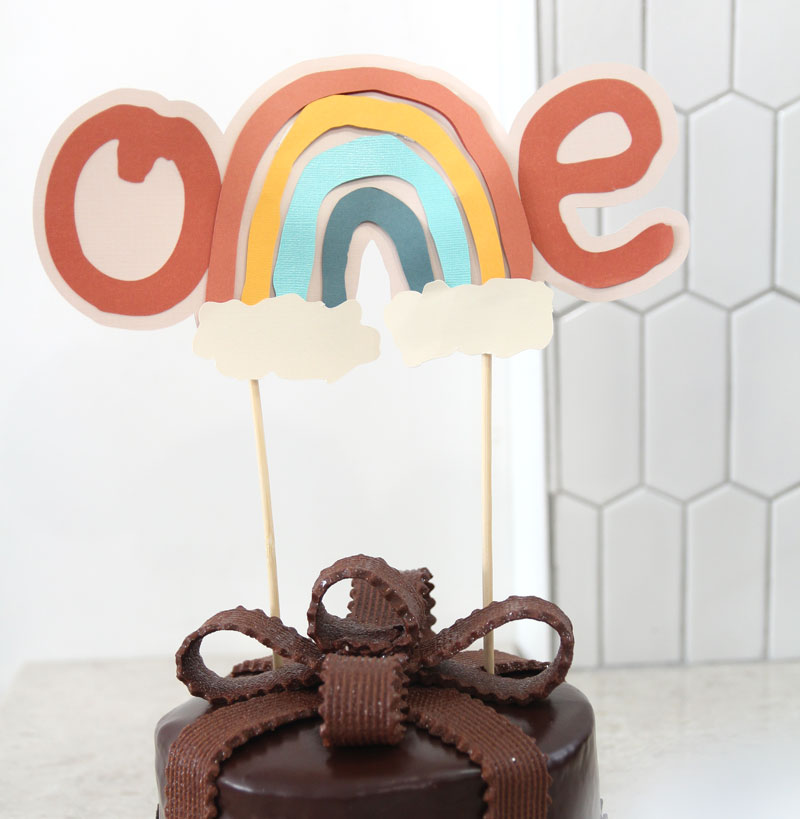 Not making a first birthday party? Fear not! The rainbow can be used on its own as well, and I made a separate standalone background for that too! So you can make a plain and simple rainbow cake topper using this tutorial: just follow the directions using the plain rainbow and not the one rainbow.
Which cake should you use as the base for the rainbow cake topper?
I originally designed the rainbow cake topper to be used with a plain white cake. I was even considering doing a crumb coat only for a bare look.
And if that didn't work, I was going to gently swirl the frosting as I often do by accident anyway… It can kind of look like a cloud!
There was only one issue with that plan. I'm awful at cakes. I mean, I legit can't do cakes. It happens every single birthday party: I botch the cake and scramble last minute for something, anything….
Princess A's birthday was no different, and so we ended up with a cake to stage a cake smash (the cake was presmashed and I dabbed some frosting on A – my kids always refuse to smash the cake!!!)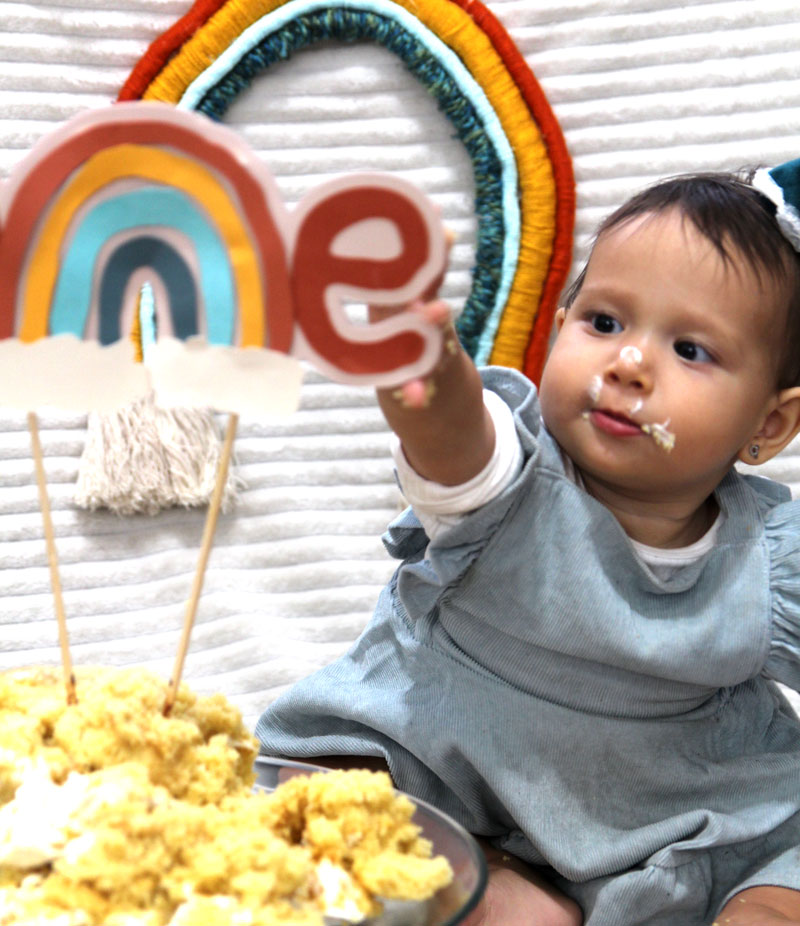 And my husband ran to the bakery and picked up this "masterpiece". Had I planned it better, I'd have gotten a very simple bakery cake, frosted it over the existing frosting (or not). But we were reduced to whatever they had and chocolate bow it was!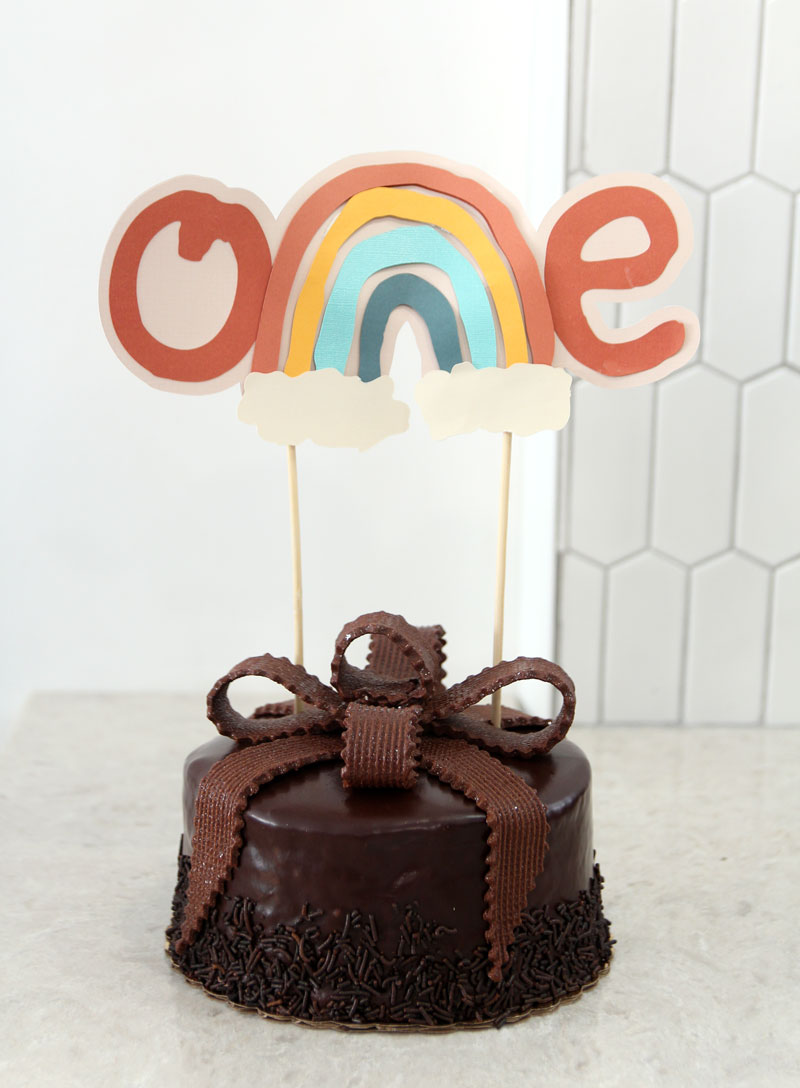 It was, however, still quite fabulous. And this just shows how awesome cake toppers are – especially for us chronic cake scramblers!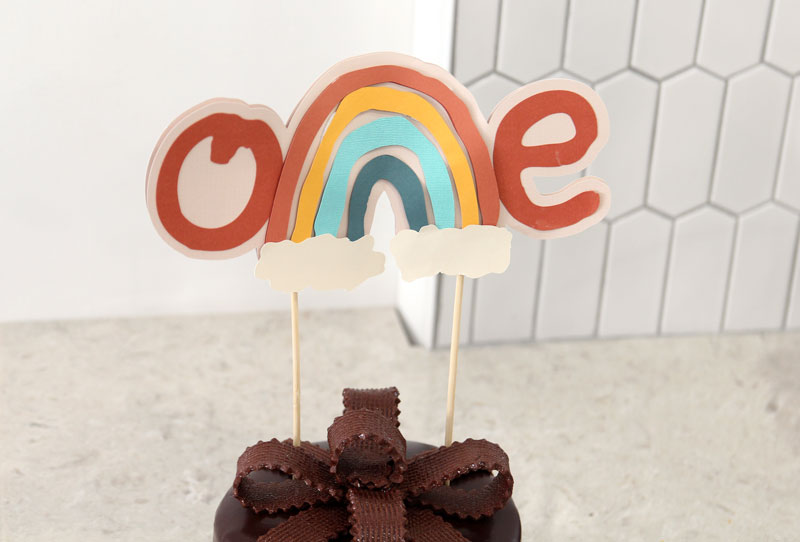 Download the Rainbow Cake Topper Cut & Print Files
This SVG files includes everything you need to make not only this rainbow cake topper, but anything you need for your rainbow party! Using the files in this design, I made a high chair banner, DIY rainbow kechains, a rainbow banner (tutorial to come), and this rainbow cake topper!
And I made PDF and PNG versions too so that you can hand cut and print then cut it as well! It's all included in your purchase.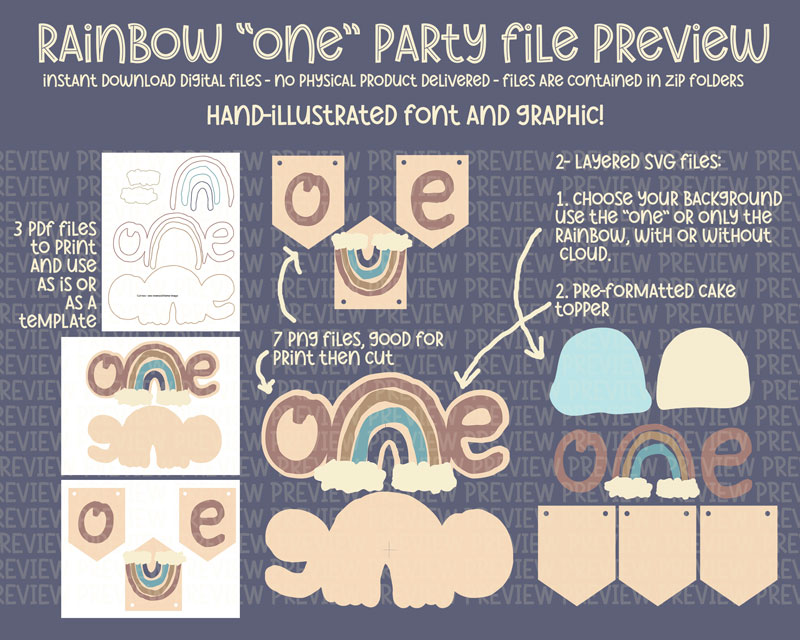 Supplies needed to make a rainbow cake topper
Cutting supplies
Note: this CAN be hand cut and assembled – use the PDF file of the cake topper!
Assembly supplies
If hand assembling: trace the outline PDF template on the colored cardstock. If printing as-is, you don't need the colored cardstock – just print the full color solid PDF on white printer cardstock. Both are included here.
How to make a rainbow cake topper
1. Adapt this tutorial for hand-cutting if needed. Use your Cricut to cut out your parts. The "one" – including the top section of the rainbow – is one piece so you place things properly. The top arch is duplicated so you have it in line with the rest of your rainbow if you raise it like I did. Tip: if this isn't for a one year old party, you can use the plain rainbow to make a topper too. Just use the main SVG, hide the O and N and use the plain rainbow background!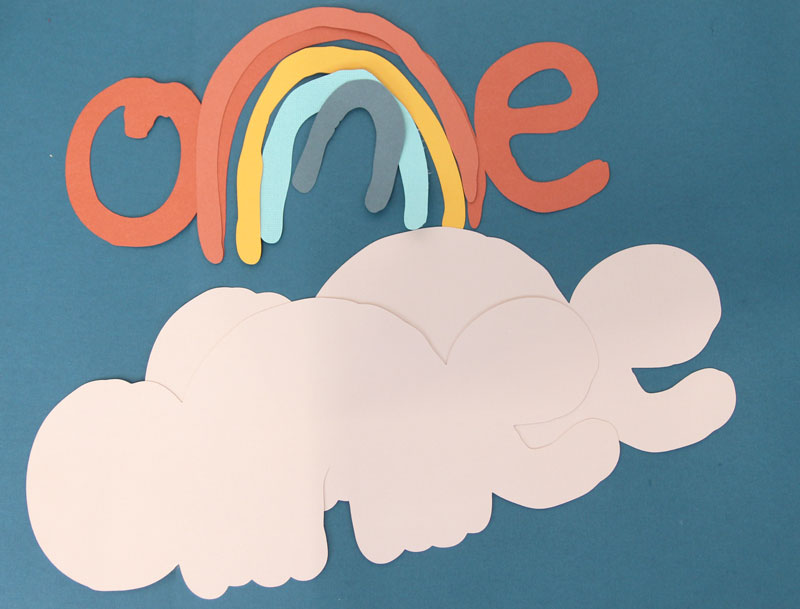 2. Glue two skewers, or, if you feel it's stable enough, one center skewer to the one. I placed mine at a bit of an angle to fit a smaller cake. This makes a tall topper, so you can trim your skewers down before gluing if you want it to be shorter.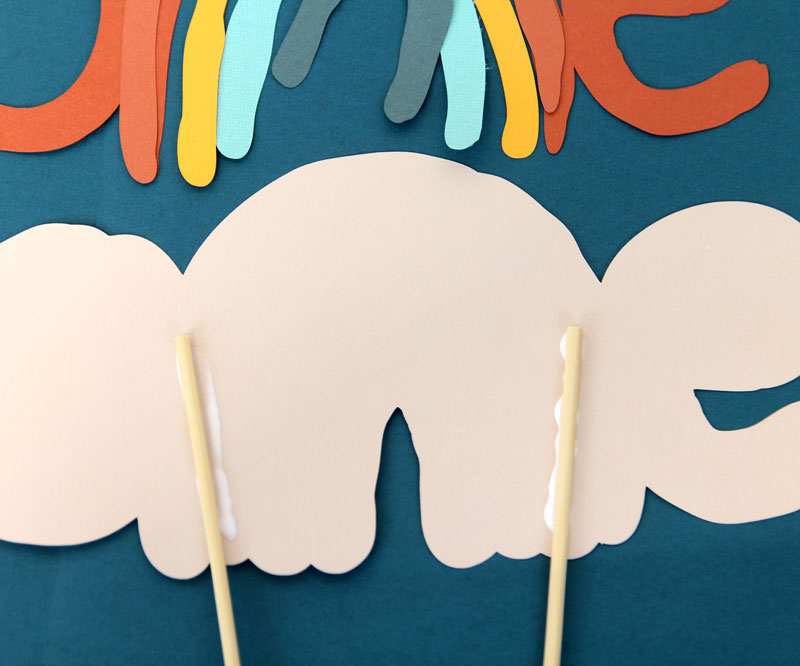 3. Place foam dimensional tape all around your base, anywhere the raised front of the topper will need support. I outlined the letters and placed it around the inside of the rainbow as well as the outside.
4. Prepare the front of your Rainbow cake topper. Start by gluing the letters directly flat onto the second base.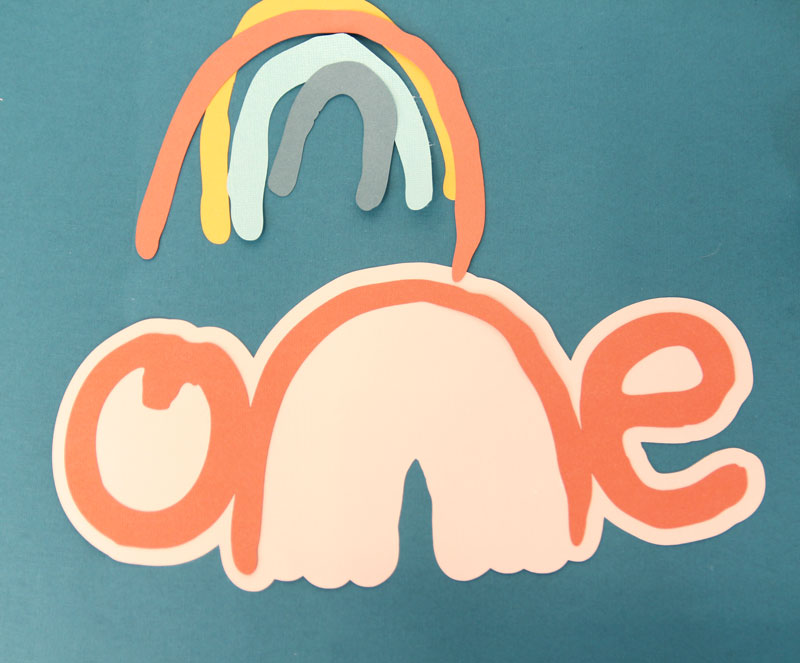 5. Place mounting tape on the top portion of the rainbow as you'll be doubling it, as well as on the backs of all the other colors of the rainbow.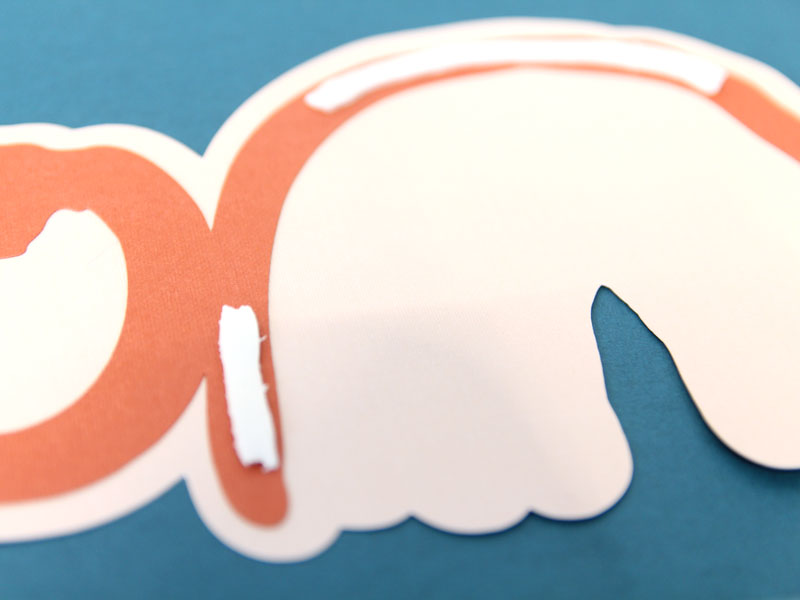 6. Tape down the rainbow parts using double sided foam mounting tapes to give it dimension.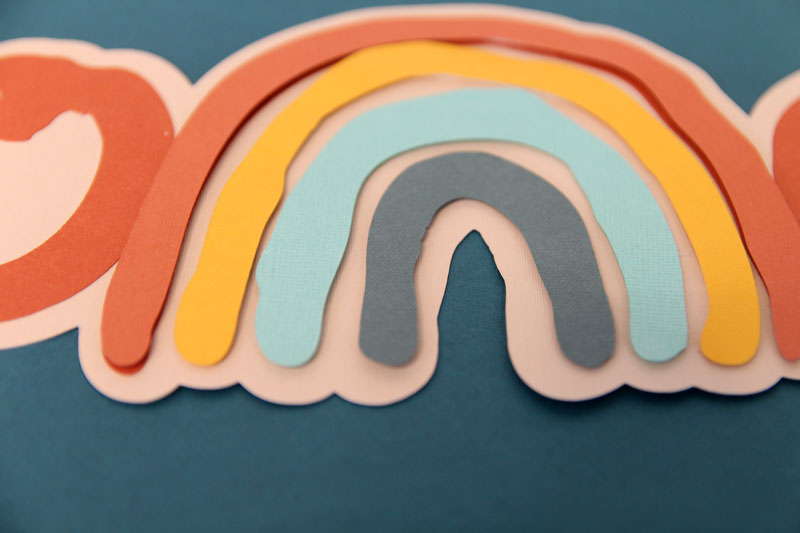 7. Glue your clouds down on the ends of the rainbow.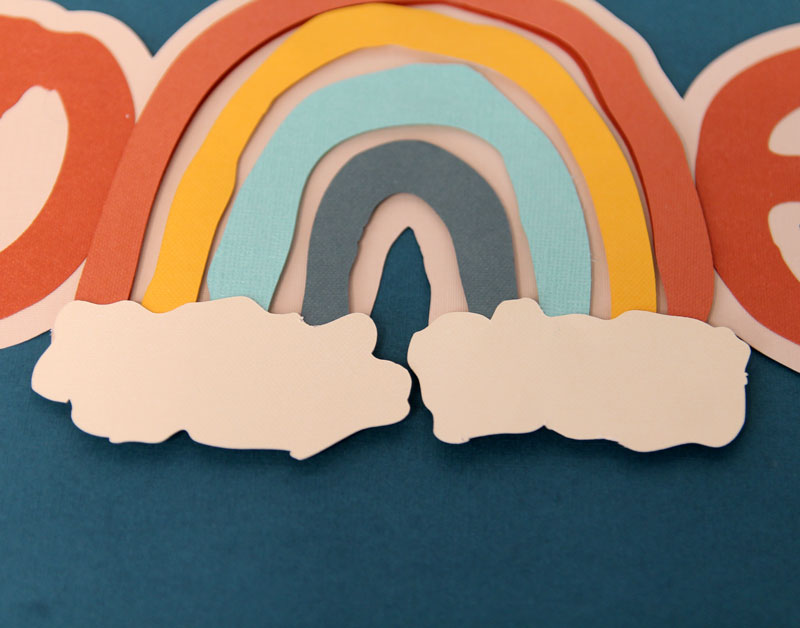 8. Stick it into your cake right before serving. Isn't she grand?!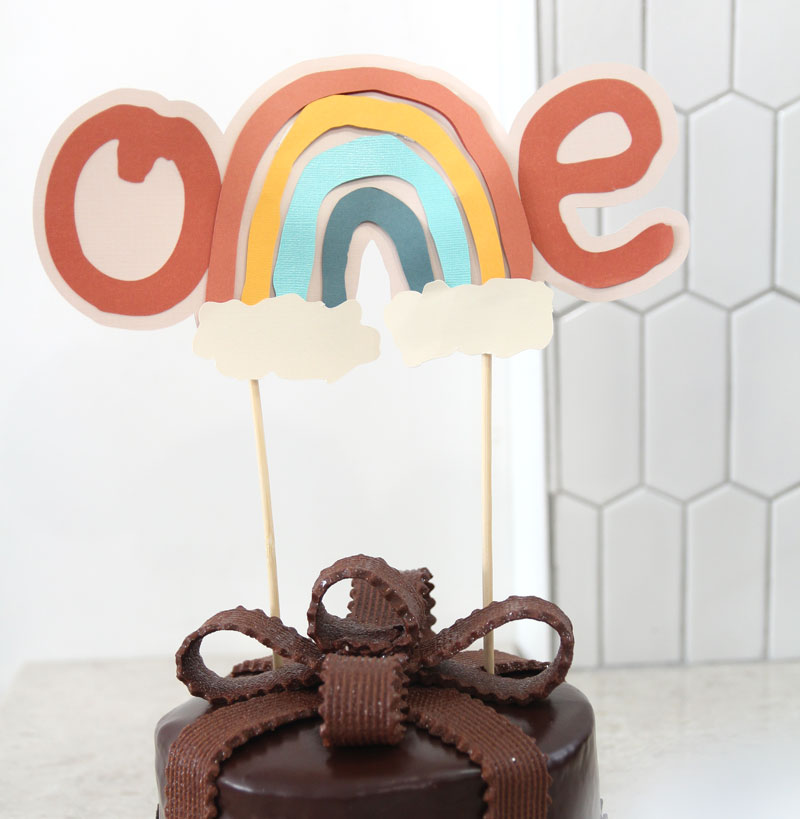 I hope you loved learning how to make a rainbow cake topper! What will you be using yours for? Comment below!