When my friend Meghan of Playground Parkbench gave me the idea to create resolution bracelets, I knew it was brilliant. Lately, people have been making one-word resolutions. I think it's brilliant. New Year Resolutions are bound to fail but switching things up can help break that trend. A one word resolution isn't as rigid – it's just a great way to re-evaluate and gain some perspective of what you'd like to change in your life. Disclosure: this post contains affiliate links.

One word resolutions are more forgiving. They allow for mid-year evaluation. They give a general idea of what you'd like to change.
My one-word resolution for 2017 is progress.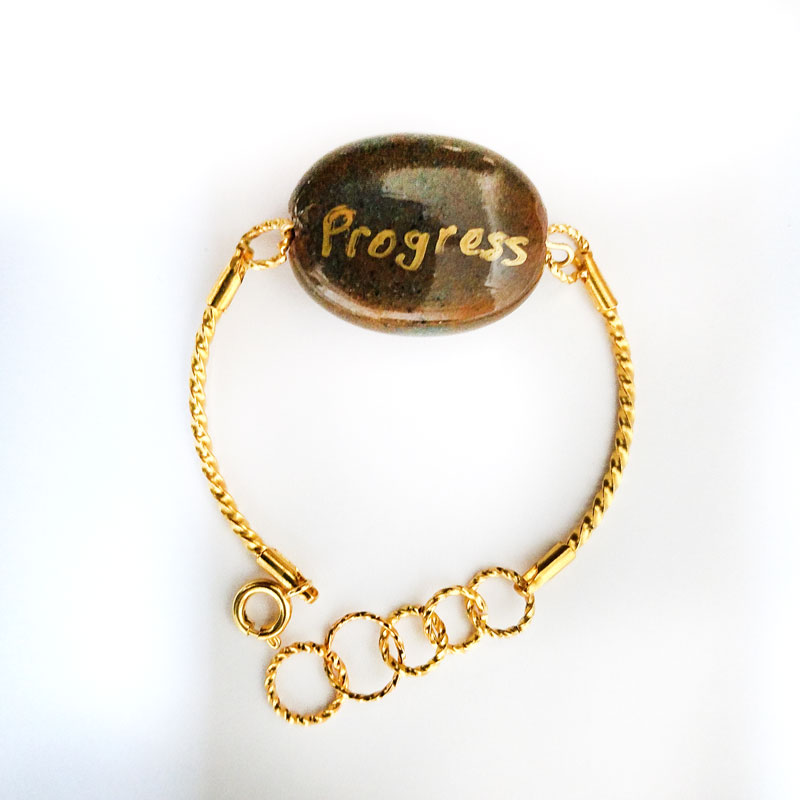 In my personal life and in my business life I would like to see progress. In my character. In my weight loss journey. I will stop being a perfectionist. I will stop giving up when things aren't going smoothly. I will focus on the little bits of progress that forge a bigger path of change.
But the moment January passes, we tend to forget our ambition.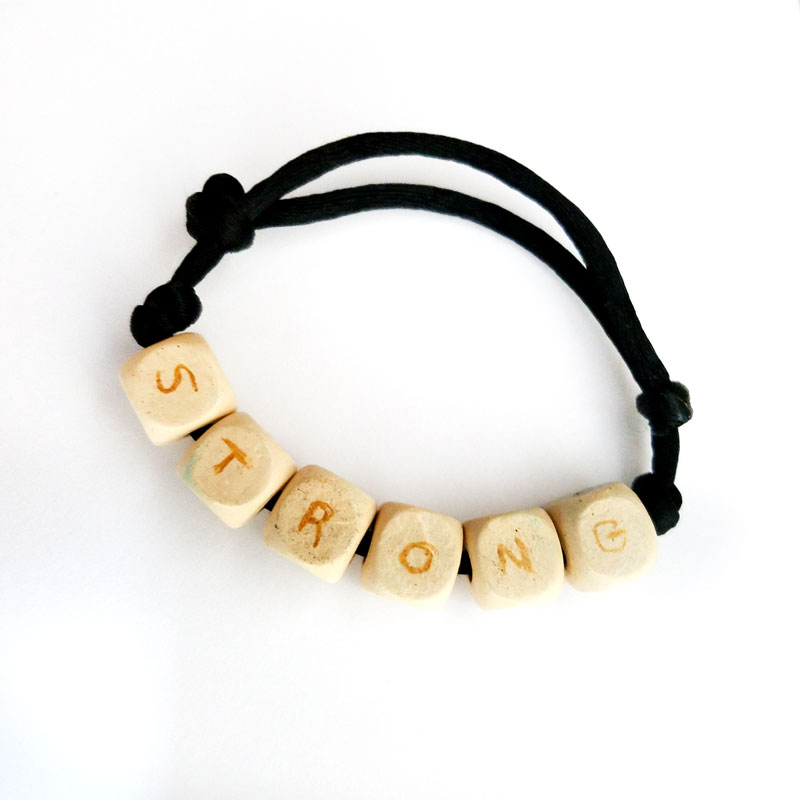 That's why Meghan's idea is so brilliant. By placing your one-word resolution on a bracelet, you will keep it in sight all year round.
I hope you enjoy these resolution bracelets, with different ideas to suit YOUR style! They are wearable and pretty, and go beyond simple inspiration bracelets. These are yearly goals, a perspective that you will keep in front of you all year long.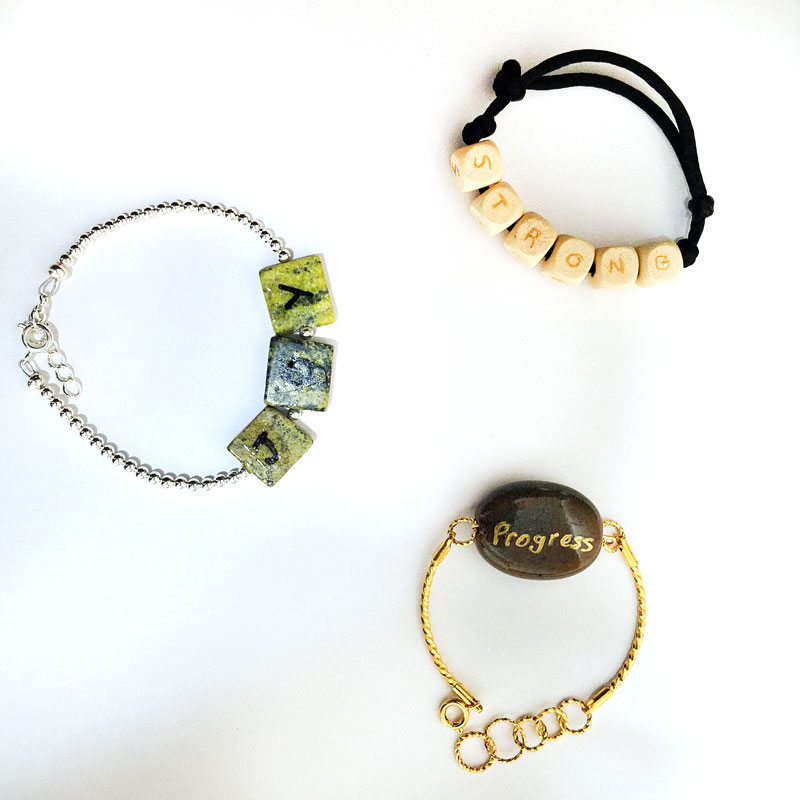 The first step of this resolution bracelets tutorial will be to stop and think – what is one word that you would like to sum up the coming year?
Some of my friends shared examples. I thought that Joy was a concise one, and Sunny Day family explains why and how to do that. Strong is also a resolution that can be applied across multiple aspects in life – whether it means being firmer with children, standing up to life's trials, or creating a better workout routine. Others that were shared with me include abundance, engaged, connect, potential, smart.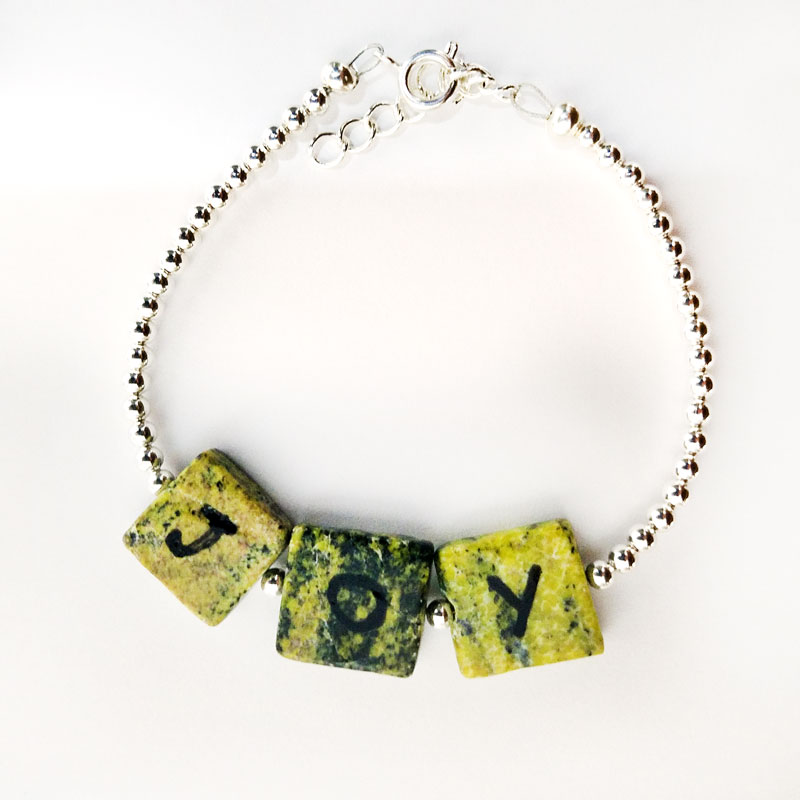 Learn how to make resolution bracelets in the video below or scroll down for the step-by-step:
What you need to make resolution bracelets:
Markers for writing on the beads
Stringing and beading materials of choice.
Tools for the progress and joy bracelets, and scissors for the strong bracelet.
I used as follows:
For the progress bracelet: A larger oval gemstone, a gold paint marker, an eyepin or bit of thick wire, curved links, a gold plated clasp, gold plated twisted jumprings
For the strong bracelet: square wooden beads, rattail cord (or something similar)
For the joy bracelet: Flat, large square gemstone beads (try a lighter color than I did), a black glass/ceramic/multi-surface marker, 3mm spacer beads, tigertail beading wire, crimp tubes, crimp covers, a silver plated clasp, and some twisted cable chain.

How to make DIY resolution bracelets:
1. Write your word on your beads (on both/all sides). I don't recommend using the gel pen that I used even on the wood beads, rather stick to permanent markers.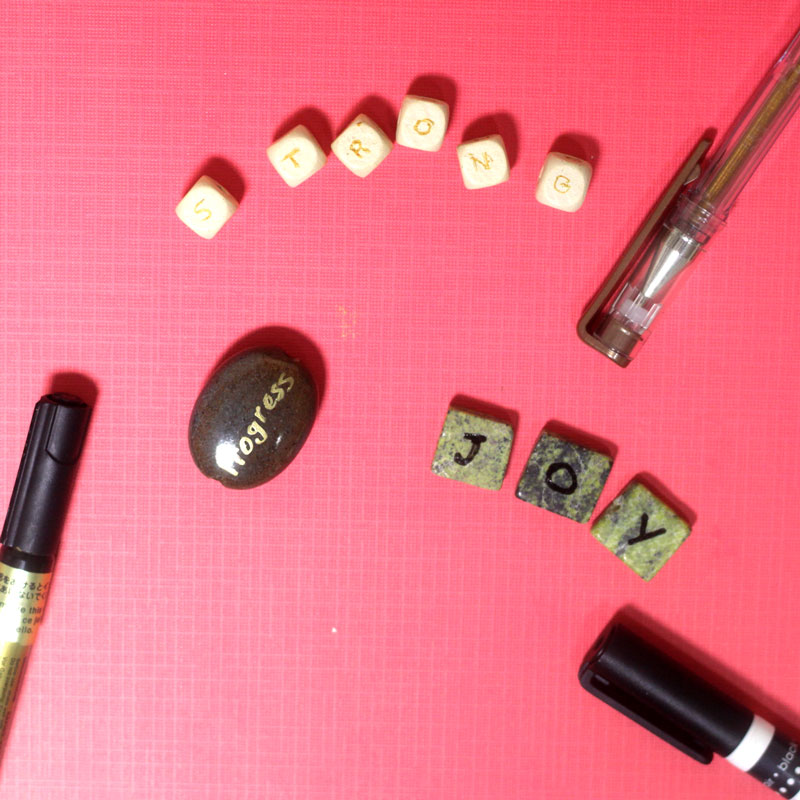 2. Coat your letters with a layer of clear nail polish to seal it.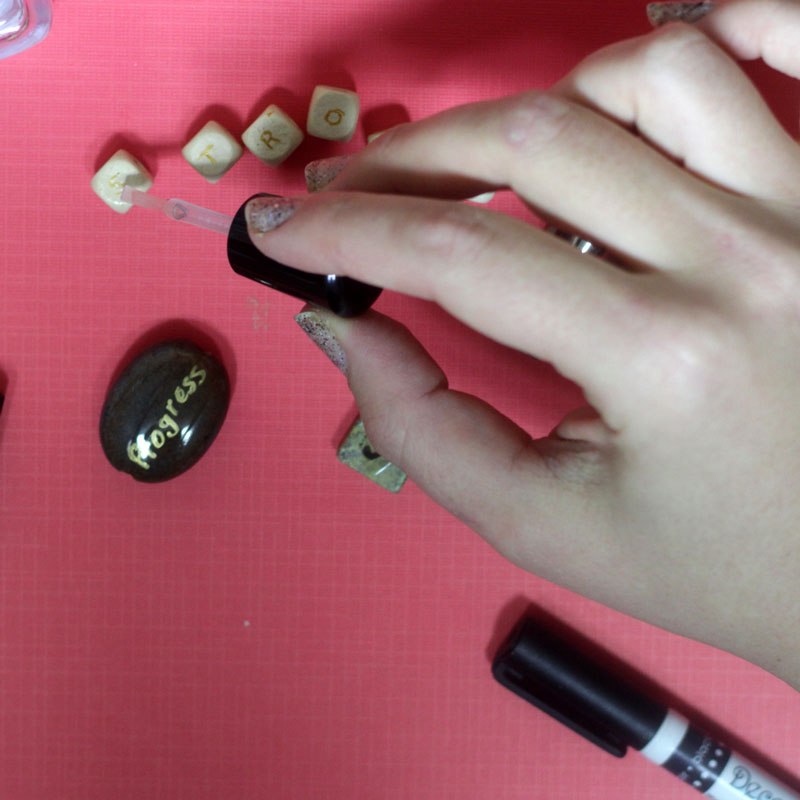 3. For the "progress" style bracelet: Place your bead on an eyepin and form a loop on the other side. Alternatively, create an eyepin using a bit of 20 gauge wire. Add pretty jumprings on each side.
4. Attach your links.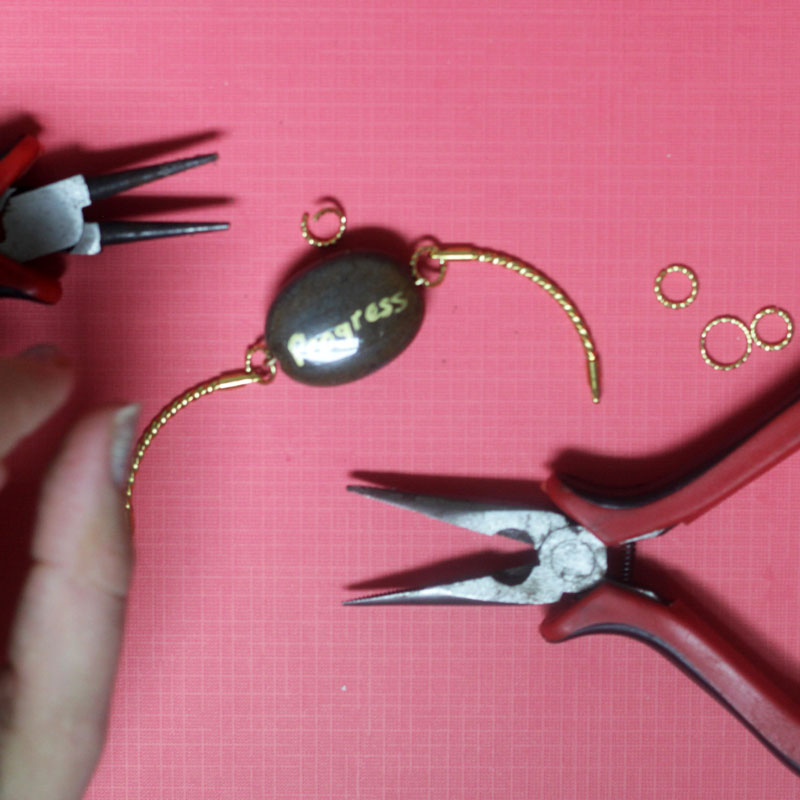 5. Attach a few twisted jumprings to the end of one side of your resolution bracelets.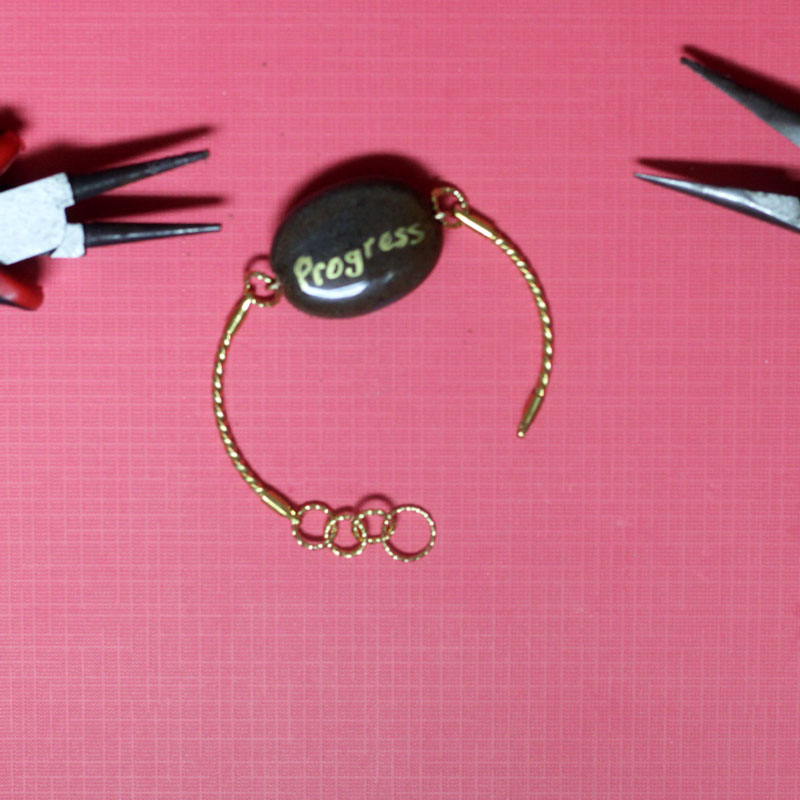 7. Attach a clasp to the other side. (I definitely recommend lobster claw clasps as a better alternative for this project – I just didn't have any handy.)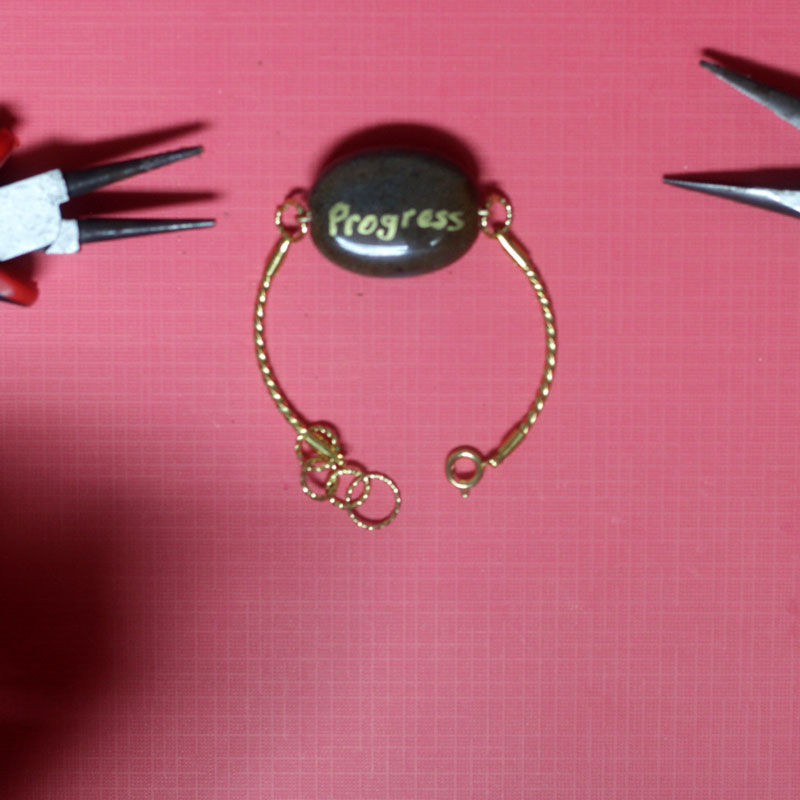 Hooray for progress! You may see this one around my wrist in future videos!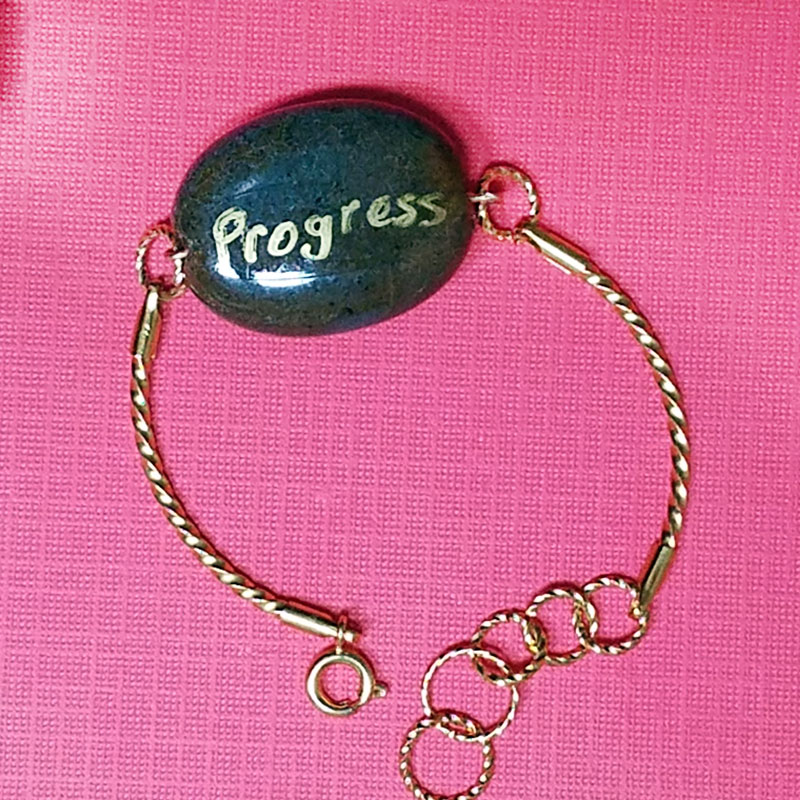 8. For the "joy" style bracelet: String your crimp tube then your clasp and then bring the end of the string back through the crimp tube. Use chain nose or crimping pliers to crimp it in place. Cover with a crimp cover.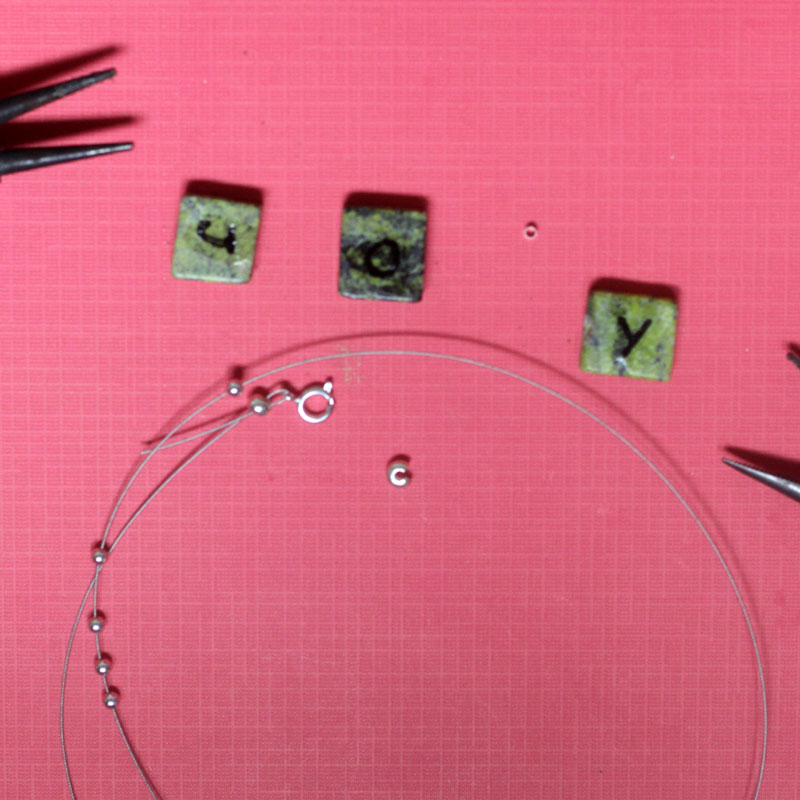 9. Start stringing on your round spacer beads, measuring the approximate size you want it, and taking into account your resolution letter beads.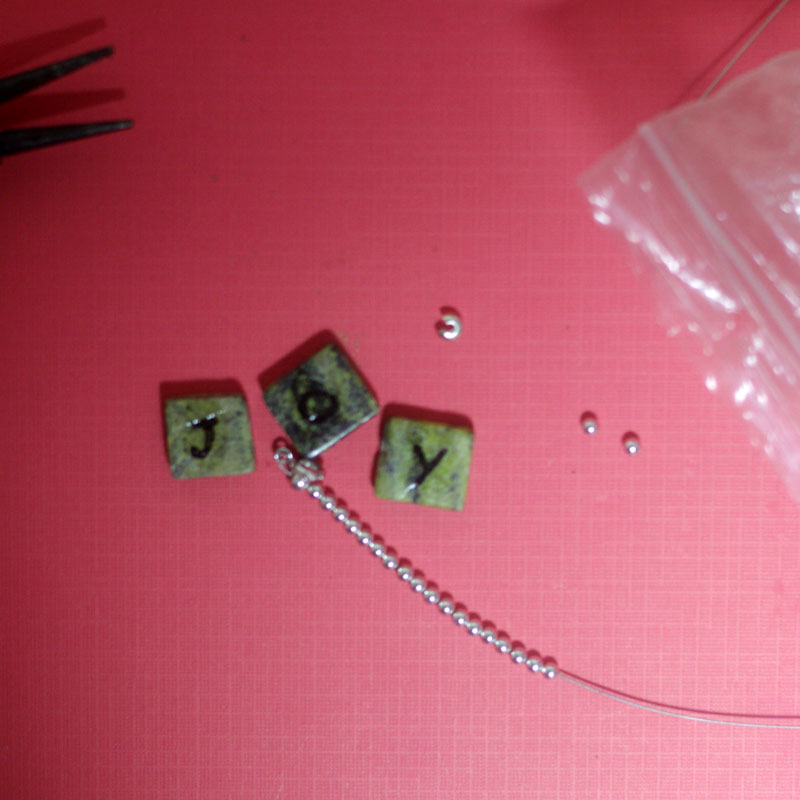 10. String on the letters with a spacer between each one and add spacers for the rest of the length of your resolution bracelets. Add a crimp tube, then string on a bit of twisted cable chain narrow enough to close a clasp on. Bring your tigertail wire back through the crimp and then through the first bead or two and trim. Crimp your crimp tube and cover with a crimp cover.
FYI: I use crimp covers because they look nice AND they help keep the crimp in place better, so you can wear these resolution bracelets all year long.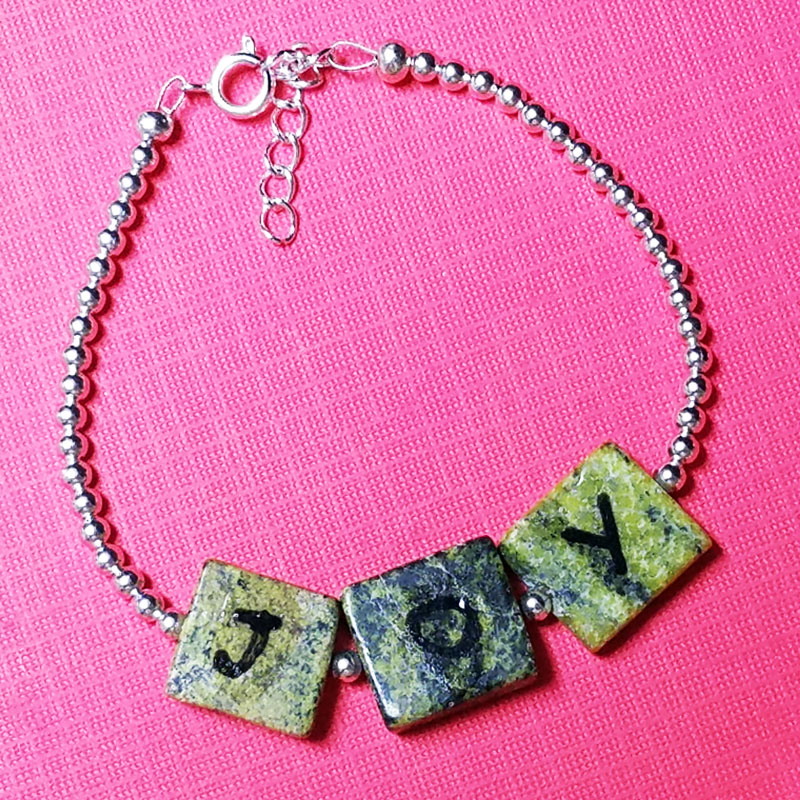 11. The Strong style bracelet is made the same way as my heart friendship bracelets, so if you want the tutorial for that one, just click on the image below.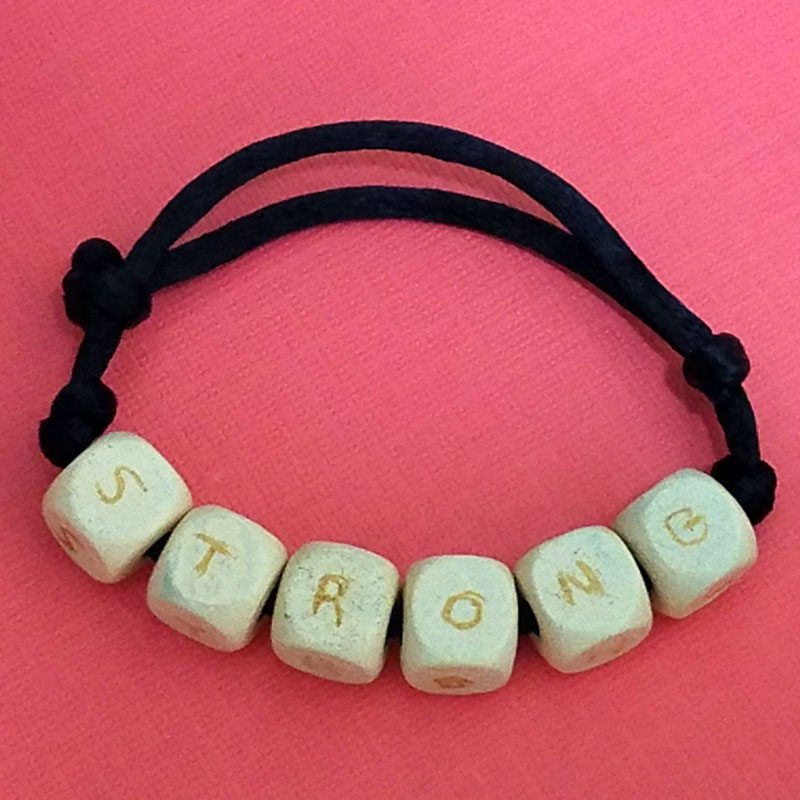 Choose your style and make your one-word resolution bracelets to match!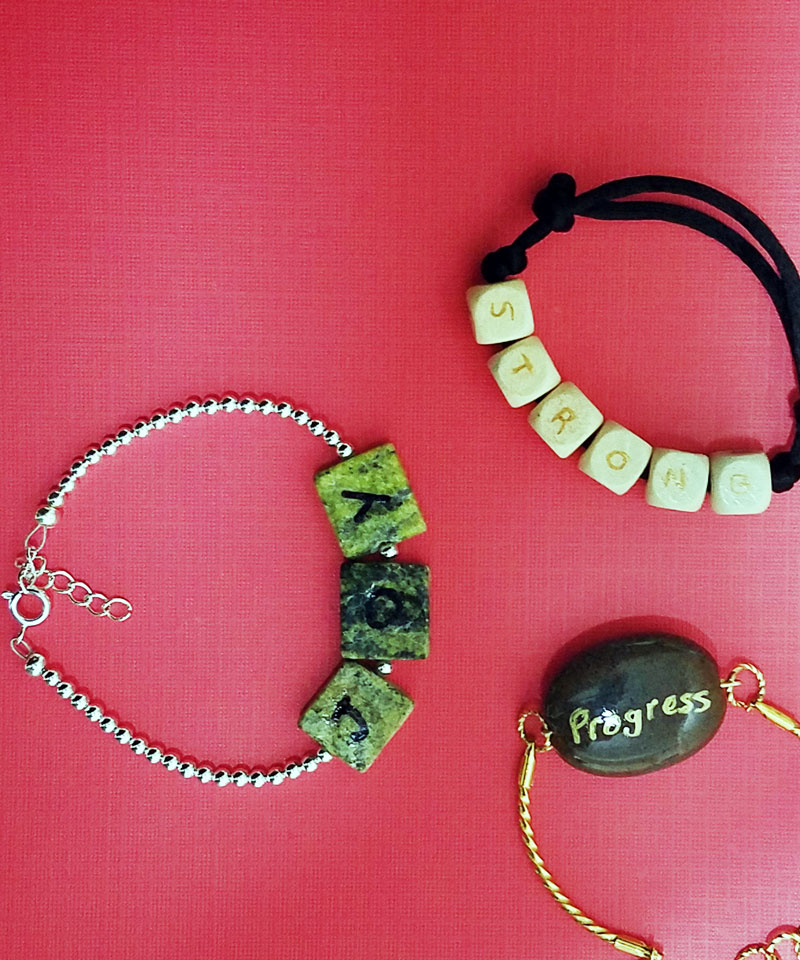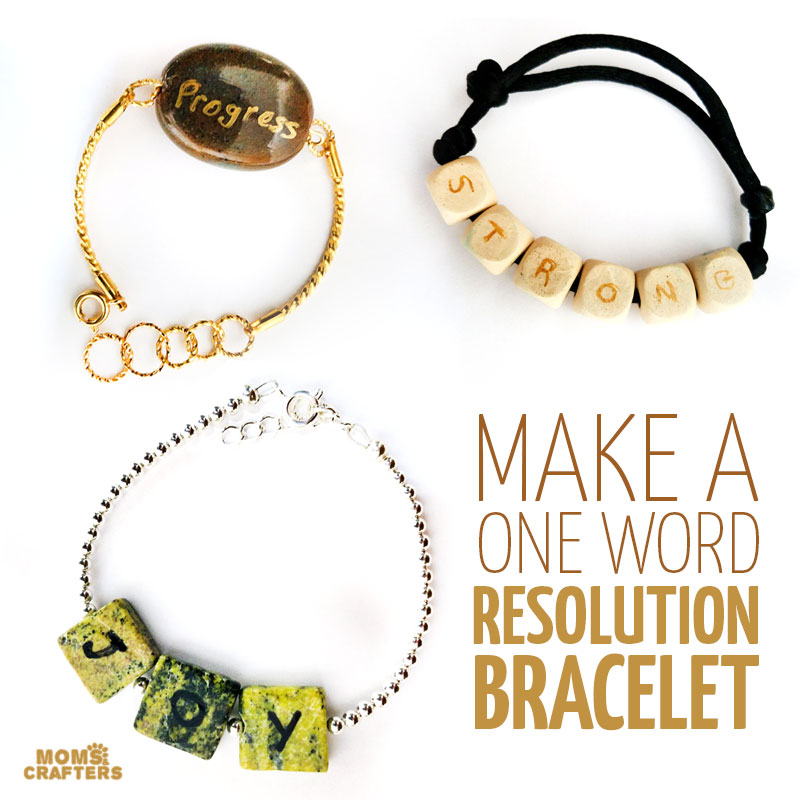 Have you ever made a one-word resolution – and kept it?! Which word will you be putting on your resolution bracelets this year?
Get the book! By purchasing Moms & Crafters publications, you are supporting my blog and enabling me to keep on providing you with free craft ideas like this one. Coloring for Coffee Lovers is my most popular coloring book, but you can find all of my printed and digital coloring books here.