These grab 'n go sensory bin ideas are the solution to your at home activity needs and the playroom hack you've been waiting for! Keep this in your activity closet for instant rainy day sensory play. This post is sponsored by Spin Master.
---
A typical school vacation day consists of Y asking me, before I've even had coffee, to do an activity. I try scrambling with A in one hand, and my coffee cooling on the counter for something for him to do.
That's it. I'm changing it.
I'm using advance planning and a cool playroom hack to change that. And that's thanks to an insanely smart new limited-edition collab: Kinetic Sand X Rubbermaid!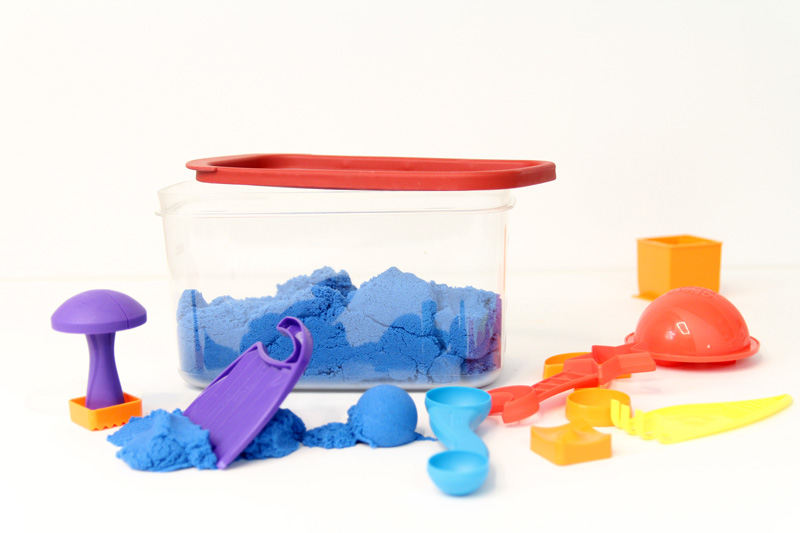 Yes, you heard right!
Kinetic Sand, makers of the awesome, insanely satisfying, moldable sand that my kids love, teamed up with Rubbermaid, makers of awesome storage containers, to create this brilliant bundle that I like to call "sand in a box". That is, 3 lbs of Kinetic Sand in a reusable Rubbermaid box.
Table of Contents:
The Game-Changing Playroom Hack: Grab 'n Go Sensory Bins
This cool collab inspired me to create grab 'n go sensory bins, built around a few specific sensory bin ideas.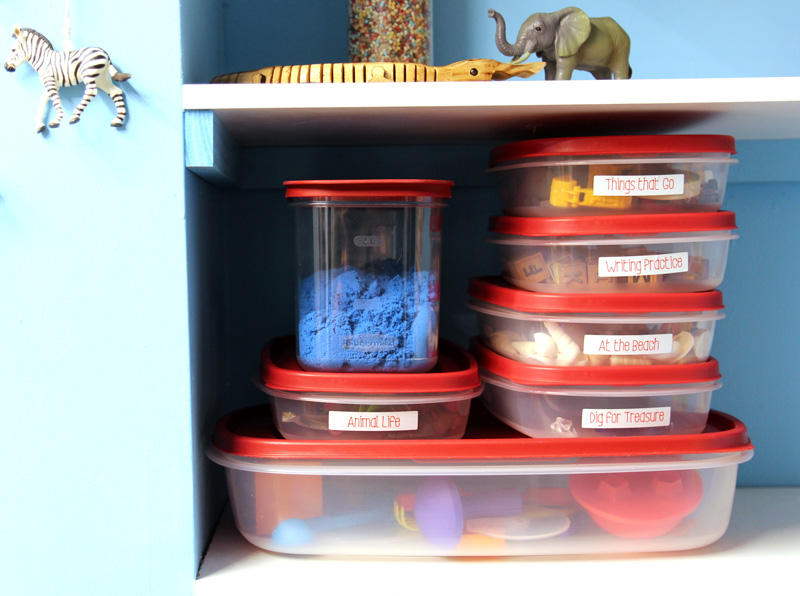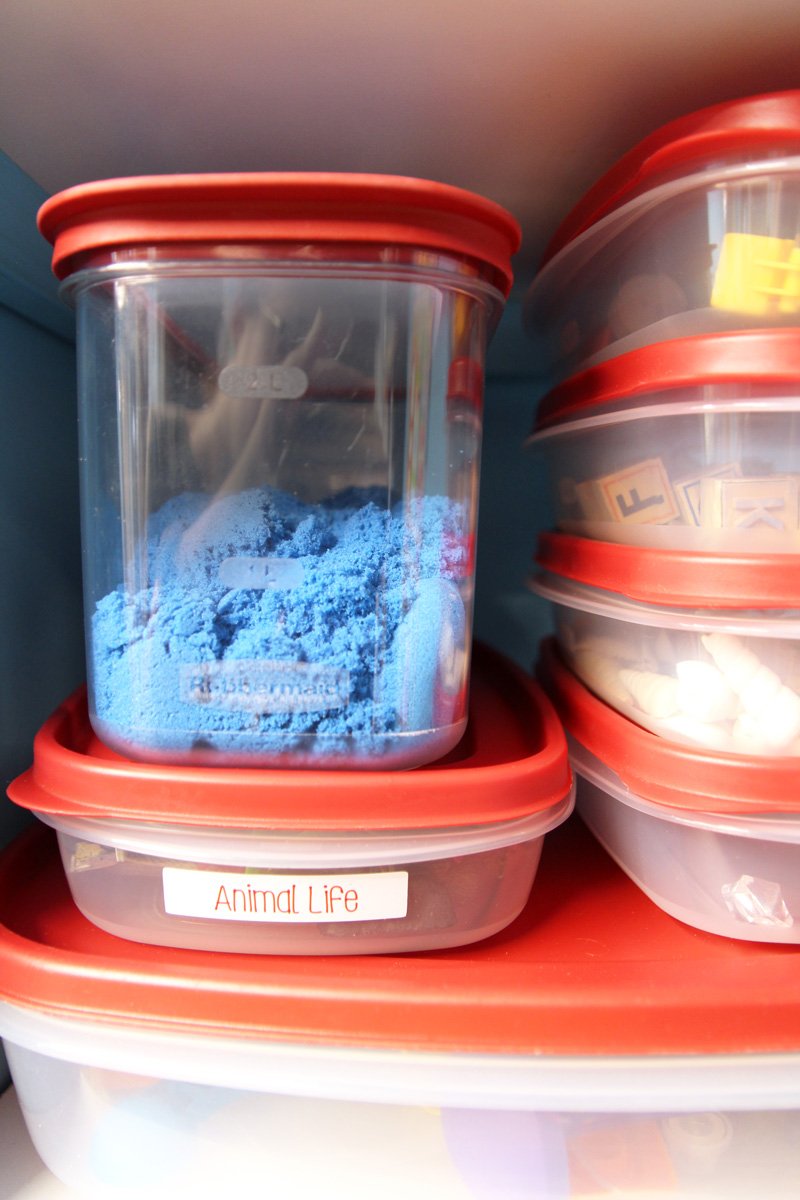 The idea is to keep a basic stash of prepared materials in our closet. When the mood strikes, we just need to grab a few containers for an instant sensory bin.
The Kinetic Sand X Rubbermaid containers were designed to stack and to be easy to grab, with handles and ridges on the lid, making this the perfect time to start that stash.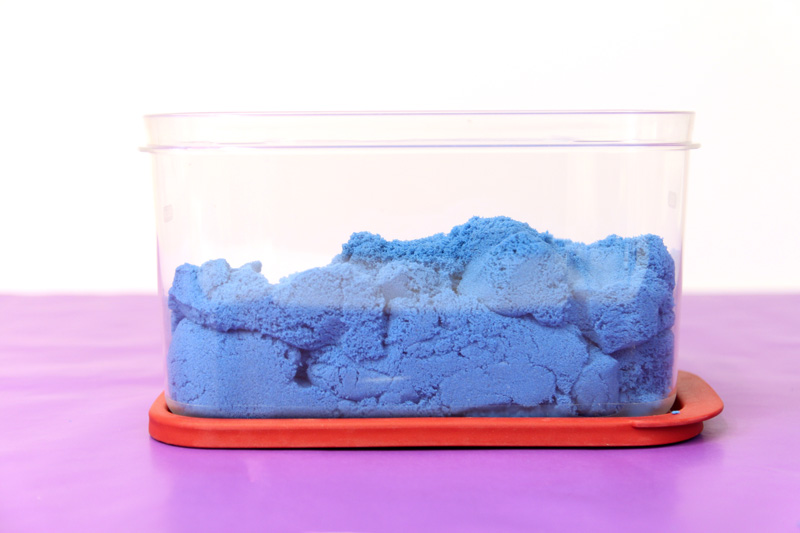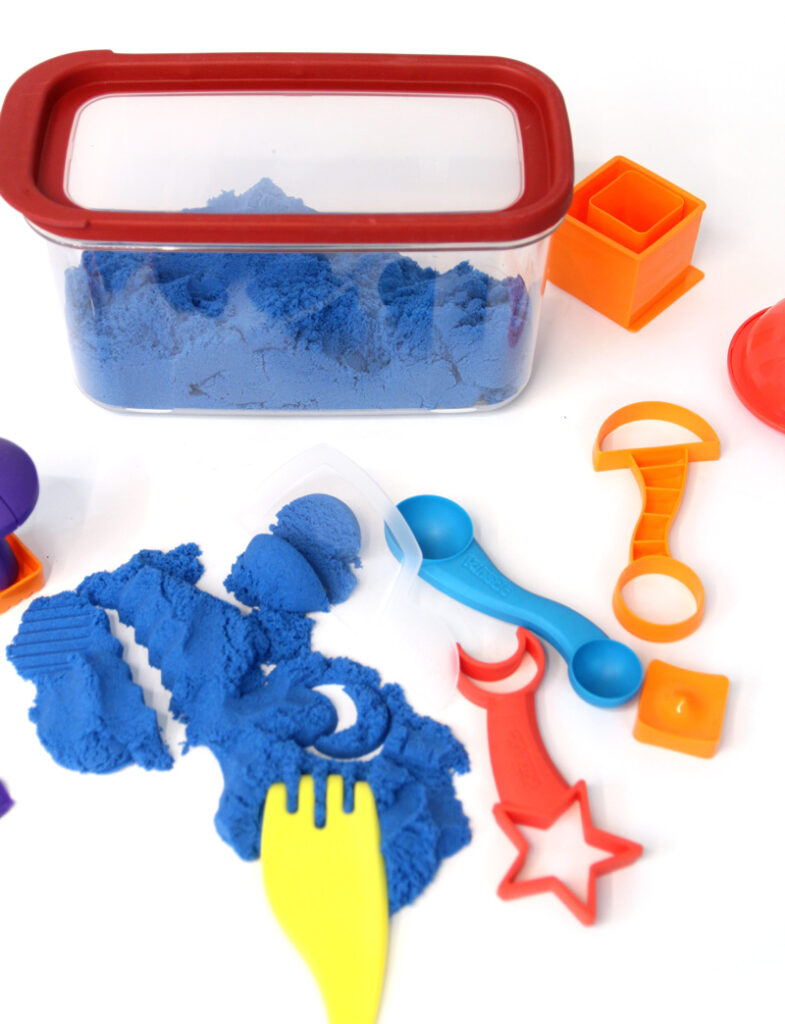 To do this, I prepared a few themed containers with fillers that make for fantastic sensory bin ideas. Keeping to a specific theme for each one helps keep it fresh.
This also allows multiple children to each choose their own theme so that they feel like they're the ones planning their activities.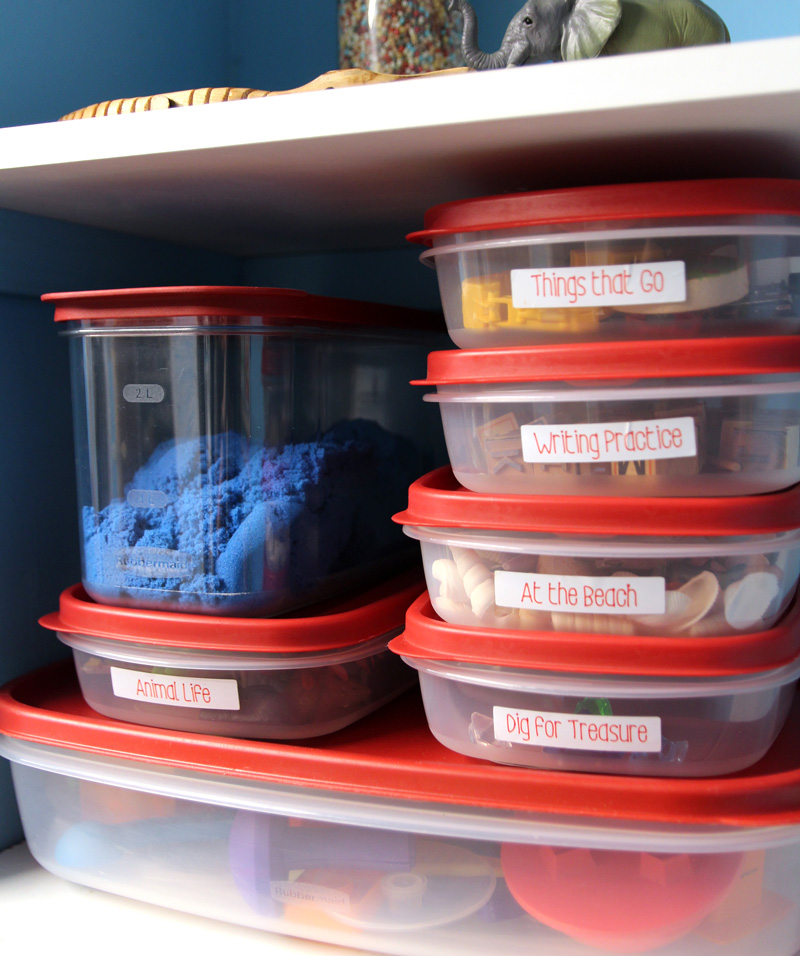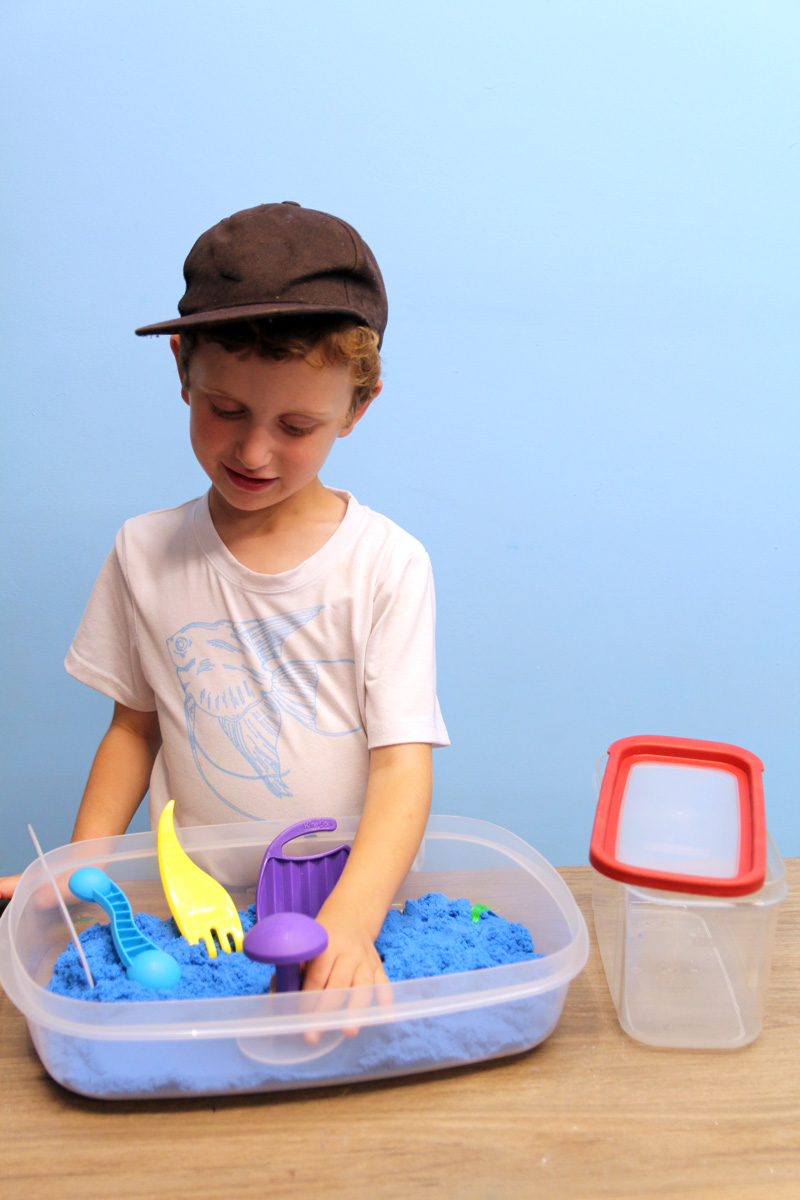 In case you haven't tried it yet: Kinetic Sand is a long-lasting sensory bin filler that my boys really enjoy. It's an easy to clean, reusable sand that sticks to itself, doesn't dry out, and is great for tactile play providing endless imaginative play opportunities.
We absolutely LOVE Kinetic Sand. It's the most played with sensory material in our home because of how creative and versatile it is. There are so many ways to play with it – whether it's the sensory bin ideas below, practicing forming letters, having a beach day at home… or a combination of these!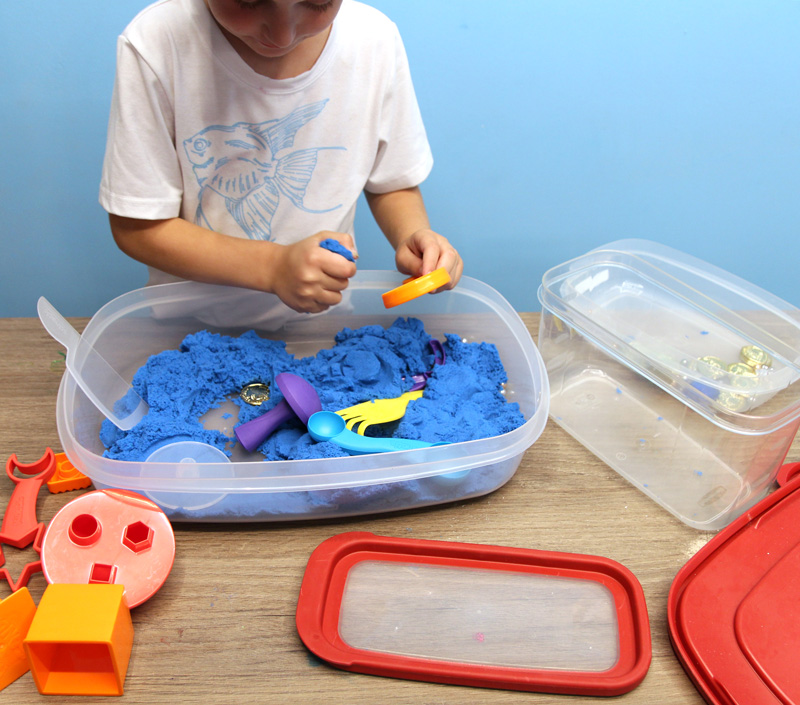 The Kinetic Sand X Rubbermaid containers also make an incredible gift for any occasion, any gender, any interest… as you'll see from my filler ideas. The Rubbermaid containers just make it that much more giftable. And a toy with built-in storage, especially built-in high quality storage to keep it fresh, is always a win for parents! While Kinetic Sand is super fun to play with on its own as well, having it handy with themed containers to add to the mix makes it feel like a new toy each time.
August 11 is Global Kinetic Sand Day, and you can use code KSDAY20 for 20% off the limited-edition Kinetic Sand X Rubbermaid while supplies last.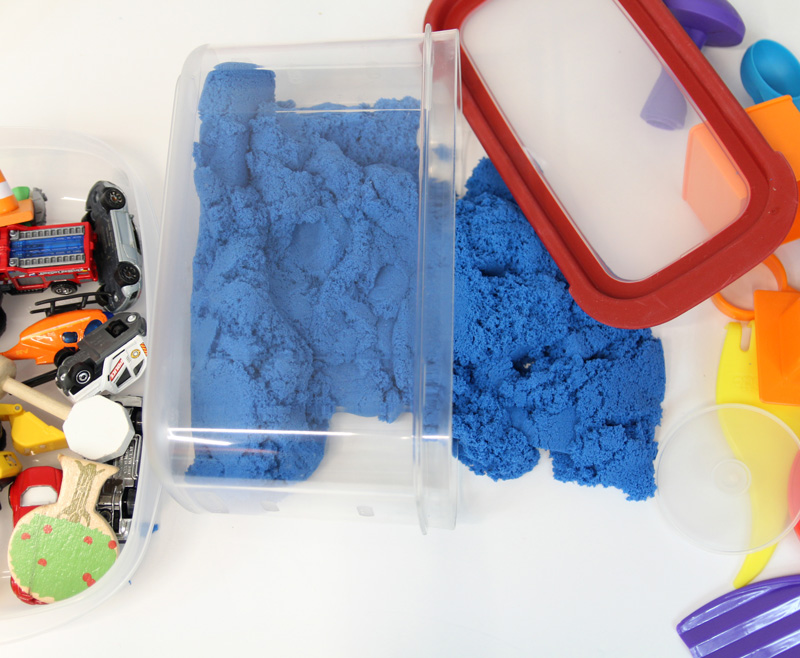 You get loads of play benefits with Kinetic Sand: kids can work those fine motor skills and practice spelling with it. The resistance that Kinetic Sand offers is great for writing practice. You can cut, mold, mix, and dig, and really get creative with Kinetic Sand.
You also have all the usual benefits of sensory play: social and emotional development, and of course sensory awareness.
In this cool Kinetic Sand playroom hack, I've made the most of the qualities of Kinetic sand for the perfect themed boxes as you'll see below.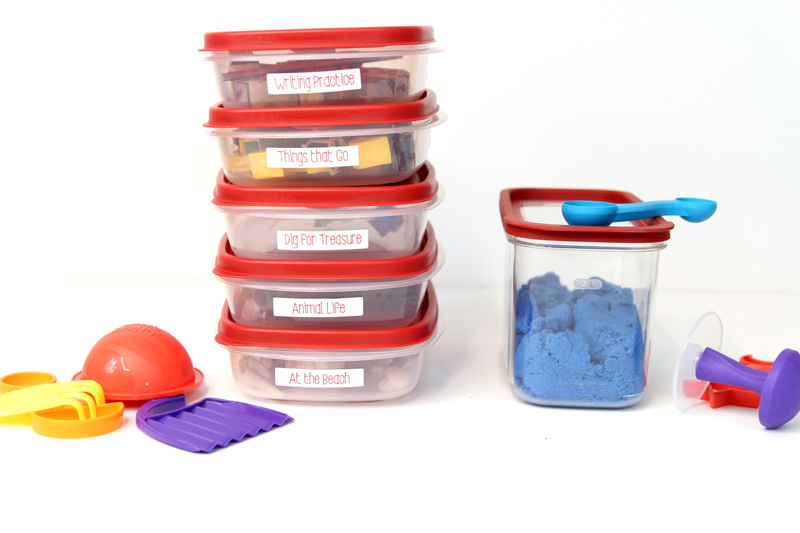 Your Basic Sensory Bin Stash
These sensory bin ideas start the with basic makeup of a good sensory bin:
A Bin: you want something contained for the kids to play in, but spread apart so that the kids can discover. For this, I got a 1.5 gallon container for a single child.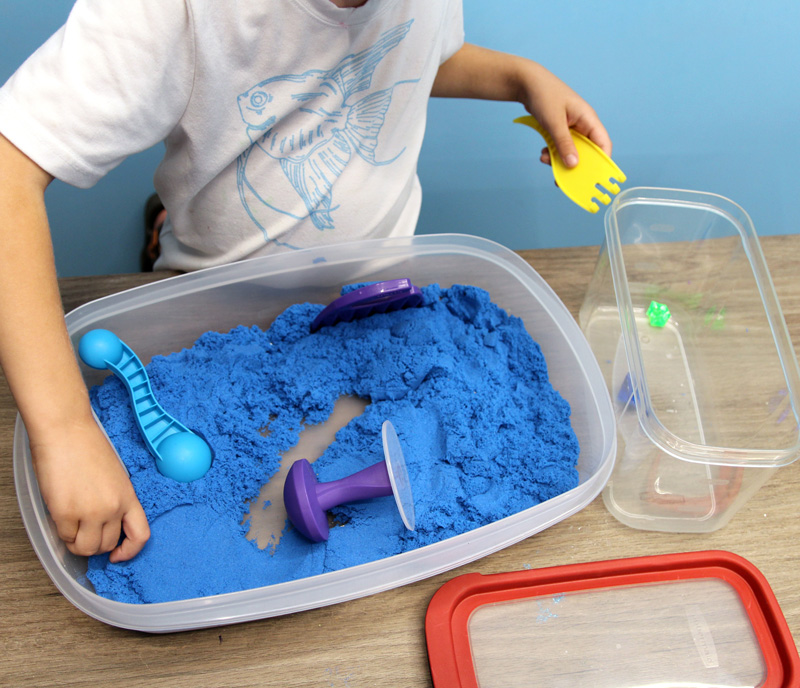 Tools: One of the coolest perks of Kinetic Sand is the ability to mold it. So some molding tools are essential! I store the tools from the Kinetic Sand Sandisfactory set in the container that I use as a base bin. You can also store these in the Rubbermaid container that the Kinetic Sand comes in.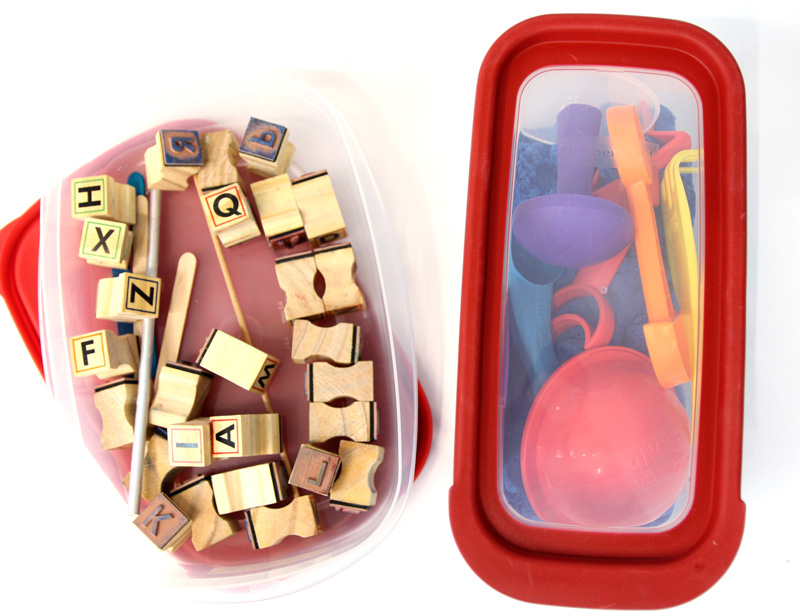 Filler: The Kinetic Sand X Rubbermaid container just gets added to the shelf as-is!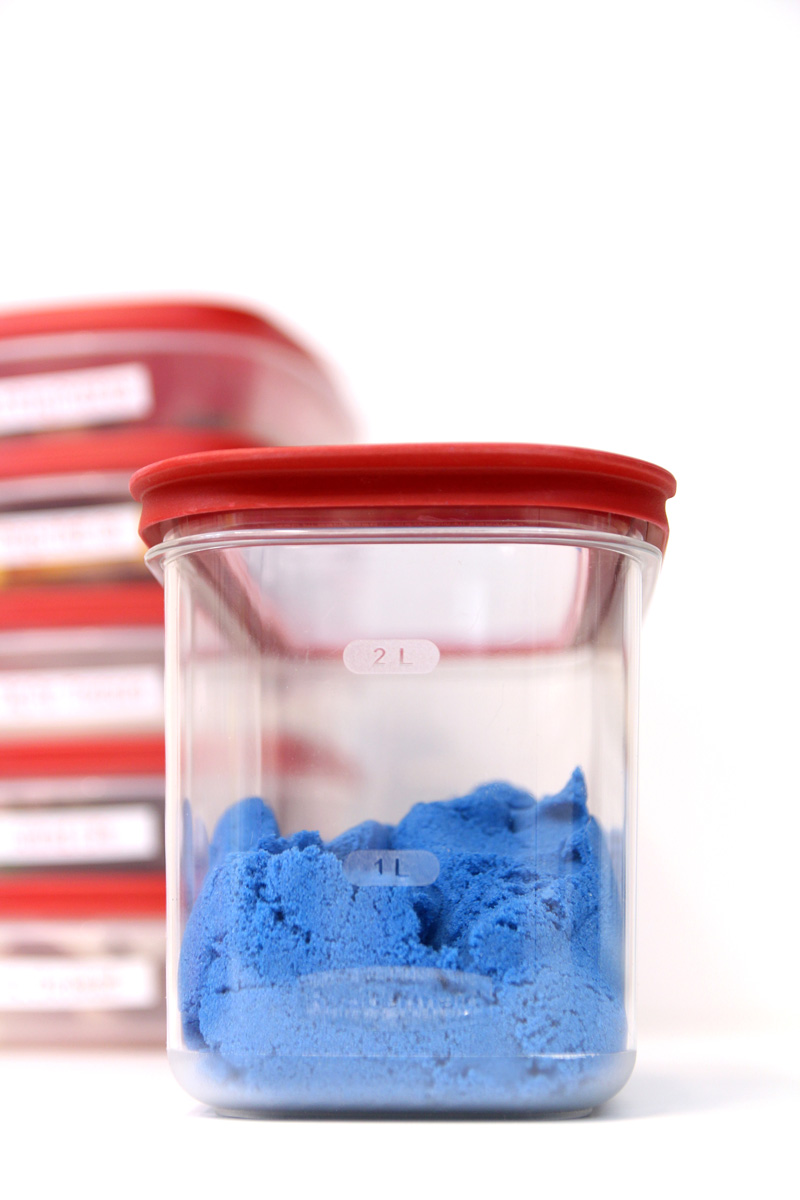 Themed items to discover and play: While not necessary to play with Kinetic Sand, these are fantastic ways to up your game and the possibilities are endless! I've shared in this post a few specific ideas, and then some general thought starters for further grab-n-go sensory bins.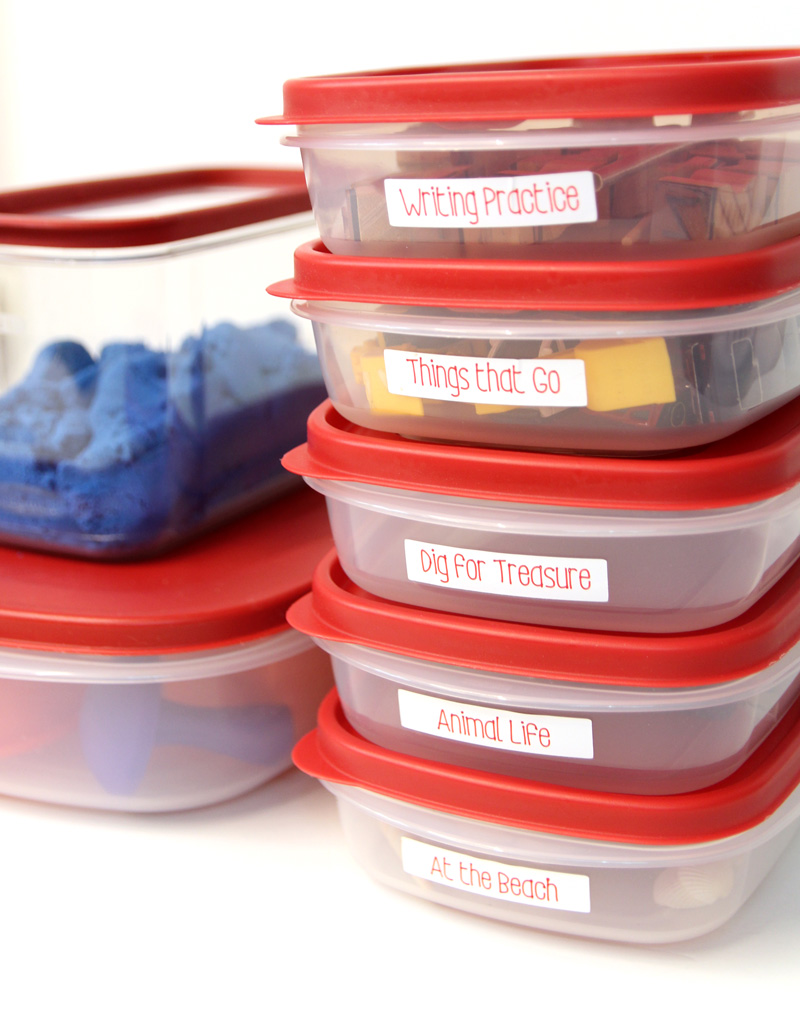 5 Sensory Bin Ideas to Grab and Go
Here are a few sensory bin ideas that I put together for my own kids. I store them in 5.5 cup Rubbermaid containers, stacked neatly and labeled.
1. Animal Life – My kids love creatures, so I took some toy animals and added some fake plants for an animal life theme! You can also go in a specific direction with this: safari, rainforest, etc.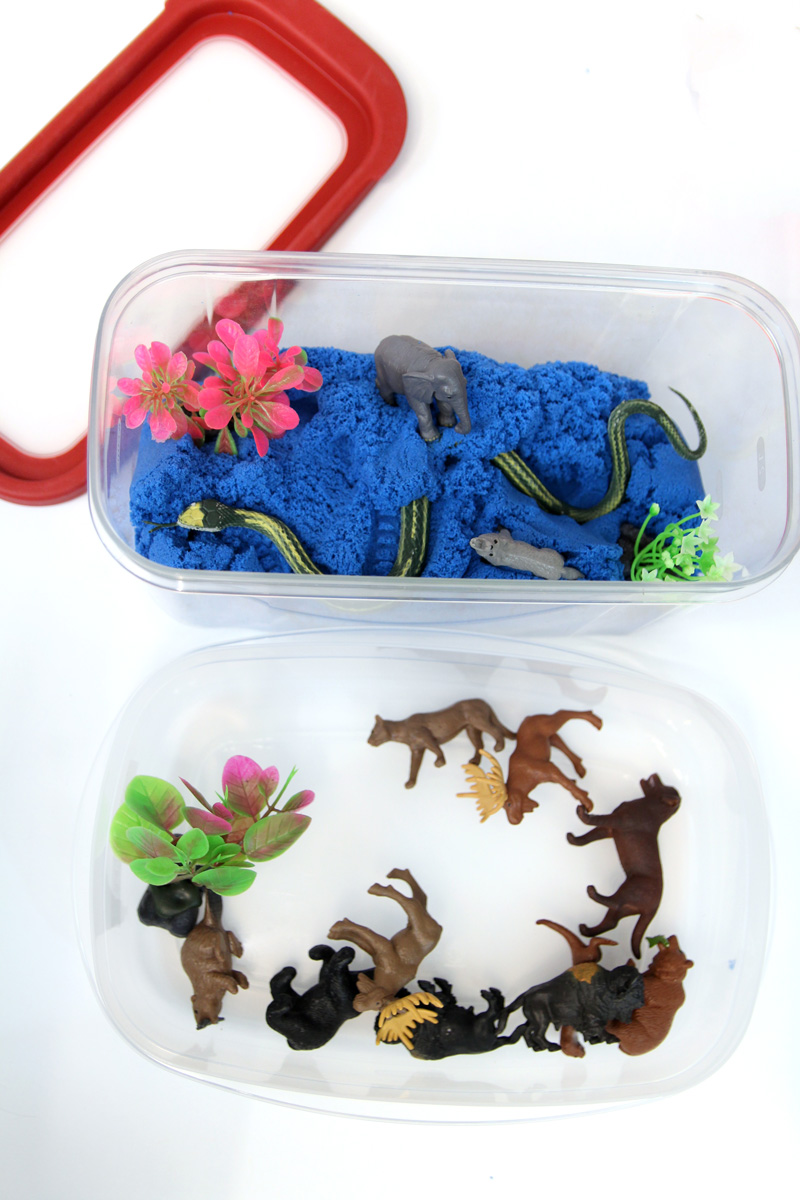 2. Things that go – We love playing with toy cars in Kinetic Sand because of the marks you can with them! Tractors add a little extra fun. Road signs and cones are a fun extra.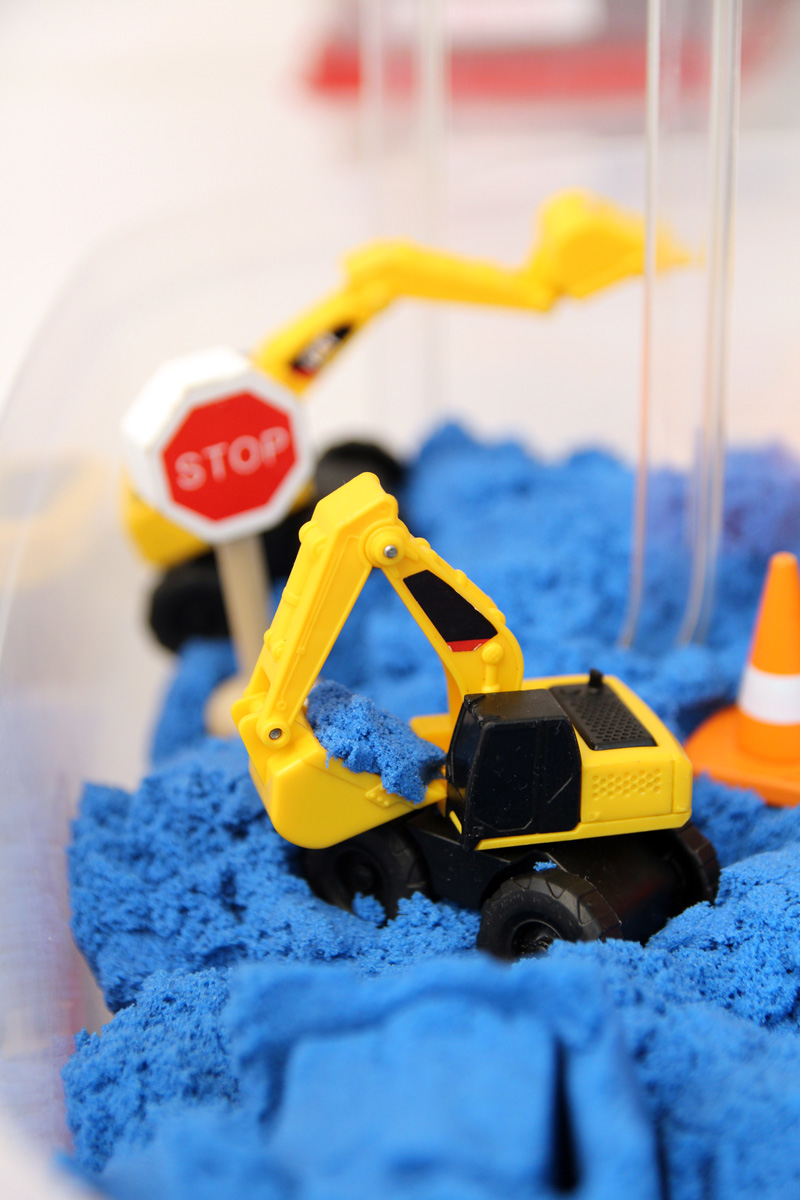 3. At the Beach – Toss in some rocks, shells, and sea creatures for an instant beach! Add a drink umbrella for an extra touch.
4. Dig for Treasure – anything that can pass as "precious" can go into this – gems, Mardi Gras beads, fake coins… You might want to put them in the main bin first and then add your Kinetic Sand so that kids can actually dig for them using the Sandisfactory tools.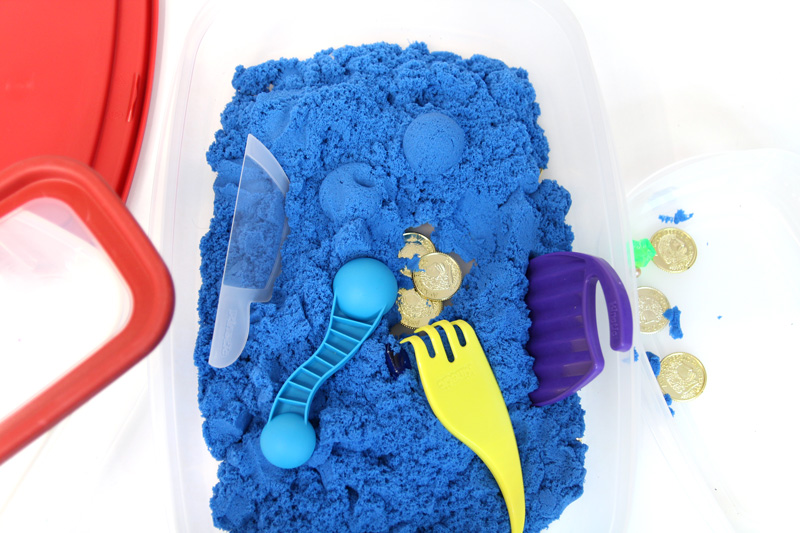 5. Writing practice – A mix of alphabet stamps that leave an impression in the sand, and tools to trace or copy the letters make for a fantastic writing or spelling practice bin.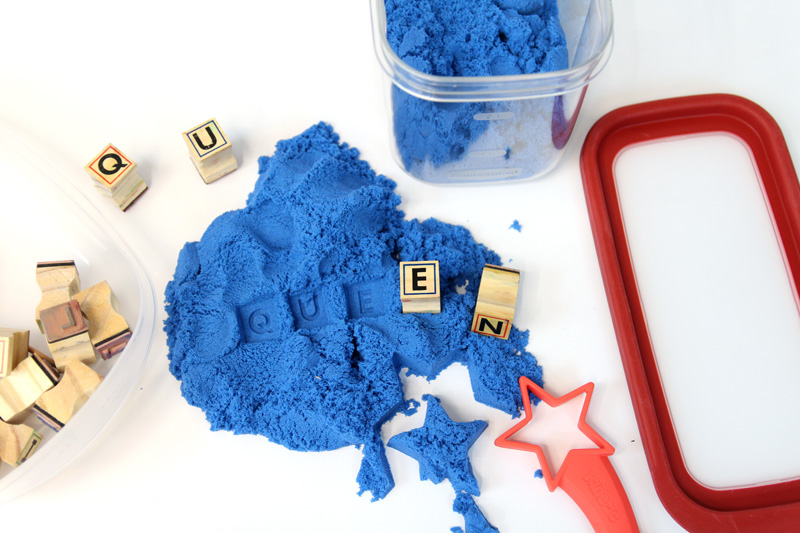 Some more idea starters:
Holidays
Favorite Characters – we love using our PAW Patrol pups and small vehicles in our sensory bins!
Specific locations in anticipation of trips
Building blocks (kids can build AND mold the Kinetic Sand)
Natural materials (let the kids collect these!)
What are your favorite Kinetic Sand sensory bin ideas? Comment below!