We made this fun spoon puppets craft during some long at-home weeks and it entertained my kids for hours! Grab the printable face stickers and get crafting… Or, if you prefer, give these clothespin puppets a go. This post contains affiliate links.
---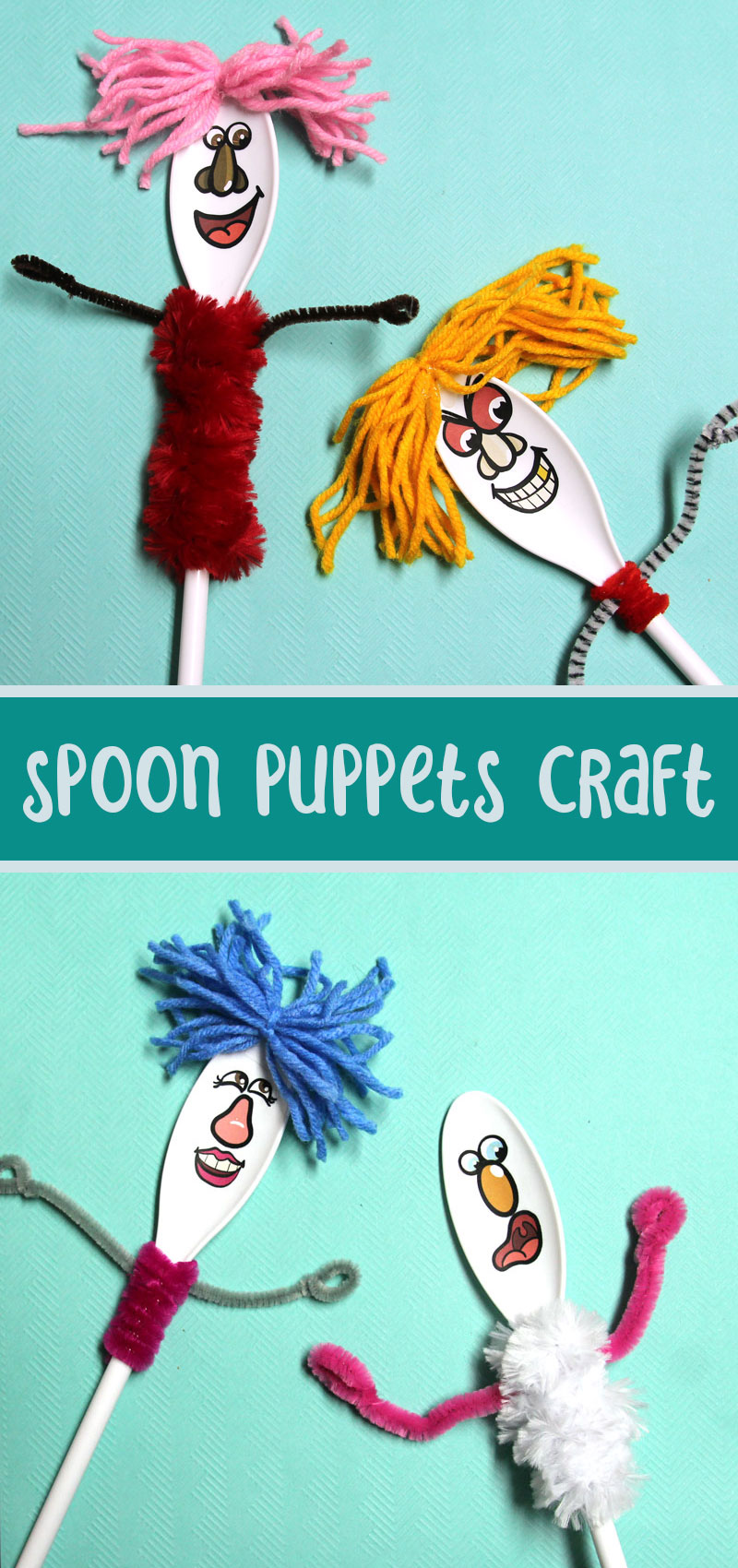 During one of those long, long 2020 weeks when my kids were stuck at home, I pulled out these dollar store spoon four-packs and we made some easy spoon puppets.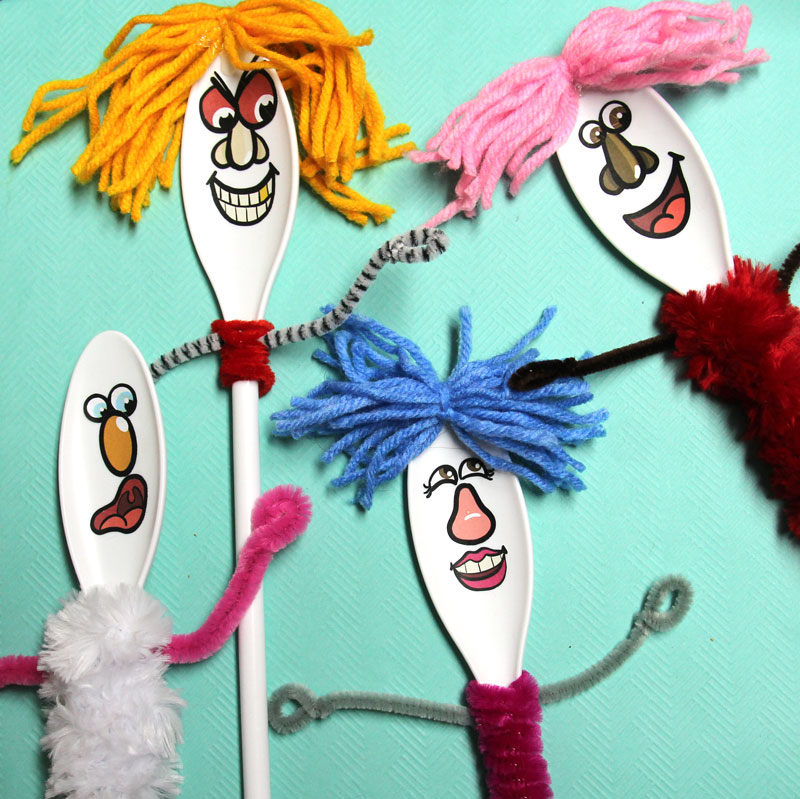 Actually, I lied.
I pulled out my Surface Pro and illustrated some really silly eyes, noses, and mouths for my boys, because it's not like we had these face stickers already handy (actually we did) and I'm crazy like that.
Fine, you can skip the intro (or keep scrolling if you want all the deets):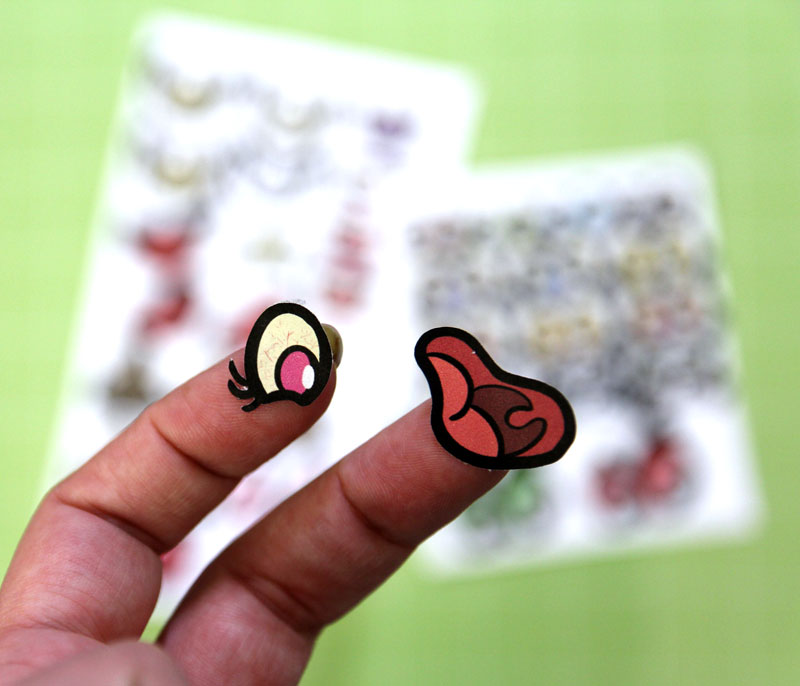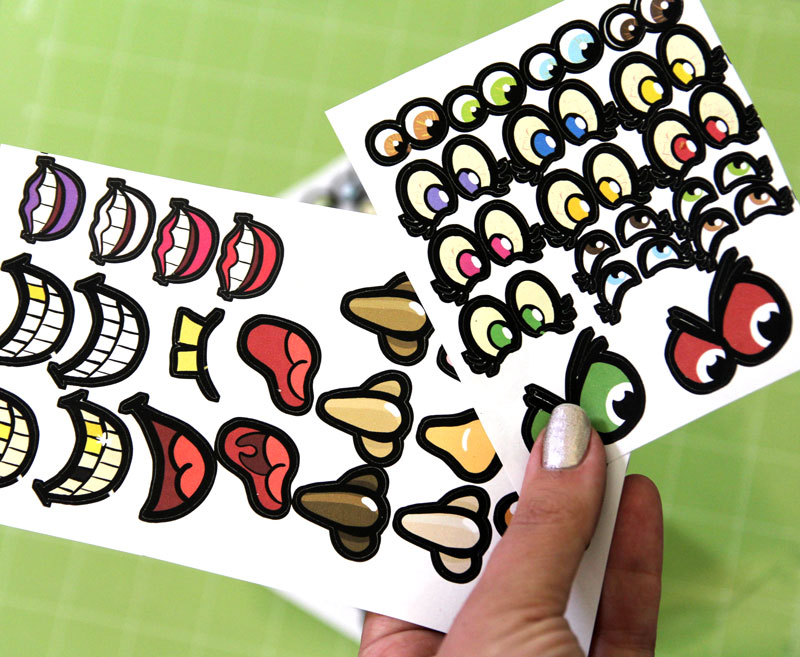 But the cool thing is, now that I way overdid it and turned something simple into a whole project for me, I can share it with you.
So yes, you can make these spoon puppets with any face stickers, but you can also use the set I created for you to print then cut with your Cricut (or by hand).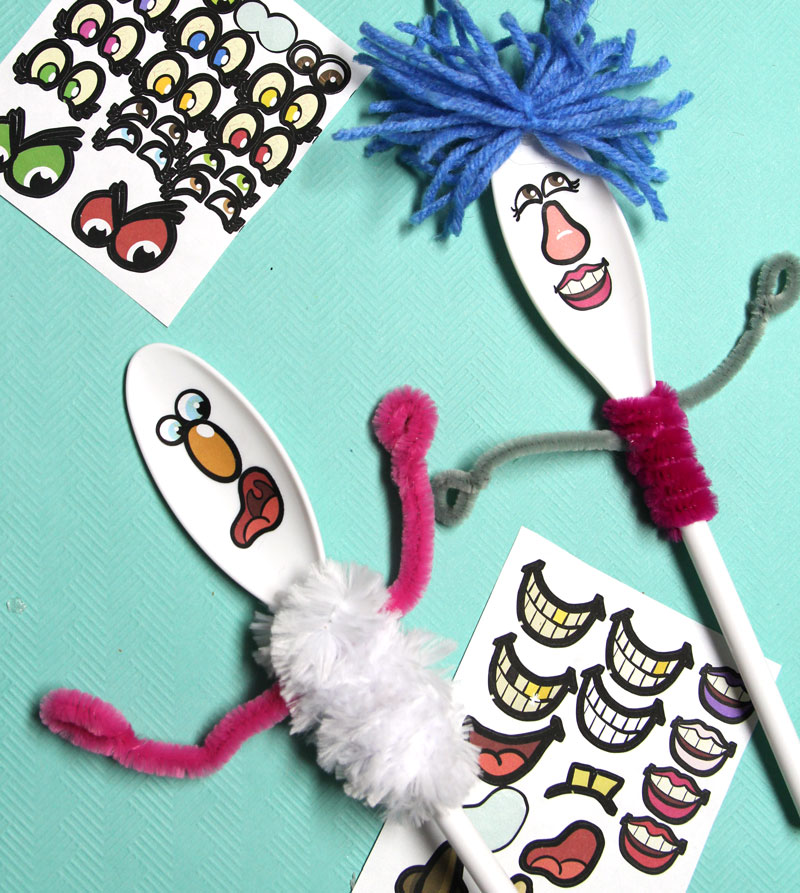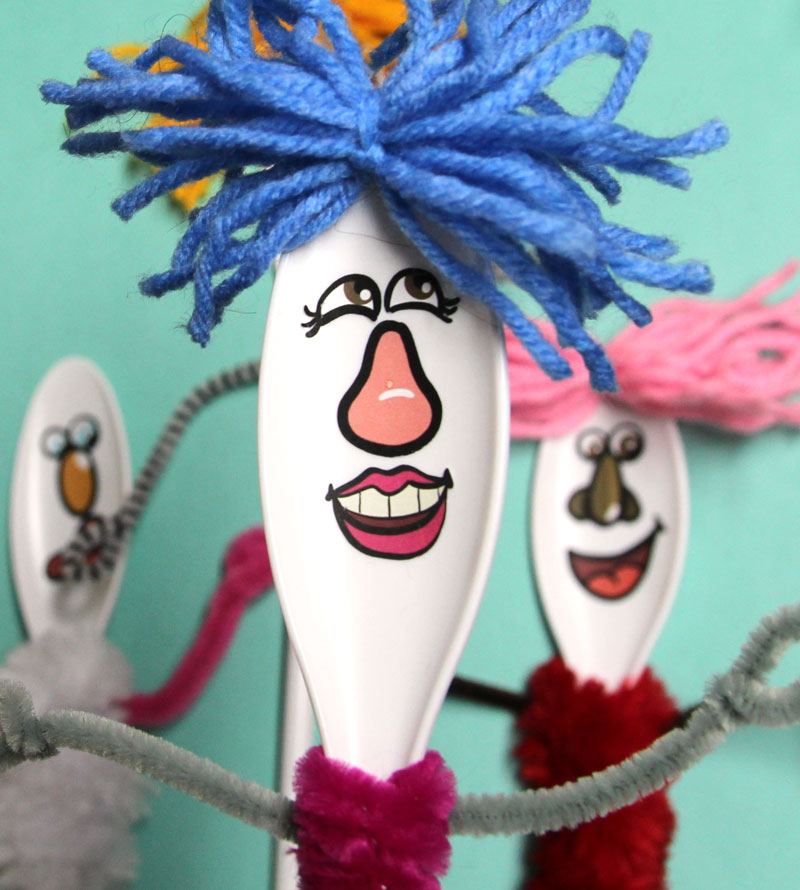 I'm getting ahead of myself.
I was desperate for an activity that would legit babysit the kids, and when I draw on my Surface Pro, my kids watch hypnotized. But I also needed an activity that would babysit my kids WITHOUT my involvement, while I did the work I actually needed to do.
So we printed-and-cut these on my Cricut, I sat them down with the stickers, chenille stems (which they didn't really use), and some Sharpies… and it kept them busy for literally hours.
They even named their puppets- something that's out of character for them! (See what I did there?) And they spent the rest of the day making puppet shows.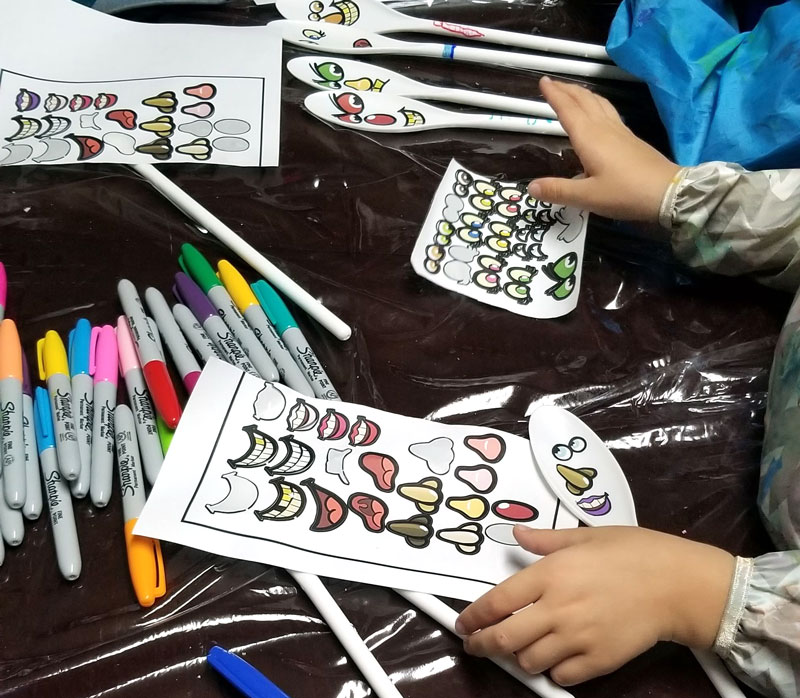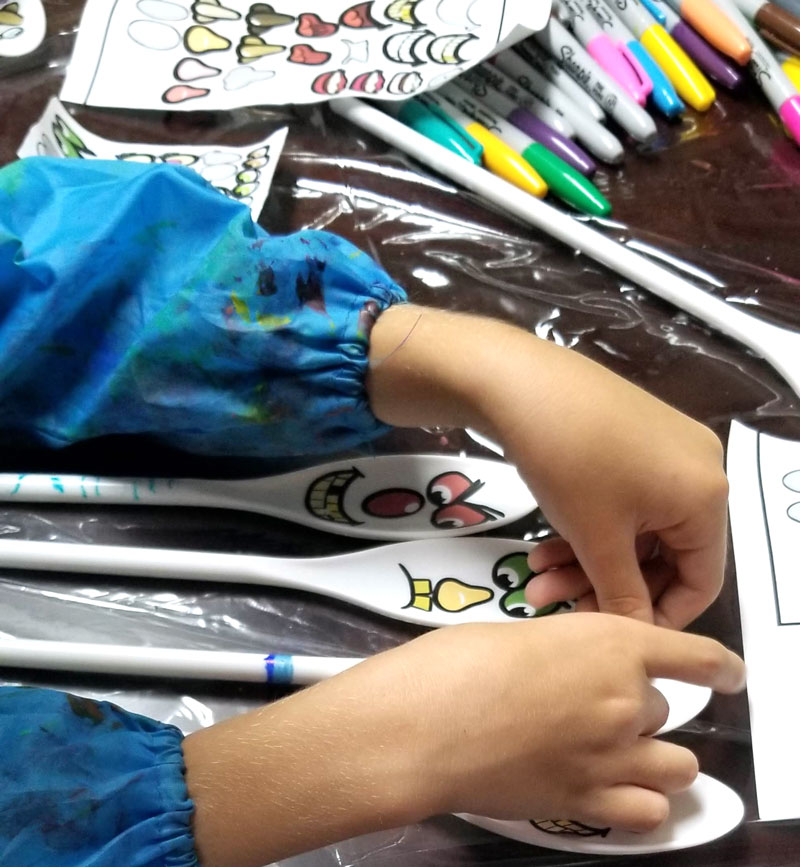 The boys labeled their puppets by name on the back very creatively. Y (age 4) can't write so he put the teeth sticker on the one he named Mr T.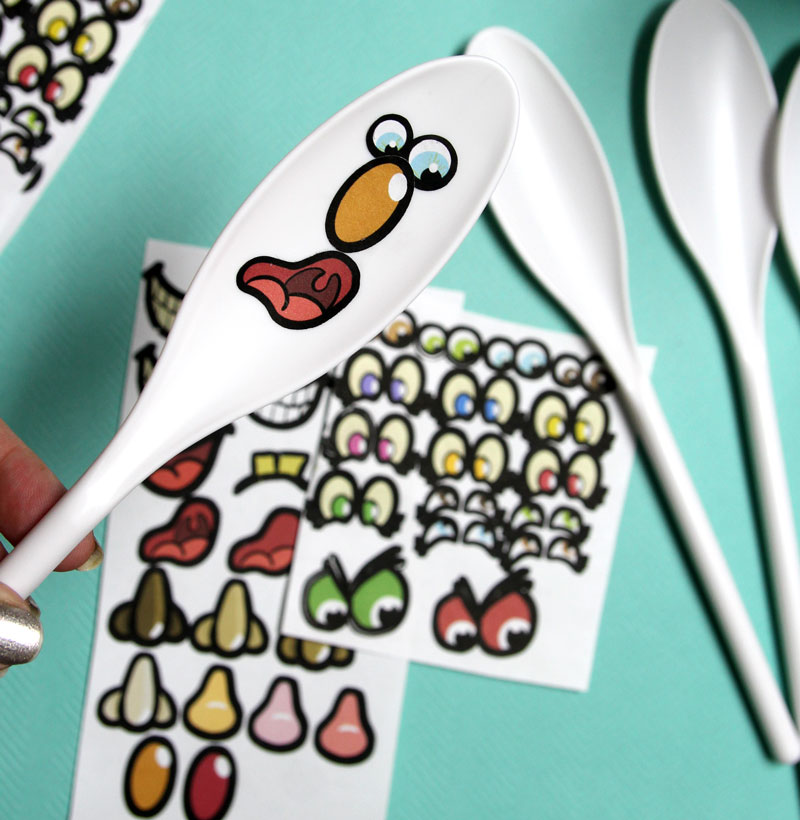 These spoon puppets used four-packs of plastic mixing spoons from the Dollar tree so they cost a quarter a pop (plus other supplies) making it a fantastic group craft too, for ages toddler and up. Yes, if your kid is big enough to use stickers they can make these. And I'll bet your tween will love making these DIY spoon puppets too since I did.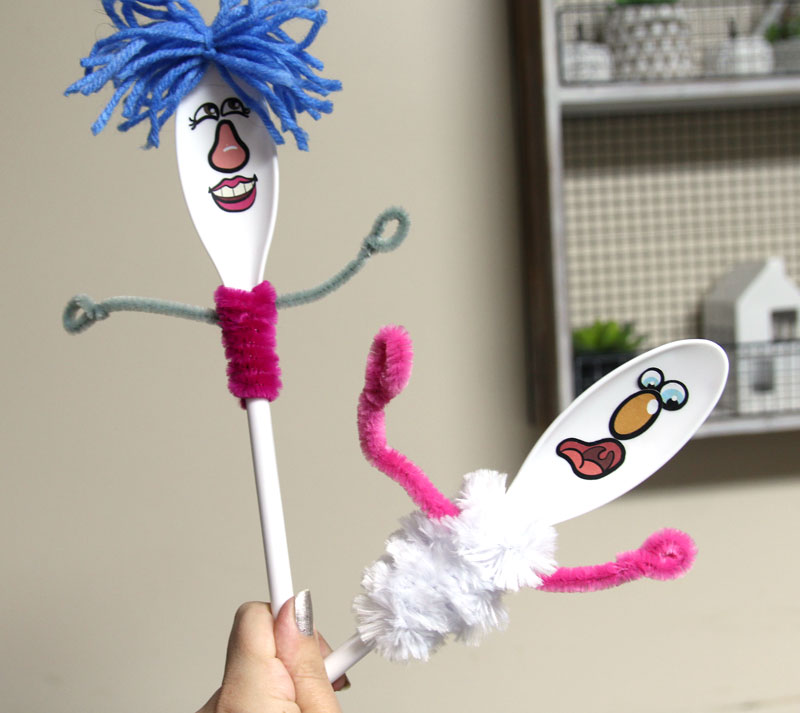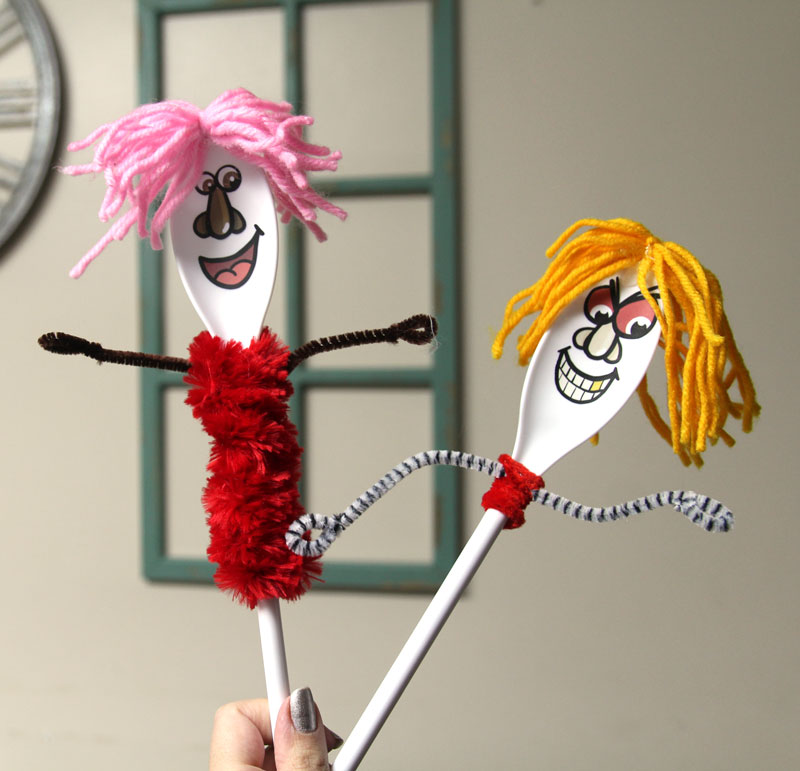 Since I accidentally bought an extra pack of spoons, I redid it with yarn hair (made as a very sparse pom pom) and loads of chenille stems. But if you want you can even ditch the Sharpies and let your kids simply have fun with spoons and stickers. While you drink your coffee hot. Or cold. Anything but room temp.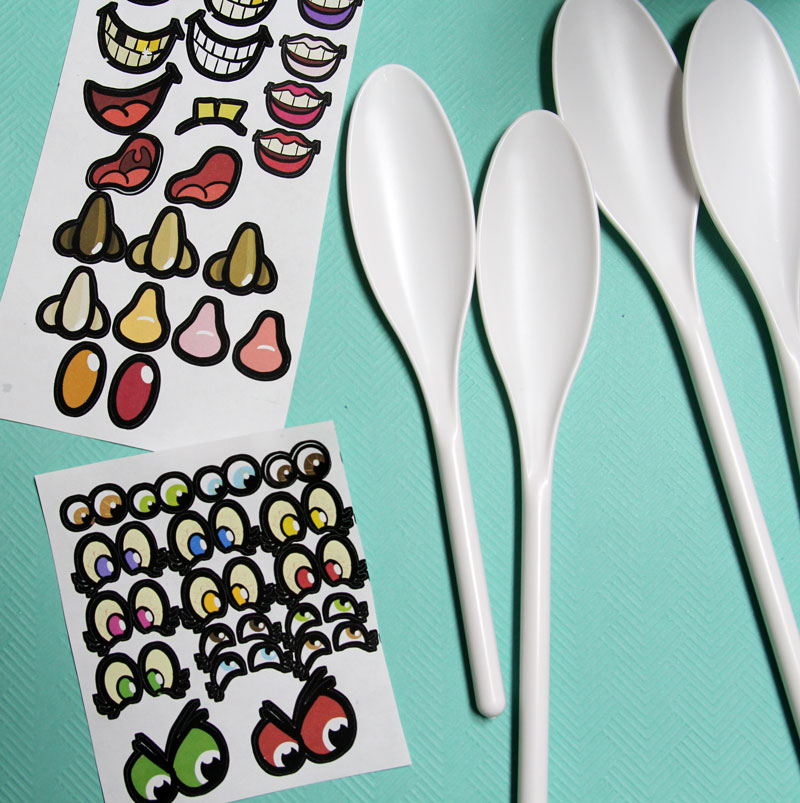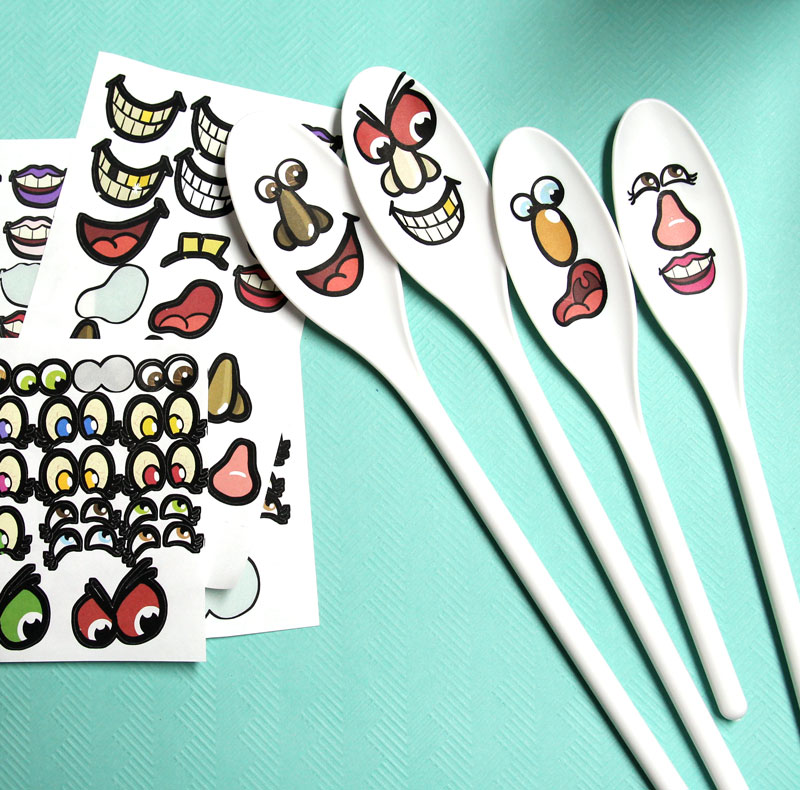 Want me to educationalize this for you? (New word, own it.)
You can use this to develop social emotional skills in kids, discuss how the puppet feels and how they can tell, have them act out their own feelings, yada yada yada… see? Educational AND non-room-temp coffee.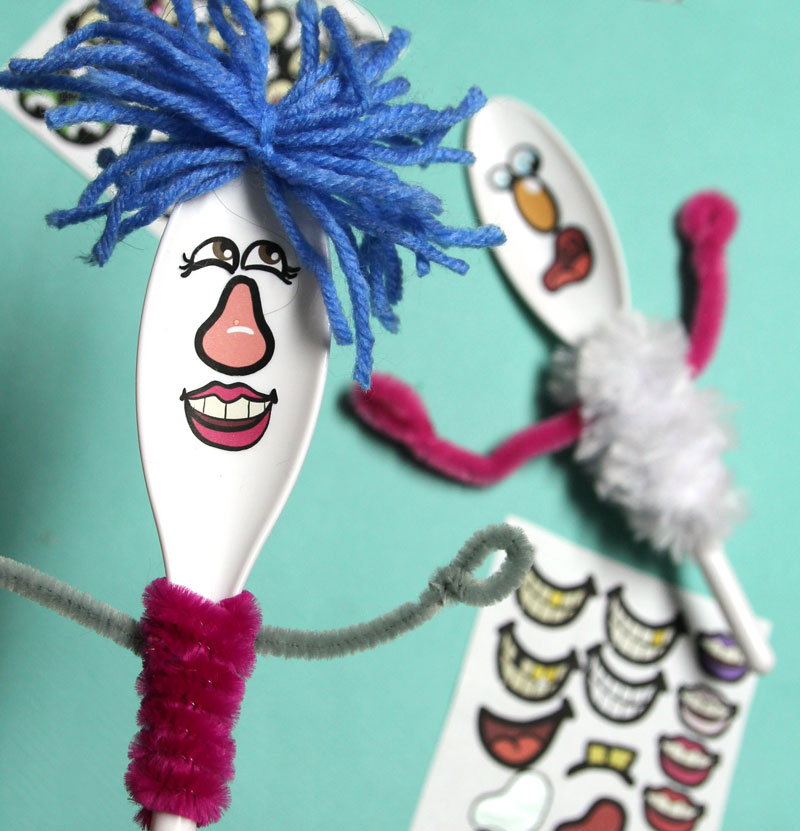 How to print then cut with Cricut
Get the printable face stickers here
The printable stickers are available for super cheap in my Etsy shop. You can get them right here. These are for personal, classroom or public library use. Contact me for other purposes.
You'll get both PDF and zipped PNG versions. The PNG is for Print then Cut, the PDF is to hand cut.
PNG images are separated by facial feature type and arranged to be easy to load and use (so you don't need to add each drawing separately). They are NOT arranged for maximum efficiency for use with Print then cut. The spoon puppets that I used it for shows a reduced size.
The printed sample I used for my kids was duplicated and reproduced so that TWO sets of eyes fit on an 9.25×6.75 print, and two sets each of noses and mouths fit on a second 9.25×6.75 print.
Resize it as you'd like for your craft.
Previews of the PNG and PDF files (in order):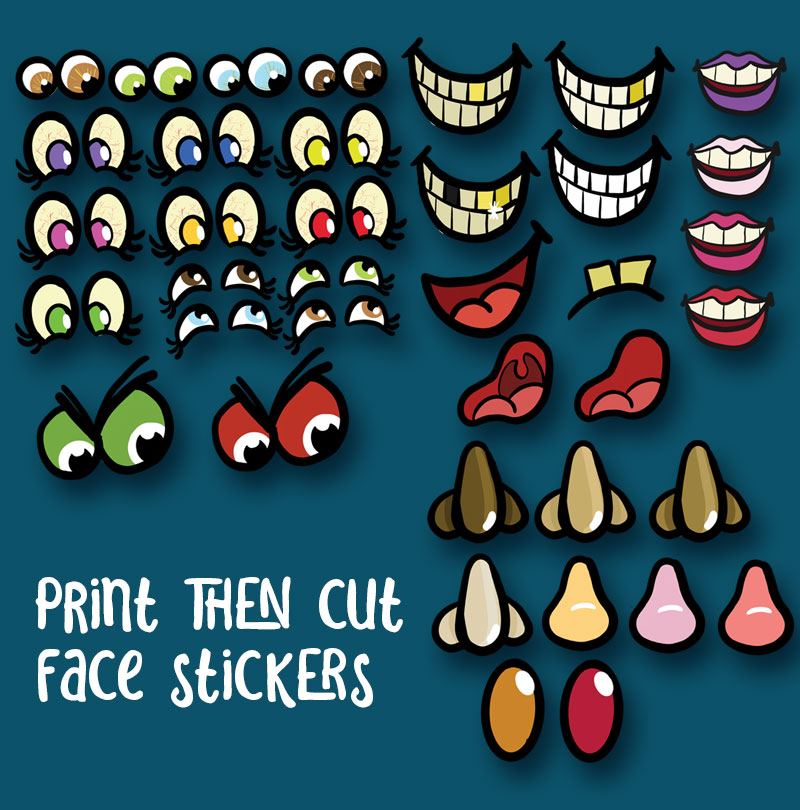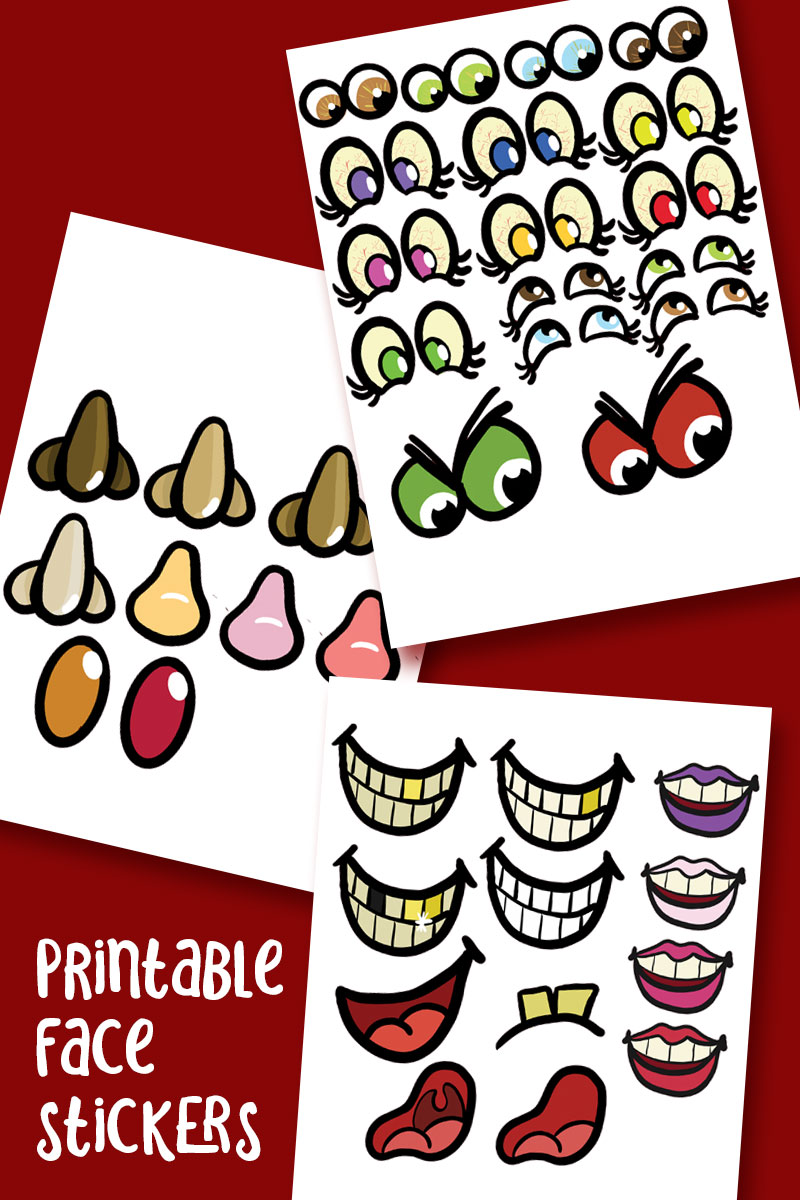 What you need to print then cut the stickers to make spoon puppets
Blue (LightGrip) mat
Fine Point Blade
How to print then cut stickers
1. Open Design Space and open a new project. Choose Upload and follow the prompts to upload and save the image. Make sure you save it as a Print then cut. Resize your images, making sure to resize them together to keep them proportional, and within the size allowance of Print then Cut (9.25×6.75). I recommend paying attention to the size measurements of your spoons and make sure the individual features make sense – you might want to make them smaller than 9.25×6.75 (I made the stickers bigger to allow for use in different crafts). When they are the correct size, click "make it".
Tip: I chose washi sheets as my material and used "more" pressure and got a perfect "kiss cut" that cut the sticker and not the background. You might need to play with settings a little to get the right one for your sticker sheets.
2. Send your face stickers to your printer (make sure to choose the right one!) I leave bleed on. You'll see that it'll add a rectangle around your stickers. Those are "registration marks" that help your Cricut know where to cut.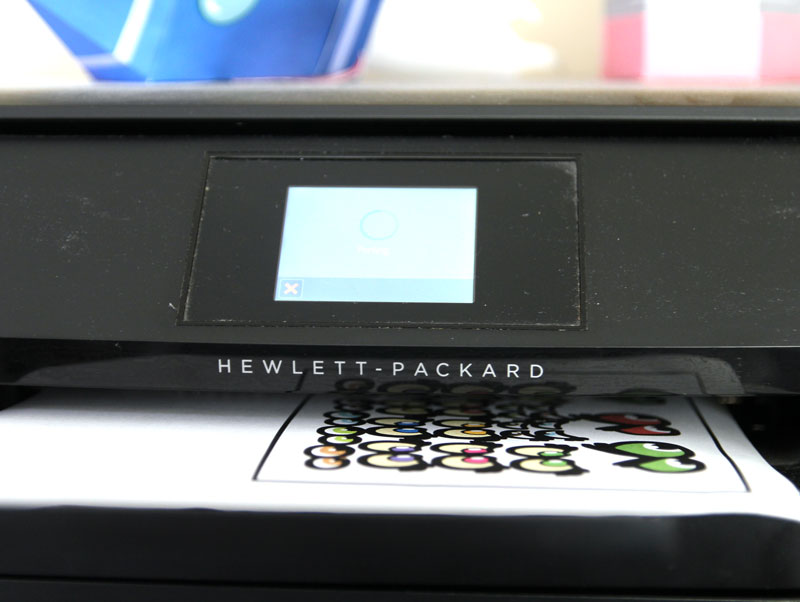 3. Use a brayer to adhere your stickers well to your mat.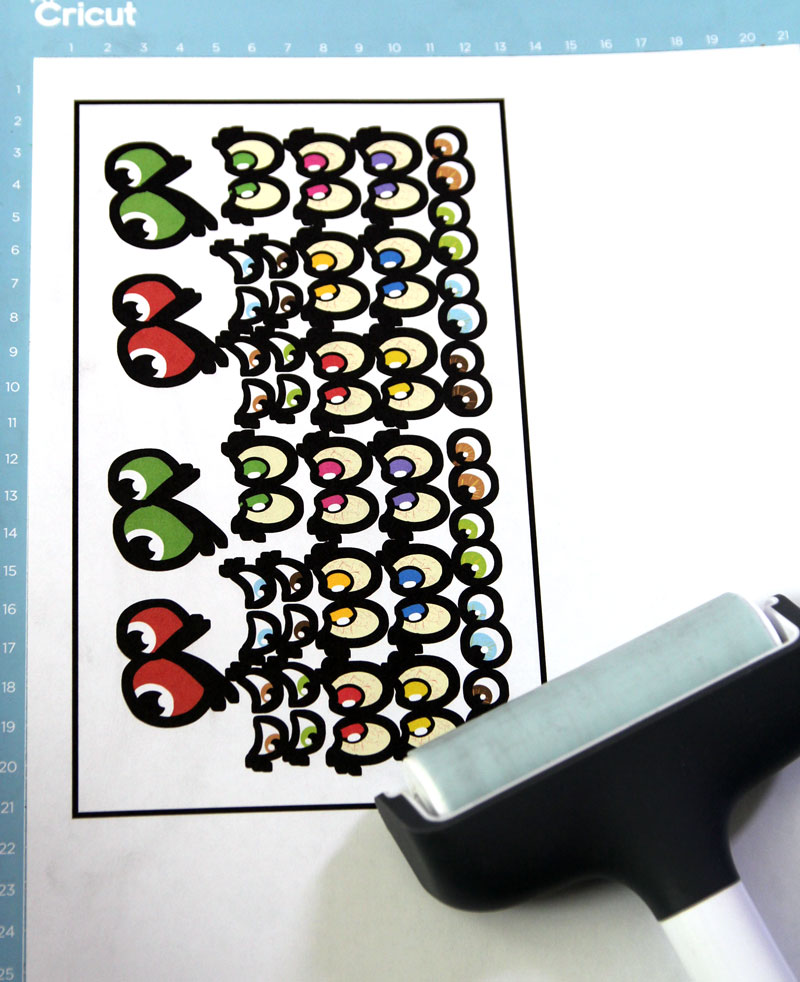 4. Load the mat into your machine, hit the C symbol and watch your Cricut cut! If it's not cutting accurately, you need to calibrate your machine.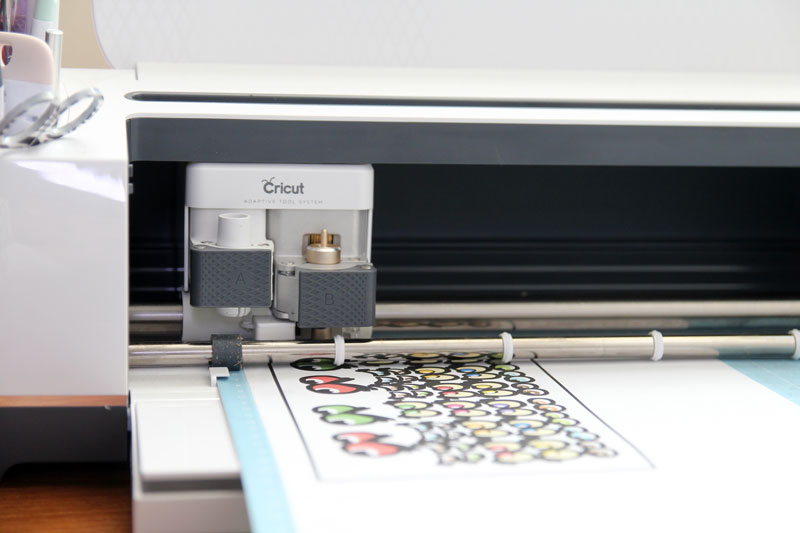 5. Use a spatula to remove your sticker sheets carefully from the mat.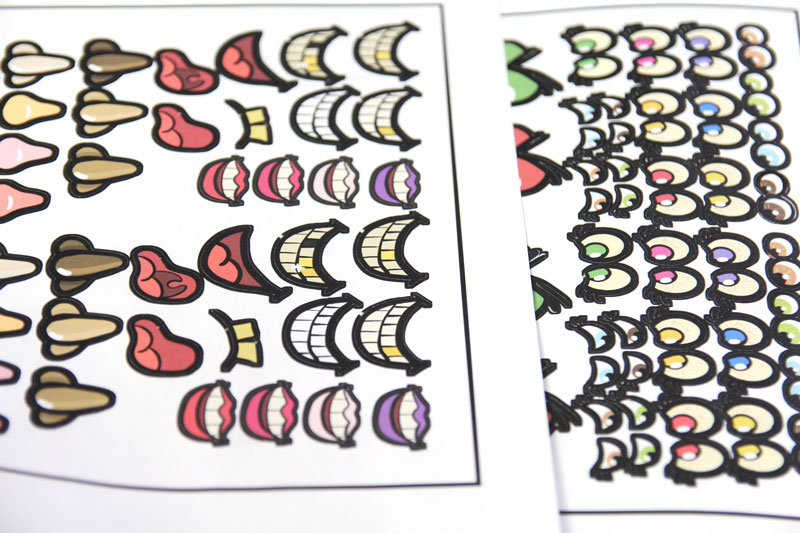 What you need to make spoon puppets
How to make puppets with spoons
1. Put stickers on the spoons – make some super silly faces!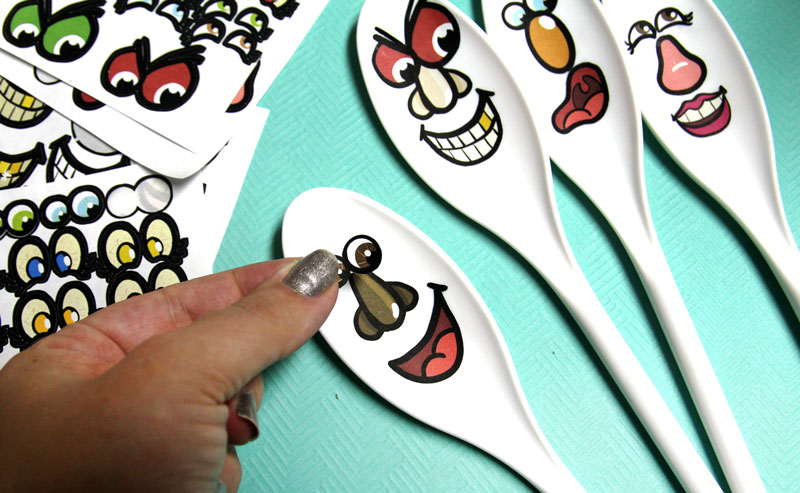 2. You can be finished at this point if you want. Or, make yarn hair. Wind yarn a few times around your hand and double knot another piece around the bundle, through the loops.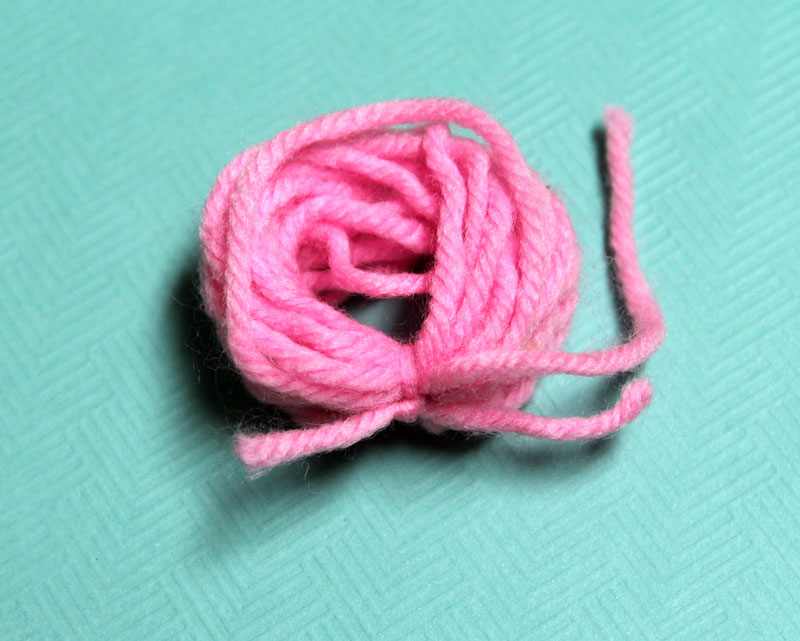 Cut open the loops and glue onto your spoon puppets.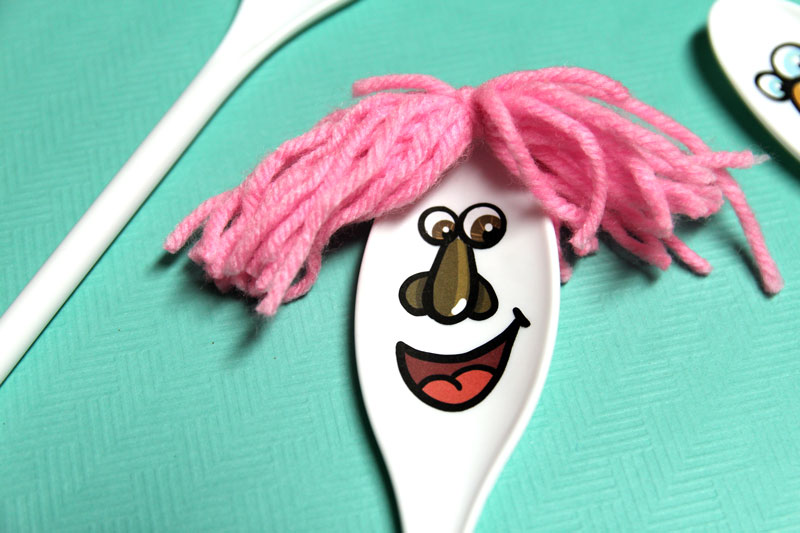 3. Wanna decorate the body? Pull out the permanent markers and make stripes, polka dots, freckles, whatever. Or use chenille stems, aka pipe cleaners. Twist the center of one around the base of the spoon part of your spoon. Twist loops into the ends as hands. Twist another around it and along your handle below the arms.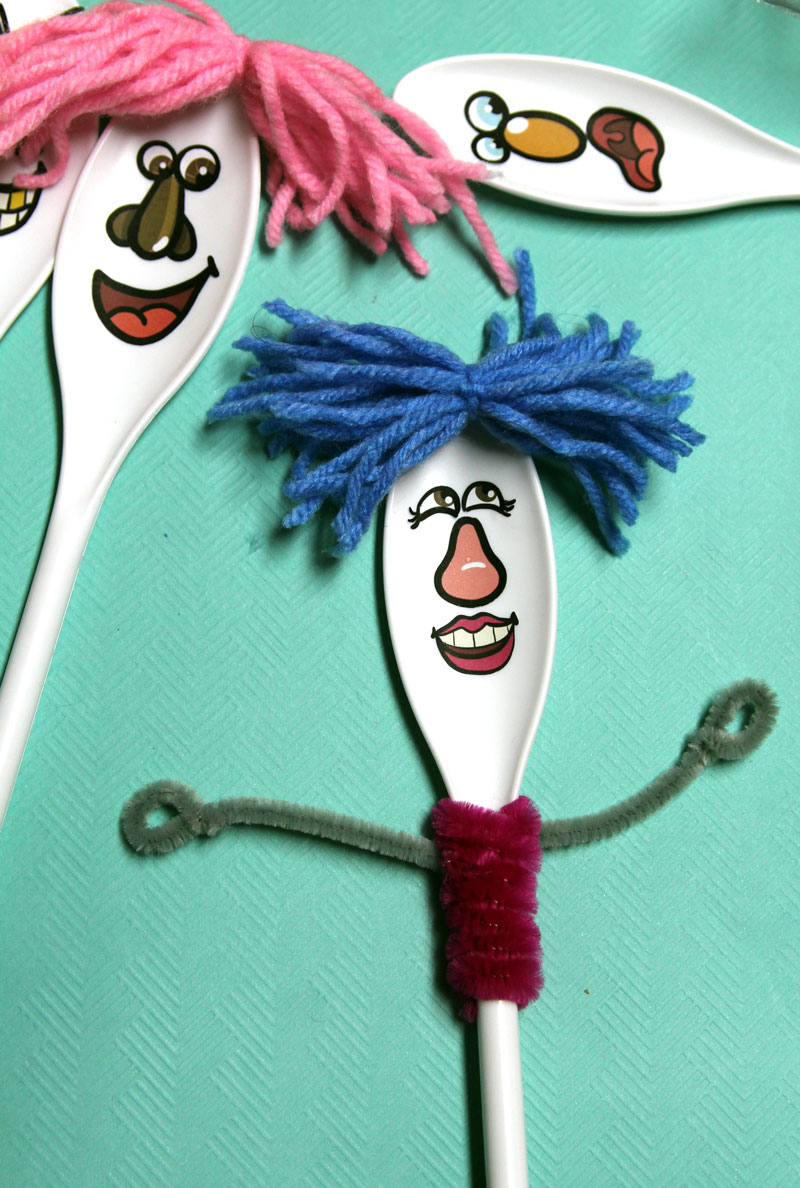 Your spoon puppets are complete – time to put on a show!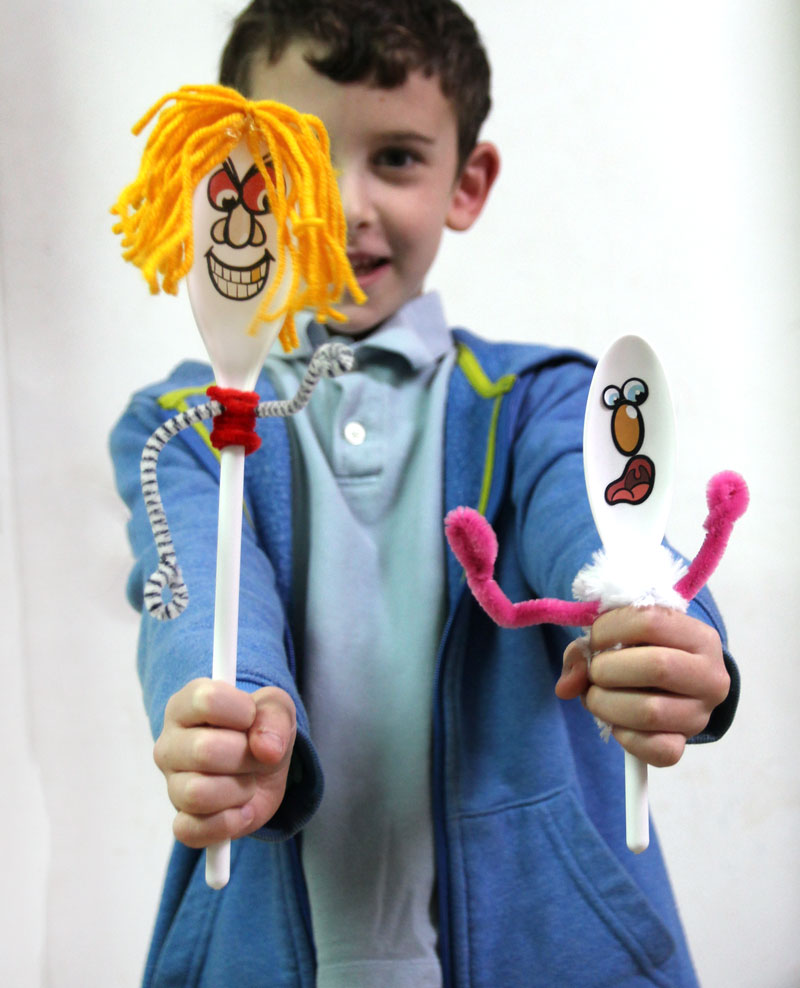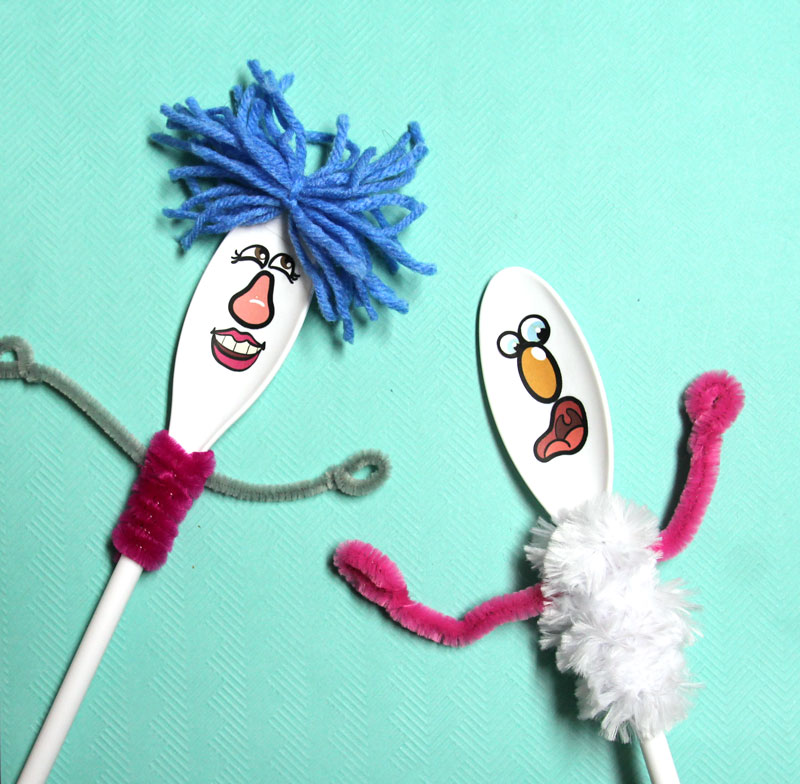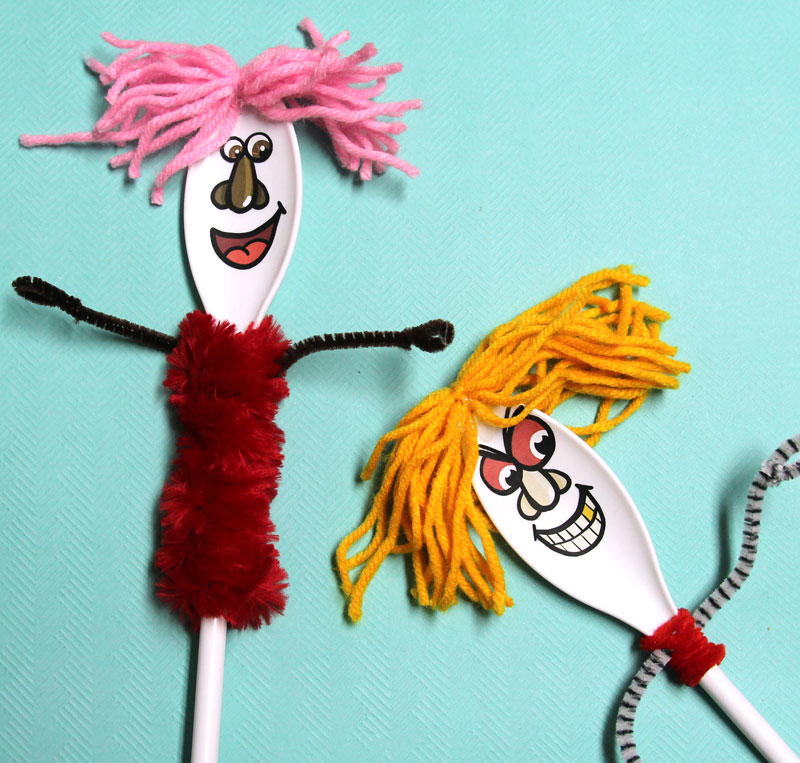 Want more crafts like this? Check these out!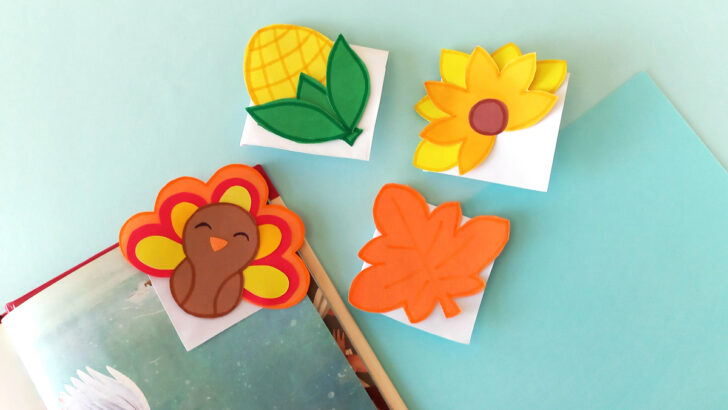 Craft these adorable Thanksgiving Bookmarks using this free template. When you're done, check out these Thanksgiving turkey puppets. This post contains affiliate links. Thanksgiving is …