Learn how to make easy holiday Cricut gift tags, including fun foiled designs for Christmas, Hanukkah, and non-specific holidays! You can read my Cricut Maker 3 review here. This post contains affiliate links. This post was created in collaboration with Cricut.
---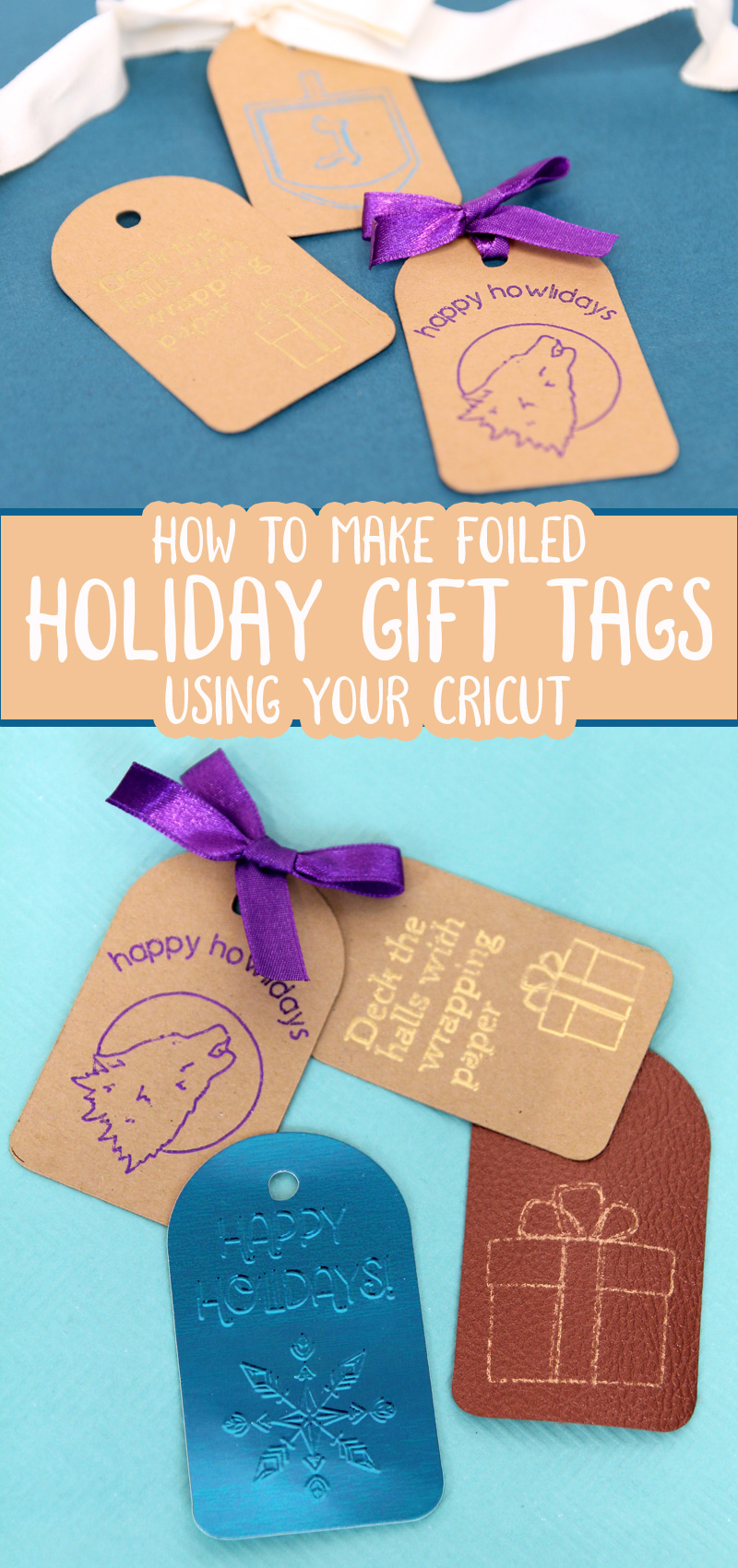 Christmas is still over a month away, but Hanukkah is early this year, so it's about time that I share with you these holiday gift tags – including designs for Christmas, Hanukkah, and non-specified holidays.
All of these designs are made with Cricut Access elements. If you're not yet a subscriber, it'll be worth it to join for these Cricut gift tags! Otherwise, enjoy the inspiration, and check out the post where I answer: is Cricut Access worth it?
For most of these Cricut gift tags, I used foil transfer sheets and the new Cricut machine foil tool.
Foil is perfect for those who like to pull a finished project off the mat – no assembly required. And it adds a super cool level of class that is more upscale than writing.
During the busy holiday season, I prefer it this way. My craft room gets so overwhelmed, I'm short on time – and this way of working is efficient and effective.
Adding a little wit to your gift is just another way to make people smile! But it doesn't have to be punny. Even a simple design adds so much class to your gift wrap!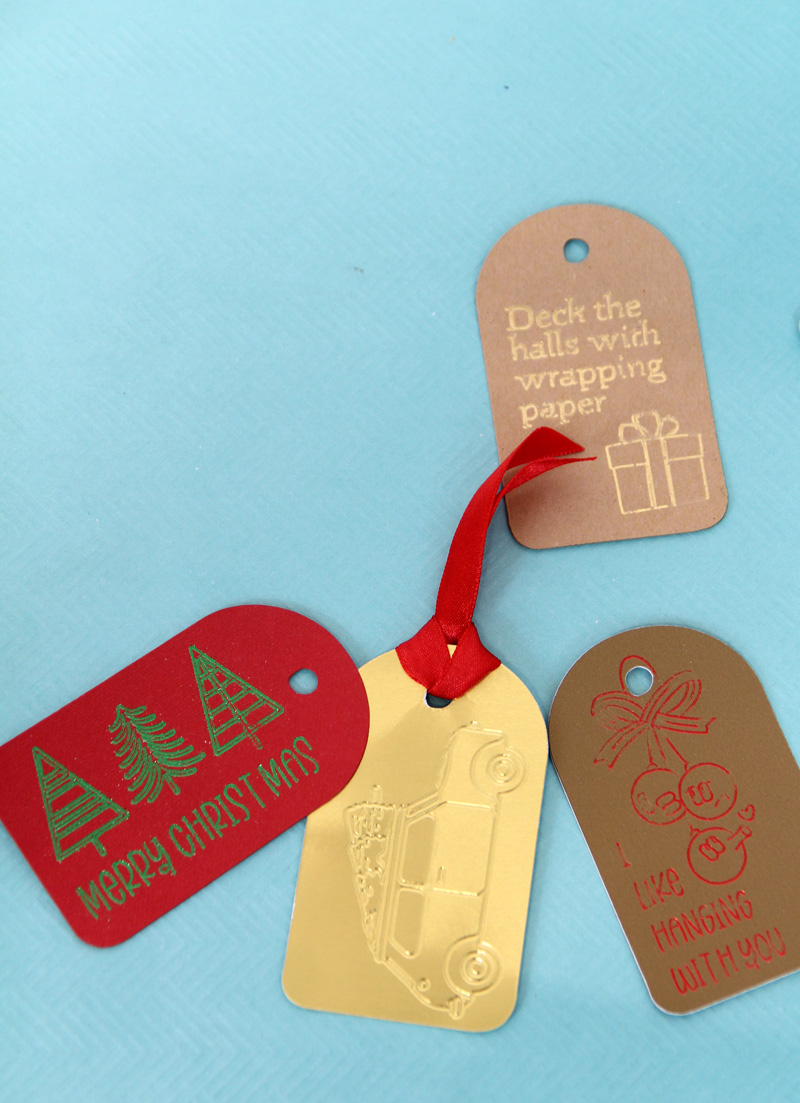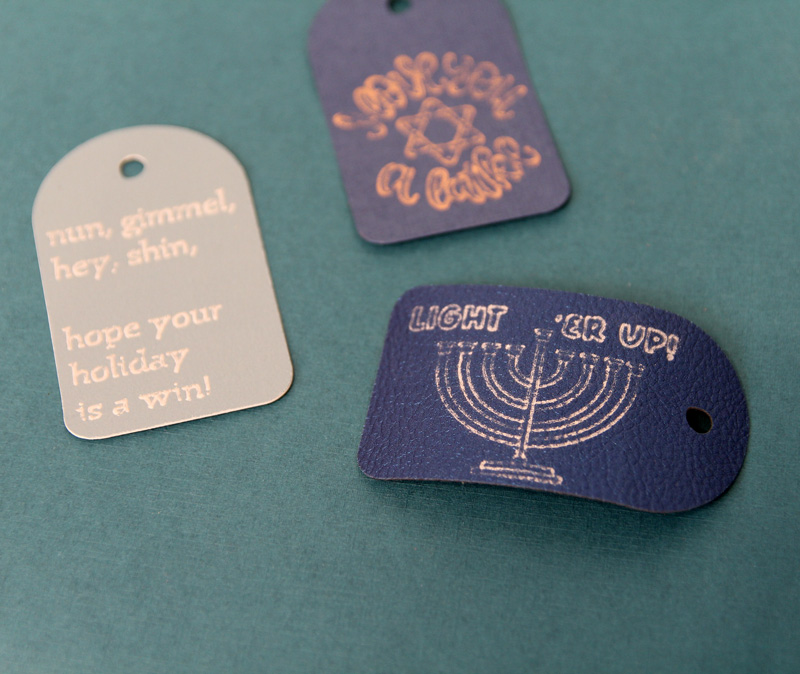 There is a learning curve to using the foil transfer tool. Not everything absorbs the foil. Some things need more pressure to really transfer well. And one golden rule I learned: the smoother the surface the easier.
Today's post is all about learning how to make Cricut gift tags – from the inspiration, to the materials, different processes, and a cool glimpse into my trial and error, so that you can save time and material.
You're welcome!
Which materials can you foil on for Cricut gift tags?
As I mentioned, you can foil only on certain materials. And while many materials can be foiled, some work better than others. You're relying on pressure to transfer the foil. So harder, smoother surfaces naturally worked better. But the foil board didn't show up at all. And then there's the one option I'll definitely be prioritizing for my foiled projects.
You can see Cricut's suggested materials chart here.
How to foil on Card Stock
Card stock is the basic material you'd pull out for making Cricut gift tags. And it showed up beautifully.
Card stock used here is Cricut navy and red.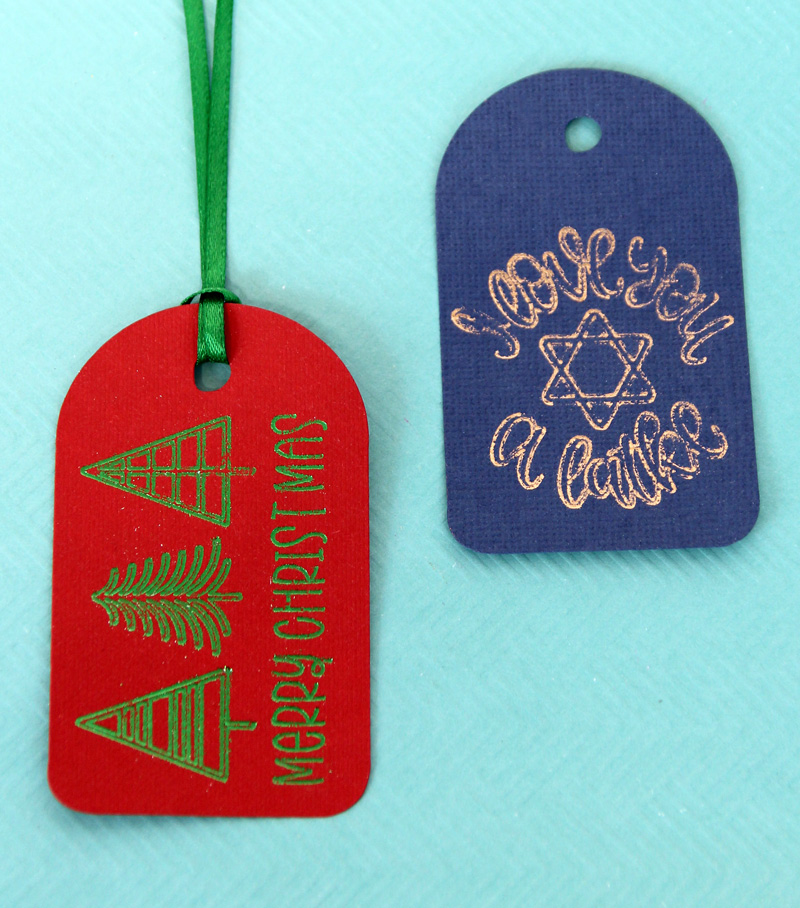 I tried it on the more textured side of card stock and on the less textured side. The less textured side was a definite winner.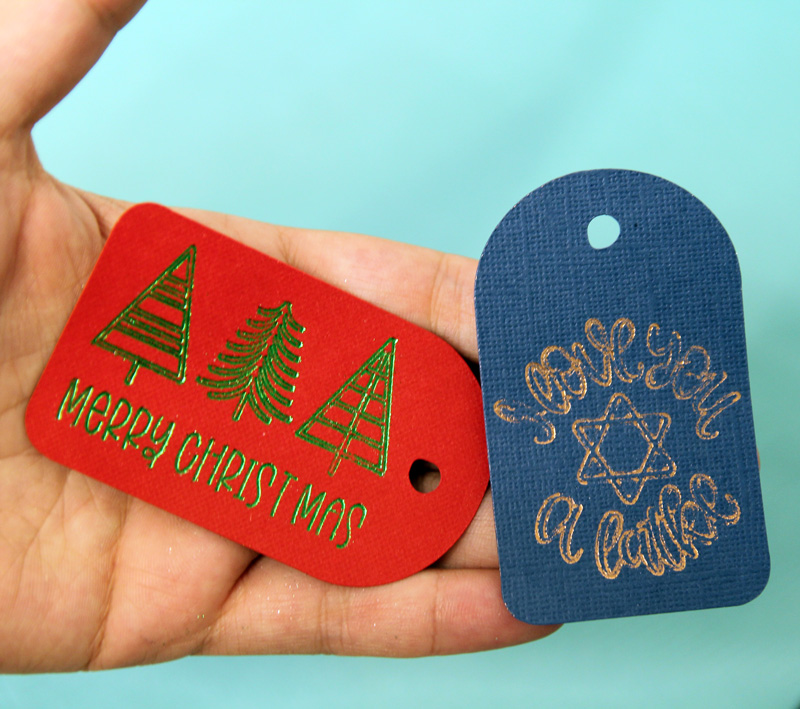 The rose gold on navy for the Hanukkah tag is sooo classy (my kitchen is those colors!) There's no rule that it has to be blue and silver. The goal was definitely to keep it high contrast. Traditional green and red shouldn't really work due to the lack of contrast but it looks so sharp! And it can only work with the sheen of foil helping it stand out, and adding an upscale touch.
To make these Cricut gift tags, I used the bold foil tip.
How to foil on Kraft Board
I love how foil shows up on Kraft board! Again, I prefer how it looks using the bold tip with more pressure. The medium tip gives it a more subtle distressed look, that totally goes with Kraft board. However, I prefer the bold for foil, as it's shinier.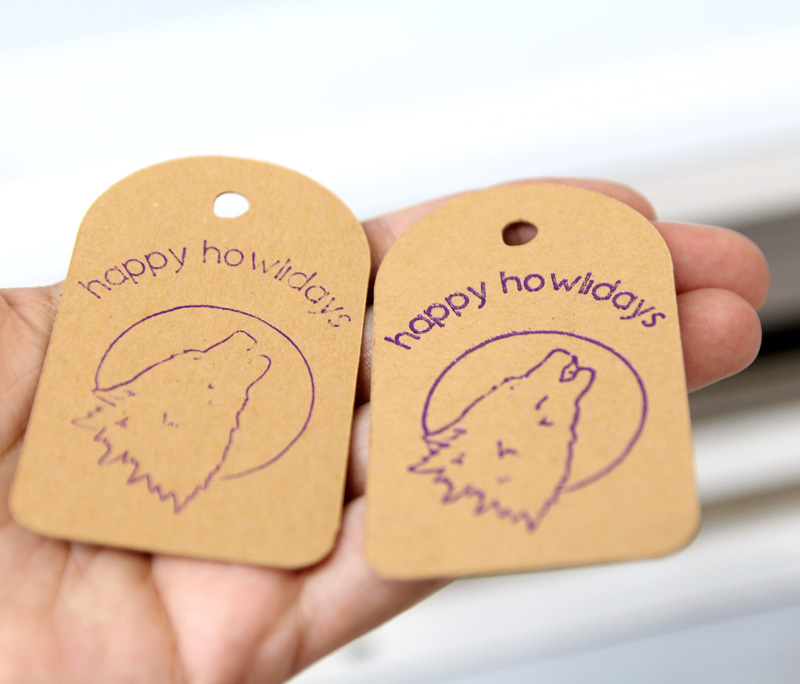 While the gold doesn't show up well in photos, it looked great in real life. It's a low contrast combination, but the shine stands out on the rugged background.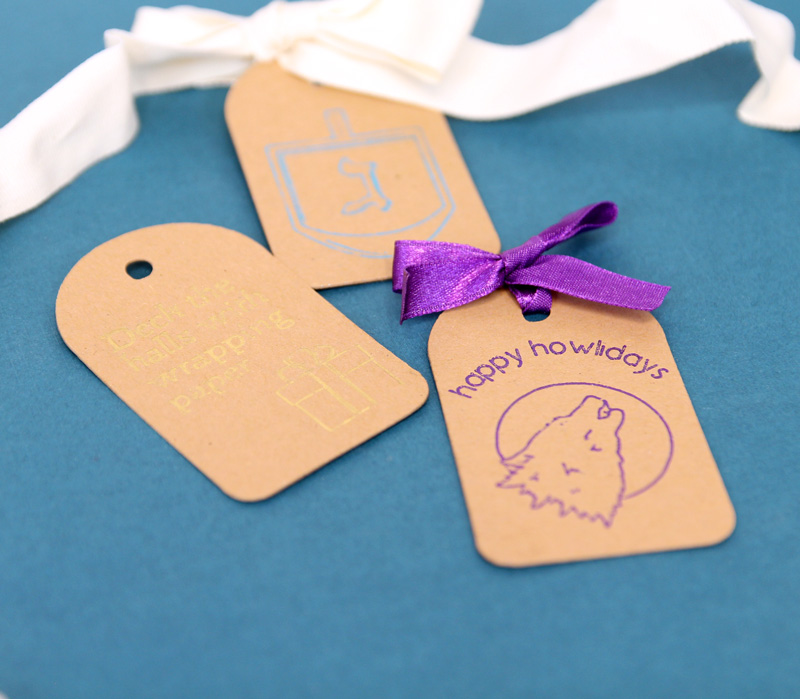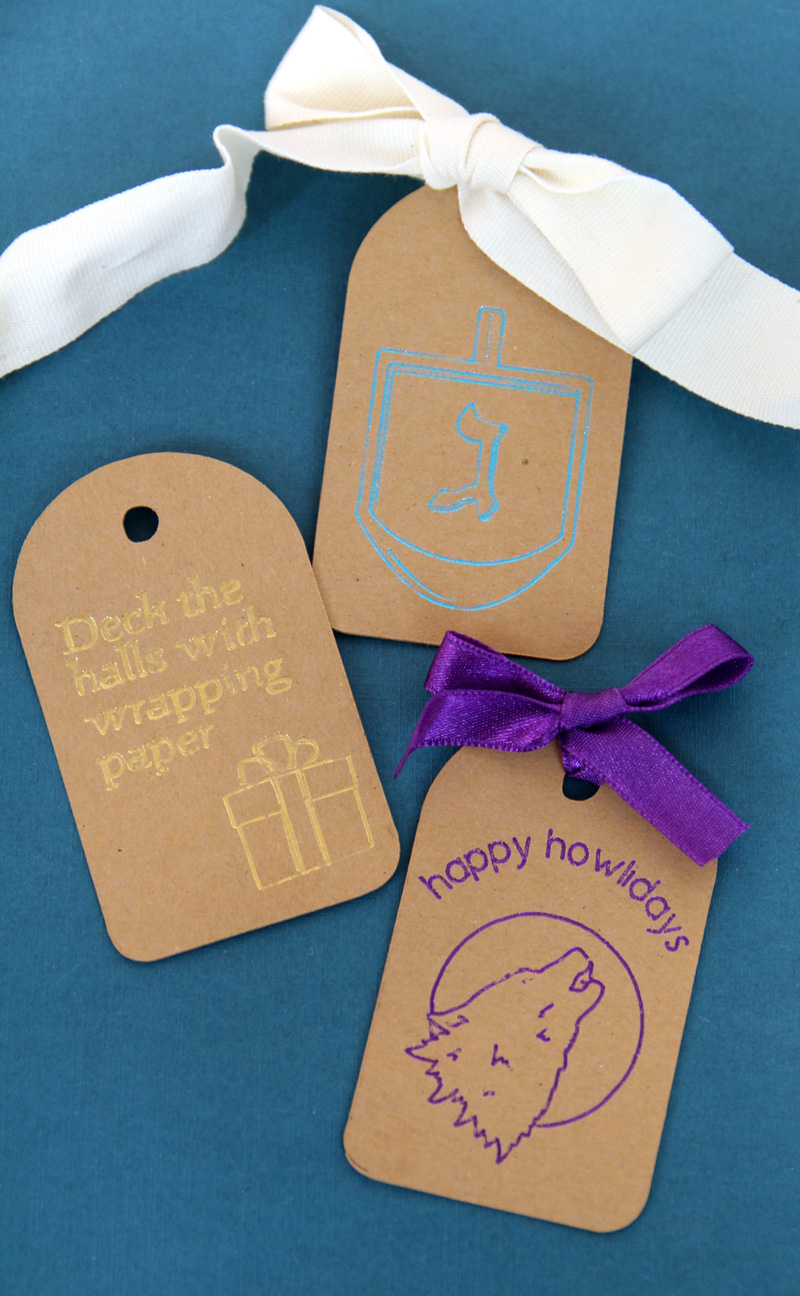 How to foil on Metallic poster board
Cricut metallic poster board is gorgeous. End of story.
It's got that subtle sheen, that's not in-your-face, but is so festive. I played with the gold and ocean colors.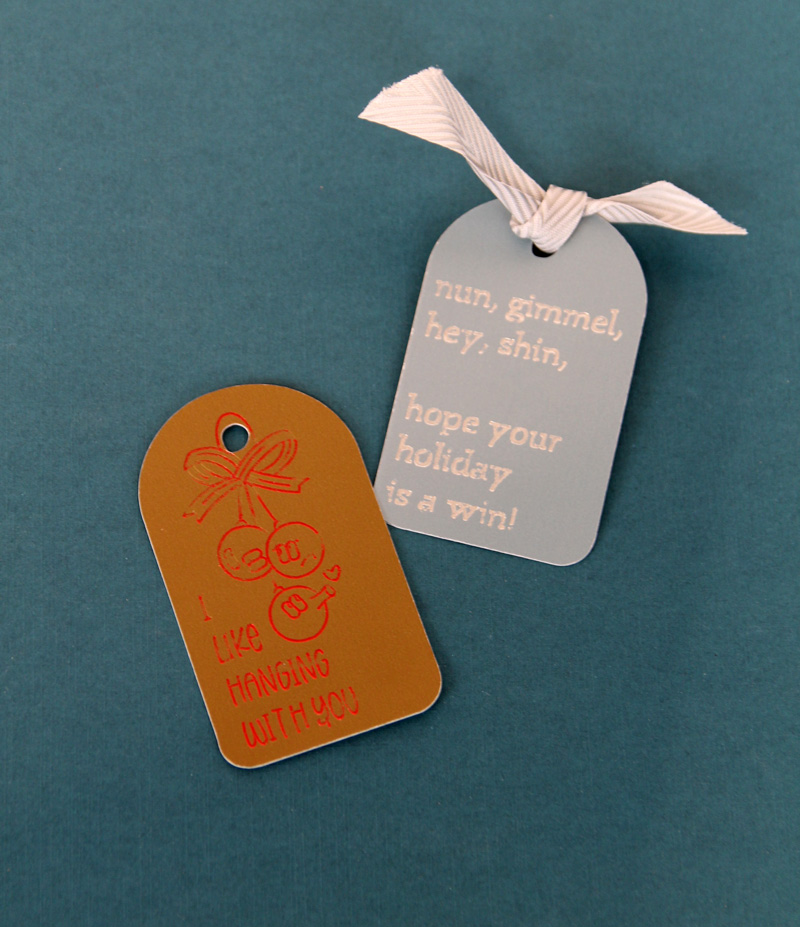 I found that while it wasn't the perfect foil every time, it performed very well. The more metallic foil looks great on the matte base, and it leaves a good mark in your material.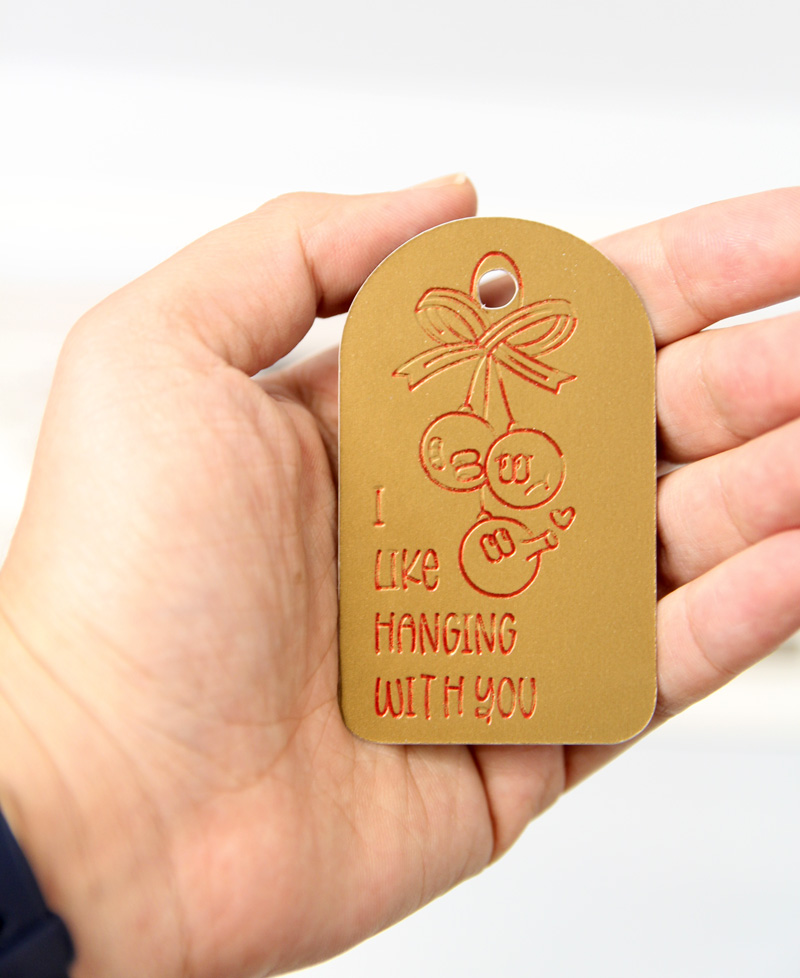 Can you foil on faux leather?
Using foil on faux leather is that magical mix between art and science, and perhaps the biggest learning curve here. On the Explore machines, it's only recommended with the fine point.
Used here: Cricut Paper Thin Faux Leather in Sapphire and Copper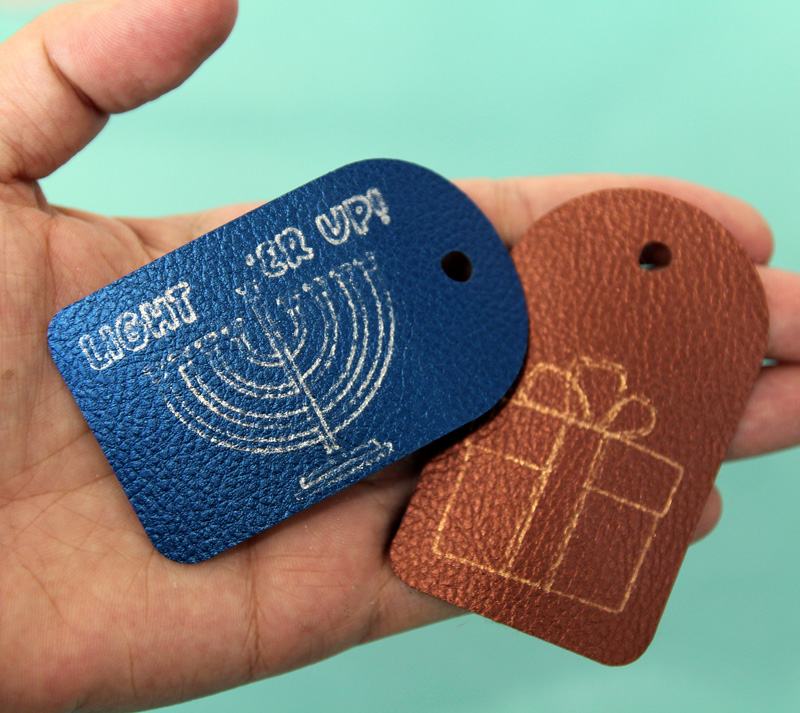 I found that the trick is to keep the design as simple as you can. I avoided long running text and stuck with bolder designs. The best application is when you're aiming for accents and touches and not for illustrative images.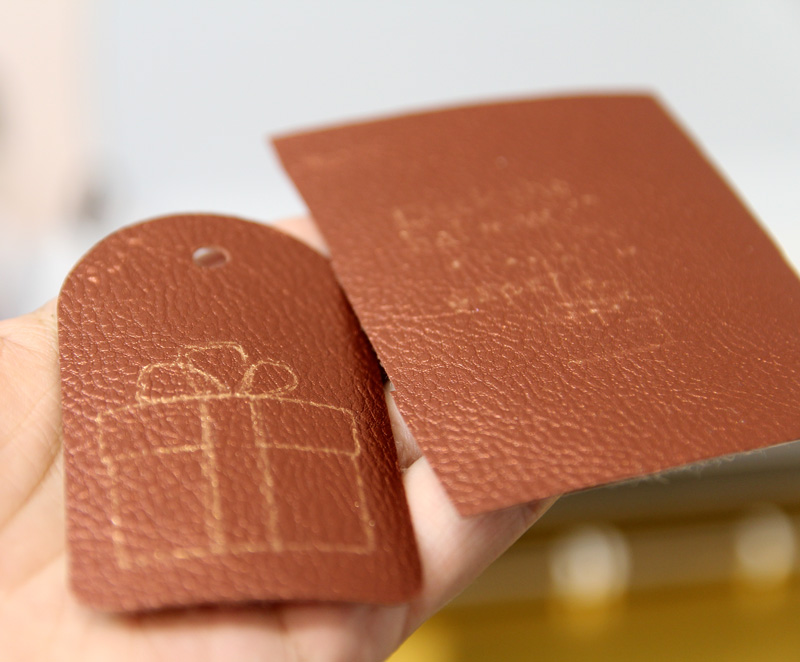 The gift image tag is gorgeous. And because it's made of faux leather, it makes a great bonus gift: an ornament that can be enjoyed for many years!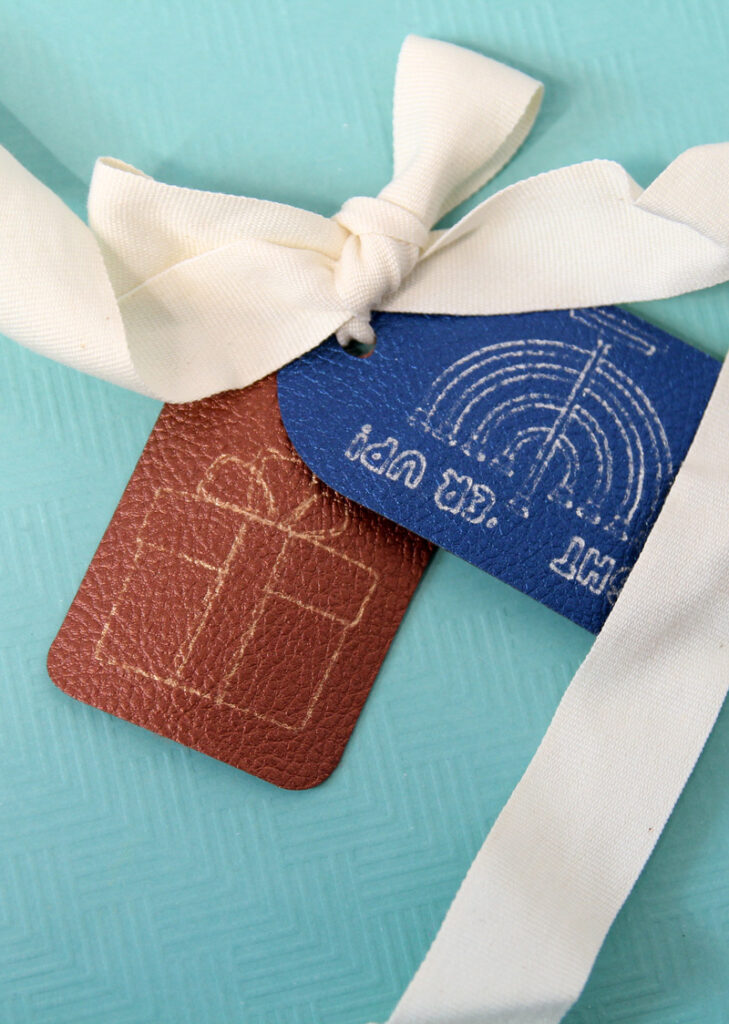 Can you foil on foil poster board?
Here's where I was a bit disappointed – but I got over it real quickly. I confused foil poster board with the metallic poster board and thought it was foil compatible. Hint: it isn't.
The fix? I debossed it. And I love it!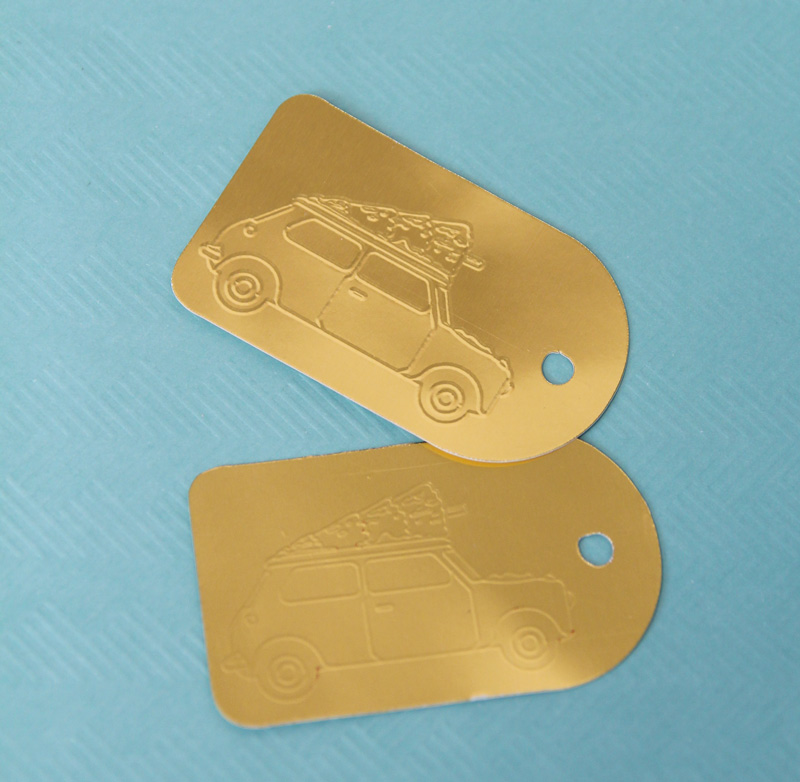 Since the whole tag is foil, it fits right in here, and totally goes with the others, and so it can be layered for an added festive touch. Debossing needs to be done with a Maker machine and the debossing tip.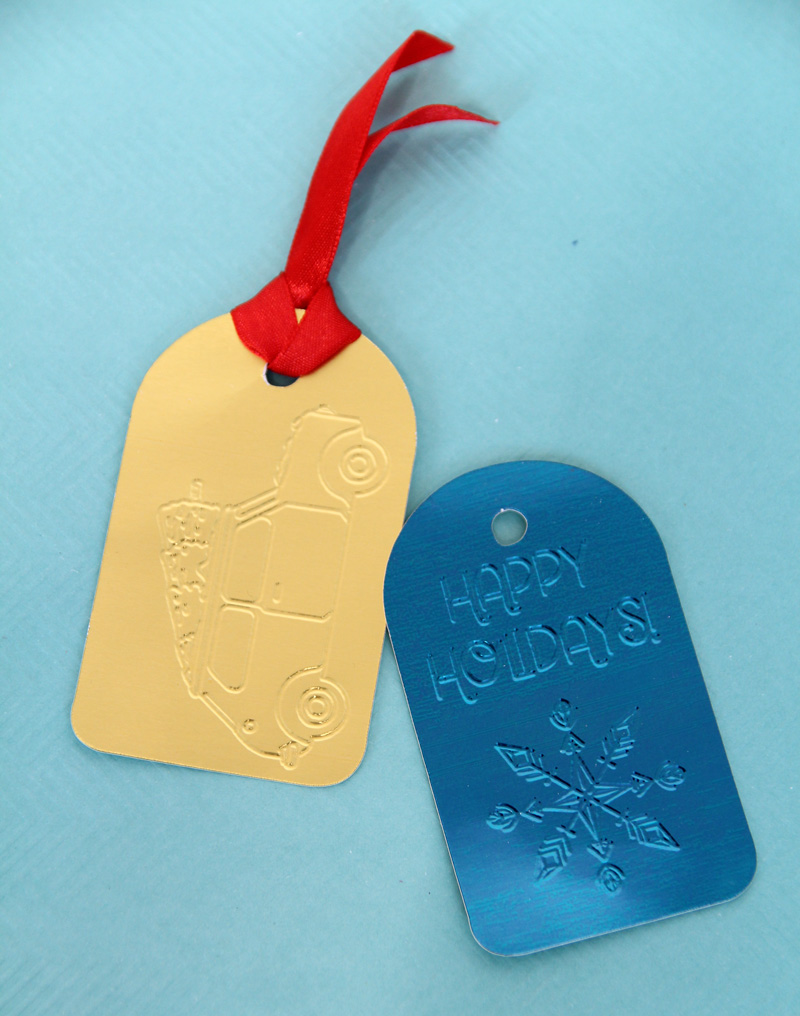 Which material is best to foil Cricut gift tags?
Hands down, my favorite material to foil for Cricut gift tags was the Kraft board. I think it's the cool contrast of a rugged, natural material with that touch of holiday glam that gets me. It also takes the foil very well. I do also love the debossed tags, and the card stock ones are a no-brainer.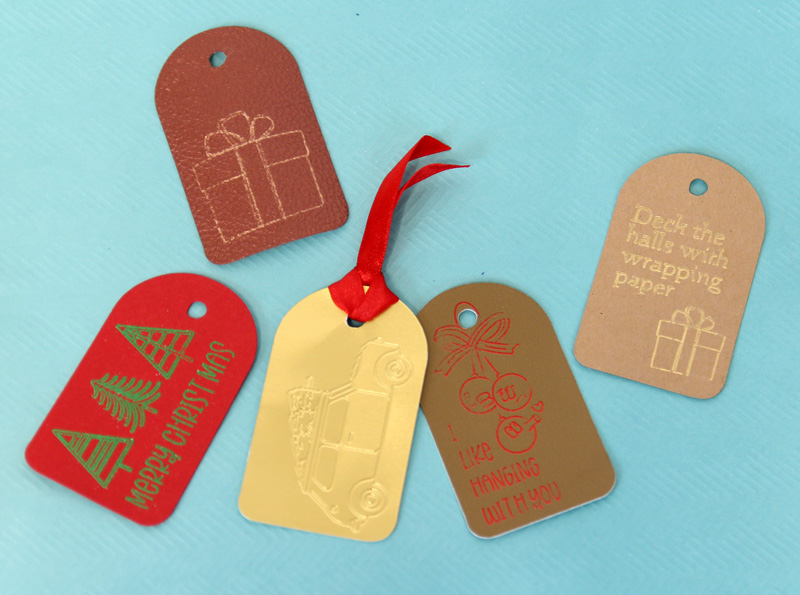 You can see the beautiful texture and sheen that foiling Kraft board gives it.
It's also a more affordable material, making it a great option for beginners, giving you some leeway for learning.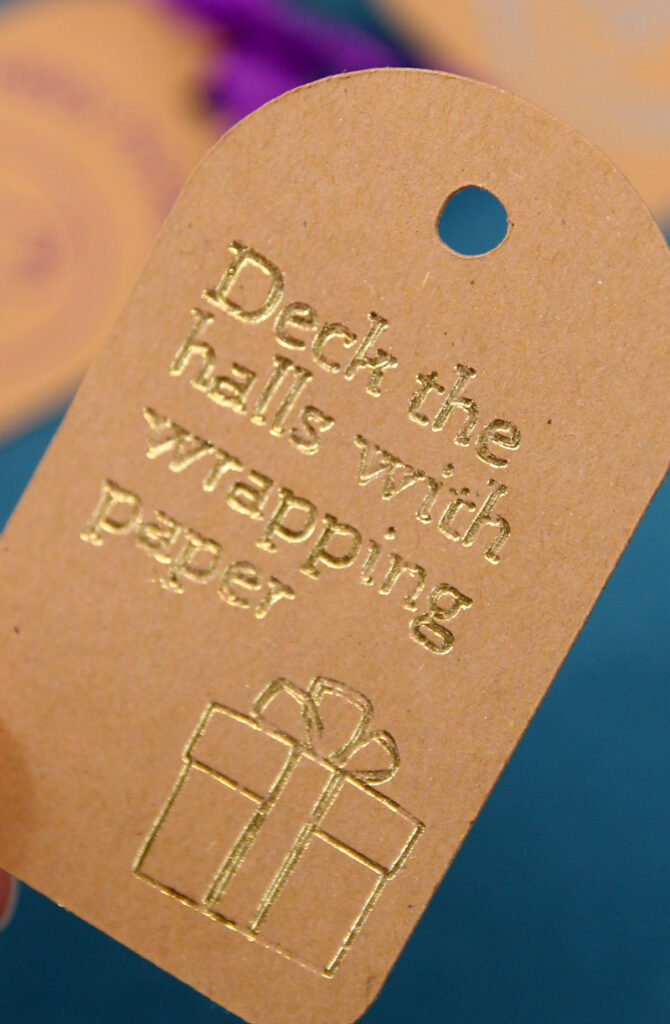 Fun design ideas for Cricut gift tags
There's nothing like bringing smiles to faces with some witty cards. But sometimes you need to tone it down a bit too! Here are some of my ideas for Cricut gift tags. You can find the project with all of these right here.
Christmas Cricut Gift Tags
For Christmas, I made one "punny" one that says "I like hanging with you". And I found the perfect image for it! A group of ornaments, where one is blowing kisses. It's spot on for gifts for your significant other.
The debossed foil tag shows a wagon with a tree on top. And finally, on the last tag, I chose some trees and added "Merry Christmas for a classic take.
Hanukkah Cricut Gift Tag Ideas
Our family celebrates Hanukkah, so these were my favorite to design. On one, I wrote "nun, gimmel, hey, shin, hope your holiday is a win."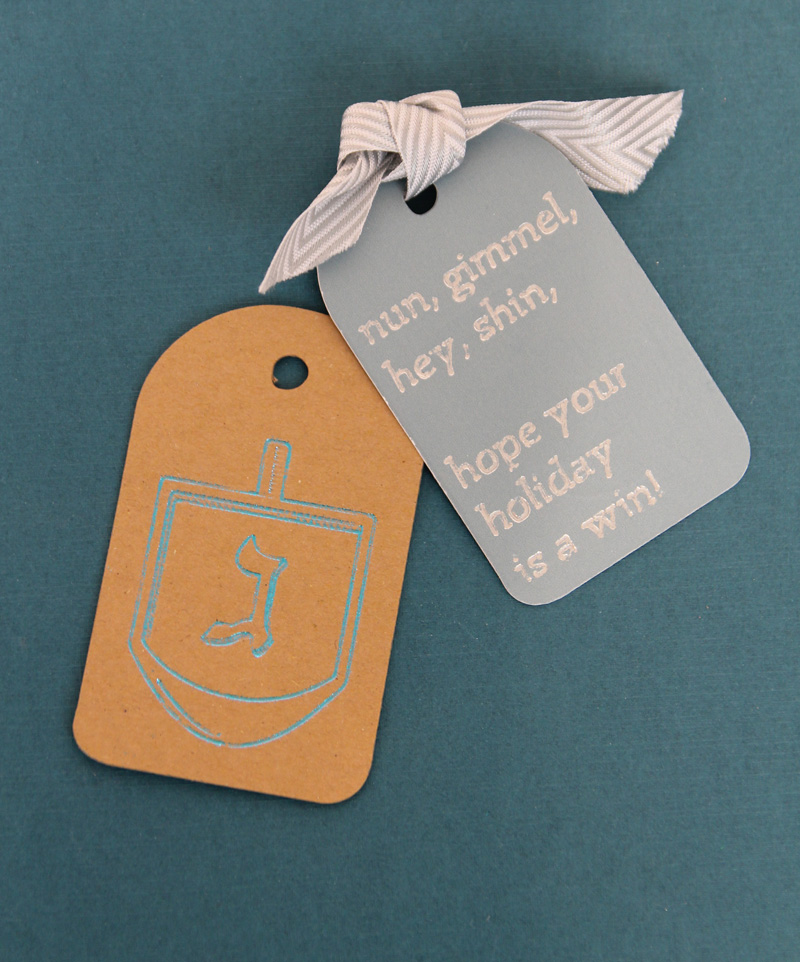 The back of that one has a dreidel with a letter "gimmel" – the best one to spin (sort of the winning letter)! You can see that it's made with two different materials here – but it's really the front and back of the same tag. I just needed to make two to show you both at the same time.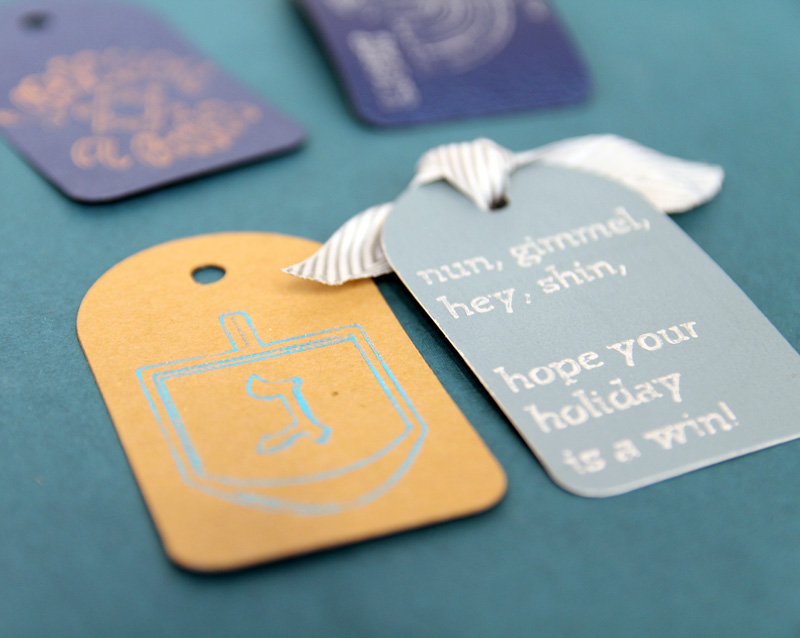 "I love you a latke" is a Cricut image. It's an outline, as it's originally a "cut" design. And the menorah says "light 'er up".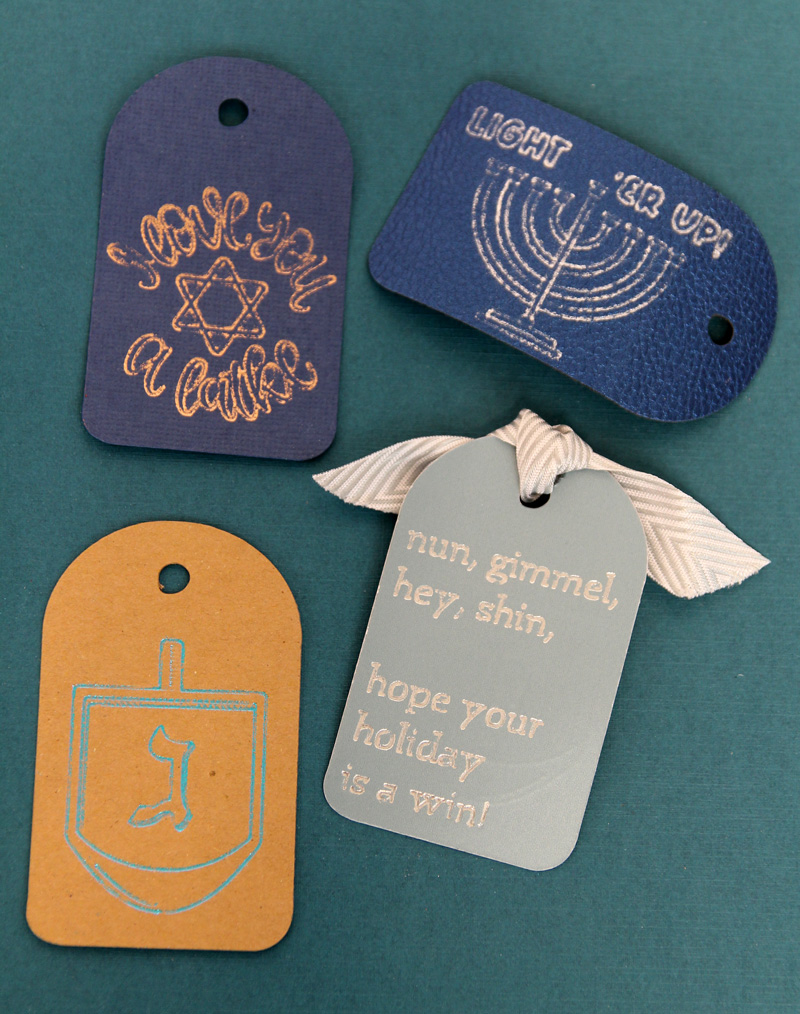 Non-specific Holiday Cricut Gift Tags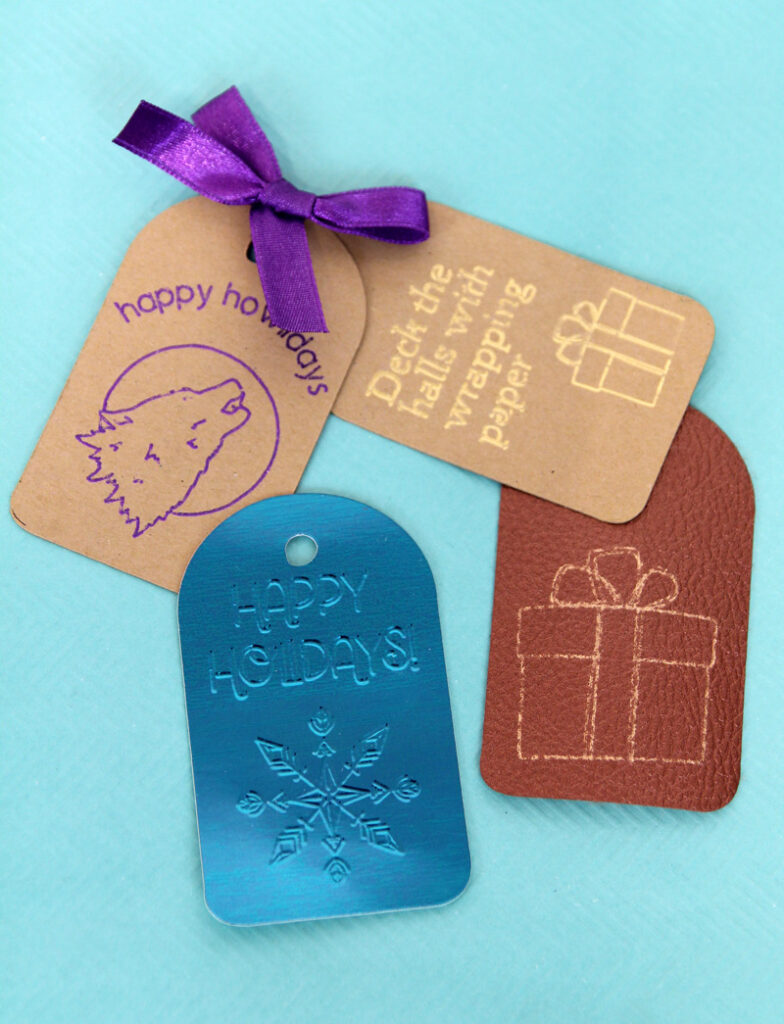 If you are gifting to someone who is non-denominational, or you don't know which holiday they might celebrate, you may want to give a non-specific tag! These cute ideas are a win.
My favorite says on it "Happy Howlidays" with an image of a (presumably howling) wolf.
One says "Deck the halls with wrapping paper" – it's a bit more Christmasy, but can work for non-specific as well, and is perfect for moms! I was considering writing "wreck the halls with wrapping paper" but wanted to keep things more positive…
A simple gift box is a sweet way to foil faux leather.
And finally, you can't go wrong with "Happy Holidays" and a snowflake.
How to make Cricut Gift Tags
Supplies Needed
Setting up a foil project in Design Space
You can create your foiled Cricut gift tags directly from my shared project. Just click "customize" and hide or delete the layers you don't plan to use.
In case you want to create your own designs, here's the gist of how you'll want to do it in Design Space.
1. Find your base gift tag and insert the image.
2. To find your decorative image, I recommend looking for a draw image. Draw doesn't necessarily mean pen – it means any operation that adds it to your surface material without cutting. That includes foil and deboss. So I chose both draw only and cut + draw images in my operation type. Cut layers can be deleted or hidden too.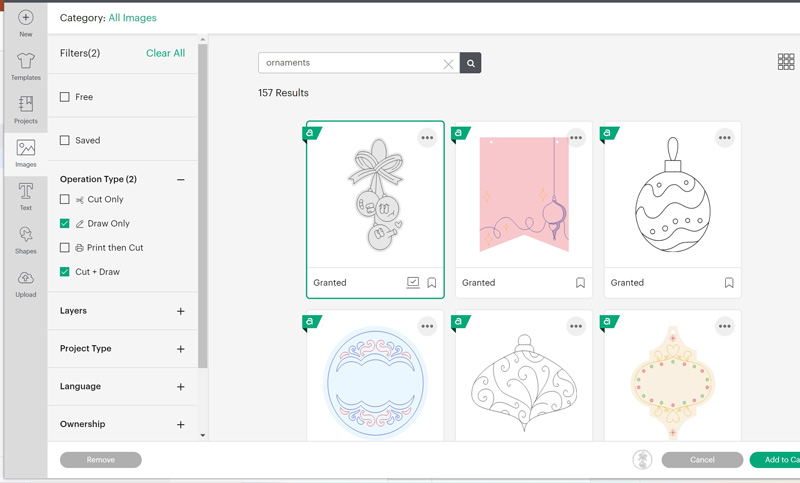 3. Type out your text and once again filter by "writing". Otherwise, it'll outline the font that you use.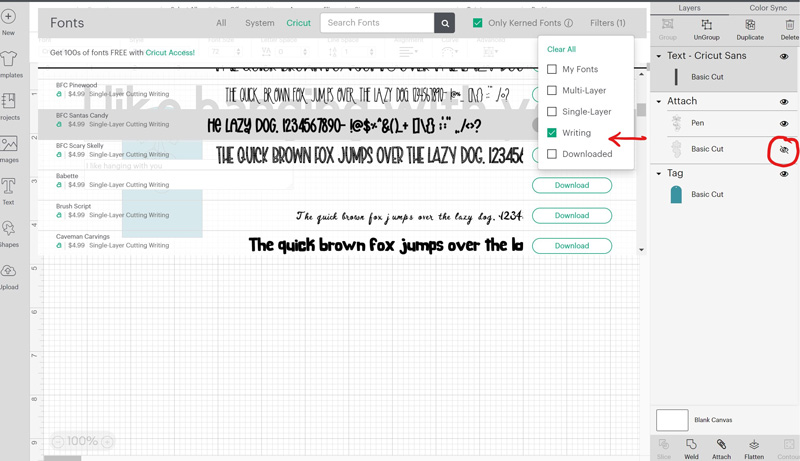 4. Choose your image that you're foiling and in the dropdown under "operation" choose foil, and the correct weight.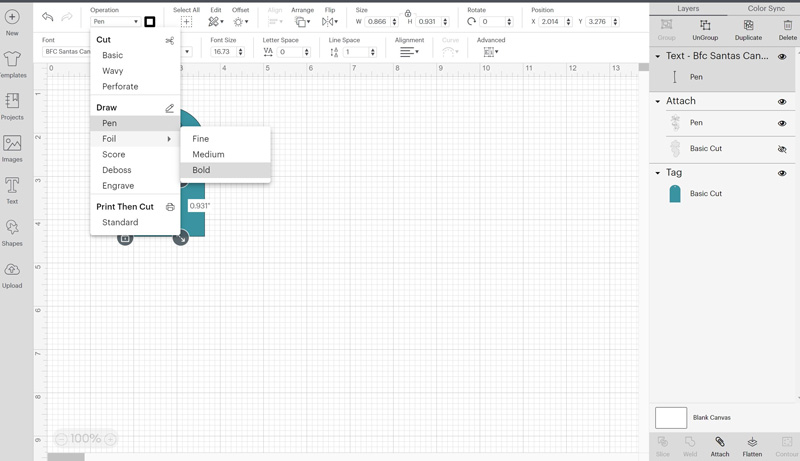 5. Resize and arrange your elements, set the colors you want everything to be. When you're happy, select all the layers that belong to one tag and "attach".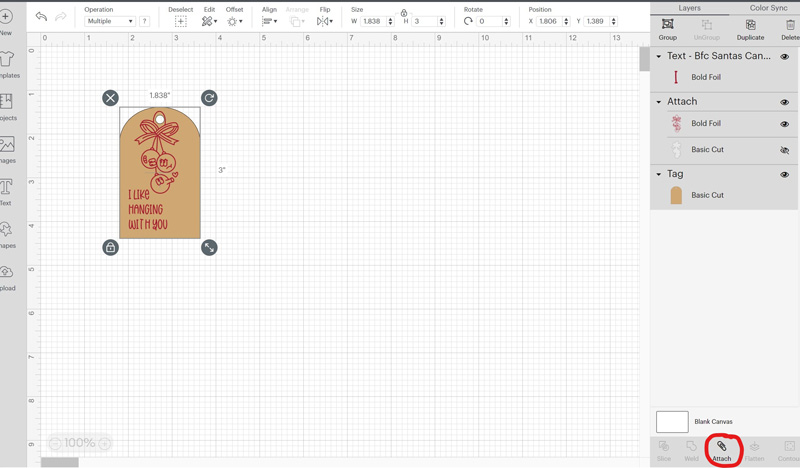 You're ready to click the green "make it" button!
How to make your foil Cricut gift tags
1. Prepare your foil tool with the correct tip. Each tip has three notches that indicates the weight. One is fine, two for medium, three for bold. (As an aside, I love that Cricut chose a method to mark it that won't rub off!)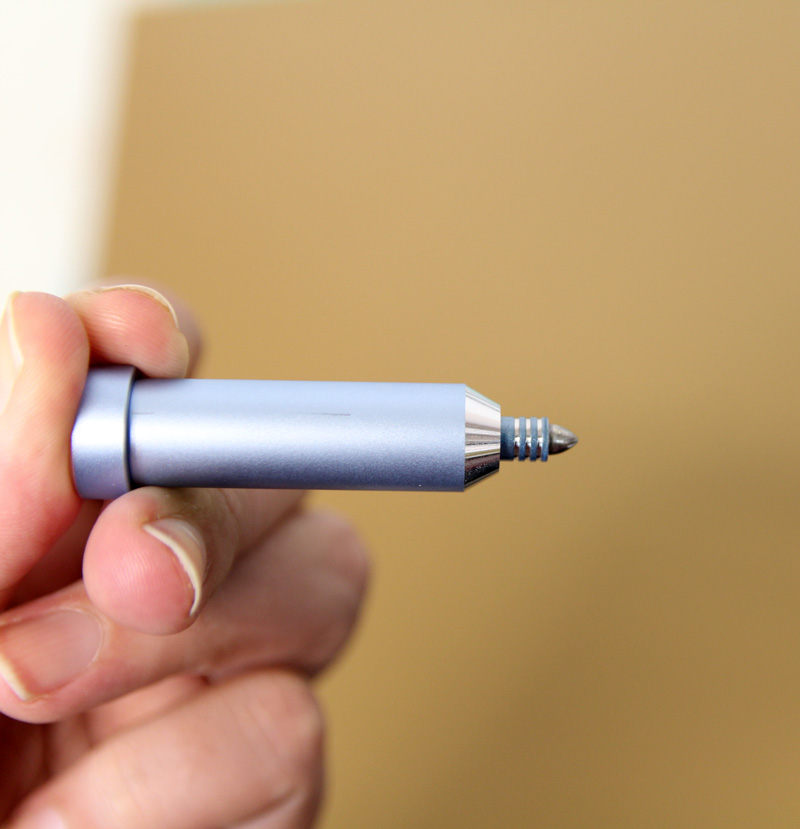 2. Adhere your base material securely to your mat. Trim your foil transfer sheet, and don't be stingy. Leave room around the edges for tape and for a margin of error.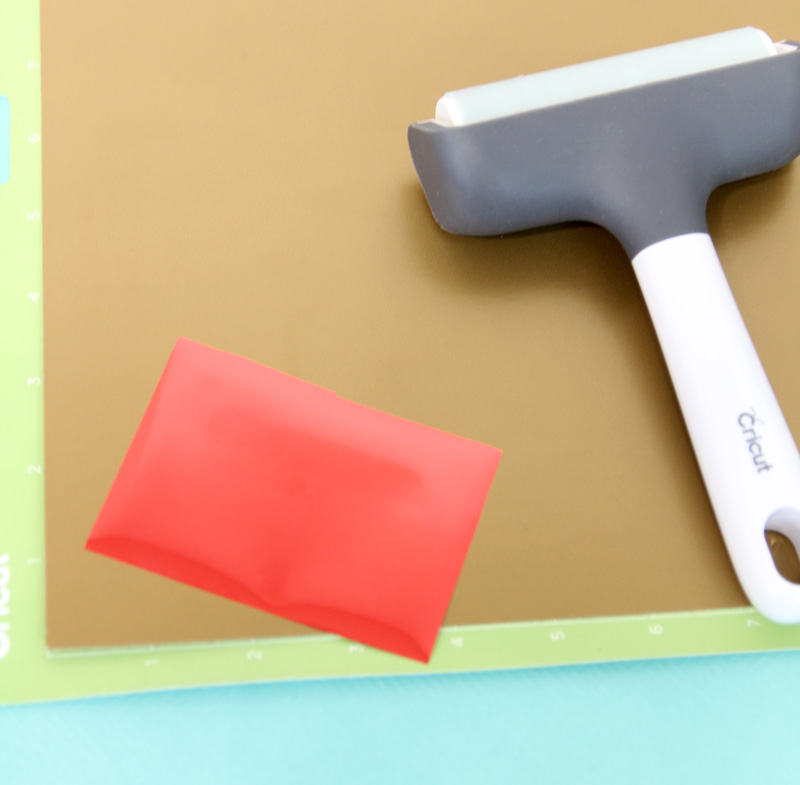 3. Tape down your foil transfer sheet on the correct spot of your mat, colored side up. The foil transfer sheets come with tape, however, if you're sticking it to the mat at all (and not entirely to your material) you might want to use masking tape.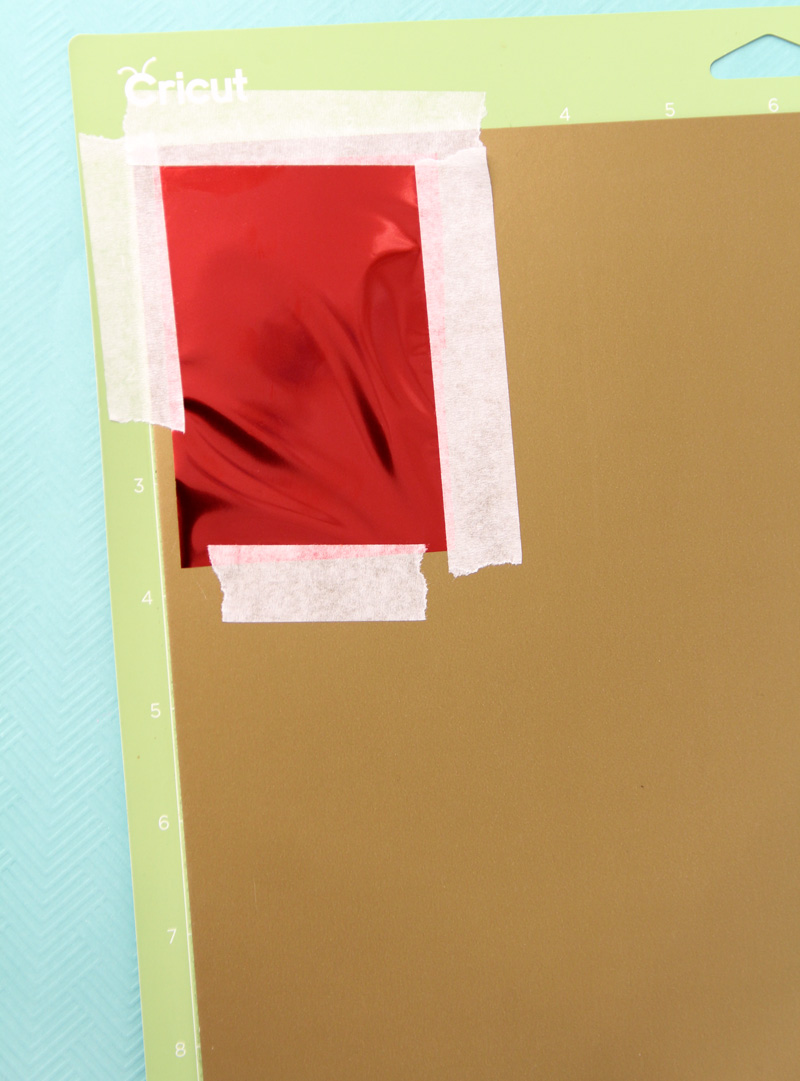 4. Move your star wheels to clear up your foil transfer.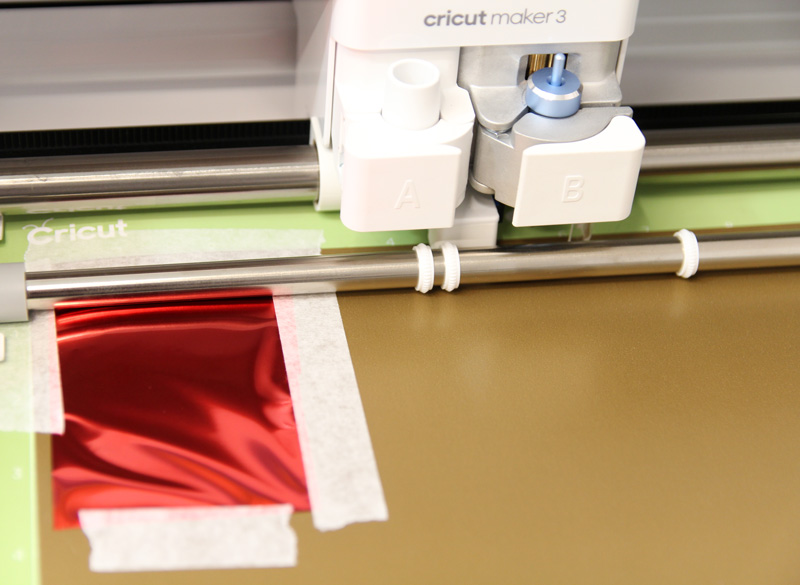 5. Load your mat, and when ready hit "go!" And watch 'er go!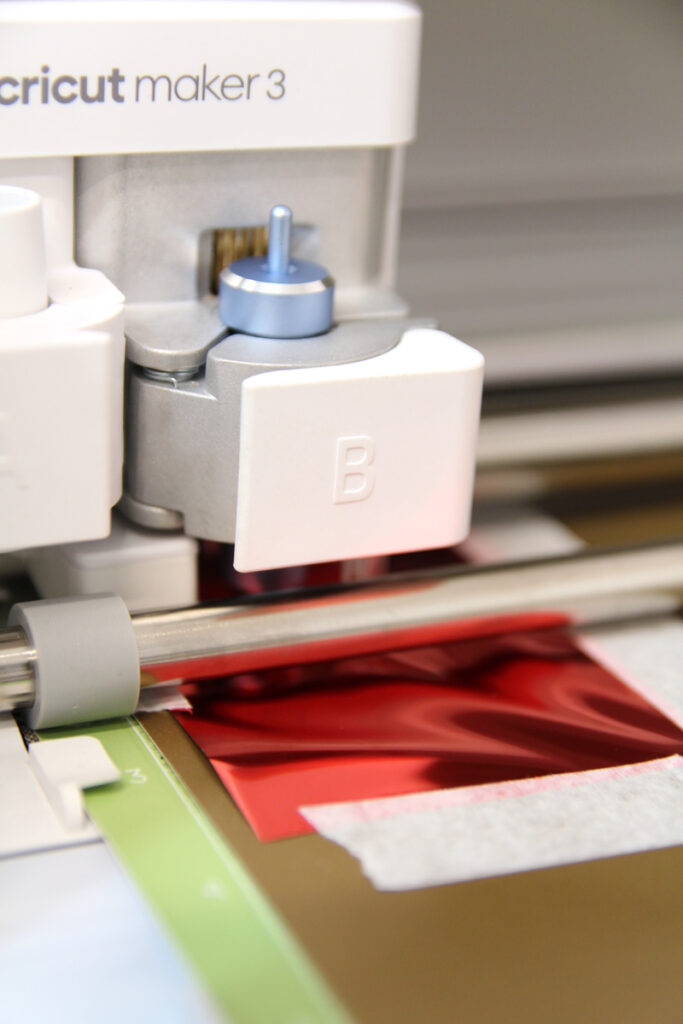 6. When your machine prompts you to, remove the foil WITHOUT unloading your mat. This ensures the cut is accurate. Switch to the fine point blade. Hit the go button again to cut out your Cricut gift tags.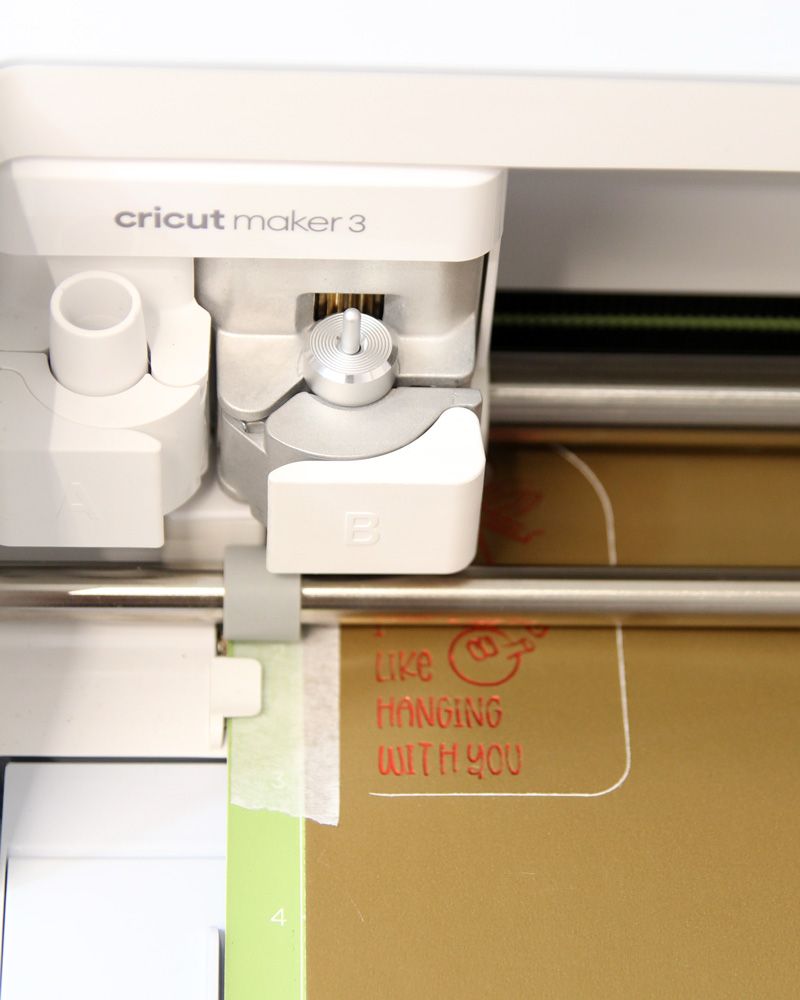 7. If you're using faux leather, you'll want to tape it around the edges to the mat.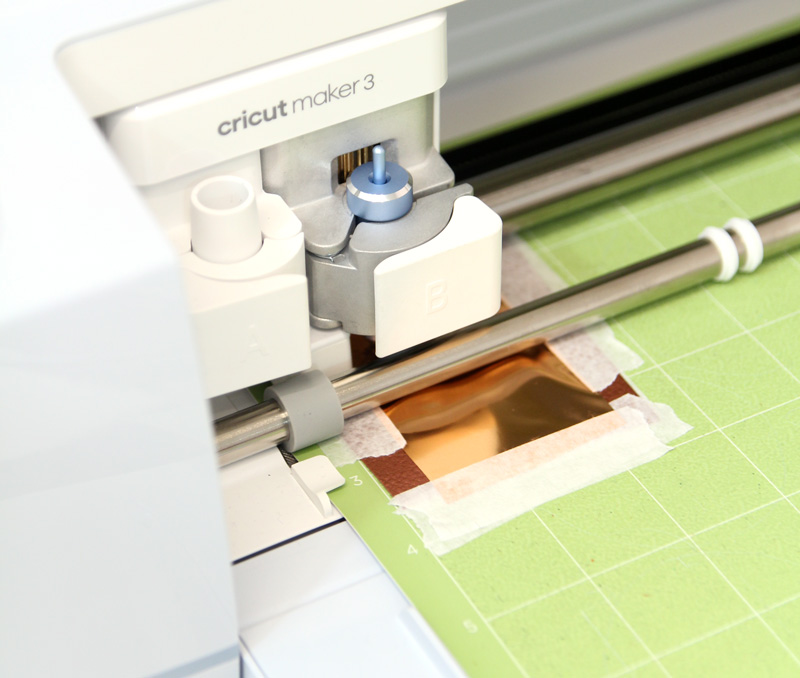 8. The debossing process is pretty much the same, only you're setting your design to deboss, and loading the debossing tool instead… And of course, there's no foil transfer sheets involved.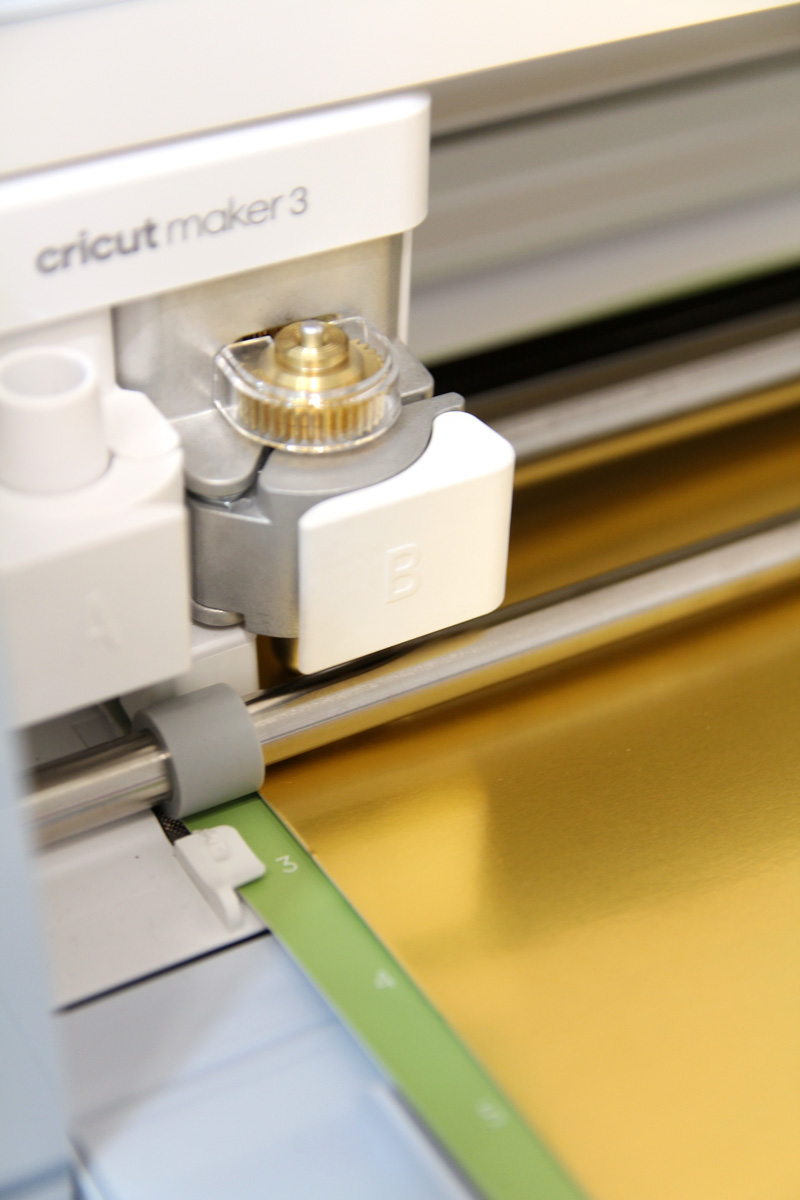 You've successfully created some pretty darn awesome foiled Cricut gift tags!
Got any puns to add to my list? Comment below!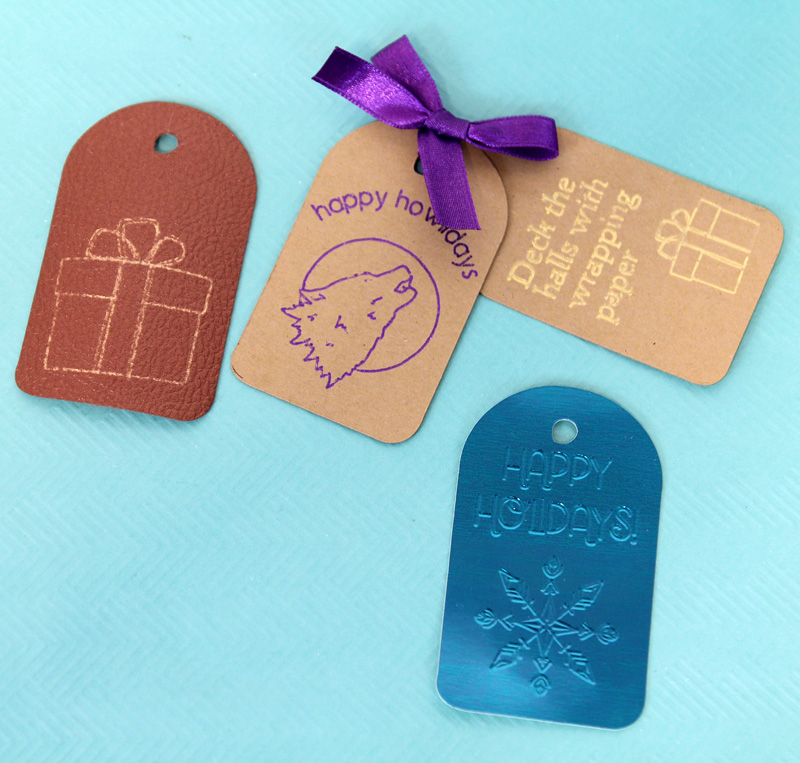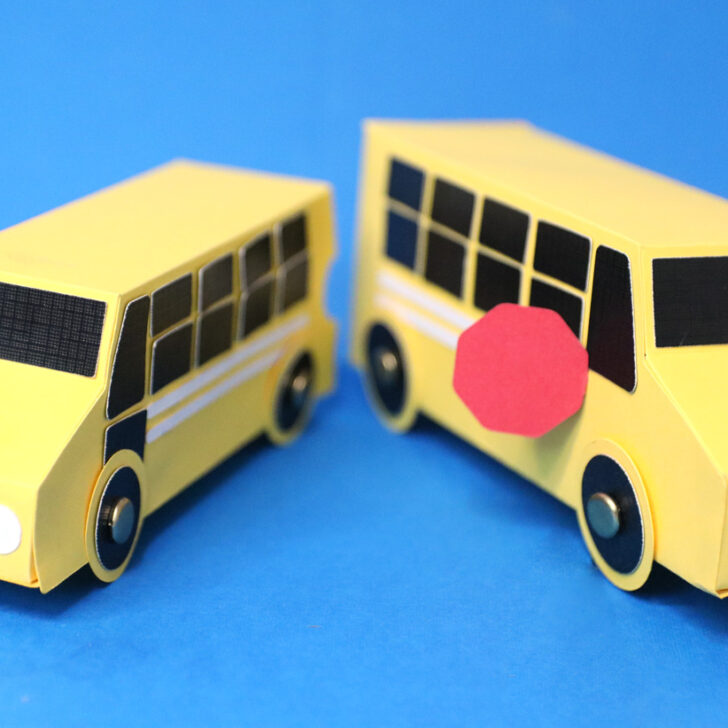 This beautiful school bus template comes in both SVG cut files and PDF printables to use as a gift box or paper toy! When you're …