Adorable The Cat in the Hat crafts for kids are perfect for Read Across America Day or any day that kids' books are celebrated. These are some of the sweetest book-inspired crafts.
---
Dr Seuss books have been a beloved part of childhood for generations now. To celebrate Dr Seuss birthday, I've compiled a list of super fun and super easy Dr Seuss The Cat in the Hat themed crafts that your little ones will love.
Whether it's getting messy doing hand printing for toddlers or being creative with character puppets for preschool age children, read on to find a Dr Suess inspired craft any age can enjoy. Your older children can even give blow painting a try in the Thing 1 and Thing 2 Blow Painting craft below!
And for an added treat while the crafts are drying, gather around for a Cat in the Hat story time.
The Cat in the Hat Crafts for Toddlers
Get your toddler ready for some hands-on craft action! Let their creativity blossom while doing the following Cat in the Hat inspired crafts like handprinting and pom-pom painting.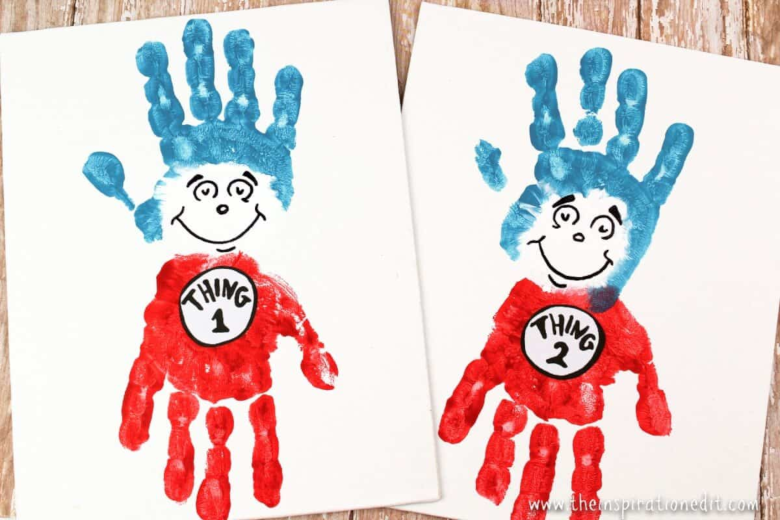 Handprint crafts are always fun, and super easy for the little kids to join in with. They get to get messy and create adorable pictures of thing 1 and thing 2 from The Cat in the Hat.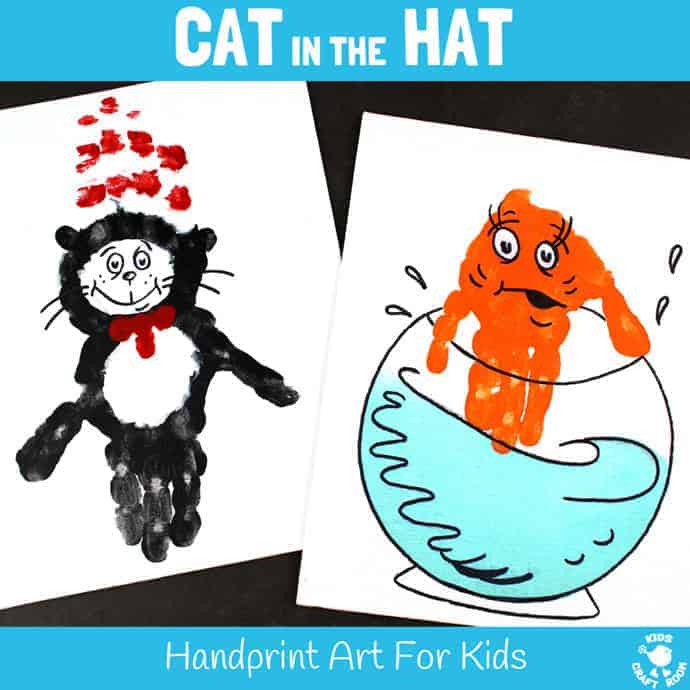 If your toddlers enjoyed making thing 1 and thing 2, you can follow up with more favorite characters. Check out this Kids Craft Room post for directions to make the fish and the cat.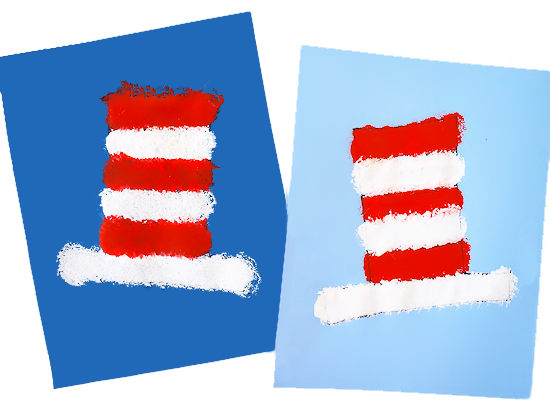 For a fun, fast, and easy craft, look no further than this pom-pom painted cat in the hat craft. The post comes with a hat template and little ones will get to practice some fine motor skills while having a blast.
The Cat in the Hat Crafts for Preschoolers
Do you have a preschool age child who loves being read the Dr Suess books? Give them a chance to show their Cat in the Hat inspired creativity with these age appropriate crafts below.
They can perform scenes from the book using the Thing 1 and Thing 2 puppets they have created, or better yet, act out the scenes themselves while dressed up in the hats they create!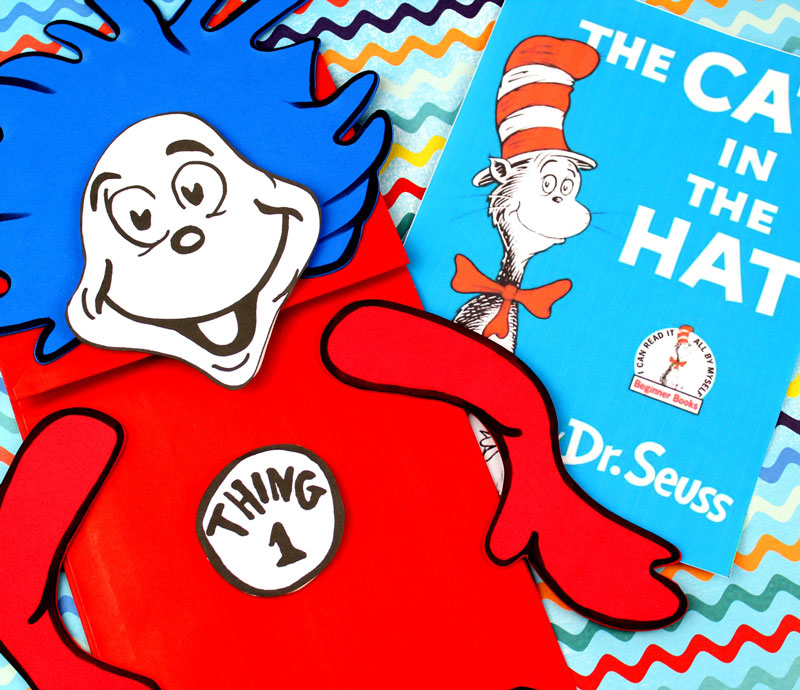 Making character puppets is always a fantastic way to extend the enjoyment your kids get from a book. That's why I made this free printable template for making thing 1 and thing 2 puppets. You'll only need a few supplies. A paper bag, craft foam or cardstock and a couple of other items that you probably already have around the house.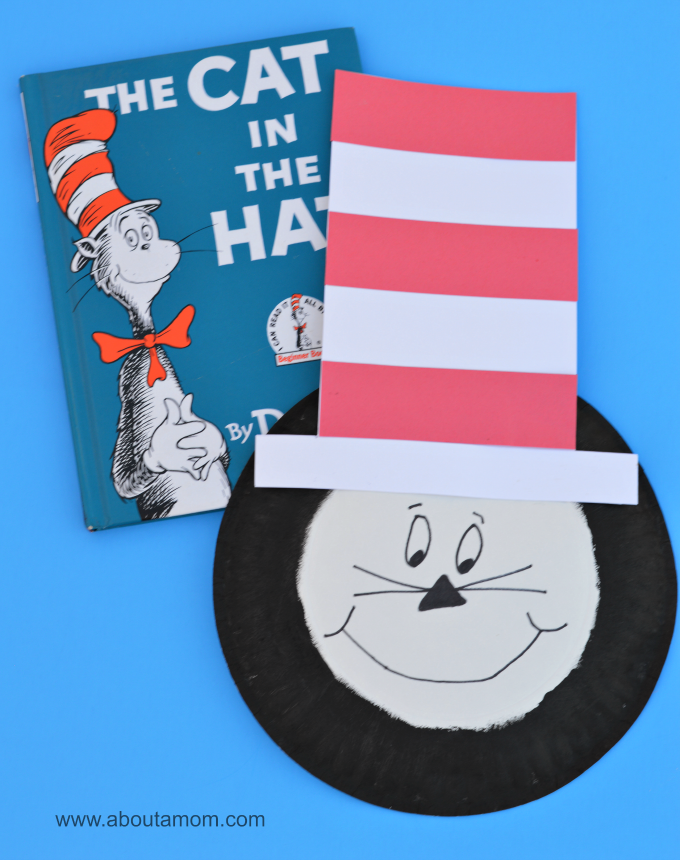 Check out this great craft on About a Mom for a step by step guide on how to create these Cat in the Hat inspired paper plate crafts. Kids will get such kick out of that mischievous face!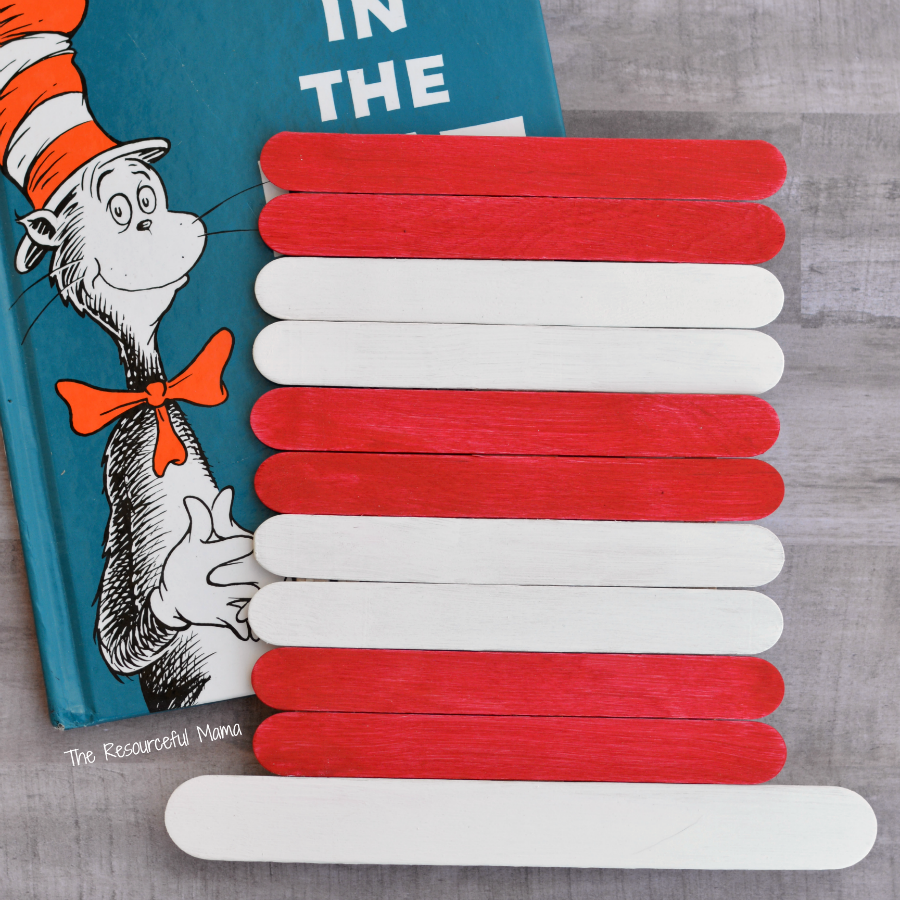 A great way for kids to practice lining things up and creating patterns, this popsicle stick hat is easy to piece together. Kids will feel so proud of their wood craft!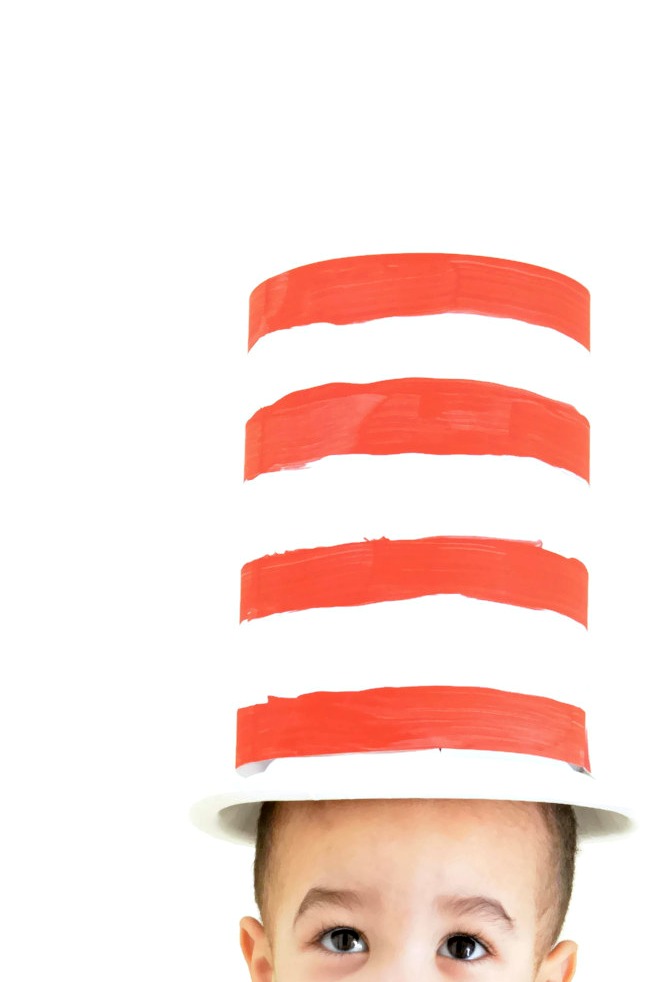 Another great way to craft using paper plates. All you need is one paper plate and some white card stock along with basic craft supplies to complete this look!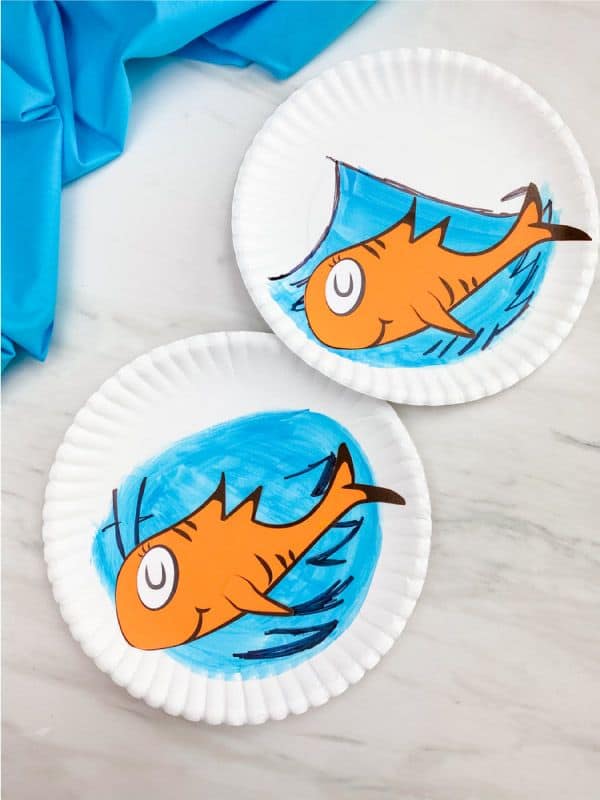 Give these Cat in the Hat inspired goldfish a home by creating a 'fishbowl' for them using a paper plate and some blue paint. Might as well dispense some wise advice too along the way!
The Cat in the Hat Crafts for Kids
Older kids will especially appreciate the Dr Suess themed crafts that I have featured for their age. Feel free to set up a dedicated bulletin board for them to display all of the Cat in the Hat artwork they will be creating. And don't forget the feather topped Thing 1 and Thing 2 pencils which they can use to practice their spelling words!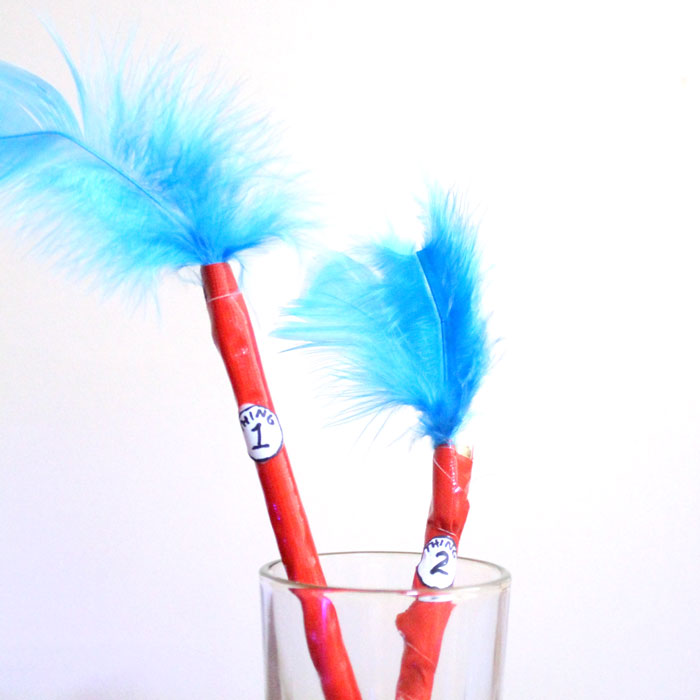 Cover some simple pens with good quality red duct tape, and top with a turquoise feather to create adorable Thing 1 and Thing 2 pens. Your child can even give one to their friend as a back to school gift!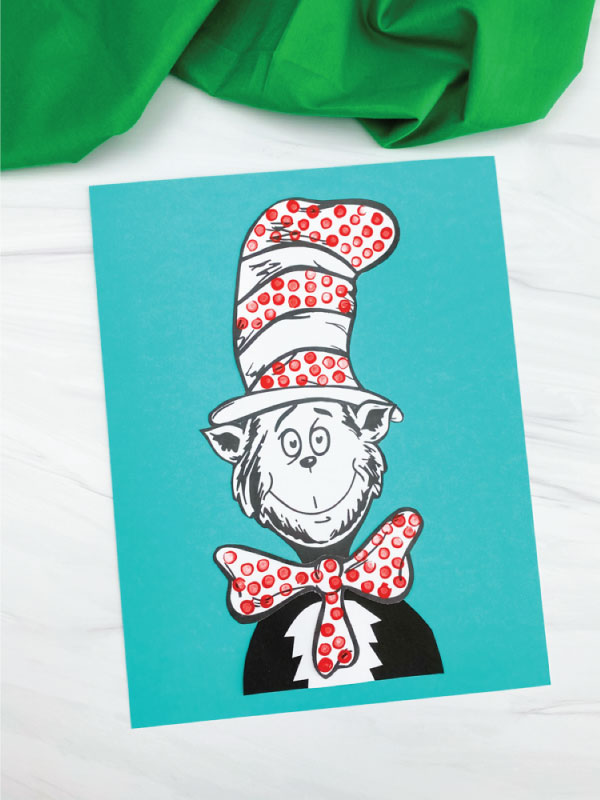 Your child can use this Cat in the Hat template to practice their fine motor skills while decorating the image in dots made with just a Q tip and some red paint. The finer skils required on this one are definitely fun for younger kids but appropriate for older kids too.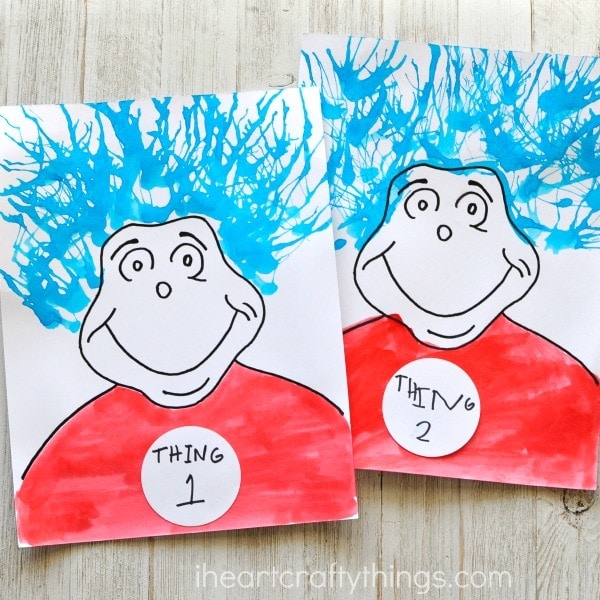 Check out this exciting method to create the Thing 1 and Thing 2 wacky hairstyle using a fun blow painting method! Kids will go crazy over that crazy hairstyle!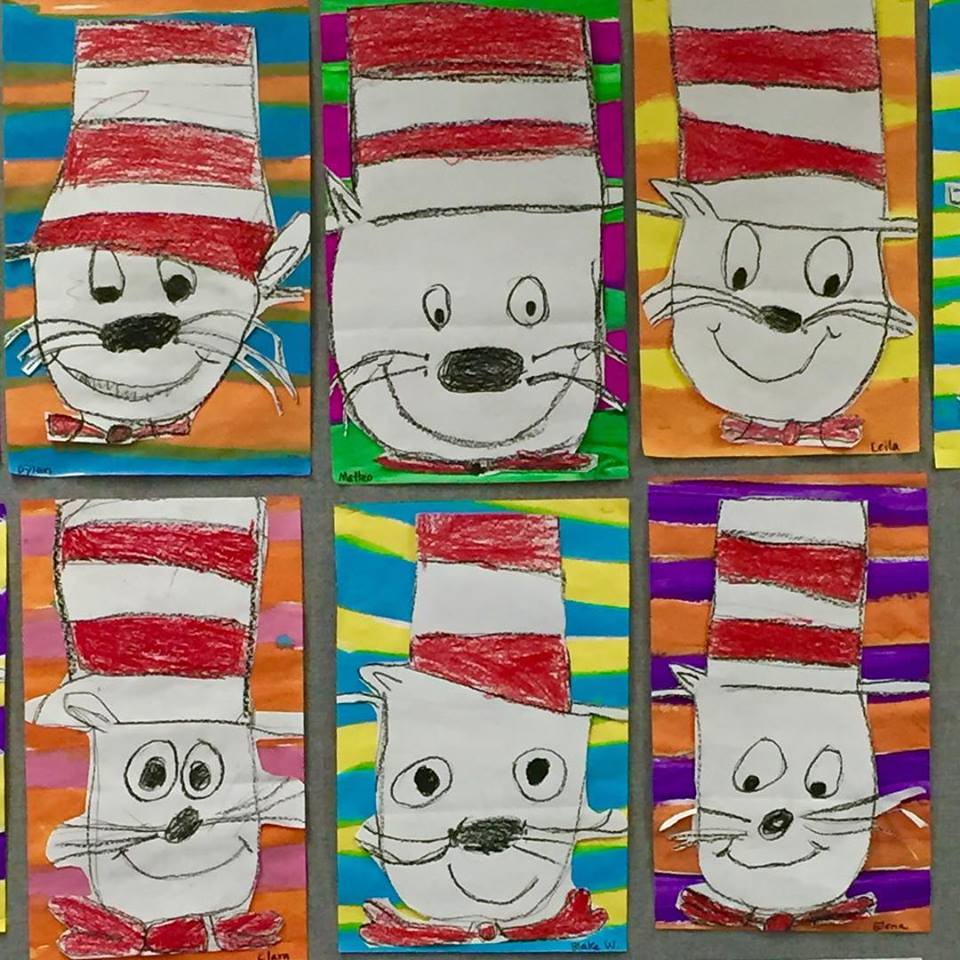 Use this step-by-step guide to create age appropriate Cat in the Hat original artwork. This is more of a drawing tutorial to introduce your children to the world of sketching. Once they have completed their drawing, they can go on to add color how they wish!
Which are your favorite cat in the hat crafts? Comment below!