Keeping your active 1, 2, or 3 year old toddler happy on a long haul flight can be challenging but having a good stash of toddler airplane activities can help. You can check out my list of travel activities for toddlers from four years ago when we traveled with M at 17 months old, or scroll down for the ideas we brought for Y, age 3, on our recent trip. Disclosure: this post contains affiliate links.
This summer, we traveled for close to 24 hours, including one ten hour long haul flight, a stopover, and then another 2 hour flight. And don't forget time spent in the airport before the flight.
When people ask about toddler airplane activity, the best advice that can be given is to bring options! Many of them! Because while it's most likely that they'll get hooked on one or two items… it'll never be the one that you thought it would be!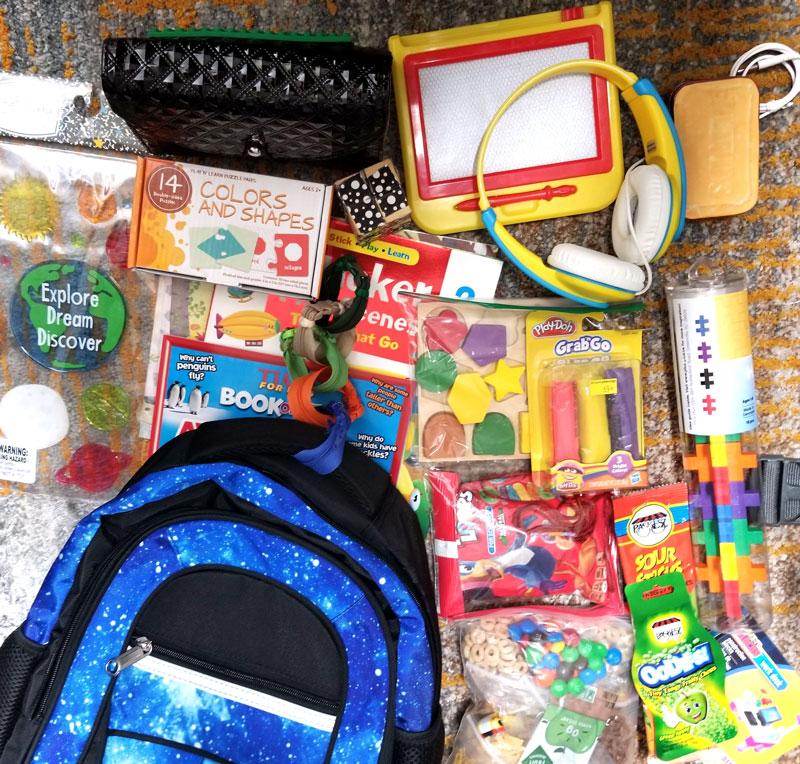 Back when we traveled with M at the age of 1.5, we brought all sorts of things… and he ended up stacking and restacking a pack of kids' cups we bought for him. For hours.
So, yes, bring as many options as you can find. Hit up Amazon, the local discount stores, and pack in as many inexpensive, highly entertaining things as you can find, according to your toddler's skill sets. And what you don't use on the airplane, you'll likely use at your hotel/hosts, on the flight back, or on the day you get back, while you unpack. True story.
Of course, don't forget to stash some things for the trip home! You'll want some repeats of the most popular items, but have a good few new options to put in.
This list of toddler airplane activities is geared toward two year olds and three year olds.
As for younger toddlers: most of these will work as well, however, you may need to adapt.
To make the cut for this list, an activity had to add actual entertainment value. In addition, some items were purchased at other people's suggestions and did not work for us. Those activities were added to this list because they might work for you, with my honest feedback.
Everything on this list was played with and really helped us out. Some were played with at our hosts, and some on the day we got back.
A few more tips to help you find the best toddler airplane activities:
Each child is different. What was magical for one parent might not interest yours. Get what you think your toddler will like, and be prepared for them to reject some activities and enjoy others.
Bring what you don't mind losing pieces of. I'd recommend getting one or two special new travel toys to really excite them, and for the rest, getting cheap things you won't mind losing. Don't bring favorite toys from home! You will lose some things.
Buy more than you make. I know, I'm talking to a community of DIYers here, and it's hard for us to wrap our heads around. But you'll find that you're already overwhelmed with what you have to do. So print things out, buy things, and DIY only 1-2 items if you do it well in advance (and yeah, I have some cool tutorials coming!)
Think outside the box. Toddlers love playing with odd things. Like calculators, for example… but then again, I'm getting ahead of myself.
They WILL spend most of their time on the screen. And the airplane is the right time and place for it. But especially for long haul flights, and just in case there's any problems with the in-flight entertainment, bring stuff for variety. And you also have the wait in the airport, your hotel stay so you'll want it all.
Buy online. Check out Target's Bullseye's Playground so you have the maximum stock and can skip the store. Unlike most "dollar store"/discount types of setups, you don't have to buy in cases of 24 of the same. You just have to buy a pack with one of each (4-8), which often works out.
Ziploc bags. Bring all the ziploc bags! Don't make the mistake of not having something to repackage all your toys in. Anything that isn't self-storing, slip into a Ziploc bag before packing. It goes without saying that you should bring extras. And even combine a few activities in larger bags so that not everything comes flying out when your toddler explores.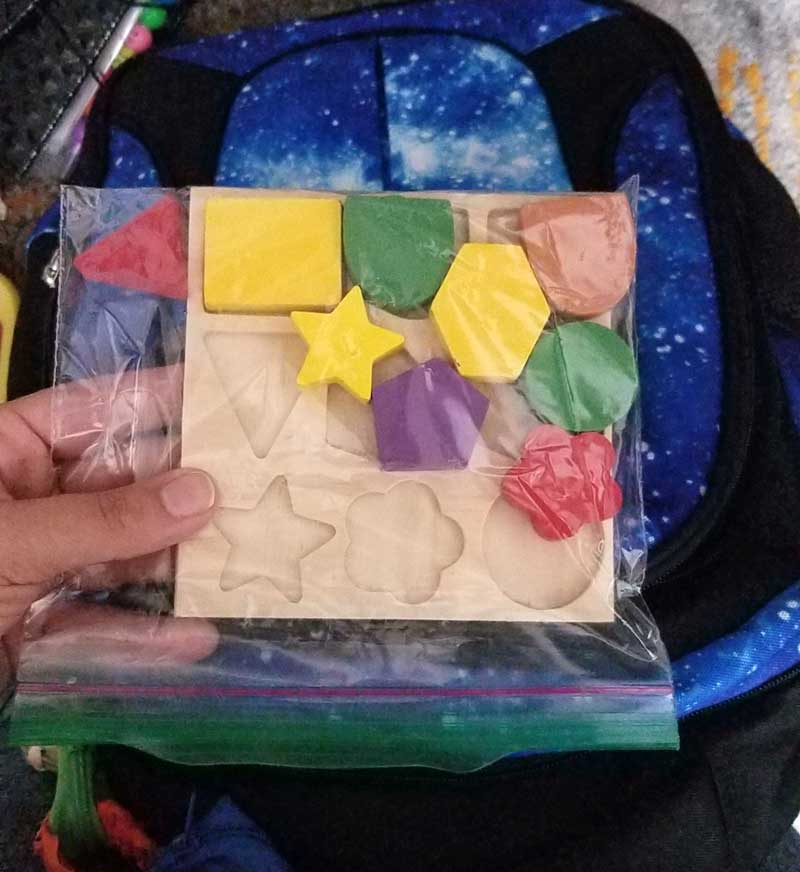 And a final tip: pack your toddler his or her own backpack (but be prepared to carry it so don't make it too heavy)! Toddlers love unloading and unpacking things so that added to the discovery aspect of the different activities. At the airport, I did NOT let him unload but on the long, long flight, I let him go for it.
We were sent a backpack by Fenrici for our trip. Their sales help support research for rare childhood diseases and we love it when our travels contribute to a good cause.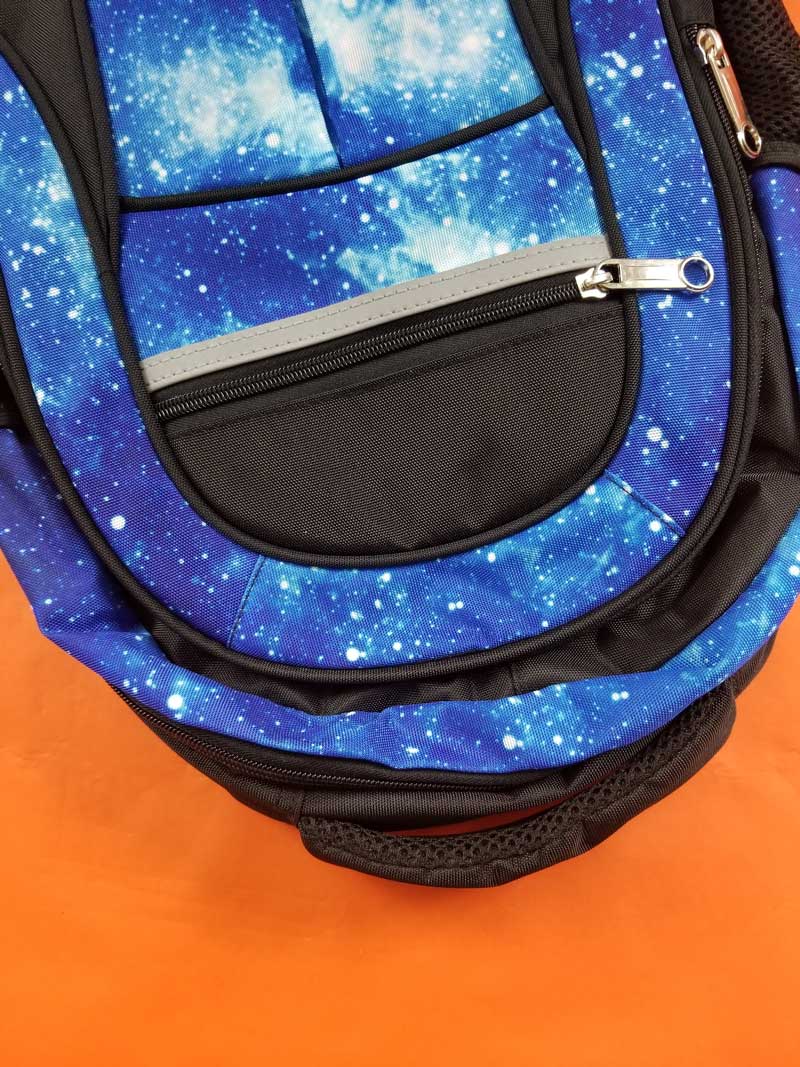 I put in lots of activities from the list below, as well as some snacks (mostly cereal), special treats that he got to choose before the flight, his blankie, and more personal items. I also had an overhead carry on with backup activities and snacks.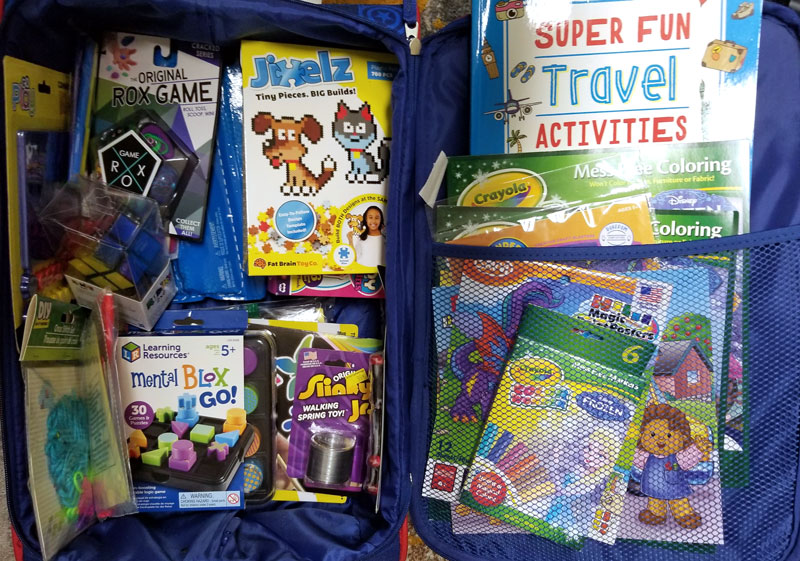 21 Travel activities for toddlers: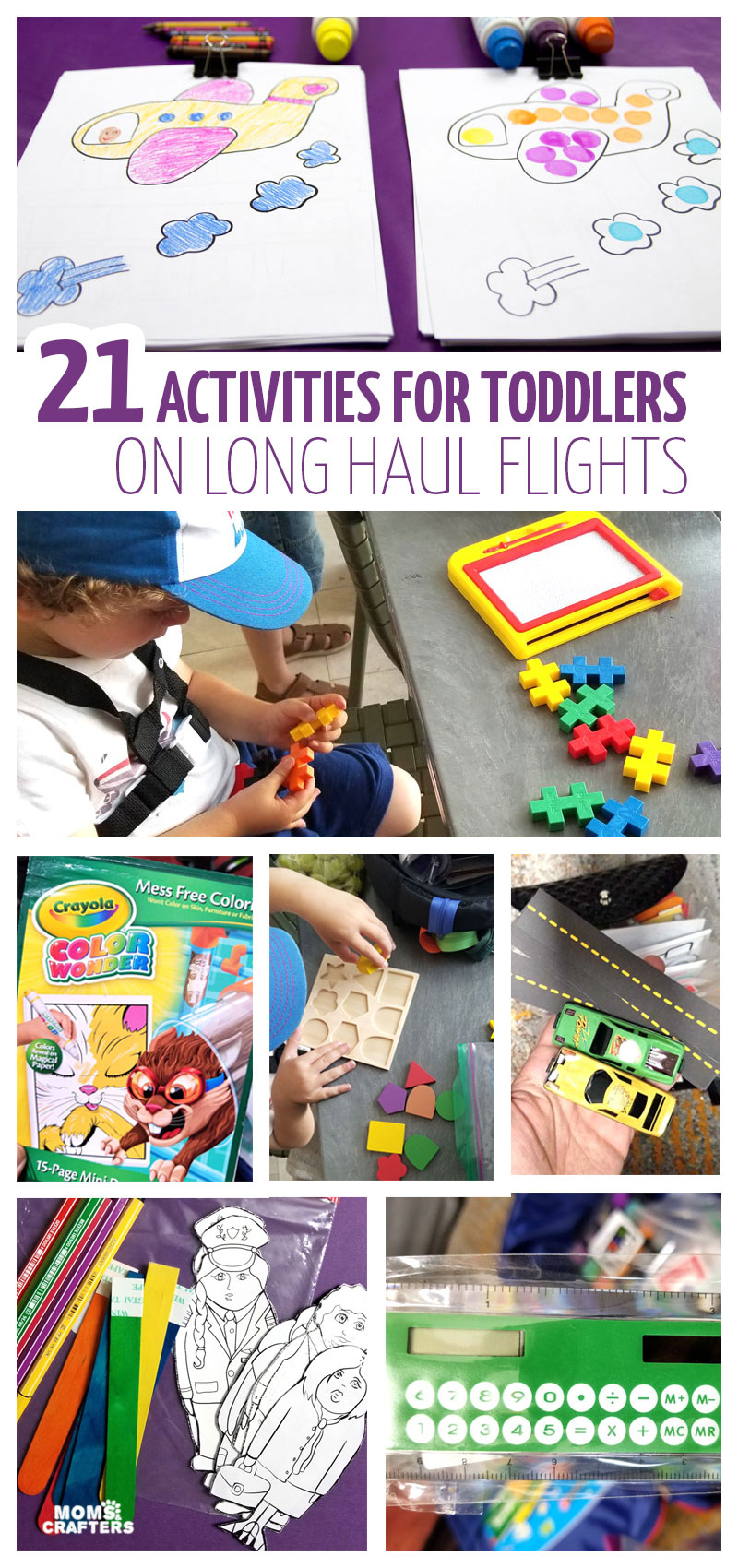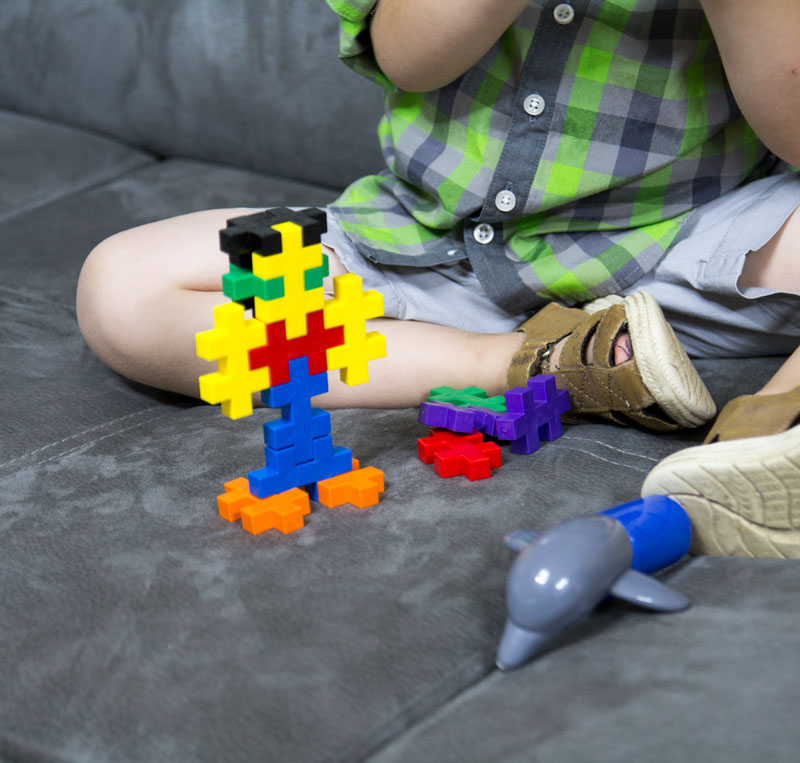 This was our special new toy for the trip (sent to us by Plus Plus to share with you). It was such a big hit that it was played with at the airport before the flight, on the plane, AND at our hosts! In addition, when we had weekend time with cousins at an airbnb, it was a favorite toy among his cousins as well.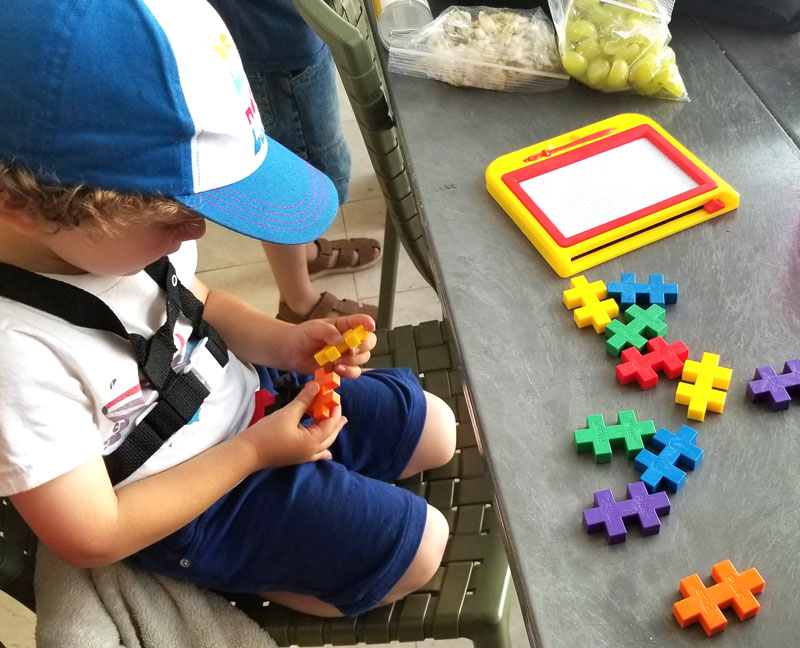 The Big version of Plus Plus is perfect for toddlers (ages 1.5-3), especially those who like to connect and disconnect items. The tube is the perfect size for travel, and allows you to have a dedicated toy that you can lose pieces and not worry about.
2. Plane Puppets: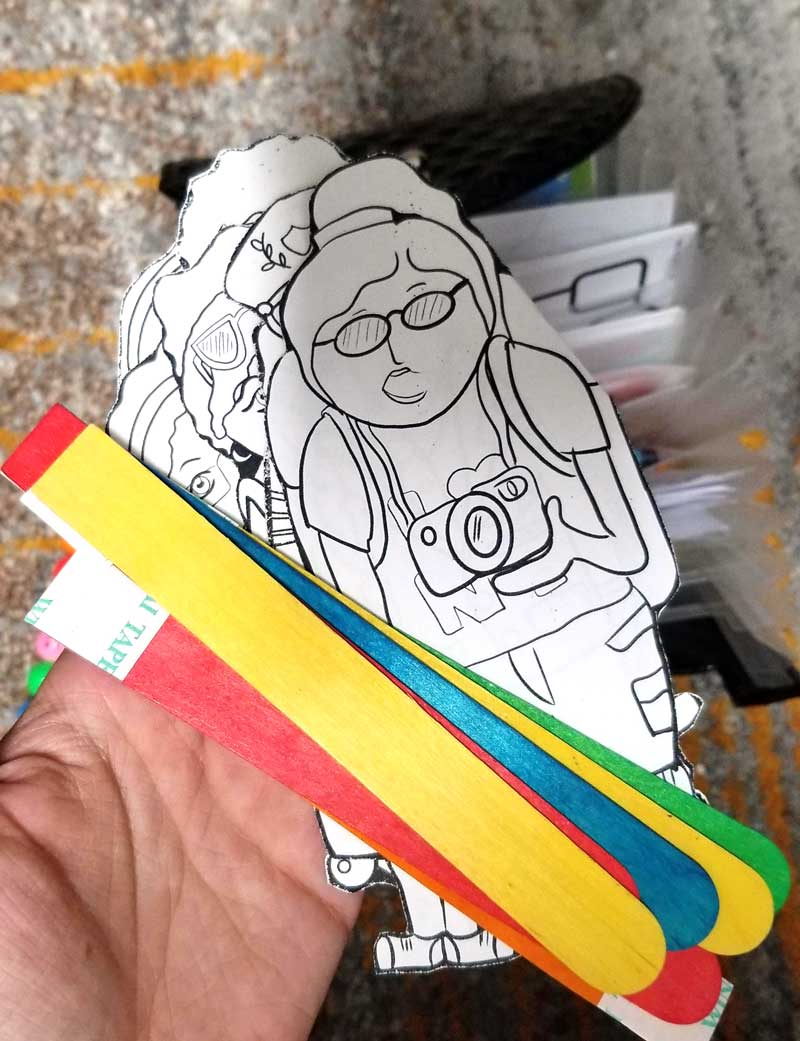 I packed these plane puppets printed on card stock and pre-cut, together with some crayons and peel-n-stick craft sticks. Y went to town with those craft sticks!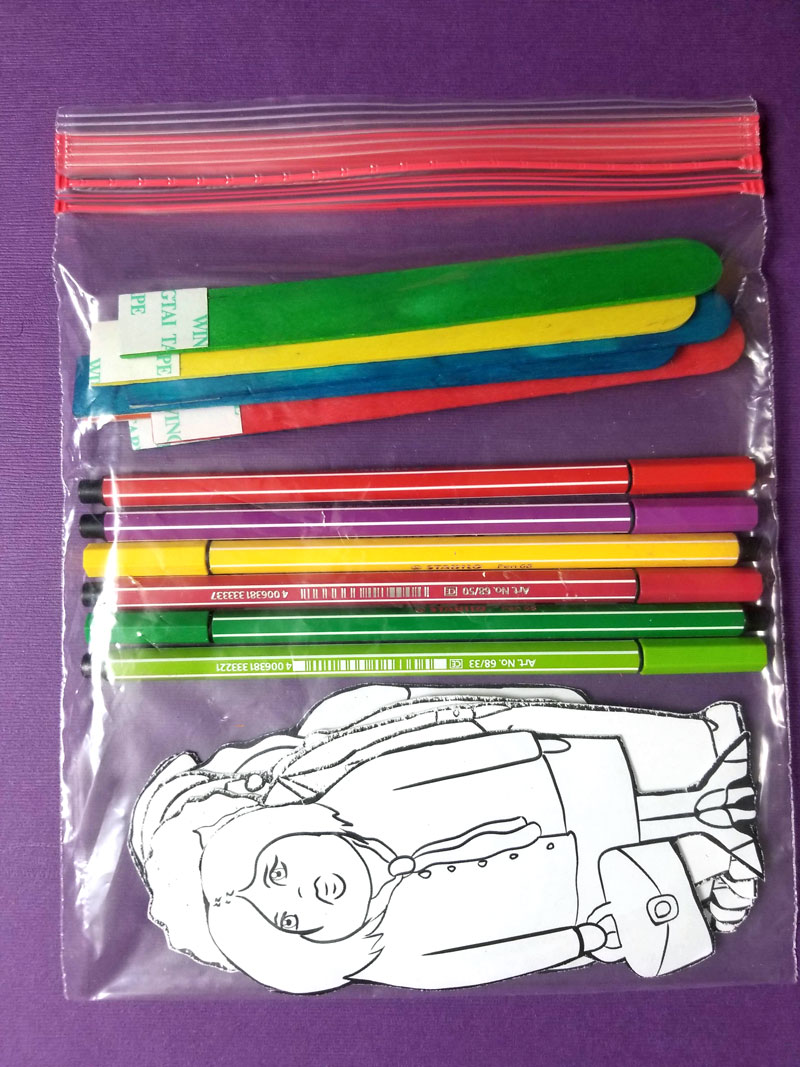 He learned all about flight attendants, and the other staff that makes the airport run (although he got hooked on the friendly flight attendants).
You can also bring other puppets in the same style activity pack if it's your kid's kind of thing!
3. Travel Themed Coloring Pages and Do a Dot: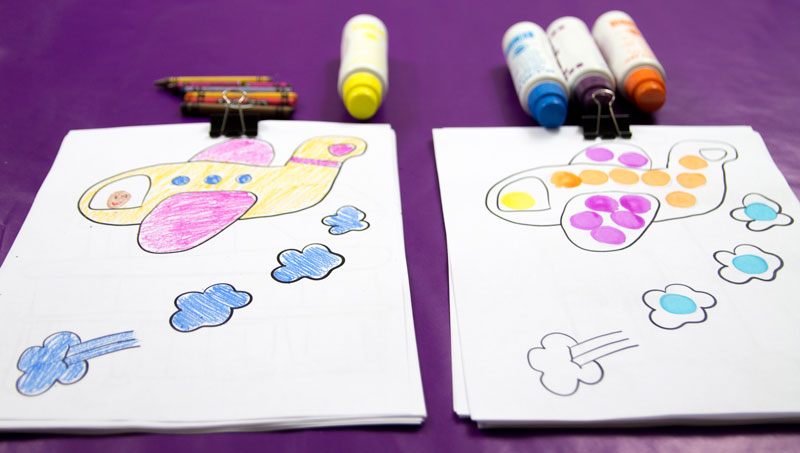 The cool thing about all the printables in this list is that you can buy them once and print them for multiple siblings.
My boys both did the do a dot while we were packing and the coloring on the go. This packet includes 18 pictures in both do a dot and coloring versions. It's a great travel binder activity if you're putting one together, and it goes beyond just an airplane theme.
If you want to do the do-a-dot on the go, you can get dot stickers to work with instead! Toddlers LOVE stickers, but you might need to help a little.
4. Toy Cars + Build-a-track activities: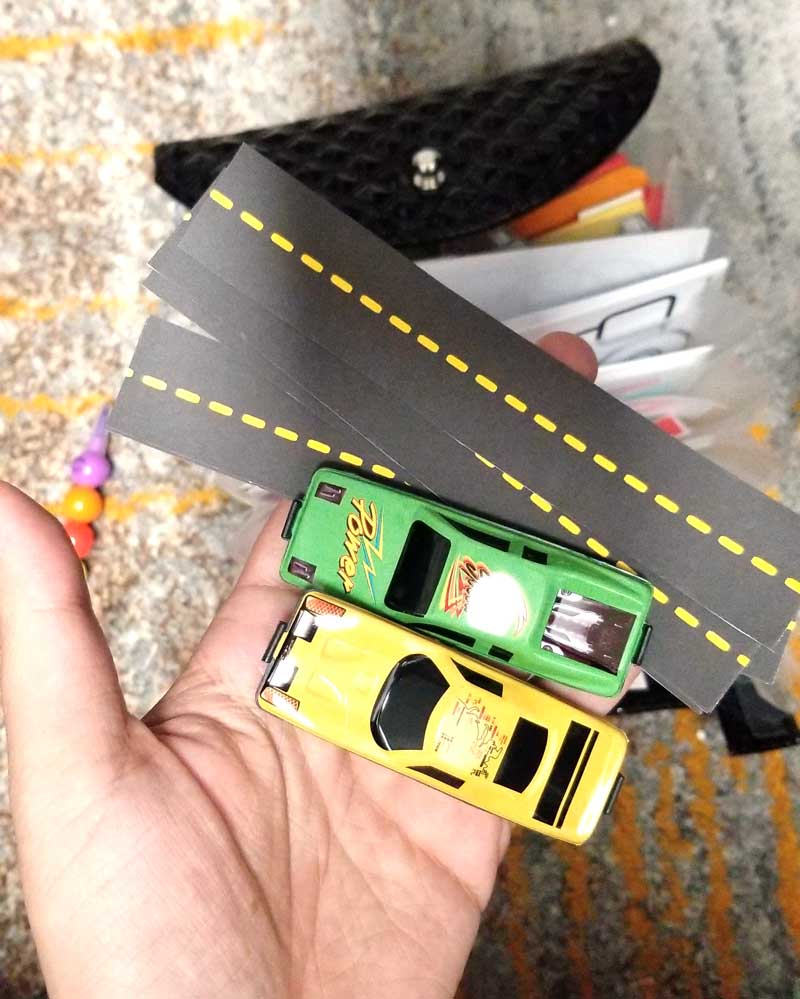 I have these roads here, and the train version here – and they make great activities for kids that love cars (like Y!) but beware of choking hazards for kids under 3 especially.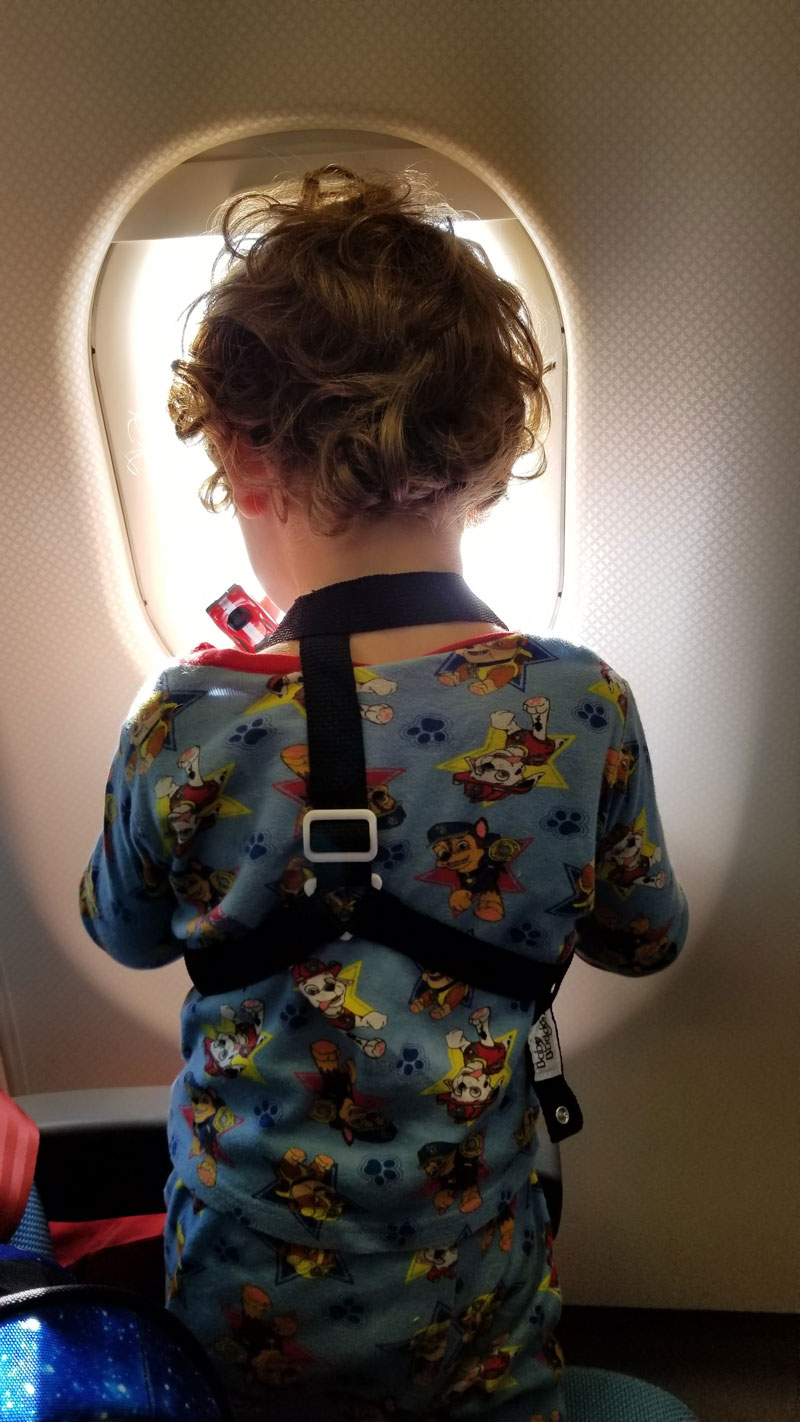 While I designed them to be magnets, for our trip, I printed them on card stock and cut the roads in half. I packed it with toy cars, and he played with this a lot during the flight in.
I plan to design an airplane version soon – will update when I do!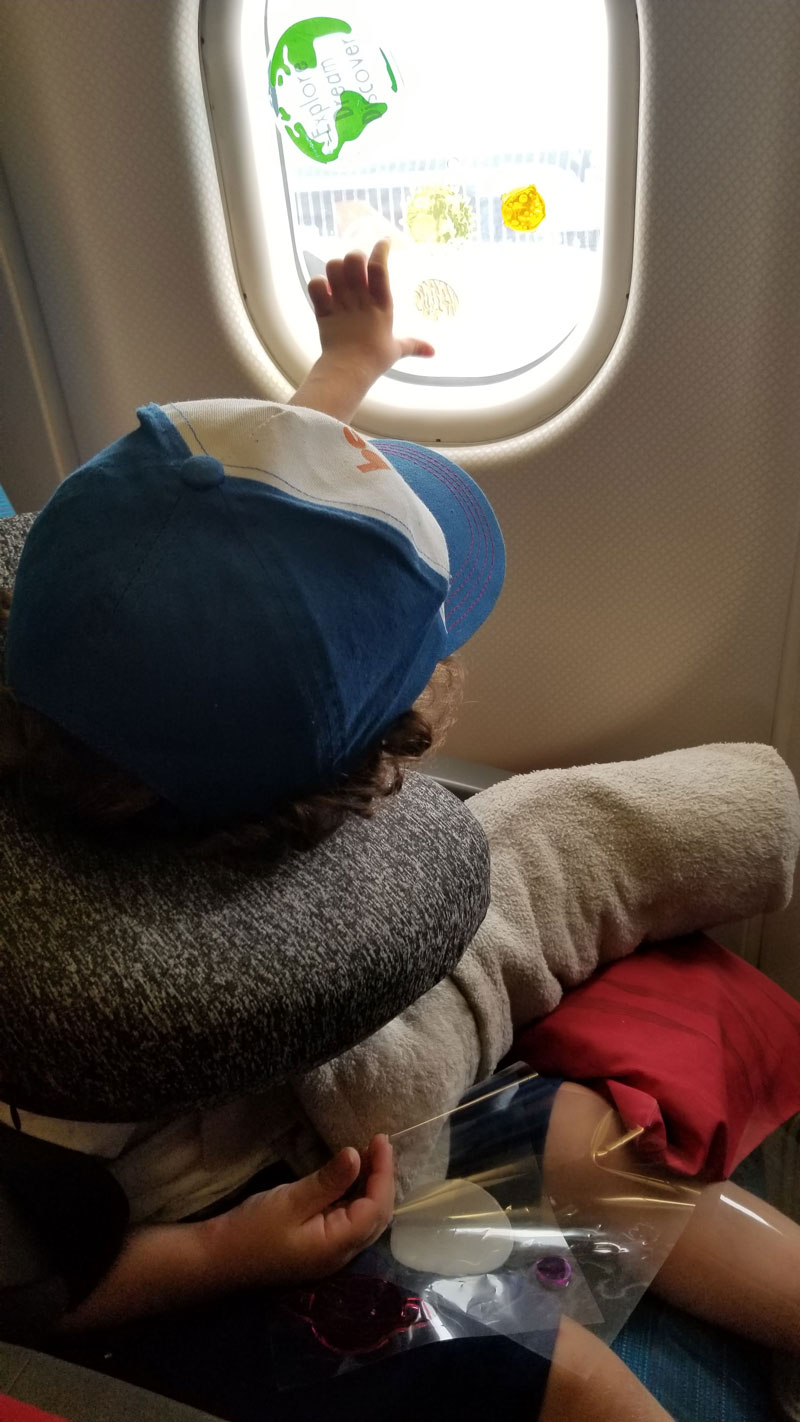 So, as you've probably read as well, many many moms suggest bringing window gel clings for the flight. In theory, it was a great idea. However, for this to be useful, you need a window seat. We DID have window seats on the way in, but it still didn't work for us.
I can't really tell you why but Y lost interest after thirty seconds, which is okay in most cases… only with this he kind of made a mess of it, tore up the pieces, crumpled the plastic.
6. Coupon File with mini activities: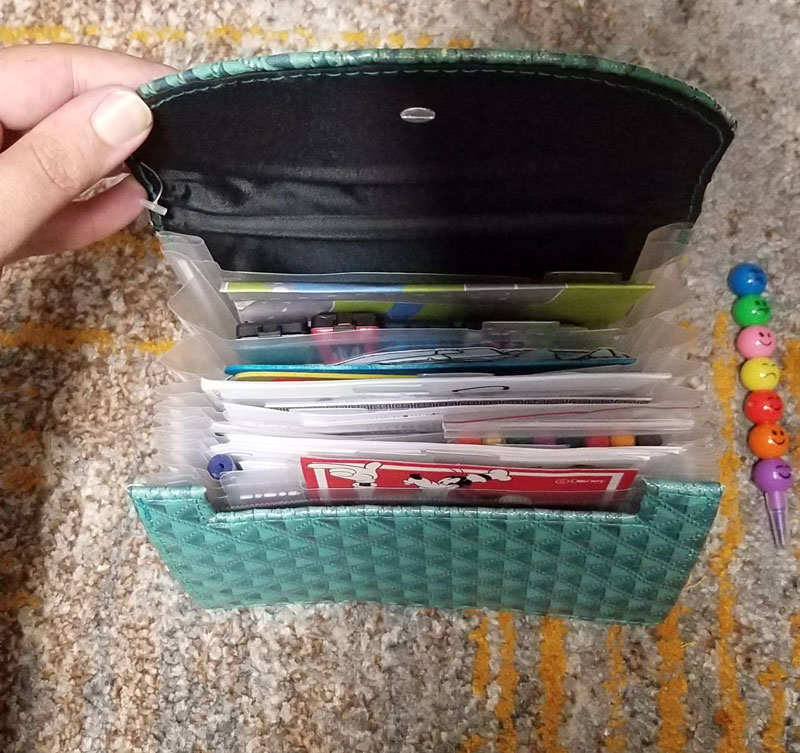 I plan to do a whole post on this… but I wanted to prioritize the big list of activities that you have here. I'll update with links when I do, but meanwhile, I'll give you the gist.
I got a coupon file, and filled it with small activities and a set of stacking crayons (DON'T get the set that we had – it was terrible. This one has much better reviews.) This included the car activity above, the puppets, small coloring pages, a memory match game, puffy stickers, sticky notes, mini coloring posters, and more. Anything that makes a good standalone activity (outside of the coupon file) will be on this list as well.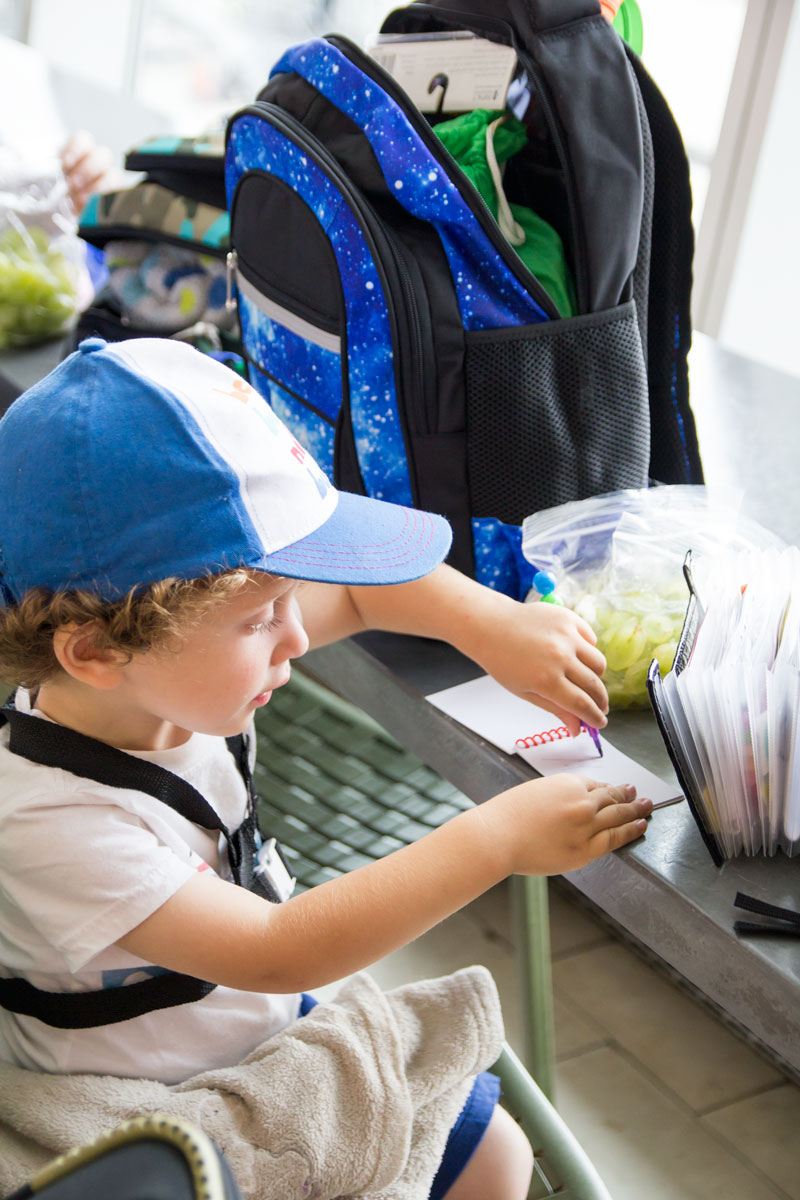 Y spent a LOT of time unloading and playing with the things in his coupon file kit. It was a bit more of a DIY to put it together, and took some time, but it was worth it because it ranked close to the Plus Plus Big in play value.

7. Reusable Stickers:
Toddlers love stickers, but they also love sticking stickers where they're not supposed to! Colorforms are a great alternative – they're reusable sticker play scenes in a packable size.
8. Play Dough: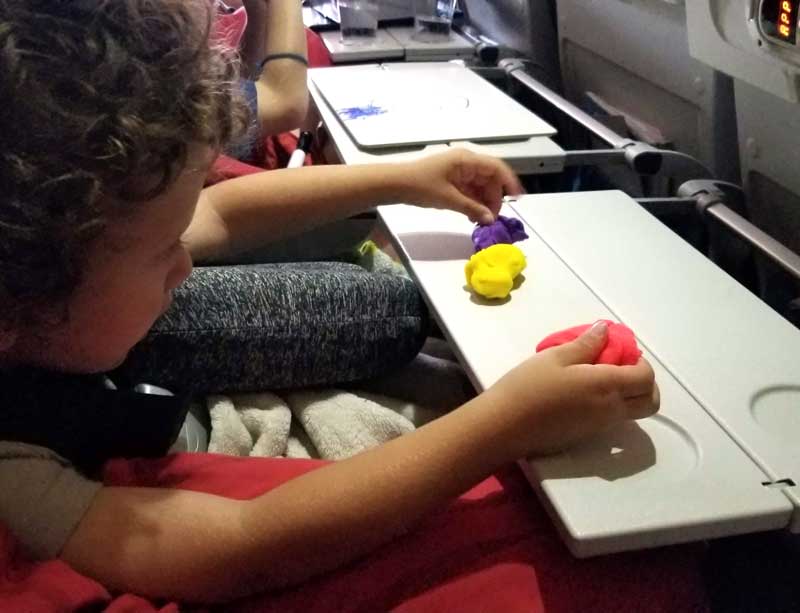 While TSA officially allows play dough through security, they are also allowed to use their discretion. But since it's a cheap item with high play value, I'd risk it – and I did. Or, pack the small containers as a carry-on liquid in a transparent bag.
Y played with it for some time on the flight home. We had to clean up the crumbs after, but it wasn't disastrous and it was very worth it. I got a small 3-color packet at a local discount store, but you can also get the party favor size jars.
9. Simple Puzzles: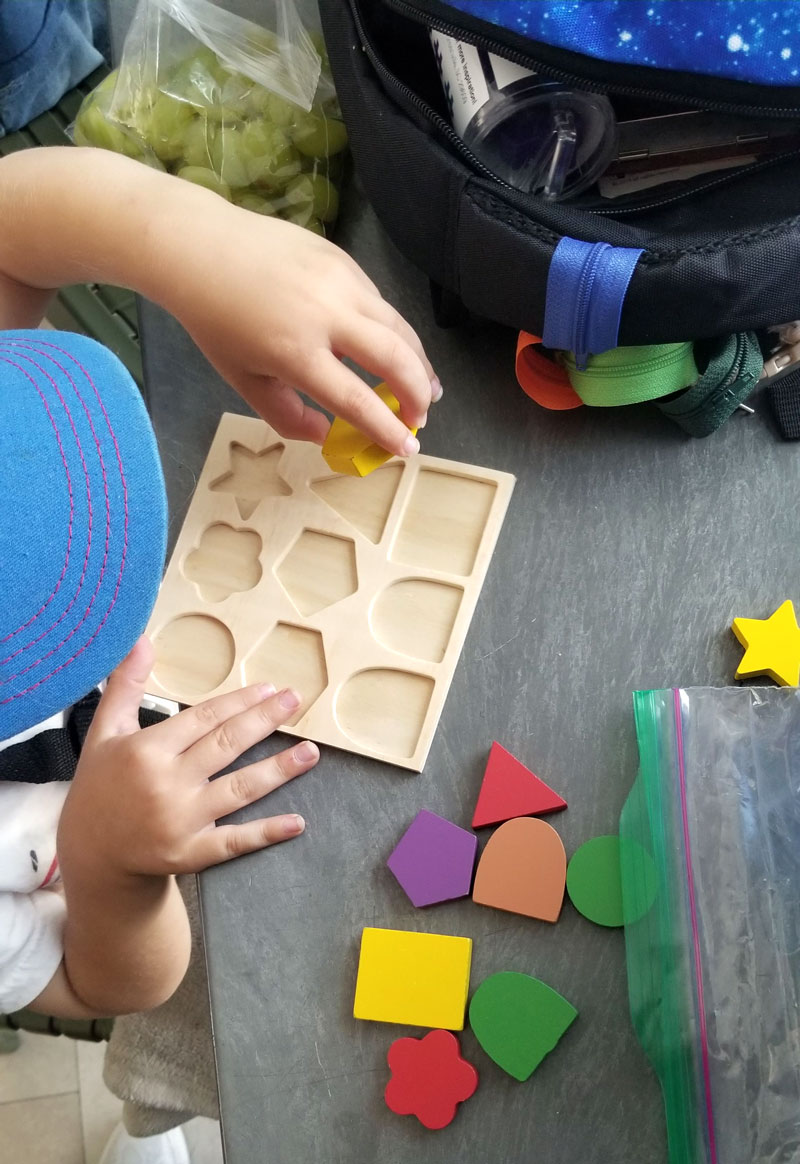 Your older two and three year olds can already do simple shape recognition and matching. I brought two types of puzzles for him:this wooden shape puzzle, and this 2-part matching puzzle.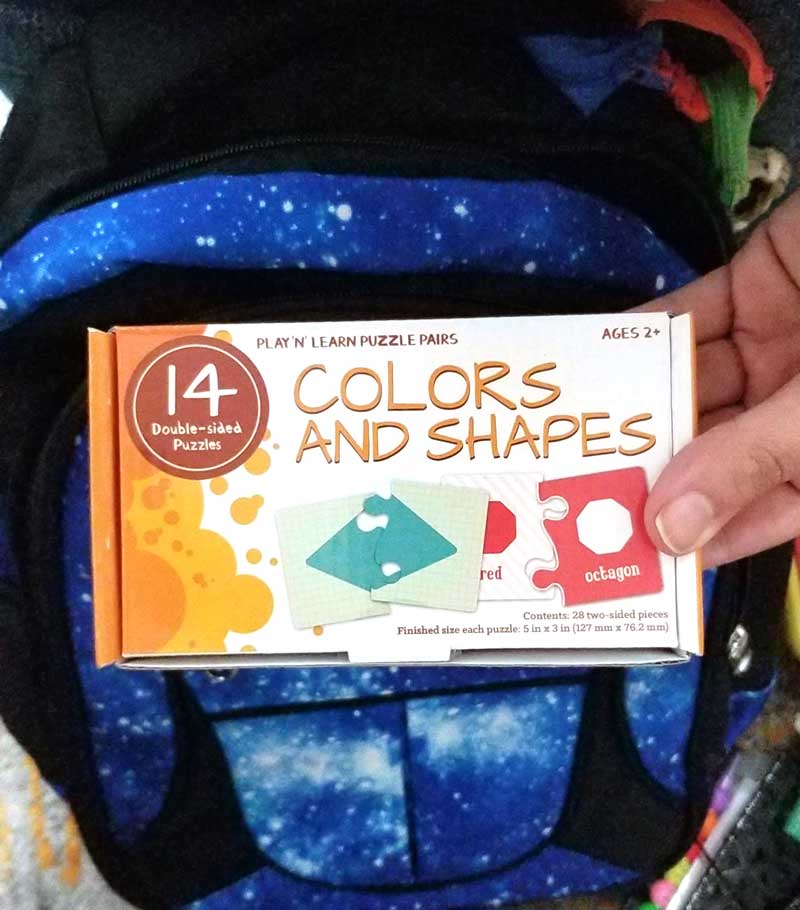 The matching puzzle stayed out most of the time at our hosts and was played with by everyone, including cousins and friends. He still plays with it at home. The other one was also enjoyed at our airbnb.
10. Magnetic drawing:
We got these magnetic drawing toys – and Y loved them! You can go with any type of portable drawing toy: downgrade to a cling film- style one, or upgrade to a Boogie Board if you want to go all-in.
11. Fidget cubes and other toys: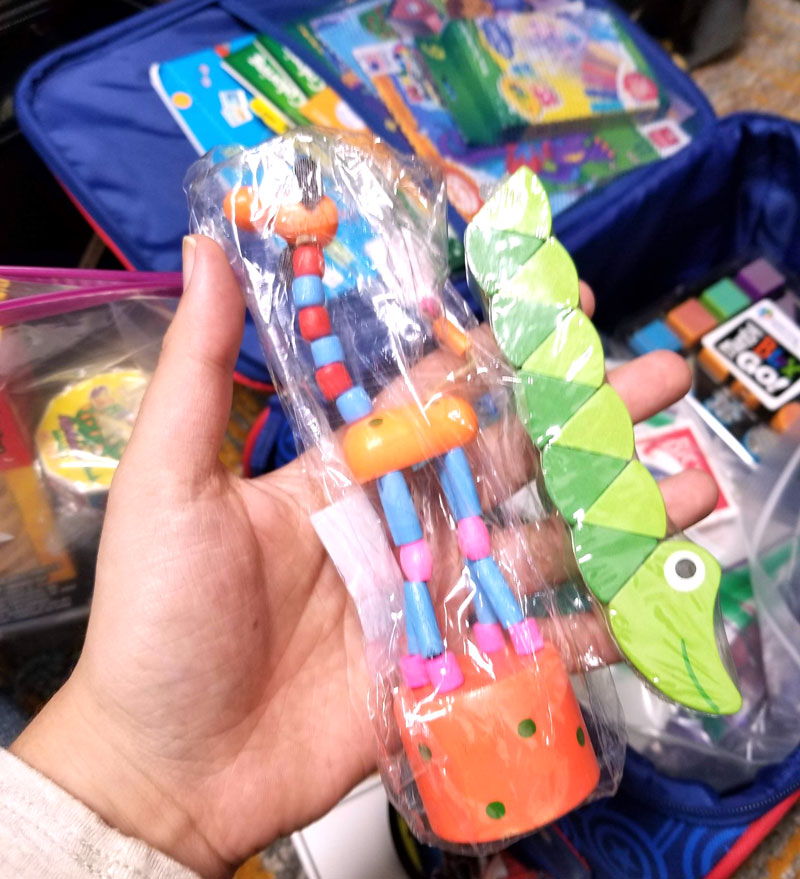 Fidgets are easy to toss in and play with, without parts to lose! We brought this DIY infinity cube that we made a while ago, as well as this dancing giraffe, and this bendy snake.
On our flight home, the airline actually had similar toys in the little kit that they gave the kids! It included a dancing animal just like the one we bought.
12. New (for him) books:
I brought some Time/National Geographic type books, as well as other books based on their favorite characters. New books keep it fresh!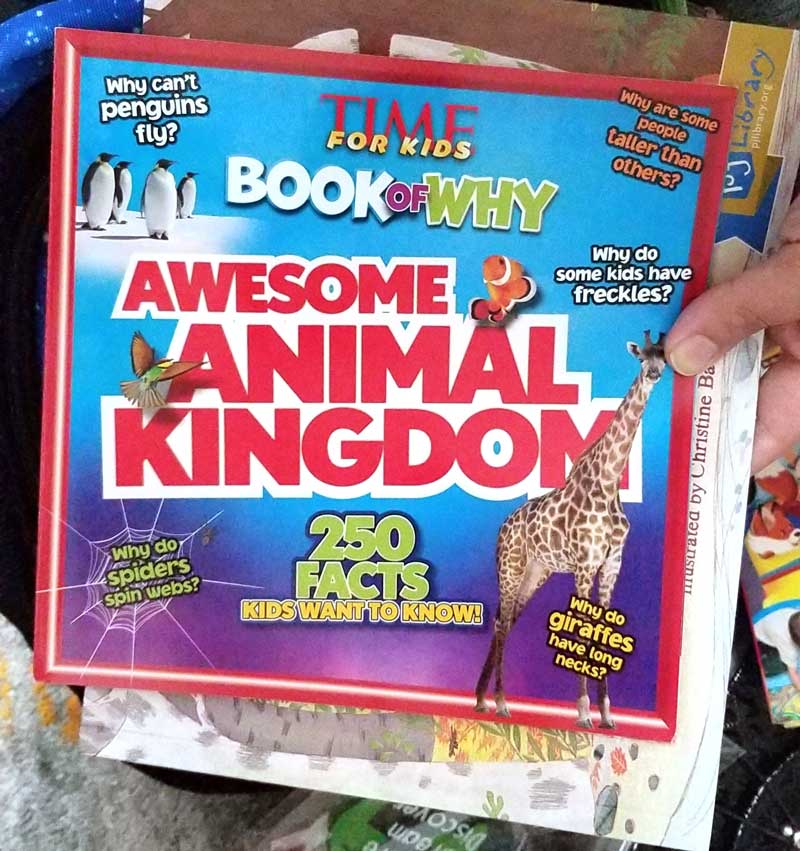 When choosing books to bring as toddler airplane activities:
Go for the very thin paperback books, especially in smaller, packable sizes
Look for inexpensive $1-5 books that you won't mind tearing, losing
Go for the types of books that your child will want to "read" by themselves. Those with detailed photos of different animals and rescue vehicles, as well as their favorite characters, worked best for us.
13. Tablet + Headphones: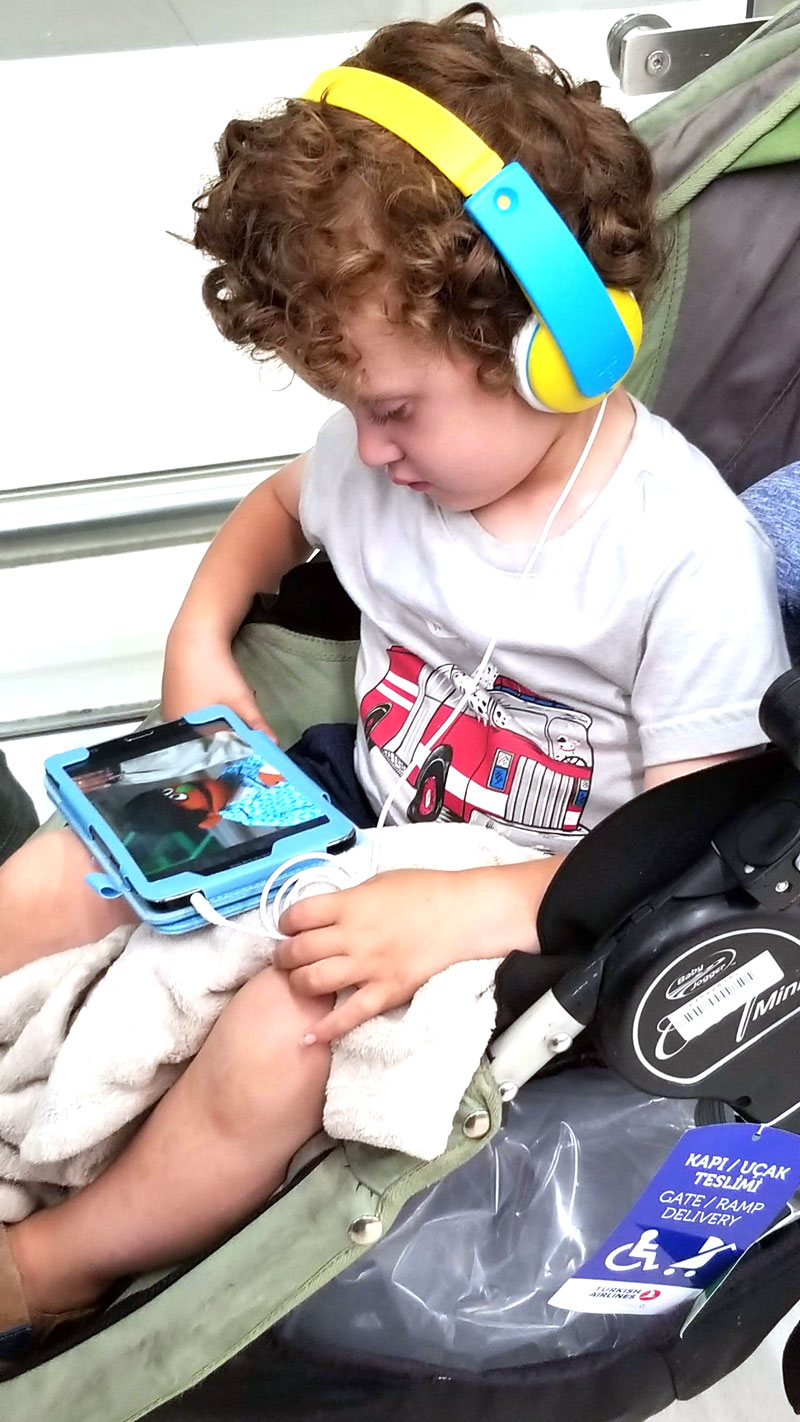 Even if the airline provides or if you are trying to limit screen time, BRING a kid-friendly tablet as well as volume limiting earphones! You never know and this can be a lifesaver.
The timing on our flight home was terrible. We left for the airport at 8PM after a long day. Our flight took off at 1. It was two hours, and then we had a four hour stopover. They didn't get onto a long, nap-friendly airplane until 6:30 AM!
Y was miserable during our stopover and our only real solution was to give him some Sesame Street to watch. Make sure to download stuff to watch before your flight! Shows that you buy from Amazon Video can be downloaded for offline use. Do it!
14. Color Wonder or other art supplies and mini coloring kits:
If your tot has a tendency to color all over everything, Color Wonder is your best friend!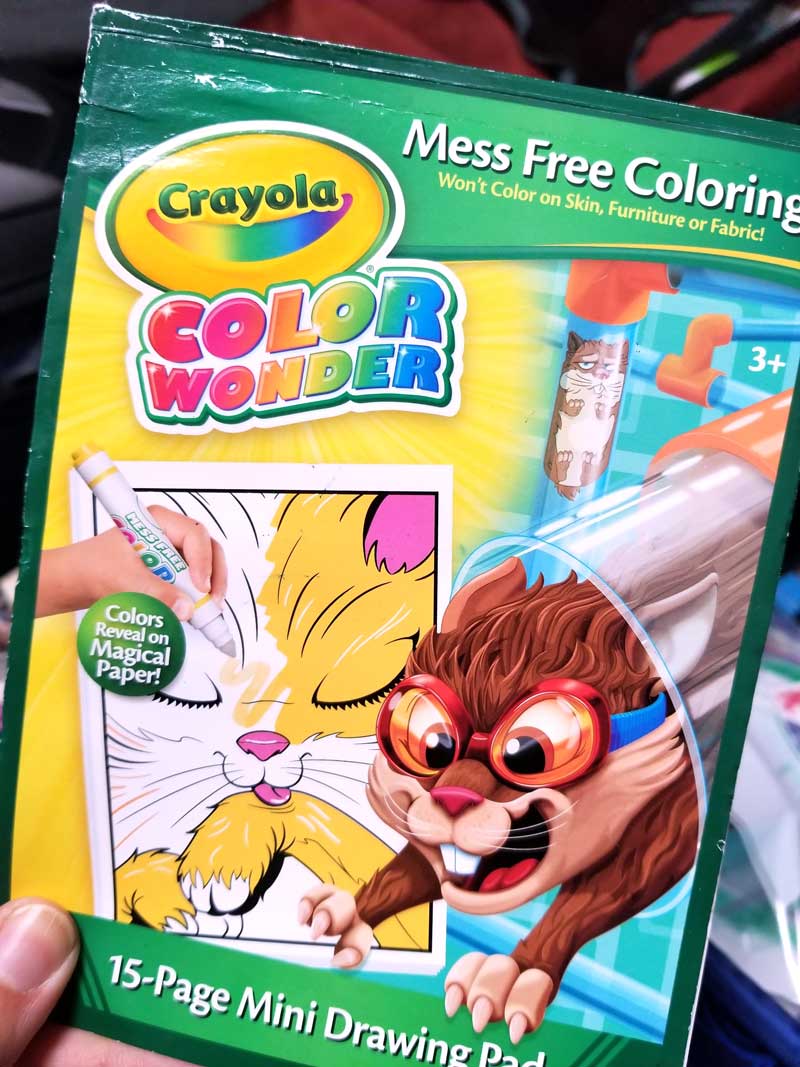 Otherwise, bring any art supplies that you'll be okay losing. In addition to color wonder, we got these mini coloring kits.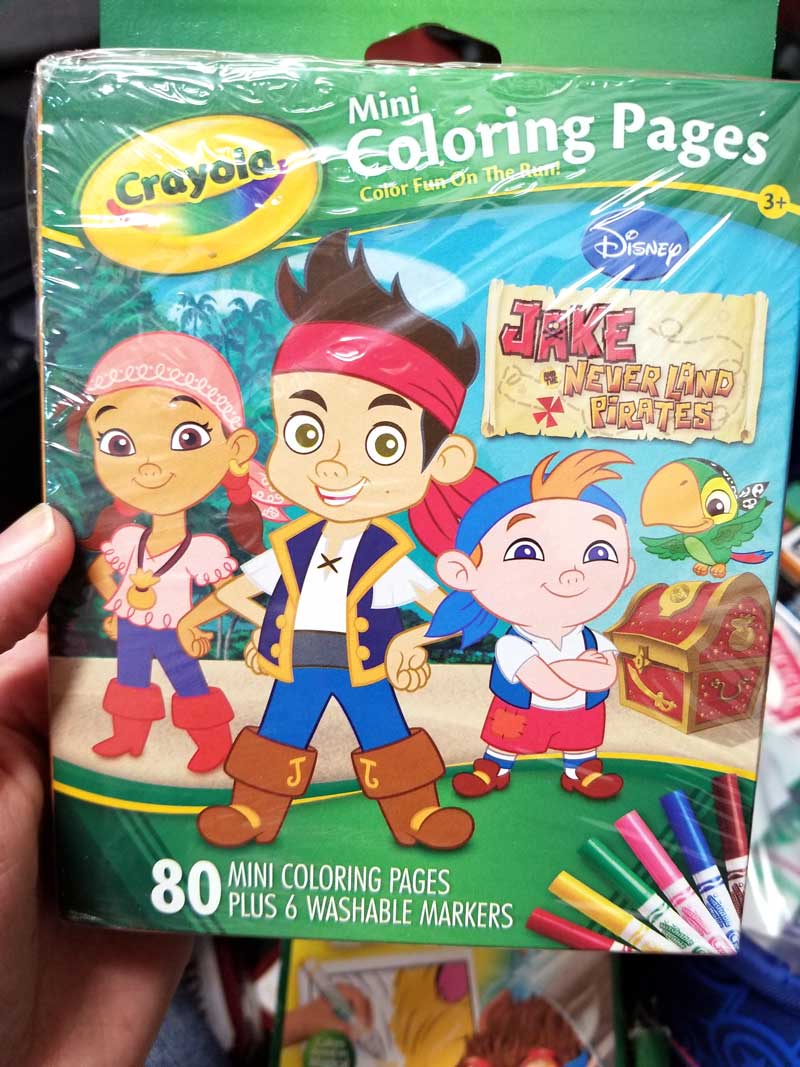 Mom hack: don't giv
e all the coloring pages to your toddler at once. Okay, that should be common sense, but your mom-tired brain might need a reminder.
15. Dry erase board + markers:
This was a brilliant move on the part of my sister-in-law. She had purchased some flat dry erase lap boards and markers to play pictionary with on family weekend. We didn't end up using them.
So she sent it home with us.
Both boys really enjoyed using it on the flight home! They feel like it's grown-up markers, and if they "by mistake" color on their tray, you can remove it with a baby wipe.
16. Calculator: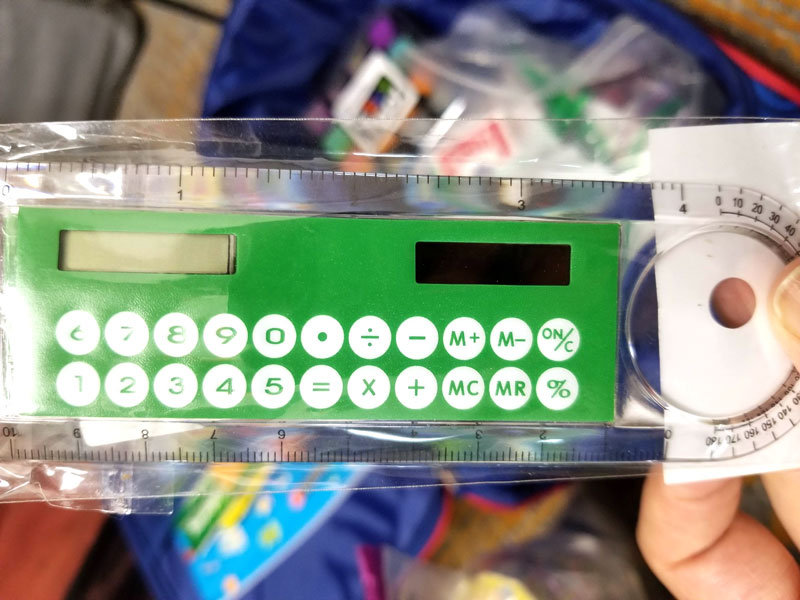 Yep, you read that right. A flat calculator makes a great "just like Mommy" toy for your little one.
17. Snowflakes/disc building toy: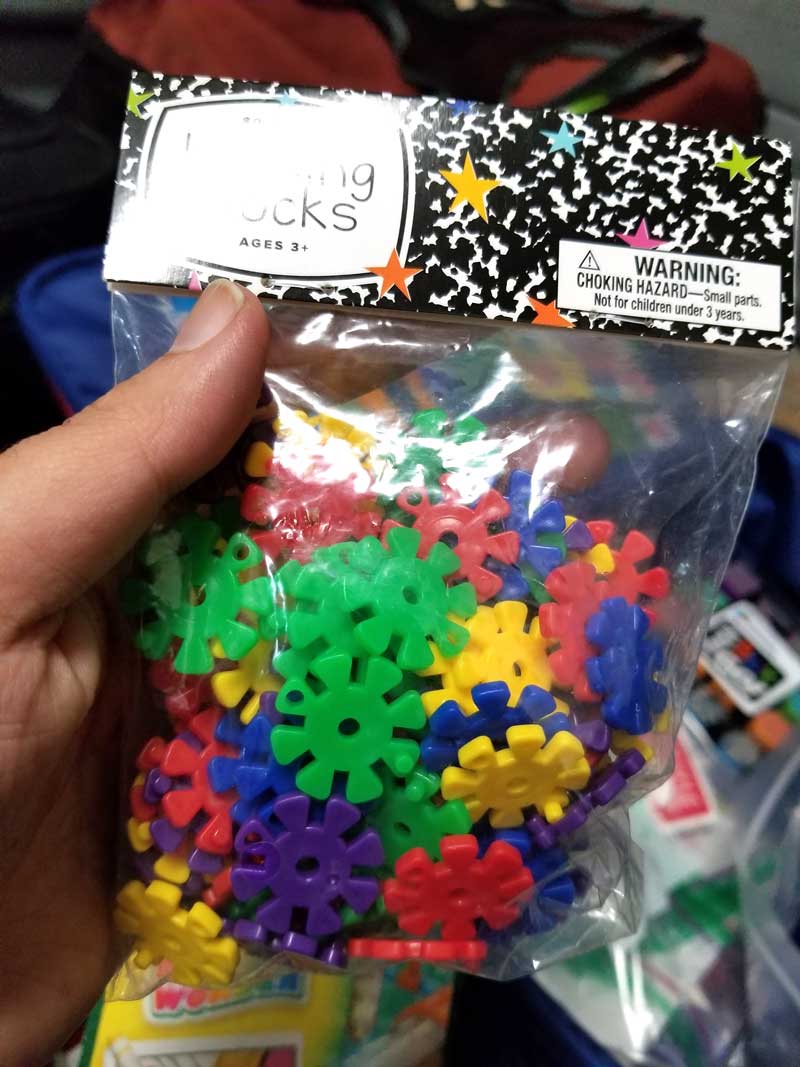 This is another great travel building toy option and was enjoyed on the way home. We lost a LOT of pieces but that's the point in having dedicated travel things.
18. Build-a-monster tin:
If you have the time to put together, this free printable build-a-monster tin was enjoyed by Y on the flight home.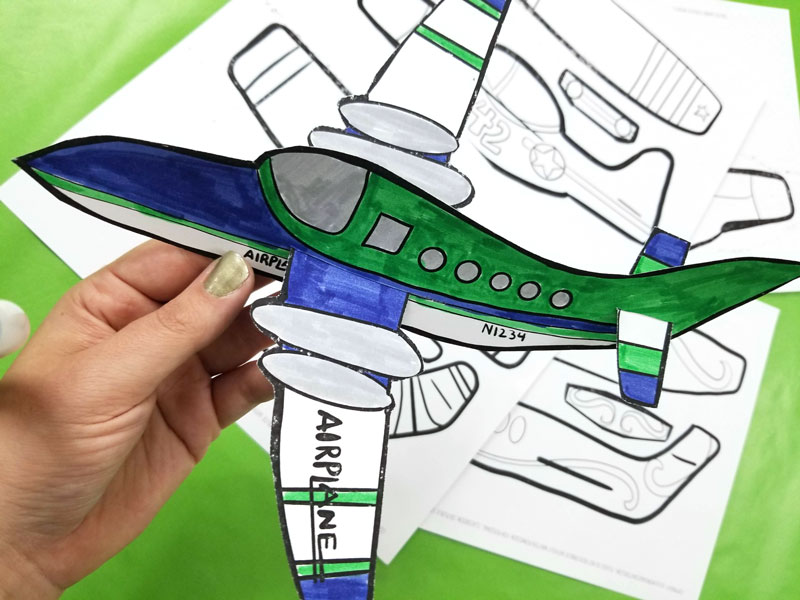 Cut these out in advance and let your tot color them on the plane! Your kids can also play with them in the airport if you have a good, open space to fly them. It's a great way to build excitement for the trip.
20.Wikki Stix and CDs: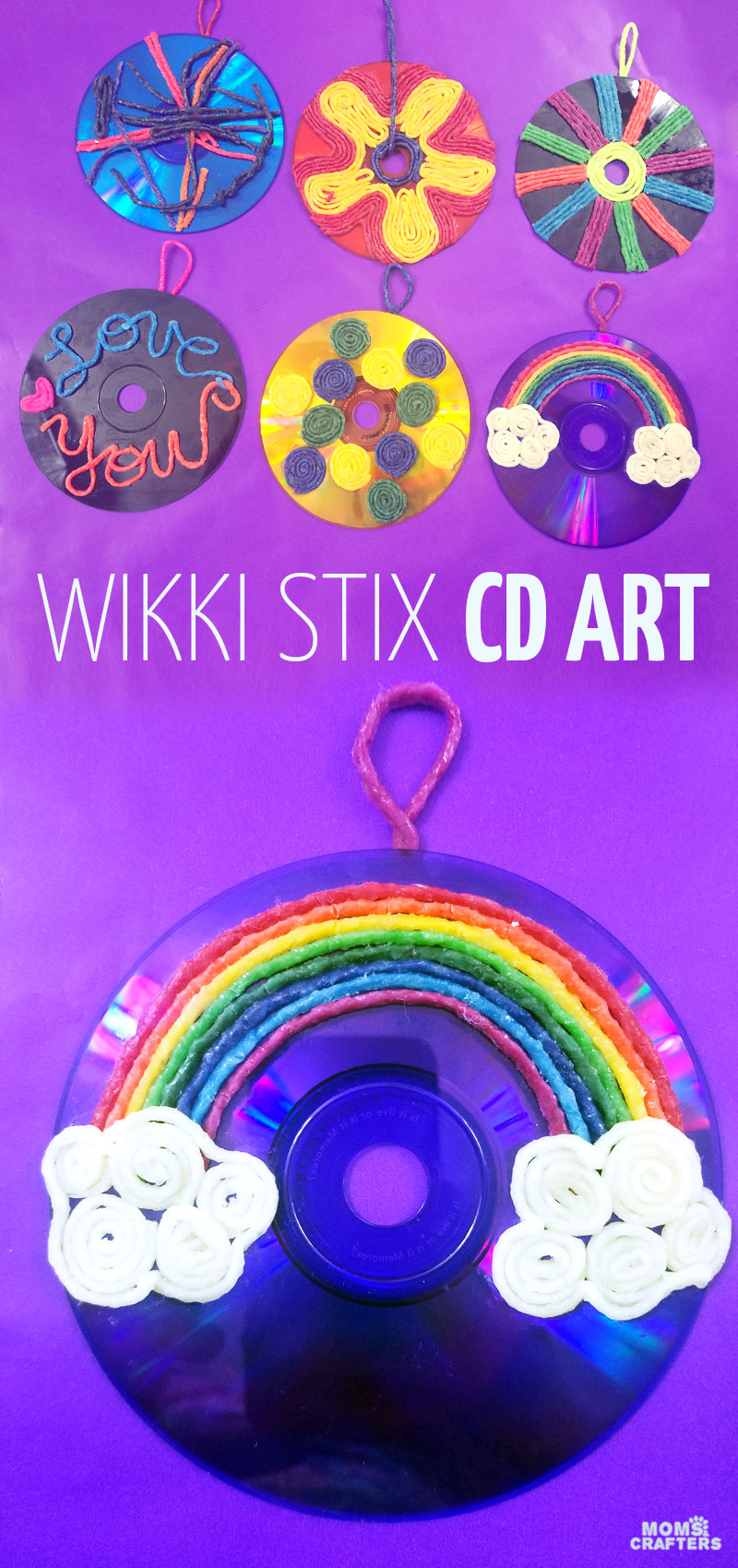 This is an old time favorite activity in our house that Y really enjoyed on the flight too! Just slide a couple of CDs into a Ziploc bag together with a packet of Wikki Stix for a thin, portable and exciting activity. Or go all-out with a travel case.
21. Cereal Necklaces:
This brilliant idea was found on the Busy Toddler Instagram account, and Y loved it. He mostly ate the cereal, but it was a great, easy, double-duty idea that took a second to throw together, and cost pennies, so it's worth a shot!
Stay tuned for more tips for traveling with kids, including activities for older kids and DIY travel toys! And don't forget to download my free printable travel with kids checklist!
What are your favorite toddler airplane activities and toys? Got any travel tips to add to the list? Comment below!