Check out this useful and space saving way to upcycle baby food jars! When my baby first started eating purees from the jars I threw them out. Then I got a big guilt trip and decided I should probably try to save them and use them. I figured they were a perfect fit for for spices. I did what all good moms do when looking for inspiration and started a Pinterest board. None of the spice rack ideas there were a good fit for my space (non-existent) so I decided to upcycle baby food jars to make my own kind of spice rack.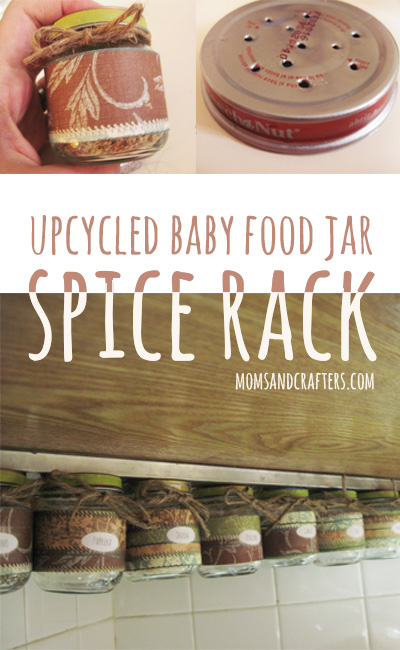 Besides for being a great way to upcycle baby food jars, this is also an amazing space saver as it uses an area that is otherwise wasted and clears up some cabinet space. I also love that I can decide on my own how much spice is dispensed from each jar as I am making my own holes.
Upcycle Baby Food Jars – SUPPLIES NEEDED
A magnetic knife strip, or other sheet of strong magnet, fixed to the surface.
Empty baby food jars, cleaned and with labels removed (it's okay if glue remains)
An awl
Twine or ribbon (optional)
Washi tape (optional)
Spice labels (print this out in black and white or full color) – I've created these FREE printable spice jar labels special for this project. I've made a few with spices written on them – the rest are blank so you can customize it for you needs.
E-6000 glue ( a great craft staple in general)
Scissors, of course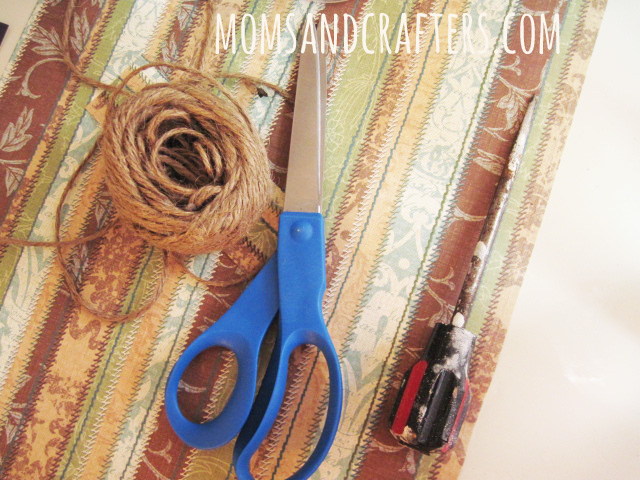 Upcycle Baby Food Jars – INSTRUCTIONS
Remove the cap from the jar and use the awl to make holes. Vary the hole size according to the spice – you can see how the original spice jar arranged it for that specific spice.
Cut a strip of scrapbook paper to the desired width. Measure it around and trim the length. Glue on using a strip of e6000 at the end.
Cut out the spice label and glue that on as well.
Cut a piece of twine and tie as a ribbon around the neck (optional).
I was disturbed by the text on the cap – it was ruining my design, so I covered it with some thin washi tape.
Fill and enjoy! When you place the jars on the rack, the surface covers the holes and prevents moisture from entering.
Do you feed your child baby food from jars? Do you have any other ideas to upcycle baby food jars?