I recently got started with watercolor paints and I've had the question niggling at me: which are the best watercolor paints for beginners to start with? And which watercolor paint sets should we move on to? I invited my friend Stefanie to share with you this first post in my Watercolor 101 blog series. She'll be coming by a few times to share the basics of how to watercolor – starting with helping you figure out which watercolor paint set to go for first. She has already shared which are the watercolor materials and supplies you should go for. Disclosure: this post contains commissioned links.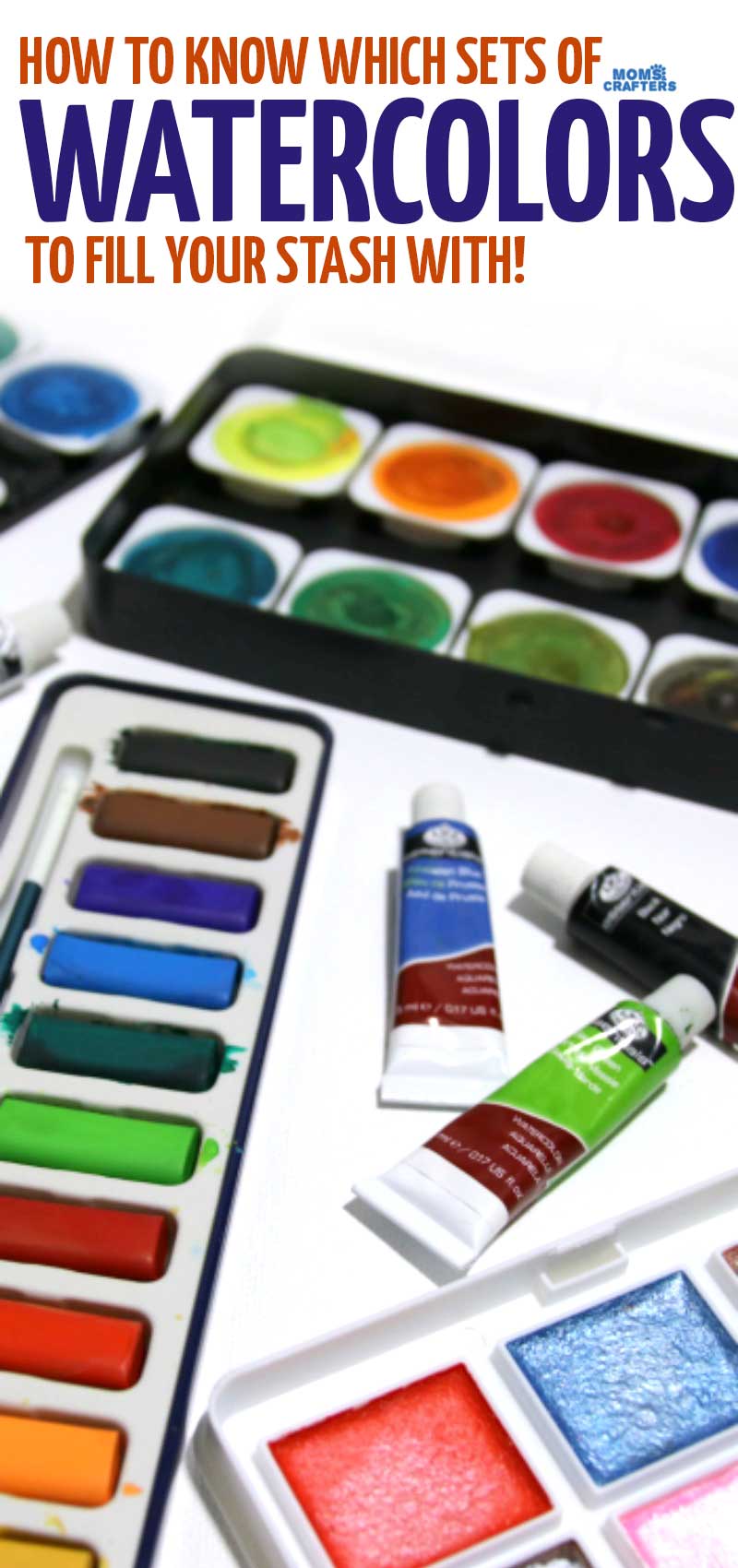 Hi there! I'm Stefanie from Simple Acres blog. I am a life long artist who loves sharing my love for art online and in real life as an art teacher. I'm so excited to share the best watercolor paints for beginners. I started watercolor painting several years ago and fell in love with the medium and I know you will too!
One of my main reasons I wanted to put together a list of the best watercolor paints was to help others sort through the excessive options and feel confident in the paint choice they make. You definitely don't need to spend a lot of money to get started with painting with watercolor.
In this post I am not sharing painting techniques YET but the paints needed to get started creating art you love! At the end of this post I will share a few links to some watercolor projects you can create.
I started watercolor painting several years ago with just a kids' watercolor pallet that cost a few dollars. I can remember the day, sitting at our outdoor picnic table with my child as we started painting. I loved how relaxing it was. I loved the fluid nature of the medium and how some of it you just can't fully control, which was refreshing.
I am self-taught in watercolor but from my love for painting I have found many opportunities, one of them being able to offer art as an art teacher in my community.
How to choose the best watercolor paints for beginners:
My advice is to start with a simple and affordable watercolor paint set as you experiment and see if you like it. Once you start painting more you will likely find yourself investing in more high quality products as you grow in your liking for the medium.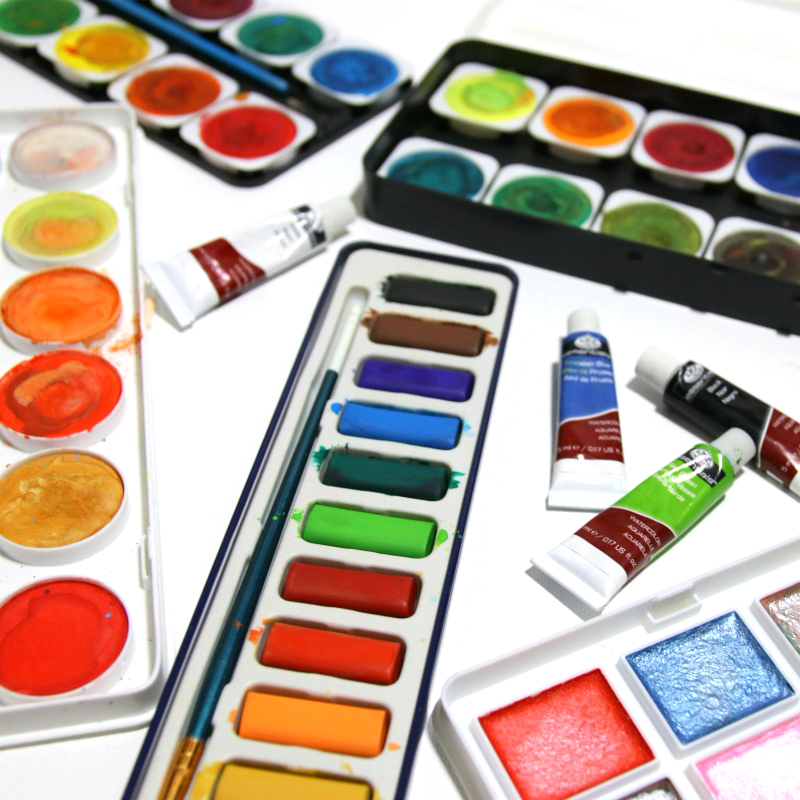 Here are the different types of watercolor paint sets to consider as a beginner. These are the sets I own, use and love!
This is the kid set I started on. The color is not vibrant but it does the job of allowing you the feel of watercolor on your brush. You will find yourself quickly shifting to another product but if you want something very affordable to start with there is no shame is starting very basic.
2. Artist's Loft Fundamentals Watercolor Pan Set:
This is my most used watercolor paint pallet. It only costs double of the most basic watercolor set, but often less than $10. I use these paints the most to create all of my art and in my group classes I teach. These paints offer rich and vibrant color.
3. Artist's Loft Pearlescent Watercolor Pan Set:
This set is much like the set listed above but it offers a paint with more shimmer present in the paint colors. I enjoy using this as an accent to my paintings.
Tube paints are great for creating that really customized and vibrant color mix in watercolors. The expense is much higher but these last me a very long time as a little goes a long way.
5. Sakura Koi Field Watercolor Set:
This set is perfect for when you want to paint on the go. It is compact and even includes a water brush making it simple to paint anywhere.
For beautiful metallic accents or painted calligraphy that will stand out, this set is a must. It paints such gorgeous metallic pigments.
So there you have it friends! A basic list of the best watercolor paints I would suggest for beginners. If you would like a few ideas of how to start using your new watercolor paints you might enjoy this very simple resistance watercolor project, kids art transfer watercolor project or watercolor tree project your kids can join in and paint with you.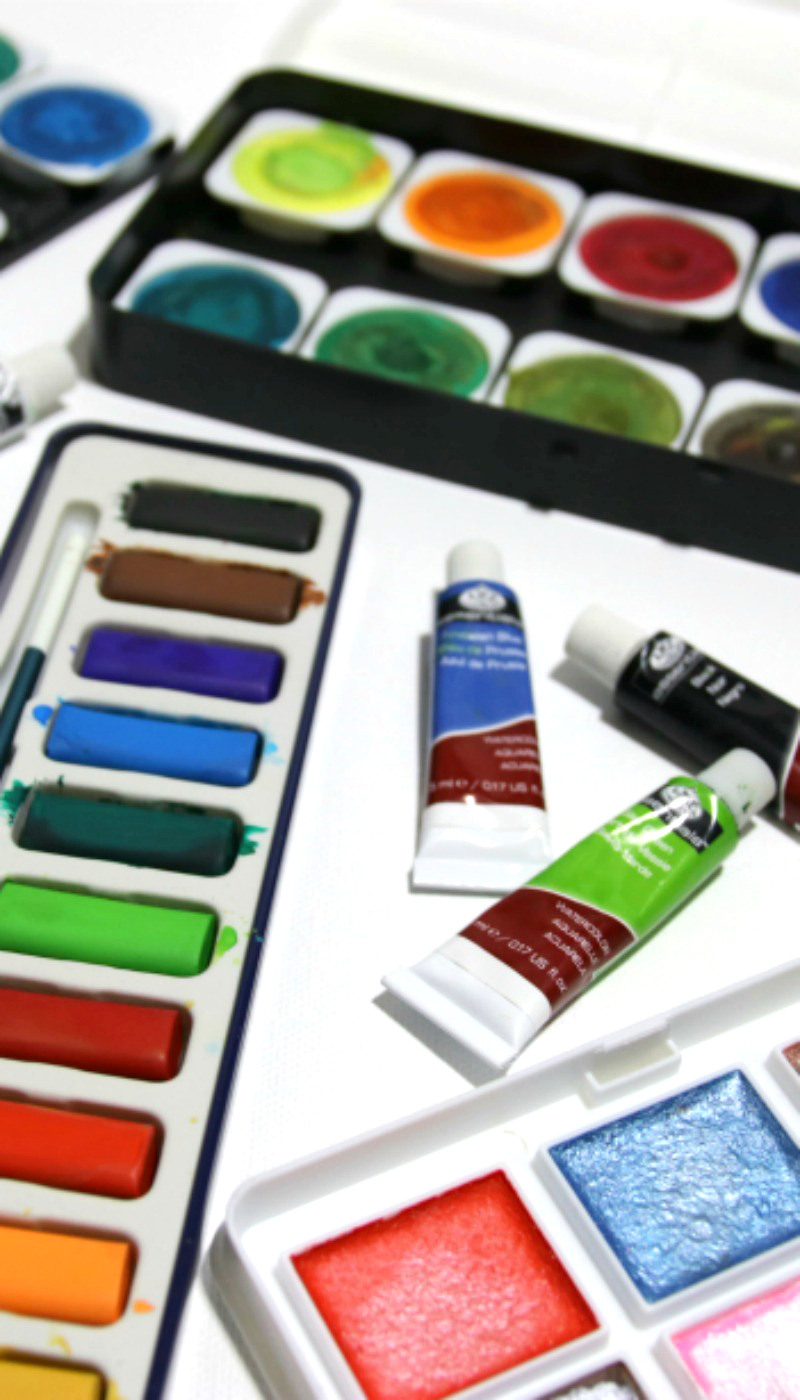 ---
About the Author: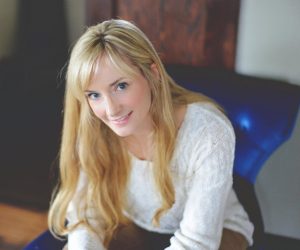 Stefanie is a Slovakian buffalo girl who always was country at heart. Finally as a wife, mom, artist and registered dietitian she's planting her roots on 10 acres of dirt and tumble weeds. Her passion is to inspire & equip others toward simple living, living in the moment, with gratitude and intention, loving oneself and others with purpose and reaching your dreams with creativity and vision.
---
Loved this? You'll probably like these posts too!