Welcome to the first review in my A Year of Parenthood series! I was so excited to receive these samples of the Yummi Pouch to review! My baby loves eating on his own – when I try to spoon feed him, I need to give him a spoon as well so he can "help". There are some foods, though, that get real messy when trying to do that… That's where Yummi Pouch comes in. Yummi Pouch makes reusable food pouches that come in a variety of sizes and designs.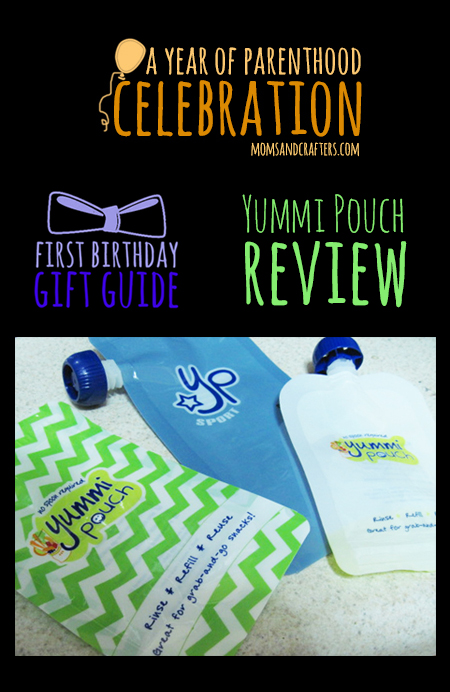 First Impressions:
I was sent three different designs. My first impression was that the plastic might be slightly thinner than I imagined. With further use, I saw that this was not a problem – it is extremely durable. The pattern on the "brights" set is adorable, and my baby loves it too!
It comes in a variety of sizes, which I felt was important, as you can fit it better to various portion sizes. I used the 2.5 oz capacity for chicken puree from the jar. In the 6 oz. capacity, I mix for him a combination of chicken or meat puree and sweet potato. The Vitamin C in the sweet potato helps the iron absorb. My baby's favorite food is applesauce mixed with yogurt. I combine a 4 oz. jar of apple or banana baby food with 4-6 oz. plain full fat yogurt and he eats it from the 10 oz. pouch. Previously I used a straw training cup to serve that to him, but it was a nightmare to clean!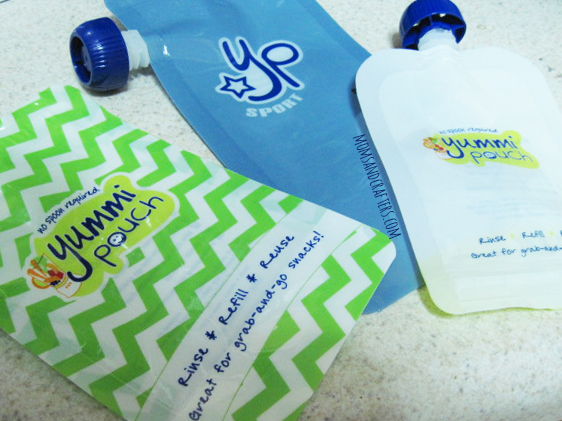 Features:
Here are just a few features of the Yummi Pouch:
They are dishwasher and freezer safe (microwaving is not recommended)
They are BPA and Phthalate free
Capacity options include 2.5 oz, 6 oz, and 10 oz for different uses
They have zipper openings for easy filling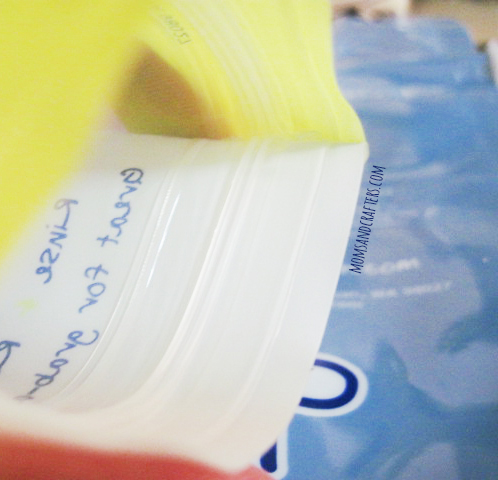 They are recyclable and fully CPSP compliant
Yummi Pouch has backed them with a 30 day guarantee.
The "mini" and "classic" have a space to mark date and contents with a dry erase marker.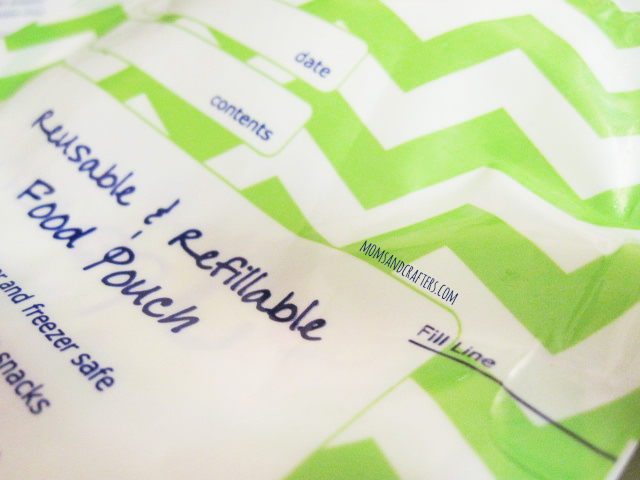 What I liked:
I found them very easy to clean with a bottle brush (as the company suggested.) I used a spout brush which I anyway have handy for the opening – and it works perfectly!
As I mentioned, I found the plastic to be surprisingly durable. While I do feel that after multiple uses it will need to be replaced (I'd say every 30 or so uses at the rate we're going), the price is very appropriate, and it's a lot greener and more economical than buying individual pouches
My baby loved the independence of eating on his own – he has the control. I love the independence of having my baby eat on his own…. !
They store flat so they take up virtually no space in my tiny apartment, with limited storage. The caps all fit each other – the size is universal, so I don't have to play a matching game.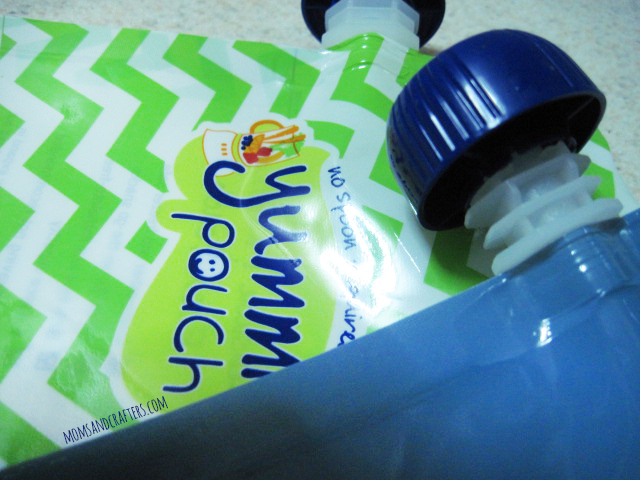 What I Didn't Like:
I feel as though the quality of the cap is not the best – it's the same cap you get on the disposable pouches. I'm afraid it'll break each time I open it.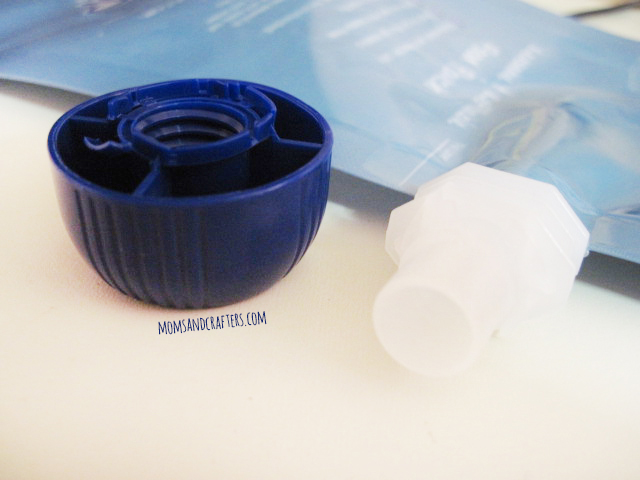 I'm also having some trouble with the seal on the zipper. I had a couple of messes after I tried to close it securely a few times.
They are supposed to stand up for easy filling, however I did not find it easy to open fully to stand. Tip: They do recommend using a spouted measuring cup for filling. I've been using a spoon.
Who It's Best For:
Age: I've been trying it with my almost one year old and he's slowly getting the hang of it. I have friends who have used these from as young as six months. It's also great for toddlers and young children who enjoy eating out of pouches (especially the "sport" pouch). Warning: The cap is a choking hazard so remove it before giving to a child under three, and keep out of reach.

I highly recommend this for families who are trying to better the environment, for people who are trying to save money, and for busy moms who want their children to be able to self-feed purees.

This is great for feeding on the go!
Final Score ****
Final score is 4/5 stars. I love it and it's great and functional – I use it daily. The only thing I would improve on is the seal on the zip closure.
Connect with Yummi Pouch
Disclaimer: I received the above products free of charge for review purposes. As you can see, all opinions are my own and remain unbiased.