Make this fun apple craft for kids – a pretty wall hanging that will really make your house shine!
I wanted to create a craft that works for everyone, but is perfect for my Jewish followers celebrating the High Holidays soon.
Apples are symbolic of autumn, the new school year, and fit so well with this time of year. But for those of us celebrating the High Holidays soon, apples are a staple! We'll be eating apples with honey to symbolize a sweet new year, and so this apple decoration is a perfect way to decorate. It can then be carried out to decorate the Sukkah, the "hut" we move into for the holiday immediately following.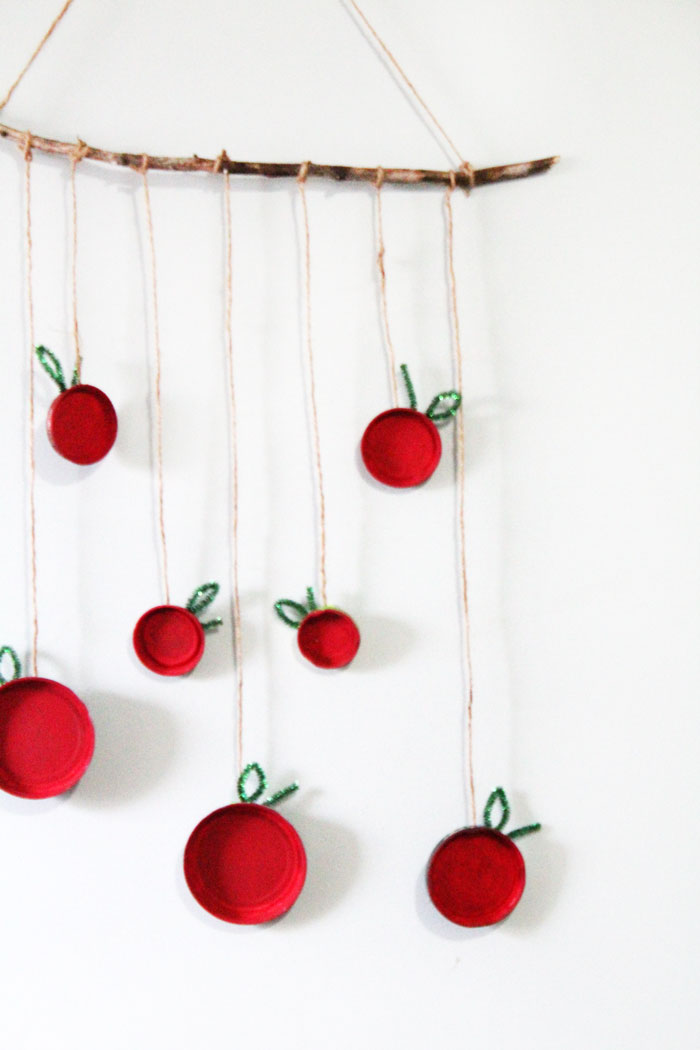 This apple craft for kids is surprisingly easy. It has a polished look which will make your grade school aged kid really proud, but is sophisticated enough for teens, and even moms! Smaller children can have fun painting the apples, but may need assistance with making the leaves and stems, and some of the assembly.
You can easily substitute the leaves for actual leaves, or fake leaves – either taken off some silk flowers, or floral leaves. The stick can be switched out for a dowel in case you don't want one from the beautiful outdoors, and the twine can be replaced with embroidery floss, yarn, ribbon, or whatever else you have handy.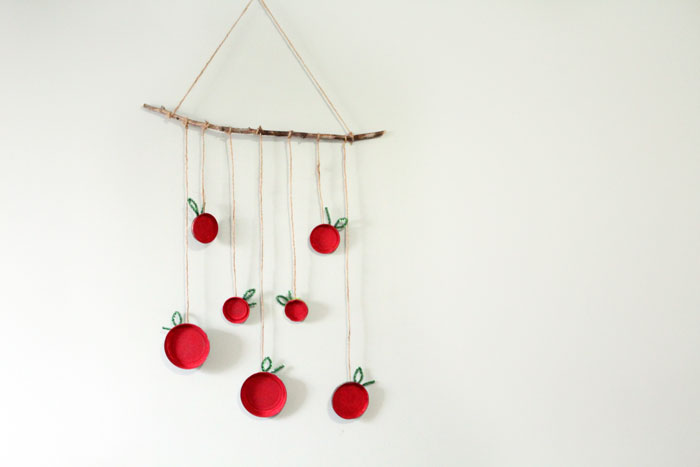 When you're finished, just hang it up on a wall in your home, or Sukkah, and enjoy how pretty and festive it is.
What you need to make an apple wall hanging:
(Disclaimer: This post contains Amazon affiliate links.)
7 Metal jar lids (I used different sizes, from baby food jars, capers, Starbucks, peanut butter, and pasta sauce.)
Green pipe cleaners – I used fun, tinsel ones. (one for each apple.) Or, use fake leaves.
A stick about 1-1.5 feet long. You can use a wooden dowel, but a stick from the outdoors is cheaper and prettier.
String of your choice – I like twine for an organic, natural feel.
Paintbrush, scissors, wire cutters may be needed.
Tapes: I used washi for the leaves, and duct tape for the strings. You can easily do both with duct tape.
How to make an apple wall hanging:
1. Paint your jar lids red. I cheated and just painted the inside, but you can paint the edges too if you'd like.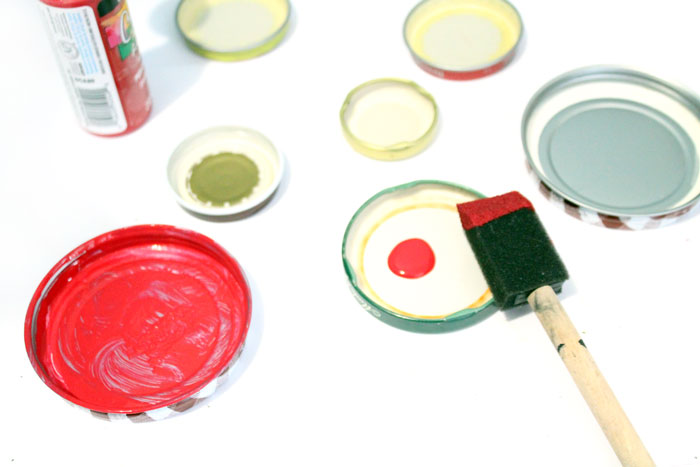 2. Paint another layer to make a full, rich color.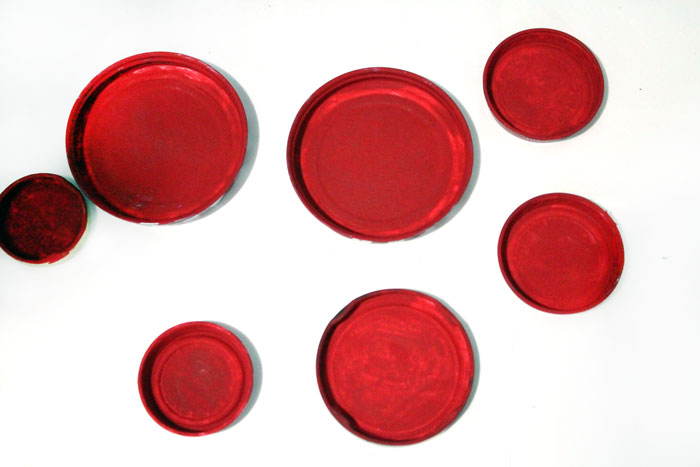 3. Bend the pipe cleaners into a leaf, and twist it around to secure. Bend the other half up into a stem.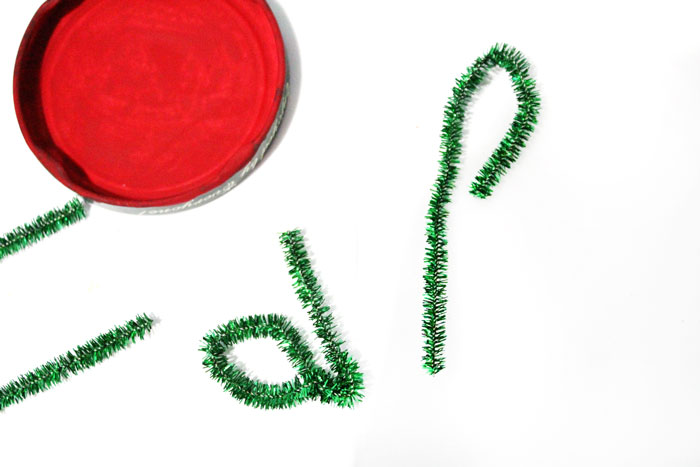 4. Tape it to the back of the jar lid. Make sure it looks good from the front.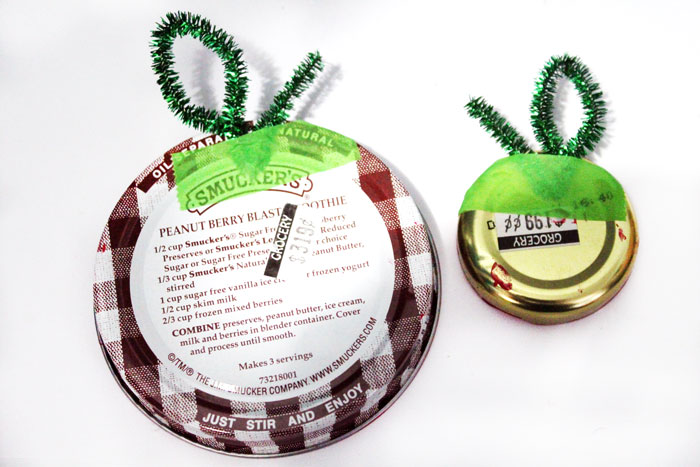 5. Do this for all of your jar lids.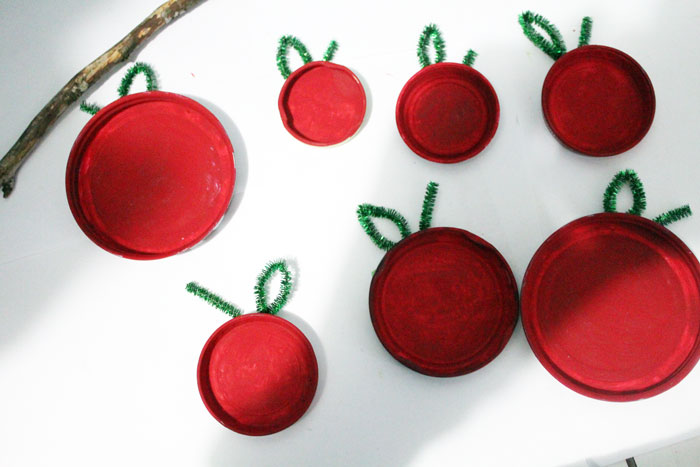 6. Tie a length of twine on each end to both sides of the stick. Make it long enough so that it hangs as much as you'd like it to.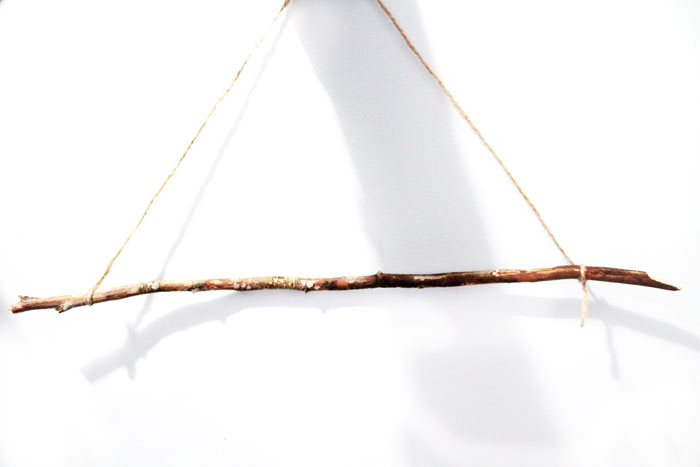 7. Cut pieces of twine at varying lengths (I did mine randomly, but you can be more careful if you'd like). Tie them onto the stick at even intervals. Once you make sure it's tight, trim all the little bits that stick out.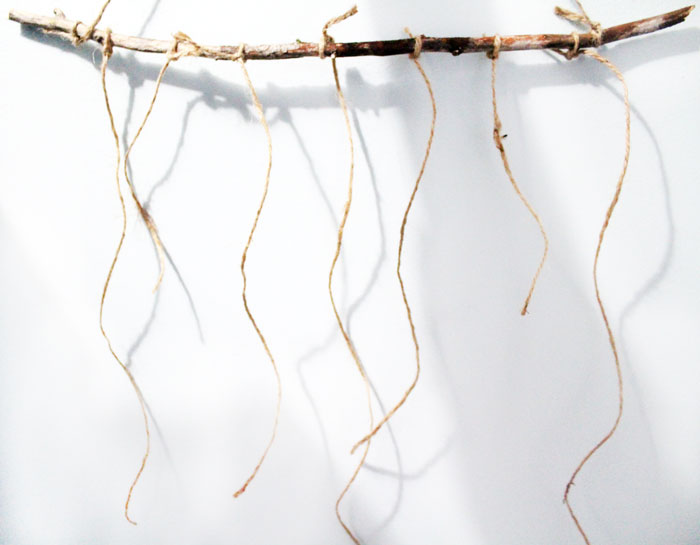 8. Tape the ends of your strings to the back of the apples.
Hang it and enjoy the beauty! You may need to arrange the apples so that the right sides show the first time around, but it should stay in place once you do.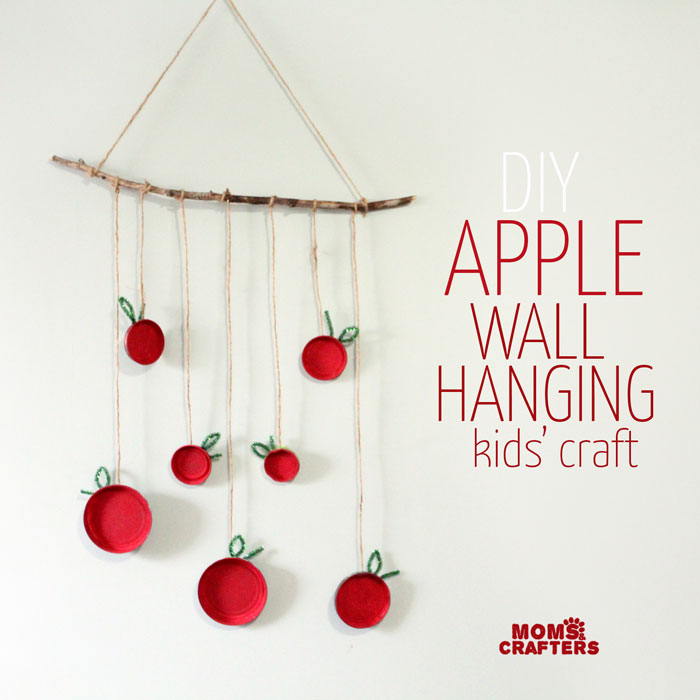 Isn't it pretty? I love this simple apple craft for kids because it looks so great – something I'd keep hanging year round!